If you do NOT see the Table of Contents frame to the left of this page, then
Click here to open 'USArmyGermany' frameset
Saran Army Airfield
Communications Zone Aviation
Looking for more information from military/civilian personnel assigned to or associated with the U.S. Army in Germany from 1945 to 1989. If you have any stories or thoughts on the subject, please contact me

.
---
---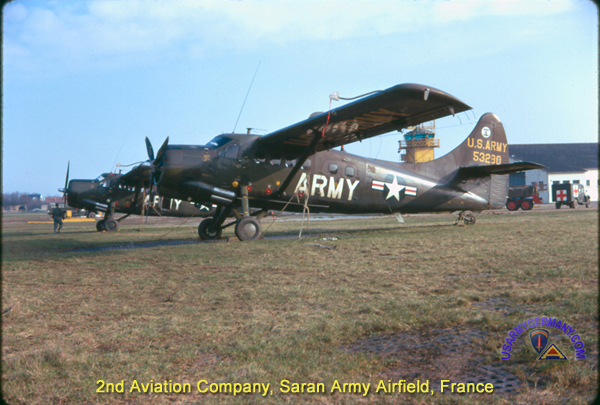 Two U-1 OTTER's of 2nd Avn Co at Saran AAF, 1967 (R.C. Neeb, Jr.)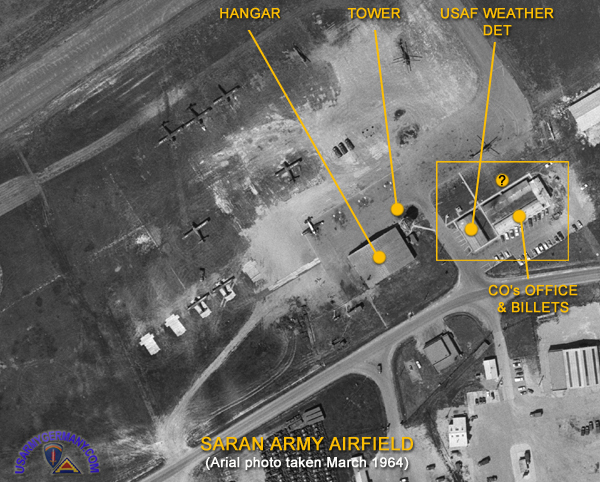 Saran AAF, March 1964 (IGN website, France)
(Source: Email from Mike Comito)
Bottom picture has a rectangle with a couple of question marks in it. If my memory is as good as it never was, these buildings -- 1959,1960 time frame -- were company headquarters, the weather station (USAF) and enlisted barracks.
---
History
1953
(Source: STARS & STRIPES, February 8, 1953)
All units stationed at Saran have been attached to the 9th Trans Highway Transport Gp and placed under the command of Lt Col Eugene M. Elliott, Jr.

The establishment of all units under one command is designed to eliminate duplication and conserve manpower and equipment.
---
(Source: STARS & STRIPES, May 7, 1953)
Col Chester M. Willinham, Orleans Area Command (OAC) CO has announced that the OAC will observe Armed Forces Day on May 16 with a parade and open house at the Saran Army Airfield.

Maj Gen Lemuel Mathewson, Com Z CG, has been invited to the review, along with local French officials.
---
1954
(Source: STARS & STRIPES, November 7, 1954)
The tents housing many of the units located to Saran Army Airfield are being replaced by "hutments." The hutments are completely wood-framed, covered with siding, then overlayed with wind-and-rain-resistant tarpaper, nailed and lathed down and tar-sealed.

A total of 39 hutments will be built to replace the outworn and outmoded tents.

Units that will eventually occupy the new hutmemnts are:



Hq Co, 9th Highway Transportation Group



1st Transportation Company (Med Trk)(Refrg)



655th Transportation Company (Med Trk)(26' S & P)



Saran Det, 7805th AU Orleans Area Station Complement Unit



594th Transportation Group (Traffic Reg)



7784th Orleans Signal Service Company



4082nd Labor Service Company (Polish)
---
1956
(Source: STARS & STRIPES, Sept 14, 1956)
'Smallest-Largest Airline in the World'
Saran's Postage-Stamp Field Serves All of France

ORLEANS, France, Sept. 13 (Special) -- The Army's airstrip at Saran, France, a few miles from Com Z Hq here, has been called the "smallest-largest airline in the world." For though it services all of France and is operational 24 hours a day, its 2,000-foot runway has a mere postage-stamp appearance.

Saran's chief function is to provide fast transportation for the commanding general and his staff to any point in Com Z and beyond. The flight section also has a 600-mile daily run covering all major installations in the sub-commands and has special missions to such distant places as Hamburg, Germany, and Milan, Italy.

The strip has been a lifesaver in emergencies. Serum, vaccine and other medical supplies are quickly flown where needed. There was an emergency of a different sort recently when Col Miller T. Nesbitt, flight section chief, flew a new- born baby from Base Section to Stuttgart, Germany.

The operation of the airstrip constitutes a fulltime job for the handful of officers and enlisted men at Saran. A brand-new weather station operated by an Air Force lieutenant and Army enlisted personnel makes flying possible at any time and in any weather.

Each of the officers in the flight section, besides being a rated pilot, is concerned with some aspect of the field's operation or administration. Since aviation is not a branch of service, each must maintain his proficiency in his own branch.
The Army came to Saran in 1951. Since then it has remained the guest of the French, who still use the field for civilian flying. On weekends, there is as much French traffic at the strip as American. The Army adheres to French flying regulations and works in close harmony with its French hosts.

In 1953 the Army set up an aviation unit at the field, built a $200,000 asphalt runway and added landing lights for night flying. In May 1954 the strip became completely operational.

Today the field's eight planes are performing the large mission of making every point in Corn Z, from Periguex in the south to Metz in the East, only a matter of hours, or minutes, away.
---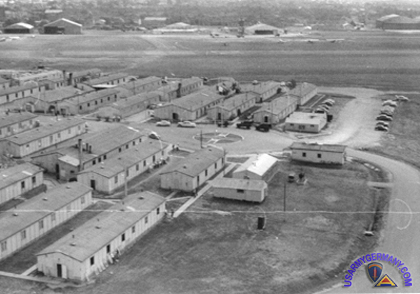 Saran Army Airfield (background), 1960s (

Timothy F. Casey

)
| | | | |
| --- | --- | --- | --- |
| | | | |
| 1. Admin & billets | 2. Fuel tanks | | |

---
Flight Section, Communications Zone
1954
(Source: STARS & STRIPES, July 27, 1954)
Air transportation is Com Z's answer to the long distances between the command's scattered installations located on the 600-mile line of communications in France and Germany. Com Z's Flight Section is located at Saran AAF (near Orleans, France) and plays a vital role in supporting the Com Z commanding general and his staff .

The Flight Section, currently under the command of Lt Col Elmer P. Fleming, Jr. was formed in 1951. Also in that year, air sections were formed at Com Z's major subordinate commands, Advance Section at Verdun (Verdun AAF) and Base Section at La Rochelle (Laleu AAF). As other subordinate installations were craeted, arrangements were made to use nearby civilian airports to serve those installations. (Three airfields were constructed at or near more remote depots.)

The most important Army airfield in France is Saran. The field has night lighting equipment, radio aids and other provisions making it the first all-weather AAF in France (1).

Com Z's flight section flies daily courier missions from Saran (Orleans) to Verdun and La Rochelle, carrying priority official mail and documents. There are also frequent flights to HQ USAREUR at Heidelberg. In addition, the air section carries limited amount of cargo (primarily spare parts, medical equipment and priotiyt items) and transports personnel (it averages 400 passengers a month).

New pilots arriving in command go through instrument training at Chateauroux Air Base (Central Air Material Area) first.

The flight section's planes are serviced and repaired at the aircraft service center at Metz, France (Frescaty Arfield). (The shops at Metz provide maintenance and supply and are capable of rebuilding aircraft. A contract with a civilian company provides for major repair and inspection services. The Metz center also supports the two aviation maintenance companies -- 35th AAM Co, Illesheim and 93rd AAM Co, Stuttgart-Echterdingen -- assigned to 7th Army.)
(1) The airfield at Saran underwent a major improvement effort in 1953-54 (cost: $125,000). The renovation efforts included lengthening the runway (2,100 feet).

---
Related Links: