If you do NOT see the Table of Contents frame to the left of this page, then
Click here to open 'USArmyGermany' frameset
Army Ordnance Ammunition Depots (Com Z)
Communications Zone
Looking for more information from military/civilian personnel assigned to or associated with the U.S. Army in Germany from 1945 to 1989. If you have any stories or thoughts on the subject, please contact me

.
---
---
Captieux Ammunition Depot
1959
(Source: STARS & STRIPES, July 22, 1959)
Captieux Ammo Depot located south of Bordeaux, France, is USAREUR Com Z's southern most post. It is also one of the largest installations in all of USAREUR, covering approximately 23,000 acres in a wooded section near Captieux. It includes a 120-mile road network and 117 miles of telephone lines.

Like most of Com Z's depots, it was established in the early 1950s as the new line of communications was created through France. First came the depot warehouses, followed by troop facilities and finally housing units (in two nearby towns, Bazas and Captieux) for the depot families. (Some families live "on the economy.")

Captieux is the receiving point for ammunition arriving from the US. Most of the ammo comes through Bassens, a Com Z port near Bordeaux. From there the ammo is shipped by rail to the Captieux depot for storage. The ammo is stored in thousands of storage huts.

When the first elements of Army troops (7711th Trans Bn) arrived at the Captieux facility in the Fall of 1950 to establish the depot, they found a collection of bombed-out barracks and other buildings that had previously served as a French Air Force training and operation station in WWII. Ammunition arrived almost immediately and was stored in plasterboard and "filloid" huts, usually mounted on wooden planking. A rewarehousing program later placed the ammo on pierced steel planking, high above ground.

Recent rehabilitation and construction efforts have added a gym, new dependent school, movie theater, bowling alley, EM Club and other rec and athletic facilities.

Future plans call for the addition of more warehouses, a community building, another rail spur and concrete igloos to replace the current storage hutments.


---
Trois Fontaines Ammunition Depot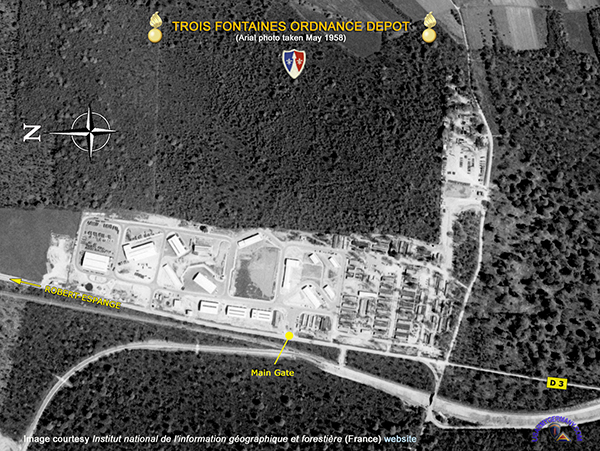 Trois Fontaines Ordnance Depot, Robert-Espagne, France, 1958 (IGN website, France)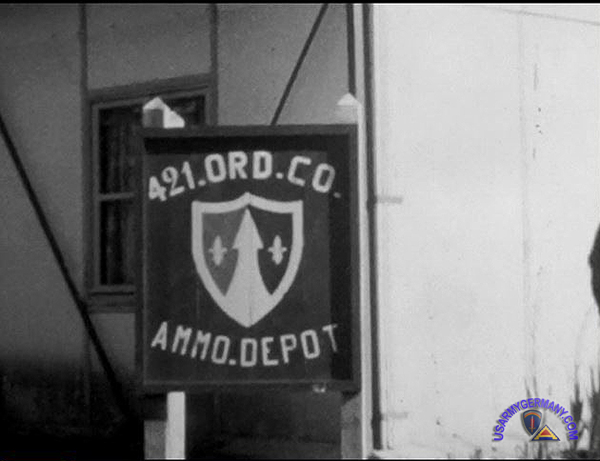 Sign in front of the 461st Ordnance barracks, Trois Fontaines (Alfred LoAlbo)
1954
(Source: Email from Susan LoAlbo, daughter of Alfred Salvino LoAlbo)
Alfred Salvino LoAlbo at T.F.O.D., 1954-55

My father, Alfred S. LoAlbo, (still living and he is well at 85) was stationed at Trois Fontaines from January 1954 - December 1955.

I became very interested with my father's time in the Army about a year ago. Gathering all his photos, asking many questions, listening to many story lines behind the photos, going on line and looking for information. There was not much about TFOD…. (Well let's change that!)

Information seems to have vanished. It was located near Robert Espaine, France in the "Trois Fountaines" forest area.

Here is a brief overview of his time in the Army:
Basic was at APG (Aberdeen Proving Ground (in Aberdeen, MD)
Departed from Camp Kilmer, NJ on June 14, 1954 on the USNS TAYLOR for Germany
Arrived at the Port of Bremerhaven, Germany on June 26, 1954
Spent a brief period in Zweibruecken and then Vilseck, Germany
Transferred to T.F.O.D. as per below ORDERS July 7, 1954
From July 1954 - December 1955 at T.F.O.D.
Honorable Discharge as SP3 Alfred Savino LoAlbo in December 1955.

John Harris was from Detroit, Michigan. He is the Army buddy of my dad's that I have been trying to locate....!
| | | | |
| --- | --- | --- | --- |
| 1. Football | 2. Football | 3. Buddies | 4. Buddies |
| 5. Inside the billets | 6. Partying | 7. Out on the town | 8. A park at Bar-le-Duc |
| 9. T.F.O.D. | 10. Buddies | 11. On way to work place | 12. Boarding the train for Bar-le-Duc |
| 13. S.O. #12, 7 Jul 1954 | 14. S.O. #245, 14 Nov 1955 | | |
---
1955
(Source: Email from R. Rankin)
Lt. R. Rankin next to company sign

I am looking for history or information about the "Trois Fontaines Army Ammo Depot, " designation was 7831 A U, APO 287. It was a sizable depot storing many tons of all types of Army ammo.

I was there form April 1955 to Dec 1956. I was O.I.C. of the Planning and Engineering section of the Ammo Renovation Co.

Information seems to have vanished. It was located near Robert Espaine, France in the "Trois Fountaines" forest area.

I now am digitizing some old 35mm photos and trying to identify or add info. Some of the old timers might remember some of the scenes.

I can't imagine the Army not having some written history of TFOD [7831 Army Unit] since it was a sizeable installation!!! Maybe someone else could add to the info!
| | | | |
| --- | --- | --- | --- |
| 1. Barracks | 2. Renovation Co bldg | 3. My office building | 4. Depot Office |
| 5. Depot road | 6. Ammo huts | 7. Depot officers | 8. P & E Section |

---
Related Links: