If you do NOT see the Table of Contents frame to the left of this page, then
Click here to open 'USArmyGermany' frameset
US Army Communciations Zone, Europe
US Army, Europe
Looking for more information from military/civilian personnel assigned to or associated with the U.S. Army in Germany from 1945 to 1989. If you have any stories or thoughts on the subject, please contact me

.
---
---
7966th EUCOM Detachment History
1950 - 1951

---
Communications Zone History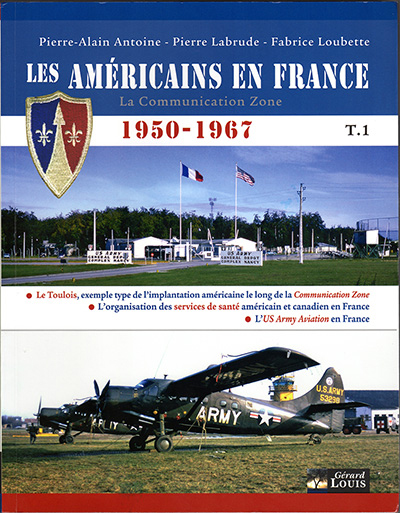 Les Américains en France - La Communication Zone, 1950-1967
(Volume 1 - Toul; Medical Services; Army Aviation)

(
Click here
for some information on the book)
---
Commanding generals, US Army Communications Zone, Europe
1951 - 1966 (list is still incomplete) (1)
??? ( – March 1953)
Maj Gen Samuel D. Sturgis, Jr. (March 1952 – March 1953)
Maj Gen Lemuel Mathewson (March 1953 – February 1954)
Maj Gen Philip E. Gallagher (February 1954 – March 1956)
Maj Gen Robert W. Colglazier (April 1956 – November 1957)
Maj Gen Edward J. O'Neill (November 1957 - September 1959)
Maj Gen Henry R. Westphalinger (September 1959 - October 1962)
Maj Gen Webster Anderson (November 1962 - April 1965)
Maj Gen Robert C. Keyser (June 1965 -)

(1) List was created based on information collecting during research in the STARS & STRIPES archives. If anyone has corrections or additional details, I would like to hear from them.
---
The Com Z Shoulder Patch
(Source: STARS & STRIPES, March 12, 1964)
The "Lifeline to the Frontline"

shoulder patch has recently been reinstated as the Communications Zone shoulder patch.

The patch was originally worn by members of Com Z between 1953 and 1960. In January 1960, the patch became the official symbol of Theater Support Command (TASCOM). TASCOM was organized on March 1 of that year to take over responsibility for all depots in France and Germany. Concurrently, Com Z was reorganized as USAREUR (Rear) Com Z and wore the USAREUR shoulder patch.

On 1 July 1961, TASCOM was redesignated as the 4th Logistical Command and the "Lifeline" patch became the official insignia for the 4th Log Comd.

In Dec 1963 or early 1964, the 4th Log Comd returned to the US.
---
1951 - 1969
1951-1967 COM Z LOCATED IN FRANCE
(Source: D.J. Hickman's " The US Army in Europe, 1953 - 1963", Hqs, USAREUR, 1964.)
Introduction to the history of the whole LOC through France:

The 7966th EUCOM Detachment 1), with headquarters in Orleans, was responsible for the LOC across France. On July 15 1951, the 7966th Det was replaced by EUCOM ComZ (with a change of mission), primarily concerned with the establishment, conduct, and supervision of the LOC across France.

The 7966th was redesignated 7966th Headquarters Group and assigned directly to the ComZ. All units previously assigned or attached to the 7966th were now reassigned or reattached to ComZ.

The establishment of EUCOM ComZ led directly to the activation of depot and warehouse facilities of all EUCOM technical services. Almost all of these installations remained in Class II status during the rest of the year and were therefore under the direct control of the chief of EUCOM technical service concerned rather than ComZ (Class I status- installation under direct ComZ control).

1) The two major subordinate units of 7966th were: 7964th Area Command at La Rochelle, France, and 7965th Area Command at Verdun, France.

During the 15 July 1951 reorg the subord commands 7964th Area Command 7965th Area Command were redesignated - 7964th Hqs Gp, Base Sec, EUCOM ComZ - 7965th Hqs Gp, Adv Sec, EUCOM ComZ The ComZ Adjutant Sec was responsible (at this time) for the administration of: Hqs, 7965th Area Command Hq Det, 7965th Area Command 565th Ord Co (Medium Automotive Maint) 99th Labor Supervision Co
---
(Source: COM Z, USAREUR Information Bulletin, Vol. II, No. 1, via Sam Lietz)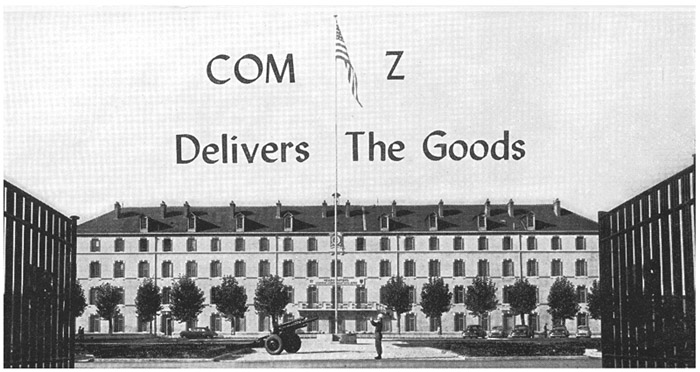 INTRODUCTION
An army without supplies is no longer an army, but a defenseless body of men, put out of action and inevitably destroyed by the enemy. A piece of artillery without shells is nothing but junk. A tank without gasoline or oil cannot move. In many an action during past wars, armies have lost the chance of victory because vital supplies had been expended and new supplies had not yet reached the front.

In order to fight, men must have food and clothing, weapons and ammunition. One of the most critical situations that can arise in armed conflict is when a commander finds his supply lines broken.

Let us look for a moment at the situation of our American Forces in Europe -- where they are, why they are here, and how they, are supplied.

I. PICTURE OF FRANCE
Whether you are stationed in England, Germany or France, it is almost certain that some time during your European tour you will find yourself traveling to some of the cities or installations in the USAREUR Communications Zone -- COM Z.

It will be to your advantage, naturally, to know something about the nature and purpose of COM Z, the events leading up to its establishment, and its remarkable accomplishments. It is equally unportant to know something about the country in which it is located.

You should know, for instance, that although Paris is French, it is not "France." Paris is a concentrated essence of French history, art, music and drama -- and the French flair for life. One of the most popular music hall ballads of this century calls her "reine du monde" -- queen of the world. She is also known as the City of Light and if, some evening, you look down from Montmartre to the Place de la Concorde, you will understand why.
You should know that there is only one Paris, just as there is only one New York or Hollywood, because you will find, during your travels, that other cities -- Bordeaux, for instance, or La Rochelle or Marseille or Verdun -- are not condensed versions of Paris, but have an individuality, a personality and a character all their own.

Take Verdun, for example. Verdun is a symbol of French military courage. As one of the fortress cities guarding France's eastern front in World War I, she won everlasting glory through a stubborn and successful resistance against wave after wave of the best German shock troops, and 350,000 French soldiers gave their lives to fulfill her martial slogan -- "they shall not pass!" Verdun is a heroic city, and the fact that our Advance Section headquarters are here should be an inspiration to us all.

Orleans, a quiet town in the now peaceful Loire valley, has another claim upon our interest. Here Joan of Arc broke the English seige of this Loire stronghold and began her triumphant campaign to restore the French throne to France. But the roots of Orleans go still deeper than 15th Century history. It was a well-known trading post in Roman times. It led a revolt against Julius Caesar 52 years before Christ was born. Attila, the Hun, tried to capture it in 451 -- and was defeated by its stout-hearted citizens. Orleans is the site of COM Z headquarters.

Wherever you go in France, past history rises up to capture your interest and stimulate your imagination. Poitiers, where 1200 years ago, Mohammedan armies were halted in their march through western Europe; La Rochelle, the little harbor that for centuries has sheltered courageous fishermen and explorers; Bordeaux, center of a great wine-growing country and of gracious living. The list is endless.

THE LESSON OF KOREA
Five years ago, when the Communists launched their armed aggression against the Republic of Korea, one vital aspect of the worldwide conspiracy centering in the Kremlin became clear: If Communism cannot win by its customary intrigue, subversion and trickery, it will be quite willing to use armed force-particularly its stooge armiesto gain its ends, even at the risk of another world war.

When the Communists' purposes began to be clear to the free world, steps were taken to halt further aggression. The Communist world, behind its iron curtain, is arrayed in a semicircle that stretches down through the Balkans. On this side of the curtain is the new -- but still unarmed -- Federal Republic of Germany, France, Belgium, Luxembourg, The Netherlands, the United Kingdom, Norway and Denmark. Germany is at the center of this arc.

In 1949 the United States, the UK, France, Belgium, The Netherlands, Canada, Luxembourg, Italy, Norway, Iceland, Portugal and Denmark signed the Atlantic Pact. In the fall of the same year the North Atlantic Treaty Organization (NATO), the implementing mechanism of the pact, came into being. NATO is pledged to a mutual protection of the North Atlantic area. It established the European military force of which we are a part. Turkey and Greece were added to NATO in 1952, and West Germany in 1955.

Because this bulletin is concerned only with the USAREUR Communications Zone, a description of the elaborate organization set up to meet the defensive needs of the Atlantic Pact nations is not necessary here. COM Z is a highly important subordinate command of the United States Army, Europe. Its mission is to support that Army, the bulk of whose combat forces are in Germany.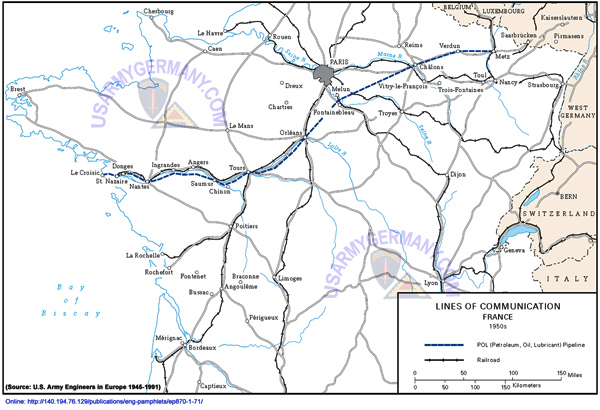 Line of Communications France (LOFC) (Source: Building for Peace - online)
II. THE ORIGIN OF COM Z

The Need for a Change
In 1945 United States troops in Germany received their supplies almost entirely through our Bremerhaven line of supply. The port of Bremerhaven is on the North Sea at the mouth of the Weser River. Bremerhaven, with its excellent port facilities and lines of communications to the south, across the flat plains of North Germany, was quite adequate for our needs in times of peace, or when no apparent threat from the East existed.

But these flat plains, with no mountain barriers to protect them, have from the earliest times been the natural route of invaders from the East, who swept across them through the Low Countries (Belgium, The Netherlands and Luxembourg) to the sea, where they could control Atlantic seaports.

The Bremerhaven supply line to our forces in Germany is right in the path of these historic invasions. It is a long line and a thin one, and it could easily be cut in the event of a strong attack from the East.

The Communist blockade of Berlin in 1948-49, which was defeated only by the magnificent Berlin Air Lift operated around-theclock by American and British airmen, made clear the necessity for larger supply channels and alternate routes of supply.

In November 1950, when Soviet activities made it apparent that Communist pressure would relentlessly continue against the West, the French and American governments reached an agreement under which the United States is permitted to organize and maintain a line of communications (LOC) in France. This line of communications is COM Z.

Why COM Z Is In France
The reasons leading to the choice of France as the USAREUR Communications Zone are these:

A defense force such as ours must naturally be stationed as near to the zone of threatened attack as possible. Since 1948 -- or even before that yea -r -the only threat to the free European nations has been from the East, from behind the Iron Curtain countries. This, in turn, has required strong defense forces in Germany. It must also be pointed out that the new German Federal Republic, without any means of defending itself, and at a time when it was struggling to win back its economic health, was faced with another threat --from East Germany. The Soviets had set up their customary puppet government in East Germany, and to support it established a German "police force." A "police force" armed with machine guns, rifles, mortars and even tanks!

In view of the Communist record in Korea, where the Soviettrained North Korean army opened its aggression against the free Republic of South Korea in 1950, there could be no guarantee that similar aggression might not spring from the same source in Europe -- Communism -- and throw Central Europe again into war, with West Germany the first victim.

For those reasons, it will be seen why the bulk of our strength in Europe must be stationed where it is.

Forces at the front not only need supplies in vast quantities, but also a constant flow of supplies and equipment. The roads over which these supplies travel must be kept open. They must be, if possible, located to the rear of any battle line so that they cannot easily be cut off by the enemy.

France is the ideal location for the communications zone that serves our forces. All of its neighbors, with the exception of Switzerland and Spain, which are neutral, are partners with us in NATO.

France's 2,000 miles of coastline have many excellent harbors bordering the English Channel and the Atlantic Ocean in the north and in the west, and the Mediterranean in the south. Winters, which are seldom severe, never block French ports, and in the south, along the Mediterranean, the climate resembles that of Florida.

France's excellent port facilities are a vital factor in building a good supply line. They are on well-established shipping lines and so numerous that, without complete mastery of the Atlantic Ocean, an enemy would never be able effectively to deny our fleets access to them.

France's land area is slightly smaller than Texas. Through the central part of the country unbroken plains range to the northern borders.

Over these plains stretch some 85,000 miles of highways and 55,000 miles of railroads. World War Il destroyed a considerable part of France's highways and bridges, but within four years after the close of the war almost every damaged bridge in the country had been rebuilt and dense traffic was again proceeding over the highway network. The task of restoring the nation's transportation system was all the more remarkable because of the lack of road-building supplies and equipment after the war.

France Joins Hands With Us
The working out of an agreement, a treaty, or the "protocols" under which a foreign force -- even though a friendly one -- may be permitted to live and work on the soil of another sovereign nation is a highly delicate task. In this instance the agreement is a triumph of patient diplomacy, grounded on the fact that France and the United States are on the same team-working together in the cause of world peace.

The unity of purpose and friendship between the United States and France, our partnership with the other nations of NATO, and a realization of the ceaseless aggression of Communism were the great factors leading to the agreement by which COM Z was finally established.

Six months of negotiations between US and French representatives resulted in the signing of this agreement on 6 November 1950 in Paris. Under its terms the United States received port facilities, storage depots and the space to build more, and transportation rights on highways and French national rail lines to the German border.

Thanks to the excellent advance planning of the USAREUR Logistics Division, the agency in charge of organization and policy for overseas lines of communication, work on the new project began five days after the Paris agreement had been signed. Approximately 1,000 American troops from technical service units moved into France with 300 trucks and 100 trailers. Most of this convoy headed for Bordeaux and La Pallice, the two major ports in the LOC on the way from the Atlantic, across France, to Germany.

In record time the new LOC was already in operation. At Captieux we succeeded in building a depot despite the fact that it was necessary to improve 36 square miles of land before actual construction could begin. Docking and local transportation arrangements were completed at Bordeaux while storage and control points were set up on rail routes to the Rhine River.

By mid-November 1950 the first ships docked at Bordeaux, and supplies began to roll along the 500-mile supply line across France. Since that time COM Z has grown into a complex operation with a huge responsibility to shoulder in sending supplies to our combat forces. High quality in the performance of each man's job in COM Z is essential to the maintenance of a strong, well-prepared bulwark against any aggression from the East.

III. COM Z TODAY

So We Are In France
The headquarters of USAREUR COM Z is in the historic city of Orleans, about 70 miles south of Paris. There are four subordinate commands. Base Section (BASEC) is in southwestern France with headquarters in the coastal city of La Rochelle. A beautiful highway runs through the famous chateaux district of the Loire Valley from La Rochelle to Orleans. Advance Section (ADSEC) is in northeastern France, with headquarters in Verdun, the famed fortress city which was renowned in World War I for its resistance to the German armies. Seine Area Command (SAC) has its headquarters in Paris, and the Orleans Installation (ORIN) is established with headquarters at Orleans.

Most American personnel in COM Z are service troops -- the builders and operators of the new supply line. Skilled transportation personnel move, unload and examine incoming materiel. Signal men are required to operate and keep in running order an extensive communications system. Quartermaster and ordnance corps personnel in great numbers must handle huge quantities of supplies and equipment. From one end of this great communications zone to the other thousands of skilled men in the technical services are required for smooth operation.

Personnel of COM Z are constantly busy. In addition to technical tasks, combat training has its part in the normal life of a man assigned to the Communications Zone. Practical experience in wartime operation is gained through the over-the-beach unloading exercises known as NODEX. During these exercises tonnage records have been made and broken constantly by different units working day and night to transfer the cargoes of heavily loaded ships to docks and shores, and sending them expeditiously on their way to the "front".

COM Z is already in excellent shape to fulfill its important functions.

Better American-French Relations -- A Valuable Goal
The continual improvement of relations between American personnel and their French hosts in COM Z-a task in which each serviceman shares an equal responsibility-represents a desirable goal to enhance the successful accomplishment of our common mission as NATO partners. The relative success or failure of each individual in promoting better relations reflects directly upon himself and his unit, and indirectly upon the entire American Nation.

A recent survey by the US Air Force Personnel and Training Research Center of French attitudes, particularly towards Americans in COM Z, cites some reasons for past difficulties in achieving mutual understanding between the Americans and the French. The survey points out that the average Frenchman's first interest centers about his own family and immediate relatives. He does not always share the American trait of informal "neighborliness." "A Frenchman's first reaction to strangers," it notes, "is to judge them unfavorably rather than favorably. The outsider is an unknown individual who might threaten the values the Frenchman holds close. This does not mean to imply that in his initial contacts with a stranger he would look upon the latter with hostility." To the French, all unknown people are "strangers", even fellow countrymen.

Preoccupation with his own family, different working hours from those of the American, the great distance which the average worker must travel to and from work, and a lack of free time -- all of these reduce the Frenchman's opportunities to make social contacts with Americans.

A French public opinion group recently surveyed the French population around an American military installation and found that although a fair proportion of the people were either very friendly or moderately friendly to the American personnel, only a few of the group interviewed had entertained Americans in their homes. This figure is not quite so startling when one realizes that the average Frenchman seldom invites anyone but relatives or intimate friends to his home. Friendship is a very serious concern to the French and not something to be entered into rashly. Close friends are few in number, and most of them are the product of associations formed during school days. Nevertheless, the French enjoy making acquaintanceships which do not call for close emotional ties. This trait can often open the way for the gradual formation of more lasting associations, once a mutual understanding has been reached.

Despite outward differences in attitude, the Frenchman shares many American traits. Like the American, he is a great individualist, who believes in the rights of others and who respects those rights. The French are noted for their oft-demonstrated love of country, liberty, equality and independence-qualities that are also inherent in the American character. They combine a deep respect for tradition, learning and religion with a strong sense of tolerance and logic, blended with a pronounced artistic nature and a fondness for gracious living. The Frenchman's politeness, tact and courtesy have earned him the admiration of the world. He deserves an equal display of these qualities on the part of the American. The Frenchman will be happier with the American who shows sincere respect for the French people, their history, traditions and customs. A bit of effort on the part of each serviceman and woman towards the attainment of good relations with the French will result in a more pleasurable and profitable tour of duty in COM Z on the individual level, and will make common objectives at command level easier to achieve.

Americans, incidentally, should never forget that a large part of their own political heritage stems from France. French love of liberty and freedom found expression in the American Revolution when men like Marquis de La Fayette took up arms in the American cause. A French army fought side by side with American patriots and distinguished itself particularly at the battle of Yorktown. Famous French writers like jean Jacques Rousseau (1712-1778) and Voltaire (1694-1778) kindled the fires of liberty that burst into full flame in the French Revolution of 1789. Their political writings stimulated the thoughts of the authors of our own Declaration of Independence.

A Good Record Under Foreign Law
Throughout our association with the French people in building and operating the Communications Zone, all personnel attached to the American Armed Forces have lived under the same criminal and civil laws that apply to the French population -- and that apply equally to any foreigner residing in France.

Although in many respects these laws differ from our own, and court procedures are not like ours, French and American authorities have been highly gratified over the American serviceman's understanding and acceptance of this situation. "Incidents" and misunderstandings have been remarkably few, and generally of a minor nature.

The record of COM Z for respecting and obeying the law has been an impressive tribute to American character and integrity, and is in keeping with the "highest traditions" of our Armed Forces.

Life in COM Z
Living in COM Z during the early months of its construction was, to put it mildly, no bed of roses for the American serviceman. France did not have the resources for building adequate housing. It had not enough housing for its own people. We could not requisition property or materials or labor. We were friends and partners -- not an army of occupation. The cost of living was high, in common with all France
.
Conditions have slowly but surely improved, and the year of 1955 was one of particular progress in all four of the subordinate commands, especially in the matter of troop living conditions.

For the first time since the Communications Zone was established there is now no necessity for troops being billeted permanently in winterized tents. During 1955, 2,000,000 square feet of permanent-type troop housing, and 200,000 square feet of Bachelor Officers' Quarters were constructed. Construction in progress during the winter months will provide housing for more of those troops still occupying hutments.

Although family housing continues to be a problem in France, the Rental Guarantee Housing Program, similar to Wherry Housing in the States, is now beginning to make quarters available to US personnel. Three hundred units in the Orleans area have been occupied for some time, and families are moving into the project at Verdun as units become available.

Because of the ever-growing supply mission of COM Z, additional storage and warehouse facilities are constantly in demand. In 1955 alone, warehouses containing some 5,000,000 square feet of floor space were constructed. These new facilities, coupled with those available previously, make it easier for the American troops and 16,000 French artisans and workers to carry out the tremendous tasks of handling the mountains of supplies processed by the Communications Zone.

During 1955 the scope of recreational facilities and activities in the Command continued to increase. An extensive athletic program offers 13 different sports to the COM Z serviceman and provides entertainment for many spectators.

COM Z provided the company level basketball champions for the 54-55 season in the USAREUR-wide championship tournaments, and in baseball the fine Little League team from COM Z won the USAREUR championship.

Off-duty time can be used more profitably now that more Special Service libraries, craft shops and photo labs have become available. New theaters at Orleans, Camp de Loges and Verdun offer COM Z personnel increased opportunities for indoor entertainment. Toul and Verdun have attractive new chapels.

The broad educational program in COM Z is flourishing. Some type of educational activity is open to all personnel. Twenty-eight Education Centers, located at major troop installations, offer functional and formal education programs, and of these all but two have wellorganized college level programs. USAFI courses are, of course, available within a few days time at the most isolated of installations.

A Brief Summary
COM Z is engaged in a mission that is vital to the United States Army in Europe.

COM Z provides a swift and sure means of delivering supplies to our troops in Germany.

It is accomplishing its mission with thoroughness and skill. Each man's job in COM Z is essential in fulfilling our mission in Europe.

COM Z is rapidly overcoming the earlier hardships and trials that accompanied the building of such an extensive system of communication in a land that was, itself, hard at work rebuilding its shattered economy.
---
US ARMY IN FRANCE -- STATION LIST, 16 AUG 1954
---
COMMUNICATIONS ZONE -- 1955
(Source: USAREUR Annual Historical Report 1954-55)
The USAREUR Communications Zone
a. Mission. The mission of the Communications Zone was based upon Concept C, a plan approved by the Departmeat of the Army during FY 1954. According to this concept, as soon as COMZ became fully operational, only the nonwar risk supplies -- post exchange supplies, household goods for dependents, and items of a similar nature --- would be shipped through the Bremerhaven Port of Embarkation. Individual units and personnel would continue to move through Bremerhaven, but military supplies would arrive at COMZ ports on the west coast of France and be processed through COMZ depots. (26)

(1) Broad Missions, The principal mission of the Commanding General, USAREUR COMZ, was to develop and operate across central France a line of communications capable of supporting all U.S, forces in Central Europe with all war risk supplies. In addition, the line of communications was to be so organized and constructed that, in the event of hostilities, it could be expanded to provide all logistical support to U.S. forces. (27)

(2) Additional Missions. In addition, the Commanding General, USAREUR COMZ, was given such specific missions as to plan for the evacuation of technical service supplies and equipment; to plan for the general alert order (GAO); to receive, store, and distribute POL in the event of a general alert; to make necessary plans for emergency headquarters; to plan for a COMZ reinforced troop list; to plan for and be prepared to execute the noncombatant evacuation order (NEO); to provide for construction of an emergency pipeline; to provide support to elements of the U.S. Air Force and Navy, to joint U.S. and international headquarters and other specified U.S. governmental agencies as directed; and to represent CINCUSAREUR in negotiations with French governmental agencies. (28)
b. Organization.

(1) Structure on 1 July 1954. At the beginning of FY 1955 USAREUR COMZ was composed of Headquarters, Communications Zone, and five subordinate commands. These were; the Advance Section, COMZ (ADSEC); the Base Section, COMZ (BASEC); the 34th General Hospital; the Seine Area Command, COMZ (SAC); and the Orleans Area Command, COMZ (OAC). Of these, the first two were operating commands of COMZ, and the last two were support organizations. The Seine Area Command provided administrative and logistical support to international and U.S. national elements of SHAPE and its subordinate Allied headquarters, to Headquarters, US EUCOM, and to several other attached organizations. Detachments of SAC were located in Paris and in Fontainebleau. The Orleans Area Command performed a similar mission for Headquarters, COMZ. (29)
The Base Section, with headquarters at La Rochelle, was responsible for receiving water shipments from the United States or elsewhere. For this purpose BASEC operated three ports -- St. Nazaire, La Pallice, and Bordeaux. It also operated most of the COMZ depots in which the required 60-day level of wartime stocks were stored, and was responsible for moving the supplies forward to the Advance Section. To fulfill its responsibility for the port operations on the west coast of France, BASEC had the 11th Port Command with headquarters at Rochefort. The mission of this organization was to command all units engaged in the operation of COMZ water terminals, including offshore discharge. Under the 11th Port Command there were three provisional port battalion headquarters with a port company assigned to each. The port companies were organized to supervise vessel discharge and loading operations, although the actual stevedoring operations were performed by indigenous labor under contract. In addition, a provisional terminal service battalion headquarters was assigned to the 11th Port Command. Organized to perform unconventional terminal operations such as offshore discharge and clearance over the beach or through small, shallow draft ports, this battalion consisted of a provisional terminal service company, an amphibious transportation truck company, and a transportation boat company equipped with landing craft to provide lighterage from ship to shore. (30)
The Advance Section, located along the east boundary of France, had the responsibility of operating the forward depots where ammunition and petroleum products were stored, and of supporting combat forces on forward boundaries. (31)

(2) Changes. The only signifioent change within USAREUR COMZ was the elimination of the Orleans Area Command on 1 September 1954. That command was redesignated as the Orleans Installation, which in turn was incorporated into the Headquarters Command of COMZ headquartera. (32)

(3) The Reorganization of COMZ Depots. Early in 1954 the USAREUR Assistant Chief of Staff, G4, dissatisfied with depot operations in both USAREUR and COMZ, urged that an examination be made of the organization of all depot units. In addition, the Inspector General Division objected to the manpower utilization methods in COMZ depots. An ad hoc committee, chaired by the chief of the G4 Services Branch, met during March 1954 to submit suggestions for a reorganization of the depot units to improve their efficiency. (33)
Most functions of the depots fell under stock control, storage, or maintenance. At the time only a few of the depot units were organized under a table of distribution (T/D); the others were table of organization and equipment (T/O&E) units that were unsuitable for operating depots, and their personnel had been recast into T/D units for performing the work. Since the administration continued to be done according to the T/O&E unit organization, this resulted in a double layer of organizations -- one for administrative purposes, another for the operation of the depots. It also wasted manpower and frequently resulted in having men working for officers who had no command authority over them, and in other awkward administrative situations. The ad hoc committee recommended that no T/O&E unit should be used to cut across the functional lines of the depots and that no personnel of T/O&E units should be wasted. (34)
On the basis of this recommendation, CINCUSAREUR decided to proceed with the reorganization. Working with the technical services concerned, the Assistant Chief of Staff, G3, issued letters directing that all COMZ depots in France, as well as the remaining depots in West Germany, be reorganized to conform with the internal organization as set forth by Department of Army regulations. More specifically, the depots were to be organized under a T/D reflecting all military and civilian spaces; T/O&E units were to be employed only in activities for which they had been organized and where they could operate efficiently; and military spaces. required for the T/D's were to be provided by inactivating the T/O&E units then engaged in depot operations; and the tables of allowances were to include equipment for both peacetime operational and emergency requirements. (35)
At the same time, another ad hoc committee was formed to screen the T/D's when they were submitted. This committee consisted of representatives of the Assistant Chiefs of Staff, G3 and G4, the Office of the Comptroller, as well as a representative from the technical service divisions concerned. Under G3 chairmanship, this committee examined all the facts, including both current and emergency requirements for depot operation, and then recommended an appropriate organization for each depot. When the members of the committee could not reach agreement, the divergent proposals were submitted to the Chief of Staff for a decision. The reorganization of the 35 depots affected was completed by the end of the fiscal year. Of this number, 21 depots in France were under COMZ jurisdiction while the rest were under the direct command of the technical services. Although the main changes occurred in the COMZ depots, all were affected by the reorganization and all former T/O&E units were converted to T/D units. Approximately 1,500 personnel spaces were saved as a result of the reorganization. (36)

FOOTNOTES