If you do NOT see the Table of Contents frame to the left of this page, then
Click here to open 'USArmyGermany' frameset
35th Field Artillery Group
VII Corps Artillery
Looking for more information from military/civilian personnel assigned to or associated with the U.S. Army in Germany from 1945 to 1989. If you have any stories or thoughts on the subject, please contact me

.
---
Group History (1951-1971)

Corrections & Additions
Lynton (Bill) Stewart
Dave Brase

Avn Sec

2nd Bn, 35th Arty

1st Bn, 36th Arty

2nd Bn, 37th Arty

3rd Bn, 37th Arty

5th Bn, 73rd FA (SGT)


---
Research Request
1. Hq Btry, 35th FA Group move from Bismarck Kaserne to Hardt Kaserne
Requester: Webmaster
Subject: Looking for information and dates when the 35th Group headquarters moved from Bismarck Kaserne to Hardt Kaserne, both in Schwäbisch Gmünd.
Contact: webmaster
2. Hq Btry, 35th FA Group move to Bamberg
Requester: Webmaster
Subject: Looking for details on the move of the 35th Field Artillery Group to Bamberg which occurred around September 1963. This move also brought about a change in the field artillery units attached to the group.
Contact: webmaster
Group History
1951 - 1971
(Sources: 35th Field Artillery Group, Germany, 1954; 35th Field Artillery Group, 1964)
On 1 April 1951, the 35th Field Artillery Group Headquarters was reactivated at Sonthofen, Germany, under command of Lt Col Jesse D. Jackson. The unit later moved to Munich and was attached to the 2nd Constabulary Brigade, with control over the 70th and 74th Field Artillery Battalions.

After spending the summer of 1951 in Grafenwöhr where it was brought up to full strength, Group Headquarters was moved in the fall of 1951 to Schwäbisch Gmünd, Germany.

Col Alex N. Williams, Jr., assumed command of the Group on 7 August 1954.

From 1951 through 1955, the 35th FA Group supervised the Battery, Battalion, and Group tests, for its attached units, at Grafenwöhr and Vilseck. Numerous field command post exercises (CPX's) and field training exercises (FTX's) also helped to insure a high degree of combat readiness.

In April 1954, the 74th Armored Field Artillery Bn (105mm, SP) was assigned to the 35th Group.

In 1954, the following units were attached to the 35th Group:
| | | |
| --- | --- | --- |
| UNIT DESIGNATION | LOCATION | COMMENTS |
| HHB, 35th FA Group | Schwäbisch Gmünd | |
| 74th Armored FA Bn (105mm)(SP) | Pinder Kaserne, Landshut | |
| 272nd FA Bn (155mm)(Towed) | Wiley Barracks, Neu Ulm | moved from Schw. Gmünd on 1 June 1952 |
| 330th FA Bn (8in Hvy)(SP) | Wiley Barracks, Neu Ulm | moved from Schw. Gmünd on 6 June 1952 |
| 567th FA Bn (155mm)(Towed) | Schwäbisch Gmünd | |
| 599th FA Bn (155mm)(Towed) | Hardt Kaserne, Schw. Gmünd | relieved from 35 GP; moved to Erlangen (Sept 1954?) |
| 887th FA Bn (8in Hvy)(SP) | Dolan Barracks, Schw. Hall | |
---
ORGANIZATION (December 1955) 1):
| | | |
| --- | --- | --- |
| UNIT DESIGNATION | LOCATION | COMMENTS |
| HHB, 35th FA Group | Schwäbisch Gmünd | |
| 273rd FA Bn (155mm)(Towed) | Neu Ulm | replaced the 272nd FA Bn in Jan 1955 |
| 287th FA Bn (155mm)(Towed) | Dachau | |
| 567th FA Bn (155mm Hvy)(SP) | Schwäbisch Gmünd | |
| 775th FA Bn (8in Hvy)(Towed) | Schwäbisch Hall | replaced the 887th FA Bn late 1954? |
| 802nd FA Bn (8in Hvy)(SP) | Neu Ulm | replaced the 330th FA Bn in Jan 1955 |
| 6th FA Btry (HJ) | Schwäbisch Gmünd | |
1) Source: STARS & STRIPES, Dec 9, 1955 - information still needs to be verified
---
1951
(Source: STARS & STRIPES, September 11, 1954)
An article in the above issue of the STARS & STRIPES, mentions that the 452nd FA Battalion (Neckarsulm) and the 887th FA Battalion (Schwäbisch Hall) were attached to the 30th Field Artillery Group in 1951.
---
1954
(Source: STARS & STRIPES, October 13, 1954)
A sports article in the above issue of the STARS & STRIPES lists several of the battalions attached to the 35th FA Group at that time:


201st FA Battalion


272nd FA Battalion


567th FA Battaion


887th FA Battalion
The units mentioned are the ones that participated in a double-elimination touch football tournament at Schwäbisch Gmünd, so the list is not necessarily complete.
---
Two rocket batteries (HONEST JOHN) were attached to the 35th Field Artillery Group, the 6th FA Battery and the 85th FA Battery.

On 1 June 1958, the 35th FA Group was redesignated as the 35th Artillery Group.

---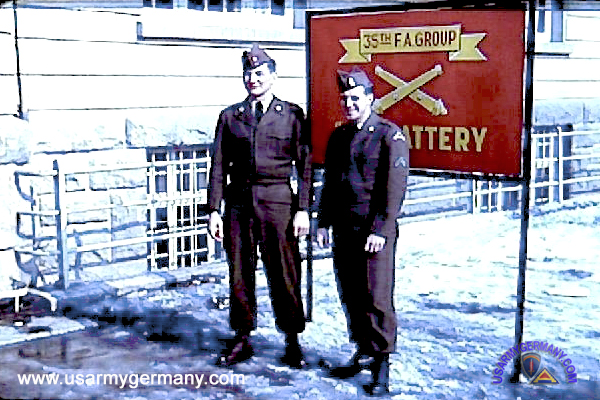 John Branch (left), HHB, 35th FA Group, Bismarck Kaserne (John Branch)
1955
(Source: Email from John Branch)
I was a non-com assigned to the H&H Btry Group Feb 1955 to 1957. As I recall, the full colonel commanding the group was Col. George Garton (I think the spelling is correct).

Headquarters Battery was billeted in Bismarck Kaserne and the battery commander for most of my tour was Capt. Meranski. I worked in S2 for Major Bruner S. Lee and I recall there were numerous L-19 pilots (2 Lts. ) in the Hqs.

It was a great time although we spent about half of our time in the field. 1955 or 1956 was a major cold and snowy year for Bavaria, perhaps still the record for both.

The first shirt most of my tour was a Sgt. Counts from TX and he ran the battery as far as us enlisted folks were informed. Our unit had outstanding morale and spit and polish was by choice, not by enforcement.

Would be pleased to hear from any folks serving there about that time.
---
1956
(Source: Email from Jack Cull, 28th FA Bn, 1956-57)
In 1956 and 1957 Hq and Hq of the 35th Group was at Bismark Kaserne in Schwaebisch Gmuend. The full Col. in charge of the 35th was ranking officer of the Kaserne. I was in C Battery of the 28th FA Bn at that location.

At Hardt Kaserne there was an Honest John Battery of the 11th Airborne Division

Attached you can see the barely distinguishable HQ 35th Group sign on the right side of the attached photo.

Webmaster note:

The insignia on the 105mm gun is that of the 28th FA Bn:

28th Field Artilley Battalion DUI
---
PENTOMIC Changes - 1957/58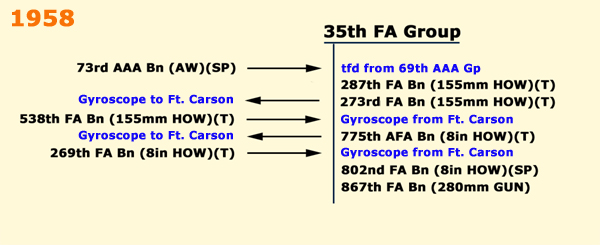 ORGANIZATION (30 June 1958):
| | | |
| --- | --- | --- |
| UNIT DESIGNATION | LOCATION | COMMENTS |
| 73rd AAA Bn (AW)(SP) | Knielingen [1] | |
| 269th FA Bn (8in How)(T) | Schwäbisch Hall [1] | |
| 287th FA Bn (155mm How)(T) | Dachau [1] | |
| 538th FA Bn (155mm How)(T) | Neu Ulm [1] | |
| 802nd FA Bn (8in How)(SP) | Schwäbisch Gmünd [1] | |
| 867th FA Bn (280mm Gun) | Neckarsulm [1] | |
[1] STATION LIST, 30 June 1958
---
1960
(Source: Email from Bob Edwards, Dolan Barracks, Nov 1960-Apr 1964)
The information you have about the attached units in 1960-1963 (while the Group Hq was at Schwaebisch Gmund) is accurate, but lacking in one detail. Dave Brase's memory is correct about the designation of the battalion at Dachau (2nd Howitzer Battalion, 37th Artillery, 155mm SP) and the other two battalions, but there was a fourth unit, the 3rd Howitzer Battalion, 37th Artillery (8-inch Towed), which was also at Dolan Barracks, Schwaebisch Hall.

I was a member of the 1st Howitzer Battalion, 36th Artillery, also at Dolan Barracks during this period and we had a continuing friendly rivalry with the 3/37, which was organized under the same TO&E as us and had its headquarters in the same building as ours. The entire 35th Group always went to Grafenwohr at the same time for annual live-firing battery and battalion tests and this gave us the opportunity to meet people in the group headquarters and the other battalions, although we never knew the Schwaebish Gmund and Dachau folks as well as those of the 3/37, whom we saw every day.
The 35th Group commanders during that time period were Colonel George Mayo, Jr., Colonel Urey W. Alexander, and Colonel Douglas C. France, Jr.

ADDENDUM:
The 3rd Howitzer Battalion, 17th Artillery, which was stationed with the 35th Group Hq at Hardt Kaserne, Schwaebisch Gmund, was 8" Self-Propelled (NOT Towed). I'm certain about this because I was detailed to 35th Group umpire teams and safety officer duty several times at Grafenwohr when the 3/17 was engaged in battery and battalion firing tests. The self-propelled howitzer the 3/17 was equipped with then was the M55, which had a fully enclosed turret. Later in the 1960s, the Army replaced that model (and towed 8" howitzers) with the M110 self-propelled 8" howitzer, which had an open gun deck.
---
1961
(Source: Email from Paul Brooks)
After leaving second eight at Ft Sill, I was assigned to the 3rd Battalion of the 17th Artillery stationed at Hardt Kaserne in Schwaebisch Gmuend, Germany. Entered the kaserne on a very cold January day in 1961. The unit was in the field for "Wintershield II". They were equipped with twelve eight inch self propelled artillery pieces. Someone mentioned the nomenclature for them in an earlier post. The crew was enclosed making the unit appear more like a tank.

Spent over a year with this unit before transferring on base to the 35th Artillery Group Headquarters. There were four large stone barracks on base - One for Headquarters and Headquarters Battery, two for the firing batteries and supply, all of which were for the 17th and one for Group Headquarters. Large mess hall at one end and a recreation hall at the other and a large quadrangle in the center. EM club and PX were towards the motor pool.

There was also a small Signal Corps unit attached and billeted in the Headquarters building of the 17th.

The Officer's Club, NCO's Club and the medical personnel were located down the hill at Bismarck Kaserne - In addition to their separate military units at the kaserne, there was a small company of MPs.

Yes, indeed the 17th was self propelled. This particular vehicle was notorious for final drive problems. Such an event occurred during an alert in 1963. Monthly alerts were called, at that time, by designated authority for a particular month. For example, USAEUR might call the February alert, then 7th Army the March, VII Corps Artillery the following, etc. However, on the mentioned event, the alert was called by the 35th. As the commanding officer, either Col Alexander or France, memory fades, was on leave, the Executive Officer, Lt Col Williams thought, for whatever reason, to call the alert at or about 1730 hours. Most of our alerts were called during the night. But, Col Williams wanted to test "rush hour" - The German citizens were getting off work - The road to the alert area was of a narrow two lane type winding through a small dorf to the east - There was a sharp turn to the right in the village - One of the first 8 inchers threw it's final drive in the center of the turn. There were several of the guns behind mixed in with Army vehicles and German drivers. Everything came to halt - Horns were honking, Germans were yelling all sorts of wondrous salutations to the despised "Amis" - The only person laughing and smiling was the good Lt Col Williams - He thought it was great and that it made a more realistic test.

At least no one was gigged that evening for not bringing all of their equipment. It was such a fiasco that virtually all concerned simply wanted to get back to base. The good Colonel probably relished his evening at the "club".

After I transferred to Group Headquarters, I was the S-2 clerk. In addition to the S-2 officer's duties, the Major also was Safety Officer for the Group. So I had to process various accident reports from the various units under Group's command. In addition to those units stationed at Schwaebisch Hall and Dachau listed at this site, there was also a 280mm "Atomic Cannon" battery. However, I can't recall it's unit designation, but it was stationed closer to Munich.

We were a typical artillery unit in training in Germany during those early 1960s. Either field training at Grafenwohr and Vilseck, winter field training such as Wintershield, or on NATO training with the French and West German Army attachments or back in garrison. As a part of the very real "Cold War", one of the batteries of the 17th was always stationed near the Czech border - They were equipped with Special Warheads in the event of an invasion.

Only notorious moment for the units was the day a drunken enlisted man walked into the ammo dump and drove out with a 10 ton truck loaded with eight inch shells - Took off towards Stuttgart which was some 30 miles to the west - Side swiped several German vehicles - MPs were frantically trying to stop him - Word went ahead to the German Police, who set up a road block at the edge of Stuttgart - Somehow, he went off the road into a muddy field and became stuck - If the MPs had not positioned themselves behind the German Police and the driver, the Germans would have shot him.

One interesting aspect of this incident was the creative writing of the report - One of the first questions raised was why the ammo dump guards had not fired their M-14s to stop him - Well, there was a bit of a problem with that - Several months before, some clown had fired his weapon during the night while on guard duty - The Germans complained, so live ammo was not allowed to be issued for guard duty - So lots of creativity went into trying to explain the non-firing of the weapons - Live ammo was issued the next night.

In August of 1963, the men of the 35th Artillery became the 56th Artillery - I was discharged at Fort Hamilton in late October of 63 - Even though my DD-214 still reads Hq and Hq Btry 56th Artillery, I will always think of having been in the 35th.

As we get older, many have a tendency to only remember the best of days - For me, there were some days of looking out the windows of Headquarters Battery of the 17th and seeing dark clouds hanging a very lonely quadrangle - And I should have taken a photo of summer in 1962 - Believe it was on a Tuesday - But, I also recall serving with many fine personnel, both officers and enlisted. It was a mix of regulars and draftees - Still do not see the difference in many of these soldiers - It was a time of proudly performing one's National Service, whether regular or draftee.

Over Hill, Over Dale, and all that, thanks for the trip down memory lane.
---
1963
In August 1963, an exchange of unit designations occurred with the 35th Artillery Group exchanging colors and numbers with the 56th Artillery Group in Kitzingen, Germany. Immediately upon redesignation, the 35th Artillery Group moved to Bamberg, Germany, arriving in September 1963.

The Group at that time was composed of the following units:
1st Battalion, 41st Artillery (HONEST JOHN), Kitzingen
2nd Battalion, 81st Artillery (CORPORAL), Erlangen
2nd Battalion, 82nd Artillery (CORPORAL), Kitzingen
1st Battalion, 83rd Artillery (8" Towed), Erlangen

In September 1963, the composition of the Group changed and it was then made up of the following units:
1st Battalion, 36th Artillery (8" Towed), Erlangen (formerly 2nd Bn, 81st Arty)
2nd Battalion, 81st Artillery (CORPORAL), Erlangen
2nd Battalion, 39th Artillery (8" Towed), Bamberg (1)

In October 1963, 5th Battalion, 73rd Artillery (SERGEANT) replaced 2nd Bn, 81st Arty (CORPORAL) which was deactivated. Also, 6th Battalion, 10th Artillery (175mm Gun) arrived in Bamberg to join the Group; 2nd Bn, 39th Arty (8" Towed)
(1)
was redesignated as 1st Battalion, 75th Artillery (8" Towed) and remained in Bamberg.
In March 1964,
2nd Battalion, 35th Artillery
(8" Towed) in Dachau came under the control of 35th Artillery Group for purposes of preparing the unit for return to CONUS.
In April 1964, Battery A, 2nd Target Acquisition Battalion, 25th Artillery moved from Stuttgart to Bamberg and joined the Group.
During June 1964, 2nd Bn, 35th Arty was relieved from attachment to the Group and returned to CONUS.
During the first six months of 1964, both 1st Battalion, 36th Artillery and 1st Battalion, 75th Artillery were re-equipped and redesignated as 8" SP battalions.
The 35th FA Gp is inactivated at Bamberg on 15 January 1971.
(1)
See
Corrections
for correct designation of this unit - should be 5th Bn, 39th FA.
---
1964
(Source: STARS & STRIPES, June 15, 1964)
The 35th Artillery Group is headquartered at Bamberg, Germany.

The mission of the Group, as an element of VII Corps Artillery, is to support the action of the Corps by reinforcing the fires of division artillery; by engaging targets which are beyond the range of power of division field artilery; by firing on hostile reserves; and by disrupting hostile command, communications and other important installations.

To carry out this mission, the 35th Arty Gp is composed of the following units:

HHB, 35th Arty Gp, Bamberg
1st HOW Bn, 36th Arty (8" Towed), Erlangen-- currently converting to SP
1st HOW Bn, 75th Arty (8" SP), Bamberg -- first unit in USAREUR to convert to M-110
6th Gun Bn, 10th Arty (175mm SP), Bamberg
5th MSL Bn, 73rd Arty (Sergeant), Erlangen
---
1965
(Source: Email from Werner Lehmann)
I was stationed in Bamberg at
HHB, 6th Bn. 10th Arty (175mm)
between Feb 1965 and September 1967.
For a while I was Battery clerk (under 1st Sgt Presley and Capt. Walter Olson). I was transferred to Personnel at
35th Group
under CW4 Michael Di Meglio. I was then asked to interview for a position as translator/interpreter clerk to the Public Affairs officer, Capt. William Wright. I was also the clerk/translator for the post gate guards unit for awhile until they disbanded them under SSG Reed.
I worked this job for approx. 18 months until I was discharged in late Sept. 1967. I stayed in Germany for another few months and worked as a civilian at the Furth Rod & Gun club.

The time spent at the Public Affairs office was just before a lot of problems arose from soldiers come back from Nam. We dealt mainly with the relationship of the military to the City of Bamberg. The problems we had were mainly maneuver damages to local German farmer's crops, fights in German pubs, etc. We were in the MP building which also housed the CID. We had a few jail cells in the basement.
Our secretary was a favorite aunt type lady named Renata and the other man in the office was a Russian named Mr. K. The secretary of the CID was a wonderful lady named Sibille K. (with whom I am still in contact with) and another lady in the Family Housing unit was Helga R.

During this time the commanding officer was Col. McCarthy over at 35th Arty Group. Since I spoke German I had a lot of friends in the city. I always got asked about nukes on our missiles and, of course, officially we had none but the Germans knew better. The Mayor was Mr. Mathieu (not really German) and the Chief of Police was a Mr. Ritterbecks.
---
Bill Stewart sent in some corrections to the information posted on the 35th Artillery Group. THANKS, Bill!
I was assigned to EACH of these units between April 1962 and December 1964. I know what units were what.

1. The 2nd Battalion, 39th Artillery was NOT in Bamberg in the early 1960's.

2. The 5th Battalion, 39th Artillery WAS there. I was assigned to Batallion S-4, Headquarters and Headquarters Battery in April, 1962. It had the Lacrosse Missile, with Nuclear Warheads. This was the first unit I was assigned to. It was disbanded, and the buildings it was in became the Headquarters of the Artillery Group. It was on Poodledorfer Strasse, right across the street from the Bamberger Hofbrau Brewery (which delivered to a basket we would let down on a rope. Ah, well do I remember kicking back in my room, drinking that good German Beer.).

3. I was transferred to the C Battery 2nd Battalion, 35th Artillery in 1963. This meant that I moved one building down from where I had been in the 5th of the 39th Arty. The 2nd Battalion, 35th Artillery had 155 towed artillery.

4. The 2nd Battalion of the 35th Artillery was redesignated the 1st Battalion, 75th Artillery. It was equipped with the M-110 self propelled 8" Artillery. We also had nuclear warheads, which were stored in the basement of "C" Battery. I know that Battalion well. I re-enlisted in that unit, and was sworn in by the Battalion C.O., Lt. Col Bernard Johnsrud. The Bamberg web site has a picture of him on one of the M110's, shortly after we got them. I became a medic after re-enlistment, and left Bamberg in December 1964.

Lynton (Bill) Stewart
Former SFC AMEDS
(Source: Email from Dave Davies)
I was puzzled that in 1954 the 599th FA Bn is said to have been at Hardt Kaserne in Schwaebisch Gmuend. I arrived there, to the 567th FA Bn in March of 1955. So I guess the 599th was gone by then? I was Bn radio chief and perhaps could add some interesting info on the 567th.
---



35th FA Gp
Schwäbisch Gmünd






1. (KB)

2. (KB)

3. (KB)




4. (KB)




---
Dave Brase contacted me with some additional information on the 35th Arty Gp during the 1960-62 period - prior to the moving of the Group's colors to Bamberg. Dave played a lot of football with the VII Corps "Jayhawks" team. THANKS, Dave!
Hq & Hq Btry, 35th Artillery Group was located at Hardt Kaserne, Schwäbisch Gmünd, in the 1960-62 timeframe. There were three howitzer battalions that reported to the 35th:

3rd How Bn, 17th Artillery (8in) (Towed), Hardt Kaserne, Schwäbisch Gmünd

1st How Bn, 36th Artillery (8in) (Towed), Dolan Barracks, Schwäbisch Hall

2nd How Bn, 37th Artillery (155mm) (SP), Dachau
Dave was not sure of the designation of the unit located at Dachau.
If you have more information on the history or organization of the 35th FA Group (or any of the subordinate units), please contact me

.

---
Aviation Section
Bamberg is the hometown of Willy Messerschmitt and so it´s no wonder that he began his carreer as an aircraft builder at the site where Bamberg Army Airfield is presently located.
Little is known about the history of this Army Airfield except that during the years 1950 thru 1955 the Army Airfield capacity was increased by one wooden hangar. It was dismantled at the Coburg Army Airfield, hauled to Bamberg and re-erected as the third hangar. The original grassy landing strip, taxiways and apron were improved by the installation of Pierced Steel Planking, which later were partly replaced by asphaltic surfaces.
(Source: Email from Billy R. Wood, Bamberg Airfield Commander, 1967-70)
I was the Airfield Commander and got to make a presentation, in German to Willy Messerschmitt who was living in Los Angeles at that time, Bamberg was his home town.

After serving in Viet Nam as an Army helicopter pilot, I was reassigned to the 35th FA GP in Bamberg in Aug 1967 and was there until Aug 1970. Although I was assigned to the 35th FA Gp Headquarters as an aviator, I had "additional duties" other than flying.



PHOTO (left): CAPT Billy R. Wood (Bamberg Army Airfield Cdr) & Willy Messerschmitt [celebrating the 60th Anniversary of aerial flight in the town of Bamberg].




Avn Sec, 35th Arty Gp
Bamberg






1. Hangars (KB)

2. OH-13 and AVGAS fuel tanker (KB)

3. Flight Operations quonset hut (KB)




4. 35th FA Go Avn Sec (KB)

5. Capt Wood (KB)






---
6th FA Battery (Honest John)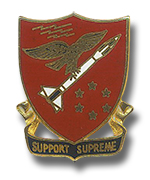 6th Field Artilley Rocket Battery DUI
1956
(Source: Email from Lou Treadway, 6th FA Btry & C Btry 377th FA)
Ran across your website while searching for info on the Honest John Rocket. I was assigned to the
6th Field Artillery Battery
, VII Corps, Seventh Army in early 1956 from the 82nd Airborne Div. Artillery at Fort Bragg.
The nuclear warhead for the HJ was the MK 7 implosion type warhead.
Became the nuclear officer for the unit and underwent the first inspections conducted by AFSWAP, the forerunner of the Technical Proficiency Inspections (TPI) conducted by the IG on nuclear capable artillery units and their Ordnance Support units in Germany.
Because of the poor showing of the artillery units and their Ordnance Support units, the
Seventh Army Special Weapons School
was organized at Pirmasens, Germany in 1957, as I recall.
I believe the course of instruction was for two weeks. Remember, I am trying to recall events of 40 years ago and sometimes I make a miscall. You may also note that during the course of instruction for each weapon system there was supervised evening study hall for the students with instructors attending to answer questions. Again as I recall, the study hall periods lasted from 1900-2100 hrs. nightly. When instructors were not on the teaching platform or between the arrival of a new class, the time was spent revising lesson plans, improving teaching skills, reviewing student tests and devising new tests. Written tests were changed quite frequently to prevent students from supplying questions to buddies who would later attend the course. We also reviewed students' comments and their evaluation of course content at the end of each course.
As the Army reorganized under ROTAD, the 6th Rocket Battery was redesignated
Battery C 377th Artillery
and assigned to the 11th Airborne Div. Artillery.
I was selected to be the Chief instructor for the Honest John system at the school and remained there until rotating back to the States in 1960.
Upon returning to the States, I was assigned to Battery B, 377th artillery of the 82nd Airborne Div. artillery and shortly thereafter assumed command of the unit. After a tour with Special Forces in Vietnam, I was again assigned to the 82nd Airborne Div. artillery as commander of my old outfit Battery B 377th artillery that had become a Little John unit.
Thought you might like to know.
ADDITIONAL INFORMATION
Later in the 1960s, I was the S-3 (Operations Officer) for the 558th Field Artillery Group in Athens, Greece. We provided custodial nuclear weapons support to Greek forces equipped with the Honest John, 8 in. Howitzer and Nike Hercules air defense system. Attached to the

Group

was an Emergency Ordnance Disposal (EOD) detachment and a SW Ordnance Battalion. Our parent organization was the Special Ammunition Support Command (SASCOM) in Germany.

Later I was the staff chief of NATO Support, an innocuous sounding section in the DCSOPS of USAREUR. My section monitored all the land delivered nuclear weapons systems in allied command Europe. This included both U.S and NATO units. I was also USAREUR's rep to the NATO Infrastructure committee that approved and deployed U.S. special weapons support units in support of NATO forces.

Some additional details:
AFSWP .... Armed Forces Special Weapons Project.
Was the SOP for "C" Btry, 377th FA different than it had been for the 6th FA Btry since it was now assigned to an airborne unit?
As far as I know the SOP was the same as far as nuclear capability, employment etc. Once assigned to the 11th Airborne Div., it's role had changed from being in a General Support role to the VII Corps sector to assuming a General Support role for the 11th Airborne Div. Artillery. Also once joining the 11th, the troops had to undergo some training in air transportability as well as being parachute qualified.
Can you give me some details on the Seventh Army SW School?
As I recall, the organization was commanded by a Colonel with an administrative staff and the instructional staff, comprised of officers, warrant officers and enlisted personnel (mostly NCOs) While some of the instructional personnel were for specific weapons, i.e. warrant officers on the Corporal Missile system and officers on the Honest John, 8 inch Howitzer system
and Atomic Demolition Munitions (ADM), many were crossed trained in the common subjects. For example, my primary role was to teach the Honest John System although I also taught basic electronics and basic nuclear physics relating to the warheads.
A typical course for weapons check-out personnel was for three weeks duration. We did have orientation courses for Battery/Battalion commanders and higher if they wished to come. Bear in mind, in those days, if a unit failed a Technical Proficiency Inspection (TPI) or Operational Readiness Inspection (ORI) for air defense artillery (Nike
Herc) it was highly probable that the battery commander as well as the Battalion commander would be relieved of command, sometimes on the spot. As you might expect, the courses were well attended. I can't recall how many classes we had a year but they were almost continuous.
The SW School at Pirmasens was adjacent to an Ordnance Depot unit for Special Weapons. I can't recall which building it was.
I believe a school/course for SW was initiated at Oberammergau around the same time.
Did the O'gau courses replace the 7th Army SW School or was it maybe focused on NATO personnel and units who were not part of 7th Army?
I may be wrong but I believe the SW school at Oberammergau was for a nuclear weapons employment course and not for warhead check-out personnel. The focus on our instruction was to make sure check-out personnel could pass the TPI inspections. Many times school personnel were requested to give courtesy inspections to selected field units.

---
85th FA Battery (Honest John)
1954
(Source: Email from Dale Rohde, 85th FA Btry - Leipheim, Germany & Vicenza, Italy)
This is the history of 85th FA Rkt Btry as I remember it.

After basic training in Ft. Riley, KS I went to Ft. Jackson, SC and was assigned to 85th FA RB in Ft. Bragg, NC in 1954. I was the Personnel Specialist for that unit.

In Dec. 1954 the unit was sent to Leipheim, Germany, Fliegerhorst Caserne where we stayed until the unit was sent to Vicenza, Italy at Caserma Ederle. The unit stayed there until I was sent back to the states in August 1956.

My period of time in Leipheim was from Dec 1954 to May 1955 when I was still the Personnel Specialist for the 85th FA RB but it was felt I should be with other Specialists in Neu Ulm. The 85th FA RB stayed in Leipheim.

The attached pictures are of the barracks in Leipheim. The others are of the unit going to the French Zone in Reutlingen, Germany to show the French General the rocket launcher.

The 85th FA RB had about 100 enlisted men with 2 officers: Captain Bostic in charge of the unit and a 2nd Lieutenant who's name I don't remember.
| | | | |
| --- | --- | --- | --- |
| | | | |
| 1. On road to visit French post | 2. On road through the Schwarzwald | 3. Capt Bostic (right) | |
| 4. French soldiers during demonstration | | | |
---
(Source: Email from Don Henry)
I called up your site looking for some information concerning the 85th FA Battery but found nothing. I was a part of the unit that was activated at Fort Bragg in the spring of 1954.

In December 1954, the unit was shipped to Europe, evidently with the 6th FA Battery, and we were told we were the first U.S. units (equipped with the HONEST JOHN rockets) sent to Europe.

We were based at Leipheim, a small former Germany Luftwaffe air strip some 18 ks from Ulm.

Part of our time was spent conducting demonstrations for visiting military brass. We took one week-long tour into the French zone of Germany, giving four displays for French troops.

I left the 85th as sergeant in the radar section in September 1955 to be discharged.

I heard the unit later was transferred to Italy but lost all contact with it.

---
269th FA Bn (8in How)(T) - 3rd How Bn, 37th Arty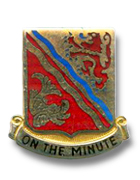 3rd Howitzer Bn, 37th Artillery DI
1962
(Source: Email from Richard Martin, B Btry, 3-37th Arty)
(Check out Richard's other photos on

)
The pic above is B/3/37th Arty, out of Schwaebisch Hall, on a range near Vilseck.

I was stationed with the unit from April 1961 thru Oct. 1963. A 33 month tour due to the Berlin Wall. Had some wonderful times there.
Richard Martin



3rd HOW Bn, 37th Arty
Schwäbisch Hall






1. M-115 8in howitzer at Dolan Bks (KB)

2. Another view (KB)

3. Firing Range at Graf (KB)




4. Prime movers (KB)

5. Offloading HE shells (KB)

6. FDC van (KB)




7. 8" Projos (KB)

8. Charts (KB)




---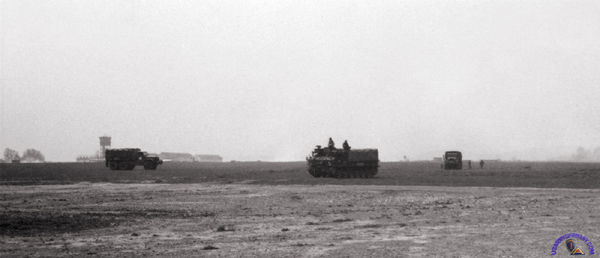 Tracked vehicle (high speed tractor M8A2) of a firing battery during "readiness test," 1963.
(Source: Email from Wayne Bailey, HHB, 3-37th Arty, 1962-64)
I was assigned to the 3rd Howitzer Battalion, 37th Artillery in July 1962 and remained until rotation to the States in January 1964.

This battalion was located at Dolan Barracks, Schwaebisch Hall, Germany. We occupied an old German Luftwaffe base. The Battalion consisted of three or four batteries of towed 8-inch howitzers, a service battery and a headquarters battery. Although I was trained as a gunner, I landed a spot in headquarters battery as the courts and boards and correspondence clerk.
Our commanding officer was Colonet Platt, as I recall.
---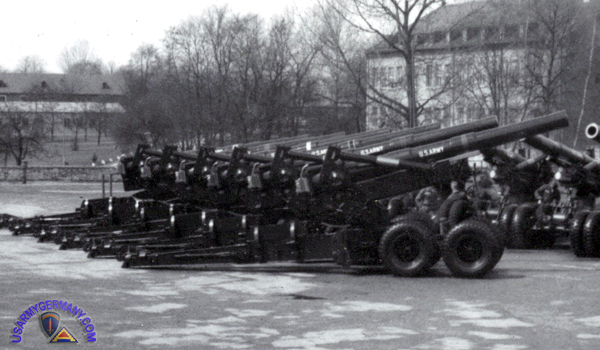 (Source: Email from Wayne Bailey, 3rd HOW Bn, 37th Arty, 1962-64)
I have only a few pictures of the equipment of 3d How Bn, 37th Arty. I was trained as a gunner at Ft. Sill, but when I arrived on station at Dolan Barracks (Schwaebisch Hall, Germany) in July 1962, I was assigned to Headquarters Battery and never worked the guns again.

Our guns were towed by 10 ton trucks. We did have some tracked vehicles. My understanding was they hauled ammunition. I have a photo of all of the guns of the 3d on display, and one photo which shows one of the tracked vehicles.

Once when I was on guard duty, I examined the breech of one of the guns and discovered it was manufactured in 1943.

I'm remembering a little more---as I recall, the tracked vehicles had a small crane attached which was used to lift the 8-inch shells. I rotated back to the States in January 1964. The scuttlebutt as I was leaving was the 3d battalion was going to get SP guns.

Dolan Barracks was actually an old Luftwaffe base. The EM club was converted from the old German Officer's club. It was a beautiful building (sadly, I have no photo of it). One Spring, workers were taking down an overgrowth of vines around the building and discovered a small bronze marker on the side of the building. It was engraved "Adolph Hitler Strasse". Somebody got a great WW2 souvenir a couple of decades after the fact.

I believe we had nuclear rounds, as well, although I never saw one. They were called "special weapons". The information was kept secret (from the Soviets as well as from the local Germans). Speaking of Soviets--according to treaty, the Soviets had the right to visit some US bases in West Germany, including ours. They were required to have special tags on their cars. We were all issued a facsimile of their license plate and told to report if we ever saw one of their cars. I don't think I ever saw one, but some guys said they did.

I heard that Dolan Barracks is long gone and shopping centers and apartments now occupy the space. I guess the Germans want to erase all reminders of their past.



3rd HOW Bn, 37th Arty
Schwäbisch Hall






1. Bailey next to Bn Hqs Bldg (KB)

2. Troop billets (KB)

3. The battalion's guns (KB)




4. Equipment display (KB)

5. Equipment display (KB)

5. Readiness test 1963 (KB)





5. Readiness test 1963 (KB)
---
1965
(Source: Email from Dan Semlak, B Btry, 3rd Bn, 37th Arty, 1965-67)
I was stationed at Camp Dachau from November 1965 thru May 1967 with the 3rd Bn, 37th Artillery, an 8" self-propelled howitzer unit. Our motto was "ON THE MINUTE."

They failed a Bn Test at Graf just as I got there and we worked non-stop for ninety days until we went to Graf and redeemed ourselves.

Bn commander was LTC John Baker. Our B Battery commander was 1st LT (soon to be Capt) John Strauss who volunteered for Vietnam. Many Non Coms and Officers were taken on levie and sent to Nam.

We went to Graf and Vilseck on a regular basis and participated in some VII Corps FTX war games which were kind of fun.
---
(Source: Email from Albert Burton)
I was assigned to the 3rd BN, 37th Artillery, 7th Army in 1966 to 1968 at Dachau, Germany in the former Prison Camp.
We had a BN of 8" Self Propelled Howitzers. The commanding officer was LTC Baker and the European Commanding General was Gen. Poke.
---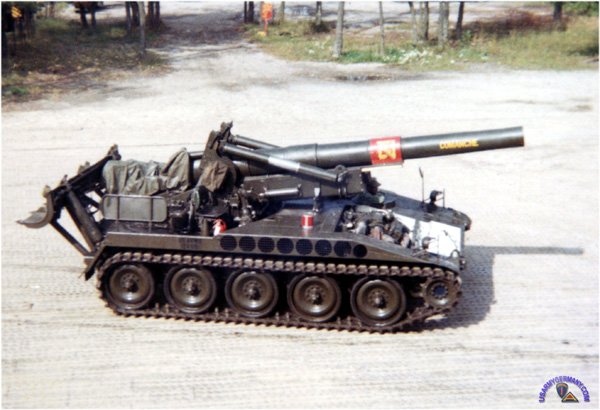 "Comanche", C Battery, 3rd Bn, 37th Field Artillery, Dachau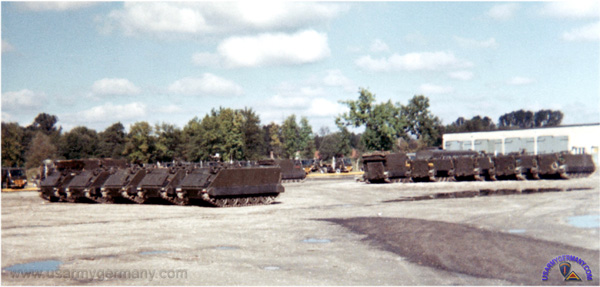 3rd Bn, 37th Field Artillery motor pool (APCs) and maintenance bays, Dachau
(Source: Email from Email from John D'Asto, 77th Trans Co, 1968-69; HQ 106th Trans Bn, 1969-71)
I am sending several photos of artillery that occupied our motor pool with the 77th Trans Co. They are of the 3rd Bn, 37th FA, 8" Self propelled guns.

Looking at your web site I found the correct name of the unit (after all these years and fading memory).
| | | | |
| --- | --- | --- | --- |
| | | | |
| 1. 3-37th barracks | 2. M-110 near Det B | | |
| 3. Eastman Barracks | 4. M-110 foregorund, IHC205s in motor pool | 5. "Brute", B Battery | |
---
1969
(Source: Email from Alan F. McKay)
I served with B/3/37th at Eastman Barracks, Dachau from 10/1969 through 7/1971. We were part of the 35th FA Group headquartered in Bamberg. I was promoted to Capt in June '69, then promptly received the expected orders to 'Nam. My first assignment in the 3/37th was B Battery XO working for Lou Ginright. Also served as SWO, S-2, and XO of A Battery. The Bn CO during this time was Donald G. Murphy.

Other names that I can remember after this many years are: Chuck Black, A Btry CO; Maj. Vern Mathern, Bn XO; Capt. Don McFall, S1; Capt Dick Walsh (soon to make Major), S3; Capt Warren Verdick, Bn Surgeon; Capt Glenn Sorenson, Bn Surgeon; Lt Skip Hutchison; Lt Chris Powers (who later rose to MG with the Texas Guard); CW2 Don Wolfbrandt; Capt Doug Gramlow, 77th Trans Co; Capt Eric Roho; Lt Bill Rice; Capt Louis Ginright.

How about the civilian lady who worked at the Officers' Club -- Frau Eggert. I remember the great Wienerschnitzel at the OC, and those "nikoloshkas" at the OC which were the required right of passage for every young 2Lt upon making 1Lt.

I remember many cold days and nights in Graf; running from gun to gun to check the settings, in 2 feet of snow; early morning reveille; SDO nights making the two rounds per night; and inspection of the guard and quizzing the troops on the chain of command.

I also clearly remember as a raw 2Lt getting chewed-out by B Battery 1st Sgt Auberry for not returning my .45 to the armory after serving as SDO one night. The weapons were inventoried, and mine was missing. This report went up to 7th Army, and there was hell to pay over this missing firearm. I never let this happen again. Auberry is well-retired now and probably still laughing at my shame over that incident.

The artillery training I received here did serve me well in 'Nam though. I learned my trade well in Graf.

If any alumni are out there, I would greatly enjoy hearing from them.
---
(Source: Email from William McComb, B Btry, 3rd Bn, 37th Arty, 1971-72)
I was stationed at Dachau from 2/1971 to 3/1972, with B/3/37th.

My Captain was William Hutchinson; I was in FDC and drove the Captain at times, during the first Reforger. We had a great time as we were dry; he was a fine man and I remember him always remembering the troops first, then we all went "WET" to a point.

I recall Graf in 1971, we were on a FP, range control said go dry; a CH-47 went down in our vicinity, found out later 37 souls perished....I still pray for those guys.

Does anyone have prostate cancer? Have spoken with several guys from Dachau who have had cancer; just wondering if the prior history of Dachau had anything to do with it. It was an Imperial munitions center during WW1 prior to being a concentration camp.

I give my best regards to my previous and former Soldiers of the 3/37; "On the Minute" was not a joke...we were VERY good.


---
287th FA Bn (155mm How)(T) - 2nd How Bn, 37th Arty
287th Field Artillery Battalion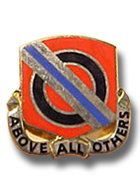 287th Field Artillery Bn DUI
2nd Battalion, 37th Field Artillery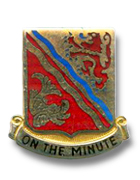 2nd How Bn, 37th Artillery DUI
1958
(Source: Email from Lou Pfafman)
The designation of the Artillery Unit at Dachau was the 2d Howitzer Battalion, 37th Field Artillery. This was a 155 Self Propelled unit. I was an original member of the this unit. It formed at Ft Sill, Ok, and Gyro'ed to USAREUR, Dachau Germany in December 1958. It replaced the 287th FA Bn on December 20th 1958.

The unit participated in many CPX and FTX. Some of the larger exercises were Operations Wintershield 1, Wintershield 2, and Freeplay.

I left the unit in May of 1961. Many a month was spent in Graf, Vilseck and the other training areas. I am very interested in the history of the 2d Battalion from the time I was a member till present.

ADDITIONAL INFORMATION:
The 2d How Bn, 37th Field Artillery arrived in Dachau Kaserne on Dec 20, 1958. The battalion Gyro'd from Ft Sill. The Bn Co was Lt Col George Kitchen, the XO was Maj Stanley Brugh, and the Bn Sgt Major was John Mack.

---
1960
(Source: Email from Richard H. Miller)
I served with 2nd Bn, 37th Arty under somewhat unusual cisrcumstances about 1960. At one point, I was firing battery XO for A Battery, armed with 155mm SP M44A1 howitzers. Battery commander was Jim P???; Bn CO's were Lt Col Kitchen, Col Hansen and Marlin Camp, later a BG.

In time of war, our mission was to leap from back to the Rhine River, covering the 11th Armd Cav Regt along the way. At that time, the 11th ACR was commanded by Col Signeous, later Maj Gen and president of The Citadel from whence he had graduated in about 1940. A fine officer!

The Battalion Commander of the 2-37 was also the Post Commander of Dachau. One very unusual incident occurred during the tenure of Marlin Camp: it seems that V Corps had stationed "B" Battery, 3rd Gun Bn, 39th Arty at Dachau, a separate battery some 75 miles from Bn headquarters in Nurnberg. "B" Battery had two 280mm guns and three nukes with a NATO mission to reinforce the German II Corps in time of war. As you can image, the battery was strange and had no help from headquarters at all.

About 1961 or so, "B" Battery (3-39) flunked it's Nuclear Inspection (TPI - Technical Proficiency Inspection) and there was HELL to pay. One battery officer was carried off twitching. Whereupon Marlin Camp had the battery attached to the 2-37 for command, support, etc. while "B" Battery continued to do its Border missions, etc., at Hof Gap, as per V Corps directions.

I was later posted to "B" Battery and commanded the 2nd Gun Pltn. I found out later that several officers had refused assignment to the battery as it was seen as a "career destroyer" and hard work. I found the assignment just right and had a good time. A way to avoid boredom.

Later I was posted to "A" Battery (2-37) as the XO and thence back to the Ordnance Corps, my parent branch.
---
1962
(Source: Email from Tim Richards, HQ 35th FA Group & Btry "A," 2nd How Bn, 37th Arty, Oct 1962 - May 1964)
Battery "A", 2nd Howitzer Battalion, 37th Artillery
By Tim Richards
I was stationed with the 35th Field Artillery Group Headquarters, S-2 Section, in Schwäbisch Gmünd, Germany. I knew a guy in my section by the name of Hauserman who spoke Deutsch. I was in Schwäbisch Gmünd for about six months, before I transferred to Dachau with Battery "A", 2nd Howitzer Battalion, 37th Artillery from approximately October 1962 to May 1964, when I rotated back to the States and out of the Army. I worked in FDC (fire direction control) under the leadership of 2nd Lt. Hill, a graduate, I believe, from Clemson University, who had a degree in chemical engineering. He was a delightful, friendly officer, slight of build and short, who blended well with the men in our section. When he transferred, Lt. Sudick replaced him.
The battery executive officer, 1st Lt. Lombardo, affectionately known as "Lumpy," was an outstanding leader, a West Point graduate, I believe, and was well respected by the men. He was Italian, had olive-tone skin, and a husky, stocky build. His stature appeared as slightly hunched — he'd lumber along with moderately slow, deliberate steps. Capt. Gosnell, I believe, was the battery commander.
To the best of my recollection, which is somewhat vague, I first arrived in Dachau to a battalion of 155 mm howitzers (towed) that got replaced with 8" guns soon afterwards. Whether the towed guns were replaced with self-propelled tracks, I don't remember. There was also a 280 mm gun battery located on base. It had two guns, which were towed by independent "A" and "B" units. I was impressed with the gun's enormous size upon its hooking up with its towing units each month when ALERT sounded. Remember those? Hurry up and wait.
A few of the names in the FDC section that I remember are: PFC Floyd Pettijohn from Missouri, who was assigned to our section as executive officer driver; PFC Gilbert Diaz, a Mexican man from Texas, who manned the radio; SP/4 Dale Dinger, the horizontal and vertical chart operator; and SP/5 Yarbrough, chief computer of firing data and section chief, until I replaced him when he rotated back to the States. He was from the New Albany, Indiana (area), and became a fireman after he got out.
Another name and good friend of mine was Ron Comstock. He was in Service Battery and rotated on the same day as me. We bought civilian clothes in New York City when we got out, partied and drank for several days, and otherwise spent our mustering-out pay on women before parting separate ways home. He and I nearly reenlisted for warrant officer helicopter school in April 1964, naively not knowing about the escalating war in Vietnam. Luckily, we didn't re-up. But twenty years later, when I located Ron in Rochester, New York, I discovered that he was a disabled combat veteran. A short time after we got out of the Army, he decided to reenlist, but as an officer. He felt a genuine calling to serve his country in its effort to fight communism in Vietnam, but was cut down in a firefight by machine gun bullets across his knees.
Marty Pesek worked in Headquarters Battery survey section. He and I became good friends and college roommates at Youngstown College when I got out in 1964. Another guy, a happy-go-lucky Italian named Frank Ceranni, hailed from New Jersey. I nicknamed him "Ming," and we shared a personal phrase, a saying between us when we both agreed on a subject. "Straight," we'd say laughing, while we flattened out our hands towards each other.
I remember one guy in Headquarters Battery who smuggled a fraulein into his barracks room that faced a railroad track behind the building. She wore his green Army rain poncho over her head and walked up the tracks to the soldier's room, where he pulled her up through the window and plunked her down gently on his bunk. Das ist sehr gut!
Another time my buddy and I were in München dancing mit frauleins. We got caught up in the fun, forgot about the time (we probably didn't care), and had to catch the last train to Dachau, which was not good, especially if you had no money for a taxi. It took thirty minutes to walk from the Dachau train station to base, which was too long to get back in time for bed check. In desperate straits to beat the clock on that very foggy night, he and I decided to take a taxi anyway, knowing we had no money to pay the fare. When the taxi stopped in front of battalion headquarters on the quadrangle, we bolted into the dense fog, disappearing quickly into the dark night, then circled around to the back door of our building and got to our rooms in time for bed check. For the next twenty minutes, I could hear the taxi driver repeatedly honking his horn. I guess the CQ finally came out to see what the matter was, because in the morning when we fell out for work call, the first sergeant made an announcement concerning the unsavory deed committed against Kamerad taxi driver. Nothing became of the incident, but it was the last time I took the last train from Munich to Dachau.
One Friday evening at the enlisted men's club, a pretty young fraulein sat at a table with another soldier. I asked her to dance and soon got to know Ingeborg, a short haired blond with an attractive figure and friendly smile. After dancing several times — and with her assurance that she was not romantically involved with the other soldier — we made a date to meet in the Munich Bahnhof (train station) the following week. I worried about being stood up after waiting twenty minutes beyond our scheduled meeting time, but she hobbled in late on a pair of crutches with a plaster cast around her ankle. She had twisted it a few days earlier. Inge and I became more than friends and wrote each for several years after I rotated back to the States. The last letter I got from her included pictures from her wedding. She married a dentist with two children.
Auf Wiedersehen
---
(Source: Email from John P. Kaphingst (aka Kap or Kappy), Btry "A," 2nd How Bn, 37th Arty, Oct 1962 - May 1964)
This article in response to an earlier article submitted by Spec 4 Timothy J. Richards that I had found on the "US Army in Germany, 1945-1989" website in February 2009. Tim and I served together in the 2nd Howitzer Battalion, 37th Field Artillery, 7th Army, APO 108, Dachau, Germany, from the early to near mid 1960's. After discovering his article we have since communicated with each another.
Dear Tim,
While I was visiting a long time friend in Kansas who was dying of cancer, he helped me discover our old army unit at Dachau, Germany. When I saw your name on the Walter Elkins' website, I went nuts. I could not believe my eyes! But things looked dim, since there were no addresses of people who wrote about their units. I had told my older brother and this friend in Kansas that Tim should remember me, and I could tell him a couple of stories.
If you don't quite remember me, I'll tell you a couple of stories. I was outside the mess hall visiting with another fellow. You and PFC Floyd Pettijohn were having some words, when Floyd took a small swing at you. You quickly hugged him, securing your arms around his body, and said "cool down baby," avoiding a fight and probably extra duty.
Here's the other story. One day when I was in the motor pool, you were working on something and needed your 2½ ton FDC truck. I volunteered to get it; you said ok. I had to drive from one outside area of the motor pool to another outside area through a building with two doors to reach the other side where you were waiting. As I speedily traveled through the door openings, I tore the canvas on the driver's side of the vehicle all the way down, about ten feet I guess. I thought that was it for me! You came to my rescue and fixed it, saving me from who knows what.
Here are some of my memories while stationed in Dachau.
For the record, I arrived at Dachau in October 1962, coming from "A" Battery, 1 st Howitzer Battalion, 14 th Artillery, 2 nd Armored Division, Fort Hood, Texas, and remained at Dachau until our battalion rotated back to Fort Carson, Colorado, in July 1964. A short time before our battalion gyroed back to the states we closed out our assignment under the 2nd Howitzer Battalion, 37th Artillery, 7th Army, remained the same Battalion, and then became the 35th Artillery, 5th Army. The rumor was our old colors were being retired.
I was assigned to Staff Sgt. Leon Lido's unit upon arrival. Our track driver was Philip Maxey and our gunner was buck Sgt. Gaines. Other members of this unit were PFC's Royal Gant, Charles Vincent, and Morrell. I don't remember his first name but he was from Texas. Gaines and Gants were black fellows. Gants and I got along real well. I did not get along with Staff Sgt. Lido and was later reassigned to SFC Sgt. Duke's unit and bunked with Frank Ceranni of New York. As I recall, Tim Richards and Frank Ceranni left for home in advance of the battalion being gyroed back to the states. Spec 4 Hector Rosado Diaz was our track driver. He was another New Yorker. I think we had PFC Ron Okerson in our unit as well? He was a short but stocky fellow. I remember Spec. 4 Ron Comstock too. Three others I don't want to forget are First Sgt. John P. Wilson, SFC James H. Francis, and Spec. 5 Ron Yarbrough. What a classy guy. We had a lot of fun for about one year before he went home.
Two other track drivers I remember were Spec. 4's Rosie (cannot remember his first name) and, I believe, Ernest Hickey. They went home early as well. Another was PFC Owen. Toward the end we hung around together. We played a lot of pinnacle at the servicemen's club on the weekends. Tim Richards played there too. A buck Sgt. named Hatfield (a tall slender fellow) was in charge of the ammo and arms room, but Spec. 4 Purdy ran it. A short fellow named PFC Huber was in the ammo unit. I remember 2 nd Lt. Hill. He was easy to converse with. His genuine respect and politeness to lower-ranking personnel was fantastic.
Another person I think of several times a week was a black fellow named PFC Swales. I forget which battery he was in. Here's the story. One day while on guard mount, I just got off duty and came into the guard house located in the basement of battalion headquarters when the staff duty sergeant advised me and others coming off guard that a civilian taxi roared through the main gate without stopping. The sergeant wanted a couple of volunteers to head out in the ¾ ton truck to apprehend the cab. I passed on this and went into the guard house. Within just a few minutes, one of the people who rode in the truck came running into the guard house saying they got in an automobile accident and needed an ambulance. Several of us ran out and found the ¾ turned over on its side. We were told that the cab was coming head-on toward the truck. The truck swerved and landed on its side. PFC Swales was thrown out from the back of the vehicle headfirst onto the pavement. His helmet liner was off and he was moaning and groaning while waiting for help. The next morning our battery executive officer 1 st Lt. Mike Lombardo had a special formation in our day room advising us that PFC Swales had died. Talk about feeling low! Swales was a real nice fellow. He kept talking about the girlfriend he was going to marry when he went home in a few months.
During the fall of 1963 our service club put on dances every Friday night for several weekends. A German band was brought in and 4-5 German ladies were picked up and brought to and from our post by PFC Pughs in an Army staff car. On one Friday Pugh asked me if I wanted to make the Munich to and from run with him. I said yes. Off we went. After leaving the service club and dropping off the girls in Munich, Pughs asked if we go in and out of a couple of Kasernes. Sure, why not. I was in the back seat with civilian clothes on. As we drove in and out of these two Kasernes I said to Pugh that I thought I was getting some real sharp salutes from the gate guards and wondered why. He burst out laughing and told me that when we dropped off the last couple of girls he took off a canvas cover covering a two star general plate that was mounted to the front bumper. After having some sharp words with him we both laughed all the way back to our post.
I went on a bowling tournament to Schwabisch Hall with our assistant executive officer in his vintage VW. We were gone about a week. He didn't talk very much. I stayed with him in the officer quarters at that post. Everyone was always saluting me in my civilian clothes. I'm sure this is because of where we were staying. Although we won nothing, it was quite an experience. I cannot remember the officer's name.
One day in the summer of 1963, our entire battalion was doing personal training on the grounds behind our barracks' building. One of the tasks our battery was doing was the horizontal rungs. These were overhead bars off the ground staggered about every 18 inches apart, 15 feet long. I had just completed 110 rungs. As soon as I let go to jump to the ground, my hands felt like they were on fire. It was a warm day. All of the skin on both of my hands peeled off my palms. How they hurt! I immediately headed for the dispensary located near the main gate. My hands were treated and wrapped up by Capt. Doc Weaver himself. He was a swell person. We bowled in a league together on the post.
On another day in the summer of 1963, a few months before I went to demolition school, I was picked to serve as a guard on the post main gate for 30 days. The two fellows I served with on my watch were PFC's Spears and Meebach from HQ's battery. We all got along great and had a fun time. I remember the three of us having visited the off-limits DP camp (displayed persons). What a sight! They were the smallest living quarters I had ever seen. Everything was in one room.
Also, we observed the building that housed prisoners during the war. The building was long and narrow and had about a dozen wooden jail cells. There was straw scattered about the floors. I was thinking back to the early WWII, thinking what life was like in the camp. I felt goose bumps for a short while.
In December of 1963, I was taking it easy in the day room. As I began to sit and get comfy, I picked up an October or November issue of Saturday Evening Post magazine, and as I started to thumb through it, I stumbled across an article about a murder in my home town. It was the Carol Thompson murder case. To this date our Minnesota Historical Society considers this to be the state's number one all-time murder case.
While I was attending the Demolition and Mine Warfare School in Murnau, Germany, not far from beautiful Oberammergau, I hitched a ride home on the last Saturday in August 1963 for pay day. It was a beautiful day and it was fun to see my friends. On the next morning, around 2 a.m., we had our monthly alert. I decided not to do anything but standby and watch everyone hustle. All of a sudden SFC Francis came up to me and asked why I wasn't helping with anything. I told him I was on TDY and should report back to that unit. He said, "You're staying here. Now get moving." So, I got what I was responsible for, and away we went into the dark of night.
It was sometime during the early part of the winter of 1963 that we again had another one of our monthly alerts. This one came on an early Sunday morning (about 2 a.m.) and turned out to be thoroughly embarrassing? Our battalion executive officer Maj. Philips took us to a location where all of our tracks got stuck in deep snow, like in a low valley. We couldn't move an inch. Talk about being sitting ducks for the enemy. We most definitely needed the big retriever to pull us out. It took almost all night.
I remember riding in our tracks in the early mornings down the streets of Dachau during our monthly alerts with our gun tops open like convertibles during all the weather climates? How about the one-month, once a year field training during the summer at Grafenwoehr, Germany, and one-month, once a year training in the winter months at Hohensfels, Germany? This later site was near the Czechoslovakian border.
When our battalion left Dachau for the last time in route to the USA, the departure site, when leaving the post on an old steam locomotive with its cars in tow, was definitely a sight beyond anyone's imagination. In the beginning, the train arrived at our post around the 1st part of May 1964, pushing flat cars, box cars, and passenger cars across the post, closing down the street that ran parallel with the canal. It stretched out from along the side of the main gate to just beyond battalion headquarters. The train used the same track it used during World War II when bringing prisoners into the camp. Although the cars sat idle and empty for several days, once the loading of the guns and equipment began, it left me with an unusual feeling. On our day of departure from Camp Dachau, it was sunny and beautiful. German civilians and other soldiers from the engineering battalion on our post were stretched out along the tracks waving at us and throwing flowers. Handkerchiefs were galore and tears were falling from the faces of many people. As the engine began to huff and puff and the cars started moving, I felt alone and empty. The loss of 500 troops to the City of Dachau had to be devastating. Oh! how I wish I had a photograph of this departure. Does anyone out there have one? I'd pay dearly for one! We were now heading for Munich to get an electric engine and then head to Bremerhaven, Germany, to catch our troop ship home to the states on the General William O. Darby. After five days at sea, we reached New York where some of us went on leave, including me, for a few weeks before reporting to Fort Carson, Colorado, with less than six months to go before being discharged from the service after a three-year hitch.
After my two-week leave and returning back to Fort Carson, I had noticed that our daily schedules were different than the other troops around us. They did PT (physical training) in the morning, including running around the block. It wasn't too long afterwards we were complaining about how much free time we had. Things then changed. I remember it was a Friday afternoon and some kind of holy day. A lot of fellows in our unit were just getting ready to go to a one-hour afternoon church service of different denominations, when SFC James Francis came running out of the orderly room yelling, "What's going on? Where's everyone going?" Some of the guys responded "Were going to church sergeant." Sgt. Francis was as mad as one could be. He immediately called "attention" and ordered everyone to fall in for formation. He said, "Who said you could all go to church?" One guy replied, "Jesus says we should go to church on all holy days." Sgt. Francis then yelled on the top of his lungs, "I'm Jesus Christ, you to listen to me!" That drew a 1000 laughs. Nobody went to church.
I was 21 when I left the service in January 1965. First Lieutenant Mike Lombardo was promoted to captain and became our new company commander at Fort Carson. I always felt his face was a close resemblance to movie actor Glenn Ford.
In closing, I'm grateful for finding Tim Richards' article and having talked to him at length on the telephone. I do plan on visiting Tim this summer. I can hardly wait to see him. For decades I've wondered what happened to him and so many other friends I had at Dachau. One would think you would bump into someone from our battalion somewhere, sometime. I regret not having taken addresses back then. Here's my number in St. Paul, Minnesota: 1-651-739-9788 for anyone who wishes to contact me. I'd love to talk to you and maybe share some old stories. If you do not want to call, but would like to write me, you can reach me at my e-mail address, jpk2249(at).com. (Webmaster Note: replace the '(at)' with the '@' sign.)
---
1963
(Source: Email from Armando Granada, 2nd How Bn, 37th Arty, Aug 1963 - Auf 1966)
I served with th2 2nd Bn, 37th Artillery at Daley Barracks, Bad Kissingen, Germany. I got there in August 1963 deployed back to the States in August 1966.

These were the best years of my life. The experience of being a forward observer will always be a memory that I will never forget.

We provided support to the German Infantry Units which gave me the opportunity to meet several German Officers.

I was on the Battalion Pistol Competition Team which took us to many places in Germany and many competition outings with the German Army.

Several of my close friends were deployed to Viet Nam and, sad to say, some did not survive.

When Viet Nam got to its peak, our battalion went from 18 active Guns to 6 Guns as we were losing so many men to the war in Viet Nam.

To this day I have the Bad Kissingen Weather on my Cell Phone which I look at everyday. My dream is to be able to go back at visit because I feel I left part of me there.

One of my great memory's is sitting on Stage at the Germany/American Dance with the German Commander and my Sargent Major drinking Beer after I was the one who popped the plug on the Barrel of Beer.

I hope that the majority of my Military Brothers who served in Germany have wonderful memories as I do. God Bless everyone of you and those who are serving at this time.

---
330th FA Bn (8in How)(T)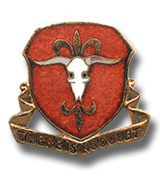 330th FA Battalion DUI
(Source: 35th Field Artillery Group Germany 1954)
The 330th Field Artillery Battalion, an Army Reserve unit stationed in San Antonio, Texas, was ordered into Active Federal Service on 11 Sept 1950.

After completing training at Camp McCoy, Wisc., the battalion was received alert orders for preparation for overseas movement on 28 Nov 1951.

The battalion arrived in Germany on 21 March 1952 and was initially stationed in Schwäbisch Gmünd.

On 6 June 1952, the 330th FA Bn moved to Wiley Kaserne in Neu Ulm.
---
1955
(Source: Field Artillery Battalions of the US Army, Vol 1)
On 6 January 1955, the 330th was released from active duty and reverted to reserve status.

The battalion in Neu Ulm was reflagged as the 802nd Field Artillery Battalion.

---
802nd FA Bn (8in How)(SP) - 3rd How Bn, 17th Arty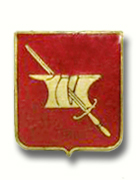 802nd FA Battalion DUI
1954
(Source: Email from Tommy Sicola)
Neu Ulm, Germany 1954-1956. I believe I was at Wiley Barracks. Had a great time. Had my family with me. Was 22 years old. I have a lot of good memories of my service in the Army.

Requested to go into active duty through the National Guard as a staff sergeant. Was in the National Guard for six year.

Lived off post in Government Housing.

Drove to Swizterland, Austria and Italy, all the way to Rome. No autobahn.

I remember we had Headquarters Battery, A, B, C, and D batteries. I was in Battery B. We had about 70 men in a Battery.

I know we did not have a Post Office. Soon after arriving in Germany I asked my Mess Sergeant if they needed a cook. My request was granted.

My wife, daughter and son (both under 3 years old) were flown over on MATS almost 3 months later. Cooks worked Nights, Days an weekends so I really did not see what took place with the artillery units even when we were on field trips. I was just happy to be in the kitchen.

I remember going to Ulm often to eat Bratwurst and Knockwurst. There is more I remember about living in Germany. I could tell a lot of stories about all the men I met, including Officers. Fine group of men.

I went back to Neu Ulm several years ago. It was not the same city. Owned a Travel Agency for several years. Been back to Europe many times including many cities in Germany.
---
1958
(Source: Email from Gayle N. Wright)
As a draftee, I was assigned as a clerk to what was then (January, 1958) the 802nd FA Battalion, equipped with 8" SP howitzers, stationed at the Hardt Kaserne in Schwaebish Gmuend. On the day I arrived, along with six others trained as clerks, they of course needed none, and I was assigned as a computer in the Hq Battery FDC. During my 18 months there, we were redesignated as something like (3rd How Bn,) 17th Artillery, although I don't now remember the correct and complete designation. At the time, we all thought it was a shame to lose the 802 red shield showing a sword splitting an anvil.

I wonder if there is any record of this change in designation from the 802 to the 17th Artillery? I returned to the town on vacation in about 1995 and found that Hardt Kaserne had been turned into a refugee center. I learned the unit at that Kaserne had been reequipped with missiles sometime after I returned to the US for separation in August 1958.

I have countless memories of my eighteen months there, trying to beat the Army system while on post and locate compliant girls while off. I recall being more successful with the former than the latter, although I consumed large quanties of excellent German beer while engaged in the effort.

Like another man who was stationed in a 280 gun unit at the time reports, we did not pull KP, but paid for Germans (or maybe they were Turks) to do the work, one of the best things that ever happened to me in the Army. They even accompanied us to the field, where they slept under trucks while we trained. An ex-Marine buddy of mine becomes highly indignant when I relate this.

---
887th FA Bn (8in How)(SP)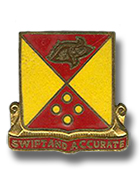 887th FA Battalion DI
30th Artillery Group
1951
(Source: STARS & STRIPES, September 11, 1954)
An article in the above issue of the STARS & STRIPES, mentions that the 887th FA Battalion, stationed at Schwäbisch Hall, was attached to the 30th Field Artillery Group in 1951.
---
35th Artillery Group
1954
(Source: STARS & STRIPES, September 25, 1954)
Lt Col Jack F. Diggs, current CO of the 887th FA Battalion has been reassigned to 1st Army HQ in the States.

He will be replaced by Lt Col Jesse B. Hollis.
---
(Source: STARS & STRIPES, November 20, 1954)
At some point the 887th FA Battalion was relieved from attachment to the 30th Field Artillery Group and attached to the 35th. There was no change of station.

Does anyone know when this happened?

---
2nd Bn, 35th FA (155mm How)
1963
(Source: Email from Bill Csatary)
I was stationed at the 2nd Howitzer 35th Artillery at Dachau, as a medic, during 1963-1964. I arrived at the unit in January 1963. We had 155mm towed guns for the Batteries and 2 big 280mm guns that had nuclear capabilities. I remember pulling the lanyard that ignited the charge to the big guns from Grafenwoer to Vilseck over 6 miles away.

Forward observers once called back that the calculations trajectory was a little off and took out a farmers wood lot. He came out of his house yelling etc. they sent some Lt. to arrange compensation.

We had a small clinic on base (Dr.Weaver Capt.was in charge of the Medics). Our battalion Doctor needed a lab tech to do tests on the base. I was a 911 Medic sent to the hospital in Munich for 3 months to get lab training. The lab Pathologist in charge was Major Steuer, a very cool guy. I wanted to stay at the lab but my base and Dr Weaver (Capt.) needed me at Dachau.

I gave shots to about 400 men on a regular basis. Stitched up a few guys with flesh wounds and did all the VD tests and Penicillin shots. There were at least 40 to 50 men that I treated for STDs from our battalion, a fun bunch. Weekends in Munich were to blame for a good part of that problem.

The concentration camp was used partly as a US Army stockade and most of remaining buildings had former prisoners of war (Poles, Russians etc) that stayed there after the war and lived in the buildings!! Strange seeing flowerboxes and TV antennas on those prisoner barracks with little Ford Taunus and Opel cars parked in front.

Strange to see flower boxes and TV antennas on them with cars parked in front of most units. In 1964 they were building a crematory replica on part of the camp grounds. It was a creepy place to pull guard duty at night,especially in winter with the snow howling.

In 1964 our unit was sent back to the States (Fort Carson).

ADDITIONAL INFORMATION
I remember pulling guard duty around the two 280 cannons we had.(We also had 155's towed howitzers.) They had nukes, bio and high explosive rounds.

Remember one trip to Graf/Vilseck where the forward observers called in a 280 round that was a little short and took out this farmers wood lot. They sent a Lt down to take the paperwork for settling the damages.
(Webmaster note: the STATION LIST for September 1963 shows the battalion located at Bamberg. The STATION LIST for December 1963 shows the battalion moved to Dachau.

Can anyone provide details on the movement and assignment of the 2/35th during this time frame?)

---
1st Bn, 36th FA (155mm How)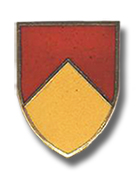 1st How Bn, 36th Artillery DUI
(Source: Field Artillery, Part 2, compiled by Janice E. McKenney, 2010, ARMY LINEAGE SERIES; various USAREUR Station Lists; Webmaster's notes)
1st Howitzer Battalion, 36th Artillery was activated on 25 June 1958 at Schwäbisch Hall, Germany. The battalion was attached to the 35th Artillery Group, Schwäbisch Gmünd.

Initially stationed at Dolan Barracks, Schwäbisch Hall, the battalion moved mid-1963 to Ferris Barracks in Erlangen.

Sometime in the 2nd Quarter of 1966, the 1/36th FA changed duty stations again, moving to South Wiley Kaserne, Neu Ulm.

The next moved happened sometime during the 2nd half of 1968 or early 1969, this time to Reese Barracks, Augsburg.

The battalion was redesignated as 1st Battalion, 36th Field Artilery on 1 September 1971.

The 1/36th was attached to 17th FA Brigade when that unit was activated in Augsburg on August 22 1978,

1st Bn, 36th FA was inactivated on Oct 15, 1991.
---
1965
(Source: Email from Steve Joslin)
Steve served with HHB 1st How Bn, 36th Arty, Wiley Kaserne, 1965-67.



1st How Bn, 36th Arty
Neu Ulm






1. HQ 1/36th Arty

1. Bn Commo building

1. HHB formation


1. South Wiley gate

1. Steve Joslin

---
5th Bn, 73rd FA (Sergeant)
1963
In October 1963, 5th Battalion, 73rd Artillery (SERGEANT) replaced 2nd Bn, 81st Arty (CORPORAL) which was deactivated.
---
1964
(Source: Email from Ed Burns, 5th MSL Bn, 73rd Arty)
I was assigned to the 5th Bn, 73rd Arty (SGT) in Erlangen from 10/1964 to 6/1966. I have some pictures and can probably fill in some names, etc during that period. I was reassigned in 6/1966 to the Nürnberg Equipment Maintenance Center in Fürth and shortly thereafter the 5/73rd moved to Schwäbisch Gmünd.



5th Battalion, 73rd Artillery (Sergeant)
I'll try to fill in what I remember. My military records are 'in storage'. Once I get my hands on them I'll update where necessary and fill in the blank spots.

I was a commissioned a 2LT (RA) in June 1964. My combat branch was Artillery and my basic branch was Ordnance. I had chosen Air Defense Artillery, so I was sent to Ft. Bliss and completed the Basic Officer's Course, concentrating on Nike Hercules, et al. As fate would have it, my first duty assignment was the 5th Bn 73rd Artillery (Sergeant). I was the only one in my Basic Course that drew a Field Artillery assignment! You figure!

The 5th/73rd was located at Ferris Barracks in Erlangen, Germany and was a subordinate unit of the 35th Artillery Group in Bamberg, Germany. We, however, wore the 7th Army patch. The 5th/73rd commander at the time was LTC James Ingham and the XO was Maj Alan Lindholm. I was assigned to Bravo Battery as the Recon and Survey Platoon Leader. If I remember correctly there were 2 'Firing' batteries (Alpha and Bravo), a HQ & HQ Battery and an attached Ordnance Support Unit mainly comprised of DA Civilians and Warrant Officers, with a CPT in charge. Alpha Battery was commanded by CPT Kelly McCord and the HQ & HQ Battery by CPT Bob Lucas.

My first Battery CO was CPT George Ax, but after about 6 months he was transferred to 35th Group. His replacement was CPT Wayne Canon. The Firing Platoon Leader during my tenure was 1LT Ernie Levasseur. Our time was spent mostly training, participating in NATO exercises, monthly 'Alerts', the annual verification of classified firing points, and our annual live fire exercise at the Royal Artillery Range in the Outer Hebrides, Scotland. For this we got airlifted out of Kitzingen to Prestwick, spent the night and then flew out to the island of North Uist. We also had a German 'sister' Sergeant unit that we trained with, the RakArtBtl 250 at Großengstingen.

In 1966 the Firing Platoon Leader rotated to CONUS for a new assignment and I assumed that role. This was short-lived for me because I also received my orders to transfer to the Nurnberg Equipment Maintenance Center in Furth in June 1966. Because I was Regular Army I had to revert to my Basic Branch after 18 months, so Ordnance it was.

I'm attaching a couple of photos from my tenure with the 73rd Arty.

Click here for remainder of Ed's email where he describes his service with the Nürnberg Equipment Maintenance Center.



5th Bn, 73rd Arty (SGT)
Erlangen






1. NATO Display 1965 (131 KB)

2. 7th Army FTX 1965 (124 KB)

3. View of Sergeant from the Firing Pit (87 KB)



---
---
1968
(Source: Email from Jerry Michael)
I was in A Btry, 5th BN, 73rd FA (Sergeant) from 1968 to 1970.

We moved from Schwaebisch Gmuend to Crailsheim in August 1968. I was only in Schwaebisch Gmuend for two months.

I sure hated to leave there. I lived in a beautiful two-story brick building. There were only two to three people to a room. Had a gym up the hill from headquarters. Moved to Crailsheim and had to sleep in old WWll barracks, 6 to 8 people in a room.

I was the RTO for the firing section. I had to type up the security clearances for the firing section once a month. The only officer I remember was LT Gerald O'Hore. The First SGT was a bad dude. I still remember a lot of the guys names, Charles Sparks, Burchell Hoskins, Gary Talbot, Harold Hunt, Donald Cagle, Dennis Doty, just to name a few.

Really enjoyed my time there. Beautiful country.
---
(Source: Email from Donald M. Cagle)
I was in the (5th Bn,) 73rd Artillery from 1968-1970 we moved from Schwäbisch Gmünd to Crailsheim in 1967.

We would pull guard duty on the warheads at Ansbach thats all I have on the unit.

---
Related Links: