If you do NOT see the Table of Contents frame to the left of this page, then
Click here to open 'USArmyGermany' frameset
72nd Field Artillery Brigade
VII Corps Artillery
Looking for more information from military/civilian personnel assigned to or associated with the U.S. Army in Germany from 1945 to 1989. If you have any stories or thoughts on the subject, please contact me

.
---
---
Brigade History
1954 - 1992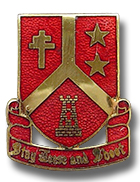 72nd Artillery Group DUI
(before August 1968)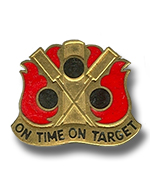 72nd Artillery Group DUI
(approved August 1968)
CHRONOLOGY
| | | |
| --- | --- | --- |
| 1954 | 17 December | Headquarters & Headquarters Battery, 72nd Field Artillery Group is activated in Germany |
| | | |
| 1958 | 1 June | Group is redesignated as 72nd Artillery Group |
| | | |
| 1972 | 15 March | Redesignated as Headquarters & Headquarters Battery, 72nd Field Artillery Group |
| | | |
| 1980 | 1 September | Redesignated as Headquarters & Headquarters Battery, 72nd Field Artillery Brigade |
| | | |
| 1992 | 15 May | Inactivated at Wertheim, Germany |
---
PENTOMIC Changes - 1957/58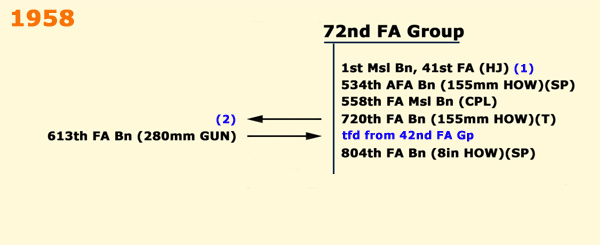 (1) Effective 1 July, 1957 - USAREUR's four FA Rkt Batteries were reorganized as battalions; 1st FA Rkt Btry reorganized and redesignated as 1st Msl Bn, 41st FA (HJ)?
(2) 720th FA Bn inactivated in Germany on 23 Dec 1957
ORGANIZATION (30 June 1958):
UNIT DESIGNATION

LOCATION
COMMENTS
1st Msl Bn, 41st FA (HJ)
Kitzingen [1]
534th AFA Bn (155mm How)(SP)
Bad Kissingen [1]
558th FA Msl Bn (Cpl)
Kitzingen [1]
613th FA Bn (280mm)
Bamberg [1]
A Btry - Schweinfurt
C Btry - Schwabach
804th FA Bn (8in How)(SP)
Wertheim [1]
[1] STATION LIST, 30 June 1958
---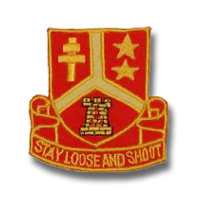 72nd Artillery Group Pocket Patch (1950s & early 1960s)
Email from Paul Neuser, dated May 3, 2002
The 97th FA Bn left Ft Carson, Colorado, as part of Operation Gyroscope in late March of 1956 and sailed on the General Patch, arriving at Peden Barracks (Wertheim) on April 6, 1956. Assigned to 7th Army, V Corps, 72nd Group until June of 1957.

Unit was deactivated and anyone with 90 days or less was sent back to the States for discharge. I was reassigned to the 593rd FA Bn at Buedingen which was also 7th Army, V Corps, 72nd Group. Shipped stateside October 18th, 1957 for discharge after 3 year enlistment.
---
1957
(Source: Email from Barry Gregory)
I was inducted into the Army Dec 7,1957. I hail from Baltimore, Md. My basic training was at Ft. Jackson, SC and then served my advance training at FT Still, Ok. I was part of the 280 cannon which we were trained to replace troops at 72nd HQ, Bamberg, Germany. I arrived in Bamberg July 1958. I am a musician and was transfered to the 72nd Artillery Group Band, Penden Barracks, Wertheim
I retuned to the states Nov 1959 after the 280 became opsolete and was replaced by a 105 Howitzer Group
I have a nice 8x10 photo of the entrance of Penden Barracks and two write ups and photo's of my bands tour which I formed while in the 72nd Group Band. The group was called the Rock-N-Kings and the show was called New Faces Of 59. We toured many of the installations in Germany, besides what I did with the Army Band.
I have had a very successful music career, but my most memorable was playing with the 72nd Artillery Group Band. Do you know if they still have an active band at Peden Barracks?
I also have photo's of the 280mm Cannon, which by the way was the only cannon that could fire and did so in the Nevada Desert back in the early 50's

I wish there was a way I could locate some of my old players.
---
Email from Alfred E. Vaughn, JR, dated October 9, 2002
I pulled up the info u had on the 72nd Brigade which came after my tour of duty at Wertheim and the info on the 142d FA Group which I remember had just been de-activated when I arrived at Wertheim the last of January or the first of February. I was 17years old and I only remember arriving or going to Germany on the 27th of January. I will check my DD214 to see if it will help.

I remember the 97th (FA Bn) coming over from Ft. Carson and it had some Attorneys who were privates and some West Pointers who got out early because of dislikes. There was a mail clerk/message center clerk named Macon who I met in Chicago where I now live back in the early 60s. I talked to Col. Thomas R. Bruce the Group Commander when I left about 3 months ago. I have his address and phone.

He told me that our S-1/ Adjutant MAJOR LEROY MAISENBACHER who was from Chicago died several years ago which I pulled up under SSDI. His wife (is) in southern Illinois.

I was there in the (72nd FA) Group for 2 1/2 years and I had the message center which meant lots of info. I am 65 and retired from the Railroad since October 31, 1999. (39 1/2 YEARS).
If you have more information on the history or organization of the 72nd FA Group/Brigade (or any of the subordinate units), please contact me

.
---
1963
(Source: Email from Michael R. McKenney, HHB, 72nd FA Gp, Nov 1963 - Oct 1966)
I arrived in Germany via troop carrier in November 1963 and left in October 1966. I came right out of basic training from Ft. Jackson, SC without having any 2nd 8-weeks training. My MOS was 711 (clerk typist), and I really could type, about 85 wpm back in those days, which was always impressive to any NCOs in offices.

I was assigned to Group Headquarters, Headquarters Battery, 72nd Artillery Group, and worked in the S-4 (logistics) office. The Officer in charge of that office when I arrived was Major Nicholas George Katsiafacus (a Greek) who has been passed over several times. The Commanding Officer of the Group was Lt. Col. Burr J. Randall. I think my Company Commander was a Lt. Burke, but am a bit fuzzy on that. My first section chief was a Sgt (E-7) Robinson. A Master Sergeant Brown was in our office and he was the Food Inspector and would make surprise visits at all of the battalions under us (3/21, 2/37, etc.). I would have to type up his reports (which were atrociously hand-written and needed lots of editing). The section chief when I left was a Master Sergeant Michael Mazur, a really nice man. I remember that he was an old man from my perspective of only being 24 years old or so (he was in his early 40s).

I came as a Private E2, and left as a Specialist 5th Class. I stayed in the S-4 office my whole 3 years there, and have a lot of fond memories of good beer, delicious wiener schnitzel, little "brötchens" (bread rolls) from the bhanhof down in Wertheim, and a lot of good times.

I worked in the USO club and ran the Photo Lab there, teaching GIs how to develop and print film. All in all, my time was enjoyable. When I first got there I was naturally called "Salt Water." When the others found out I would not rotate until October 1966 (almost 3 years), they said they would give me the key to lock up when I left.

I remember long cold nights at Grafenwhoer on Unit Alerts, and even though I worked in a Group Headquarters office, I still participated in the exercises. I remember once being assigned a jeep and a driver and was taking "official" photographs of the field training, and got a nice shot of a 1-star general (his name escapes me now) from VII Corps.

Just jotting down all of this opens a flood gate of memories. I am now 59 years old, work out of my home as a Certified Medical Transcriptionist, and live in Milwaukee, WI. Thanks for this opportunity to share!
---
1966
(Source: Email from Steven Noel, HHB, 72nd FA Gp, 1966-68)
I went over in July 1966. Everyone before me took a troop ship. I flew.

The 72nd was stationed at Peden Barracks which I think was the site of a Luftwaffe Base during WW II. We had three artillery battalions assigned to us: the 3/35 at Wertheim was an eight inch self propelled unit; the 3/21 I think was an Honest John unit at Bad K. We also had a 155mm self propelled unit I think the 2/25. We trained quite a bit at Grafenwoehr near the Czeck border.

I would be interested to hear if some of the guys from the unit are around. I remember Lenny Ledesma and Mike Barcus from California. John Intrieri from Chicago, Fred Gadd from New Jersey, 1st Sgt Frasier. All the enlisted guys liked the 1st sgt. He must have been nearing the end of his career by then so if he was still living I'd guess he'd be around 80.

I pulled duty once in awhile with an army aviator- a captain - who flew either an Otter or a Beaver. As I recall they were both single engine fixed wing aircraft. He had orders to Vietnam probably sometime in spring/summer of 1967. I don't think he could have been over there more than a month when we received work he had been shot down and died. I had a lot of respect for the guy and played chess with him so I was very sad to see that he died. I always wish I knew his name so I could see his name on the travelling wall exhibit.

By the time I left in Jan 68 the unrest in civilian life was spreading to that unit. Seemed like there were a few racial incidents, beginnings of drug use and the ever present alcohol abuse.

It looks to me like HHB is now an art gallery. I'm wondering if the 72nd is still in existence? and if the post still exists.
Steven Noel
---
1970
(Source: Email from Neal ...
I was stationed in Germany back in 1968 and had the opportunity to spend all my time at Peden Barracks in Wertheim. I served in the 72nd Arty Group Headquarters from January 1970 to when I rotated back to the States and was discharged at Ft. Dix, New Jersey in June of 1971.
| | | | |
| --- | --- | --- | --- |
| 1. HHB building, 1969 (KB) | 2. First snow of the season (KB) | 3. HQ 72nd FA Gp building (KB) | |
| 4. Group sign in front of HQ building (KB) | | | |
---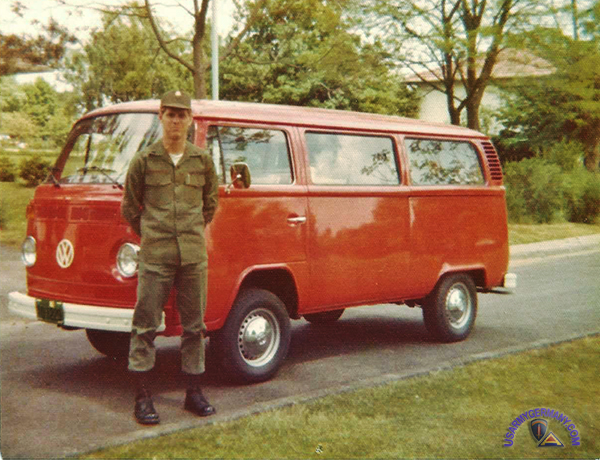 David Kniffen and the new chapel bus at Wertheim (David Kniffen)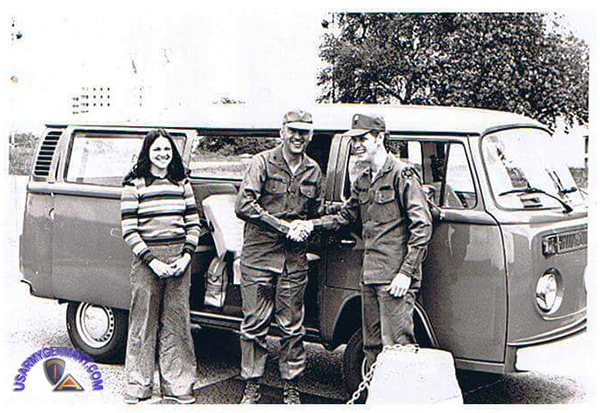 Col Schleusing, Jo Schleusing (future wife of David Kniffen) and David.
1974
(Source: Email from David Kniffen)
I was assigned to HHB 72nd F/A Group as the Chapel Administrator from September 1974 – February 1977. I have some great memories of the post and have been back several times.

I married the former Commander's daughter (Jo Ellen Schleusing) -- her father was Col. F.C. Schleusing the Group Commander from January 1975 to July 1976. Col. Schleusing passed away on November 10, 2016.

Col. Schleusing helped German relations in Wertheim by leaps and bounds. If you go to the Wertheim paper in 1999 my Son visited the headquarters after the Kaserne closed and the Wertheim paper headline was "Former commander's grandson visits Peden Barracks."

We are looking for the article from July 1997 July (my wife corrected my date). On the internet, the local paper is called the "Wertheimer Zeitung" (just means newspaper). Gunni Schelauske from the paper came out and took pictures. I think the headline in German read "Oberst Schleusing Enkleson besucht Wertheim". It has a picture of David Karl Kniffen at the headquarters of the 72nd. We have a copy somewhere but it may take a while to find it.

I have attached a couple of pictures. One is of me in front of the brand new Chapel bus. The other is of Col Schleusing, Jo Schleusing Kniffen (Jo and I were married about a year later), and myself. This picture was on the front page of the Stars and Stripes in the summer of 1975. Mrs. Kizzie Schleusing was sitting inside the bus. We rolled out the red carpet and met the Colonel at the aviation field. He had just flown in from Bamberg I believe.)
---
1979
(Source: Email from ...)
I was at Peden Barracks from Mar 1979 till Apr 1982 with HHB 72d FA. We had 4 battalions of FA in the Bde, and were part of VII Corp Artillery (GS). The battalions were 3/35th FA at Peden Barracks (8" M110A1 SP tubes), 1/75th and 6/10th FA at Bamberg (8" M110A1 SP tubes) and 1/80th FA Missile Artillery (LANCE) in Aschaffenburg.





I worked in the motor pool and in the S-2. The Bde Cdr when I got there was Col. Curtis Hoglan, who was great to work for and the Germans loved him. He was selected for Brigader General in 1980 and moved on in early 1981. I think a Col Johnson came into replace him.

We were always in Graf, or Hohenfels or Wildflecken on some exercise or and ARTEP. I remember also filling sandbags and helping the townspeople of Wertheim in the springtime when the floods came, and I remember the fests on post. You cannot do that in Germany now due to the big terrorist threats.

The post closed in 1996 and has been renamed Reinharddorf or something like this. They are renovating all of the barracks into low cost housing for all of the immigrants. In the 1980's they added an MRLS Bn at Peden and built up more barracks out the back gate and now they have converted that to the Polizei School for Baden Wurttemburg. The airfield is no longer in use and the the old HHB and C 3/71 ADA motor pools are being used by local companies. The elementary school is a school and the on-post housing has been converted for use by German families.





There is a small friendship memorial on post for the American-German Friendship and the townspeople still remember the Amis' from on the hill.

The gasthaus Zum Ross is still in operation but by another family and the Pizzaria on the market square downtown is still there.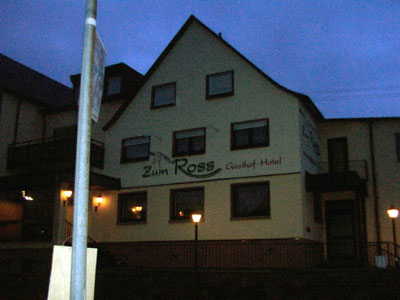 Gasthof-Hotel Zum Ross
---
1981
(Source: Email from Charles Wiatrowski)
I was the 72nd FA Brigade S2 from April 1981-April 1982.

The brigade at the time had the following battalions:
3rd Bn, 35th Field Artillery (203mm SP), Wertheim
1st Bn, 80th Field Artillery (LANCE), Aschaffenburg
1st Bn, 75th Field Artillery (203mm SP), Bamberg
6th Bn, 10th Field Artillery (203mm SP), Bamberg
Pretty good brigade. We had an extremely close relationship with the 12th Panzer Artillery.
---
1990
(Source: Email from Woody Gebhart)
I was in 4-14 FA and 2-14 FA from 1990 - 92. They were two of the last units in the 72nd.

4-14 was a unit that was redesignated from 1-10 FA. Both units were 8-inch artillery stationed in Bamberg Germany. 4-14 deactivated and 2-14 refitted with MLRS.

3-35 out of Werithiem (spelling) was the last of 8-inch in the BDE.

72nd Brigade dactivated when the Army went to a 10-division force and no longer is activated. Thought I'd drop an email while I had the chance.

---
97th FA Battalion (155mm How)(Towed)
1955
(Source: Email from Don Arsenault)
I spent 18 exciting months at Peden Barracks from 1955-1957.

I gyroscoped over with the 97th Field Artillery Bn from Fort Collins Colorado. Col Bruce was the CO while I was at Peden Barracks and Capt. Robert Mulligan was my Battery commander.

I played football for the 72nd Field Arty Group and after that I worked and lived at the Officer's Club.

I have been back once in 1986 and not too much had changed.

I was very lucky to be able to purchase a new MGA in Wurzburg for $1750 US$. This enabled me as a Private E2 the ability to travel all over Germany. I recall many trips thru Miltenburg, Amorbach, Mosbach down to Heidleberg.

Our football team won the Main League Championship and we were beaten by The Black Knights of V Corps Headquarters out of Frankfurt who had won the Rhine League Championship. General Vinegar Joe Stillwell brought in a few ringers and he had at least two All Americans on the team.

Enjoyed seeing all of the old pictures of Peden Barracks. Would love to communicate with any of the old soldiers who were there at the same time.

You have a great web site and I enjoyed seeing the old pictures.

(Webmaster note: in the GYROSCOPE operation, the 97th FA Bn replaced the 254th FA Bn in Wertheim. The STATION LIST for 30 June 1957 does NOT list the 97th anywhere in Germany. What happend??)

---
534th AFA Bn (155mm How)(SP) - 1st How Bn, 92nd Arty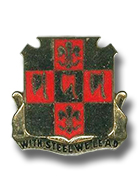 534th Armd FA Battalion DUI
Click here for a personal recollections by Ray Grafflin

, 534th AFA Bn (on the Eaglehorse.org web site)
---
1957
(Source: Email from George Sparks)
I read with great interest the history of the 7th Army in Germany.

I enlisted in Dec. 1956 and was sent to Ft Ord and then on to Ft Hood for artillery training. I was then sent to Ft Sill and assigned to the 534th FA Battalion where we spent our time training OCS students as forward observers.

At some point we were told that we were going to gyroscope to Germany. We received enough men to bring us up to full strength and began an intensive training schedule.

We shipped to Germany in Dec. I believe the ship was the "Maurice Rose".

We landed at Bremerhaven and were sent by train to Bad Kissingen, a town north of Wurzburg between Schweinfurt and Bad Neustadt.

The Kaserne had two units, we were a 155 self propelled How. Bn. and there was a Tank Bn from, I think, the 4th Armored Division also. (Webmaster note: the tank outfit was actually the 2nd Bn, 14th Armd Cav Regt.)

I was the wire chief of C Battery and during my time there, I attended the NCO school. I also participated in the SABRE HAWK maneuvers (February 1958).

At some point we went Pentomic, and were redesignated as C Battery, 1st Howitzer Battalion, 92nd Artillery.

I can say that I very much enjoyed my tour in Germany. I met some very nice people and was able to travel a little to Holland and Denmark. It was all very instructive to a 20 yr old.
---
(Source: Email from Ray A. Grafflin)
I am a retired SSG who served with the 534th AFA Bn (155mm How)(SP) & 1/92d AFA 155mm SP units during the mid-1950s at Daley Barracks, Bad Kissingen.

The 534th gyroed from Ft Sill (where I joined it) (replacing the 290th AFA Bn) and was reflagged at Bad K as the 1/92d. I gyroed with it back to Ft Bragg leaving it as the Battalion Pers Sgt to go to Hawaii.

For some reason, no one seems to have noticed that we were around at the time, but we certainly were. We have posted some stories on the Blackhorse (2/14th A/C) website who were at the same location. We shot a lot of high score Battalion and Battery Tests while there. I wonder if we could get a mention on your site?

---
558th FA Missile Battalion (Corporal)
1956 - 1957
(Source: Email from Tom Mokate, 558th FAM Bn, Kitzingen, 1956-1957)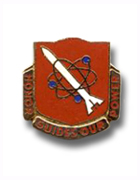 558th FA Msl Bn DUI

I was in the 558th FAM Battalion stationed in Kitzingen, Germany.

In September 1955, 60 of us graduated from Artillery Surveyor School, at Fort Sill, Okla., and were shipped to Fort Bliss, Texas. When we arrived we were split up and assigned to the 6 Corporal units. As it worked out the units were half way through their qualification training, so many of the "surveyors" were reassigned to other sections in the units.

Most of us were draftees so shipping us overseas with enough time left became an issue. I served 13 months 11 days in Germany. Many of the guys only had the mandatory 9 months left when we arrived in Germany. At Fort Bliss we had 198 Private E-2s, some non-coms and a hand full of officers. Before we shipped to Germany the TO&E sergeants and officer compliments were assigned. Most all of the officers and NCO's had experience in Korea but none in missiles. Except the Firing Battery Tech WO's etc.

We were on the ship bound for Germany on Easter Sunday, 1956. Many of the originating men left for home at Christmas 1956, with replacements arriving all the time. Our Special Equipment came 2 weeks after we did. We drew jeeps and 2 1/2's and 5 tons from supply. Each unit had a Doctor, which spent most of the time at the hospital in Wurtzburg. We also had a fire truck that was assigned to the post and repainted red then re-assigned and painted OD a few times.

I know that the 559th FAM Bn was in Mainz. We were in the 7th Army assigned to V corps. The First Rocket Battery (HONEST JOHN) was across town from us (Larson Barracks) and we shared certain guard details. My section head, a Captain, was eventually given a command at the 1st Rocket Battery.

The 558 was stationed in Harvey Barracks. The unit's distinctive logo was a white missile on a red background with an atomic symbol, the rings and balls, and the saying "honor guides our power". The global was prepared by one of the privates in intelligence.

I am not sure about where to place us in your table of organization except to say that we were V Corps unit. I believe all of the corporal missile battalions were under V corps. At Fort Bliss we were in the First Guided Missile Brigade.
Tom Mokate
---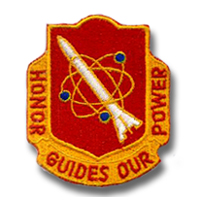 558th FA Missile Bn Pocket Patch
---
(Source: Email from Alfred E. Vaughn)
I see where Tom Mokate is wondering about the TOE of the 558th MSL Bn. When it first arrived in Kitzingen, Germany, it was one of two missile battalions attached to the 72nd FA Group in Wertheim. The other one was located in Erlangen. The 1st Honest John Rocket Battery was also located at Kitzingen and attached to the 72nd FA Gp. The 72nd also had another FA Bn stationed at Hammelburg and two more field artillery battalions at Wertheim.

IN 1955, the 72nd FA Gp had a searchlight battery on post with it also.

The 72nd FA Hp was the largest field artillery group in Europe.
---
(Source: Email from Bert Inoue (the Hawaiian))
We were a small company, 138th Ord Co, of approximately 96 men and were broken up into detachments to support the CORPORAL missiles. We arrived as a company in Kitzingen, Germany in early 1956 with the 558th FA Msl Bn.

I did the repair and inspections on the radar system. Bill Peterson (Boris) did the computer repair. I traveled all over Germany doing inspection and repair. Ansbach, Kaiserslautern, Aschaffenburg, Wiesbaden. My old outfit, the 543 Ord, came later to Mainz. I was discharged in Jan.

---
613th FA Battalion (280mm Gun) - 3rd Gun Bn, 80th Arty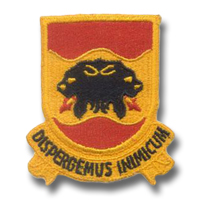 613th FA Bn Pocket Patch
(Source: Email from Nilus Dalsing)
I was stationed in Germany in 1957-1958 ... with the 613th 280 MM Cannon Field Artillery Battalion.

We first were stationed in Pirmasens, Germany, over close to the French border. Then, as the new missles came over, we moved to Bamberg, Germany, over close to the Checkoslovakia.

I have a few pictures of the cannon firing and of some of the guys. I still visit and talk frequently with an old Army buddy down in Kentucky.

ADDITIONAL INFORMATION
I was in B Battery, 613th Field Artillery Battalion. We gyroscoped over in March, 1956 ... (that means the entire Battalion – went at one time and replaced another Battalion).

We were originally stationed in Pirmansens, Germany. After about 6 months, B Battery and Hdq. Battery were assigned to Bamberg, Germany. After the introduction of missels, those units were assigned bases away from the border, where we were. Our cannon units were assigned to bases nearer the border.

We gyroscoped out of there in August, 1958.

We fired the 280 MM cannon both in Vilseck and also in Grafenwoehr.
| | | | |
| --- | --- | --- | --- |
| | | | |
| 1. Ready for inspection | | | |

---
720th FA Battalion
(Source: Email from Richard Reed)
I Gyroed with the 720th FA Bn from Ft. Lewis, Wash. on Feb. 4th, 1957.

Boarded the USS Buckner on about the 9th of Feb. and arrived in Bremerhaven around the 18th of Feb.

I stayed with the Hq. 720th FA Bn until around the 21st of Nov. 1957 when it was to be deactivated.

The 4th Armor took over Ferris Barracks. They arrived from Ft. Hood Texas.

I may add that I met my wife in Erlangen and we now haave been married going on 52yrs.

---
804th FA Battalion - 3rd How Bn, 35th Arty
804th Field Artillery Battalion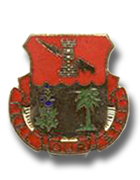 804th FA Battalion DUI
1954
(Source: Webmaster's collection)
Christmas Menu, 1954

Christmas Menu for the 804th FA Bn Consolidated Mess (Peden Barracks, Wertheim). Menu inluces personnel roster for the following units stationed at Wertheim:

804th FA Battalion
Staff
Headquarters Battery
A Battery
B Battery
C BatteryService Battery
Bn Medical Detachment
269th Medical Detachment
34th Medical Battalion (SEP)
Headquarters
95th Medical Company (AMB)(SEP)
151st Medical Company (AMB)(SEP)
557th Medical Company (AMB)(SEP)
Wuerzburg Detachment, 7811th Army Unit
Wertheim Detachment, 536th MP Company

---
(Source: Email from "Nat" Sciuto, "B" Btry, 3rd Bn, 35th FA, 1959-1960)
I was in the 35th Arty from Feb. 1959 to Aug. 1960 in Wertheim, Germany. I was in 2nd Section of "B" Battery.

See more of Nat's slides on his Webshots Page .
ORGANIZATION (31 Dec 1963):
| | | |
| --- | --- | --- |
| UNIT DESIGNATION | LOCATION | COMMENTS |
| HHB, 3rd How Bn, 35th FA | Wertheim | TOE 6-416D |
| A Btry, 3rd How Bn, 35th FA | Wertheim | TOE 6-418D |
| B Btry, 3rd How Bn, 35th FA | Wertheim | TOE 6-418D |
| C Btry, 3rd How Bn, 35th FA | Wertheim | TOE 6-418D |
| Svc Btry, 3rd How Bn, 35th FA | Wertheim | TOE 6-419D |



3rd How Bn, 35th Arty
Wertheim

The following are slides that Nat took while stationed in Wertheim.




1. (KB)

2. (KB)

3. (KB)

4. (KB)

5. (KB)

6. (KB)

7. (KB)


---
3rd Battlion, 35th Field Artillery
1959
(Source: Email from Alvin L. Houser)
I was stationed "A" Btry 35th Arty at Peden Barracks from 1959-1960. We had M55 SP 8-inch howitzers with atomic warheads. Four guns to each battery. There was "A" , "B", "C", "D" batteries; Service Battery; and Headquarters Battery.

I served as Btry clerk, Training NCO, Btry Ammo Specialist, and Special Weapons section. We went to Graf two times a year, also to Schweinfurt for Border Patrol twice a year.

I was also on the Commanders Match Rifle Team, TDY to Bamberg, Ger.

Have fond memories of Wertheim and Peden Barracks. Would like to hear from someone from "A" Btry.
---
1961
(Source: Email from Allen Seich)
| | | |
| --- | --- | --- |
| | | I was stationed in 3rd Battalion, 35th Artillery at Wertheim, Germany from 1961 to 1963. We were an eight inch self propelled guns outfit. There is no information where they are stationed now so I guess their out of commission. |
| | | | |
| --- | --- | --- | --- |
| 1. Waiting for train at Graf, 1961 (KB) | 2. Howitzers loaded onto rail cars for return to Wertheim, 1961 (KB) | 3. Unit historical information - Paul Meunier (KB) | |
---
(Source: Photo from Ron Crowley)
| | | |
| --- | --- | --- |
| | | This crew of 3rd Sec, C Btry 3rd HOW Bn, 35th Arty was selected Best Howitzer Section in the 72nd FA Group in 1961. |
---
(Source: Photo from Sheldon Thompson)
| | | |
| --- | --- | --- |
| | | Group photo of personnel of C Battery at Peden Barracks, Wertheim, in 1961. |
---
1962
(Source: Email from Tommy Archer, "B" Btry, 3rd Bn, 35th Arty, 1962-63)



3rd How Bn, 35th Arty
Wertheim






1. (KB)

2. (KB)

3. (KB)

4. (KB)

5. (KB)


7. (KB)

8. (KB)

9. (KB)


10. (KB)

11. (KB)

12. (KB)


13. (KB)

14. (KB)

15. (KB)

---
1963
(Source: Email from Dennis T. Ruddy, 3rd Bn, 35th Arty, 1963-65)
I have been trying for years to find anyone who was in the 3/35th Arty but to no avail.

The 3/35 was stationed at Peden Barracks, Wertheim, Germany. It was equipped with 8" self propelled M-110 howitzer's consisting of three gun batteries, special weapon's and Hq.. I was the supply specialist from 1963 til 10/65.

When I arrived there in April 1963 Capt Adair was in charge, along with 1st Sergeant Bosch. Other officers and NCO's were: 1st LT Michael J. Lawn; Lt. Hahn; Capt.Moore; SFC Counts can't seem to remember the rest right now. If I were to see other name's I think I would remember.

I remember we were 56 mile's from the Czech border and were in the field alot whether it would be on alerts or our bi-yearly trip to Grafenwhoer (once in the winter and once in the summer). If you can help in finding anyone else that would be great.
---
1964
(Source: Email from Phil Hall , 3rd Bn, 35th Arty, 1964-66)
I was stationed with the 3/35th Artillery at Peden Barracks from March, 1964 to June, 1966. I was the Battery Clerk for HQ Battery, but I can't remember anyone's name at Battalion HQ. My CO's were (in order): 1st Lts Donald E. D. Lee, Shirley F. Hall (yes, that was HIS name), Van B. Tate and a Lt. Delesanter. I don't remember the 1st Sergeant's name; we just called him "Top".

I was stationed with a soldier who was supposedly the one-millionth soldier to get shipped overseas from Fort Dix. His name was Ysidor De La O, and he was just one of the soldiers in the group that shipped the one-millionth soldier overseas from Dix. They picked him because he had a great smile and was very photogenic, and they made a big deal at the time about the one-millionth soldier going through Fort Dix. He was actually a pretty good guy, too. His personality was as nice as his smile. I recently learned that he was killed in an auto accident about 3 years ago in Texas.

Can't think of much else. There was a gate in the fence not far from our barracks that was always unlocked if you didn't have a pass. I probably didn't go through the front gate at Peden 5 times while I was there. I had a great view of the castle in Wertheim from my room in the barracks. Most of my memories are of the stuff the unit did and the guys I was stationed with. I've forgotten a lot of their names, but I still remember some of them. One of my buddies took a lot of pictures while we were there and he still has them all in several albums. He showed them to me about 10 years ago. He wouldn't part with them for the world, but if I talk with him again, I can ask if he has a scanner.

I also took a lot of pictures, but I didn't take as good care of them. I scanned the ones I had left a few years ago, but now I can only find a few of them, although I may have a few more stuck away in boxes.
---
1967
(Source: Email from Mike Gentry)
I served in HQ Battery, 3rd Battalion, 35th Field Artillery in 1967 and 1968. I was stationed at Peden Barracks in Wertheim, Germany. We were a towed 8" howitzer unit.

I profess little knowledge about 8" howitzers, other than a witness to their awesome power and fury when fired. My training was in the signal corps. My MOS was 05C40, which was a radio teletype team chief. As such, I was assigned a 3/4 truck with a radio hooch on the back, along with a driver and radio operator. And it was our job to handle formal communications from the units above to the units down below. That being said, our principle mode of communication through the networks was Morse Code.

In October 1968, I was discharged from active duty with the rank of Sgt. E-5.

Peden Barracks was an old German Luftwaffe air base at the top of a hill overlooking Wertheim, where the Main River and Tauber River converges. Absolutely beautiful area of northern Bavaria.

I was thrilled to find this site and look forward to hearing from anyone that either served at Peden Barracks or in Germany around that time… not to exclude any of my brothers that have or do serve.

I looked at the Peden Barracks Layout Plan and the aerial photo. The layout plan is what I am using as my guide, and the numbers I use will be in reference to that document.

If memory serves me, in 1967:

# 19 = HQ Btry, 3rd Btn, 35th Artillery barracks. (This was my barracks)

# 20 = A Btry, 3rd Btn, 35th Artillery barracks

# 21 = B Btry, 3rd Btn, 35th Artillery barracks

# 22 = C Btry, 3rd Btn, 35th Artillery barracks

# 24 = Headquarters, 3rd Btn, 35th Artillery (Colonel's offices and staff)

# 117 = Motor Pool

# 1 = Provost's Office

# 17 = Medical Building

# 15 Enlisted Men's Club (not certain, but seems like it was in this area..may be # 35… the beer was plentiful and cheap.)

There was a also the Rod & Gun Club, which was down some stairs like going into a bunker. I would guess around where # 114 is located, but it's only a guess. The mess hall might have been # 26.

I wish I could be more helpful, but it was 50 great years ago. I cherish those memories today.
---
1981
(Source: Email from Gregg Kemp, 1981-83)
On the page I was referring to, there was a question mark as to the name of the NATO Site at Kitzingen, or something along those lines.

I was stationed at Wertheim, SVC Btry 3/35 FA, 1981 to 1983. We were an 8" SP Unit and "our" nuc warheads were kept at Kitzingen (NATO Site 35).

If memory serves me correctly, about twice a year we were assigned to Kitzingen to help guard the site. More like a Quick Reaction Force than anything else as the assigned MP's sat in the nice warm towers.

More often than not we were there to perform "Fog Watch" - when the German fog rolled in, we would deploy outside the perimeter, keeping the man left and right within sight, until the fog burned away. It was great duty, no PT, good food, and no one messed with us.

I visit these pages often as a visual reminder of what a powerful force this country once was, and what we all went through to keep it safe.
Thanks, Gregg Kemp.
---
1989
(Source: Email from Kevin Janey)
I was assigned to 3rd Battalion 35th Field Artillery, 72nd Field Artillery Brigade, in Wertheim, Germany, from Jan. 1989 through June 1992.

I was with A Battery and was the battery clerk for awhile. While I was there the following were the Battery Commanders: Cpt Johnson, Capt Keith Yoder, and Capt Robert Portigue. Our first Seargants were 1SG Bennie Gant, SFC Shields, SFC Copes, and SFC David Sewall. Our Battalion Comanders were LTC Rains and LTC James B. Godwin, Jr.

From 1989 though 1992 3/35 FAR went through numerous changes. Before the Gulf War we were part of the 72nd Field Artillery Brigade, which was direct support for VII Corps.

In November of 1990, the 72nd Field Artillery Brigade was ordered to deploy to Saudi Arabia. However, 3/35 FAR was the only battalion from the Brigade that did not deploy. While the 72nd Field Artillery Brigade deployed to the Gulf War, 3/35FAR converted from the 8" self propelled gun (M110A2) to the 155 Self propelled gun (M109) and became direct support for 2nd Brigade, 3rd ID, V Corps.

After the Gulf War, the hudge drawdown of forces in Germany dictated 3/35 FAR's future. The battalion started to deactivate on Oct 15, 1991 and was completed on April 15, 1992.

The hand full of people (30-40) that were hold overs after April 15, 1992, were then assigned to the 417th Base Support Battalion until they were sent to their next units. Also during this time frame 4/27, the MLRS battalion that was also stationed at Peden Barracks, was moved to Babenhausen.

Peden Barracks closed in September of 1992. I was one of the last few soldiers there before the post closed down. I left Peden Barracks on June 15, 1992, when I went to Ft. Dix to out process out of the Army on terminal leave.

I still live here in Germany and actually live only about ten minutes from Wertheim. Since 1992, Peden Barracks has under gone many changes too. In early 1993, the housing units re-opened to house military families from the Wuerzburg (Leighton Barracks) and Giebelstadt military communities. This remained so until late 1994, when the housing area also completely closed down.

Also shortly after Peden officially closed in Sept. 1992, the Baden-Wuerttemburg Polizei academy took over the 4/27 barracks along with Battalion HQ and Svc Battery barracks. The rest of the 3/35 barracks were used as housing for asylum seekers until the late 1990's (I think 1999).

The rest of Peden Barracks were sold off to private companies, such as the commissarry, 72nd Field Artillery Brigade HQ's, and Bldg 2. The MP station is now a bakery. A/25 barracks and the Shoppette have been completely torn down. The area where the shoppette and the large parking lot was is now full of appartment complexes.

The air strip and where 6/52 was has now been for the most part been developed with streets and is pretty much an industrial park with businesses.

The road going through the LTA back to the PSP has been black-toped and right outside the back gate where the baseball diamonds were is now full of individual garden plots.

The washrack has been completely torn out and is now a Rewe and Aldi supermarket.

The parking lots right behind the 3/35 barracks are now full of houses and the family housing has been completely renovated and sold off to German families.

The 72nd Field Artillery Brigade has been reactivated and is an AC/RC unit based at Joint Base McGuire-Dix-Lakehurst, New Jersey. The unit is responsible for training selected United States Army Reserve and National Guard units along the East coast..
---
1990
(Source: Email from Bill Wolfe, 3rd Bn, 35th FA, 1990-91)
I enjoyed your website. I was S-3 of 3-35FA from 1990 to 1991. When I joined the battalion, we were a VII Corps Artillery 8" SP unit. Shortly after Desert Storm began, we were reorganized into a Direct Support 155 battalion and assigned to the 3d Infantry Division as the DS battalion for 2d Brigade.

In the course of 4 months, we turned in our 8" guns, drew our 155s and were certified as a nuclear capable DS unit. Although now a 3d ID unit we remained at Peden Barracks until my departure in 1990.

---
1st Field Artillery Battery (HJ)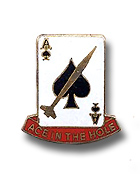 1st FA Rocket Battery DUI
1954
(Source: Email from James A. Manning)
I was just surfing the Internet and thought about my time with the 1st FA Rkt Btry when we were stationed in Kitzingen, Germany on or about 15 December 1954.

My role with the unit was that of the Fire Direction Officer. We had organized in Fort Sill, OK early in 1953-54 and trained the entire year for the deployment to Germany in December of 1954.

I served as the representative to the Port of Debarkation in Brooklyn as the unit's equipment was forwarded to that port for shipment to Bremerhaven, Germany.

While the unit departed Fort Sill, some with their families, I remained assigned to the Brooklyn Terminal to assure that all late arriving equipment was properly designated for the Kitzingen destination. Later I flew to Germany from Westover AFB with a stopover in Lajes, Azores and finally into Rhein-Main.

The unit crest although not sanctioned by the Heraldic Office, was my design which I had a local vendor in Nurnburg develop for use by our unit. It was proudly worn by members of the 1st FA Btry 762mm Rkt.

The Commanding Officer who guided the unit from it's post at Fort Sill, OK to Kitzingen Germany was Captain Richard Sharon Pohl, a graduate of West Point. Pohl would later lose his life during the Vietnam War.

My time with the battery was cut short by a transfer in 1956 to a "gyroscoping" unit heading back to the United States with an assignment at Fort Lewis, WA. After a period of six months, I decided to leave active military duty.

I continued my military career as an Army Reservist in Washington State retiring as Deputy Chief of Staff for Logistics at the Presidio of San Francisco.

In my collection of memorabilia, I have a composite 1955 unit photograph with all of the members of the 1st FA Battery 762mm Rocket.

---
6th Bn, 10th FA (8in How)(SP) - 4th Bn, 14th FA (as of 1988)
1976
(Source: Email from Tim Crosby)
I came across your website, and thought I would contribute. I was with the 6/10th Field Artillery "Charlie Battery", stationed in Bamberg, Germany, from 1976-1978. I was part of our FDC (Fire Control Center) which, then, manually controlled the fire of our 175mm SP guns.

We spent quite a bit of time in the field. At least twice a year at Grafenwoehr, or Vilseck. Then of course, the annual "Reforger" exercises, which I especially liked because we were constantly on the move, and got to see a lot of the countryside, and small towns.

I recall setting up our position right in the town, and swapping C-rations for beer, or Jagermeister (to keep warm)!

Duty at Warner Barracks was excellent! The barracks were very cool, and we had some "historical" parties.

We frequented a place called "Rudys" who had the best schnitzel sandwiches. We also spend a lot of time at a place we called the "Chicken House".

The town of Bamberg was amazing, and when we weren't out in the field, we hit the town every night. Excellent Gasthauses along with the marketplatz, and the amazing architecture! We also tried to hit every "Volksmarch" as possible!

Anyways, there isn't a day that goes by that I don't think about Bamberg. It was the best years I've had, and the friendships were wonderful!
---
1979
(Source: Email from Tony Wright, "A" Btry, 6th Bn, 10th FA)
I just found your website a few days ago and have enjoyed reading all the information that you have posted. It has brought back many fond memories of another period of my life. I loved my time in Bamberg at Warner Barracks and hope to return there for a visit someday.
I was stationed at Ft. Knox KY with the 3/3 FA, (155mm SP unit) 194th Armored Brigade in late 1978 when I got orders for Germany. At the time my father was very sick with cancer and was scheduled for surgery a couple days after I was supposed to leave. I was able to get an emergency extension on my leave which allowed me to delay reporting to Germany for a couple of weeks so I could be home with my family during this time. This resulted in my ticket on the commercial airlines being canceled. So when I reported to Ft. Jackson SC enroute to Germany, I was put onboard a C-141 cargo flight to Frankfurt. There was about 30 of us on the flight and the seats that had been installed for us faced the rear of the plane. There was a huge cargo net stretched across the fuselage where the few rows of seats ended, which separated us from the cargo that was being shipped over with us. We had no windows to look out of. We just sat staring at the cargo behind the net the entire flight over.
When I arrived at the replacement detachment in Frankfurt (was it the 21st replacement detachment?) I was immediately (after being ordered to go down the street for a haircut) assigned to the 6th Bn. 10th Field Artillery (Six & Dime) as a 13B Field Artillery Cannon Crewman. When I got to battalion HQ, I was assigned to Alpha Battery where I spent my entire tour from February of 1979 to June of 1980. When I arrived it was a 175mm SP unit. Around mid to late 1979 we were shipped 8 inch tubes with muzzle brakes and were converted to an 8 inch SP unit. I think we switched to the 8 inch tubes just before going on my second FTX in Graf. We were the first 8 inch unit in the US Army to fire the 8 inch SP Howitzer with a muzzle brake. I remember we had to dig foxholes behind the guns and fire the first 5 or so rounds from them using 50 foot lanyards.
I was fortunate enough to be able to step right into the same jobs I had at my previous post as gun driver & #1 cannoneer in the 4th gun section. To me those were the ultimate jobs in artillery, however it did cost me a lot of extra nights in the motor pool pulling packs or doing other repairs on the gun when it was redlined. As I quickly learned, service along the Iron Curtain was a lot different than I had been used to in my CONUS assignment. I will never forget the many good friends I had in the Six & Dime and some of the good times we had there together. I remember how hard it was to leave my friends there when I ETSed knowing I would probably never see them again. Alpha Battery had a long standing tradition of taking individual pictures of every solider assigned to the battery once a year and arranging them all together in alphabetical order in a large frame and hanging them on the wall in the hallway beside the BC's office. They were just like the individual photos they take of everyone in basic training, in class A uniform with a flag in the background. I remember the pictures of all Alpha Battery personnel for many years back hung on the wall side by side. I have often wondered what the Army did with all those Alpha Battery pictures and the history they represented when the Six & Dime was de-activated.
I have many other memories of my time in Bamberg with the 6/10th Field Artillery. Alerts were always an interesting time, but one alert in particular stands out for me. It was quite different than the others in that we didn't just pack everything up and get ready to move out, only to be given stand-down orders. This one was a USAREUR wide alert and we actually moved out to a remote location someplace and set up in a firing position. We didn't know what was up at the time, but we knew it was something out of the ordinary as this just wasn't our ordinary procedures for an alert. If I'm not mistaken, ammo section was even sent to the ammo dump to draw ammo, although it was never actually issued to the gun sections. We later learned it was called as a result of the failed attempt to rescue the fifty some odd American hostages that Iranian students had taken after the Shaw of Iran was overthrown and which became known as "The Iranian Hostage Crises" in 1979.
I have many other memories I could share with you as well, but will stop here as this is getting a little long. Any other Six & Dime vets out there who would like to contact me, especially any who were in Alpha Battery during 79-80, feel free to email me at "tonyw(at)duo-county.com". (Remember to replace the '(at)' with the '@' symbol when emailing Tony!) Thank you again for all the work and research you have put into this website, and for the trip you have taken me down memory lane.
---
1985
(Source: Email from John K. Thompson)
I was assigned to the 72nd FA Brigade in December of 1985 with 6th Bn. 10th FA at Warner Barracks in Bamberg, West Germany. I was in B Battery and we had 8-inch Howitzers.

Other units that I can remember off the top of my head that were in the Brigade were 1st Bn. 75th FA and 4th Bn. 27th FA. Right before I left Germany in April 1987, 4/27 FA was converting to MLRS. As far as I can tell, my old unit (6/10th FA) must have been deactivated . . . I'd like to know more about that such as when & where.

There were a few more but there regimental numbers escape me. Duty in Bamberg as part of VII Corps Artillery was great. Some of my fonder military memories are of Germany. Later on in my career I went to the Cavalry and was a Cavalry Scout Section Leader when I left the service.
---
1987
(Source: Email from Taylor Anderson, Alpha Battery/ HHB 6/10th FA and 4/14th FA, Warner Barracks, Bamberg)
I was stationed at Warner Barracks and assigned to the 6/10th FA in early April 1987.

I remember leaving Fort Sill and the 76 degree temperatures and flying in to Rhein Mein AB in the morning seeing 2 feet of snow on every rooftop. As I looked out the window, I was thinking in the back of my mind that I had just flown into the Arctic. I was assigned to the 6/10th FA and placed on a bus to Bamberg. Once I arrived at Warner Barracks a walk across post awaited me on cobble stone streets covered by a sheet of ice 1/4" thick.

I found my way to Batallion Headquarters and was told I was going to Alpha Battery but everyone was in the field so off to a barracks set up for incoming soldiers. I knocked on the door and was greeted by a beer straight from a Sargent First Class the last thing a fresh from AIT and Basic Training soldier expected. We were both assigned to Alpha Battery but unfortunately for me the Unit was up gunning to a 3 batteries made up of 8 guns and two platoons. He landed in 1st Platoon as platoon sargent and I wound up in 2nd Platoon as FDC PFC.

I worked my way from advance party to track driver and BCS operator in Alpha Battery we went to Graf 2 or 3 times a year and I was there when we became 4/14 FA. Theodore A Monette was the LT Col and he wanted to prove the 6/10 FA could be direct support for 2/2 ACR so we spent a Graf doing 24 hour operations doing a shoot and scoot. We bugged out after every 5th volley ran to the next position set up fired and then moved. The bull as we liked to call him or TAM proved his point and 6/10th became DS to 2/2 ACR and with that change we were no longer Rock Support we became 4/14 FA.

The old 6/10th FA Commander is now with FEMA as Director, Office of Federal Coordinating Officer Operations.

Under Theodore A Monette the unit trained hard as he kept us in the field as much as he could but when we got back we partied even harder before the change we were called the six and dime (sex and the crime) since we had an extremely high rate of Article 15s. The last Graf we had with TAM was an ARTEP and we were to fire all the unused and turned back in 8" rounds. TAM wanted to leave the Unit having fired more rounds at Graf than any other Unit in history. Unfortunately a round separated in the barrel of another units gun and blew it apart so all our Ammo lots got suspended. TAM would not be stopped so he pulled some strings and rerouted new Ammo to us. We finished that Graf having fired more rounds than any 8" unit had ever fired at Graf and TAM was in the hot seat for using up all that New Ammo.

I will never forget TAM and my time in the firing battery but his replacement and my time in the TOC and HHB was much more enjoyable even though I would be in the field every time anyone from 2/2 ACR or 4/14th FA was in the field. My last year was not back from the field more than 10 days at a time until I was out processing and even then they tried to take me out on Winter Reforger. The Intelligence Officer lead my old track right into being captured I was glad I missed that one.

I still miss Bamberg and Warner Barracks.
---
1988
(Source: Email from Maurice Trevor Andrews)
I was stationed at Warner Barracks in Bamberg, Germany (Battery C 4/14FA) from August 1988 until we deployed to Desert Shield as part of VII Corps (2/2 Cav). The battalion was originally the Six & Dime (6/10th FA) when I first got there then a month or so later it was redesignated to 4/14th.

As a young Sergeant this place shaped me and is still part of me to this very day.

1SG Tony L. Honea was Top and SFC William C. Burks was my Smoke and SFC Robinson was Gunny. Capt. James was the Battery Cmdr.

Our barracks were right across from the Motor Pool (82nd Engineers was next to the Motor Pool) and 2/14 FA was "around the corner".

Grafenwohr was always on the menu!

Went to BNCOC at Hohenfels with SGT James Ford from Alpha Battery, he retired as CSM. That was my buddy then!

Lots of great memories and great men (I hated MUNA guard!) and that brick/block stone main drag will forever be ingrained in my consciousness.

---
3rd Bn, 12th FA (LANCE)
1985
(Source: Email from Frank Alford)
I served in the Army from 1985 to 1989. I worked in the Aschaffenburg Military Community in Germany about 50 km south of Frankfurt with units of the 3rd Brigade of the 3rd Infantry Division. I was assigned to the 1st Battalion 80th Field Artillery (Lance). [The Lance was an old liquid fueled missile system eventually replaced by the MLRS]

My battalion was one of about 6 battalions assigned to to the 72nd FA Brigade which was one of 3 brigades (17th, 72nd, and 210th) comprising 7th Corps Artillery. The 7th Corps in general, back in those days, comprised of (besides the support units):

1st Armored Division

2nd Armored Cavalry Regiment

3rd Infantry Division

11th Aviation Brigade

12th German Panzer Division

4th Canadian Mechanized Brigade

In 1986 (perhaps 1987) the Army reinstituted the regimental type structure throughout the 7th Corps. My unit was redesignated as the 3rd Battalion 12th Field Artillery Regiment but still in the same chain of command 72nd BDE, 7th Corps. The 12th FAR had a long, distinguished battle history. (I liked this because our uniforms became covered with French, Belgium and Presidential decorations)

The Lance missile could be fitted with both conventional and nuclear warheads. I was assigned to the 1st Assembly and Transport platoon for Bravo Battery (The Beast!) we would transport the main missile assemblages and warheads to resupply points where we would put them together and load them onto our battery's tracked missile launcher. They would (pretend) fire and come back and get another.

The last year that I worked there, we started to train a little bit with a unit from the (if I recall correctly) 27th FAR (MLRS) the eventual replacement system for Lance.
---
(Source: Email from Mark M. "Sandy" Morrison)
(Click here to read about Mark's assignment to 1st Bn, 32nd FA (LANCE) from 1974-78)

I returned to USAREUR in June 1985 to Peden Barracks, Wertheim, as the 72nd Field Artillery Brigade's Assistant S3 for Plans and Security. I was also the LNO to the 12th Panzer Division, whose Division Artillery we were to re-enforce in wartime. The 1st Infantry Division (Forward) was also part of the 12th Panzer Division in wartime and I also worked liaison with that Brigade.
In May 1986 I arrived in Aschaffenburg, Fiori Kaserne, to become S3 of the 1st BN 80th FA (Lance). I remained with the battalion in that capacity for 38 months.

In 1987 or 1988 the battalion re-designated to 3rd BN 12th FA. During that time we successfully completed four Nuclear ARTEPS, four Annual General Inspections, seven Nuclear Technical Proficiency Inspections (including one Defense Nuclear Agency and one DAIG), four live fire Service Practice Tests (by NATO) at NAMFI, Crete, and accomplished two major revisions of the battalion's General Defensive Plan. We also successfully underwent a NATO Deployment Readiness Test.

Having already served in the 1st BN 32nd FA and known the Fulda Gap, I arranged the battalion's GDPs to provide fire support for our primary mission in the Meiningen Approach but with the capability to fire into the Fulda Gap by our northern-most battery and into the Cheb Approach with our southern-most battery. Additionally we had "airmobile" firing points within 10 kilometers of the Inter-German Border so that we could engage deep targets. Altogether we had more than 230 pre-surveyed firing points of which at least 85% retained their survey integrity at any given point in time.

Our GDP also included a plan to use the tunnels for the Intercity High-speed train in our sector as "bunkers" in which we could operate the entire battalion, launchers coming out of the tunnels only to launch. This tactic would have rendered the battalion largely impervious to nuclear attack. I departed the battalion in June 1989 to become the Tactical Command Post OIC and Assistant to the Deputy G3 Training at V Corps.
I have many photos and slides of operations in both battalions if you're interested.
By the way, the 2nd BN 42nd FA (Lance) was stationed at Crailsheim. I had a friend in that Battalion. I also was the ARTEP Evaluation Team Chief for ARTEPs for other VII Corps Lance battalions on a couple of occasions.
---
1991
Lance battalion bids farewell to Aschaffenburg community

by Andrea Wales

3rd Battalion, 12th Field Artillery said goodbye to Aschaffenburg in a farewell and awards ceremony Aug. 16 as a prelude to its inactivation Oct. 15.

The lance battalion is part of the Army-wide lance compression changing the face of field artillery from three-by-two (three batteries with two launchers apiece) to a three-by-four (three batteries with four launchers each).

The lance compression, complete June 30, sent three launch platoons to 1st Battalion, 32nd Field Artillery, in Hanau along with the support personnel and equipment that goes along with those launchers, battalion executive officer Maj. Hal Nyander said.

The second phase is the individual "redeployment" of the remaining troops to other USAREUR units or to units stateside.

"Accomplishing this dual mission was not easy since this notification came right during the height of Desert Shield and Desert Storm," lance battalion commander Lt. Col. Dwight Gray said during the farewell ceremony Aug. 16. "Trying to keep the soldiers focused on the mission of community security which meant long hours walking in the snow and cold - and at the same time telling them we must now also compress with another lance battalion - required the utmost in our leadership abilities."

New concept explained
Under the new system, a battalion is almost the same size, but it has twice the firing capability as a battalion under the old system, Nyander said.

"You have a larger number of delivery systems in one battalion so Command and Control is streamlined. One headquarters controls more assets. We don't need as many people in Command and Control to deliver the fire," Gray said in an interview.

"It's a new concept to streamline the corps' fire support side of the house," Gray said. "We are one of three other battalions that are participating in the compression. We are not the first. This concept has been done before."
In 1989, the 2nd Battalion, 32nd Field Artillery, and the 3rd Battalion, 32nd Field Artillery, compressed in Wiesbaden.

"There were six lance battalions, and we're down to three now," Gray said.

Distributing lance assets
The lance compression brought changes to 1st Bn, 32nd FA.

"Their new compressed table of organization and equipment - TO&E - gave them authorizations for more people and so as part of the compression it was our job to fill anything they needed even if it didn't belong to a launch platoon," Nyander said.

1st Bn, 32nd FA, identified authorized shortages, and 3rd Bn, 12th FA, gave them whatever they needed, Nyander said. About 100 people and almost a third of the Aschaffenburg lance battalion's equipment went to 1st Bn, 32nd FA.

3rd Bn,12th FA, then turned to higher headquarters for guidance on what to do with the remaining equipment, he said. The battalion was given instructions and is now in the process of finishing administrative paperwork involved to turn in equipment.

Some of the equipment could go to a Pre-position Of Materiel Configured to Unit Sets site, commonly called POMCUS, where it would be stored for Return of Forces to Germany, referred to as REFORGER, or other deployed units. Remaining equipment could go to other FA units depending on the shortages they face.

"It's an ideal situation for the remaining units in Europe to make up authorized shortages on the TO&E," Nyander said.

---
4th Bn, 27th FA (MLRS)
1985
(Source: Email from Thomas J. Dobeck)
I was an "original member" of 4-27FA in Peden Barracks, Wertheim. I arrived on 13 January, 1985 amidst heavy snow fall in HHS Battery; we were housed in Building #7, next to the German barracks. I was assigned to the S3 shop in BN FDC as a 15J, FDC.

I actually arrived on the plane with our 1SG from Ft Sill, 1SG Donahue. We literally had 2 NCOs' when I got there, the rest of us were Privates but each day we grew until approximately April 1985 we were a full strength Battery, albeit w/o equipment.

HHS was originally commanded by Cpt. Horton. The Bn Cdr was LTC Stearn and the Bn CSM was CSM Colquitt. That all changed on May 15th, when we deployed along with Alpha Battery, commanded Cpt Mattingly & 1SG Cummings (who just finished collective training at Sill) to Grafenwohr for 62 days of fielding and testing of our new equipment. Everything was new, from camo nets to vehicles to M16's. Upon our return to Peden, our new barracks and Battalion Headquarters buildings were ready to move in. We occupied the old airfield as a motor pool until our new state of the art motor pool was finished.

Bravo Battery (Cpt Jacobs) finished collective training at Ft Sill and arrived as a group and fielded their equipment at Graf and Vilseck around the September time frame, and Charlie Btry (Cpt Sullivan & 1SG Penman) did the same in the Winter of 1985. By Christmas 1985, the entire Battalion was fielded, just in time to participate in a REFORGER exercise.

The op-tempo slowed down quite a bit after that as we settled in to the small but picturesque Caserne we all knew as Peden. We had our battles with 3-35FA down at the Woodstock and Biergarten, but for the most part we meshed in without any major conflicts. I still think there was animosity, (rightfully so) because of the new facilities we occupied while they maintained their old digs.

At any rate, 4-27FA was called on to serve in Operation Desert Shield/Storm in the Winter of 1990, and we returned after a successful campaign in May 1991 w/o any casualties. Unfortunately we learned Peden Barracks would be closed down and 4-27FA would move to Babenhausen to co-locate with the other MLRS Battalion, 1-27FA.

I arrived at Peden an E-1 and stayed there until 1992 and was now an E-6, I decided I would not make the move to Babenhausen and sought a state side assignment. I actually had the opportunity to work in Building #2 for a few months before I left and was one of the last few uniformed members on the base. We basically were responsible to get the buildings ready to turn over to the Germans. I had access to every building and was lucky to go inside the few places I have never been in before.

If my memory serves me correctly, during my stay at Peden (85-92) the post was comprised of HHB 72nd FA, 3-35FA, 4-27FA, A/25 TAB, 87th Maint., and some assorted MST's. There was also a Patriot unit that was outside the back gate in a new facility.

I consider myself to have grown up there and have quite a few lasting memories. I did return in 1996 to visit, only to see a run down un-kept PB, it was depressing to see such a sight. I'm since retired from the Army and reside in my home state of Pennsylvania.
---
(Source: Email from Glenn Williams)
I was stationed at Wertheim from 1985-1988. I was with Bravo Battery 4/27 F.A. MLRS. we were there with the 3/35 tube artillery unit along with the M.P. battalion. I arrived as the first echelon and we took over the airfield from an army aviation unit. I am sure you know the airfield belonged to a Stuka dive bomber base during World War 2.

We in-processed the new barracks in 1985 for about 2 weeks. There was some animosity from the 3-35th as they were told that the new barracks would be theirs. We then proceeded to Grafenwoehr where we received our new toys -- the M-985 HEMTT ( heavy expanded mobility tactical truck) and the M-270 (multiple launch rocket system vehicle). We were there approximately 60 days for in-processing of vehicles (D.A. 2404 P.M.C.S. preventive maintenance checks and services) of the vehicles on a daily basis.

After that we went promptly to the field for live fire training for another 30 days. We got to come back to the barracks for roughly two weeks and went back to the field for a 60 day field prompt. So it seemed we lived at Graf for about 6 or so months. We had alert after alert for months and finally around 1987 it started to have a somewhat stable environment and we only went to the field 30 days at a time and of course REFORGER. Those were fun.

We became an extremely close knit outfit and I would have put us against any enemy. I left Germany in November of 1988 and my unit went to Iraq in support of desert storm. We along with an M-1 Abrams tank unit moved the FLOT line so fast that General Schwarzinager kept telling the command to just keep moving north toward the Republican Guard stronghold. Sadly I was not part of that battle/war.

After desert storm the unit was deactivated and moved to the states. I was back in Wertheim 2 years ago and the whole post is now just in bad repair. The new barracks are now a Polizei training academy. The M.P. guard house is gone and the barracks are now a drug store. Where the airfield used to be it is now a home improvement store of some kind. The dependant billets are now apartments, there is graffiti all over the place. I found my visit back there really sad as I took a lot of pride in that post and time in my life.

---
1st Bn, 75th FA (8in How)(SP)
1963
(Source: STATION LISTS Sept & Dec 1963)
1st Bn, 75th FA moved from Hindenburg Kaserne, Ansbach, to Warner Barracks, Bamberg.
---
1986
(Source: Email from Bert Arsenault)
I was stationed with Battery C, 1st Bn, 75th FA from March 1986 to May 1988.

It changed from 1/75 to 2nd Bn, 14th FA in late 1987 or early 1988.

I was a 13E Fire Direction Specialist (FDC) but I mainly worked in the Battery Operations Center (BOC) because I was good on the radio but not so good at FDC. I sort of became the voice of Charlie Battery because of my distinct New England accent. LTC Ankaitis even came down to our position once asking, "Where is that voice of Charlie Battery?" LOL

I remember the cobblestoned streets of the battallion area and the brick buildings. The other side of the barracks building was the streets of Bamberg.

The barber shop was above Battallion HQ.

I can still see us forming up for PT in the morning wearing our yellow "banana suits" (awful!). We used to call 6/10 FA "Sixth and Dime" which morphed into "sixth and crime"!

I remember Christmas of 1986 when the mess hall put on this huge holiday feast. Shrimp, steak, everything. The only problem was the officers and their families went first, then high non-coms and their families, then marrieds and their families went. By the time us Joes from the barracks got in, there was hardly anything left! On top of that, the mess had spent their allotted budget so we ate chili mac and veal patty for the month of January! LOL but they made great SOS... sausage gravy!

I went to 9 Grafs and the Reforger in Sep of '87. The most memorable Graf was the Feb '87. COLD. Their was a blizzard and we had to do a night move to a new firing point. I was with the advanced party. The rest of the battery got lost. I spent the whole night "guarding" the aiming circle. The only person I saw was one of the wire dogs running ground wire. It was Frausto (from Tx.). Great guy, asked if I was OK and kept moving. I thought I was going to freeze that night. I was litterally wimpering, walking around in a 3 foot circle for about 7 hours. I kept thinking of the WWII guys. How the heck did they do it?!

The rest of the battery wandered in a little after sunrise. I remember we pitched a squad tent and the next morning when we pulled up the stakes the tent was frozen in place. We had to take runs at it and hit it with our shoulders to get it to "fold" up. It was a big ball sitting on top of the FDC track! LOL.

I remember the old burned out WWII German tank left in the field.

I was 19, 20, 21 years old and we had a BALL. Work hard, play hard. Remember Palm Beach? The Green Goose (the one in Nuremburg was better). Remember taking the train to Erlangen to that dance club? Rad didn't want GIs around their girls and there was a huge bar fight, flying bottles and all!

Remember buying 2 train tix, going to Nuremburg, drinking ALL your money but making sure you had the return ticket so you could get back?

Remember that guy in that basement on post that used to sell the racks of beer? Can you still smell burning Paste Wax?

Remember that big beautiful stone square downtown Bamberg with the beautiful church? In the summer they'd put tables outside of the restaurants. There's a lot more but I think I may be wearing out my welcome.

Thanks for the memories.
---
(Source: Email from Robert Lancaster)
I was assigned to the Battery A, 1st Battalion, 75th Field Artillery, 72nd FA Brigade in Feb 1986 after basic at Ft Sill. The 1/75 FA was a general support artillery unit for the German VII Corps. We had 3 Firing Batteries which were made up of M110A2 8" (203mm) SP Howitzers, and a HHB and Service Battery. These howitzers had nuclear capabilities and we had a "special weapons" section which trained for that (was the room they never let you see!)

1/75 FA was at Warner Barracks, Bamberg, FRG along with the 6/10 FA also of the 72nd FA Brigade.

Spent a lot of time at Grafenwoehr though, we would go 4 or 5 times a year...always would be muddy, raining and cold! Since I did not have a bonus paid at enlistment, I was able to work at other jobs than my MOS (13B). I was BC driver, S-3 driver, Legal Specialist and Operations (S3 Clerk). Learned much more than I would have if I spent my entire time standing on the deckplates of that howitzer.

For the 2 years I was in 1/75, we were rated the best 8" battalion in USAREUR based on competitive events during our training. Also had the distinction of being the first 8" battalion to live fire at Hohenfels. Was in May and snowing!

We were on the kaserne (Warner Barracks) along with 2/2 ACR (Battle of 73 Easting in Desert Storm!!!!), HHC 3rd Bde 1st Armored Div, 1/78 FA, 6/10 FA 82nd ENG, 213th PSC, 1/52 Inf, 1/54 Inf and a few others I can't remember. Since we were assigned to USAREUR, we were the judges during REFORGER 87. That was a blast seeing the "stateside army"! Big difference.

The Alerts were monthly and the drug tests too. PT on fridays was the full battalion run with "Theme from Rocky" being played on a stereo out the window.

I remember this time in Bamberg as being some of the best I have had...the friends I made and experiences are never forgotten. I am honored to have served with the men of the 1st Battalion, 75th Field Artillery and it is a shame that they have been put away in the "closet" of history.

"PREPARED TO DO"
"ALPHAHOLICS"

SSG Robert Lancaster (13B3X, 11B3X)

ADDITIONAL INFORMATION:
Each Firing Battery had 6 guns.

Our mission was general support for the German VII (Webmaster: probably II) Corps which we trained with during exercises at Graf.

Battalion Commanders during my time there were LTC Robert Ankaitis and LTC Porter. My Battery Commanders were CPT Robert Gordon and CPT Perrin. We had a good group of men in our battalion who trained and played hard.

During this period of the 1980's there was more than enough money to train at least 4 times a year at Graf and also once at Hohenfels. Warner Barracks during this time was the HQ for 3rd Brigade, 1st Armored Div and 2nd Squad., 2nd ACR. 2/2 Cav always had the best chow, if you could get in! 6th Battalion, 10th FA of the 72nd FA BDE was also at Warner Barracks.

Duty there was good, with plenty of training time and many alerts. The town of Bamberg was wonderful with very friendly people who seemed to welcome the American presence there. I could not have asked for a better town to be stationed in. Close to everything by train, so we had opportunity to use weekends to travel.

1/75 FA was being redesignated about the time I was leaving (Oct 1987). Now I understand they have been deactivated and all the 8" guns are replaced with MLRS.
---
(Source: Email from Sean O'Dell)
I ran across your web site about the American Army presence in Germany, and I have to give you praise: what a fantastic web site. Please keep it running until my daughter is old enough to appreciate it (she's 4 weeks old now).

I was assigned there in January 1984 with an entire platoon of my basic training buddies and had the best 1.5 years of my entire life. Even though they are before our time, it was really fantastic to see all the photos of the old kaserne. We were stationed at Warner Barracks, assigned to 1/75 Field Artillery at the time, and the post itself, while looking slightly different, looks so much the same as when we were there, it's spooky. Those 3-story stone buildings with their gabled attics are really old. We used to play pool in our unit dayroom up there on Saturday mornings and peer out over the German cityscape in Bamberg out of those little gabled windows. What a wonderful country, and what a wonderful way to discover it: as a young man virtually unencumbered by ambitions (every paycheck converted to beer).

---
Related Links: