If you do NOT see the Table of Contents frame to the left of this page, then
Click here to open 'USArmyGermany' frameset
421st Medical Company (Air Ambulance)
"DUSTOFF Europe"
7th Medical Command
Looking for more information from military/civilian personnel assigned to or associated with the U.S. Army in Germany from 1945 to 1989. If you have any stories or thoughts on the subject, please contact me

.
---
---
421st Medical Company History
421st Med Co (AA)
Pocket Patch

.
1969
(Source: Email from Ken Hattrick)
I arrived in Germany @ Rhein Main AB in October of 1969. I was then sent with a group to the 7th Medical Brigade Headquarters in Stuttgart). My MOS was 91A10, Medic. People were getting assignments everyday, but several of us weren't picked for whatever reason. We were finally asked if we wanted to volunteer to fly -- they would not force anyone to do so. I did, and was assigned to the 3rd Platoon @ Grafenwohr. I was sent to a hospital in Wuerzburg to upgrade my MOS to 91B20, which was needed to fly.

We shared a barracks with the Air Force. They actually ran the airfield. There were about 16 or so guys in the 3rd platoon. 6-8 pilots, 4-5 crew chiefs, and 4-5 medics. Most of the men were Vietnam vets, I am not. Shortly after I arrived, we swapped out UH-1B helicopters for D models.

I don't remember the street address. My mailing address was 3rd Plt. 421st Med Co. (AA), APO NY, NY 09114. For whatever reason we were given separate rations, and not assigned to a mess hall. We were asked to volunteer for KP , which I did once or twice. I was treated very well, and certainly had more than enough to eat!

Since we were located @ a NATO training base, we did a fair amount of flying. I was able to earn my crew member wings before leaving in March 1971.

The entire post was put on alert sometime in 1970 for a possible move to Jordan. I was @ the movies watching "Goodbye Columbus", when the lights came on and everyone was directed to return to their unit ASAP. I can't remember if anything really happened in Jordan, but we were taken off alert within a week or so.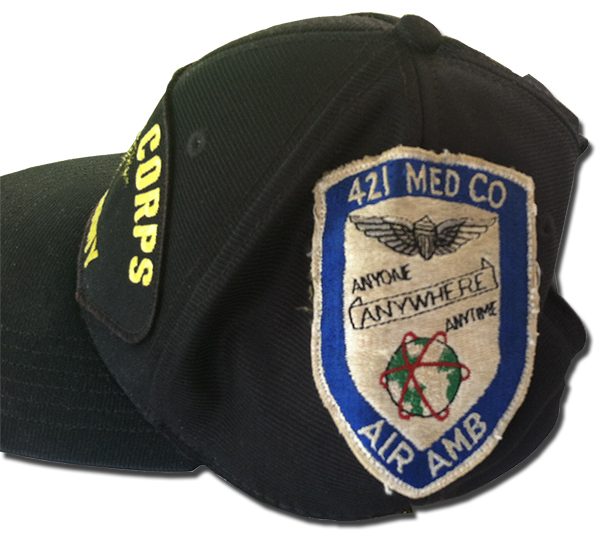 Ken still has his old unit patch that he wears on his Medical Corps hat
The unit did transition to the 15th Medical Detachment in late 1970. We did not go anywhere, guys in the 15th came to Grafenwohr. I did not realize, or possibly I don't remember that the 3rd platoon designation ended up being used elsewhere @ the time, most of us did not change our blue and white "anyone, anywhere" patches to whatever the 15th used. I still have the one that was on my flight suit as well as a purple-white 7th Medical Brigade patch. I wear both of them on my Army Medical Corps cap a friend of mine purchased for me.

Our duty helicopter was kept in a large barn on base in the winter time. Otherwise they were kept on a field outside of the barn. The barn was across the street from a scrap yard filled with old tanks/trucks used as targets on the ranges. We had a total of 3-4 helicopters @ the time.
During my time there Capt. Willie Boyd was the CO. Also there @ the time were WO-2's Mr. Kosman, Mr. Martin Lutsky, Mr. Tom Slagle, Capt. Wylie Hall and several others who were all pilots and Vietnam vets.
---
1971
(Source: STARS & STRIPES, May 28, 1971)
The 421st Medical Co (Air Ambualnce) is headquartered at Nellingen Kaserne. The 7th Med Bde unit handles air medical evacuation for all of Germany from five locations.

The units is currently in the process of receiving 36 refurbished UH-1H helicopters - Vietnam war veterans.

The 421st consists of several organic platoons and attached detachments:

1st and 3rd Platoons are based at Nellingen and serve the Stuttgart area east to Munich, including the Armed Forces Recreation areas.

2nd Platoon at Schweinfurt AAF serves training areas around Schweinfurt.

4th Platoon at the Darmstadt Airstrip (Griesheim) provides air ambulance service to the heavily populated greater Frankfurt area and northern Germany, east of the Rhine and south to Karlsruhe.

The 63rd Med Det at Landstuhl makes rescue missions in an area west of the Rhine between the French and Belgian borders.

The 15th Med Det is responsible for the sprawling Seventh Army Training Center at Grafenwoehr.
---
1987
(Source: Dustoff Europe Reorganization)
Reorganization of Medical Evacuation in Europe (1987)

The 421st Medical Company (Air Amb), "Dustoff Europe", is reorganizing under the Army of Excellence program into an Evacuation Battalion.

Currently, Dustoff Europe comprises one medical company with 25 aircraft and four medical detachments (6 aircraft each):
| | | |
| --- | --- | --- |
| UNIT DESIGNATION | LOCATION | COMMENTS |
| 421st Med Co (AA) | Nellingen Ksn, Stuttgart | |
| 1st Pltn | Nellingen Ksn, Stuttgart | |
| 2nd Pltn | Conn Bks, Schweinfurt | |
| 3rd Pltn | Nellingen Ksn, Stuttgart | |
| 4th Pltn | Griesheim AAF, Darmstadt | |
| 15th Med Det (AA) | Grafenwöhr AAF, Grafenwöhr | |
| 63rd Med Det (AA) | Landstuhl | |
| 159th Med Det (AA) | Carl Schurz Ksn, Bremerhaven | |
| 236th Med Det (AA) | Giebelstadt Ksn, Augsburg | |
The 6-aircraft detachments comprise: 6 UH-60 aircraft, 4 wheeled vehicles, 30 people.
Under the reorganiztion, Dustoff Europe will be reorganized as an Evac Bn providing command and control for three 15-aircraft companies. The reorganization will occur in two phases: Phase One, already completed in August 1987, produced a provisional battalion hqs, two 15-aircraft companies and three 6-aircraft detachments:
| | | |
| --- | --- | --- |
| UNIT DESIGNATION | LOCATION | COMMENTS |
| HHC, 421st Med Bn (Evac) | Nellingen Ksn, Stuttgart | |
| 45th Med Co (AA) | Nellingen Ksn, Stuttgart | |
| 159th Med Co (AA) | Griesheim AAF, Darmstadt | |
| 15th Med Det (AA) | Grafenwöhr AAF, Grafenwöhr | |
| 63rd Med Det (AA) | Landstuhl | |
| 236th Med Det (AA) | Giebelstadt Ksn, Augsburg | |
Phase Two, scheduled for FY 1991, will produced a third medical company by consolidating the three remaining 6-aircraft dets at an as-yet-undetermined site. (Webmaster Note: the third medical company, designated as the 236th Med Co, was eventually formed at Landstuhl).
The new 15-aircraft company organization comprised 15 UH-60 aircraft, 10 wheeled vehicles, 120 people.
Reasons for the reorganization:
Command & Control
MEDEVAC support in the COSCOM area under current medical doctrine calls for one 25-aircraft company and two 6-aircraft dets to support each division of a corps. This allocation presents a command and control problem at the detachment level. There is no single manager of MEDEVAC assets. Under the reorganization plan, the COSCOM area is supported by one 15-aircraft company for every two divisions. Additionally, one 15-aircraft company will support each division.

Training
Under the previous configuration, separate platoons and detachments were spread out throughout Europe which did not allow for effective unit-level training.
45th Med Co (AA)
Pocket Patch

In 1987, the 1st and 3rd platoons of the old 421st Medical Company that are stationed at Nellingen, Germany, combined with the remaining personnel and equipment from the 2nd platoon to form the battalion headquarters and the 45th Medical Company (AA), Nellingen Ksn, Stuttgart.

159th Med Co (AA)
Pocket Patch

In 1987, the 159th Medical Detachment (Air Ambulance) that was located at Garlstadt in Northern Germany and half of the 2nd Platoon of the 421st Medical Company (Air Ambulance) located in Schweinfurt combined with the 4th Platoon of the 421st Medical Company in Darmstadt to form the 159th Medical Company, Griesheim AAF, Darmstadt.

236th Med Co (AA)
Pocket Patch

On 16 October 1989, the 236th Medical Company (AA) at Landstuhl was formed using assets of the 63rd, 236th and part of the 15th Medical Detachments.
Additional variations of pocket patches used by Air Ambulance units in Europe (looking for details on time frames when the patches were worn):
421st Med Co (AA)
Pocket Patch (1)

63rd Med Det (HA)
Pocket Patch

159th Med Co (AA)
Pocket Patch

159th Med Co (AA)
Pocket Patch






(1) courtesy of Jim Dodson
If you have more information on the history or organization of the 421st Med Co/Bn, please contact me

.
---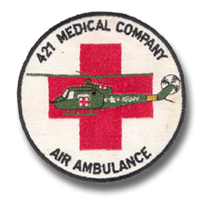 421st Med Co (AA) - 3rd Pltn
(Source: Email from Jim Dodson)
I ran across your website and request for any information on the 421st Med Co.
I was stationed with the 421st Med Co, 3rd Platoon in Grafenwoehr, Germany from August 1962 through August 1964.
It was sometime in 1963 when several of us in the platoon designed a patch for our platoon (see attachment), however, at that particular time the army did not allow patches to be worn on any uniforms to include flight jackets and suits.
As you will notice, the patch I am sending you is different from the one you have on your website.
Should you have any questions, please feel free to contact me.
---
(Source: Email from Jim Dotson)
My father was a medic with the 421st Med Co (AA) when they were in Illesheim, Germany. He was with the unit from 1965-68. During the timeframe of 1967 they moved the unit to Schweinfurt where they still are today.

I asked him the other day if this was the patch (see 421st Med Co pocket patch in 'Additional Variations' section) they wore, he said that was later after he left in 1968. I know in the 1978 timeframe they were wearing the shield with white background blue trim, the wings globe and anyone anywhere anytime motto.

He said in 1965-68 they wore a shield patch with a crest in it, which I suspect is the one with 421st and diagonal is the 159th. I suspect the patch I sent was in the later 1969 and early 1970s. My dad recognized it but did not have an exact date on when the unit wore it.

I saw an old patch from the 159th, it was made like the one I have, with the hand stiching embroidery it appears more early 1960s then later 60s. On the dustoff association link with '421 Germany' typed in these patches came up. Not mine but the old 159th; it also has a large red cross in the center. I believe it may be from 1961 when the unit was first activated but this is only guessing from the old style patch work and similar features to the old 159th patch dated 1961. I looked at patches from the late 1960s and the early 1970s and the embroidery is far more advanced. I have some early 1960s handmade and they are similar to the 421st patches. Still working on it, but keep you posted.

My dad and I are very fond of this unit. I was medevaced as child of 6 years of age from illesheim to Nurnburg Army Hospital by this unit. My luck was my dad was the medic on duty that night. Maj. McBride was the unit commander and Aircraft commander that night with copilot Capt McDonald. My dad, Larry Dotson, was the medic and the crew chief was Specialist, not sure of rank, McVicker.

We returned to Germany and I worked in the emergency room at Wuerzburg Army Hospital. There I was later able to assist the 421st in transports of patients.

I remember Maj. McBride allowing me for a moment to watch the trains from the air coming out of Nurnburg. And they treated me really great. So as you can tell this unit is always in my heart. I am now a 100 percent disabled veteran, but their kindness and professionalisim is what made me become a Army medic. And what I saw as a child is the same care and dedication I gave my troops.

I became disabled going to the aid of another soldier. If I could I am in search of a 421st patch from today, if you know of anyone who may sell me one, I would deeply appreciate it.

I am not sure of the crew chiefs rank at the time because back then then they had spec 5-6 besides the 4. I will research this a little more. And will immediately notify you of my findings. Thank you for your time and assistance. Jim Dotson

---
15th Medical Detachment (HA)
(Sources: Email from Alfons Kraus)
Constituted as the 15th Malaria Control Unit on 1 January 1943, the unit was activated at the Service of Supply Unit Training Center in New Orleans on 25 January 1943. It staged at Camp Stoneman, California between 29 March 1943 and 22 April 1943, and sailed for Australia on 18 May 1943 on the USS Cape Flattery. It was reorganized and redesignated the 15th Medical Composite Unit on 13 July 1944 and reorganized and redesignated again on 25 April 1945 as the 15th Malaria Control Detachment. The unit served in Australia until 7 July 1943, then in New Guinea until 30 April 1945, and in the Philippine Islands from 3 May 1945 to 2 November 1945 when it was inactivated.

It was redesignated the 15th Medical Detachment on 27 March 1951, and activated at Karlsruhe, Germany on 3 May 1951 where it served until 28 October 1954. It was transferred to St. Nazaire, France where it was inactivated on 5 February 1955.

The unit was activated again at Fort Ord, California on 25 March 1961 as the 15th Medical Detachment (HA). The 15th was organized from the assets of the 47th Medical Platoon (formerly the 37th Medical Detachment), which had been inactivated on 25 March 1961. The unit sailed on 9 October 1961 from Hampton Roads, Virginia on the USNS Gordon for Bremerhaven, Germany, where it arrived on 21 October 1961 as part of the support for the Berlin Crisis buildup.

Upon arrival in Germany, the 15th traveled by train to Bad Kreuznach where it opened for business with four H-19D helicopters. In late 1963 or early 1964, the H-19s were replaced with five H-13G helicopters. In May 1966, the unit received three H-34C helicopters that allowed it to provide on board, in transit medical care. Another H-34C was added in 1966, but the unit had only four to five pilots at any given time, and maintenance was a common problem, with usually only two of the four aircraft flying. In December 1966, the unit relocated to Schleissheim Army Airfield at Oberschleissheim, Germany. The 15th provided coverage for the 24th Infantry Division and the Army Recreation Areas at Garmisch, Chiemsee and Berchtesgaden. It also did mountain rescue work with the German police.

In March 1967 one of the lesser-known incidents of the Cold War ended peacefully at Schleissheim Airfield. The Great Dumpling War ended when the Commander of the 15th and Airfield Commander, then-MAJ Donald G. Murphy, agreed to keep his aircraft above 1500 feet when flying over the Munich suburb of Pasing. One of Pasing's residents, Helmut Winter, had been so annoyed by low flying aircraft that he constructed a crossbow and fired over 120 potato dumplings at the helicopters before the peace accord was reached.

In July 1968, the unit relocated again, this time to Gablingen Army Airfield, about ten miles from Augsburg, Germany, where in December, it received three UH-1D helicopters.

In December 1970, the 15th relocated again to the Seventh Army Training Center at Grafenwoehr and received a fourth UH-1D aircraft. Two UH-1H aircraft were added in April 1971, and between June and November the other four aircraft were exchanged for UH-1H Hueys. The unit was redesignated as the 15th Medical Detachment (RA).

When the 15th relocated to Grafenwoehr, there were no facilities available and the unit set up in an old motor pool on the South side of the main post. A landing pad was established in a 1.5-acre parking area and the motor maintenance barn was used as an aircraft hanger. There was room only for one aircraft at a time and the clearance was so tight that the air pressure in the ground handling wheels had to be reduced to the point that the aircraft would barely roll to get the helicopters in and out of the maintenance barn. There was no protection from the winter environment for the other aircraft.

In fall 1971, there was a fatal accident that killed a medic on takeoff at night in poor weather. The unit was directed to move all operations to the Grafenwoehr Army Airfield. But there was no hanger and no funds to build one for two years. So unit maintenance continued in the motor pool barn.

In July 1972, the high profile, international Joint Operation Mystic Mission concluded at Hohenfels. There was a very large base camp built using German "Fest" tents, tough translucent fabric stretched over arched laminated wood beams. The 15th had provided standby support for the Operation, and the suggestion was made to COL Tibbets, the Seventh Army Training Center Commander, that the largest of the tents would make a suitable hanger for the 15th when it was no longer needed for the Operation. COL Tibbets agreed and with the help of LTC Raymond Salmon, 421st Medical Company Commander, additional funds were provided from the 7th Medical Brigade to move and reassemble the large tent. It was disassembled and moved by Skycrane to Grafenwoehr, where engineers modified the door to accommodate the UH-1Hs.

The tent was provided with additional lights and running water and could accommodate three Hueys, four in a pinch. Maintenance offices and parts storage were also stored inside. The units 64-foot canvas field storage tent was erected to house the fifth aircraft, leaving only one to be subjected to the elements. A large spaceheater provided heat. In bad weather the standby aircraft was situated just inside the door with ground handling wheels on and the tug attached. Response time was dramatically improved in winter with no snow or ice to remove and warm fluids and batteries in the aircraft. The motor maintenance barn was used only for vehicle maintenance.

The result was the only "Glow in the Dark, Bier Fest Tent" hanger in the Army inventory. For years it served as a conversation piece. One can only imagine what the Warsaw Pact troops in Czechoslovakia thought. Grafenwoehr was so close to the Czech border that troops there could not help but notice it if they were at any altitude.

In January 1987, the Hueys were exchanged for UH-60A Black Hawks, and the unit was redesignated as the 15th Medical Detachment (RG). The 15th was inactivated at Grafenwoehr on 15 October 1989. Its aircraft and personnel were transferred to the 159th and 236th Medical Detachments as they reorganized into 15 aircraft Companies. While it was active, the 15th provided medevac support to the North Bavaria area of Seventh Army through the 7th Medical Command. By the mid-1980s, it was subordinate to the 421st Medical Company (AA), and later to the 421st Medical Battalion (Evacuation).

The 15th was awarded WW II campaign credit for New Guinea and Southern Philippines.

---
159th Medical Company (AA)
(Source: Port Reporter, May 16, 1986)
159th Medical Detachment - "We move any patient, anywhere"

by Marie Johnston

It's 8:30 a.m. on an overcast Norddeutschland day. The phone rings in the 159th Medical Detachment flight ops office. Mission call! The crew quickly checks weather and files a flight plan. Thirty minutes later, they're airborne.

What makes this unit's mission different from the missions of any other flight detachment? "A lot," according to Maj. Alfred W. Rogers, detachment commander, Clay Kaserne. "To begin with, we are not an aviation unit but a medical unit under the authority of the surgeon general's office."

This means the 159th provides all medical evacuation (MEDEVAC) support for the Norddeutschland area and beyond. "We cover this area as far south as Frankfurt, go to the northern Danish border and support the Berlin Brigade as well," said Rogers.

CW2 Dan G. Thompson, one of the 159th pilots noted, "If you look at a map, we have the largest area to cover in USAREUR for the Army. We may not have as many priority patients as the MEDEVAC units south of Frankfurt, but we sometimes have farther to go to get some of them."

The 159th also has an on-going mission to support the Bergen training area when the 2AD (FWD) goes on field exercises. All major training areas must have a MEDEVAC unit nearby when there is an exercise going on.

"We also provide support to the Hohenfels training area but on a rotational basis," said Rogers. "Since there are five MEDEVAC detachments in USAREUR along with German air ambulance support, the Hohenfels duty is split accordingly."

According to Rogers, the 159th was stationed in Nuernberg until 1978. When the 2nd Armored Division (FWD) was established at Clay Kaserne it was decided that the troop strength of Norddeutschland made medical evacuation capabilities necessary.

Besides the normal MEDEVAC support given to the 2nd Army Field Hospital in Bremerhaven and the duty in the training areas, the 159th plays a large supportive role to all NATO forces in the area. "The British troops, for example, have no air ambulance support," said Rogers. "If there's a need for a MEDEVAC unit, we go get them and take them to the nearest medical facility.

"We also pick up German nationals, military or civilian, if the need arises and we have permission to get them," he added.

The 159th's duties are based on the needs of the patient who is being transported. To fulfill patient needs, the soldiers assigned to the unit have received specialized training. "All the officers in the detachment have received Emergency Medical Training (EMT) at Ft. Sam Houston, Texas," stated Rogers. "Most of our warrant officers have also received EMT training."

A fully trained medic is on board for each flight and even the crew chiefs receive cross training through the hospital. "Even though we have people assigned to us who have had no prior experience with MEDEVAC, it doesn't take long for the new people to begin asking questions and helping where they can," Rogers said.

Having a certain amount of medical knowledge is essential so that the crews can cope with the various situations that arise in a MEDEVAC unit. "For example," said Rogers, "There have been instances when there has been an accident and a non-MEDEVAC crew has jumped into help get an injured patient to the nearest hospital. Without medically knowledgeable personnel on board, a non-MEDEVAC crew has no way to judge if the patient's condition is deteriorating and sometimes the crew isn't really sure where the nearest hospital is located. That's why we're here."

Besides the normal MEDEVAC missions, the unit still has aircrew training commitments we try to combine our evacuation flights and training requirements," Roger noted.Hopefully, this will be easier to do in the future as plans are underway to establish a weekly routine patient flight to the 97th General Hospital in Frankfurt. "By starting this, we can provide a service to the hospital, meet our training requirements and save a routine, consultation patient from a three day trip to the hospital," he said.

Another project still in the planning stages is a portable Neo-Natal unit. According to Rogers, if there is a baby who must be flown to another hospital, the German Neo-Natal Team in Bremen is the closest unit at this time.

"The hospital has received an infant transporter (isolette) which is portable and has a battery. We are currently working on getting a power converter unit that will be compatible with our Blackhawk helicopters," said Rogers.
Since the unit will be working even closer with the hospital, the 159th is holding aviation safety classes for the hospital staff to familiarize them with the aircraft. "By getting the hospital staff used to being around aircraft they can concentrate on patient care. The confidence of the staff is in turn passed on to the patient who may be flying for the first time," said Rogers.


---
236th Medical Company (AA)
(Sources: various issues of the MEDCOM Examiner and the History of the 236th Medical Detachment (RA), by MARK M. HOUGH
The 236th Medical Detachment (RA), Fort Sam Houston, Texas, was moved to Germany in 1973. The main body of the Detachment departed on 27 March 1973 from Charleston Air Force Base, South Carolina and landed at Rhein Main Air Base, West Germany.

The Det was located at Gablingen Kaserne, about 10 miles north northwest of Augsburg and was under the command of the 421st Medical Company (AA), a subordinate unit of the 7th Medical Brigade. Its mission was to evacuate patients from Bavaria, Italy and Austria.

With the transition to UH-60A Blackhawk helicopters that took place in 1986/87, the unit was redesignated as the 236th Medical Detachment (RG).

On 16 October 1989, the 236th was again reorganized and redesignated, this time as the 236th Medical Company (AA), by combining the assets of the 15th, 63rd and 236th Medical Detachments which were inactivated. The Company also moved to a new station -- Landstuhl, Germany.

Currently (early 1990s), the company is under the command and control of the 421st Medical Battalion (Evacuation) of the 7th Medical Command. It comprises 15 UH-60A helicopters. Because of its theater of operations coverage, it is known as, "International Dustoff," the name which it inherited from the 63rd Medical Detachment.
---
(Source: Mehmet Aydin)
Mehmet Aydin has created a German web site dedicated to the 236th Medical Company (Air Ambulance) stationed in Augsburg, Germany, from 1973 to 1992.

(Click on the image to go to Mehmet's site)

---
Newspaper articles

(Source: MEDCOM Examiner, April 1985)
"Anyone, Anywhere, Anyplace"
More than a motto to the soldiers of Dustoff Europe

by Demaris Kogut
It's 9 a.m. Dustoff helicopters in seven locations scattered throughout Germany are poised for take-off.

Inside each flight planning room, the pilot briefs the rest of the crew (co-pilot, crew chief and flight medic). They check the weather, file the flight plans and head for the airfield.

Once outside, each crew performs a meticulous systems and safety check on their helicopter which includes setting the 25-foot blades in furious motion.

At 9:30 a.m. the "first-up" procedures are completed. The men and women of the 421st Medical Company (Air Ambulance) are mission-ready and can be off the ground in 10 minutes.

Their mission is to provide acromedical evacuation of the sick and wounded and to move whole blood, biologicals, medical supplies and personnel to meet a critical need -- a mission that remains the same in war or peacetime.

A routine mission involves transferring a patient from one hospital to another, usually for treatment by a specialist. The sending physician notifies hospital administrative personnel, and they, in turn, arrange the transfer with their closest 421st unit.

"Most of our units are basically collocated with the MEDDACs or MEDCENS and the majority of medevac missions are from one hospital to another," said 421st Commander, Lt. Col. William T. Stahl. The units are HQ, 421st Med. Co., Nellingen; 2/421st Med. Co., Schweinfurt; 4/421st Med. Co., Darmstadt; 15th Med. Det., Grafenwoehr; 63rd Med. Det., Landstuhl; 159th Med. Det., Garlstedt and 236th Med. Det., Augsburg.

Of course, the soldiers of the 421st also respond to emergencies. "Not too long ago, a unit down south was on its way to an FTX (Field Training Exercise) when a jeep with three people in it flipped over," CW3 Richard G. Seifried, Nellingen-based instructor/pilot said. "They radioed us and said, 'We've got three injured people and we need a medevac - now.' We went to the site, picked them up and took them to Bad Cannstatt."

In this particular case, the mission wasn't over. "One of them had a head injury, so Bad Cannstatt called us back about an hour later after they got the patient stabilized and requested that we take him to a neurosurgeon. So we picked him up and took him to the next step," Seifried said.

With special permission, Dustoff crews can come to the aid of German civilians, too. They have helped out in hospital transfers and industrial accidents. "We flew one man whose hand was cut off in an accident from a small German hospital to a larger one with a specialist. Since we responded so quickly, they were able to attach his hand and save it," Seifried said.

There are crews on duty 24 hours a day, 365 days a year. After normal duty hours, "We carry beepers with us," explained Seifried. "When we get a call at home, we try to be in here and ready at full pitch to take off in 30 minutes - even at 3 o'clock Saturday morning, holidays, whenever."

The one thing that can interfere with a mission is the weather. "We have no charter whatsoever, in the medical evacuation business to be able to fly in any worse weather than anybody else can;" said the 421st's Executive Officer, Maj. Keith O. Shafer. "Our aircraft have excellent instrument capabilities which allow us to fly in poor weather, but we still have to be able to see an airfield when we break out of the clouds to land. The Army has established certain weather minimums, very similar to the weather minimums of civilian pilots, that tell us that if the weather is below the criteria we just can't fly."

"The most important thing is to get the patient safely to where he or she needs to go;" Stahl stressed. "If because of changing weather conditions the crew has to stay where they deliver the patient for a day or two, then that's what they do. Our responsibility is to get the patients and medical supplies where they have to go."

The 421st has 49 aircraft ready to go - 25 UH-60s, the Army's newer Black Hawk helicopter, and 24 UH-1s, an older model. "Within the next 12 to 14 months, hopefully, we'll have everyone with UH-60s," Stahl said. He admits the advantages of the UH-60s (two engines, less vibration, greater speed) but he still has a soft spot for the older "Hueys."

"We've had that little rascal in the system now for a long time," he said. "It's still a very reliable aircraft."

Whether in an emergency or on a routine transfer, the obvious advantage of an air ambulance over a land ambulance is time. "It takes approximately two and a half hours riding time to transfer a patient from Bad Cannstatt to Landstuhl," Seifried said. "We can have a patient in Landstuhl in about 40 minutes."

This is an obvious plus in trauma-type situations, but Shafer emphasized that the 421st is a health care asset to be considered on an every day basis. "Some physicians might not feel they can justify using an aircraft to evacuate patients;" he said, "but I'd like them to consider us all the time and utilize us as much as they possibly can."

There are three categories of precedence for aeromedical evacuation. Patients qualify in the "urgent" category if they must be delivered to a proper treatment facility within two hours or lose life, limb or eyesight. They are categorized as "priority" if they must reach the appropriate treatment facility within four hours or lose life, limb or eyesight. They are considered "routine" if they must be delivered to a proper treatment facility within 24 hours.

Air ambulances carry all the same equipment as land ambulances and the Black Hawk can accommodate four litter patients and four ambulatory patients. The flight medic is specially trained and capable of monitoring and treating the patients enroute. Parents may travel with an ill or injured child and husbands and wives may travel with their spouses.

Stahl wants physicians and other personnel to know that the 421st is ready and more than willing to do its job. "If you need us, give us a call. We'll get the closest air ambulance to you to get that patient out." (For more information call Headquarters, 421st Medical Company at 2724-7140/6339.)
---
(Source: MEDCOM Examiner, July 1986)
63rd Med Det has best safety record in Europe

by Jim Ward
"You call, we haul." For fifteen years, the 63d Medical Detachment (Helicopter Ambulance) in Landstuhl has been doing just that. They've been transporting thousands of patients all over Europe -- without accident. Some say it's luck and superstition; others call it pilot skill. Maj. Frank H. Novier, the detachment commander, says it's a combination of teamwork and a fine safety program -- from top to bottom.

Novier credits each soldier in the unit for the fine track record. "Everyone here has an important job, from the mechanic in the maintenance shop to the guy at the controls of the helicopter. Without everyone's active participation in the program, we wouldn't be the safest medical evacuation unit in the European theater," Novier said.

These thoughts are echoed by CW03 William L. Freitas, the aviation safety officer. "Our day begins at 6:45 a.m. when the first-up team arrives, complete with its two pilots, a crew chief and a medic. The crew chief goes out to the helicopter along with the medic and goes over the aircraft with a fine-tooth comb," Freitas said.

"Meanwhile, the pilots are on the phone to the Army Flight Operations Office in Heidelberg to get the latest weather report.
As all this is going on, Storm Cat, the unit's unofficial mascot is wandering in and out of the operations area. Legend has it that Storm Cat showed up on the day, in 1971 when the 63d had its last accident. It is said that the day Storm Cat leaves the airfield area, the next accident will occur. "Obviously we go to great pains to take care of him," Frettas said.

Once the weather picture is known and the helicopter is ready for a mission, the pilots and crew get busy with office work and the other routine items necessary for such a small detachment to get off the ground.

According to WO1 William J. London, everyone has some additional duty. "We have ten pilots which offers us good crew rotation. Seven medics, six crew chiefs, five mechanics and a large support group of flight operations personnel and quality assurance NCO's support the pilots," he said.

Backing them up are the ground personnel vehicle mechanics, avionics specialist and supply personnel, making the total number to the detachment, 43.

This small group has a big job, according to Freitas. "We are called International Dustoff because of the wide-ranging mission we are asked to perform," he said.
The 63d flies missions in support of SHAPE headquarters near Brussels, Belgium, and has flown to Italy, Austria, France and all parts of Germany. It is the chief medevac tool for Landstuhl Regional Medical Center (LARMC). This according to Freitas, puts a lot of stress on flyers and aircraft. "Fortunately, we have an excellent maintenance section which checks out each aircraft thoroughly after 25 flight-hours," he said.

These missions can be routine patient transports or actual rescue operations. "About nine months ago, we received a call from a frantic American who told us a 17-year old boy had climbed a telephone pole near the Massa shopping center. He had touched a power line and had been knocked off the pole. We were on the scene ten minutes after the initial call," Freitas said.

The boy's fingertips were completely blown off and he was paralyzed on the left side, according to Sgt. Edwin Givens, the flight medic who attended the boy. Givens says the boy survived the fall and the electrocution and is leading a normal life, despite a partial amputation of the left arm.

Freitas and others in the unit are convinced it was the skill of the 63d which saved the boy's life. "We all live within ten minutes of the airfield, just in case," Freitas said.

Aside from dramatic rescues, the unit has been involved with both Beirut bombing incidents, the Athens bar bombing and the aircraft hijacking in Malta, when they transported the wounded Jackie Pfluge from Rhein-Main to Landstuhl's 2nd General Hospital.
Aside from these special missions, the detachment also supports field units while they are on training exercises and during the annual Return of Forces to Germany (REFORGER) exercises. This support is coordinated through the 421st Medical Company, the parent unit of the 63d.

"We are one of five such detachments in Germany so the decisions as who does what are made based on geography and type of mission. Since we are located so close to Belgium, France and are in the western part of Germany, we handle more international missions. We are also close to Ramstein Air Base and the largest medical facility in Europe, so we get a lot of the special calls," Freitas said.

Major Novier is glad to be in command of the 63d. He considers it one of the glamour units in the command and appreciates the support he's received from his crew -- and the 7th Medical Command.

"Everyone knows we've been asked to do an awful lot and they do everything possible to help us. With any luck, and a lot of hard work on the part of our staff, the next fifteen years will be just as safe as the last."

As for Storm Cat, he will be content to roam the airfield in search of an unsuspecting field mouse, unaware of the fine work he's doing on behalf of Europe's International Dustoff.
---
(Source: MEDCOM Examiner, October 1987)
421st Evac Bn activates

by Shaun Gearon
The newly formed 421st Medical Evacuation Battalion was officially activated in ceremonies held at Nellingen Barracks, near Stuttgart, Oct. 30., becoming the first evacuation battalion on active duty in the U.S. Army. The battalion was formed by restructuring and augmenting elements of the former 421st Medical Company (Air Ambulance) and its subordinate air ambulance detachments.

The concept of evacuation battalions possessing both ground and air capability is relatively new.

"The evacuation battalion concept evolved from the studies directed by Maj. Gen. William P. Winkler Jr. and briefed to the vice-chief of staff of the Army (then Gen. Max Thurman) as part of the Medical System Program Review," said Maj. Frank Novier, Aviation Staff Officer, HQ, 7th MEDCOM. "It identified the need for an integrated, streamlined, ground evacuation system. This support concept became part of the Health Services mission support to the Airland Battle."

The newly formed 421st Evacuation Battalion includes both ground and air assets for the evacuation of the wounded and the movement of medical equipment, supplies and soldiers. The battalion currently consists of two companies, the 45th and 159th medical companies, a battalion headquarters detachment and three air ambulance detachments.

A third company will be formed from these detachments next year to bring the battalion up to strength. In all the battalion will dispose of approximately 45 Blackhawk helicopters capable of medevacing U.S. Army casualties from any part of USAREUR's area of responsibility.

"Having a large single 15 aircraft company eliminates the small detachments, streamlines command and control, and places all air assets under a single medical commander responsible for battlefield evacuation. Additionally, these units are beefed up with sufficient soldiers to fly, maintain, and sustain them in combat," Novier said.

The battalion was formed by reconfiguring existing air evacuation elements within 7th MEDCOM. The 159th Medical Detachment (Air Ambulance) that was located at Garlstadt in Northern Germany and half of the 2nd Platoon of the 421st Medical Company (Air Ambulance) located in Schweinfurt combined with the 4th Platoon of the 421st Medical Company in Darmstadt to form the 159th Medical Company located permanently in Germany.

The 1st and 3rd platoons of the old 421st Medical Company that are stationed at Nellingen, Germany, combined with the remaining personnel and equipment from the 2nd platoon to form the battalion headquarters and the 45th Medical Company (AA).

The battalion's third medical company, the 236th Medical Company, will be formed next year by combining the remaining detachments of the 421st at another location in Germany, yet to be decided.

"A result of the new configuration we now have first responder standbys at Garlstadt, Giebelstadt, and Bad Toelz in Bavaria allowing us the place our critical medevac assets where soldiers train." Noviersaid.

The current battalion commander, Lt. Col. Merle Snyder, flew with the 45th Medical Company in Vietnam. At the Oct. 30 ceremony he said that he was glad to be part of the unit flying again.

The new battalion and its subordinate commanders currently consists of:


| | | |
| --- | --- | --- |
| | Bn Cdr | Lt. Col. Merle Snyder |
| | 45th Co | Maj. Mike Anders |
| | 159th Co | Major Ernie Meis |
| | 236th Det | Major Rober Opio |
| | 15th Det | Maj. Jerry Nagel |
| | 63rd Det | Maj. Roger Foxhall |
---

(Source: Augsburg Scene, August 18, 1989)
236th Med Det moves to new home

by Jim Fulbrook

One thing is for sure in the military, there are always changes underway. Well, big changes will take place with "Bavarian Dustoff", the 236th Medical Detachment, when the unit completes a major move to Landstuhl where it will incorporate with other units to become the 236th Medical Company.

The 236th was first flagged during World War II, then again during the Korean War. During the Vietnam conflict the unit became an aeromedical evacuation unit for the first time, flying the UH-1 (Huey) helicopter out of Da Nang from 1968 to 1972. The 236th returned to CONUS in 1972 for a short stay, then was stationed in Germany in 1973, where it has served the Augsburg community for more than 16 years. In 1987, the unit received six UH-60 (Blackhawk) helicopters. Bavarian Dustoff has been composed of up to 50 soldiers, 12 of whom are rated aviators (8 Warrant, 4 Commissioned). The unit has been located at the Gablingen hangar, although one UH-60 is kept at Flak Kaserne on call to provide a rapid "first up" emergency response when needed. Fear not though, fellow citizens, the emergency response helicopter will remain a permanent part of the community, but the soldiers performing the mission will have their home base elsewhere.

The 236th moving and becoming a Company is part of a major reorganization of Dustoff Europe where the parent unit, the 421st Medical Company became the 421st Medical Battalion (EVAC) composed of three companies formed from the numerous detachments and platoons stationed all over Germany. Once the 236th Medical Company is formed (provisional 15 Aug 1989), it will be composed of the 236th, 63rd and part of the 15th Medical Detachments in Landstuhl.

Part of the enlisted barracks at Flak Kaserne will become the transient quarters where flight crews will remain on call or on beepers to receive missions. Aeromedical evacuation will still be handled the same way through the 34th General Hospital Emergency Room and the Patient Administative Division (PAD). Aircrews and helicopters will come alternately from the different Dustoff Companies and rotate every week.

So, Bavarian Dustoff as we knew it has ceased on Aug. 1, when the unit packed up. For some time now the unit has been preparing. Many of the unit's soldiers will move to Landstuhl although some have received curtailments, will PCS on schedule after short stays with other units, or move elsewhere to include Heidelberg and Darmstadt. To Capt. Ben French, the departing Commander, and the rest of the unit we wish you Godspeed and best wishes, and look forward to continued good service for emergency aeromedical evacuation from Dustoff Europe.

Editor's note: Jim Fulbrook is a free-lance writer, residing in Augsburg.

---
Related Links: