If you do NOT see the Table of Contents frame to the left of this page, then
Click here to open 'USArmyGermany' frameset
19th Maintenance Battalion
3rd Support Command
Looking for more information from military/civilian personnel assigned to or associated with the U.S. Army in Germany from 1945 to 1989. If you have any stories or thoughts on the subject, please contact me

.
---
---
19th Ordnance Battalion (Maint & Supply)
195. - 1965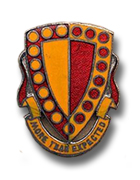 19th Ord Bn DUI
ORGANIZATION (30 June 1956):
| | | |
| --- | --- | --- |
| UNIT DESIGNATION | DUTY STATION | COMMENTS |
| HHD, 19th Ord Bn (M&S) | Mannheim-Sandhofen [1] | |
| 40th Ord Co (Fld Sup) | Mannheim-Sandhofen [1] | |
| 63rd Ord Co (Fld Sup) | Mannheim-Sandhofen [1] | |
| 77th Ord Co (HAM) | Esslingen [1] | |
| 78th Ord Co (Fld Sup) | Mannheim [1] | |
| 182nd Ord Co (Fld Sup) | Mannheim-Sandhofen [1] | |
| 334th Ord Co (Fld Sup) | Illesheim [1] | |
| 49th Lbr Svc Distr | Feudenheim [1] | |
| 8900th LS Co | | |
[1] - STATION LIST, 31 March 1956
HAM - Heavy Automotive Maintenance
M&S - Maintenance and Supply
---
1958
7th Army Ordnance Supply Depot, Mannheim

The 19th Ord Bn in Mannheim operates 7th Army's Ordnance Depot at Spinelli Barracks, Mannheim-Feudenheim. The depot stores about 50,000 different line items (from plastic washers to heavy tank engines) and it fills 60,000 orders each month.

The commanding officer of the 19th is Lt Col Donald G. Leeper who also serves as the depot commander. The 19th Ord Bn is one of four battalions under the control of the 51st Ord Group. (The others are: 66th Ord Bn, Knielingen; 81st Ord Bn, Kaiserslautern; 7800 Ord Bn (M&S), Knielingen).

The subordinate companies of the 19th located at Spinelli maintain operations of various storage areas.

The use of electrical accounting machines has provided greater efficiency in the receiving, storing and shipping of orders to all parts of USAREUR. Orders are received, items located, verified through the 7th Army Stock Control Center in Zweibrücken, and shipped entirely by the electrical accounting machine system. Manual labor is limited to operating the machines and packing the order for shipment.

Most items are picked up by vehicles from the 181st Trans Bn in Mannheim for delivery to all points throughout USAREUR. Smaller, light-weight items are shipped through the Army postal system.

The Ord Depot at Feudenheim began operations in February 1953.
If you have more information on the history or organization of the 19th Ord Bn or the 19th Maint Bn, please contact me

.

---
Ordnance - 7th Army Modern Army Supply System (MASS) Project
1957
(Source: STARS & STRIPES, January 30, 1957)
7th Army initiated a new supply system in July 1956 that was designed to streamline the Field Army supply system by substituting quick delivery service (of supplies) for local stockpiles. 7th Army was chosen to serve as a test bed for this new supply system planned for Army-wide implementation.

The Ordnance Corps, which handles more replacement parts and assemblies than all other technical services combines, was chosen to test the system.

(See the next article (S&S June 5 1961) for some details on the theory of MASS.)

The 19th Ordnance Battalion with headquarters at Coleman Barracks, Mannheim-Sandhofen, plays a vital role in the new supply system. The battalion is responsible for supplying all 7th Army troops with Class II and Class IV ordnance supplies through the 7th Army Supply Depot that it operates. These include parts and assemblies for all weapons and most tracked and wheeled vehicles. (The depot lists about 11,000 tons of supplies on hand; it receives and ships out about 2,800 tons a month.)

When a supply request has been made by a 7th Army unit, the Stock Control Center checks to see if the request can be filled by any of the 19th Ord Bn field supply companies. If so, a shipping tag is sent to the 19th Ord Bn depot office. There the order is filled from warehouse stock.

If the item is not available, it be sent from a depot in the States (as quickly as possible). Critical items are sent directly to the requesting unit; non-critical items are sent to the 7th Army Supply Depot at Coleman Barracks. From the depot, supplies are dispersed to the appropriate field supply company within the 19th Ord Bn for distribution to the using units.

The subordinate field supply companies of the 19th are:


40th, 63rd, and 334th Ord companies at Coleman Barracks;


78th and 182nd Ord, and 8900th Labor Service companies at the Mannheim Ord Supply Depot.
---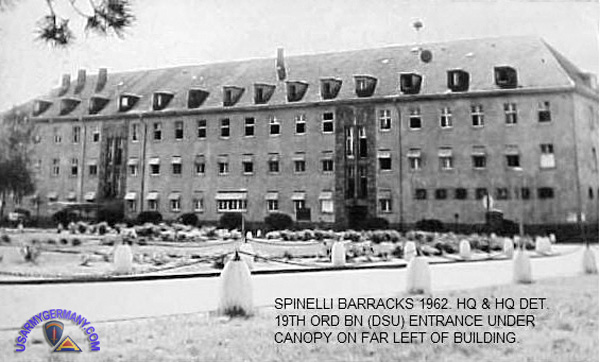 Headquarters, 19th Ordnance Battalion, Spinelli Bks, 1962
(Tom Monovich)
1961
(Source: STARS & STRIPES, June 5, 1961)
MASS - Modern Army Supply System

The 7th MASS Project is a program based on stocking with the organization those supply items which are need most frequently; less frequently needed items are stored further in the rear; and seldom used items are kept outside of the combat zone until requested by the using unit.

MASS starts with the lowest level of supply -- in the organizational maintenance elements at the using unit. Here only a small supply of parts are kept that are most frequently required as well as some reserves as designated by 7th Army. No stock accountability is maintained at this level.

The next echelon of supply is the Direct Support Unit (DSU) -- in Ordnance, that is a combined maintenance and supply unit. These units carry a stock of parts for replenishment of the organizational maintenance units. DSUs also carry parts required to support their own maintenance activities plus some spare items. (These parts are typically selected based on demand experience -- any part demanded at least three times in the past 180 days are considered candidates for stockage.) At this echelon, formal -- but not accountable -- stock records are maintained.

Requisitions are submitted by use of a one-line punch card form transmitted via transceiver. (From this point on, all MASS requisitions are submitted on punched cards by means of a transceiver.) The requisitions are submitted to the 7th Army Stock Control Center (in Zweibrücken) where formal stock record accountability for the 7th Army depot is maintained.

If items are not available in the 7th Army depot, requisitions are forwarded by transceiver to Com Z. If they are not available in the Com Z, requisitions are then forwarded to the US for direct shipment to the Army depot.

If the requisitioned items are available at 7th Army, a shipping order or picking tag is cut and forwarded over a transceiver network to the 7th Army Ord Depot operated by the 19th Ordnance Battalion. Most ordnance items are ready for transportation to the requesting support unit within 24 hours after the (shipping) order is received. An average of 3,500 orders are received daily.

The 19th Ord Bn stores about 42,000 different items, from tank engines to small nuts.
ADDITIONAL INFORMATION (March 1961)
The 19th Ordnance Battalion is the first 7th Army battalion to use the Modern Army Supply System. The battalion serves all of 7th Army and processes 3,500 orders a day.

The battalion has set a maximum of 72 hours to get a requested part located, picked, packed and shipped.

The 7th Army Ordnance Depot at Mannheim has four ordnance companies and a Labor Service company that handle parts and moving stockage items:
| | | |
| --- | --- | --- |
| UNIT DESIGNATION | DUTY STATION | COMMENTS |
| 44th Ord Co (Fld Sup) | Mannheim | |
| 63rd Ord Co (Fld Sup) | Mannheim | |
| 78th Ord Co (Fld Sup) | Mannheim | |
| 334th Ord Co (Fld Sup) | Mannheim | |
| 8900th LS Co | Mannheim | |
Each ordnance company is responsible for the stock movement and storage of certain parts only.

One of the innovations of the battalion is to stock complete parts in mobile vans which are kept on constant alert status. In an emergency they would be moved out to service ordnance units in the field.
---
(Source: STARS & STRIPES, March 24, 1964)
The 19th Ord Bn is located at Spinelli Bks, Mannheim. CO is Lt Col Joseph A. Spagnolo.

The unit has a strength of approximately 1,000 men and comprises four field supply companies and the 579th Ord Co.

The field supply companies are resposnible for operating the 7th Army Ordnance Depot complex.

The 579th has four subordinate general support units (detachments?) that provide ordnance support for a good share of the missile units (including Nike, Hawk and Lacrosse battalions) assigned to 7th Army.

---
19th Maintenance Battalion
1965 - present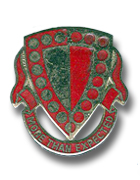 19th Maint Bn DUI
1971
(Source: The COSCOM News, c.
1971)
---
1974
(Source: USAREUR STATION LIST, 1 January 1974
ORGANIZATION (1 Jan 1974):
| | | |
| --- | --- | --- |
| UNIT DESIGNATION | DUTY STATION | COMMENTS |
| HHD, 19th Maint Bn (M&S) | Pendleton Bks, Giessen | |
| 15th Maint Co (Lt Maint)(DS) | Downs Bks, Fulda | |
| 588th Maint Co (DS) | Pendleton Bks, Giessen | |
| 24th S & S Co | Pendleton Bks, Giessen | |
| 172nd Ord Pltn (GM)(GS) | Downs Bks, Fulda | |
| (Any units missing?) | | |
M&S - Maintenance and Supply
Lt Maint - Light Maintenance
GM - Guided Missile

---
40th Ordnance Company (Field Supply)
19th Ordnance Battalion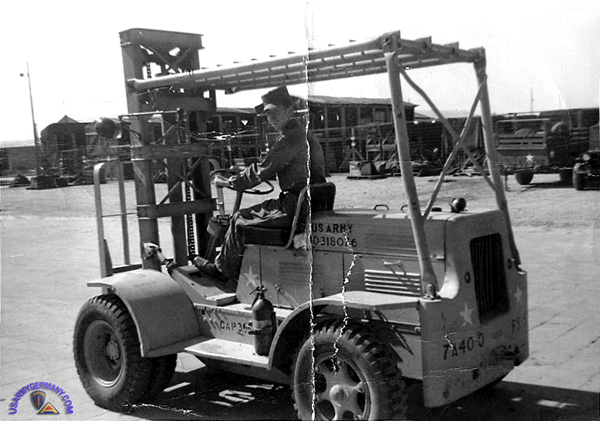 Burley Carpenter on a forklift at Neureut, early 1960s (Burley Carpenter)
(Source: Email from Burley Carpenter)
I see that Neureut Kaserne, Karlsruhe, Germany is listed as being built in the early 1960's. It must have been in the 1950's. (Webmaster note: Correct, Neureut Kaserne was a cantonment constructed in the early 1950s to accommodate units arriving in the Karlsruhe area as part of the Augmentation program.) I was stationed there with the 40th Ord Co FS, a repair parts company, from Jun 1960 thru Feb 1964 and there was no construction being done and all the buildings were well used.

I was assigned to the shipping section for about a year then drove for the company cdr and day room orderly for about a year. After that I was assigned to locater for a short period of time and then went back to shipping packing boxes of repair parts and loading trucks. Most of our trucks came from the 126th Trans (Bn) and I think they were at Phillips Bks, Karlsruhe. The 126 is now stationed @ Ft Bragg, NC.

The 40th Ord was under the 19th Ord Bn, Mannheim and around 1962 was reassigned to the 101st Ord Bn, Heilbronn. The 40th Ord provided repair parts to units all over Germany from at least Giessen south to the Austrian Boarder.

I know that 17th Sig Bn was one of the major units on post along with I think a Sig Co; from the 17th Sig Bn; also, B Btry, 2nd Target Acquisition Bn, known as 2nd Ob. There may have been a Sig Bde Hq here also and a Labor Service Co.

We did not spend much time in the field. I know that the POL dump was just outside the back gate on the left and the ammo dump was farther out and down a road on the right. I pulled a lot of gaurd duty in the ammo dump.

The 40th and 2OB hung out together and our favorite bars were Ritters in Old Neureut and Deutches Eck in Neureut. There was a Sports Platz across from the front gate and we use to sneak over to the German Canteen on post for a sandwich the cateen was off limits to GI's. Also during time you had to wear a buttoned up jacket and a tie to get off post, blue jeans were prohibited off post. We also had a midnight bed check.

---
Related Links: