If you do NOT see the Table of Contents frame to the left of this page, then
Click here to open 'USArmyGermany' frameset
US Army Equipment Maintenance Group
US Army Area Command
Looking for more information from military/civilian personnel assigned to or associated with the U.S. Army in Germany from 1945 to 1989. If you have any stories or thoughts on the subject, please contact me

.
---
---
US Army Equipment Maintenance Group History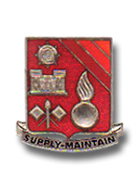 Equipment Maintenance Group crest
1965
(Source: STARS & STRIPES, May 6, 1965)
Equipment Maintenance Group

The Equipment Maintenance Group, headquartered at Rüsselsheim, was formed on April 1, 1965 through the merger of the former Ordnance Service Centers scattered throughout southern Germany. CO of the Group is Lt Col Michael Chessnoe (sp.?). The unit employs over 2,500 local national workers.

The Group supports 742 units within the Area Command area comprising 11 posts and 28 sub-posts. The Equip Maint Gp operates ten maintenance centers in eight of the eleven military posts and also controls the 547th Ord Fld Maint Company in Kassel (1).

Most of the maintenance work is on Ordnance Corps equipment, but the centers also provide general support maintenance for Transportation, Engineer and Quartermaster Corps items in Germany. The bulk of the Group's direct support maintenance mission is maintaining 7th Army's combat and commercial vehicles. Anything from ¼-ton to 10-ton trucks is overhauled by the Group's maintenance centers. The maint centers also maintain miltary sedans, buses, trucks and trailers.

Besides the maint centers, the Group also operates POV (privately owned vehicles) inspection stations (at Frankfurt, Nürnberg and Bad Nauheim) and transportation motor pools (at Giessen, Nürnberg, Würzburg, Stuttgart, Kaserslautern and Frankfurt).

Another mission of the Group is to supply small arms (e.g. machine guns, pistols, rifles, rocket launchers) and ammunition through five supply points.

The storage, procurement and distribution of all commercial vehicle parts in Germany is also handled by the Group.

CORRECTION
(1) (Source: Roger Peterson)
The 517th Ordnance Co (as originally indicated by mistake) is really the 547th Ordnance Co which supported transportation units at the Waldau Kaserne and civilian vehicle maintenance section on Rothwesten Kaserne where the company barracks and headquarters were stationed. Kassel is the large city next to both Waldau and Rothwesten.

ADDITIONAL INFORMATION
At some point HQ Equipment Maintenance Group must have moved to Munich - a STARS & STRIPES article in November 1967 mentions that HQ EMG was in Munich at that point.
---
1969
(Source: USAREUR Station List, 30 June 1969)
EMC INSTALLATIONS
| | | | | |
| --- | --- | --- | --- | --- |
| | EQUIP MAINT CENTER | STATION | UNIT ID CODE (1) | |
| | Stuttgart | Wallace Barracks, Bad Cannstatt | W1RH-01-K | |
| | Frankfurt | Roedelheim | W1RH-02-C | |
| | Munich | Eastman Barracks, Dachau | W1RH-03-H | |
| | Giessen | Pendleton Barracks, Giessen | W1RH-04-E - closed | |
| | Mannheim | Taylor Barracks, Mannheim | W1RH-05-G | |
| | Bad Aibling | Bad Aibling | W1RH-06-B - closed | |
| | Kaiserslautern | Panzer Kaserne, Kaiserlautern | W1RH-07-F | |
| | Garmisch | Sheridan Kaserne, Garmisch | W1RH-08-D | |
| | Nürnberg | W.O. Darby Kaserne, Fürth | W1RH-09-J | |
| | Würzburg | Leighton Barracks, Würzburg | W1RH-10-L | |
(1) - Unit ID Code for the US Army Equipment Support Group at McGraw Kaserne, Munich, was W1RH-AA-A
---
(Source: STARS & STRIPES, Dec 13, 1969)
Headquarters TASCOM announced recently that the US Army Equipment Support Group is scheduled to be deactivated in 1970. The deactivation process will be completed by June of next year. Current CO of the group is Col Owen R. Grogan.

The Group's mission is to support commercial vehicles, heavy transportation equipment, communications and electrical equipment. This mission will continue to be performed by the Group's subordinate units which will come under the direct control of either the support districts or the 1st Support Brigade.

The deactivation will eliminate approximately 80 jobs - 37 local nations; the remainder military.

---
Frankfurt Equipment Maintenance Center
US Army Maintenance Plant, Roedelheim
1966
(Source: STARS & STRIPES, Nov 12, 1966)
The US Army Maintenance Plant at Roedelheim was activated July 1 1966. Maj Henry A. Dillon is the commanding officer of the plant.

(Webmaster note: Was the plant at Roedelheim opened due to the pending relocation of rebuild activities from France - Operation FRELOC?)

The current functions of the plant include overhauling M42 40mm Self-Propelled Anti-Aircraft Guns 1), M114 command and reconnaissance vehicles, M35 21/2-ton trucks; modernizing M73 machine guns; and providing DS and GS maintenance of "M" series vehicles for non-7th Army units (primarily those of the Taunus, Rhineland, Vogelsberg and Franconia Districts).

An extensive small-arms shop rounds out the plant.

The plant is staffed with 231 local nationals and a small number of US Army & DAC personnel.

Webmaster note: The Maintenance Plant at Roedelheim was discontinued in July 1967 and its mission transferred to the Frankfurt Equipment Maintenace Center also located at Roedelheim.

1) The M42s that are being overhauled will be delivered to the German Bundeswehr.

(Can anyone provide more details and/or photos of the Roedelheim maintenance/support facility - from 1960 until closure in the 1990s?)
---
Frankfurt Equipment Support Center, Roedelheim
1971
(Source: STARS & STRIPES, Feb 19, 1971)
The USAREUR repair program for commercial engines has been centralized at the Frankfurt Equipment Support Center at Roedelheim. The repair program involves 48 personnel who work on the engines.

The center has added the repair of eighteen types of commercial engines used by the Army to its other maintenance missions. The engines include those for buses, trucks, and military sedans. Units needing repairs of engines take the engines to the nearest Equipment Support Center which then sends the faulty engine by truck to Roedelheim. A previously repaired like engine is immediately sent back as a replacement.

Under the program, engines are repaired if the cost of repair is estimated at 70 percent or less of the original acquisition. Parts that are still good are reused. It takes about 48 hours to repair a V8 engine, 36 hours for a V6.

A 30-day supply stock for the repair program that includes about 3,500 different parts is kept at the center.

---
Garmisch Equipment Maintenance Center
1969
(Source: STARS & STRIPES, July 1, 1969)
The Garmisch Equipment Maintenance Center is in the process of being deactivated.

The center's supplies are being relocated to the Munich EMC which is located at Dachau.

(Webmaster note: I assume that the Munich EMC assumed the mission of the closed Garmisch center once that center closed. Does anyone know the location of the former EMC in Garmisch and/or have period photos of the EMP while active?)

---
Kaiserslautern Equipment Maintenance Center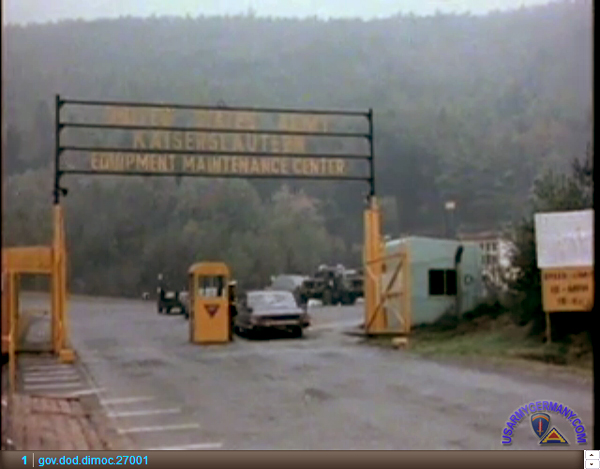 A grainy but interesting shot of the main erntrance to KEMC, 1966 (archive.org)
1966
(Source: STARS & STRIPES, Nov 13, 1966)
Kaiserslautern Equipment Maintenance Center

The Kaiserslautern Equipment Maintenance Center (KEMC) is the largest of the ten EMC's under the US Army Equipment Maintenance Gp. The Center, operated by 17 military personnel and employing over 500 German civilians, is responsible for maintaining or overhauling a myriad of equipment - including ammunition, guns, trucks, 10-ton tractors, school buses, fork lifts, staff cars, garbage trucks, tactical vehicles, audio-visual school equipment, asphalt distributors, etc.

Equipment Maintenance Centers are located at:


Frankfurt


Kaiserslautern


Mannheim


Wuerzburg


Bad Aibling


Munich


Stuttgart


Nuernberg


Garmisch


Kassel

Commander of the Equip Maint Gp is COL R. J. Meeker; CO of KEMC is 1st LT John Yurcaba, Jr.; plant superintendent is Herr Hans Willig.

KEMC operates a "maintenance float" of certain equipment, such as trucks, that allows them to provide "in-and-out" service - when a customer brings in a truck for repair, they can return to theri unit with a like replacement truck the same day. The number of pieces held in "float" is determined based on the "density" of the equipment.

Some of the subordinate activities are



Inspection Division (S/Sgt Frank Nilson in charge; Herr Otto Ackermann top civilian)



Maintenance Division (the largest division) (CWO3 Clarence McComb in charge; Herr Willi Weimer top civilian)



Supply Division (2nd LT Gary L. Fillmore in charge; Herr Heinrich Pauli top civilian)

The bulk of the Center's supply inventory consists of engines, transmissions, axles and differentials.

---
Mannheim Equipment Maintenance Center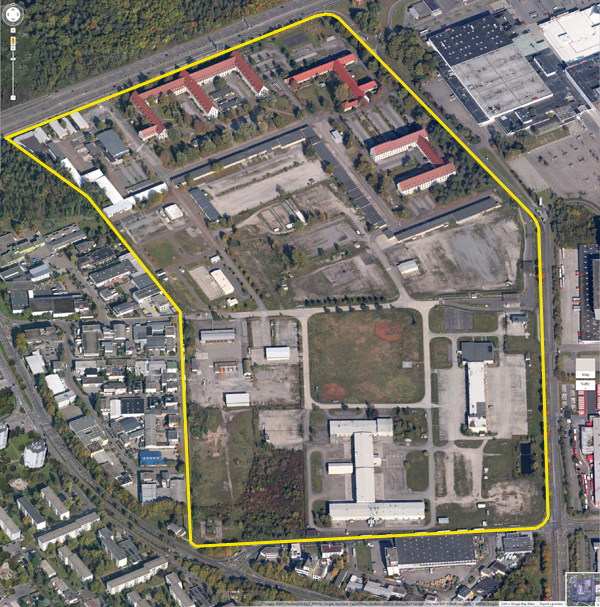 Taylor Barracks - GOOGLE Maps
Maintenance Activity Mannheim (former ESCM) was located on Taylor Bks, Bldg #428 & 429

(Who can help locate those buildings by pointing out the exact location on the aerial shot above?)
1945-1998
(Source: Maintenance Activity Mannheim Website in the late 1990s - website has since been closed down)
| | | |
| --- | --- | --- |
| 1945 | | From June until summer of 1947 maintenance support was provided to units within the 2nd Military District (Heidelberg/Mannheim area) by the 3517th Ordnance MAM Company at Mannheim-Rheinau. |
| | | |
| 1947 | | During this summer these units were redesigned, respectively the 547th Ordnance MAM Company and 584th Ordnance Company, remaining at the same location. Also the Heidelberg Military Post was established, replacing the old 2nd Military District. |
| | | |
| 1948 | | In January, the 547th and 584th Ordnance Company were moved to Taylor Bks, Mannheim-Käfertal, to operate Heidelberg Military Post Ordnance. |
| | | In June of this year, the 547th and 584th Ordnance Company was joined to form the 7859th Ordnance MAM Company. |
| | | |
| 1953 | | On the 1 June this unit was renamed the 7859th Station Complement Unit, Ordnance Section. |
| | | |
| 1958 | | On the 1 April this unit was renamed again, concurrent with the reorganization of the Heidelberg Area Command, to the U.S. Army Ordnance Service Center, Mannheim. |
| | | |
| 1965 | | Exactly seven years later there was a further renaming, again associated with the reorganization of the Heidelberg Area Command, when this unit became Mannheim Equipment Maintenance Center. |
| | | |
| 1969 | | On the 5 March the unit received its current identity, when it was redesignated as Equipment Support Center, Mannheim. |
| | | |
| 1970 | | With the first day of this year, ESCM ended its 25 year association with the Heidelberg Area Command, when it was reassigned to 81st Maintenance Battalion, 1st Support Brigade. |
| | | |
| 1975 | | 1 February, with the deactivation of the 81st Maintenance Battalion, ESCM was reassigned to the newly reactivated 51st Maintenance Battalion, 1st Support Brigade (since 25 May 1989, the 51st Mt Bn is part of the 29th Area Support Group). ESCM provides general support maintenance to the 51st Mt Bn since 1 Feb 1975. |
| | | |
| 1992 | | 1 October of this year the 8908th Civilian Support Group Maintenance Company, General Support, is deactivated through "Reduction In Force" and all equipment and personnel now is part of ESCM. |
| | | |
| 1996 | | 1 February, the former 8592nd Civilian Support Group Maintenance Company, Direct-/ General Support, Schwetzingen, has moved completely to Taylor Bks and is part of ESCM. |
| | | |
| 1998 | | 09 July, as of today ESCM does not belong to the 51th Maintenance Battalion any more. From now on it is under the General Support Center Europe (GSCE). |
| | | Since the 13th October of this year the new name of the Equipment Support Center Mannheim (ESCM) is Maintenance Activity Mannheim (MAM). |
---
1988

(Source: Mannheim Messenger (Mannheim MILCOM newspaper), May 13, 1988)
ESCM celebrates 40 years of Service

By Capt Thomas D. Anderson, Commander, ESCM
When the Equipment Support Center, Mannheim, holds its Open House May 20, it will be celebrating its 40th anniversary.

ESCM's history began during January - June 1948 when two maintenance units, the 547th and 584th Ordnance MAM Companies, moved onto Taylor Barracks and united to form the 7589th Ordnance MAM Company, which operated the Heidelberg Military Post Ordnance.

Several area headquarters changes, seven name redesignations and 21 years later, the unit received its current title of Equipment Support Center, Mannheim in March 1969.
ESCM ended its 25 year association with the Heidelberg Area Command in January 1970 when it was assigned to the 81st Maintenance Battalion, 1st Support Brigade. With the deactivation of the 81st, ESCM was then assigned to the newly reactivated 51st Maintenance Battalion in February 1975, which is now a separate battalion under the 21st Support Command.

The basic elements of combat service support - supply, maintenance and ammunition - were ESCM's mission. ESCM controlled ammunition supply points (ASP) as far away as Heilbronn and Karlsruhe, to include the ASP's in Mannheim. More than $1 billion worth of supply classes, comprised ESCM's stock record account through-out the 1950s. In 1960 ESCM got out of the ammunition business and turned its stocks over to other ammunition units, but all the other classes of supply remained.
Shortly after becoming a part of the 51st Maintenance Battalion in 1975, ESCM turned its class II (tools and clothing), IV (construction material) and VII (major end items) supplies over to the 574th Supply and Services Com pany, leaving ESCM's supply stockage - as it is today - only class IX repair parts. Currently, over 6,300 different types of repair parts, worth more than $6 million, are on hand to support its 48 customers.

The maintenance mission has been, and still is, to maintain the commercial non-standard equipment of five military communities - Mannheim, Worms, Heidelberg, Karlsruhe and Germersheim - or "garrison duty," as it was called.

ESCM also operated an extensive vehicle rebuild (technically called "repair") program, which includes the engines, transmissions, axles and other major components and commercial wheeled vehicles. Currently, this programm is called the Theater Army Intermediate General Support Repair Program.

The audiovisual equipment of many DoDDs Germany schools is also maintained by ESCM.

A unique aspect of ESCM is the Apprenticeship Program it operates for the state of Baden-Wuerttemberg for automotive mechanics. It is a two-year program that started in 1966 and enrolls between 25-30 youths who have chosen this field as their career starting point.

When they've completed their training, the students must pass a stringent and rigorous five-day test to be certified as automotive mechanics. Not one student in the 22 years of the Apprenticeship Program has ever failed the certification test. The newly certified mechanics are then free to seek employment on the local economy or with the U.S. Forces. ESCM normally employs three to four apprentices each year.

A number of employees have been with the ESCM for nearly its entire existence, and three employees have done just that - Heinz "Bubi" Kasten, Stefan Gogollok and Kurt Zuehlsdorf. All three were prisoners of war by the U.S. Army during World War II.

Kasten was a POW in Italy and was released March 26, 1946, and was employed by this organization the very next day as a carpenter. Two years later he was promoted to the supply warehouse located on Taylor Barracks where he worked as a clerk. Kasten still works in that same warehouse, but since 1955 he has been the warehouse supervisor.

Asked why and how he can work in the same place and same job for more than 40 years, Kasten simply replies, "I guess I like it and I know what I'm doing." Gogollok and Zuehlsdorf had similar beginnings but started as vehicle drivers then became mechanics. Zuehlsdorf is now an inspector, and Gogollok, as shop superintendent, holds the number two civilian position at ESCM.
---
(Source: Mannheim Messenger (Mannheim MILCOM newspaper), April 18, 1986)
ESCM's mission -- providing support

By Donald J. Burnett
The 51st Maintenance Battalion is a non-divisional unit tasked with an area support mission to provide a wide range of supply and maintenance services to a truly diverse group of customers. One unit of the battalion, Equipment Support Center, Mannheim (ESCM) located on Taylor Barracks, has a very interesting and challenging role in fulfilling its part of the battalion's mission.

As a customer of ESCM you could have many identities. You might be a school teacher, an MP, a truck driver, a forklift operator, or a soldier in a maintenance company. You might even be part of the supply system itself as a unit which receives or cares for equipment which has been returned to a serviceable condition by way of ESCM's participation in the Theater Army Repair Program (TARP). Whoever you are, you can expect to get timely, quality and caring service from a team who is dedicated to being the best.

As is the case with any outstanding unit, it is the people who make the difference. ESCM is staffed with over two-hundred local national employees and boasts a proud contingent four military members who fill the slots of Commander, SSA Accountable Officer, Operations Sergeant, and Computer Repairman respectively.

ESCM is responsible for the organizational, direct and general support maintenance and supply requirements for commercial non-standard equipment generally associated with the tank-automotive, mobility equipment, and communications-electronics (commel) commodities. Specifically, the company provides support to 11 Department of Defense Dependent Schools and nine community education centers for repair services on commel and audio-visual equipment; four community Transportation Motor Pools and other associated support activities for the maintenance of all commercial design automotive, commel, material handling and special support equipment; a Theater Stockage Point for the exchange of major assemblies like engines and transmissions; and a significant role in repairing major assemblies and end items in the Theater Army Repair Program.

This kind of mission calls for a special blend of experience and innovation. One of the real advantages to an organization staffed primarily with civilian employees is an accrual of first-hand knowledge over a period of years which has not been depleted by the personnel turbulence which is a fact of life in military units. Not solving the same problems over and over creates the opportunity for increased efficiency and cost effectiveness. The supervisors and employees at ESCM are on the look-out for areas where innovative ideas may be employed and discourage the "that's the way we've always done it" kind of thinking. One recent example of this philosophy was the approval of a suggestion award for over $1000.00 for an employee who suggested a better way to fabricate a device used extensively by USAREUR transportation units. Adjustments to digital electronic equipment for supply, automotive, and commel areas are quickly made by veteran employees seeking a better way to do their job.

One interesting program which promotes a kind of "home-grown" talent for the organization is the apprentice program. This program has an authorized enrollment of thirty young mechanics who participate in a three-year program. The first year is all classroom and the final two years are a combination of hands-on maintenance tasks and schooling. Successful completion of this program culminates in the award of the German equivalent of journeyman mechanic's papers. About 65% of these individuals remain at ESCM or are employed by other U.S. government activities. The remainder finds jobs with German firms which helps improve the economy's unemployment statistics.

---
Nürnberg Equipment Maintenance Center
1965
(Source: Email from Ed Burns, Nürnberg EMC)
Nürnberg Equipment Maintenance Center

As for the Nürnberg Equipment Maintenance Center, I arrived in Furth in June 1966 and assumed the role of Supply Account Officer. Once again, since I had no formal training, there was a lot of OJT and I was sent to the USAREUR Supply Officer's Course just below Oberammergau (sp?) for a week of training. On the last day of the course I was notified by my CO that he had just received his orders to RVN and that I would be assuming command when I returned. So, another week's OJT and I was both CO and the Supply Account Officer. At that time there were no other officers assigned, just 9 enlisted, 1 DA Civilian and 252 German nationals. We were providing supply and maintenance support for the North Bavarian District under the command of COL Jerry M. Sage. The NEMC provided support for POV vehicle inspections, repairs on military vehicles (major and minor), a major cannibalization yard for vehicles, signal equipment maintenance, full paint and body repair shops and of course the Supply Account. Each day we transmitted our orders to COMZ in Orleans, France via punch cards. (Wow! Data Processing!! What was that all about?) The materials ordered either showed up via truck or train. We had a rail head within our facility in the William O. Darby Kaserne. Eventually I picked up a Maintenance Officer and a Supply Officer to assist me. As CO I was involved with the local Labor Council, the hiring and firing of non-German laborers (primarily from Turkey at that time), acting as an advisor to the District Commander on supply and maintenance issues and basically making sure that things ran as smoothly as possible.

The NEMC was one of about 9 maintenance centers throughout Germany. We were subordinates of a Maintenance Group headquartered in Munich. (and for the life of me I can't remember the Group designation. I have it in my papers in storage and will forward it on when I get may hands on them. I keep thinking it was the 37th Maintenance Group, but think I'm confusing it with the 35th Artillery Group). The other units I remember were located in Dachau, Garmisch, Kaiserslautern, Mannheim, Frankfurt and I think Stuttgart and 2 others. We got together twice a year either in Munich or Garmisch for a staff meeting, review of performance and words of encouragement for things to come. I remember there being a contest to create a crest for the Group that was won by my 1st Sergeant. I think I still have one of the crests in my military 'box' and will send that to you later. I know I have some pictures of the workers council, and some of the facility itself during a German-American Day celebration. I had called on my old unit, the 5th/73rd and they supplied a Sergeant Missile demo for the weekend.

In retrospect, being a young 2LT coming into Germany, and going out as a young CPT on my way to RVN, I could never have received that level of responsibility in civilian life at that age. It was a phenomenal opportunity that has stayed with me to this day. I shipped out to Vietnam on 1/1/1968 and had my orders changed once I hit Cam Ranh Bay. I wound up as a General Staff Officer in the Directorate of Maintenance, 1st Logistical Command in Long Binh. Another entirely different set of experiences!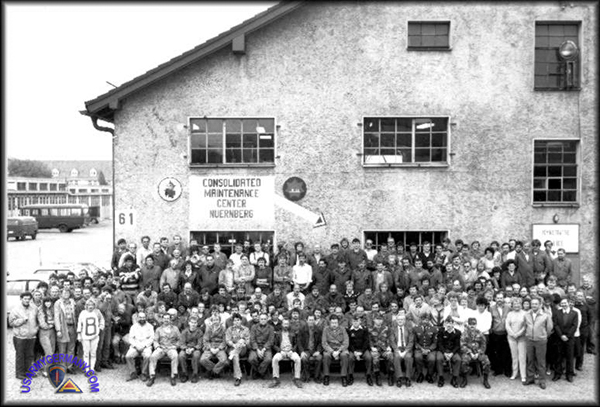 Staff, CMC Nuernberg, 1985 (Alfred Arbter via Ed Burns)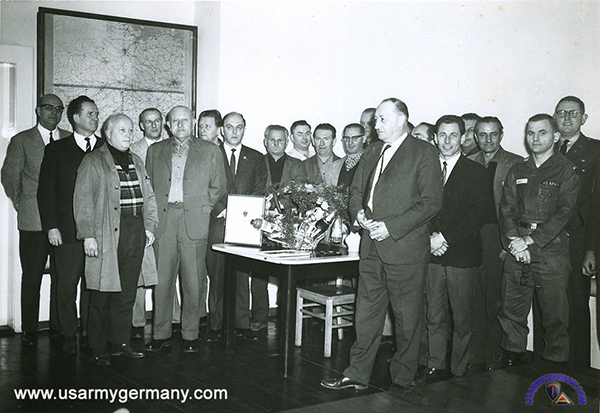 Members of the Work Council during a retirement ceremony in the late 1960s (Ed Burns)
ADDITIONAL INFORMATION
It has been quite some time since I first contacted you with information on the 5th Battalion/73rd Field Artillery (Sergeant) and the Nurnberg Equipment Maintenance Center (above) for the periods 10/1967 – 10/1968.

Three years ago I was able to go back to Germany on a vacation and revisited my old 'haunts' – most of which no longer exist. While in Nurnberg I was able to reunite with my old German National Director of Maintenance, Herr Alfred Arbter. He was able to fill me in on many things that happened after I departed and up to his retirement in 1992.

William O. Darby Kaserne was turned over to the City of Fuerth and is now largely a park, the buildings and old barracks turned into apartment complexes and one of the original Equipment Maintenance Center buildings now houses a Music School.

Somewhere along the line, in the mid-1980's the Equipment Maintenance Center was placed under VII Corps as the Consolidated Maintenance Center Nurnberg. I'm attaching a photo Herr Arbter gave me. As you can see, it was still predominantly a civilian organization with a small military presence. Initially, the members of the Equipment Maintenance Group wore the USAREUR patch, but after it was reorganized in 1967 we wound up changing to the COMZEUR patch. I'm also attaching a photo of one of our Works Council Meetings where we were honoring an employee on his retirement.

As with William O. Darby, Ferris Barracks in Erlangen was also turned over to the City of Erlangen and has become more of an industrial complex. The military housing still stands and now houses local nationals. There was very little I could recognize inside the old kaserne – even the airfield had been cleared away.

I keep checking back to your website to see what new information has been posted and once again I have to commend you for putting together this phenomenal piece of history!



Nbg Equip Maint Cen
WODK, Fürth






1. German-American Day, 1967

2. German-American Day, 1967



---
(Source: STARS & STRIPES, July 21, 1965)
The Signal Field Maintenance Shop at W.O. Darby Kaserne is responsible for repairing the electronic equipment - from navigational equipment and high-frequency radios to film projectors, cameras and telephones - of some 50 units in and around the Nürnberg-Fürth area. The shop is operated by an element of Signal Service Detachment 8. Det 8 commander is Capt Frederick D. Hartmann. Officer in charge of the shop is 1st Lt Donald N. Polvere.

Staffed with 10 soldiers and 8 German civilian technicians, the shop services more than 2,000 units every month.

Besides the equipment of Army units and activities in the area, the shop also repairs equipment used by the American dependent schools in the area such as tape recorders, projectors, radios and televisions.

---
Related Links: