If you do NOT see the Table of Contents frame to the left of this page, then
Click here to open 'USArmyGermany' frameset
14th Quartermaster Battalion
6th Quartermaster Group
Looking for more information from military/civilian personnel assigned to or associated with the U.S. Army in Germany from 1945 to 1989. If you have any stories or thoughts on the subject, please email me (webmaster

).
---
---
Battalion History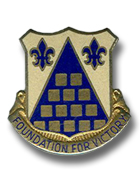 14th Quartermaster Battalion DI
1954
(Source: 7th Army Annual History)
ORGANIZATION (30 June 1954):
| | | |
| --- | --- | --- |
| UNIT DESIGNATION | DUTY STATION | COMMENTS |
| HHD, 14th QM Bn | Darmstadt | |
| 214th QM Co (Bakery)(Mbl) | Darmstadt | |
| 526th QM Co (Svc) | Hanau | |
(Webmaster note: An S&S article from February 1954 indicates that the 22nd QM Subs Sup Co in Mannheim was also part of the 14th QM Bn during this period.)
---
(Source: STARS & STRIPES, March 15 1954)
Headquarters of the 14th QM Battalion recently moved from Ernst Ludwig Kaserne in Darmstadt to the Ammo Depot Kaserne at Muenster. The new station offers more room for billeting and messing and facilitates operations, training and recreation.

In addition to HHD, the 214th QM Bakery Co (Mobile), a subordinate unit of the 14th, is also stationed at Muenster. It recently arrived from Baumholder.

Another unit stationed at Muenster is the 7th Army Chemical Supply Point No. 1. It is attached to Hq Det of the 14th.

Some of the facilities available at the Ammo Depot are a bowling alley, theater, library, club and softball field.

---
1958
(Source: 7th Army Annual History)
ORGANIZATION (30 June 1958):
| | | |
| --- | --- | --- |
| UNIT DESIGNATION | DUTY STATION | COMMENTS |
| HHD, 14th QM Bn | Muenster (Darmstadt) | |
| 22nd QM Co (Subs Sup) | Hanau | |
| 134th QM Co (Bakery) | Hanau | |
| 506th QM Co (Petrl Sup) | Muenster | |
| 7764th QM Co (PS) | Hanau | |
Subs Sup . . . Subsistence Supply
Petrl Sup . . . Petroleum Supply
PS . . . . Parts Supply
---
1959
(Source: STARS & STRIPES, July 21, 1959)
A new railway quartermaster clothing sales store was turned over to the 14th QM Bn on July 20, 1959. An obsolete former Austrian hospital ward car has been converted under the supervision of the Army Transportation Center in Frankfurt (remodeling was done at Giessen?). The new store on rails replaces an old German baggage car which has been rented from the Bundesbahn (German Federal Railway) for the past 10 years for the same purpose.

The new car will stock 1,200 items of QM clothing and equipment - a wider selection than with the old railway store. It will operate five days a week at Army installations (Bad Kissingen, Wildflecken, Fulda, Bad Hersfeld, Kassel) along the East German border areas, returning to Giessen for restocking on Saturdays. The car will be transported at night enabling the purchases at the installations to be done in daylight hours. 1st Lt James R. Love will be officer-in-charge.

Besides saving the Army the monthly rental fee, the railway store is able to serve the border areas adequately, thus eliminating the need for permanent QM stores and associated employees at the five locations.

Does anyone have photos of the old or new railway military clothing sales store from the 1950s and 1960s?

---
1961
The 506th QM Co operates a petroleum tank farm and supply point near Hanau. The 14th QM Bn (through the 506th?) also operates petroleum supply points at Aschaffenburg, Darmstadt and Wildflecken.
---
1965
(Source: STARS & STRIPES, July 3 & August 3, 1965)
On Aug 2 1965, the 14th QM Bn was reorganized and redesignated as the
14th Supply & Service Battalion (General Support-Forward)
, 2nd Support Bde. The reorganization was part of the ongoing
COSTAR project
. New Bn CO is Lt Col Robert E. Huber. (Previous CO of the 14th QM Bn was Lt Col Sam Meadow.)
With the reorganization, the 14th doubled in size, adopted a new mission and moved to a new station (Muenster to Pioneer Ksn, Hanau?). V Corps will now draw most of its entire general supplies and services support from the 14th S&S Bn. Services of the battalion now include renovation and laundry operations in support of Class II and IV supply activities, decontamination support for support units, and provision of labor service personnel for major projects undertaken by suppoirted units.
Under the old QM battalion structure, the battalion had two companies: Co A (Babenhausen) and Co B (Hanau). These have also been redesignated, with Co A now designated as the 24th Field Service Co and Co B as the 621st General Supply Co.
In addition to the above changes, the 587th Engr Co became the 622nd Heavy Materials (Supply) Co and the 18th General Supply Co was formed.
ORGANIZATION (2 Aug 1965):
| | | |
| --- | --- | --- |
| UNIT DESIGNATION | DUTY STATION | COMMENTS |
| HHD, 14th S&S Bn | Pioneer Ksn, Hanau | |
| 18th Gen Sup Co | Ludwig Ksn, Darmstadt | |
| 24th FS Co | Babenhausen | |
| 621st Gen Sup Co | Hutier Ksn, Hanau | |
| 622nd Hvy Mtl Sup Co | Pioneer Ksn, Hanau | |
If you have more information on the history or organization of the 14th QM Bn, please contact me.

---
24th Field Service Company
1969
(Source: STARS & STRIPES, April 11, 1969)
In 1968, the 24th Field Service Co moved from Babenhausen to Hanau.

Recently, the company also released many of its German civilian workers who used to operate the renovation shop and is now using military personnel for that operation (a change made in the interest of "gold flow").

The Renovation Shop repairs over 30 different line items ranging from wool scarfs to field packs.

---
506th Quartermaster Company
1958
(Source: Email from Fred Green, 506th QM Co and "B" Co, 14th QM Bn, 1958-61)
Hello, by accident I found your web site on the 14th Quartermaster Bn. I was a member of the 14th QM Bn. from 8 November 1958 until June 1961. During that time the 14th QM. Bn. had its Headquarters in Babenhausen, Germany and the 506th QM. Co. and after reorganization B Co. 14th QM. Bn. was stationed in Hutier Kaserne, Hanau, Germany.

The 506th QM. Co. consisted of a Company HQ , Maintenance Section and Transportation Section in Hutier Kaserne.

A fuels and lubricants testing laboratory and a storage area for fuels in a container (5 gal. cans and 55 gal. drums) plus packaged lubricants located in Wolfgang Kaserne.

Operated a Rail Head for receiving and transferring fuels and lubricants from Rail Cars and a storage area for fuels in a container (5 gal. cans and 55 gal. drums) located in Gross Auheim Kaserne.

The 506th delivered all types of fuel (auto, aviation and heating) to the area from Mannheim to Kassel. They also delivered fuel to all Quartermaster Gas Stations for use by people that had personal vehicles.

The 506th also provided 2 to 4 man contact teams to many of the areas on a temporary, less that 30 day period to operate fuel points and also participated in all Field Exercises.

In the 1959-1960 time period the 14th QM Bn. reorganized into B Co, 14th QM Bn. This combined all the separate QM companies into one company. B Co, exploded into a company of approximately 800 personnel. You had everything in one company.

Class 1 – Food, Rations, Water + the Bakery in Frankfurt,

Class 2 – Clothing + Laundry and Bath + The QM Laundry in Frankfurt

Class 3 – Petroleum, Oils and Lubricants + The Tank Farm in Grosse Auheim, Aschaffenburg, Darmstadt and Wildflecken

Class 4 - Fortification and barrier materials

Class X – Graves Registration + The Morgue in Frankfurt

This is the way it was when I left in June 1961.

I had another tour in Hanau in 1968 in a different unit and by this time the unit had been re-designated again. All together I had 4 tours in Hanau in the military.

After I retired I was living in Las Vegas in 1980, I put in an application to the Department of Defense, got a job in logistics in the 414th BSB in Hanau from 1980 until 2001. I'm back home now but I enjoyed every minute of it. Now there is no Military there.

ADDITIONAL INFORMATION
I know for sure that B Company absorbed the 22nd QM for Food and Rations, 565th for Graves Registration, the Petroleum Lab was moved from Mannheim, I help move it. The other platoons I'm not sure about, it is possible that only personnel were pulled from other units to fill in these sections and make them operational.

I really don't know much about A Company. I do remember that the sign in front of the building in Babenhausen Kaserne said HQ & A Company, 14th Quartermaster Battalion. I don't know if this was a combined company or two separate.

Just a couple thoughts, in November and December 1959 our unit did the initial testing and approval of the FARP system, "Forward Area Refueling Point" in deep snow in Grafenwoehr, Germany. It is still in use today in Iraq and Afghanistan.

The 506th and later B Company supported all Field Exercises, even down to company size, sometimes only one truck with 2 people and other times everybody. The two largest that encompassed all of NATO was Winter Shield 1 and Winter Shield 2.


---
621st General Supply Company
1968
(Source: STARS & STRIPES, July 4, 1968)
The 621st Gen Sup Co is billeted at Hutier Kaserne but works out of the Grossauheim complex. CO of the 621st is Capt Robert L. Hartford, Jr. Company strength is 170 US Army personnel and German employees. Together they staff the offices, stock rooms, and pickup points for the supply outfit. They keep running accounts for the user units to prevent those units from excess spending of unit funds.

The company operates a supply service with an inventory of $8 million and a stock of 4,484 items - everything from axes and shovels to bread and eggs, fresh vegetables and meats. It also processes about 15,000 additional requisitions per month for supplies not in stock.

The company's ration breakdown points that provide food for 21 different units, with almost 7,500 troops. The ration breakdown points are at Hanau, Darmstadt and Aschaffenburg.

The company's country store (self-service supply center) handles fast-moving, expendable-type housekeeping and office supplies. The store stocks about 523 items ranging from paper clips to axes and shovels. Items not in stock can be requisitioned from a stock catalog. They have about 1,300 customers who use the store.

A very popular activity among supply clerks from using units is the small condiment store that handles salt, pepper, catsup and a long list of spices.

The 621st operates military clothing sales stores at Pioneer Kaserne, Hanau, and Coleman Barracks, Gelnhausen. It also operates a mobile clothing sales van that visits troops in more isolated areas such as Bad Kissingen, Babenhausen, Muenster, Wackernheim, and Kassel.

Another service provided by the 621st is a fire extinguisher recharge plant that services about 500 to 700 extinguishers a month. (The fire extinguishers processed here are all used on wheeled and tracked vehicles.)

A very unusual service provided by the 621st is its reefer vans that support the Berlin Brigade during field operations and British troops in northern Germany during field operations.


---
622nd Heavy Material Supply Company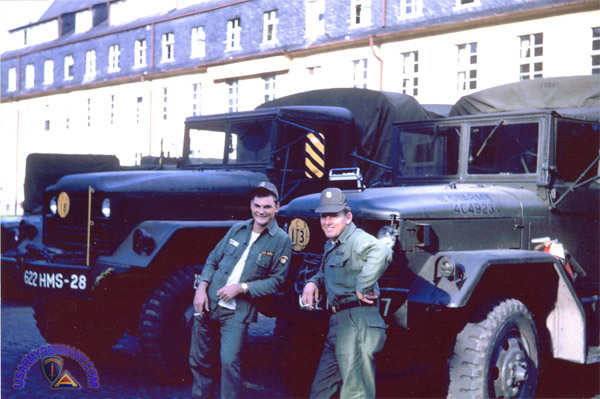 622nd HMS Company at Pioneer Kaserne, 1966 (L to R: SP/5 Larry Helms, SP/4 unknown)
1966
(Source: Email from Carl Kramer)

SP/5 Carl Kramer

622nd Heavy Maintenance Supply Co, Pioneer Ksn, Hanau

Pictures taken about July or August 1966

Click here to see several great photos of Pioneer Kaserne taken by Carl during a change of command ceremony for the 54th Engineer Battalion.

---
Related Links