If you do NOT see the Table of Contents frame to the left of this page, then
Click here to open 'USArmyGermany' frameset
---
| | |
| --- | --- |
| MAPS | |
Installation Maps - late 1970s

1. Pioneer Kaserne, late 1970s


2. Grossauheim Kaserne, late 1970s


3. Fliegerhorst Kaserne, late 1970s


4. Hutier, Yorkhof and Francois Kasernes, late 1970s

5. Argonner Kaserne, late 1970s


6. Hessen-Homburg Kaserne, late 1970s
annotated


7. Gossauheim & Underwood Kasernes



8. Francois Kaserne, mid-1960s
---
1980

Topographical map of Hanau and surrounding area. These maps are reproduced from the "U.S. Military Installation Atlas" published by the 37th Transportation Group in 1980.

Click on the thumbnail to view a larger format of the same map.

Click here for a list of the installations.

Early 1980s

Topographical map of Büdingen and surrounding area.

Click on the thumbnail to view a larger format of the same map.

Legend:
1. Armstrong Kaserne
---
PHOTOS
Click on thumbnail to view larger image
| | | | |
| --- | --- | --- | --- |
| | | | |
| A. Aschaffenburgstrasse Kaserne | B. Argonner Kaserne | C. Argonner Kaserne | D. Argonner Kaserne |
| D. Hutier Kaserne | E. Ulanen Kaserne | | |
| | | | |
| | | | |
| | | | |
| --- | --- | --- | --- |
| 1. Aerial view of Hanau Engineer Depot, Nov 1948 | 2. Facility upgrade, Jun 1976 | 3. Facility upgrade, Jun 1976 | 4. Facility upgrade, Jun 1976 |
| 5. Facility upgrade, Jun 1976 | | | |
| | | | |
| | | | |
| | | | |
| --- | --- | --- | --- |
| 1. Aerial view of Pioneer Kaserne, May 1950 | 2. Change of command, 54th Engr Bn, 1966 | 3. Change of command, 54th Engr Bn, 1966 | 4. Change of command, 54th Engr Bn, 1966 |
| | | | |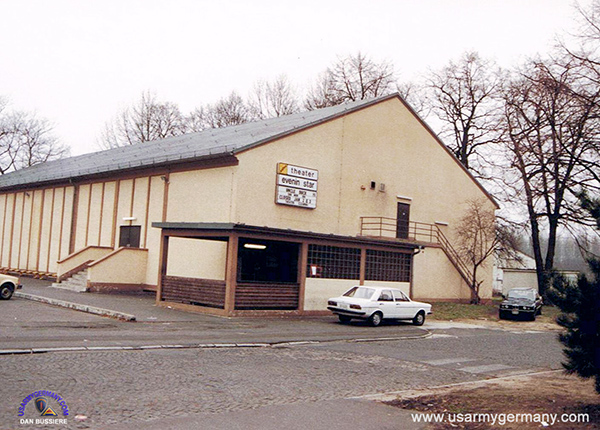 Evening Star Theater, Bldg 14 (Dan Bussiere)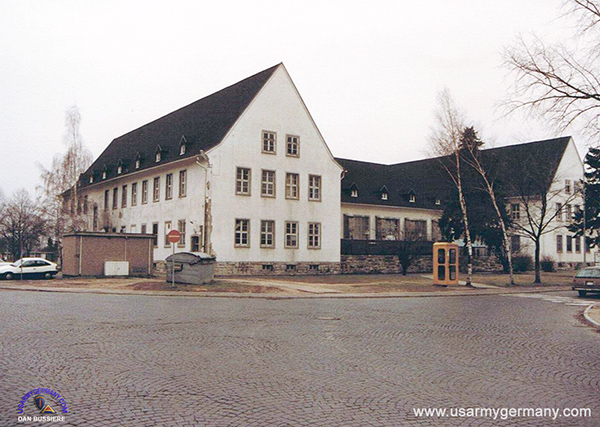 The mess hall on Pioneer Kaserne, Bldg 12 (Dan Bussiere)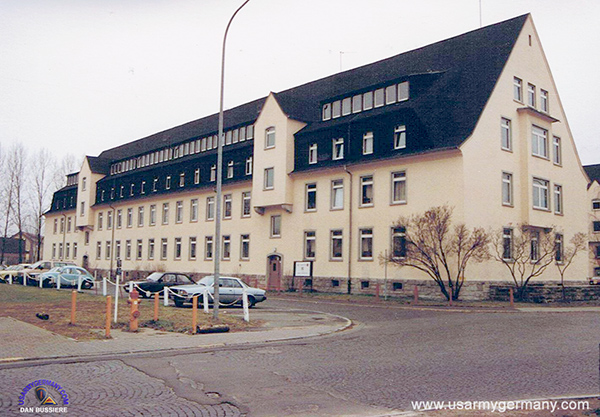 Library, Bldg 5, Pioneer Kaserne (Dan Bussiere)
| | | | |
| --- | --- | --- | --- |
| 5. Snack Bar / Burger Bar | 6. USO | 7. Pioneer Club, Bldg 16 | 8. APO 09165 |
| 9. 699th Maint Co, Bldg 3 | 10. Bldg 4, offices | | |
| | | | |
| | | | |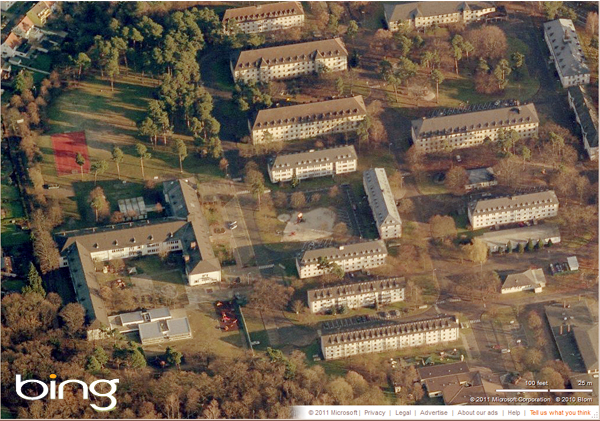 Argonne Kaserne (Bing)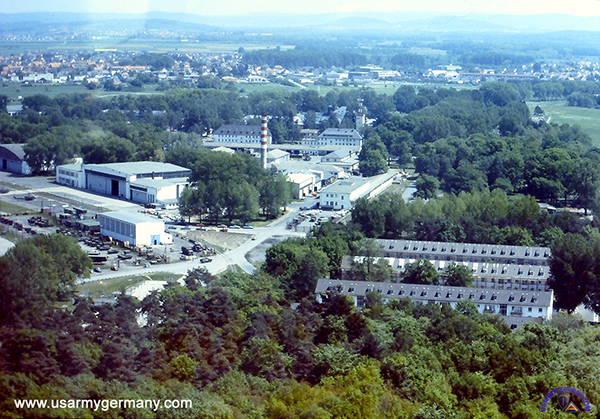 Fliegerhorst Kaserne, around 1986 (Frank Shirer)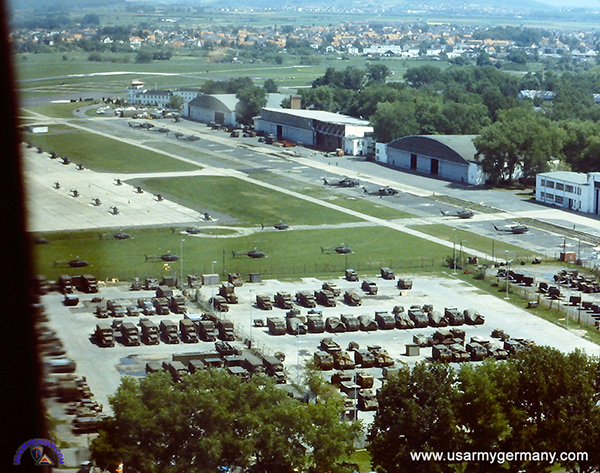 Fliegerhorst Kaserne, around 1986 (Frank Shirer)

Fliegerhorst Kaserne, around 1986 (Frank Shirer)
| | | | |
| --- | --- | --- | --- |
| | | | |
| 1. Aerial view of Hanau Signal Depot, May 1950 | 2. Aerial view of Fliegerhorst Kasernes, probably 1980s | 3. Motor pool, Hanau Sig Depot, 1951 | |
| 4. 141st Tk Bn Headquarters Building, Fliegerhorst, 1954 | 5. Bell Tower over Officers' Club and Snack Bar building, Fliegerhorst, 1954 | 6. A nd B Company, 141st Tk Bn, barracks, Fliegerhorst, 1954 | 7. Hq & Sv Co, 141st Tk Bn, barracks, Fliegerhorst, 1954 |
| 8. 141st Tk Bn Dispensary, Fliegerhorst, 1954 | 9. Bldg 38, Fliegerhorst Ksn, mid 1950s | 10. Section of Hanau Signal Depot, 1950 | |
| 11. Sunday drag races at Hanau AAF, early 1970s | 12. Main Gate, Fliegerhorst | 13. Hanau AAF Tower | |
| 14. Hq & Hq Btry, 597th AFA Bn, billets | 15. 597th AFA Bn headquarters building | 16. EM Club | 17. Looking towards the PX |
| 18. Looking east across Red Square | 19. Former German Luftwaffe observation tower | 20. Mess Hall | 21. Post chapel |
| 22. (KB) | 23. (KB) | 24. (KB) | |
| 25. Fliegerhorst Ksn, 2007 | 26. Fliegerhorst Ksn, 2007 | 27. Former Patriot site, 2007 | |
| 28. Fliegerhorst Ksn, 2008 | 29. Fliegerhorst Ksn, 2008 | 30. Fliegerhorst Ksn, 2008 | 31. Fliegerhorst Ksn, 2008 |
| 32. Fliegerhorst Ksn, 2008 | 33. Fliegerhorst Ksn, 2008 | 34. Fliegerhorst Ksn, 2008 | 35. Fliegerhorst Ksn, 2008 |
| | | | |
| | | | |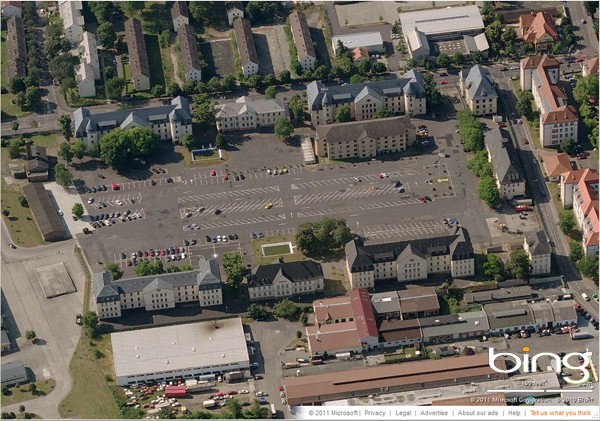 Hutier Kaserne (Bing)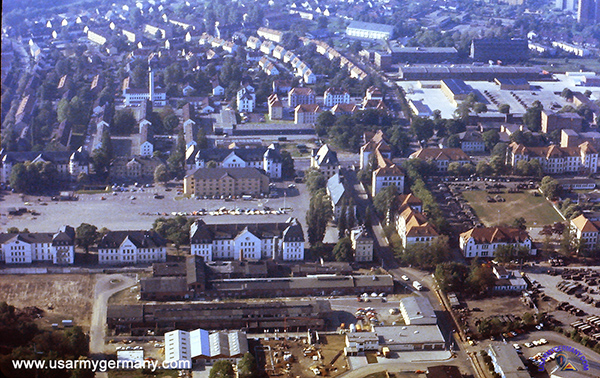 Hutier Kaserne (bottom left), on Lamboy Strasse, around 1986 (Frank Shirer)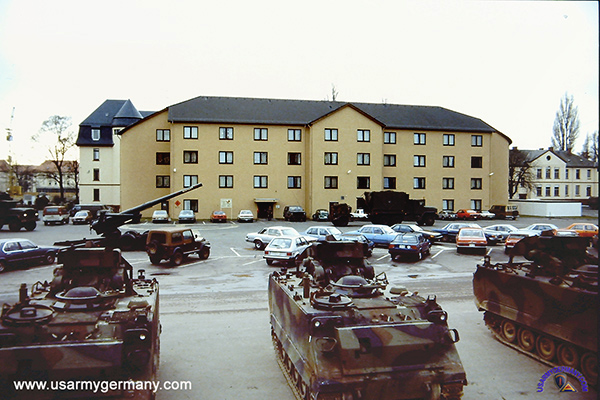 New HHB, DivArty barracks on Hutier constructed in 1986 (Frank Shirer)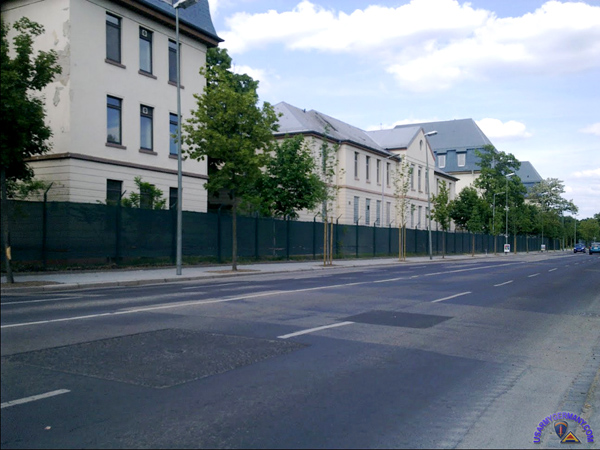 Hutier Kaserne, on Lamboy Strasse, after the post was closed (Thomas Neser)
| | | | |
| --- | --- | --- | --- |
| 1. Aerial view of Francois, Hutier and Yorkhof Kasernes, May 1950 | 2. Unit drills at Hutier Ksn, early 1950s | 3. Unit drills at Hutier Ksn, early 1950s | 4. Hutier Ksn, early 1950s |
| 5. Hutier Ksn, early 1960s | 6. O'Club, Hutier Ksn | 7. Main Gate, Hutier Ksn | 8. HQ 93rd Sig Bn, Hutier Ksn |
| 9. DivArty, Hutier Ksn | 10. DivArty, Hutier Ksn | 11. DivArty, Hutier Ksn | |
| | | | |
| | | | |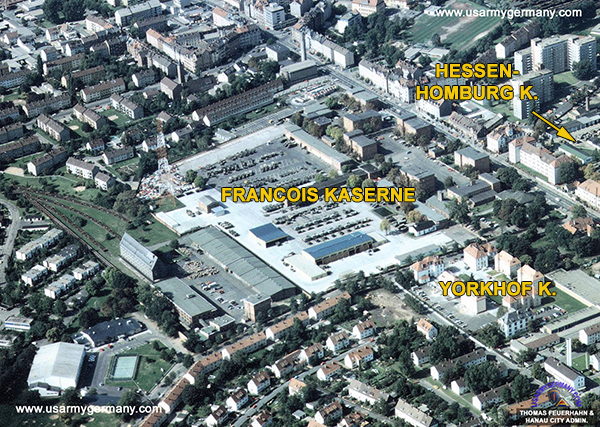 Francois Kaserne, 1986 (Thomas Feuerhahn & Hanau City)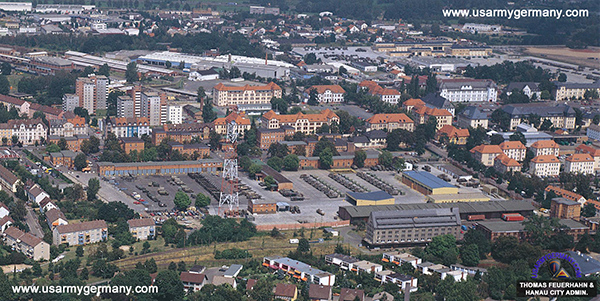 Francois Kaserne, 1991 (Thomas Feuerhahn & Hanau City)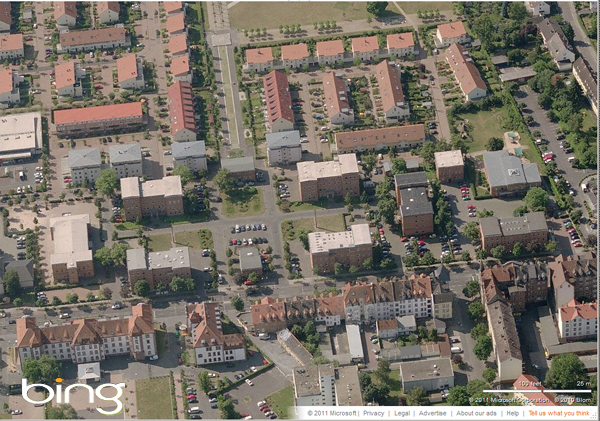 Francois Kaserne (Bing)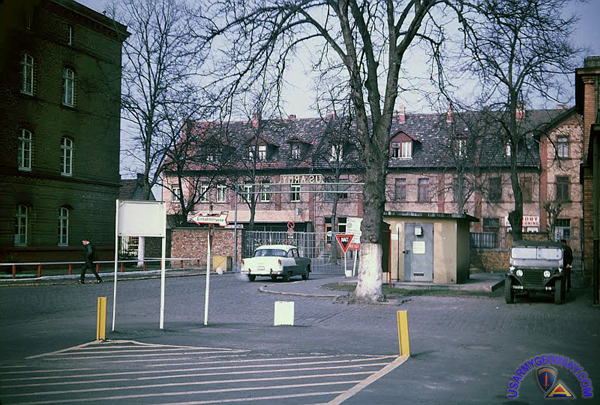 Francois Kaserne - looking towards the main gate, 1965 (Paul Buresh)
| | | | |
| --- | --- | --- | --- |
| 1. HQ Building | 2. Bldg #20 | | |
| 4. Motor pool | 5. Motor pool | 6. Mess Hall | |
| 7. Francois Ksn, 1965 | 8. Francois Ksn, 1965 | 9. Post chapel | |
| 10. Guard house | | | |
| 11. Francois Ksn, 2004 | 12. Francois Ksn, 2004 | | |
| | | | |
| | | | |
| | | | |
| --- | --- | --- | --- |
| 1. Hessen-Homburg Ksn, 2004 | 2. Hessen-Homburg Ksn, 2004 | | |
| | | | |
| | | | |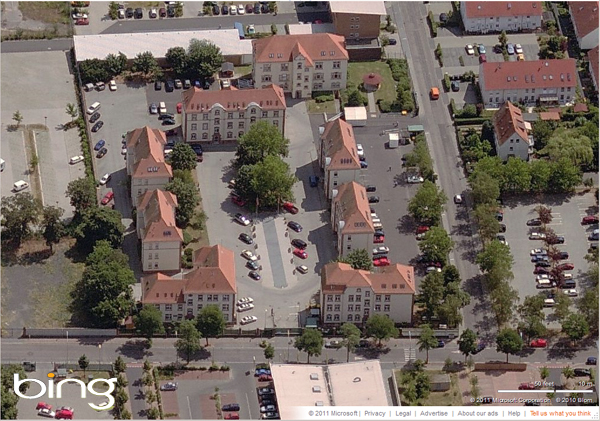 Yorkhof Kaserne (Bing)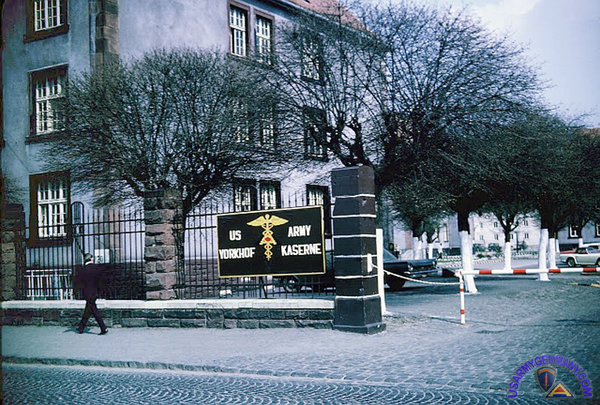 Yorkhof Kaserne main gate, 1965 (Paul Buresh)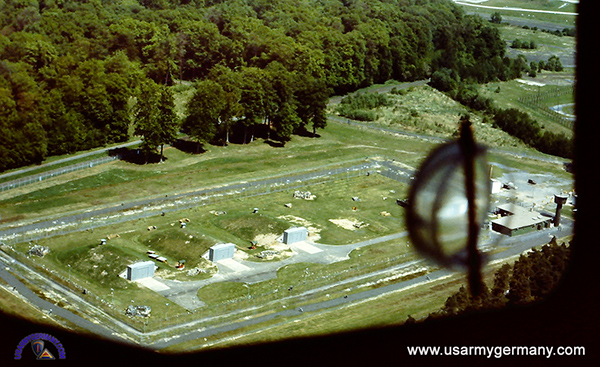 NATO Site #5, 1985 (Frank Shirer)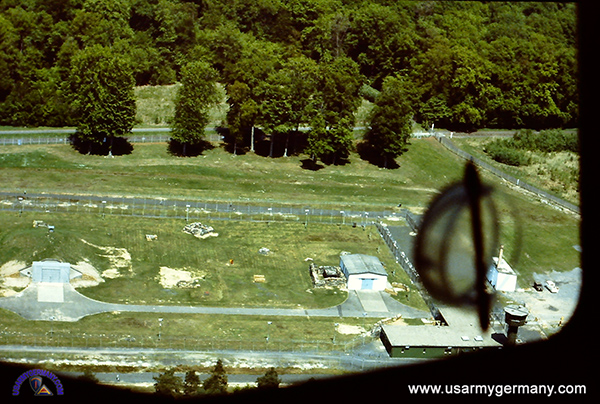 NATO Site #5, 1985 (Frank Shirer)
Current Google Maps view of the area west of Fliegerhorst Kaserne, Hanau.

(Source: Phil Phillipps)
On the A and B sites:

A was called Nato Site # 5. There were nuclear rounds stored there (back in the day): 8" artillery warheads, 155mm arty warheads, Honest John nuclear warheads, and atomic demolitions. This facility was abandoned in 1986. From what I know it was guarded by the 61st MP Co.

B site was also a SW (Special Weapons) Depot with the name of SW Depot 1.
| | | | |
| --- | --- | --- | --- |
| 1. Back gate | 2 . (KB) | 3. (KB) | 4. SSCC entrance |
| 5. SSCC and Main Tower | 6. Warhead storage igloos | 7. Inside Main Tower | 8. Alarm panel |
| 9. SW Depot #1 | | | |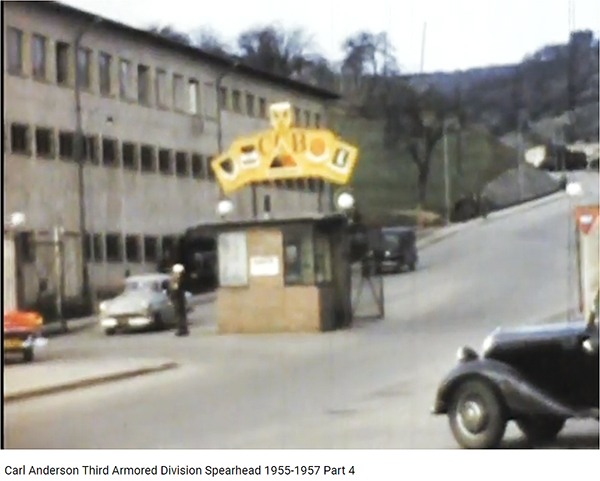 Carl Anderson videos of his time with the 3rd Armd Div, 1955-1957 (William Anderson)
(Scenes of Coleman Kaserne, Gelnhausen start at 13:40. Parts 2 & 3 also include scenes
from the kaserne)
| | | | |
| --- | --- | --- | --- |
| 1. Aerial view of Panzerjaeger Kaserne, May 1950 | 2. Panzerjaeger Kaserne, 1950 | 3. Main gate and field, Panzerjaeger Kaserne, 1950 | 4. Post chapel, Panzerjaeger Kaserne, 1950 |
| 5. Section of Panzerjaeger Kaserne, 1950 | 6. Barracks area, Panzerjaeger Kaserne, 1950 | 7. Gelnhausen with Coleman Bks, mid 1950s | |
| 8. 4th Inf Div Day, Oct 1952 | 9. 4th Inf Div Day, Oct 1952 | 10. 4th Inf Div Day, Oct 1952 | |
| 11. Football game, Oct 1952 | 12. Football game, Oct 1952 | | |
| 13. Main gate, 1962 | 14. (KB) | 15. (KB) | 16. (KB) |
| 17. Aerial | | | |
| | | | |
| | | | |
| A. Krüger Kaserne | B. Krüger Kaserne | C. Krüger Kaserne | D. Krüger Kaserne |
| | | | |
| --- | --- | --- | --- |
| 1. Aerial view of Büdingen Kaserne, May 1950 | 2. Main Gate | 3. Barracks next to those of G Company | 4. View from a side window of G Company barracks |
| 5. View from a front window of G Company barracks | 6. View of several of the barracks buildings | 7. View from a back window of G Company barracks | 8. Mess hall |
| 9. Same view as photo #5, January 1952 | | | |
| | | | |
| --- | --- | --- | --- |
| 10. Armstrong Army Heliport, 1997 | 11. Armstrong Army Heliport, 1997 | | |
| 12. Access road | 13. Sign near entrance | 14. Hangar | 15. Insignia painted on runway |
| 16. "F" Troop insignia | 17. Simulator trailers | 18. CCTT logo | |
| 19. Büdingen AHP, 2007 | | | |
| 20. Armstrong Ksn | 21. Armstrong Ksn | 22. Armstrong Ksn | 23. Armstrong Ksn |
| 24. Armstrong Ksn | 25. Armstrong Ksn | 26. Armstrong Ksn | 27. Armstrong Ksn |
| 28. Armstrong Ksn | 29. Armstrong Ksn | | |
| | | | |
| | | | |
| --- | --- | --- | --- |
| 30. Krueger Ksn, 1945 | 31. Krueger Ksn, 1945 | | |
| | | | |
---
USMCA Hanau / 414th BSB (APO 09165) - Histories, Misc. Information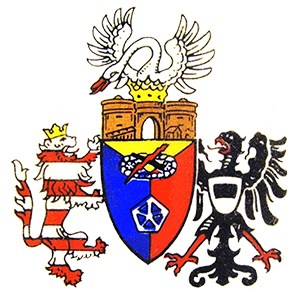 Hanau Military Community insignia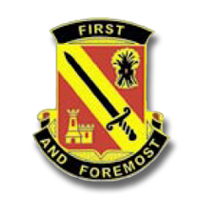 414th Base Support Battalion insignia
Hanau is located in the southern part of Hessen, approximately 11 miles east of Frankfurt. Community Commander for Ansbach was the Assistant Division Commander, 3rd Armored Division.
In 1975, Hanau Military Community was divided into the sub-communities of Hanau North, Hanau South, Fliegerhorst and Gelnhausen.
Geographic Locations identified as part of Hanau MILCOM in USAREUR Reg 10-20, 14 Dec 1978 (1):
| | | |
| --- | --- | --- |
| | Hanau | installations: Forage Depot; Francois Kaserne; Hessen-Homburg Kaserne; Hutier Kaserne; Yorkhof Kaserne; Wolfgang Kaserne; New Argonner Kaserne; Old Argonner Kaserne; Pioneer Kaserne. |
| | Bernbach | local training area and pre-stock point (Class V) |
| | Bruchkoebel | |
| | Buedingen | installation: Armstrong Kaserne |
| | Fliegerhorst | installation: Fliegerhorst Kaserne (& AAF) |
| | Gelnhausen | installation: Coleman Barracks |
| | Grossauheim | installation: Grossauheim Kaserne |
| | | Click here for the Hanau MILCOM section of the BICC list |
(1) The list of remote sites associated with Hanau MILCOM in the 1978 Reg was incomplete. Some of the missings sites:
Campo Pond local training area
;
Lorbach Pre-stock Point
;
Tiergarten local training area
.
Additional information and details would be appreciated! Contact the webmaster.
On 16 October 1991, under the
Community Command Plan
, USMCA Hanau was redesignated as the 414th Base Support Battalion and assigned to the 104th Area Support Group, also located in Hanau.
---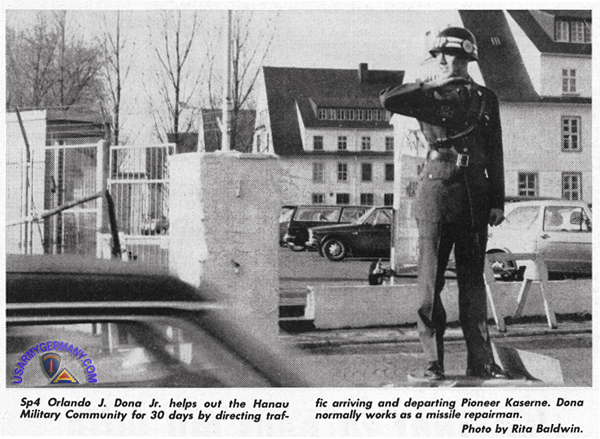 1981
(Source: THE LOG, January 1981)
Sp4 Orlando J. Dona, Jr. received the 3rd SUPCOM Soldier of the Year award in 1980. Dona was assigned to the 71st Ord Co as a missile repairman.

The photo above shows him serving as a Security Policeman (temporary detail) at the main gate of Pioneer Kaserne.

Who can provide information on the SP detail for military community installations?
---
(Source: Hanau Herald, July 11, 1991)
Serving the needs of our subcommunities

Hanau North
The Hanau North DSCC office has geographical responsibility for Forage Depot, Francois, Hessen-Homburg, Hutier and Yorkhof Kasernes. We also support the government housing area of Cardwell, leased housing areas Teichweg and Gallienstrasse in Hanau and leased housing area in Bischofsheim. Some of the services we provide are: advance and/or early return of dependents, school bus issues, DEH work orders, reinstatement of logistical privileges, civilian misconduct actions, subcommunity taskings, support spring and fall clean-up, inspect housing areas, coordinate various campaign fund drives (AER, CFC, blood donations, Toys for Tots etc), monitor Housing area problems and publish a subcommunity newsletter.

Our office is on Francois Kaserne, Bldg. 903. Hours are 7:30 a.m.-4:30 p.m. Call 322-8174/8956.

Hanau South
This office serves the largest of the five subcommunities in the Hanau Military Community. Hanau South Subcommunity extends eastward from the Kinzig River and north of the Main River. The subcommunity consists of six kasernes; Grossauheim, Wolfgang, New Argonner, Old Argonner, Pioneer and Underwood Barracks. Also included in this geographical area is the government housing areas of New Argonner, Old Argonner, Pioneer, and Sportsfield plus two government leased housing areas located in Alzenau and Klein Auheim which constitutes approximately 60 to 65 percent of all Hanau Military Community housing.

The DSCC Office is located in Bldg. 26, Pioneer Kaserne and provides many services to the subcommunity such as: issuing of installation passes, POV Holding Lot operation, subcommunity NEO operations, community taskings, requests for local telephone service, unaccompanied housing reports, civilian misconduct actions, physical security plans, gate guards approvals for yard sales and fund raisers, beautification and kaserne/housing area maintenance, master planning and space allocation, coordinator for hazardous waste disposal, school bus passes and monitor program, blood and fund drives, (CFC, AER, & savings bonds), and issuance of seasonal equipment for grass cutting and snow/ice removal (Pioneer Kaserne only). Each kaserne has their own installation assistant to deal with local problems. The DSCC office is open from 7:30 a.m. to 4:30 p.m., Monday - Friday and closed on American Holidays. Newcomers to Hanau MILCOM are welcome to stop by if you have any questions not covered by this article.
---
(Source: Hanau Herald, Sept 26, 1991)
Area support group headquartered in Hanau

By Dale R. Vice

On Oct. 1, 1991 the USAREUR community command plan becomes a reality. The three military communities in Hanau, Giessen and Fulda will reorganize into the Frontier Region, an "area support group" (ASG), headquartered in Hanau. Each of the three MiIComs, Hanau, Giessen, and Fulda will become a "base support battalion" (BSB). The subcommunifies of each BSB will be come an "area support team" (AST).

"An ASG gives you certain advantages. We will have a consolidation of effort and an economy of scale to establishing one staff to basically have the responsibility of administrating and managing three communities," Col. Nathaniel L Young Jr., Hanau ASG commander said.

Young comes to the Hanau ASG as an experienced ASG commander. For the past two years he has commanded an ASG with the 21st Theater Army Area Command. Young said that one benefit of the new organization is to reduce the administrative burden and increase coordination with higher headquarters. Routine community level administration will eventually come from USAREUR headquarters, he said.

In a statement from USAREUR headquarters, USAREUR Commander in Chief, Gen. Crosbie E. Saint explained that both the senior tactical commander, and the USAREUR major command commanders remain influential.

"Senior tactical commanders to both the ASG and BSB locations continue to influence local operations by their presence in those areas. Additionally, the ranking tactical commanders at a location of an ASG, BSB or AST retain rating or senior rating authority over the ASG, BSB, or AST that provides supporting services.

"USAREUR major command (UMC) commanders retain command and control of ASG's within their designated area of responsibility. Although day-to-day routine administrative responsibilities associated with ASG's performed by the UMC are transferring between now and 1 Apr. 92, UMC commanders will continue to command ASG's and therefore provide UMC focus and play a key role in major policy issues affecting base operations," said parts of the statement.

The ASG is collocated with Brig. Gen. Larry R. Jordan, assistant division commander, maneuver, 3rd Armor Division. As senior tactical commander, Gen. Jordan has overall responsibility for the Frontier ASG and maintaining quality of life for his soldiers and influencing resources and issuing guidance over the ASG and ASG commander, Young said.

Young added that one of the main benefits of the ASG is that the quality of life is expected to increase.

"Instead of everything being overloaded and having lines we are expecting to build a community and organizational structure that is more accommodating and less frustrating for the customer;" he said. He explained that the while there will be some dramatic cuts in the number of soldiers stationed (supported population) within the ASG, there will be much less change in the support staff or employees that provide services to the soldiers and their families.

Young used the Hanau BSB as an example. Almost 50 percent of Hanau's soldiers and families will return to the United States, he said.
"We are not taking a 50 percent cut in authorizations of support staff though;" said Young.

"Whereas we had one person to support 10 people we will have one person to support six;" he said. Young said the ASG reorganization focuses the support on the people who need it most.

"Centralization and consolidation is going to allow us to focus the resources where they are needed most in any of these communities.

"The USAREUR communities have served their time well over the last 45 years and have done a super job of taking care of families, but as we build down for the future we look different and we organize differently to try to use the best facilities to streamline operations, " he said.

Young pointed out that the returning soldiers have served the country diligently (and well) and they deserve a good deal of our energies and efforts to give them a good send off. He said it was important to take care of these people because they are a big part of the reason we live in a less threatening world.

The ASG commander said he realized that people were concerned about how the reorganization would affect them personally. He acknowledged that a part of the reorganization involved consolidation and some jobs would be lost.

But he was quick to point out that the loss of a position or authorization did not automatically mean a worker would be lost.

"I talk daily with the CPO and as we realign to fit the new structure and the new TDA, we are name by name, position by position trying to align the people to a job, a skill to a job," he said.

Young said he wanted all 10 work forces (ASG, three BSB's and six AST's) to know the CPO is working hard at getting the right person and the right skill in the fight job.

He added that it is because of this extra care and effort that personnel changes are moving at a cautious pace. Young stressed that flexibility is a characteristic of his management style. He explained that although he wanted to accomplish the reorganization as soon as possible he didn't want to run over people in the process.

"It took 47 years to get the military community system where it is today, I hope to take a little time to get this right," he said. Young described the target and the transition process as an arrow in flight.

"On Oct 1st, the arrow launches,°" he said. "But as that arrow moves toward the target, the target becomes better defined, and we will have time to course correct.

"If we find that the arrow was not shot at precisely the right trajectory or speed (or whatever) we will have a chance to adjust (that)," he said.
"The point is we don't have to have every piece in place on Oct. 1st," he added.

He further explained that he and his staff were looking at several approaches to accomplish the reorganization process.

"One natural process we are using is attrition," he said.

"As people move back to the States or retire, the job and person may go away. Where the job doesn't go away lye are filling from within the ASG where we can."

Another approach is retraining. Young said for example if a local national wants to stay with us, but has a mismatched skill, if he or she will accept retraining we may be able to place them in another job.
---
(Source: Frontier Dispatch, July 22, 1993)
Giessen draws down

By Elmar Geiping

Giessen's 234th Base Support Battalion is set to close March 31, 1994, according to Lt. Col. Leonard M. Finley.

Finley, commander of the BSB, told military and civilian personnel at a local works council meeting on July 6, that the BSB was targeted for drawdown by the U.S. Army, Europe's round 12 closure plan.

Units currently stationed in Giessen, such as the 564th Military Police Company and 2/32 Field Artillery Battalion will inactivate and depart the area before Christmas, Finley said. However, the Giessen housing areas will remain to accomodate soldiers and their families stationed in surrounding communities. The shopping center, club and school systems, as well as support facilities on Giessen Main Depot, wil provide logistical support for the approximately 600 families.

The Friedberg and Kirchgoens area support teams will become part of the 414th BSB in Hanau on April 1, 1994.

Finley expressed concern about the loss of many civilian jobs and said he would provide additional information about this issue when it becomes available.

"I want to ensure that our people, both military and civilian, to include local national employees, are taken care of," he said.

The 234th BSB activated October 16, 1992, but Giessen has been an important supply center since the 56th Quartermaster Base Depot was estabished there five weeks after the end of World War II.
---
(Source: Frontier Dispatch, Sept 2, 1993)
With addition of Darmstadt and Frankfurt, ASG begins new public affairs newspaper
By Raino Scharck
104th ASG Public Affairs Office
The 104th Area Support Group assumes administrative responsibility for most of the U.S. Army installations in the State of Hessen, Oct. 1.
The
418th Base Support Battalion
in Frankfurt and the
233rd BSB
in Darmstadt, including the area support teams in Babenhausen and Aschaffenburg, join the ASG as a result of the ongoing drawdown of forces in Europe.
New newspaper
With the reorganization, this is the final issue of the Frontier Dispatch, which began publication July 9, 1992. In mid-October, the new 104th ASG newspaper rolls off the press in Darmstadt.
Newspaper submissions and story ideas are accepted at all local public affairs offices.
Fulda's
Black Horse
newspaper and the
Frankfurt Cronicle
continue to inform readers during drawdown in the 220th and 418th BSBs.
Further changes

Giessen's 234th BSB housing areas remain to accomodate those stationed in surrounding communites. The shopping center, club and school system provide logistical support for the approximately 600 families.

Remaining 234th BSB ASTs in Kirchgoens and Friedberg fall under the command and control of the 414th BSB in Hanau on April 1, 1994.

The 220th BSB in Fulda draws down completely beginning with 2nd Squadron's inactivation on Oct. 15.

Frankfurt's 103rd ASG, which controlled the 418th BSB in Frankfurt, 233rd BSB in Darmstadt and 221st BSB in Wiesbaden-Mainz, deactivates.
According the the latest announcements, the drawdown in Frankfurt should take two years. After the projected move of V Corps in 1995, the last major activity slated to remain is the Armed Forces Network headquarters.

Wiesbaden-Mainz becomes part of the 53rd ASG in Bad Kreuznach.
---
HISTORIES & MISC. INFORMATION
Research Request
Information is being compiled for a history of the U.S. Army installations in the Hanau, Gelnhausen and Büdingen areas, 1945 to 1990s.

Help keep the memories alive!
1. Historical information on installations and units
Requester: Webmaster
Subject: Looking for historical information on units and military activities including base support in the Hanau, Gelnhausen and Büdingen areas between 1945 and the 1990s.
Contact: webmaster

2. Aerial & ground photos of kasernes & housing areas
Requester: Webmaster
Subject: Looking for period photos of the US Army installations (including dependent housing areas, schools, shopping centers, service (gas) stations & miscellaneous storage or maintenance facilities used by EES/AAFES, Quartermaster, Ordnance, Signal and Transportation units/activities) in Hanau, Gelnhausen and Büdingen from 1945 to the 1990s.
Contact: webmaster

3. Installation maps
Requester: Webmaster
Subject: Looking for facility/post engineer maps of the various installations, activities and housing areas in Hanau, Gelnhausen and Büdingen from 1945 to 1990s.
Contact: webmaster

4. Military Community map
Requester: Webmaster
Subject: Looking for a map that shows in detail the Hanau military community boundaries for the period 1974-1990.
Contact: webmaster

5. Post Telephone Directory
Requester: Webmaster
Subject: The post telephone directory (any time frame) often provides great historical information on units and activities located on post, including building numbers. The table of contents of a typical post telephone directory can be found here.
Contact: webmaster
(Source: 1st Bn, 501st Attack website)
History of Fliegerhorst Kaserne

Ground was broken for the construction of the Langendiebach Airfield, or Fliegerhorst Langendiebach as it was then known, in the summer of 1936, after a Junkers JU-52 on maneuvers made an emergency landing in the meadows behind Reusserhof. Although it was originally intended that there should be three phases of construction, only the first phase of construction was completed, due to the outbreak of WW II. The official opening of the Kaserne on 19 March 1939 was marked by a large celebration, involving a parade from the center of Erlensee to the front gate, and a Volksfest of 25,000 German civilians, who were treated to an air show.

In 1940, Fliegerhorst became the site of a glider school, the graduates of which went on to participate in, among other operations, the invasion of the Soviet Union. In addition to gliders, there were various experimental aviation units on Fliegerhorst, including a high-altitude fighter squadron. From the middle of 1944 until the Americans succeeded in crossing the Rhine, two successive groups of Junkers JU-88 Nightfighters, the 1st then the 3rd, were stationed on Fliegerhorst. Once the Americans had crossed the Rhine, these elements of the 4th Nightfighter Squadron were withdrawn to North Eastern Germany.

The three most destructive bombing attacks on Fliegerhorst Kaserne occurred on 9 September 44, 10 November 44 and 24 December 44. The bombing raid carried out on 10 November 44 involved 229 B-24 Liberators, which dropped a total of 431.5 tons of bombs. This bombing was conducted in the light of recent intelligence, which revealed that the Fliegerhorst runway had recently been extended by some 300 meters to accommodate three ME-262 jet fighters.

In order to divert allied attacks away from Fliegerhorst, the Germans emplaced decoy airfields, consisting of wooden mock-ups of aircraft and of airfield facilities, in the vicinity of Mittelbuchen, Kilianstädten and Rossdorf. These succeeded in leading low-flying aircraft astray on many occasions, but could not prevent the comprehensive destruction inflicted upon Fliegerhorst by war's end. The buildings and facilities of the Kaserne were assessed as 20% destroyed, and the severely pockmarked runway as totally unserviceable. Furthermore, the woods were bombed from Bärensee to Rückingen, in order to eliminate the camouflaged aircraft in parking spots concealed by woods. Present-day B 40, which could be used as an auxiliary runway, was also bombed.

Fliegerhorst's facilities and airfield were totally unserviceable when the Americans occupied this Kaserne in 1945. However, after the necessary repairs had been completed, the US Army used Fliegerhorst from 1947 to 1952 in a limited capacity for courier flights. Otherwise, the facilities and buildings were used as storage and administrative sites.

In 1952, several construction projects were undertaken to give the airfield back its character as a military facility. It was during this period that the large ammunition bunkers west of the airfield were built. From 1957 to 1960, Hangars 1302, 1303 and 1304, and the control tower were converted and refitted to accommodate helicopter aviation. Due to the troop reductions pursuant to the Conventional Forces in Europe Treaty and the Treaty of Vienna, many battalions have been removed from Fliegerhorst since 1991. Fliegerhorst still stands as one of the most important US Army Aviation Airfields in Europe.
---
History of the Kasernes on Lamboy Strasse
(Source: Email from Jim MacClay, 3rd Armd Div)
| | | |
| --- | --- | --- |
| | | This old photo (1910?) is of the grand opening of the kaserne on Lamboy Strasse in Hanau. The military man is the Colonel of the 3rd Pioneer (railway) and the man in the top hat is the construction foreman. |
---
History of Armstrong Kaserne, Büdingen (originally known as Krueger Kaserne)
(Source: STARS & STRIPES, Nov 2, 1951)
The opening of a new PX at Krueger Kaserne (as Armstrong Ksn was originally known in the early post-WWII years) marked the end of Phase 1 of a construction-remodeling project that will provide improved conveniences and entertainment to men of 2nd Bn, 8th Inf Regt (4th Inf Div) and the 517th FA Bn (V Corps Artillery). Also opening soon are a service club and library, an EM club, a theater with seats for 350, a snack bar, new bowling alleys, an officers' mess hall and an NCO mess.

An ongoing phase of construction includes a 16-room battalion headquarters building, a six-alley bowling center, and a central heating plant - these are scheduled for completion next month.
---
Related Links:
Forgotten Memories - Dan Nisto has created a wonderful Photo Page that he keeps updating as he visits abandoned, and now almost forgotten US military installations in Germany.
Hanau says goodbye to US troops -

Broken Link

a blog on the topix website that contains many comments from veterans, dependents and German citizens who remember their time in Hanau.