If you do NOT see the Table of Contents frame to the left of this page, then
Click here to open 'USArmyGermany' frameset
56th Field Artillery Brigade
US Army, Europe & Seventh Army
Looking for more information from military/civilian personnel assigned to or associated with the U.S. Army in Germany from 1945 to 1989. If you have any stories or thoughts on the subject, please contact me

.
---
---
56th Artillery Group History
1962
(Sources: STARS & STRIPES, Dec 14, 1962)
According to the USAREUR Station List for April 1962, the 56th Artillery Group was located in Kitzingen (probably part of VII Corps Artillery).

The STARS & STRIPES article has the Group organized as follows in December 1962:
| | | |
| --- | --- | --- |
| UNIT DESIGNATION | LOCATION | COMMENTS |
| HHB, 56th Arty Group | Kitzingen | |
| 1st MSL Bn, 41st Arty (HJ) | Kitzingen | |
| 2nd MSL Bn, 81st Arty (CPL) | Erlangen | |
| 2nd MSL Bn, 82nd Arty (CPL) | Kitzingen | |
| 1st HOW Bn, 83rd Arty (8-inch) | Erlangen | |
---
1963
In August 1963, an exchange of unit designations occurred with the 35th Artillery Group exchanging colors and numbers with the 56th Artillery Group in Kitzingen, Germany. Immediately upon redesignation, the 35th Artillery Group moved to Bamberg, Germany, arriving in September 1963.

---
56th Field Artillery Brigade History
1963 - 1991
(Sources: Pershing Cable, Orientation Issue 1982, 56th Field Artillery Brigade, Schwäbisch-Gmünd, Germany)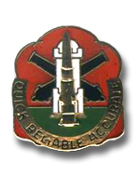 56th Field Artillery Bde DI

The 56th FA Bde is a unit with a unique mission. It is the only Pershing missile brigade currently deployed in Europe or any other location in the world. As such, it is a vital link in the North Atlantic Treaty Organization (NATO) chain of defense.

The brigade is composed of three Pershing missile firing battalions, one infantry battalion, a chemical decontamination detachment, a maintenance battalion (which includes forward support companies stationed with each Pershing battalion and an aviation company) and the Headquarters and Headquarters Battery, 56th FA Bde.

The more than 5,000 soldiers that make up the brigade are stationed on eight kasernes (posts) and three remote firing sites scattered through southern Germany.

UNIT LOCATIONS

Schwäbisch-Gmünd

Bismarck Kaserne - Brigade Headquarters, 266th Chem. Detach., Btry A and D, 1st Bn., 41st FA and Co. E, 55th Maint. Bn.
Hardt Kaserne - Headquarters Battery and Btry. B and C, 1/41st FA and Co. A, 55th Maint. Bn.

Neckarsulm

Artillery Kaserne - Headquarters Battery and Btry. C and D, 3rd Bn., 84th FA and Co. C, 55th Maint Bn.

Heilbronn

Badenerhof Kaserne - Btry. A and B, 3/84th FA and Co C, 2nd Bn., 4th Inf.

Kornwestheim

Wilkins Barracks - Co. A, 2/4th Inf.

Neu Ulm

Wiley Barracks- Headquarters Battery and Btry. A, B, C, and D, 1st Bn., 81st FA and Co. B, 55th Maint. Bn.
Nelson Barracks - Headquarters Company and Co. B, 2/4th Inf., Headquarters and Co. D, 55th Maint. Bn. and the Primary Leadership Development Course (PLDC).



What to expect

A tour with the 56th is as challenging and demanding as it is personally rewarding. Because of its vital mission, a high-level of performance is required from each soldier. The hours are long, the work tough, and the conditions are often less than ideal. However, it is this selfless dedication to mission accomplishment that keeps the brigade on an ever-ready alert status.

Each firing battalion has one of its batteries out at its Quick Reaction Alert (QRA) site. There are three of these sites in Germany. When the battery goes out, they realize they will be out there for at least three months. While here they rotate between the missile site itself and an administrative area where they perform maintenance on vehicles, with time out to return to garrison for a few days.

Field duty is often a companion to the Pershing Soldier The entire brigade participates on a yearly winter and fall field problem. In addition, each battalion must go through a Tactical Evaluation (Tac-Eval). Slogging through the mud, they must prove to NATO evaluators, as well as themselves. that they can be battle ready if the time should come.

Performance earns trip back to States
As the biting winter of Germany sets in, the memories of home in the summer seem that much brighter. You warmly remember lying on the beach, watching people walk by, swimming and just taking it easy.

Those days are gone. Now you're in Germany working with the Pershing missile. Your days are spent in the field or at the Quick Reaction Alert (QRA) site rather than on the beach. Those days have to wait until the spring.

Perhaps not. Each year a hardworking battery is picked to pack up their missiles and go to either Cape Canaveral, Fla., or White Sands Missile Range, N.M., for an actual firing of the Pershing missile.

The missile crews, all recognized for their professionalism and outstanding performance, are chosen to participate in the Follow On Test (FOT) "shoot."

The FOT is an extension of an evaluation that begins here in Germany at the unit's QRA site. However, the FOT portion of the evaluation includes assembling, erecting, and firing the ac tual missile. Particular attention is paid to their in-flight reliability and accuracy.

All the hard work spent at the ORA site and in Florida is all worthwhile when the ground trembles and the mighty missile roars skyward and you receive word on how close "your" missile came to hitting the target.

Even after the missiles have been launched, there is still work to be done. The ELs have to be sanded and painted for their return back to Germany.

The professionalism you displayed got you to Florida. The idea was to work hard, do your job, and then enjoy the benefits of a job well done. Florida offers plenty of opportunities for long awaited "fun in the sun" during off-duty hours for hard-working soldiers.

There are trips to Disney World; Sea World; the Kennedy Space Center; the Martin Marietta Plant, producers of the Pershing missile; and journeys home to visit family and friends.

NCOs learn to toughen their act
The Primary Leadership Development Course (PLDC) is just one more feature which could make your Pershing tour full of memorable challenges.

The school, organized and sponsored by the 56th FA Bde., is located at Neu Ulm's Nelson Barracks. It is a demanding 28-day course which only the best potential Non-Commissioned Officers are invited to attend. According to SFC Robert Hill, Assistant Commandant, its purpose is to "prepare NCOs and future NCOs to return to their units and assume leadership positions. But most importantly, to lead by the example they set."

One of the school's main features is a tough, but concerned, staff of cadre who insist on a military appearance and attitude at all times. "Spit, polish, and appearance receive a lot of attention here," says Hill. "A high standard is necessary when you consider the image the leader is giving his subordinates. Thus, it's got to be above what he expects from his troops."

PLDC is much more than starched uniforms and highly shined boots. A 'white glove inspection' is performed daily with costly demerit points hanging in the balance. From the moment of their arrival, students are in a carefully controlled environment. For the remainder of their stay, they will live, work, and dine with their peers.

Whatever rank the student had prior to attending the course comes off, temporarily. From there the class becomes a unit within itself. Commanders, first sergeants, and squad leaders are appointed. Ideally, during their stay, each student will be asked to perform in some leadership position and graded on his or her performance. Situational problems are placed before them and the watchful eye of the cadre note their responses.

A vigorous physical training program challenges their endurance, while constant practice at drill and ceremony sharpen their ability to march others. A four night stay in the woods tests their ability to survive there, and in-ranks and wall locker inspections provide challenges to garrison skills.

Finally, to add to the cram course atmosphere, is the time spent in the classroom. Here, students are taught basic military skills and how-to of giving a block of instruction themselves.

As much as it may sound to be, PLDC is not Basic Training revisited, nor is it a rubber-stamp for E-4s and E5s enroute to the next rank. It is a good representation of what the 56th FA Bde. has come to expect from its NCOs.
If you have more information on the history or organization of the 56th FA Group/Brigade/Command (or any of the subordinate units), please contact me

.

---
(Source: Annual History, USAREUR & Seventh Army, 1966)
Pershing and the Quick Reaction Alert

a. Background. According to the Quick Reaction Alert (QRA) concept, elements of SACEUR's nuclear strike forces were to be on continuous alert and assigned to cover critical, preselected targets earmarked in the SACEUR Scheduled Program for Destruction within a few hours of the release of nuclear weapons. As early as 1964 the Pershing system -- designed for the general support of the field army -- had been under consideration for employment in the QRA role. During March and April 1965 USCINCEUR had conducted a Joint Environmental Test (JET) of the Pershing system that had simulated QRA conditions. The next step had been to conduct a series of operational tests to fire the Pershing system under QRA conditions. USCINCEUR had delegated this responsibility to CINCUSAREUR. The first phase of the operational test program, designated Demonstration and Shakedown Operations (DASO), had started in October 1965, when a battery of USAREUR's 4th Battalion, 41st Artillery, had returned to the United States and fired three missiles.

Subsequently, in March 1966, the Secreatry of Defense approved plans to expand the Pershing QRA program, and in April the Department of the Army established QRA as the primary mission for the Pershing.



b. Concept BRAVO. USEUCOM's Concept BRAVO called for employing an 8-launcher Pershing battalion in the QRA role. One 4-launcher battery with two programer test station/power station combinations was to be on field alert status (FAS), two 2-launcher batteries on garrison alert status (GARS), and the personnel of one battery -- its launchers and programer test station used to augment the FAS battery to a 4-launcher configuration -- were to be on maintenance status with maximum leaves and passes. This concept required additional personnel and, pending their arrival in the fourth quarter of 1966, USAREUR's three Pershing battalions -- the 4th Battalion, 41st Artillery; 1st Battalion, 81st Artillery; and the 3rd Battalion, 84th Artillery -- assumed the QRA mission, each with a 2-launcher battery on field alert status.

(The concept under which USAREUR assumed the QRA mission -- termed Concept CHARLIE -- differed from Concept BRAVO only in the 2-launcher configuration of the FAS battery. The 4/41st Arty, the 1/81st Arty, and the 3/84th Arty assumed QRA status on 1 December 1965, 15 January and 15 April 1966, respectively.)

In October the augmentation personnel needed to implement Concept BRAVO began to arrive, and USAREUR asked the Department of the Army for authority to reorganize its Pershing units under a modified Delta-series table of organization and equipment (TOE). (USAREUR's Pershing battalions had been under TOE 6-615T.) In the interim USAREUR authorized the issue of the additional equipment needed for the expanded QRA mission and currently available in the theater. In December the Department of the Army authorized the reorganization of USAREUR's Pershing battalions; each of the three battalions was to have one 4-launcher battery on field alert status by the end of March 1967.



c. Programed Changes. As approved by the Secretary of Defense, the Pershing QRA program called for developing improved ground support equipment and erector launchers scheduled for delivery in the second half of 1969. Each firing battery would receive 9 improved launchers so that the modified battalion would have up to 36 launchers.

CINCUSAREUR emphasized the danger of presenting so lucrative a target as a 36-launcher battalion. He noted that peacetime stationing of a 9-launcher battery at a single location would invite covert enemy action at times when hostilities seemed imminent, and even the deployment of large covering forces could not preclude clandestine mortar attacks.

The Department of the Army acknowledged the increased vulnerability of the modified battalion but indicated that the 36-launcher battalion appeared to be the best solution to provide the desired firepower for the QRA mission.



d. Pershing Operational Test Unit. In 1965 USAREUR had organized the POT unit under a separate table of distribution (TD) to conduct the 10-year operational test program. While ballistic missile operational tests were not a standing requirement for field armies, the POT unit functioned as an integral part of Seventh Army's artillery staff. As a result of the consolidation of headquarters, USAREUR relocated the test unit to Heidelberg and integrated it into the Artillery and Special Weapons Directorate of the Office of the Deputy Chief of Staff, Operations, on 1 December 1966.



e. Field Alert Status Verifications. To provide reliable data on the Pershing in the QRA role, USAREUR tested each battery on field alert status. Designated Field Alert Status Verification (FASV), the test consisted of a complete evaluation of each battery's functions from USCINCEUR 's release of a simulated release-hour message until the simulated firing of two missiles.

During the Joint Environmental Test in early 1965 the Pershing batteries had scored mean reaction times of 54 minutes for the first missile and 106 minutes for the second missile. In late December USCINCEUR reported that mean reaction times derived from tests conducted since 1 December 1965 -- when the first Pershing unit had assumed the QRA mission -- were 29 minutes for the first missile and 61 minutes for the second.

Pershing QRA Facilities

In December 1965 USAREUR's Pershing units had assumed the QRA role assigned by SHAPE. The 16th Slice (NATO Common Infrastructure Program) had included a project for 15 firing battery positions -- 9 field sites and 6 sheltered sites. Each field site would have a cleared and graded area, concertina barbed wire fencing, access roads, and power and sanitary facilities. Each sheltered site would have missile shelters, custodial and alert guard buildings, a ready building, a generator shelter, hardstands, security fencing, and internal and access roads.

USAREUR's proposal for the 18th Slice called for expanding these facilities to provide for 12 Phase II kaserne-type firing positions, at which construction would be of a much broader scope than that planned in the 16th Slice for the 6 sheltered sites. Each of the 12 firing positions -- located 20 to 30 kilometers from headquarters and service elements of the Pershing battalions and at a similar distance from other installations and possible nuclear targets for enemy forces -- would have a cantonment to support 200 military personnel. Construction would include billets, sanitary and security facilities, dayrooms and messes, motor maintenance shops, ready rooms, hardstands, utilities, and extensive site preparation.

The justification for NATO funding was that the project supported the NATO Nuclear Strike Plan and would reduce reaction time and increase the target coverage area.

---
(Source: Letter from 56th FA Bde Public Affairs Office, early 1980s)
The 56th Field Artillery Brigade is composed of three Pershing battalions, one Infantry battalion, a Chemical Decontamination detachment, a newly formed Maintenance battalion (which includes forward support companies stationed with each Pershing battalion and an aviation company) and the Headquarters and Headquarters Battery 56th Field Artillery Brigade.

The Pershing battalions are one of the largest battalion-sized units in the United States Army, with nearly 1200 personnel assigned. Each battalion is comprised of four firing batteries with nine launchers in each battery, and a Headquarters and Service Battery. This gives the Brigade a total of 108 launchers. Additionally, there 72 launchers assigned to the German Air Force's (Luftwaffe) two Pershing wings.

The five battalions in the 56th Field Artillery Brigade are stationed at three primary locations:
| | |
| --- | --- |
| | Brigade Headquarters and 1st Battalion 41st Field Artillery are located in Schwäbisch Gmünd. |
| | 3rd Battalion 84th Field Artillery is located in Heilbronn/Neckarsulm. |
| | 1st Battalion 81st Field Artillery, Headquarters 2nd Battalion 4th Infantry, and Headquarters 55th Maintenance Battalion are located in Neu Ulm. |
Each Pershing battalion has one battery on QRA (Quick Reaction Alert) status at all times. These batteries on QRA status are located at the following sites:
| | |
| --- | --- |
| | 1st Battalion 41st Field Artillery at Lehmgrube (),100 km south of Schwaebisch Gmuend. |
| | 1st Battalion 81st Field Artillery at Inneringen (), southwest of Neu-Ulm. |
| | 3rd Battalion 84th Field Artillery at Waldheide (), outside of Heilbronn. |
The Infantry companies of the 2nd Battalion 4th Infantry provide security for each of the Pershing battalions and are stationed throughout the Brigade area - Neu Ulm, Heilbronn and Ludwigsburg.
---
(Source: STARS & STRIPES, Jan 18, 1986)
On Jan 17 1986, the 56th Field Artillery Brigade was reorganized and redesignated as the 56th Field Artillery Command.

The reorganization included the following actions:




Activation of the 38th Signal Battalion. The battalion has been operating in a provisional status since December. It has an authorized strength of almost 900 soldiers and will have five subordinate signal companies when the reorganization is completed. .




Relocation and redesignation of Co E, 55th Maint Bn. The unit moved from Mutlangen to Goeppingen and has been redesignated as the 193rd Avn Co.




Redesignation of the three firing battalions:


1st Bn, 41st Field Artillery, Schwaebisch Gmuend, became 2nd Bn, 9th FA


1st Bn, 81st Field Artillery, Neu Ulm, was redes. as 1st Bn, 9th FA


3rd Bn, 84th Field Artillery, Heilbronn, became 4th Bn, 9th FA
---
Intermediate-Range Nuclear Forces (INF) Treaty
(Source: Chapter 8, Department of the Army Historical Summary: FY 1988)
President Reagan and Soviet General Secretary Mikhail Gorbachev formally ratified the Intermediate-Range Nuclear Forces (INF) Treaty in Moscow on 1 June 1988. It eliminated Soviet and U.S. nuclear weapons that have a delivery range between 300 and 3,400 miles. The Soviets maintain 133 INF sites located in the Soviet Union, East Germany, and Czechoslovakia. The U.S. operates facilities at 31 sites in CONUS, West Germany, Great Britain, Belgium, the Netherlands, and Italy. Soviet missiles marked for elimination include 80 SSCX-4 cruise missiles and the following ground-launched ballistic missiles-650 SS-20s, 170 SS-4s, 6 SS-5s, 726 SS-12s, and 200 SS-23s. The U.S. must destroy 442 ground-launched cruise missiles along with 170 Pershing 1a and 247 Pershing II ballistic missiles. The INF Treaty contained several verification provisions. In addition to an exchange of data on the missiles and their locations, it allowed on-site inspections by each country to validate the data exchanged and to verify both missile destruction and cessation of further production. The treaty further provided for short notice on-site inspection at INF sites during a three-year reduction period and ten years thereafter as well as verification by national technical means such as satellite imagery.
The Defense Department activated the On-Site Inspection Agency (OSIA), an interagency organization, in Washington, DC, in January 1988. It tasked OSIA to conduct INF Treaty inspections in the Soviet Union and Eastern Europe and to coordinate U.S. activities associated with Soviet inspections in the U.S. and Western Europe. An Army brigadier general heads OSIA, assisted by deputies from the Arms Control and Disarmament Agency, the State Department, and the Federal Bureau of Investigation (FBI). His staff consists of about 300 personnel, 150 permanent and 150 temporary, with a ratio of about 65 percent military to 35 percent civilian taken from the armed services, the Coast Guard, and other federal agencies. In September 1987 the U.S. And the Soviet Union agreed to establish Nuclear Risk Reduction Centers (NRRC) to lessen the possibility of war between the two countries by accident or misunderstanding. The White House directed that the NRRC, activated at the State Department in March 1988, would transmit communications between U.S. And Soviet officials regarding INF inspections. Soviet INF inspectors can enter the U.S. at two points-Washington, DC, and Travis Air Force Base, California. Army Pershing sites in CONUS that the Soviets may inspect include Redstone Arsenal, Alabama; Fort Sill, Oklahoma; Pueblo Army Depot Activity, Colorado; Fort Huachuca, Arizona; Dugway Proving Ground, Utah; and the Longhorn Army Ammunition Plant, Texas.
As for destruction of the missiles affected by the INF Treaty, Soviet officials indicated they would burn most of their weapons in pits but also may launch some for disintegration in the upper atmosphere. The U.S. Air Force planned to fly its cruise missiles, deployed in Europe, to Davis-Monthan Air Force Base, Arizona, and cut them apart with chain saws. The Army decided to transport its Pershing II missiles, deployed in Europe and stored in the U.S., to two Army installations located in the U.S. for destruction-the Pueblo Depot Activity and the Longhorn Ammunition Plant cited above. It will destroy all of the Pershing 1a models at their present location, the Pueblo Depot Activity. The destruction procedure calls for burning the solid fuel propellant and crushing the motors and other portions of the missiles with bulldozers. The Air Force and the Army will transfer the nuclear warheads from their destroyed missiles to the Defense Nuclear Agency for storage. The treaty also requires destruction of missile launchers, so the Army developed a plan to destroy Pershing launchers located in Europe at Hausen, West Germany. OSIA supervised the first destruction of Pershing rocket motors at the Longhorn Ammunition Plant on 8 September 1988. Implementation of the INF Treaty required a conventional force adjustment by the Army. It proposed to restructure its four Pershing II battalions -- the 1st, 2d, and 4th Battalions of the 9th Field Artillery, 56th Field Artillery Command, in West Germany, and the 3d Battalion, 9th Field Artillery, 214th Field Artillery Brigade, at Fort Sill -- into a field artillery brigade.
---
1991
(Source: FIELD ARTILLERY, February 1991)

---
4th Bn, 41st Field Artillery / 1st Bn, 41st Field Artillery
1st Battalion, 41st Field Artillery DI
1969
(Source: Email from Chris Heist)
I have pics from 1969 to 1971 of Bismarck Kaserne in Schwäbisch Gmünd, Germany. My father (Sp4 Warren R. Heist) was stationed there.
Bismarck Ksn
Schwäbisch Gmünd

1. Bismarck Ksn


2. Bismarck Ksn


3. Bismarck Ksn

4. Bismarck Ksn


Sp4 Warren R. Heist



---
Early 1980s
(Source: 1st Bn, 41st Field Artillery Information Brochure, early 1980s)
1. THE REASON FOR US FORCES PRESENCE IN EUROPE: The United States is a member of the North Atlantic Treaty Organization (NATO). As a result of this alliance, the US has had military personnel stationed in Europe since the end of World War II. This large force serves as a pledge of our sincerity to defend the free European countries and other members of NATO. Our forces also serve as a deterrent to aggression by the Warsaw Pack nations since any armed invasion of Europe would immediately involve them with the United States.

2. THE MEANING AND IMPORTANCE OF NATO: The most important aspect of NATO is its military alliance, which states that all member nations will defend any nation that is attacked. NATO has been an instrumental factor in preventing an armed conflict in Europe since 1945. NATO also serves other functions of an environmental, economic and cultrual nature to help the member countries understand and cooperate with each other in all ways.

3. THE MISSION OF THE US ARMY, EUROPE: To provide NATO with land combat forces to help successfully defend the free countries to Western Europe from Communist aggression.

4. BATTALION MISSION: The battalion has a dual mission:



a. To maintain a portion of its missiles on Quick Reaction Alert (QRA) status as a part of Supreme Headquarters Allied Powers Europe general strike plan.



b. To provide general support to the Commander, Central Army Group, (COMCENTAG), allowing him to shift decisive fire power over a large portion of the battlefield.

5. BATTALION ORGANIZATION: The 1st Battalion, 41st Field Artillery consists of one Headquarters Battery, one Service Battery and four Pershing Firing Batteries. There are 1,400 officers and enlisted men authroized. The Pershing battalions are the largest, most powerful and most responsive battalions in the US Army.

6. TRAINING CYCLE: The mission training for firing batteries is broken down into four phases or periods. Each firing battery rotates through these phases in the following sequence. We have begun with the Combat Alert Status (CAS) phase, but you may enter the cycle at any of the other phases depending on where in the cycle the battery is operating:



a. CAS Phase: The CAS period is normally 12 weeks in length. The battery on CAS deploys to the CAS site which is approximately 100 miles south of Schwaebisch Gmuend. Initially you will undergo approximately a week of change-over activities with the battery that is coming off CAS. Your battery's missiles will be kept in a firing postion 24 hours a day. When you are not on "hot status" you will be performing vehicle and section equipment maintenance in the battery administrative area. While at CAS you will be performing the first of the two primary tactical missions assigned to Pershing - that of Quick Reaction Alert (QRA).



b. GARS II: Upon completion of your CAS phase and your return to Schwaebisch Cmuend, you will enter the GARS II training cycle. During this phase your battery will train and exercise for the second tactical mission of Pershing - General Support. During this training phase your battery will deploy to a local training area and using cover and concealment, emplace the battery equipment in a field location. You will gain field experience in such areas as Reconnaissance, Survey and Occupation of Position Procedures, Security, Nuclear, Biological, Chemical, Convoy Operations, Emergency Destruction and Survival.



c. GARS III: During this phase the emphasis is on learning how to maintain the battery's equipment. The majority of your working day will be devoted to maintenance. The battery commander will generally authorize the maximum allowable number of leaves during this period.



d. GARS I: During this phase the emphasis will be on missile crew training in preparation for CAS. This technical proficiency training of individuals and crews in missile operations is terminated with certification by the Battalion Standardization Team. In addition to crew training, missile equipment maintenance is stressed during this phase in order to further prepare the battery's equipment for the CAS period.



e. Although they don't participate in the training cycle directly, Headquarters Battery and Service Battery, have the vital tasks of supporting all firing batteries throughout each phase of the remaining cycle. During field training exercises, Headquarters and Service Batteries move to the field and become fully operational, supporting the battalion mission form the field location.

7.