If you do NOT see the Table of Contents frame to the left of this page, then
Click here to open 'USArmyGermany' frameset
For additions, corrections, or suggestions please contact the webmaster
---
| | |
| --- | --- |
| MAPS | |
1950

Map of the Berchtesgaden Recreation Area. Map published by Zimmermann, Garmisch, 1950.

Click on the thumbnail to view a larger format of the same map.

Click here for a facilities list.
1954

Map of the Garmisch (Southeastern Area Command) Area. Map published in 1953 or 54.

Click on the thumbnail to view a larger format of the same map.

1955

Map of Garmisch Sub-Area facilities in downtown Garmisch. Map published in 1955.

Click on the thumbnail to view a larger format of the same map.

1962

Map of the Berchtesgaden Recreation Area. Map found in the "Berchtesgaden Chiemsee Activities" pamphlet, Saturday 14 July thru Friday 27 July 1962, a publication of the Berchtesgaden-Chiemsee Recreation area.

Click on the thumbnail to view a larger format of the same map.


---
Installation Maps
| | | | |
| --- | --- | --- | --- |
| 1. Hawkins Barracks, Oberammergau, late 1950s | 2. Chiemsee Leave Center, 1950s | 3. Obersalzberg Area, 1950s | 4. Berchtesgaden Area, 1950s |
Looking for installation maps and information on US Army kasernes in and around Regensburg. If you have any, please contact the webmaster.
TELEPHONE DIRECTORIES
NOTE: I plan to post extracts from the "Troop Units" section of the telephone directories sometime in the near future - if I see that there is any interest.
| | | | |
| --- | --- | --- | --- |
| 1. Garmisch and Berchtesgaden, 15 Aug 1956 | | | |
---
COMMAND AND COMMUNITY NEWSPAPERS
NOTE: I plan to post extracts from the command, unit and community newspapers sometime in the near future - if I see that there is any interest.
Click on thumbnail of newspaper to read the front page.

Does anyone have copies of US Army newspapers/newsletters that were published over the years for the military communities of Garmisch, Oberammergau or Berchtesgaden?
The Pass Times- Some of the issues published while in Germany
| | | | |
| --- | --- | --- | --- |
| 1. The Pass Times, 13 June 1953 | 2. The Garmisch Scene | | |
---
PHOTOS
Click on thumbnail to view larger image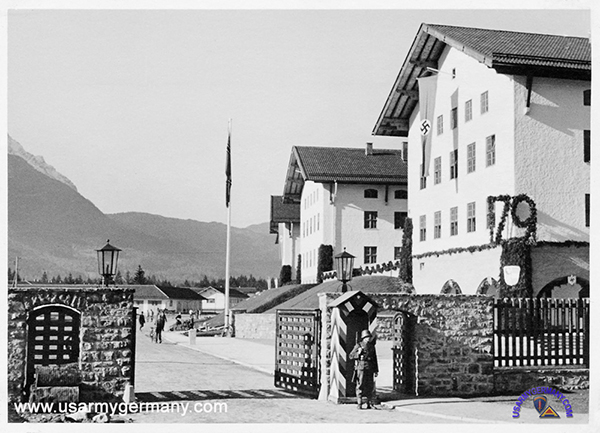 Entrance to Krafft-von-Delmensingen-Kaserne (later know as Artillery Kaserne), Garmisch,
late 1930s (Webmaster's collection)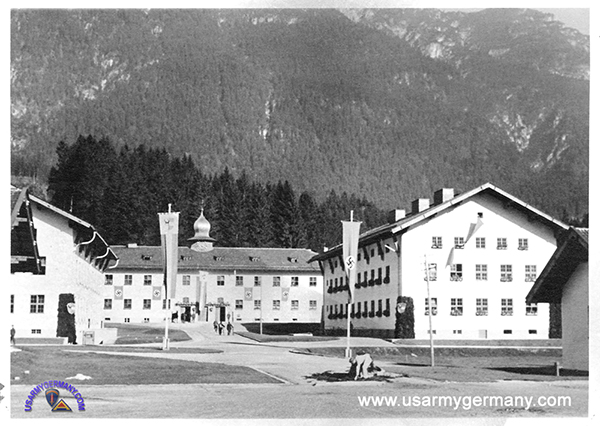 Krafft-von-Delmensingen-Kaserne, Garmisch, late 1930s (Webmaster's collection)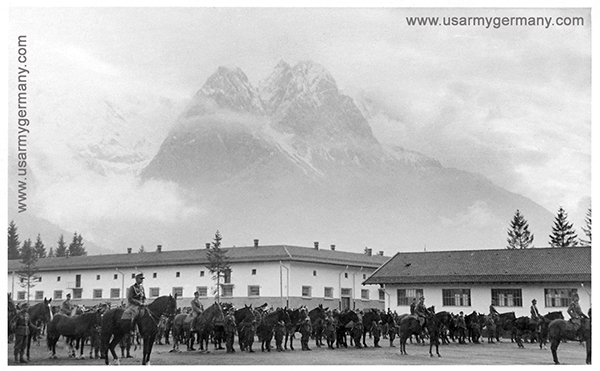 German mountain troops at Krafft-von-Delmensingen-Kaserne, pre-WWII (Webmaster's collection)
| | | | |
| --- | --- | --- | --- |
| 1. Sheridan Plaza, 1952 | 2. Sheridan Kaserne, 1952 | | |
| | | | |
| --- | --- | --- | --- |
| 1. Dispensary compound, mid-1950s | 2. Green Arrow Inn, mid-1950s | | |
| | | | |
| | | | |
| | | | |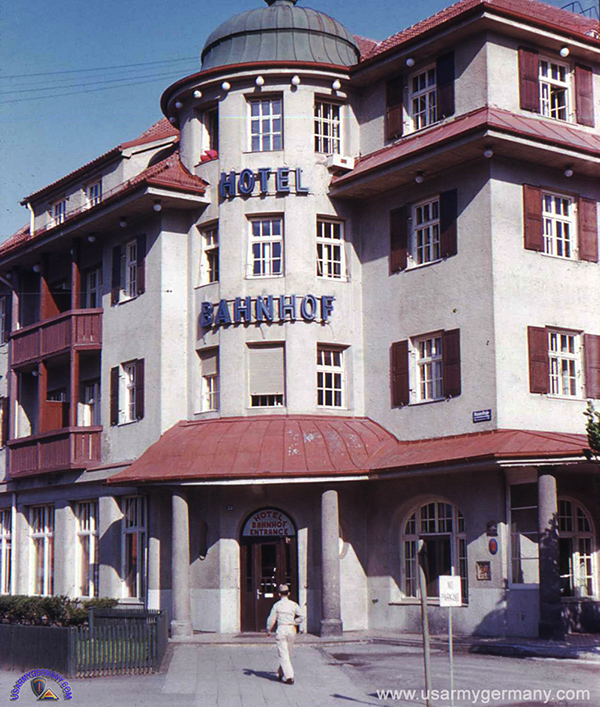 Bahnhof Hotel across the square from the Garmisch train station, 1950s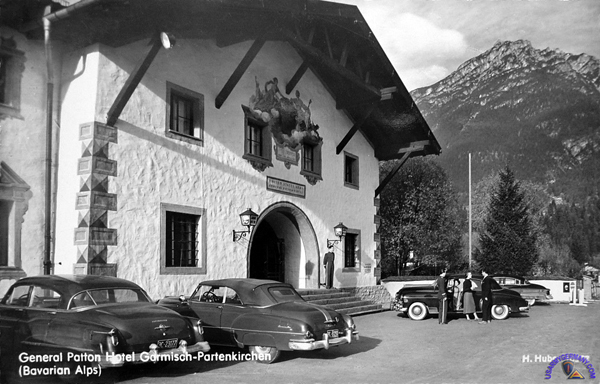 General Patton Hotel, Garmisch, 1950s (German postcard)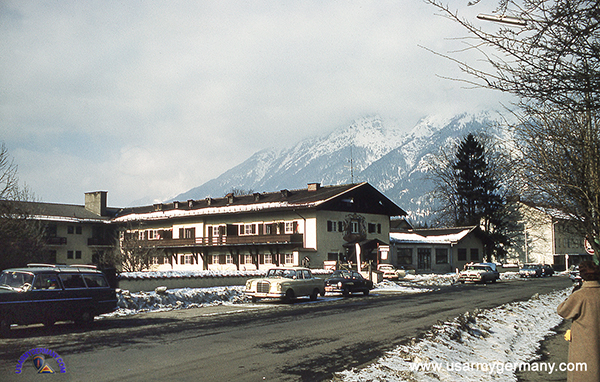 General Von Steuben Hotel, 1961 (Webmaster's collection)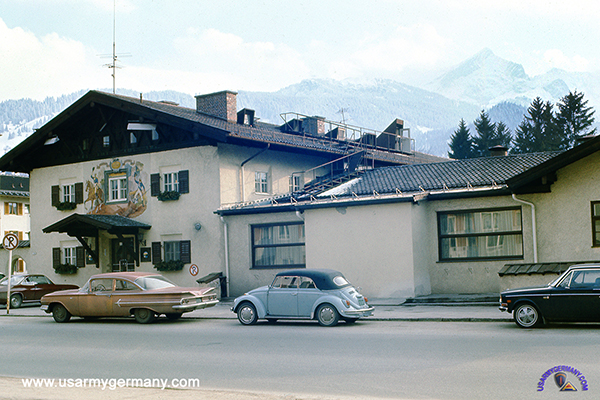 General Von Steuben Hotel on Hauptstrasse, late 1960s (Webmaster's collection)

Garmisch Dispensary and Green Arrow Inn Hotel, late 1950s (Webmaster's collection)
| | | | |
| --- | --- | --- | --- |
| 1. Garmisch, 1950 | 2. Garmisch-Partenkirchen | 3. Ice Stadium, 1945 | 4. Casa Carioca |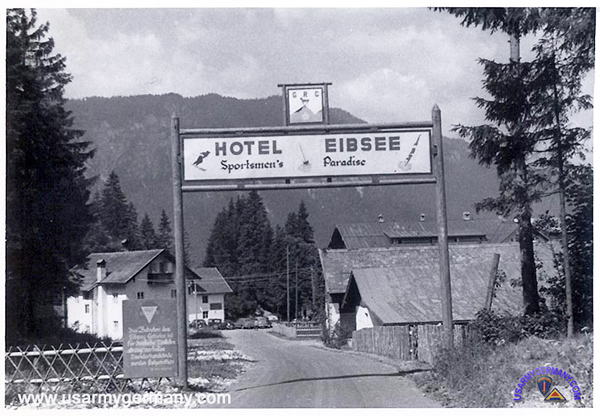 Entrance to Hotel Eibsee, 1950s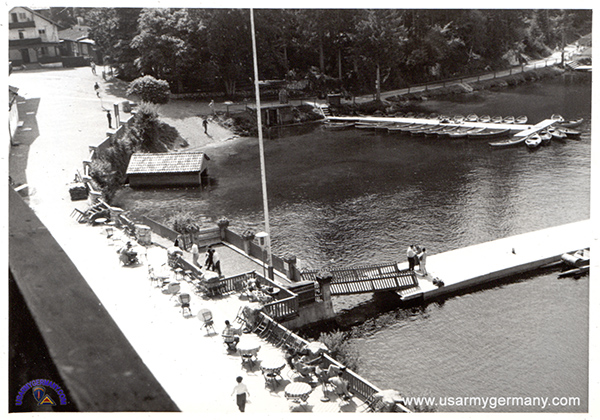 The terrace and lake from a balcony at Hotel Eibsee, early 1950s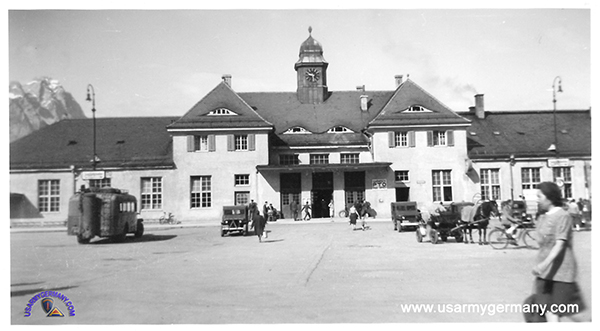 Garmisch Bahnhof (train station), around 1948 (Webmaster's collection)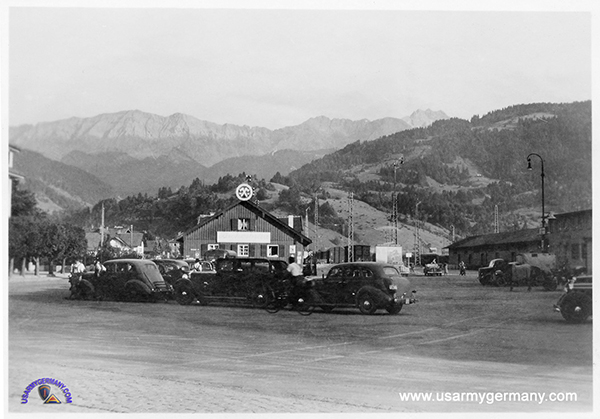 Taxi stand at the Garmisch Bahnhof, around 1948 (Webmaster's collection)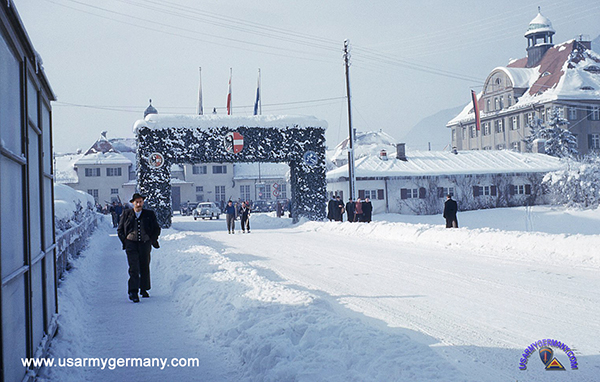 The Garmisch Bahnhof area, January 1952 (Webmaster's collection)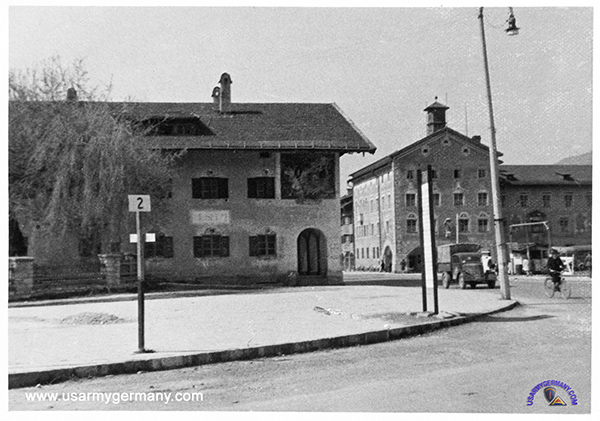 Rathausplatz with Town Hall in Garmisch, mid-1940s (Webmaster's collection)
Tall sign near lamp post is a US Army locator directory
| | | | |
| --- | --- | --- | --- |
| 5. Green Arrow Inn | 6. Marshall Center | | |
| | | | |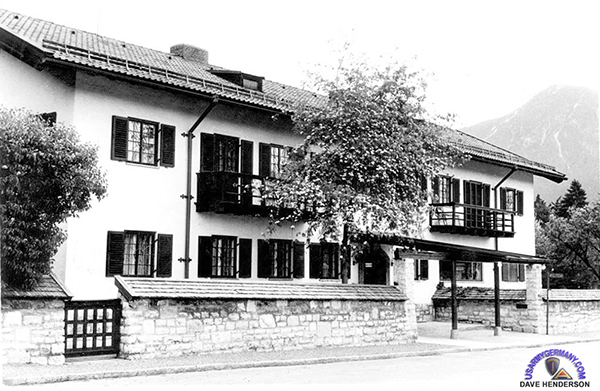 Holiday Chalet Service Club? (Dave Henderson)
| | | | |
| --- | --- | --- | --- |
| Berchtesgaden | | | |
| A. Gebirgsjäger Kaserne | B. Gebirgsjäger Kaserne | C. Gebirgsjäger Kaserne | D. Gebirgsjäger Kaserne |
| E. Platterhof Hotel | | | |
| | | | |
| | | | |
Berchtesgaden
Miscellaneous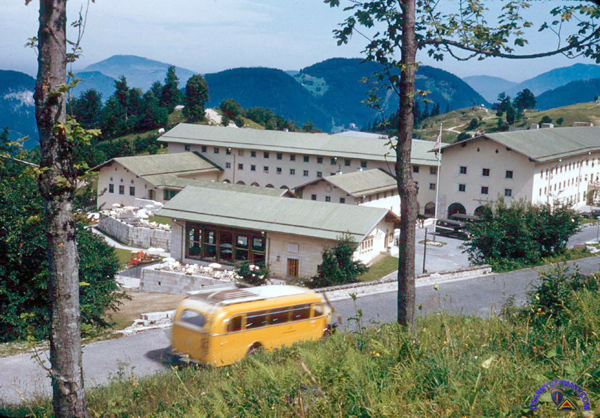 General Walker Hotel and complex, Berchtesgaden, 1954 (Harold Badten)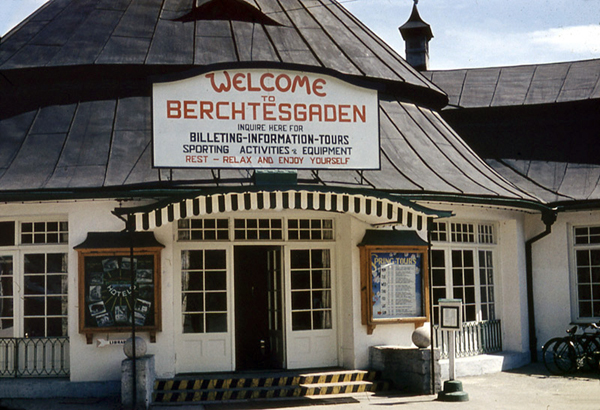 Berchtesgaden Billeting Office, 1954 (Herb Williamson)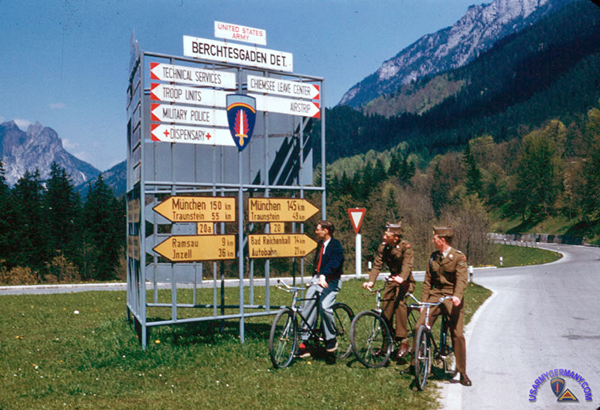 Enjoying the scenery at Berchtesgaden, 1954 (Harold Badten)
| | | | |
| --- | --- | --- | --- |
| 1. Berchtesgaden 1946 | 2. "The Take Ten" Snack Bar, 1947-48 | | |
| 3. Alpine Inn | 4. Berchtesgadener Hof | 5. Hotel Deutsches Haus | 6. Hotel Bellevue |
| 7. View from terrace, Gen Walker Hotel | 8. Gen Walker Hotel, 1954 | 9. Gen Walker Hotel, early 1950s | |
| | | | |

General Walker Hotel, Berchtesgaden, 1954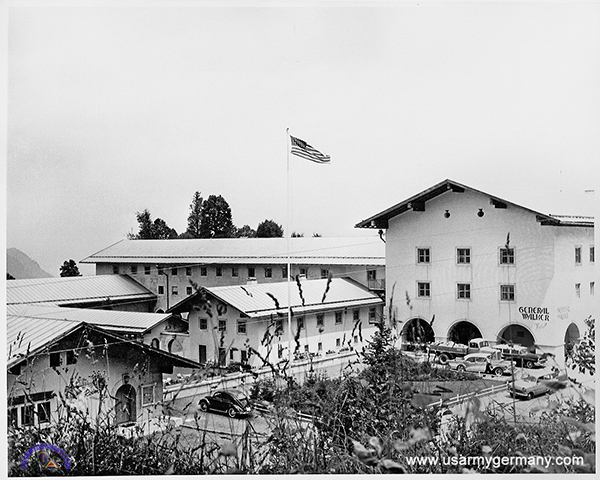 General Walker Hotel, Berchtesgaden, 1958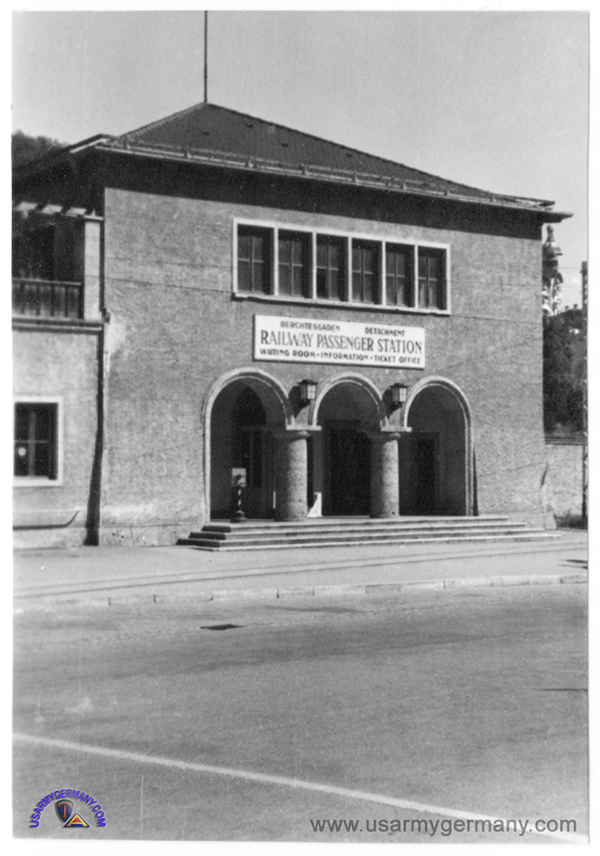 Berchtesgaden RTO, Bahnhof / train station (Webmaster's collection)

10. Alpine Inn

11. Take Ten Snack Bar, Berchtesgaden 1949-50


12. Hotel on Koenigsee

Additional explanations and details on these photos would be very much appreciated!

13. Koenigsee

14. Koenigsee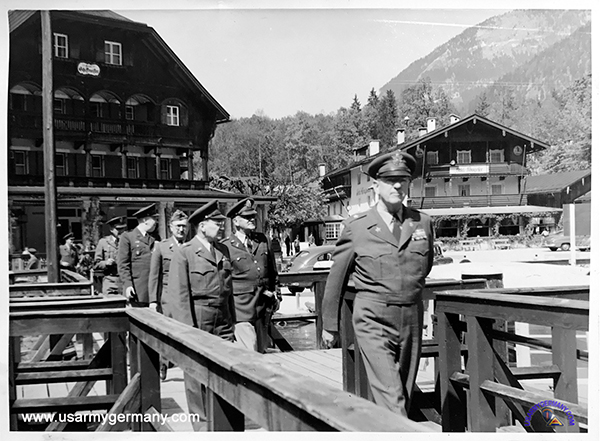 Gen Gallagher and various EUCOM post commanders visit Koenigsee during the 1951
Post Commanders conference held at Berchtesgaden (Webmaster's collection)
| | | | |
| --- | --- | --- | --- |
| 15. AFRC Bldg, Berchtesgaden | 16. Berchtesgaden | 17. Berchtesgaden | 18. Berchtesgaden |
| 19. Berchtesgaden | 20. Berchtesgaden | 21. Berchtesgaden | 22. Berchtesgaden |
| 23. Bowling Center, Berchtesgaden | 24. Bowling Center, Berchtesgaden | | |
| | | | |
| | | | |
| --- | --- | --- | --- |
| 25. Leave and Recreation Center, early 1950s | 26. Gen Walker Hotel, early 1950s | | |
| 27. The Take Ten | 28. Opa and the PX | 29. QM Filling Station #6 | 30. Special Services Library |
| 31. Berchtesgadener Hof | 32. TDY House | | |
| 33. Gen Walker Hotel terrace | 34. Golf course | 35. Berchtesgadner Hof | |
| | | | |
| | | | |
| --- | --- | --- | --- |
| 1. Chiemsee | 2. Chiemsee | 3. Chiemsee | |
| | | | |
| --- | --- | --- | --- |
| 4. Chiemsee Lounge | 5. Chiemsee Lounge | | |
| | | | |
| | | | |
| A. Jäger Kaserne | B. Jäger Kaserne | | |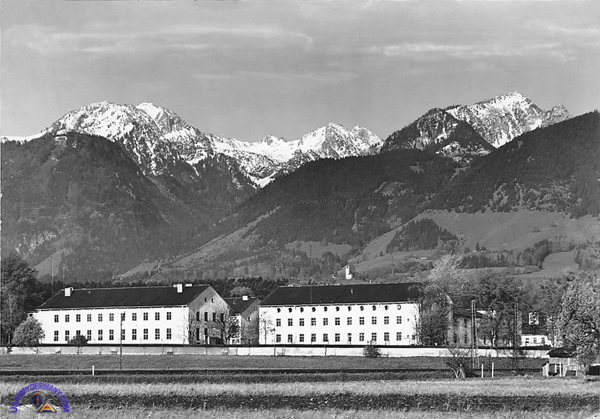 Degerndorf Kaserne, Degerndorf, mid-1950s
| | | | |
| --- | --- | --- | --- |
| 1. Main Gate, Degerndorf Ksn | 2. Degerndorf Ksn (176 KB) | | |
| | | | |
| | | | |
| --- | --- | --- | --- |
| | | | |
| Mittenwald Kasernes | | | |
| A. Gebirgsjäger Kaserne | B. Gebirgsjäger Kaserne | C. Gebirgsjäger Kaserne | D. Gebirgsjäger Kaserne |
| 1. Jäger Kaserne, Mittenwald, mid 1950s | | | |
| | | | |
| | | | |
| A. Hötzendorf Kaserne | B. Hötzendorf Kaserne | C. Hötzendorf Kaserne | |
| | | | |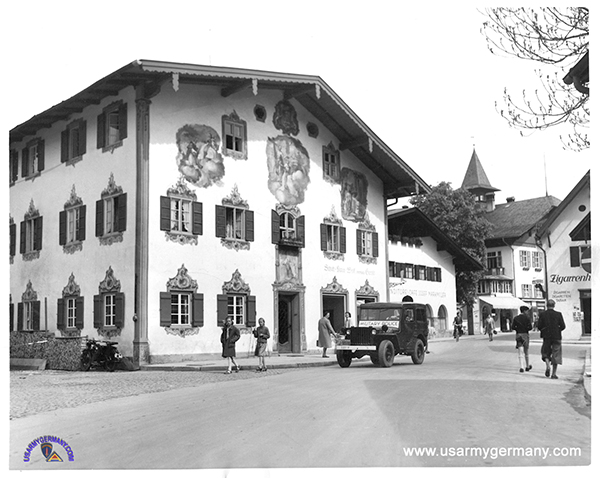 A jeep of the 521st MP Service Platoon out of Garmisch drives through
picturesque downtown Oberammergau, 1950 (Webmaster's collection)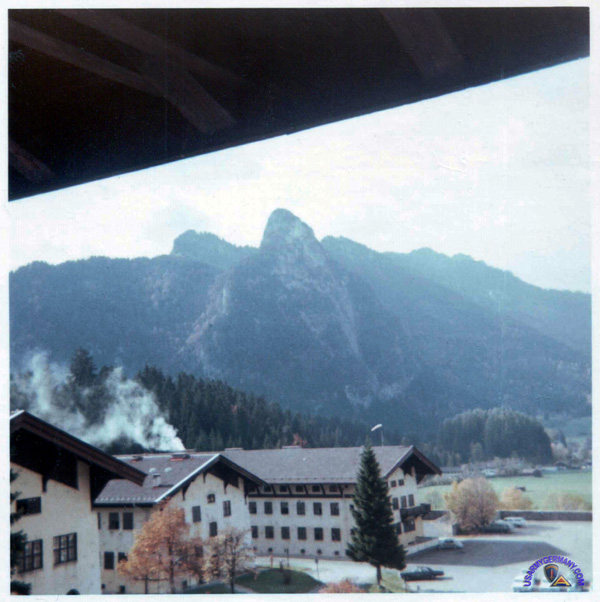 Hawkins Barracks, 1969
(John C. Dispirito)
| | | | |
| --- | --- | --- | --- |
| 3. EUCOM Intel-MP School, Oberammergau 1950 | 4. European Theater Intelligence School, 1946 | 5. European Theater Intelligence School, 1946 | 6. European Theater Intelligence School, 1946 |
| 7. European Theater Intelligence School, 1946 | 8. European Theater Intelligence School, 1946 | 9. European Theater Intelligence School, 1946 | |
| 10. Dependent Housing area | 11. Hawkins Bks from mountain top | | |
| | | | |
---
ARMED FORCES RECREATION CENTER & MISC. HISTORICAL INFORMATION
Research Request
Information is being compiled for a history of the U.S. Army installations in the Garmisch, Oberammergau, Berchtesgaden, Chiemsee, Mittenwald and Degerndorf areas, 1945 to 1990s.

Help keep the memories alive!
1. Historical information on installations and units
Requester: Webmaster
Subject: Looking for historical information on units and military activities including base support in the Garmisch, Oberammergau, Berchtesgaden, Chiemsee, Mittenwald and Degerndorf areas between 1945 and the 1990s.
Contact: webmaster

2. Aerial & ground photos of kasernes & housing areas
Requester: Webmaster
Subject: Looking for period photos of the US Army installations (including dependent housing areas, schools, shopping centers, service (gas) stations & miscellaneous storage or maintenance facilities used by EES/AAFES, Quartermaster, Ordnance, Signal and Transportation units/activities) in and around Garmisch, Oberammergau, Berchtesgaden, Chiemsee, Mittenwald and Degerndorf from 1945 to the 1990s.
Contact: webmaster

3. Installation maps
Requester: Webmaster
Subject: Looking for facility/post engineer maps of the various installations, activities and housing areas in the Garmisch, Oberammergau, Berchtesgaden, Chiemsee, Mittenwald and Degerndorf areas from 1945 to 1990s.
Contact: webmaster

4. Military Community map
Requester: Webmaster
Subject: Looking for a map that shows in detail the Garmisch military community boundaries for the period 1974-1990.
Contact: webmaster

5. Camp Jones? Chiemsee area
Requester: Geoff Walden, webmaster (Third Reich in Ruins)
Subject: Geoff was asked by a friend about Camp Jones, apparently a US installation of some type in the Chiemsee area - maye in or near Prien or Bernau. Geoff has not found mention of this camp in his years of research nor have I. If it even existed, it could have been an AFRC facility, a displaced persons camp or a military camp.

Can anyone verify the existence of this camp and, if so, where and when it was in operation?
Contact: webmaster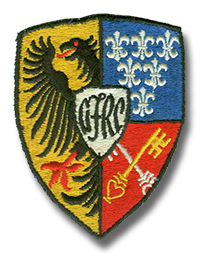 ---
AFRC GARMISCH
---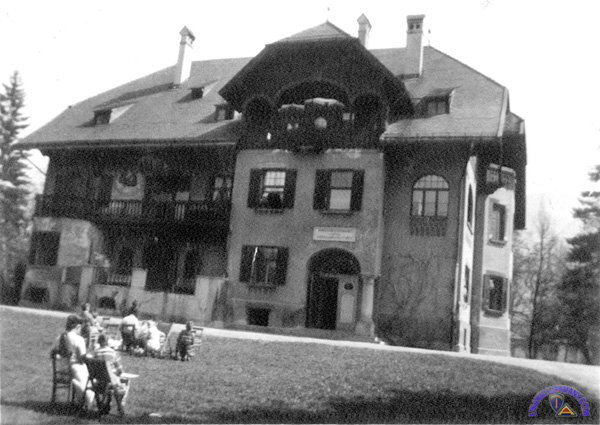 1946
(Source: Email from Capt Minna Ahlmann, USAF, George C. Marshall European Center for Security Studies)
Based on an inquiry from a former Army dependent who was a 3rd grader at Oberammergau in 1946/47, we were able to determine the following situation for grade-school dependents in those years in the Garmisch and Oberammergau communities.

Oberammergau students were bussed daily to the school which was in the Kurhaus of Garmsich, located in the Kurpark.
A photo (see above) of the school as it appeared in 1948 was provided by another a Garmisch student who went to that school in 1948. The photo shows American school children in the school yard during art class - they are drawing pictutres of the school building.
---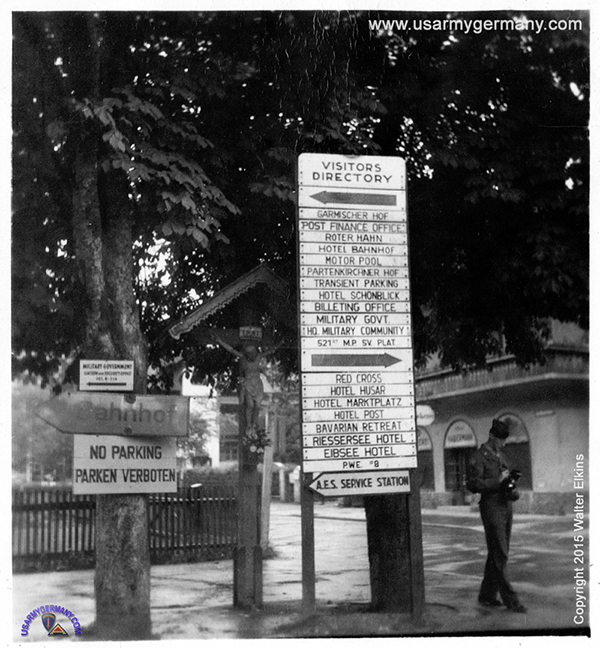 A GI tourist stands next to a Visitors Directory sign in Garmisch, July 1947

(Email from Lorenz: I think the photo was taken at the corner Olympiastr. & Charmonixstr. (former
Bahnhofstr.). A current photo is attached. I remember that, before there were changes made to the
safety island, there was a group of trees (four or more) and the cross was located at an other place.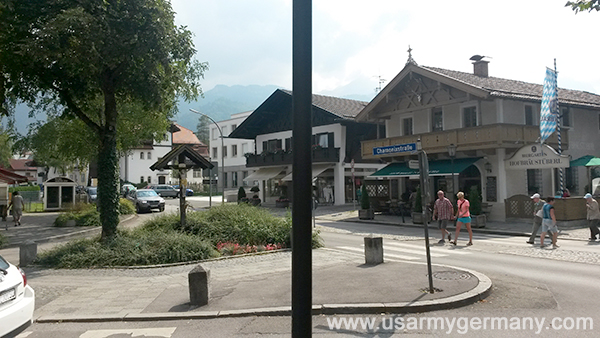 Intersection Olympiastrasse - Chamonixstrasse today (Lorenz, Garmisch)
---
1949
(Source: Thanksgiving Menu, HQ Troop Detachment, 7808 SCU, Nov 24, 1949)
7808 Station Complement Unit, APO 172


Roster, Headquarters Troop Detachment, 1949

Page 1, Officers, MSG, SFC, SGT, CPL
Page 2, CPL cont'd, PFC
Page 3, PFC cont'd, Privates



.
---
1951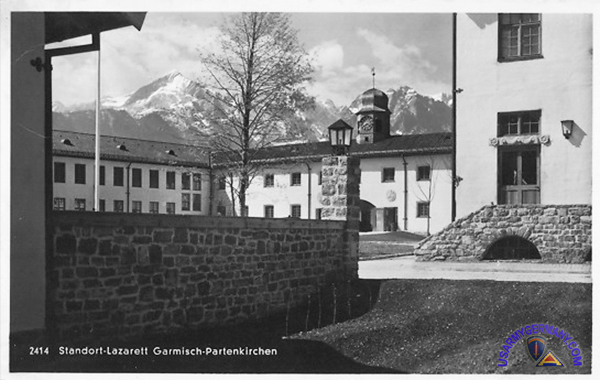 The German Standort Lazarett pre-WWII - used by the Americans as a dispensary for the
Garmisch military community (German postcard)
(Source: Email from George Sedloff)
I was assigned to the Medical Detachment (Det C 7779) 1) in 1951 and 1952. I am Cpl George Sedloff (US55075012) served as an aid to the civilian Pharmacist (Werner Skottke). At the time, I was a Graduate Pharmacist but had not taken any State Boards and so I was unregistered. The Commanding Officer was Maj.P. Carrasco.

Previous to being transfered to Garmisch, I was assigned a short time to the 98th General Hospital in Munich.

I am sure I would not recognize the present Installation.

As I recall, the dispensary was located very close to the Ski Slope entry. At that time, this was a very popular site for the Military's recreation center and the destination for the THREE DAY PASS.. I even put on a pair of skis to try out and I quickly gave up.

There was a medical treatment building including the pharmacy and several other structures. (Webmaster note: this could be the Army Dispensary which was in a former German Standort Lazarett, WWII-era) I was 'billeted' on the second floor of a small 'house' divided in 2 halves and with separate entrys, each with several single sleeping rooms up and down. It seems to me that Maj Carrasco was an MD. There also had to be ambulance service to care for any of the more serious skiing injuries and to transport them to Munich.

My stay in Germany gave me the opportunity to go on various trips in Europe. Once, I had a trip to Vienna by rail and had to pass through the Soviet controlled area of Austria. Other trips included Paris, Holland , Belgium, Copenhagen and a trip to Dachau Concentration Camp.

It goes without saying that it was a pleasure to serve my time in Germany.

I am presently a retired Pharmacist living in Wisconsin with my wife of almost 59 years.

1) Webmaster note: the 7779 Hospital Detachment was headquartered at Heidelberg. It operated detachments at the each military post (Frankfurt, Munich, Stuttgart, Kaiserslautern, etc.). I have no definitive information on the mission of the 7779th. If you have any information, please contact the webmaster - see email link at top of page.
---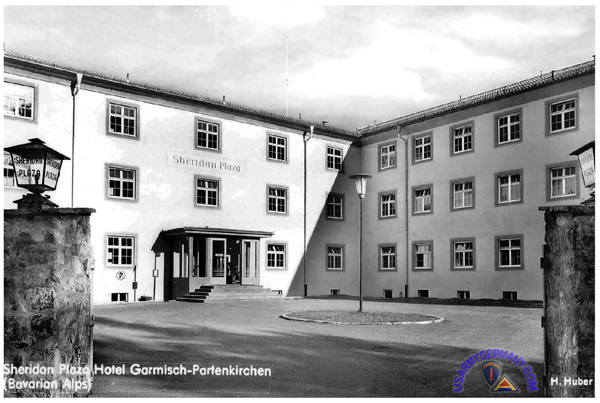 The Sheridan Plaza Hotel in 1957 (Postcard)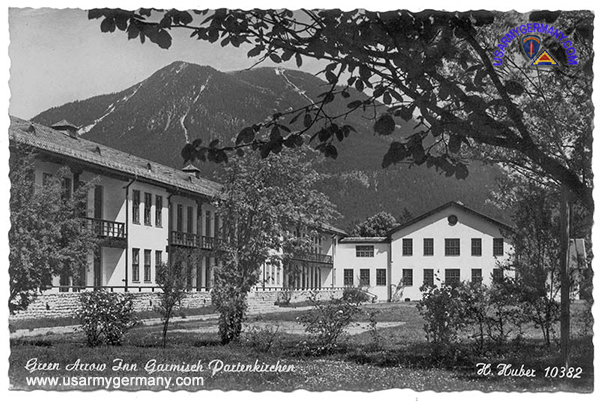 The Green Arrow Hotel, 1960s (Postcard)

(Source: STARS & STRIPES, March 23, 1953)
AFRC has announced that two additional hotels will be opened in Garmisch on April 1 1953 for US enlisted members and their dependents. This will add more than 500 additional spaces.

The Sheridan Plaza: this complex is located on the road to the Kreuzeckbahn cable car. It will have its own supper club, game room, library and free bus service. A night club with music for dancing will be open nightly, along with a new Bavarian Room with sandwich and bar service. Class B mess service will be offered in the main dining room.

The Green Arrow: this hotel is located at the foot of the Kramer Mountain. Designed as a family hotel, it will offer its own nursery and playground facilities. The Green Arrow will have both Class A and B mess service, plus a supper club with music for dancing. A library, game room and free bus service wlll also be provided.
---
1958
---
1971
(Source: Email from Mike Lehman)
The maps of Garmisch brought back memories of my family's visit in 1971. Dad was assigned to USAFE HQ in Wiesbaden and we had just settled into base housing when we went south on our first trip beyond the Wiesbaden area. I know we stopped at one of the US rest stops on the way down, maybe around Stuttgart?

We arrived in Garmisch and checked into the Eibsee Hotel. Together, we strolled around town, viewing the Olympic ski jump and taking the walk through the scenic Partnach Gorge. I managed to find a hobby shop, where I bought a Marklin HO scale metal kit of a 2 axle passenger coach, which I assembled posthaste in my room. I'm a bit of a railfan, as you'll see from what constitutes the bulk of my 40 year old memories...

The Eibsee Hotel was a wonderful old edifice. In the dining room that evening, we enjoyed great food and mom and dad split a bottle of Mateus wine from the distinctively shaped bottle. Apparently, the US gov't bought a lot of that stuff, as there was plenty in the European facilities and I've also come across references to Mateus in some Vietnam memoirs I've read.

The next morning we got up early and had breakfast at another US dining facility near the Bahnhof. I tried to figure out what it was from the downtown Garmisch map, but it may have been something else earlier on that map, as I haven't been able to identify it there. Then we boarded the train at the bahnhof to Innsbruck to cross into Austria on this stunningly beautiful rail line. Innsbruck was neat, we lunched and shopped with the mountains looming above the town, another past Winter Olympics site. The ride back was equally beautiful.

The next day, we went to the Zugspitzbahn (cog railway) station. It ascends the mountain, the highest in German (but shared with Austria), then plunges into a tunnel even as the train strains at a steep angle to pull it up the mountain with the cogwheel under the car engaging the toothed center rack between the running rails. The station at the top is inside the mountain. Not shown on this map as it wasn't built yet is the cable tramway that now descends from the summit house to return you back to the station where you started. At the time, it had the longest cable span between towers in the world. It was pretty close to flying as you take that first steep section of cable off the top of the mountain.

We came into town from Munich, so we took the road west to Oberammergau for the scenic bounty it offered. I'm sure our family's experience was similar to many other visiting Americans. Our visit to Garmisch was a reminder that, even though we were there because a parent had serious business to do, the cultural aspects of life in Germany were outstanding resources that helped strengthen existing ties of kinship between Germany and the United States.
---
1984
(Source: Das USAREUR Echo, Feb 1984)
TMP Garmisch is 37

Original article written in German by Dr. Kurt Heil

The transportation motor pool at Garmisch was established by 3rd Army Special Services in the period immediately following the end of WWII. It was originally located at the former Rathaus (municipal building) of the town of Garmisch.
Sometime later the motor pool was moved to Military Government building in Garmisch (later became the PX complex). During that period, the TMP operated a bus service for military personnel to all the hotels run by the Recreation Center, such as the Post Hotel in Garmisch, Hotel Eibsee, Hotel Riesersee, Hotel Badersee, the Garmischer Hof, and several others. The buses also connected the dependent housing area with US facilities. On several occasions TMP transportation assets were used to transport General Eisenhower from the Haus Hirth to the golf course or Haus Flora.

In 1948, the TMP experienced another relocation when it was moved to Sheridan Barracks (formerly Jäger Kaserne). While stationed there the TMP was reorganized into three separate sections: a Sedan section, a Cargo section and a Bus section. In 1950, the motor pools were again consolidated.

Photo: Herr Riedmeier in a GMC deuce-and-a-half in front of the Bahnhof shortly after WWII.
In 1952 the personnel strength at the TMP was reduced by 50 percent and in 1957, the Garmisch TMP participated in moving POL from the POL storage site at Camp Texas (Oberpfaffenhofen) to French armed forces in the Lake Constance (Bodensee) area.

Between 1958 and 1968, the TMP conducted group tours for AFRC and bussed American school children from Garmisch to dependent schools at Murnau and Oberammergau.

In 1968, the TMP was relocated one last time, to Artillery Kaserne.
---
AFRC BERCHTESGADEN
1953
(Source: STARS & STRIPES, Dec 27, 1953)
Changes at Berchtesgaden Recreation Area
Major Changes have been made in the skiing areas. The Army is no longer operating the Hotel Schiffmeister at Koenigsee nor the Hotel Predigstuhl near Bad Reichenhall, both of which have been derequisitioned since last year's ski season. In their place are the fabulous 300-bed General Walker Hotel, opened July 4, and the 108-bed Alpine Inn, former barracks renovated last summer. The other two Army-run facilities are the Evergreen and Hinterbrand ski lodges.

"In general, our facilities are much better and more centrally located," Gunther Menzel, sports director, said.

Adjacent to the General Walker is a beginner's slope. Only five minutes skiing-time away is the Evergreen, where the greatest improvements on slopes have been made.

Last winter the Evergreen offered a chair-lift and the use of about half the potential skiing area. Since then a new 1500-foot trail for experts has been laid out, part of it slashing a 60-foot swath through trees. A new T-bar lift which can carry 150 persons per hour has been added.

Members of the Berchtesgaden patrol of the National Ski Patrol System have removed all hazards at the Evergreen, banked the turns, covered stumps, filled bomb craters to offer more skiing room, and even removed an old building.

The Alpine Inn will be the site of "Learn to Ski Week," to be conducted weekly after the snow flies. The instruction is designed especially for families and children, although it is open to individual civilian and military personnel. Cost of instruction, equipment and lifts for the week is only $5. The Alpine Inn has a rope-lift.

Price of rooms in the Army hotels ranges from 75 cents for enlisted men to $1 and $2 for officers and Civilians.

Instruction for advanced skiers will be offered at Hinterbrand Ski Lodge, Berchtesgaden's highest Army-operated slope. From the Hinterbrand it is possible to ski downhill for half an hour, winding up near the Berchtesgaden bahnhof.

Just opened this month is the six-kilometer-long Jenner cable car at Koenigssee. From the German-operated Jenner Meadows there is an eight-kilometer trail to Berchtesgaden. If one leaves the cable car at at the middle stop, it is only a 15-minute cross-country ski to the Hinterbrand.
---
1959
---
1963
(Source: STARS & STRIPES, Nov 12 1963)
Army to Return Hotel to Germans

The Hotel Deutsches Haus will be returned to German custody on Nov. 15.

Since 1945, the hotel has been used by the Berchtesgaden Recreation Area to accommodate American servicemen.

In announcing the turn-over Southern Area Command CO Col Lee C. Miller said the release is in conjunction with Army policy of turning back German property which US forces no longer need. German and American officials will attend the Nov. 15 ceremony.
---
AFRC CHIEMSEE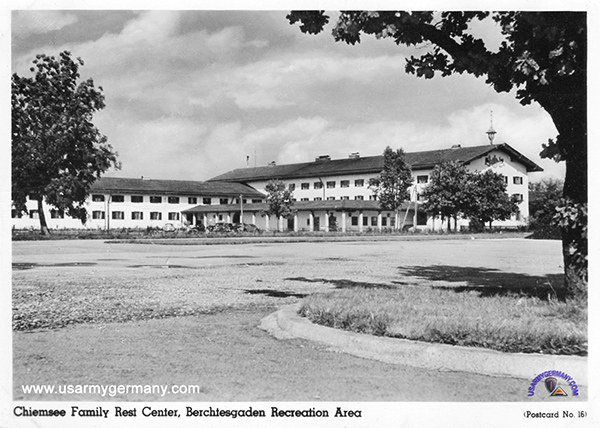 1950
(Source: STARS & STRIPES, Feb 27, 1950)
Chiemsee To Be Renovated
Chiemsee Rest Center, a facility of the Berchtesgaden Recreation Area, will be closed during March tor renovation, it has been announced by Col Stanley Grogan, CO of the Berchtesgaden Subpost and Recreation Area.
Rasthaus am Chiemsee, recently was utilized to alleviate the critical housing situation in EUCOM. It was returned to the Berchtesgaden Recreation Area Feb. 1, to be used as a rest center for families and dependents of the U.S. Army, Navy, Air Forces and civilian personnel.

The Rasthaus am Chiemsee, built at the direction of Hitler as a subsidiary of the autobahn, affords every luxury of the most extravagant resort at a nominal cost for all authorized personnel.

In order to maintain the exceptionally high standards of this hotel, extensive purchases of carpeting, upholstery and replacement furniture, together with other improvements, are planned. Motors and hulls of the numerous watercraft are also being overhauled in anticipation of a big spring and summer demand.
---
1951
(Source: STARS & STRIPES, May 3, 1951)
Chiemsee Reopens as Resort
BERCHTESGADEN, May 2 (Special)—The Chiemsee Family Rest Center, a facility of the Berchtesgaden Recreation Area which last August was set up to provide temporary accommodations for dependents awaiting permanent quarters, is back in business as a lakeside resort for EUCOM vacationists. The center offers complete recreation facilities including new children's playgrounds with nursemaids in attendance. Lt Col Lawrence E. Sommers, Berchtesgaden Recreation Area CO, announced that reservations for Chiemsee may be obtained through
post Special Services officers or by phoning Berchtesgaden military 98. Chiemsee will accommodate officers, enlisted and civilian personnel and their families.
---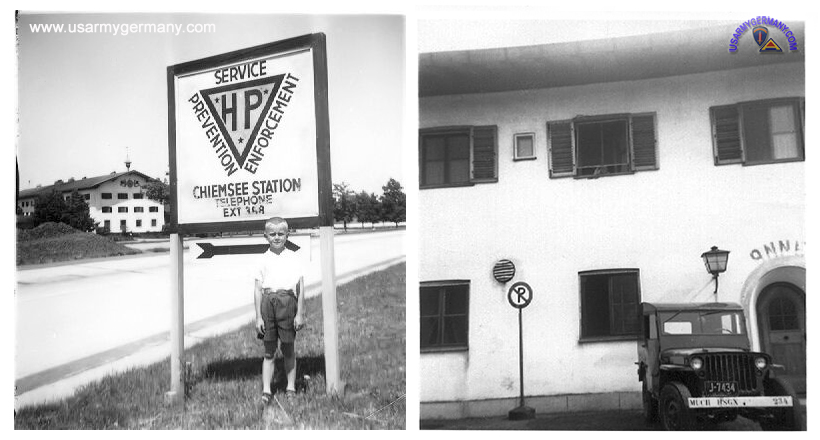 Jerry in front of the Chiemsee Station sign & peeking out of 2nd floor window of the Annex Building (Jerry Popovice)
(Source: Email from Jerry Popovice, Army dependent in the early 1950s)
My dad was assigned to the Chiemsee Leave and Rest Center on two different occasions as assistant manager – 1948 to early 1950, and again from early 1951 until March 1952; in between he was the assistant manager of the Bellevue Hotel in Berchtesgaden.

We lived across the autobahn from the hotel in what was then called "The Annex" (in the above picture - that's me peeking out the window of our apartment).

I first attended dependent school in Nussdorf (just south of Rosenheim) in 1949 and 50 – a two room school. Since I was the only permanent dependent at Chiemsee I was transported to Nussdorf every day via staff car, jeep, or sometimes I even got a ride in an MP squad car as my school bus – depending what was available that morning or afternoon. When we lived in Berchtesgaden we were bussed to Salzburg every day. We moved back to Chiemsee in early 1951.

The Army felt a need to open up a dependent school at Chiemsee for a very short period of time towards the end of the school year in the spring 1951. That was the time that many of the dependents that came from Trieste, Italy were temporarily housed at Chiemsee.

The Fall of 1951 I started 4th grade in Nussdorf, finished it Pennsylvania, started 5th grade in California, finished it New Jersey, and started 6th grade in Berchtesgaden in the fall of 1953.

Dad got orders back to Berchtesgaden in 1953 as the Army Unit First Sgt and we stayed there until early 1956. By then, Berchtesgaden had a two room school. Dependent high school aged kids from Berchtesgaden attended HS in Munich as dorm students.

Mom and I went back to Germany in 1958 and I was a Junior at Stuttgart American HS for a semester. The school, at that time, was located in the dependent housing area called Pattonville. As an aside, Newt Gingrich was a Sophomore during my time at Stuttgart.

In June 1960 I enlisted in the Navy and served until June 1980 – retiring as a Chief Petty Officer. After retiring from the Navy, I worked at a local oil refinery until my second retirement in 2004. Since then I've been doing consulting work mainly in emergency response management/training and facilities security.

I, too, have fond memories of our time in Germany during the late 40s and early 50s. I've only been back once – in 1964 when my grandmother passed away. It would be nice to go back and see some of the places I lived but so much has changed.

Chiemsee is no longer operated by the Army – not sure if it's even a hotel anymore.

All the facilities in Berchtesgaden are no longer in existence or also have been taken over by local businesses.

The only recreation area operated by the military is in Garmisch.

I greatly enjoy visiting the US Army Germany web site. Keep up the good work.

Besides the information above, Jerry also submitted photos of the Berchtesgadener Hof Hotel, the General McNair Hotel, Hotel Bellevue and the Hotel Deutsches Haus, all from the early 1950s.
---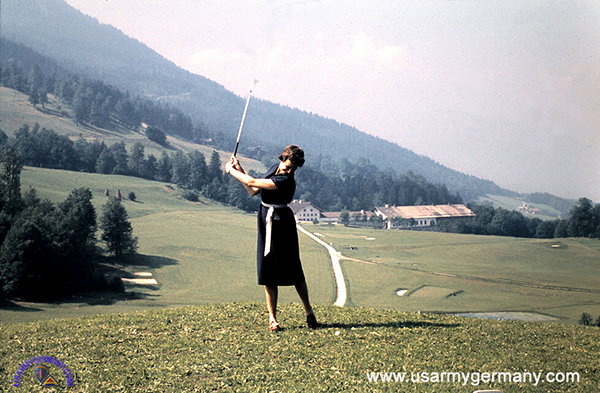 1955
(Source: Email from Mark Owsley)
The above picture showing the young lady swinging the gold club was most likely taken in 1955 or 1956. The lady in the picture is my mother who was a teenager at the time. She was back home from high school in Munich.

She remembers the photographer being there and has other pictures of herself wearing that dress.

During that time her father was in charge of all of the hotels (in Berchtesgaden) - Walker, (Berchtesgadener) Hof, Alpine Inn.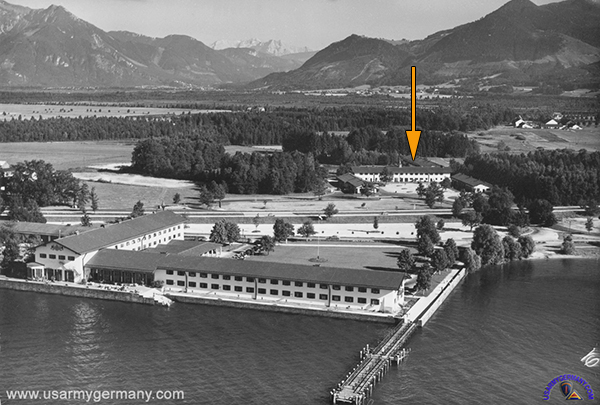 Before that he was in charge of the hotel at Chiemsee. The building across the highway from the hotel was the quarters for all of the support staff, MP's, ski patrol etc. (see arrow in picture above).


She really has loved seeing all of the pictures of these areas and appreciates you putting them out here for everyone to see.
---
Related Links:
Armed Forces Recreation Center Europe
- the official web site
AFRC Reunion Page
- web site hosted by Paul Lambres for former AFRC employees; check out the Message Board and Archives

AFRC Timeline 1945-2004

- page with historical highlights and personal recollections compiled by Jim Carey
George C. Marshall Center
- The Center is a renowned international education institution that promotes dialogue and understanding among the nations of America, Europe and Eurasia. Dedicated in 1993, the Center's mission is to continue Marshall's vision into the 21st Century.
Garmisch, Chiemsee and Berchtesgaden
- Geoff Walden's page with pre-WWII and WWII era photos of the US Army's post-WWII recreation areas, "Third Reich in Ruins".