If you do NOT see the Table of Contents frame to the left of this page, then
Click here to open 'USArmyGermany' frameset
56th Field Artillery Brigade
US Army, Europe & Seventh Army
Looking for more information from military/civilian personnel assigned to or associated with the U.S. Army in Germany from 1945 to 1989. If you have any stories or thoughts on the subject, please contact me

.
---
---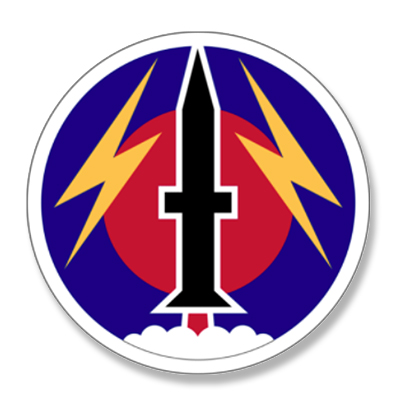 56th FIELD ARTILLERY BRIGADE returns to Germany
as the 56th ARTILLERY COMMAND on Nov 8, 2021
(Source: 56th ARTY COMD; STARS and STRIPES; USAREUR-AF Press Release)
U.S. Army Europe and Africa will conduct a reactivation ceremony for the 56th Artillery Command, the European Theater's Fires Command, on Nov. 8 at 1 p.m. on Allen Field, Lucius D. Clay Kaserne, Wiesbaden, Germany.

For more information on the reactivation of the 56th, including its new mission, check out the following links.

USAREUR-AF Press Release (April 13, 2021), link

STARS and STRIPES article (August 8, 2021), link

56th ARTILLERY COMMAND webpage, link
56th Artillery Group History
56th Artillery Group (VII Corps Artillery)
1962
(Source: STATION LIST, August 1961; STATION LIST, December 1961)
In the SL for August 1961, the 56th Artillery Group is listed as being stationed at Fort Bragg, N.C.

The SL for December 1961 has the 56th FA Group now at Kitzingen (Larson Barracks).

So, sometime between Aug and Dec the 56th FA Gp was deployed to Germany, probably as part of the build up during the Berlin Wall Crisis.
---
(Sources: STARS & STRIPES, Dec 14, 1962)
According to the USAREUR Station List for April 1962, the 56th Artillery Group was located in Kitzingen (probably part of VII Corps Artillery).

The STARS & STRIPES article has the Group organized as follows in December 1962:
| | | |
| --- | --- | --- |
| UNIT DESIGNATION | LOCATION | COMMENTS |
| HHB, 56th Arty Group | Kitzingen | |
| 1st MSL Bn, 41st Arty (HJ) | Kitzingen | |
| 2nd MSL Bn, 81st Arty (CPL) | Erlangen | |
| 2nd MSL Bn, 82nd Arty (CPL) | Kitzingen | |
| 1st HOW Bn, 83rd Arty (8-inch) | Erlangen | |
---
1963
In August 1963, an exchange of unit designations occurred with the 35th Artillery Group exchanging colors and numbers with the 56th Artillery Group in Kitzingen, Germany. Immediately upon redesignation, the 35th Artillery Group moved to Bamberg, Germany, arriving in September 1963.

---
56th Field Artillery Brigade History
56th Artillery Group (Seventh Army Artillery)
1963 - 1991
(Source: Information compiled by the 56th FA Command Historian)
The first Pershing battalion, 2nd Bn 44th FA, was activated in March 1963, at Fort Sill, Oklahoma. The battalion was commanded by Lt. Col. Patrick W. Powers. Their training on the system started nine months earlier, but the actual battalion activation took place in March 1963.

After off post training, the 2nd Bn 44th FA became the 1st Bn 41st FA, trained and equipped at Fort Sill.

By October 1963, the 1st Bn 41st FA moved to Wingate, N.M. for its first actual Pershing firing.

On its return to Ft. Sill, the battalion was redesignated 4th Bn 41st FA and assigned to 7th Army in Germany.

Its advance party left for Germany on March 11, 1964, from Charleston Air Force Base, SC. The main body left New York harbor aboard the USS Buckner, arriving at Bremerhaven on April 11, 1964.

The main body soon linked up with its advance party at Hardt Kaserne in Schwaebisch Gmuend, where the battalion shared Hardt Kaserne with Headquarters, 56th Field Artillery Group.
---
(Sources: Pershing Cable, Orientation Issue 1982, 56th Field Artillery Brigade, Schwäbisch-Gmünd, Germany)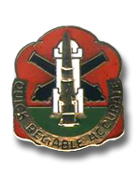 56th Field Artillery Bde DI

The 56th FA Bde is a unit with a unique mission. It is the only Pershing missile brigade currently deployed in Europe or any other location in the world. As such, it is a vital link in the North Atlantic Treaty Organization (NATO) chain of defense.

The brigade is composed of three Pershing missile firing battalions, one infantry battalion, a chemical decontamination detachment, a maintenance battalion (which includes forward support companies stationed with each Pershing battalion and an aviation company) and the Headquarters and Headquarters Battery, 56th FA Bde.

The more than 5,000 soldiers that make up the brigade are stationed on eight kasernes (posts) and three remote firing sites scattered through southern Germany.

UNIT LOCATIONS

Schwäbisch-Gmünd

Bismarck Kaserne - Brigade Headquarters, 266th Chem. Detach., Btry A and D, 1st Bn., 41st FA and Co. E, 55th Maint. Bn.
Hardt Kaserne - Headquarters Battery and Btry. B and C, 1/41st FA and Co. A, 55th Maint. Bn.

Neckarsulm

Artillery Kaserne - Headquarters Battery and Btry. C and D, 3rd Bn., 84th FA and Co. C, 55th Maint Bn.

Heilbronn

Badenerhof Kaserne - Btry. A and B, 3/84th FA and Co C, 2nd Bn., 4th Inf.

Kornwestheim

Wilkins Barracks - Co. A, 2/4th Inf.

Neu Ulm

Wiley Barracks- Headquarters Battery and Btry. A, B, C, and D, 1st Bn., 81st FA and Co. B, 55th Maint. Bn.
Nelson Barracks - Headquarters Company and Co. B, 2/4th Inf., Headquarters and Co. D, 55th Maint. Bn. and the Primary Leadership Development Course (PLDC).



What to expect

A tour with the 56th is as challenging and demanding as it is personally rewarding. Because of its vital mission, a high-level of performance is required from each soldier. The hours are long, the work tough, and the conditions are often less than ideal. However, it is this selfless dedication to mission accomplishment that keeps the brigade on an ever-ready alert status.

Each firing battalion has one of its batteries out at its Quick Reaction Alert (QRA) site. There are three of these sites in Germany. When the battery goes out, they realize they will be out there for at least three months. While here they rotate between the missile site itself and an administrative area where they perform maintenance on vehicles, with time out to return to garrison for a few days.

Field duty is often a companion to the Pershing Soldier The entire brigade participates on a yearly winter and fall field problem. In addition, each battalion must go through a Tactical Evaluation (Tac-Eval). Slogging through the mud, they must prove to NATO evaluators, as well as themselves. that they can be battle ready if the time should come.

Performance earns trip back to States
As the biting winter of Germany sets in, the memories of home in the summer seem that much brighter. You warmly remember lying on the beach, watching people walk by, swimming and just taking it easy.

Those days are gone. Now you're in Germany working with the Pershing missile. Your days are spent in the field or at the Quick Reaction Alert (QRA) site rather than on the beach. Those days have to wait until the spring.

Perhaps not. Each year a hardworking battery is picked to pack up their missiles and go to either Cape Canaveral, Fla., or White Sands Missile Range, N.M., for an actual firing of the Pershing missile.

The missile crews, all recognized for their professionalism and outstanding performance, are chosen to participate in the Follow On Test (FOT) "shoot."

The FOT is an extension of an evaluation that begins here in Germany at the unit's QRA site. However, the FOT portion of the evaluation includes assembling, erecting, and firing the ac tual missile. Particular attention is paid to their in-flight reliability and accuracy.

All the hard work spent at the ORA site and in Florida is all worthwhile when the ground trembles and the mighty missile roars skyward and you receive word on how close "your" missile came to hitting the target.

Even after the missiles have been launched, there is still work to be done. The ELs have to be sanded and painted for their return back to Germany.

The professionalism you displayed got you to Florida. The idea was to work hard, do your job, and then enjoy the benefits of a job well done. Florida offers plenty of opportunities for long awaited "fun in the sun" during off-duty hours for hard-working soldiers.

There are trips to Disney World; Sea World; the Kennedy Space Center; the Martin Marietta Plant, producers of the Pershing missile; and journeys home to visit family and friends.

NCOs learn to toughen their act
The Primary Leadership Development Course (PLDC) is just one more feature which could make your Pershing tour full of memorable challenges.

The school, organized and sponsored by the 56th FA Bde., is located at Neu Ulm's Nelson Barracks. It is a demanding 28-day course which only the best potential Non-Commissioned Officers are invited to attend. According to SFC Robert Hill, Assistant Commandant, its purpose is to "prepare NCOs and future NCOs to return to their units and assume leadership positions. But most importantly, to lead by the example they set."

One of the school's main features is a tough, but concerned, staff of cadre who insist on a military appearance and attitude at all times. "Spit, polish, and appearance receive a lot of attention here," says Hill. "A high standard is necessary when you consider the image the leader is giving his subordinates. Thus, it's got to be above what he expects from his troops."

PLDC is much more than starched uniforms and highly shined boots. A 'white glove inspection' is performed daily with costly demerit points hanging in the balance. From the moment of their arrival, students are in a carefully controlled environment. For the remainder of their stay, they will live, work, and dine with their peers.

Whatever rank the student had prior to attending the course comes off, temporarily. From there the class becomes a unit within itself. Commanders, first sergeants, and squad leaders are appointed. Ideally, during their stay, each student will be asked to perform in some leadership position and graded on his or her performance. Situational problems are placed before them and the watchful eye of the cadre note their responses.

A vigorous physical training program challenges their endurance, while constant practice at drill and ceremony sharpen their ability to march others. A four night stay in the woods tests their ability to survive there, and in-ranks and wall locker inspections provide challenges to garrison skills.

Finally, to add to the cram course atmosphere, is the time spent in the classroom. Here, students are taught basic military skills and how-to of giving a block of instruction themselves.

As much as it may sound to be, PLDC is not Basic Training revisited, nor is it a rubber-stamp for E-4s and E5s enroute to the next rank. It is a good representation of what the 56th FA Bde. has come to expect from its NCOs.
If you have more information on the history or organization of the 56th FA Group/Brigade/Command (or any of the subordinate units), please contact me

.

---
(Source: Annual History, USAREUR & Seventh Army, 1966)
Pershing and the Quick Reaction Alert

a. Background. According to the Quick Reaction Alert (QRA) concept, elements of SACEUR's nuclear strike forces were to be on continuous alert and assigned to cover critical, preselected targets earmarked in the SACEUR Scheduled Program for Destruction within a few hours of the release of nuclear weapons. As early as 1964 the Pershing system -- designed for the general support of the field army -- had been under consideration for employment in the QRA role. During March and April 1965 USCINCEUR had conducted a Joint Environmental Test (JET) of the Pershing system that had simulated QRA conditions. The next step had been to conduct a series of operational tests to fire the Pershing system under QRA conditions. USCINCEUR had delegated this responsibility to CINCUSAREUR. The first phase of the operational test program, designated Demonstration and Shakedown Operations (DASO), had started in October 1965, when a battery of USAREUR's 4th Battalion, 41st Artillery, had returned to the United States and fired three missiles.

Subsequently, in March 1966, the Secreatry of Defense approved plans to expand the Pershing QRA program, and in April the Department of the Army established QRA as the primary mission for the Pershing.



b. Concept BRAVO. USEUCOM's Concept BRAVO called for employing an 8-launcher Pershing battalion in the QRA role. One 4-launcher battery with two programer test station/power station combinations was to be on field alert status (FAS), two 2-launcher batteries on garrison alert status (GARS), and the personnel of one battery -- its launchers and programer test station used to augment the FAS battery to a 4-launcher configuration -- were to be on maintenance status with maximum leaves and passes. This concept required additional personnel and, pending their arrival in the fourth quarter of 1966, USAREUR's three Pershing battalions -- the 4th Battalion, 41st Artillery; 1st Battalion, 81st Artillery; and the 3rd Battalion, 84th Artillery -- assumed the QRA mission, each with a 2-launcher battery on field alert status.

(The concept under which USAREUR assumed the QRA mission -- termed Concept CHARLIE -- differed from Concept BRAVO only in the 2-launcher configuration of the FAS battery. The 4/41st Arty, the 1/81st Arty, and the 3/84th Arty assumed QRA status on 1 December 1965, 15 January and 15 April 1966, respectively.)

In October the augmentation personnel needed to implement Concept BRAVO began to arrive, and USAREUR asked the Department of the Army for authority to reorganize its Pershing units under a modified Delta-series table of organization and equipment (TOE). (USAREUR's Pershing battalions had been under TOE 6-615T.) In the interim USAREUR authorized the issue of the additional equipment needed for the expanded QRA mission and currently available in the theater. In December the Department of the Army authorized the reorganization of USAREUR's Pershing battalions; each of the three battalions was to have one 4-launcher battery on field alert status by the end of March 1967.



c. Programed Changes. As approved by the Secretary of Defense, the Pershing QRA program called for developing improved ground support equipment and erector launchers scheduled for delivery in the second half of 1969. Each firing battery would receive 9 improved launchers so that the modified battalion would have up to 36 launchers.

CINCUSAREUR emphasized the danger of presenting so lucrative a target as a 36-launcher battalion. He noted that peacetime stationing of a 9-launcher battery at a single location would invite covert enemy action at times when hostilities seemed imminent, and even the deployment of large covering forces could not preclude clandestine mortar attacks.

The Department of the Army acknowledged the increased vulnerability of the modified battalion but indicated that the 36-launcher battalion appeared to be the best solution to provide the desired firepower for the QRA mission.



d. Pershing Operational Test Unit. In 1965 USAREUR had organized the POT unit under a separate table of distribution (TD) to conduct the 10-year operational test program. While ballistic missile operational tests were not a standing requirement for field armies, the POT unit functioned as an integral part of Seventh Army's artillery staff. As a result of the consolidation of headquarters, USAREUR relocated the test unit to Heidelberg and integrated it into the Artillery and Special Weapons Directorate of the Office of the Deputy Chief of Staff, Operations, on 1 December 1966.



e. Field Alert Status Verifications. To provide reliable data on the Pershing in the QRA role, USAREUR tested each battery on field alert status. Designated Field Alert Status Verification (FASV), the test consisted of a complete evaluation of each battery's functions from USCINCEUR 's release of a simulated release-hour message until the simulated firing of two missiles.

During the Joint Environmental Test in early 1965 the Pershing batteries had scored mean reaction times of 54 minutes for the first missile and 106 minutes for the second missile. In late December USCINCEUR reported that mean reaction times derived from tests conducted since 1 December 1965 -- when the first Pershing unit had assumed the QRA mission -- were 29 minutes for the first missile and 61 minutes for the second.

Pershing QRA Facilities

In December 1965 USAREUR's Pershing units had assumed the QRA role assigned by SHAPE. The 16th Slice (NATO Common Infrastructure Program) had included a project for 15 firing battery positions -- 9 field sites and 6 sheltered sites. Each field site would have a cleared and graded area, concertina barbed wire fencing, access roads, and power and sanitary facilities. Each sheltered site would have missile shelters, custodial and alert guard buildings, a ready building, a generator shelter, hardstands, security fencing, and internal and access roads.

USAREUR's proposal for the 18th Slice called for expanding these facilities to provide for 12 Phase II kaserne-type firing positions, at which construction would be of a much broader scope than that planned in the 16th Slice for the 6 sheltered sites. Each of the 12 firing positions -- located 20 to 30 kilometers from headquarters and service elements of the Pershing battalions and at a similar distance from other installations and possible nuclear targets for enemy forces -- would have a cantonment to support 200 military personnel. Construction would include billets, sanitary and security facilities, dayrooms and messes, motor maintenance shops, ready rooms, hardstands, utilities, and extensive site preparation.

The justification for NATO funding was that the project supported the NATO Nuclear Strike Plan and would reduce reaction time and increase the target coverage area.

---
56th Artillery Brigade (USAREUR & 7th Army)
(Source: Letter from 56th FA Bde Public Affairs Office, early 1980s)
The 56th Field Artillery Brigade is composed of three Pershing battalions, one Infantry battalion, a Chemical Decontamination detachment, a newly formed Maintenance battalion (which includes forward support companies stationed with each Pershing battalion and an aviation company) and the Headquarters and Headquarters Battery 56th Field Artillery Brigade.

The Pershing battalions are one of the largest battalion-sized units in the United States Army, with nearly 1200 personnel assigned. Each battalion is comprised of four firing batteries with nine launchers in each battery, and a Headquarters and Service Battery. This gives the Brigade a total of 108 launchers. Additionally, there 72 launchers assigned to the German Air Force's (Luftwaffe) two Pershing wings.

The five battalions in the 56th Field Artillery Brigade are stationed at three primary locations:
| | |
| --- | --- |
| | Brigade Headquarters and 1st Battalion 41st Field Artillery are located in Schwäbisch Gmünd. |
| | 3rd Battalion 84th Field Artillery is located in Heilbronn/Neckarsulm. |
| | 1st Battalion 81st Field Artillery, Headquarters 2nd Battalion 4th Infantry, and Headquarters 55th Maintenance Battalion are located in Neu Ulm. |
Each Pershing battalion has one battery on QRA (Quick Reaction Alert) status at all times. These batteries on QRA status are located at the following sites:
| | |
| --- | --- |
| | 1st Battalion 41st Field Artillery at Lehmgrube (),100 km south of Schwaebisch Gmuend. |
| | 1st Battalion 81st Field Artillery at Inneringen (), southwest of Neu-Ulm. |
| | 3rd Battalion 84th Field Artillery at Waldheide (), outside of Heilbronn. |
The Infantry companies of the 2nd Battalion 4th Infantry provide security for each of the Pershing battalions and are stationed throughout the Brigade area - Neu Ulm, Heilbronn and Ludwigsburg.
---
(Source: STARS & STRIPES, Jan 18, 1986)
On Jan 17 1986, the 56th Field Artillery Brigade was reorganized and redesignated as the 56th Field Artillery Command.

The reorganization included the following actions:




Activation of the 38th Signal Battalion. The battalion has been operating in a provisional status since December. It has an authorized strength of almost 900 soldiers and will have five subordinate signal companies when the reorganization is completed. .




Relocation and redesignation of Co E, 55th Maint Bn. The unit moved from Mutlangen to Goeppingen and has been redesignated as the 193rd Avn Co.




Redesignation of the three firing battalions:


1st Bn, 41st Field Artillery, Schwaebisch Gmuend, became 2nd Bn, 9th FA


1st Bn, 81st Field Artillery, Neu Ulm, was redes. as 1st Bn, 9th FA


3rd Bn, 84th Field Artillery, Heilbronn, became 4th Bn, 9th FA
---
Intermediate-Range Nuclear Forces (INF) Treaty
(Source: Chapter 8, Department of the Army Historical Summary: FY 1988)
President Reagan and Soviet General Secretary Mikhail Gorbachev formally ratified the Intermediate-Range Nuclear Forces (INF) Treaty in Moscow on 1 June 1988. It eliminated Soviet and U.S. nuclear weapons that have a delivery range between 300 and 3,400 miles. The Soviets maintain 133 INF sites located in the Soviet Union, East Germany, and Czechoslovakia. The U.S. operates facilities at 31 sites in CONUS, West Germany, Great Britain, Belgium, the Netherlands, and Italy. Soviet missiles marked for elimination include 80 SSCX-4 cruise missiles and the following ground-launched ballistic missiles-650 SS-20s, 170 SS-4s, 6 SS-5s, 726 SS-12s, and 200 SS-23s. The U.S. must destroy 442 ground-launched cruise missiles along with 170 Pershing 1a and 247 Pershing II ballistic missiles. The INF Treaty contained several verification provisions. In addition to an exchange of data on the missiles and their locations, it allowed on-site inspections by each country to validate the data exchanged and to verify both missile destruction and cessation of further production. The treaty further provided for short notice on-site inspection at INF sites during a three-year reduction period and ten years thereafter as well as verification by national technical means such as satellite imagery.
The Defense Department activated the On-Site Inspection Agency (OSIA), an interagency organization, in Washington, DC, in January 1988. It tasked OSIA to conduct INF Treaty inspections in the Soviet Union and Eastern Europe and to coordinate U.S. activities associated with Soviet inspections in the U.S. and Western Europe. An Army brigadier general heads OSIA, assisted by deputies from the Arms Control and Disarmament Agency, the State Department, and the Federal Bureau of Investigation (FBI). His staff consists of about 300 personnel, 150 permanent and 150 temporary, with a ratio of about 65 percent military to 35 percent civilian taken from the armed services, the Coast Guard, and other federal agencies. In September 1987 the U.S. And the Soviet Union agreed to establish Nuclear Risk Reduction Centers (NRRC) to lessen the possibility of war between the two countries by accident or misunderstanding. The White House directed that the NRRC, activated at the State Department in March 1988, would transmit communications between U.S. And Soviet officials regarding INF inspections. Soviet INF inspectors can enter the U.S. at two points-Washington, DC, and Travis Air Force Base, California. Army Pershing sites in CONUS that the Soviets may inspect include Redstone Arsenal, Alabama; Fort Sill, Oklahoma; Pueblo Army Depot Activity, Colorado; Fort Huachuca, Arizona; Dugway Proving Ground, Utah; and the Longhorn Army Ammunition Plant, Texas.
As for destruction of the missiles affected by the INF Treaty, Soviet officials indicated they would burn most of their weapons in pits but also may launch some for disintegration in the upper atmosphere. The U.S. Air Force planned to fly its cruise missiles, deployed in Europe, to Davis-Monthan Air Force Base, Arizona, and cut them apart with chain saws. The Army decided to transport its Pershing II missiles, deployed in Europe and stored in the U.S., to two Army installations located in the U.S. for destruction-the Pueblo Depot Activity and the Longhorn Ammunition Plant cited above. It will destroy all of the Pershing 1a models at their present location, the Pueblo Depot Activity. The destruction procedure calls for burning the solid fuel propellant and crushing the motors and other portions of the missiles with bulldozers. The Air Force and the Army will transfer the nuclear warheads from their destroyed missiles to the Defense Nuclear Agency for storage. The treaty also requires destruction of missile launchers, so the Army developed a plan to destroy Pershing launchers located in Europe at Hausen, West Germany. OSIA supervised the first destruction of Pershing rocket motors at the Longhorn Ammunition Plant on 8 September 1988. Implementation of the INF Treaty required a conventional force adjustment by the Army. It proposed to restructure its four Pershing II battalions -- the 1st, 2d, and 4th Battalions of the 9th Field Artillery, 56th Field Artillery Command, in West Germany, and the 3d Battalion, 9th Field Artillery, 214th Field Artillery Brigade, at Fort Sill -- into a field artillery brigade.
---
1991
(Source: FIELD ARTILLERY, February 1991)

---
4th Bn, 41st Field Artillery / 1st Bn, 41st Field Artillery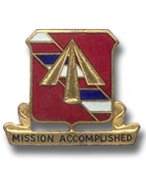 1st Battalion, 41st Field Artillery DI
1969
(Source: Email from Chris Heist)
I have pics from 1969 to 1971 of Bismarck Kaserne in Schwäbisch Gmünd, Germany. My father (Sp4 Warren R. Heist) was stationed there.
Bismarck Ksn
Schwäbisch Gmünd

1. Bismarck Ksn


2. Bismarck Ksn


3. Bismarck Ksn

4. Bismarck Ksn


Sp4 Warren R. Heist



---
Early 1980s
(Source: 1st Bn, 41st Field Artillery Information Brochure, early 1980s)
1. THE REASON FOR US FORCES PRESENCE IN EUROPE: The United States is a member of the North Atlantic Treaty Organization (NATO). As a result of this alliance, the US has had military personnel stationed in Europe since the end of World War II. This large force serves as a pledge of our sincerity to defend the free European countries and other members of NATO. Our forces also serve as a deterrent to aggression by the Warsaw Pack nations since any armed invasion of Europe would immediately involve them with the United States.

2. THE MEANING AND IMPORTANCE OF NATO: The most important aspect of NATO is its military alliance, which states that all member nations will defend any nation that is attacked. NATO has been an instrumental factor in preventing an armed conflict in Europe since 1945. NATO also serves other functions of an environmental, economic and cultrual nature to help the member countries understand and cooperate with each other in all ways.

3. THE MISSION OF THE US ARMY, EUROPE: To provide NATO with land combat forces to help successfully defend the free countries to Western Europe from Communist aggression.

4. BATTALION MISSION: The battalion has a dual mission:



a. To maintain a portion of its missiles on Quick Reaction Alert (QRA) status as a part of Supreme Headquarters Allied Powers Europe general strike plan.



b. To provide general support to the Commander, Central Army Group, (COMCENTAG), allowing him to shift decisive fire power over a large portion of the battlefield.

5. BATTALION ORGANIZATION: The 1st Battalion, 41st Field Artillery consists of one Headquarters Battery, one Service Battery and four Pershing Firing Batteries. There are 1,400 officers and enlisted men authroized. The Pershing battalions are the largest, most powerful and most responsive battalions in the US Army.

6. TRAINING CYCLE: The mission training for firing batteries is broken down into four phases or periods. Each firing battery rotates through these phases in the following sequence. We have begun with the Combat Alert Status (CAS) phase, but you may enter the cycle at any of the other phases depending on where in the cycle the battery is operating:



a. CAS Phase: The CAS period is normally 12 weeks in length. The battery on CAS deploys to the CAS site which is approximately 100 miles south of Schwaebisch Gmuend. Initially you will undergo approximately a week of change-over activities with the battery that is coming off CAS. Your battery's missiles will be kept in a firing postion 24 hours a day. When you are not on "hot status" you will be performing vehicle and section equipment maintenance in the battery administrative area. While at CAS you will be performing the first of the two primary tactical missions assigned to Pershing - that of Quick Reaction Alert (QRA).



b. GARS II: Upon completion of your CAS phase and your return to Schwaebisch Cmuend, you will enter the GARS II training cycle. During this phase your battery will train and exercise for the second tactical mission of Pershing - General Support. During this training phase your battery will deploy to a local training area and using cover and concealment, emplace the battery equipment in a field location. You will gain field experience in such areas as Reconnaissance, Survey and Occupation of Position Procedures, Security, Nuclear, Biological, Chemical, Convoy Operations, Emergency Destruction and Survival.



c. GARS III: During this phase the emphasis is on learning how to maintain the battery's equipment. The majority of your working day will be devoted to maintenance. The battery commander will generally authorize the maximum allowable number of leaves during this period.



d. GARS I: During this phase the emphasis will be on missile crew training in preparation for CAS. This technical proficiency training of individuals and crews in missile operations is terminated with certification by the Battalion Standardization Team. In addition to crew training, missile equipment maintenance is stressed during this phase in order to further prepare the battery's equipment for the CAS period.



e. Although they don't participate in the training cycle directly, Headquarters Battery and Service Battery, have the vital tasks of supporting all firing batteries throughout each phase of the remaining cycle. During field training exercises, Headquarters and Service Batteries move to the field and become fully operational, supporting the battalion mission form the field location.

7. THE USAREUR ALERT SYSTEM: This unit consistently participates in various alerts and readiness tests to insure that it maintains a high state of readiness. Some alerts require that the entire battalion deploy to the field for 12 to 48 hours, while the most common tests pertain to solely the battalion operations and the CAS Battery.

8: BATTALION HISTORY: The 4th Missile Battalion, 41st Field Artillery, was activated by General Order 428, 14 January 1963. The battalion strength was 33 Officers, 12 Warrant officers, and 568 Enlisted Men. The 4th Missile Battalion, 41st Artillery, composed the first deployable Pershing unit. Organization Day for the 4th Battalion, 41st Artillery, was held on 20 July 1963, at Fort Sill, Oklahoma. On the following day the unit colors were presented.to LTC Fitzpatrick. A rigid training program began as the men were introduced to the intricacies of a field artillery missile unit and concurrently reviewed many operations and tactics learned in previous training perimeter guard, CBR operations, road marches, blackout maneuvers, squad tactics, etc. Live practice firing began on 14 November at Fort Wingate, New Mexico. At the completion of the firings on 5 December 1963, the 41st returned to Fort Sill and began preparations for its eight-day journey to Germany on 3 April 1964. On Sunday, 11 April, at 0100 hours, the MSTS Simon B. Buckner carrying the 4th Battalion 41st Artillery, docked at Bremerhaven, Germany. The following morning the men boarded a train for their new duty station, Schwaebisch Gmuend, FRG.

The 4th Battalion, 41st Artillery was de-activated on 29 September 1972 by General Order 1033. The 1st Battalion, 41st Field Artillery was activated on the same day arid has continued the 4th's great tradition in Schwaebisch Cmuend as the battalion with the motto, "Mission Accomplished".

---
1st Battalion, 81st Field Artillery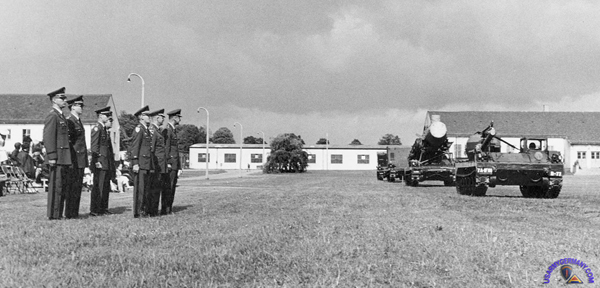 1st Bn, 81st Arty shows off its Pershing 1 during a parade at Wiley Bks, 1969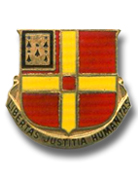 1st Battalion, 81st Field Artillery DI
(Source: 56th FA Brigade Historian)
On April 15, 1963, 1st Bn 81st FA was reactivated at Ft. Sill and became a part of the Pershing missile team.

The 1st Bn 81st FA deployed to Europe in October 1963. The unit was initially garrisoned at McCully Barracks in Wackernheim (near Mainz).

In 1968, the unit moved to Neu Ulm.
---
1964
(Source: Email from Roger Heskin, 1st Bn, 81st FA, July 1964 and January 1965)
1st Battalion 81st Artillery
I was in this unit between July 1964 and January 1965 at Wackernheim, Germany. I think they called it McCully Barracks. I was a surveyor for the Pershing missiles. We surveyed in potential firing points.

I am looking for the address of the First Sergeant Poffenburger.

This battalion formed up sometime around August of 1963 in Fort Sill, Oklahoma. We trained until sometime in July 1964. Everyone went on leave and those East of the Mississippi reported to Brooklyn Navy Shipyards, or something like that. Those West of the Mississippi had to report back to Ft Sill and travel with the equipment to New York. I reported to Brooklyn Navy Shipyards and as such I came to New York early and attended the Worlds Fair that was in progress at the time. The day I had to report to the ship I took a cab from downtown Brooklyn and we stopped at a red light. I looked out the window and three guys were harassing one guy and yelling at him. I asked the cabby what was going on and he said: "that is a scab and the three guys are keeping him from getting into the union hall to get a job."

I boarded the USS Buckner along with 900 (there may have been a lot more than 900 however our unit was about 900) other GI's from the 1st of the 81st. We set sail and stopped in Southampton, England. Down in the hole of the ship there was nothing but bunks. I think they were three high (maybe four) and next to you was another three high. So when someone climbed up to the top bunk he stepped on each bunk like a ladder. Lucky for us the hole was not filled; so we had room to spare. When we left Southampton we had a special pilot that guided us through the English Channel to Bremerhaven, Germany. At Bremerhaven we boarded a troop train that took us to Rhein Main Air Base. When the train pulled in to a station it was about 6:00 AM and there were two young ladies standing on the platform waiting for a train to take them to work. We pulled in and 900 GI's got off the train and formed up ready to get into trucks to take them to the base. I remember the look on the face of those girls. They were standing there all alone at 6:00AM; and all of a sudden 900 guys came off the train. They kind of shuffled their feet and looked around like "Oh my God what is going on?"

We finally got to McCully Barracks in Wackernheim. This was south of Mainz near Ingelheim. The barracks that we lived in had been built during the Hitler administration. The walls were made of a soft cement like substance that were about 2 ½ to three foot thick. The streets were of cobble stone and the septic tank ran over from time to time and really stunk up the street especially in front of the mess hall.

I remember it was Thanksgiving and we had the day off. I had my civilian cloths on and I ran down to the mess hall and because of the septic tank was over flowing I came right into the mess hall. The mess sergeant told me to get my ass out side and get a dress uniform on if I was going to eat in his mess hall. So I went over to the snack bar and had a hamburger.

The first time we went off base in Wackernheim we went to a small bar outside the gate. Some farmers hung out there and they came over to our table and talked to us. They bought us some cognac to drink with our beers. The cognac cost 10 cents a shot. The tray of drinks was 10 shots at a time. We were drinking German beer and shots of cognac. I remember going out the door and heading for the front gate. When I woke up in the morning I had lost my shoes and I was sleeping in a room at the other end of the barracks from where I was suppose to sleep. I remember the cognac tasted something like gasoline.

When we went off base the Germans were really nice to us. We would go into a bar and some German would come over and sit at our table and talk to us and buy us beers. They always referred to us as "Comrade." We are comrades. In fact we referred to Germans as comrades. We would say; "Here comes comrade." This attitude was not prevalent in Europe however. When I flew to London and got off the plane the German stewardess (who was a male) went over to the grounds keeper that was putting blocks under the wheels of the plane and started to talk to them. They waved there arms in his direction that indicated that he was to get the hell away. They did not want to talk to him. This same attitude prevailed in Norway when I went to visit my relatives. I was trying to speak Norwegian and I accidentally said a German word (guten tag). Everyone stopped talking and looked around the room. The old man said: "Where did you learn the German?"

The mark was worth 25 cents and we would buy bottles of beer for one mark. We went to a wine festival and they had a big tent. They had a band that played music in the tent and wine was three marks per bottle. We sat at wooden tables and sang songs all night. I spent 75 cents and had a ball. I think I was singing in German when I left the tent. There were three of us and we each bought one bottle of wine. The German families reserved a table for themselves for the whole week. I came over to a table and the German invited me to sit at his table for the evening.

I was downtown Frankfurt one day and a German started to jay walk across the street. The policeman saw him and yelled something in German. The man turned around in the middle of the street and ran back to the sidewalk. He came over to the policeman and took his hat off and stood there while the policeman chewed his ass out. I do not know what he said but it was a real ass chewing.

When we had been there long enough I got leave and I bought a train ticket to Rome. The train left at 8 or 9 o'clock PM. I was sitting in the train station in Mainz and two policemen came walking through the station. They had long overcoats on that hung down to their ankles. They had the service caps on so they looked the part of the real German police. They each had billy clubs in their hands that they were spinning around as they walked. They came up to me and asked me if I had a train ticket. I showed them my ticket and they thanked me very politely, and moved on. There was a drunk German sleeping on one of the benches. They stopped by this guy and one policeman smacked him on the bottom of his shoe with the billy club. The guy woke up immediately and the policeman told him to get his ass out of the train station. I did not have to understand German to figure this out.

We went out on a field problem and were training to set up the missile and etc. I was on guard duty and it was Sunday morning. There was a little town next to where we were training. A boy about 10 or 12 years old came by after his Sunday school class. He was dressed in a suit and tie. He came up to our guard post. We were sitting with a 50 cal machine gun in a hole as a perimeter guard. He asked if he could talk to us. We said sure come on over. So he came over to us and he told us that he knew all about the machine gun that we had. I had a info pad that had all of the statistics of the machine gun and he stood there and recited the whole thing word for word. He told me the effective range, the maximum range, the rate of fire; all of the stats of the 50 cal machine gun. Then he said; "Is that correct?" I looked him in the eye and told him that he was wrong. I said you are completely wrong. However he was completely right. I was amazed.

When my enlistment came to an end and I was ready to ship out I reported to the Mainz train station in uniform. I checked in with a sergeant and he told me that I was in charge of this private that had gone AWOL several times and was being shipped home with a general discharge. (maybe it was dishonorable). The sergeant told me that if the guy runs away do not try to stop him just report him as AWOL. So when I got on the train with this guy I looked him in the eye and told him that if he wanted to get home he better just stay on this train. When we got to Frankfurt we had a two hour lay over. I told him that I was going over to a mess hall and getting a cup of coffee. He said he was not going to any mess hall and that he was going up town. So I told him "Great I will see you at the train." I really did not care if the idiot ever showed up again. Anyway when I reported back to the train he was there ready to board the train. I guess he figured out that nobody really cared if he went to hell or not. Maybe that was the problem that everyone was chasing him around and worrying about where he was.

When I came into the Mainz train station in uniform a German standing up on a high stair case gave me a German (Hitler) salute, with his arm stretched out. I was not going to return a salute like that so I ignored him. As I was walking up the stairs an old lady came running up to me and apologized for the guy. She said: "He is drunk do not pay any attention to him he is drunk." Apparently she did not want to get him into trouble.
---
1967
(Source: Email from Dick Izold, Avn Sec, 1st Bn, 81st FA, 1967-68)
I flew H-34s for 1/81 Field Artillery (Pershing) for those two years.

Enclosed are several shots taken at Finthen AAF (west of Mainz). We had an unchocked 34 roll downhill and into the hanger. Just missed an H-13 and a fixed wing.
Avn Sec, 1-81st FA
Finthen AAF

1. H-34 of Avn Sec in a field


2. Runaway H-34


3. Close up of damage

4. H-34 meets hangar






---
1970
(Source: Photos were taken by Jim Doppmann, A/1/81 1970-71, and submitted by Gene Smania)

Jim Doppmann was the first friend I made in the unit when I arrived at Wiley. He was recuperating from hernia surgery (or appendix, or at least it was some kind of major operation) and assigned to hang out in the barracks until he was released to go back to work. He took us new guys under his wing, got us settled, found us bunks, lockers, etc., and broke the ice for us with the other guys in the unit. He was already a short timer when the 5 month drop came out in December 71, so he was gone probably by the end of December.

We have sent cards at Xmas all these years, and when he got my information on my wife's and my mother's deaths he called one night. We had a nice talk and have since talked a couple of more times.
Gene Smania
---
Wiley Barracks
Neu Ulm

1. A Btry billets and mess hall, 1970 (KB)


2. Dependent housing off-base (KB)


3. Parade ground, billets, mess hall, 1971 (KB)

4. Looking towards Hqs and main gate (KB)


5. Anderson (KB)


6. Training (KB)

7. Copeland, Erickson, Anderson (KB)

8. Zimmerman (KB)

9. A Btry Day Room (KB)
Fort Black Jack
CAS Site, Inneringen

1. Inneringen CAS 1970 or 1971


2. Inneringen CAS 1970 or 1971




Strass LTA
Neu Ulm

1. Bunkers at Strass LTA (KB)

---
(Source: Email from Gene Smania, A Btry, 1st Bn, 81st FA, Neu Ulm, 1971-1972)
P1A shrouded by fog at Wiley Barracks, 1972

I was at A Btry, 1st Bn, 81st FA from March 1971 thru April 1972. Went home on a 5 month reduction in force deal they started in December 1971. Shut it down about May 1972.

I served as A Btry clerk for all of my tour except first 6-7 weeks -- we went to Inneringen one week after my arrival and our security clearances had not been checked again, so I spent about 5 weeks on K-P along with the other new guys. They assigned me to the orderly room before we left Inneringen but two of my buddies claimed the title for longest K-P to that time -- 7 weeks! They hired civilian KP's about the end of that shift -- a Greek and a Turk. We took the 7 week tour because another battery had shipped home to fire out at Utah and we had to cover their shift as well as ours.
CO was Major William W. Bird; 1Sgt was Eugene C. Durden; BN CO was Chester F. Campbell at that time.

What was the deal on changing from the 81st, 84th, and 41st to 1st of the 9th etc.? Guess they just changed the name, repainted the numbers and left the people. What happened to the old units -- deactivated?

Attached are some photos I had.
Wiley Barracks
Neu Ulm

1. Backside of HQ 1st Bn. 81st FA building (34 KB)


2. Looking from A Btry towards HQ Btry (23 KB)


3. A Btry, 1st Bn, 81st FA (23 KB)

4. Bill's Credit Laundry (27 KB)


5. CQ at A Btry (33 KB)


6. More members of A Btry (30 KB)

7. Ludwigsfort Ammo Dump on Wiley Bks (29 KB)


8. Another view of Ludwigsfort (32 KB)


9. Mobile orderly room, A Btry (67 KB)

10. A/1/81 Motor Line (63 KB)


11. A Btry equipment set up in a parking lot (51 KB)


12. German MAN army truck on PX parking lot (28KB)

13. A Btry Barracks, July 1971 (90 KB)

14. Some of the guys (52 KB)

15. Entrance to Orderly Room, 1st Bn, 81st FA (113 KB)

16. Wiley Bks Main Gate, 1972 (KB)

17. Wiley Bks Main Gate, 1983 (KB)

18. Hqs Bldg, 1st Bn, 81st FA (KB)

19. Hall of Fame wall with insignia and photos (KB)

20. Project Partnership sign, 1971 (KB)

21. 1st Bn, 81st FA sign, 1971 (KB)

22. Motor line, Artillery units at Wiley (68 KB)

23. Night launch, Green River, Utah (55 KB)

24. Gutleut Kaserne, Frankfurt (121 KB)


25. 1/81FA convoy enroute to Graf (KB)

26. Dusty road at Graf (KB)

27. P1A of B Battery (KB)
Fort Black Jack
CAS Site, Inneringen

1. Fort Black Jack, Inneringen (90 KB)


2. Fort Black Jack in the distance (96 KB)


3. Motor pool building (107 KB)


4. Barracks (79 KB)


5. Fort Black Jack, Inneringen (70 KB)


1. Pershing on the move (KB)


2. Maneuvering some narrow street in Germany (KB)


3. A different type of rocket (KB)

Strass LTA
Neu Ulm

1. Road leading up to Strass LTA, (KB)


---
3rd Battalion, 84th Field Artillery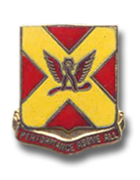 3rd Battalion, 84th Field Artillery DI
1971
(Source: Ken Light, C Btry, 3rd Bn, 84th Arty, 1971-73)
I served in 2nd Platoon, C-Battery 3/84 Artillery, 56th Artillery Brigade, Seventh Army, stationed at Artillery Kaserne, Neckarsulm June 1971 through Aug. 1973.

We did "Status" at Kleingartach and worked also at Redleg near Heilbronn. Had a fine time in Feb. at Grafenwoehr also.

We test fired from Green River, UT spring 1972 and from Cape Kennedy, FL spring 1973. When we returned from the Cape firing, we were told that they were the most accurate 1A's fired so far. They gave us all "pocket rockets" aka "Pershing Professional badges." Still have mine.
C Btry, 3-84th Arty
Neckarsulm

1. Motor Pool (KB)

2. Kleingartach (KB)

3. Guys from 2nd Pltn (KB)

4. Ken Light (KB)

5. Ken and M-757 (KB)

6. C Btry barracks (KB)
C Btry, 3-84th Arty
Stateside shoot

1. Cape Kennedy 1973 (KB)

2. Cape Kennedy 1973 (KB)

3. Cape Kennedy 1973 (KB)

4. Green River, Utah 1972 (KB)

5. Green River, Utah 1972 (KB)
---
(Source: Bob Hunnicutt)
| | | |
| --- | --- | --- |
| | | Bob was MOS 21G20 PTS operator. Basically, countdown control for the Pershing 1A. |
---
(Source: Email from Calvin Bridges, D Btry, 3rd Bn, 84th FA, 1972-73)
Refer to the 3/71st ADA Nike Page at
www.goerigk-jever.de/kleingartach.htm
. There is some great pictures of the early days with the Nike Hercules in the 1960s.
Check it out - the 3/71st ADA got a new Kleingartach site; the 3/84th Pershing 1A took over a "used" Kleingartach site; and the 3/84th Pershing II got a new site at Fort Red Leg (Waldheide).
I don't know where Fort Red Leg got it's name and what it was originally built for. In 1972 it was an old site next to a Army airfield up in the hills above and southeast of Heilbronn. The air field was basically for helicopters. There were some ammo bunkers there but I don't remember them being used while I was there. The Fort Red Leg site was cleared off and a new Pershing II missile pad was built. This was at the time that the 3/84th switched over from Pershing 1A to the Pershing II. I was living in Charleston SC from July 1973 to July 1976. The 3/84th changed out sometime during those years.
Someone on this site mentioned going during a REFORGER exercise to the Kleingartach site while Pershing II was there. I was with a Hawk Missile ADA in Bamberg when I visited the Kleingartach site in 1978.
(
Photo #1
) All of the windows were broken out of the Admin Barracks. I'll have to dig up the picture I took of the barracks later. The 3/71st web site shows where a veteran visited it while it was being wrecked out.
Check the map below - I sketched of the Kleingartach site layout. There were three areas: Admin Barracks area which had sleeping quarters for all of the non Pershing personnel, Mess Hall, NCO Club, Operations office, Switchboard, PX, Barber shop and medic station.


The Pershing crew bunked on the missile pad site along with one Platoon of Infantry from an Infantry Company that was assigned to the 3/84th FA. I don't know the unit number of the Infantry Company (Webmaster note: C Company, 2nd Bn, 4th Inf) based at Wharton Barracks in Heilbronn. When we were on a field move once, I asked the Infantry about their job. They told me that their Company was assigned to the 3/84th FA. Each of their Platoons were assigned to one of the 3/84th Batteries. His Platoon was assigned to our Battery (D 3/84th). Whenever we went to the field, they would get there ahead of us and set up perimeter guard. They also moved to the launch site at Kleingartach whenever D 3/84th went.

I see that the Nike guys had the same IFC site. Perhaps that was used by them also as a line of site communications to HHD at Neckarsulm. I figured that this is why the TRACK 80 was there out in the middle of a wheat field buy itself (the IFF area).

Now you are getting this from an old Radio Operator! If you wanted to know about the Hawk Missile operations, I can lay it to you since I served 3 and 1/2 years as a 16D20 Hawk Crewman.



I only went to the missile pads and straight to the Command area and to my SSB radio van. I would go to the Mess area for meals, to the BCC, my generator trailer and the Teletype Van. A memo came in today from the Pershing web site (Pershing Yahoo Group) with a letter from an old SSB operator who lays out the Commo setup much better than I can.

Note that the Amunition Dump with the guard towers are not at Fort Red Leg (Photo #9). That is the 3/84th small arms ammo and nuclear warhead storage area north of the Neckarsulm Kaserne. Follow the road out and across from main gate of the Neckarsulm Kaserne, bear right at the swimming pool complex and on up the right side of the mountain with the iron cross at the top of it. There is a trace of the old Ammo dump noticeable on Google Earth. The Ammo Dump pictures there were taken from a guard shack while on guard duty. Fort Red Leg was a walking guard setup with Baseball bats.

That is until the NCO club in Frankfurt got bombed. They brought up M16s with ammo that night. I was on guard at Fort Red Leg when it came down! Note the ammo bunkers at Fort Red Leg were locked up with no guards on them. Appeared to be not used.

I was told by the Pershing Crewmen that each battery has three firing Platoons. Each Platoon has three mobile Launchers with one missile each. I don't know of any other missiles in storage.

Each firing platoon had one power generator and control box. There was one BCC, one TRACK-80, one Teletype and three SSB vans.

I understood that the Pershing 1A had a pre-programmed GSA stage. The designated targets were predetermined and programmed into the GSA by who ever was authorized to do it, and I never knew who or how many were knowledgeable of these targets. The War Room in Heidleberg had the known targets and who had the missile with it, I guess. Anyway, once a Pershing A1 was launched, there was NO TURNING BACK (no aborting) The missile was on it's own, and we had a life expectancy of seven minutes if one flew. That's how long we had before a retaliation strike came back to us!

I believe that the only place a Pershing was ever mated with a nuclear warhead was at the missile pads (not on field locations or even at White Sands, New Mexico during live fire exercises.) So the 3/84th always had three Pershings at ready at Kleingartach at all times. There is where the guy tells the story of spending Christmas of 1972 in the box. Four hours on and eight hours off. Always someone was at the ready.

What is QRA? I'm not familiar with that term. Looks like Pershing used the Kleingartach site in the same manner as the Nike Hercules did. I got a layout of the site from the web site of 3/71st.Nike.

The Nike Bunkers were at Kleingartach. So I guess they were used by the Pershing crew.

The BCC in Pershing works much like a Hawk BCC. The missile is erected, powered up,made ready and remote controlled over to the BCC for the assigned officer to launch it. Only This Officer has the authority to launch or abort the count. Yes the Pershing can't be aborted in flight once its off. But the TCO can abort a count down. I've known some exercises went all the way up to 10 seconds to launch when the abort was called. That is only at Kleingartach and with nuclear warheads mated.

The Command area (Photo #7) was some hundred feet from the ELs. Clear enough of the blast area of a missile launch. Data Cables were run from the Crew Control station to the BCC for communications and remoting the missile command to the TCO. I don't remember what the officer on duty position was called in Pershing. We called him the Tactical Control Officer on a Hawk ADA site. The picture of the command area at the pads of Kleingartach shows the BCC and the SSB. The SSB van is a light colored box in the cargo bed of a Deuce and a half. There is a front corner of a five quarter Jeep truck in the bottom right. That's the Teletype rig. I was always within a short walk to the BCC with My SSB. In the field, or on the missile pads.

There was data cable run from the Teletype Van, TRACK-80 and SSB to the BCC. The TRACK-80 line at Kleingartach was a buried line down the road and over to the IFC area. When I received or monitored Flash Traffic over one of my Collins SSBs, I would call the officer on duty at the BCC.
Yes, that's me in the SSB van with a mike in my left hand and my right hand on the tuner of one of the radios. I was giving a check in with Cemetery 4 (call sign for the 3/ 84th headquarters).

Photo #3 is taken out of the window of the stairs in the Admin Barracks when we were preparing for formation call.

Photo #5 is the TRACK-80. D Battery's TRACK-80 had a cranky habit of tripping a circuit breaker quite frequently which causes the balloon antenna to go flat and knocks out communications to Battalion.
3rd Bn 84th FA
Neckarsulm

1. D Btry barracks (KB)


2. Bn Co's Huey lands (KB)


3. Unit Police at main gate (KB)


4. Calvin as UP (KB)

5. TRC-113 (KB)

6. (KB)

7. Kaserne in 1978 (KB)

8. Back side of ksn in 1978 (KB)


| | | | |
| --- | --- | --- | --- |
| "D" Btry, 3/84th | | | |
| 1. Admin building, Kleingartach (KB) (Nike era) (Goerigk's Nike site) | 2. Sp4 Bridges at Kleingartach (KB) | 3. Waiting for formation call at Kleingartach (KB) | |
| 4. Old Nike IFC area (KB) | 5. TRC-80 (KB) | 6. SAS near Kleingartach (KB) | |
| 7. Command group at QRA (KB) | 8. Sp4 Bridges in the SSB van (KB) | | |
| 9. SAS near Neckarsulm (KB) | 10. Airstrip at Fort Red Leg (KB) | 11. Airstrip at Fort Red Leg (KB) | |
---
(Source:Email from Chuck Welch)
I was in A 3/84FA from May 1972 to August 1974. You've got the patch right; no sooner did I get the 7 Army patch on than we got the new ones in late 1972.

I want to know if you can get me any information, esp an e-mail, on Bob Hunnicutt who provided the pictures. We were 'A Battery All Stars' at about the same time, we both lived in the Detroit area, and I saw him a few times shortly after I got out. We lost touch when I moved to Ann Arbor about a year later. I'd appreciate any info

If you headed left when you left Badenerhof, the road continued through vinyards toward a giant cross. I always thought it might be the site of a mass grave related to the bombing of 12/44 and didn't want to ask anyone. As you may know, the town got almost completely destroyed. There was a 3D scale model of the results in the Rathaus. However, you might not know that it was the RAF that did it, and the next time all the elements were together again, the target was Dresden...

After looking at other areas on your site, I'll give you some idea of what was going on while I was there (5/1972-8/1974) as I remember it...


I was an 05B20, radio op morse code qualified. I was assigned to Commo Plt, and first worked in an AN/TRC-133 set up with 5 Scott SSB radios, a linear amp, and other gear, including 9 portable antenna poles that mainly were slept on. There was one per Firing Plt, thus three in the Btry, They were known as sideband rigs and mine was on a deuce and a half that was older than I was...

Also in Commo Plt was:
1.) A RATT rig, AN/MGC-17, known as "Magic Seventeen," so old that it was made to fit on a 3/4 ton truck, and not the 5/4 ton truck then common.

2.) A line-of-sight microwave rig, AN/TRC-80, AKA "Track Eighty," mounted on an XM-656, an 8X8 with two steer axles in front and very loud to drive. The Magic 17 could transmit through the Track 80, and usually did on field trips, but used public land lines from the pads while on Status. (CAS)

3.) A radio repair section and a few wiremen and who worked with field phones and had a couple five quarters to carry their stuff.

A Btry was located at Badenerhof Kaserne in Heilbronn.

B Btry was also there, along with the 23 Ord Co and 101 Ord Bn, who I don't believe were associated with Pershing but might've had something to do with resupply. It was a few miles away from Artillery Karserne in Neckarsulm, where the rest of the Bn was, including Svc Btry, which seems to have handled, along with HHB, the tasks later assigned to various Brigade wide Sig, Maint, and Ord Bns.

Redleg (Artillery soldiers used to be known as redlegs because their branch color was red, like the cavalries' was yellow.) was up a hill like a few miles away. My guess was that it had been a dozen-plane fighter base in WWII because the strip was too short for anything bigger and helicopters didn't exist as a usable system back then. There was a fence that mostly separated the camp from the airfield, but there were a couple bunkers in Redleg where maybe the Luftwaffe stored ammo. There were also a few other shacks, joined by trails that were dusty, muddy or frozen. Guard duty there consisted of six guys and a Sgt. hanging out in the guardshack by the gate. BTW, I never saw anything as serious as a baseball bat for a 'weapon'. Usually it was a broom handle maybe two feet long, but on one memorable occasion it was the handle of a toilet brush. My plan was to brandish it at my attacker, then overcome him while he was rolling around laughing his ass off.

This was where we went to practice for Status; after a couple months here, we would go to Kleingartach.

We'd be there on Status for at least a month, but never much more than two. Since everybody thought Commo loafed all the time, every odd job there was got dumped on us. When I was assigned to Track 80, located at the IFC area, I was permanent duty driver when not monitoring, making hourly trips from Admin to the Pads for like 16 hours.

In all the time I was there, the number of enlisted men never exceeded 2/3 of the required TO&E. However, there was no shortage of officers and NCO's...

Just before I arrived, A Btry had a winter trip to Grafenwohr, where a jeep was sunk, and Status, right in a row. Just as I was leaving, they were heading to Graf shortly after returning from Status, during which I had been permanent CQ runner.

I got to go to Graf in August 1973. While out in the woods, I was bitten in my left hand by something that made it swell up to twice normal size, but that didn't mean I could do anything but show it to the medic. "Yep, it's definitely swollen... Now go back to your hole!"

I remember seeing and hearing wild pigs running around there at night, and wondering why nobody seems to have thought about fresh ham for breakfast, or what the reaction would be if one blundered into a foxhole...

I also encountered the legendary MOGAS meatloaf there when a cannoncocker who had been OJTed as a cook substituted MOGAS for whatever they used for stove fuel and the taste of gas permeated the meatloaf. There was a tank range a few hundred yards the other side of the formation area where we were camped out. Night firing was very impressive and sometimes included helicopters firing miniguns.

Lt Black (who was white) led a night move that got lost, giving some of the guys the chance to see what a ONE KILOMETER ZONE sign looked like. This is the last sign you see before arriving in East Germany. OOOPS! We also had a Sgt White, who was black, and, last but not least, we had a Sgt Rock. I seem to recall he died when he was with someone who drove their reenlistment bonus into a wall at 90 MPH while drunk.

BTW, The Bn Cdr never had a helicopter while I was there, but there was a lot of stuff that we didn't or couldn't get because of Viet Nam. Like parts to fix the trucks. When we came off Status in December of 1973, 57% of the trucks were deadlined and the wrecker drivers spent a couple days getting them all back to Badenerhof. If you needed a carb for a jeep, you might ETS before it showed up. If it was a missile part though, it would be there real quick. I heard a story once about a bolt for a component can; it seems somebody needed a couple dozen of them. In those days parts were ordered on 3"x6" computer cards by filling in boxes with a pencil. Lt Numbnuts proceeds to check the wrong box. A week later, a few thousand show up on a pallet, with a note saying: We'll get you the other 20,000 ASAP. He had checked a multiplier box for x1,000. I'm sure in the intervening 35 years, military procurement has not added a 'Hey, wait a minute, WTF is this??' Department.

Redleg was used as the Status site in the spring and/or summer of 1974 while the Pads at Kleingartach were being renovated. I was on frequent guard duty there while it happened, and one weekend, I taught myself to drive a D7 by reading all, and there were a lot, of the data plates on it.

As you might've noticed by my numerous assignments, I had a variety of jobs while I was there. It was a combination of being a comparatively quick study, a penchant for trouble, and a having bit of a mouth...

I have many more stories...

I seem to recall that smack dab in the middle of the wine mountain area northwest of Neckarsulm, there was a secure storage site. That site was known as NASA, for Neckarsulm Ammo Storage Area.

I was in commo, A 3/84. Guard duty there was known to us as warhead guard, though I don't think they had any warheads there. We used to get it rarely, but that ended before I'd had it more than once, the night of 4 July, 1972.

The reason I remember the date was that a place called the Western Store in Heilbronn got at least a ton of fireworks in, just in time for payday. I'm not talking about bottle rockets or ladyfingers here, these were an inch in diameter and half a foot long. They were way more paper than powder, but would explode pretty good. Not quite an M-80, though...

They started flying the night of July 2 at Badenerhof, but that was just the start. BTW, nobody heeded the directions about pointing the rockets toward the sky. "Watch me get those guys coming back from Tillys!" The night of July 3, we had reloaded, and had a five foot tube that we used for the rockets like a bazooka. It made them startlingly accurate; one scored a direct hit through the window of the 23 Ord Co across the way, detonating their ammo! You'd think they'd know better in Ordnance.

People who bought firecrackers were taking them apart for the powder and cramming it into things like a plastic lemon juice lemon or Toilet paper tubes wrapped with a couple rolls of hundred mile an hour tape. One wild-eyed sgt reminded me of Ensign Pulver (Jack Lemmon in Mr. Roberts): "This is gonne be HUGE!!!"

B Btry was right next door 15 yards away, and the firefight was fairly continuous. If your rocket didn't hit a tree, you could see it going the entire length of the hall, maybe 200 feet, and detonate by the far end of their barracks. By the next morning, the floor was covered with paper...

"Welch, get in the truck! You got warhead guard!" was the harsh sound that interrupted my reveries of revenge against B Btry... Awww, SHIT!

NASA was ringed by two eight foot cyclone fences topped by concertina wire; the towers were in between the two fences, meaning you'd be pretty much trapped if anything did happen. This was the only time that I got live rounds when I wasn't on a firing range. But 3 stinkin' rounds of 5.56 was enough to get you into trouble, but not out of it. Procedures were covered very carefully; nobody wanted to get shot. I remember doing a shift in the middle of the night, it was damp enough to be chilly. I saw a rabbit that looked huge, maybe two feet long and 20 pounds, but that was all.

I returned to Badenerhof about 7:30, and the floor was ankle deep in paper from all the fireworks. And I'd missed it. Oh, well...

Another duty associated with NASA was 30-man backup, more commonly known as 30-man jackoff. This was a relief force in the event that there was an attack on NASA. You'd spend a week on the top floor of Svc Btry waiting to be called out, unable to go farther than the messhall. I think you had to sign in and out to go further than the bathroom...
---
1974
(Source: Unit History, 3rd Bn, 84th Field Artillery Information, 1 Jan 1974 - 31 Dec 1974)
DEPARTMENT OF THE ARMY
HEADQUARTERS, 3D BATTALION, 84TH FIELD ARTILLERY
APO NEW YORK 09176
| | | |
| --- | --- | --- |
| AEUATO-OP | | 24 January 1975 |
UNIT HISTORY

From 1 January 1974 to 31 December 1974
The Arab oil crisis which began in October 1973 still hampered Battalion operations in the New Year. While units were not strictly prohibited from "going to the field," most of January was spent preparing for the upcoming AGI. The 56th Brigade Command Inspection held during the week of 19-23 February provided a sound indication of how far the Battalion had progressed in the previous year. In the final out-briefing, the Team Chief, Colonel Rennebaum, Brigade DCO, commended the leaders and men for an exceptional effort and predicted a fine performance when USAREUR inspected. His prediction came true during the first week in April when the USAREUR AGI team termed the entire Battalion "able to perform its mission."

In an effort to maintain a high level of expertise infield operations, a Command Post Exercise (CPX) was held in February. All units deployed to local training areas with BCC's, PCC's, SSB's and AN/TRC 80's. Message play was extensive in both routine ad administrative areas as well as in the area of EMAS. A second CPX was held in March in which problem areas were analyzed from the previous CPX and subsequently corrected.

After years of promises, major site renovation was begun at Kleingartach Field Site on 19 March. All personnel and equipment were evacuated with D Battery assuming target coverage with one platoon in the Neckarsulm Ammunition Storage Area (NASA). Plans for the KG Field Site financed by NATO funds called for a new ready building, a new lighting system, a new cyclone fence for both the limited and exclusion areas, and re-structuring berms for better defense positions.

On 23 April the Pershing Operational Test Unit (POTU) from Heidelberg selected two firing platoons from Delta Battery to return to Cape Canaveral, Florida. Since Kleingartach was closed, the entire Battalion moved to the local training areas on a Blackjack 1A exercise, and D Battery was "tapped" in the field. The test was a resounding success with the Battery shooting "four for four," thus earning all personnel directly involved in the operation a gold Pershing Professional Badge. A change of command occurred in April in Bravo Battery as MAJ Laster was succeeded by MAJ Carl M. Clark.

A major training event in May was the nuclear accident-incident exercises conducted on successive weeks under Battalion, Brigade, and Corps level supervision. Stressing control of public information, traffic control, and separate headquarters areas of responsibility, the exercises provided valuable training for both supervisors and soldiers. May also represented a high point in community relations with the annual German-American Friendship Week. Marked by such activities as an Artillery Kaserne Open House and a Volksfest at the Heilbronn Army Airfield, the week greatly improved rapport between Heilbronn and the American military community.

27 June was celebrated as the 1974 Organization Day with a Pass-in-Review with all six batteries at Artillery Kaserne in the morning and a picnic with athletic events at the Airfield in the afternoon. On the basis of parade and athletic event competition, B Battery was declared the winner of the Commander's Trophy.

July was Technical Proficiency Inspection month for the entire Battalion. From 8-12 July HQ, Service and A Batteries underwent an announced USAREUR TPI, and from 15-19 July B, C and D Batteries underwent a surprise, unannounced USAREUR TPI. While results were disappointing as HQ, Service and Charlie failed, all received immediate reinspections which resulted in satisfactory ratings and continuation of the mission. The Kleingartach Field Site reopened on 1 July with A Battery reassuming the Battalion's portion of the QRA mission. A final event was a VIP show for approximately 40 cadre of the British Academy of Military Science at both Artillery Kaserne and Fort Redleg.

August was a period of intense preparation for the trip to Grafenwoehr. Staff members prepared a detailed OPORDER for the MTA period, and battery personnel worked to insure all equipment was ready for both the trip to and operations at the Training Area. The morning of a August was the initial portion or Phase 1 of the annual NATO Tactical Evaluation. An EMAS message moved the Battalion to the field under close scrutiny of 56th FA Brigade inspectors. Things ran smoothly the entire day, and a "1" was awarded on the basis of this performance. On 15 August, the new USAREUR Deputy Commander in Chief visited for an initial briefing on the role of Pershing, given by BG Key, Commanding General of the 56th FA Bde, and members of Bravo Battery. Finally, command of Delta Battery was turned over to MAJ William Godina by MAJ Robert Bruce, who was reassigned as S-1, 56th Brigade.

Immediately following Labor Day the Battalion began the long road march to Grafenwoehr. After settling into Camp Algiers a period of battery FTX's began which were evaluated by members of the Battalion staff. In the third week a full-scale Battalion-level FTX was evaluated by the 56th Bde PERFECT team as preparation for the Phase II of the NATO Tac Eval. As a result of this inclusive and strenuous training program, all units were well prepared for the Phase II. Though in suspense up until the final moment, the cards fell right and a "1" was awarded for the Phase II. Coupled with the "1" from the Phase I, the Battalion thus earned an overall rating of "1," the highest score achieved by any Brigade unit in recent years. Earlier in the month an event of long-term significance occurred: a new full-criteria QRA site was begun at Ft. Redleg at the airfield with completion date scheduled for September 1976.

Returning from the MTA on 1 October, the Battalion settled into a routine of garrison life. Delta Battery certified for CAS by mid-month and replaced Bravo Battery which had remained at Kleingartach from the end of August through the Grafenwoehr period. A VIP show for MG Groves, the head of the USAREUR Engineer, provided an opportunity to acquaint USAREUR not only with the improvements made at Kleingartach, but with the amount of work still required. On 22 October two intricate operations were performed. In the morning a VIP show at Kleingartach gave the new Army Chief of Staff, General Frederick Weyand, a first-hand look at the Pershing missile system. Key personnel such as the Battalion Commander and Battalion S-3 then hurriedly returned to Neckarsulm for a ceremony in which LTC Samuel J. Ady turned his command over to LTC Stephen E. Rash.

November provided a distinguished visitor to Artillery Kaserne and Kleingartach: General Alexander Haig, Jr., the new Supreme Allied Commander, Europe. He arrived in Neckarsulm by helicopter in the early afternoon, toured the newly remodeled Charlie Battery billets, and spoke with young soldiers before departing for KG. At the CAS site General Haig observed the pad demonstration and BCC briefing by members of Delta Battery, then concluded his visit with a panel discussion with a dozen senior NCO's in an attempt to impart his philosophy of leadership and gain an insight into problem areas on the NCO level. On 15 November MAJ Donald W. Doerfler relinguished the command of Charlie Battery to MAJ Jerry R. Jeffrey.

December was a calm month mared only a changeover at CAS between Delta and Alpha Batteries and a beginning by all units to prepare for the 1975 AGI. Realization that all units in the Brigade were over-spent in fiscal budgets portended problems in training and acquiring repair parts for 1975.
---
1981
(Source: Email from Bessie Ferguson)
I really enjoy reading about the 56th FA Bde online. I like to share my fond memories of the 56th FA Bde.

I was a 05C (at that time) and after completing the V9 ASI at Ft Gordon in 1981, I was assigned to D Battery 3/84th FA in Neckarsulm, Germany. When I reported to my unit, the unit was already at CAS Site (Waldheide). I was given a few days, about 3 or 4, to inprocess and was told that the unit was sending someone to pick me up to take me to the site and I had to be ready. This was my indoctrination to the Battery.

By having the V9 identifier meant that I would work in the Satellite Communication Terminal (another name for Commo Van) as the Army had decided that these types of units need these terminals. I graduated in the 2nd class of V9ers, I believed, because we had a E-3 and an E-4 instructors. They had graduated in the first class and were used as instructors. It must have been nice to be an instructor without having working in the field. I had some fun times while there.

I recall going to Wharton Barracks (Heilbroon) a lot for shopping at the PX. Had good and bad times during field exercises, guard duty on CAS site in the small guard shack, on QRA team on the site, and a host of many others. As a commo person, we worked hard even though others though we goofed around. If only they knew.

I remember my section sgt assigned me to work with the Sig Maintenance folks on Neckarsulm as an operator for the Ratt Rig instead of using the others that were designated as Ratt Riggers. It wasn't because I was a trouble maker as I was not. In fact, I was probably smarter and dependable than any of the other operators and that is probably why he also gave me the "gofer" jobs when they need someone. But he was only an E-5 at that time as there weren't many E-6 section sergeants then.

I had a good platoon sergeant (SFC Stout) from either Mississippi or Arkansas and he saw right through the section sergeant and that is why I was able to get my promotions quicker than the others. It was also during this time that the 1SG found out that I could type really fast and informed my platoon sergeant that he would like to use me in the Orderly Room part time.

Yes, each unit had their own Orderly Rooms. That was before the PAC (Personnel Action Center?) was put on Neckarsulm. Prior to the PAC, the clerks from each company Order Room had to take paperwork to Heilbronn for processing. Once the clerks were assigned to the PAC, 1SG continued to use me in the orderly room to help with the processing of documents which I took to the PAC. I recall logging all actions in a green book and took to the PAC and had the clerks there signed for those documents. I even remember typing SFC Stout's retirement documents for submission. The Army's intent (from what I was told) was that the 1SG and the CO was to run the company without clerks. The PAC was located on the top floor of the building that housed the dining facility. Once the PAC opened, then a designated clerk was responsible for taking documents and actions to Heilbronn for processing.

At that time, I was still doing commo as my primary duties. While working in the orderly room (located in the barracks on the main floor), 1SG was working the duty roster late one evening and asked for my assistance (to provide the leave, pcs report, etc). It was doing this time that I learned to do the duty roster as I helped 1SG complete it. It took a while because we had to verify everyone status. While in garrison, I would work the orderly room half day and commo the other half; the times may vary because of the commo mission.

To answer your question, while stationed at Neckarsulm, the females were housed on one end of the hallway with their latrine (bathroom) at the very end. There weren't many females in the unit when I was there from 1981 to 1983. We had two Orderly Room females, one female cook, and I recall most of the others were commo personnel. Some of the female rooms were designated as "two man" rooms and the others "four man" rooms. The MOSs I recalled for commo were 05C, 05B, 72E. We were housed on the main floor as the Orderly Room and the Operations offices. A few males lived on the other end near the Operation Office. The upper floors were for male Soldiers.

I was in D 3/84th from around Oct 1981 to around Sept 1983. I went there as a Private E-2 and left as an E-5. I recall the Tactical Evaluations and that is how I got my first AAM. During my tenure, the batteries (A, B, C, and D) rotated on the CAS site as the site had to be manned year round. Between times, there were numerous field exercises (including in the back 40), evaluations, you name it. I recall the Pershing MOS, 15E; these Soldiers only rotated between Pershing units in Germany and Ft Sill, OK. We also had Infantry soldiers that worked with us during the numerous FTX and at the CAS site. I recall having a life span of a few seconds if attacked by an incoming. I took my job seriously.

Because of the V9 identifier as an 05C (by now, renamed 31C), I was again assigned to the 56th FA after PCSing from Ft Irwin, CA in 1985. On a side note I recall the V9 identifier was designed to work with the nuclear surety program, which meant being assigned to missile units (and working the AN/MSC-64 Satellite Communications Equipment). The second time, I was assigned to the 1/81st. I don't remember the company unless I can locate my old orders, but I do recall that it wasn't long after I got there that they ended up putting the communication folks in their own company, the 38th Sig Bn. The 38th Sig Bn was (I recalled) was located on Nelson Barracks, before moved back to Wiley Barracks. Sometime during this tenure, the 38th Sig personnel were no longer required to stay on the CAS site like they did during my previous tour in Neckarsulm but were required to support the firing batteries for 1/81st . My platoon in the 38th Sig Bn provided support to C and D batteries. This meant that anytime C and D batteries were alerted, then those commo personnel in the 38th assigned to provide support were also alerted. It didn't matter the time of day or night. We were always on the move. We had no problem getting supplies or parts required for our mission. We had to always be "signal ready".
---
(Source: Email from Kevin Renn )
Just thought I'd drop you a quick note to let you know you forgot a unit on your 56th FA Bde Page:

3/84th FA UNIT LOCATIONS
Neckarsulm


Artillery Kaserne - Headquarters Battery and Btry. C and D, 3rd Bn., 84th FA and Co. C, 55th Maint Bn.

Heilbronn


Badenerhof Kaserne - Btry. A and B, 3/84th FA and Co C, 2nd Bn., 4th Inf.

At Artillery Kaserne, my former unit was also there, Co. C, 38th Signal BN. We shared a building with Co. C, 55th Maint
---
1985
(Source: HEILBRONN EAGLE, Nov 25 1985)
Field artillery commo platoon assists unit firing batteries

by Cynthia Banner



Home, this is E. T., over.


E. T., this is home, go ahead, over.


Home, this is E. T, come get me, over.


Roger, out.

When E.T. phoned home, he used a very primative communication system. If he had only known the Communication and Electronics Platoon with 3rd Battalion, 84th Field Artillery, he could have had the message delivered quicker.

Commo, the more familiar name for this platoon, is responsible for supporting the battalion headquarters with communication. Messages and information can be transmitted by radio, teletype, satellite or courier.

Communication is a 24 hours-a-day, seven days-a-week job, according to Sgt. 1st Class Scott Jensen, the Non-Commissioned Officer in Charge (NCOIC) of Commo.

On a busy day of the 365 days Commo is on the job, they can send out 75-100 messages, said Jenson. Depending on the priority of the information, a message can be received and transmitted in about 30 minutes. This of course depends on the length of the message, Jenson noted.

"Our mission requires a lot of people," said Jensen. "We are the hub of communication. When a message is brought in to us we are ready to transmit"

The most secure means Commo has of delivering the message is by a platoon courier. Commo is ready to move out when necessary.

"It doesn't make any difference how far the courier has to go," Jensen said. "We are prepared to go as far as we have to."

Commo is made up of the Communications Center, Repair Section and Wire and Radio Section. Each area is the back up for the others.

One of the most important parts of the Commo mission, according to Jenson, is to relay information and messages to the firing batteries. This is really where the back up system is important.

"Without this back up system to check the accuracy of the message and the validity, mistakes could be made," Jensen said. "One person could have misunderstood part of the message or there could have been interference."

Combat readiness is the main drive behind every unit in 56th Field Artillery. This readiness stands true with commo. Each section has been broken down into a speciality. But when it comes to working as one platoon the camaraderie is there.

"From the time we arrive in the field the comradeship and teamwork of the platoon really pulls together," said Spec. 4 Karen Olds from the radio section. "We have to get out there and set up communication. We switch power from the vehicles to the generators within a matter of minutes. This way communication is never disrupted."

In the field Commo is responsible for setting up communication between the perimeter operation center and brigade. The entire platoon has the capability to operate at full strength and can transmit from a stationary position or on the move.

In garrison the platoon spends time making sure every piece of equipment is ready to go. Because Commo supports the firing batteries and headquarters, they have to maintain more vehicles than any other platoon. And like everything else, equipment must be maintained.

"We spend a great deal of our time trouble-shooting," said Sgt. Steven Spencer, repair section chief. "We have six different types of AM and FM radios that we have to check regularly."

Commo's capability to communicate is not just limited to 56th Brigade or Germany. With the satellite section they can talk with anyone in the world.

---
2nd Battalion, 4th Infantry
1971
(Source: Email from Donald Pendroy, 1st Pltn, C Co, 2nd Bn, 4th Inf, 1971-1972)
I found your interesting site, and it was a pleasant "blast from the past". I was in the 1st Platoon of Company C, 2nd Battalion 4th Infantry, attached to the 56th Field artillery Brigade in 1971-72. We were first at Neckarslaum, and moved to Wharton Barracks at Heilbronn a few weeks after my arrival.
I was Pfc. and Spec. 4 Donald Pendroy. I recently ran across my silver Pershing Professional Badge and Googled it out of curiosity about it today, and ran across your site.
One item of interest from those old days was our newly minted Company Commander of Company C 2nd Battalion 4th Infantry in 1971 was Peter J. Schoomaker CPT AR Commanding. When I saw on TV a few years ago when General Schoomaker was mentioned being a new Chairman of the Joint Chief of Staff I realized his military career had sort of overshadowed mine since mine ended as an E-4. But, I was the lucky recipient of the 5 month early-out, and I think that held down my military advancement somewhat…
I am sending sseveral pictures I took showing some of the attached C-2-4 Infantry Pershing Site Guards.
In my time there, Company C had site duty for one month, off two months. When on duty month, you were on 24 hours/off 24 hours. You had Tower duty on 4 hours/off 4 hours. I think there were either six or eight towers. There was a barracks on site where the infantry guards stayed. If there would have been a security breach, there was always one Infantry Platoon on the site, which would respond immediately & fallout for any gunshot or if ordered. This included a heavy weapons squad. The area was clear-cut around the Infantry towers for about 100 yards. As far as I know, there was never even an incident of inadvertent civilian trespass during my time there, not surprising given the isolation & warning signs.

I later drove a 2 ½ Ton truck and also drove a Jeep for then 1st. Lt. Holtz.
Another item of interest is the longer hair of the enlisted personnel in 1971. It was a different day, and the time when the Navy allowed beards on sailors…
All officers, and almost all NCO's did have the traditional military buzz cut though.

ADDITIONAL INFORMATION
Since the Pershing site was only a short drive from Heilbronn, the name must be as found in the online information I am pasting in (Waldheide). Everything else in that information is correct, except during my time, C-2-4 was at a location we called "Wharton Barracks" inside Heilbronn. (It was also a Construction Engineers location).
The location of the Pershing site had to have been called Waldheide (based on what I researched on the web). I must confess that after 40 years I do not remember specifically that it was called Waldheide off the top of my head, because as I mentioned, we all just called it "the site".
Although one of my duties involved driving the duece-and-a-half was shuttling Infantry troops back and forth between the remote hilltop Pershing site very near Heilbronn back into the C-2-4 building inside Wharton Barracks in Heilbronn.
Although we guarded the Pershing site perimeter, we stayed on the outside of it as all times, and in fact did not have interaction at all with the Pershing troops. The infantry guards were inside two perimeters of fences. If anyone would have breached the outside fence, there was a warning protocol in place to attempt to quickly stop them.
We had standing orders that if a breach were ever attempted toward the inside fence, they were of course to be shot immediately by the Infantry guards. It was always highly stressed that no vehicle, even an American military vehicle could even enter without the frequently changed password, even if a military vehicle had generals in it. They were known to occasionally test the security protocols. Any civilian vehicle or person walking or showing up at the gate or around the area would be considered as a potential hostile.
It is true large jets would occasionally cruise over extremely low, right over the site and going so slow, as mentioned elsewhere. If the Pershings were transported on flat-bed semis to some temporary remote location, C-2-4 would go with them, and set up a perimeter outside of the Pershing area. I only did this once.
The buzz of the guards on that was, nobody knew if the Warhead was real or a dummy, & etc., but always was treated as armed by the Infantry guards. The enlisted infantry had no communication whatsoever with the Pershing groups, we just took our orders from our unit Infantry chain of command, which was the squad leaders, E5 or E6 usually. Almost all of the squad leaders were combat vets, though.
| | | | |
| --- | --- | --- | --- |
| C Co, 2nd Bn 4th INF Neckarsulm | | | |
| 1. (KB) | 2. Perimeter fence (KB) | 3. Tower at main gate at the site (KB) | |
| 4. (KB) | 5. C Company barracks (KB) | 6. (KB) | |
---
(Source: Email from Kevin R. Keefe, B Co, 2nd Bn, 4th Inf, 1972-1974)
I was stationed in Neu Ulm and assigned to B Company, 2nd Battalion, 4th Infantry from Oct 1972 to Apr 1974. It has been 30 years this month when I was last there. I also worked in the 1/81 Battalion Drafting Office when I was going thru my 'Project Transition' but unfortunately, I do not recall the other guy's name that worked there with me. (He was an arty guy)

I have a number of photos of my days there to include Nelson Barracks, Inneringen, Graf and surrounding areas that I could pass on to you if you would like. I also have photos of the air ops that happened when they closed the pad at Inneringen the day that they flew out all of the warheads and one photo of the convoy parked on the road leading out of the launch site. Lots of Chinooks flying in and out that day as well as the convoy out. There was a Huey gunship overhead as well as some commander's personal chopper. My photos are from the Infantry point of view, and might be a good addition to your website.

A slight error in your page where you mention the locations of the various Pershing units. You have the 1/41 at Inneringen and state that Inneringen is 100 km south of SG and 1/81 at Lehmgrube. I believe that those two should be reversed. Unless things changed just before I got there in April of '72. I also have a couple of pics of Lemgrube.

As a side note, I worked in the 1/81 Battalion Drafting Office during my 'Project Transition'. I made a number of signs for both 1/81 and the B-2/4 Inf sign that was out front of our barracks on Nelson Kaserne. Still 'drafting' today, too, although I've gone on to be a Mechanical CAD Designer. Hard to believe that it was just over 30 years ago that I came home from Germany.

Oh, the buildings that you have identified as Infantry ?? were indeed our barracks while at Inneringen.
| | |
| --- | --- |
| | Kevin Keefe manning the gate to the launch pad at Inneringen circa 1973. |

---
38th Signal Battalion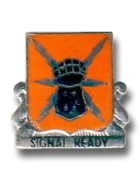 38th Signal Bn DI
1989
(Source: Email from Robin Fischer, 38th Sig Bn, 1989-91)
I am a vet who served two years at Wiley Kaserne, Neu Ulm Germany. I served from Jul 1989 to Jun 1991. I was 31C, assigned to 38th Sig Battalion where I served as RATT operator and Awards clerk.

I enjoyed reading your outline and remember fondly my two years in Germany.

I don't know how much info I could dig up about the 38th, but I could look through my stuff and see if have anything. BTW, I am a graphic designer - that's how I was able to copy and put together the .pdf of the final Pershing Cable. I've had it all these years and never met anyone else from that command with whom I could share it.

---
579th Ordnance Company
1969
(Source: Email from Daniel McNeely, who served with the 579th in Neu Ulm from 1969-1972.)
I was assigned to the 579th Ordnance Company from Dec 1969 to Nov 1972. It was located at Nelson Barracks in Neu Ulm, Ger. We were part of the Advance Weapons Support Command. Our mission was as a General Support company for the Pershing Missile System. We provided support for the three US Army firing battalions. We also had the warehouse of parts for the Pershing Missile System that was used by both the American and the German artillary batteries.

The artillery batteries had Direct Support Platoons that had a given number of hours to repair pieces of the missile system. If they couldn't fix an item within the alloted time, the item was swapped out with a spare from the 579th and we would have just about as long as we needed to fix it. If for some reason we could not fix an item, it had to be sent back to the states to the Pueblo Army Depot for repair.

In 1970 we reached a peak strength of about 550 men in the company. That was during the period we were phasing out the old Pershing P1 system and phasing in the new P1a system that I was part of.

I was in the 5th class of 21L20 to go through training at Redstone Arsenal, Al, and graduated in Oct, 1969. When I arrived at the company we had a captain as the commanding officer but when he rotated back to the US, we received a major for our new CO. At that time, at least, it was rare to see a major commanding a company. As the old P1 members left the company, our numbers dwindled down to where I believe we had between three and four hundred personnel.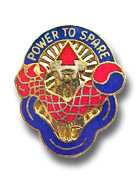 579th Ordnance Company DI

You show the 59th Ord Brigade, Headquarters Support Battalion, using the same insignia that we used. The one that has "Power To Spare" as it's motto. Here is a pic of one of my insignias: The insignia on your web page appears to have a black background whereas all of ours were blue.

In our unit they were known as "Ever Readys" since "Power to Spare" was the slogan of the people who made the Eveready flashlight batterys.

As I recall, when I arrived in Germany we were issued 7th Army patches for our uniforms but the there was a contest to come up with a new patch for AWSCOM. As I recall, a member of our company one the contest with this design: We were read a description of the significance of each element of the patch during a ceremony honoring the contest winner. That was back around 1971, I believe, possible as early as 1970.

The Pershing Missile System played a very important part in the deterance of a Soviet invasion of western Europe and was a key element in getting the Soviets to agree to the INF treaty. That treaty helped lead to the demise of the Soviet Union as they realized that they could not keep up with the American arms build-up under the Reagan presidency. The Soviets were very concerned about the pin point accuracy and the short flight time required by the Pershing to reach Moscow. That concern made them willing to trade away their intermediate range missiles which severly weakened their ability to threaten Europe with a massive invasion.

I don't know when the policy was instituted, but the transfer and placement of all of the Pershing Missile techs was under direct control of the Pentagon when I was sent to Germany in 1969. Most of the other Army personnel below the rank of E6 were assigned to the replacement depots and assigned as needed to units. E6 and above were assigned orders by the pentagon for change of duty stations. At that time, the Pershing Missile System was the Army's biggest and most powerful weapon system so we had pretty high priority in getting spares and any equipment we might need.

The Pershing P1a system I worked on was capable of lobbing a nuke warhead over 500 miles, the newer PII was capable of over going over 2000 miles. The Pershing motto was "Shoot and Scoot" since the system was highly mobile. We could fire fire off a round of missiles and immediatly move to a different area, reload the launchers, and fire another round. On the other hand, all of the Pershing sites were supposed to be on the Soviets list of "First Strike" targets.

---
55th Maintenance Battalion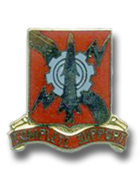 55th Maintenance Bn DUI
1982
(Source: DONAU, July 16, 1982)
A battalion is born.

By Jim Bachman

Undaunted by high temperatures and blazing sun, the 55th Maint. Bn. (Pershing Support) was officially activated during ceremonies held July 9 at Nelson Barracks field (Neu Ulm).

Nearly 200 guests and onlookers, including many American and German officials, turned out to witness the passing of the colors which signified the Department of the Army's official recall of the battalion to the roll of Regular Army units, and its assignment to the 56th FA Bde., its parent unit. The 55th Maint. Bn. was inactivated in Korea in 1970 and claims a lineage of service in World War II and the Korean Conflict.

The activation ends a one-year transition period, which began with the formation of HHC, 55th Maint. Bn., the only new formation incorporated in the battalion, on June 20, 1981.

Following the passing of the colors, the spectators and soldiers of the battalion heard Brig. Gen. Sidney Davis, 56th FA Bde. commander, and Lt. Col. William S. Littlefield, 55th Maint. Bn. commander, comment on the work that has been done in forming the battalion, and on the job yet to be done.

"The work you have done in a provisional status could not be improved on," Davis told the soldiers. "(You are) some of the finest soldiers in the U. S. Army."

"I know the 55th will carry on the great work it has done in the past," he said.

"Today we complete two years of hard work building the 55th Maint. Bn.," said Littlefield, who went on to compliment the soldiers and to challenge them to maintain "a high state of logistical support."

The battalion commander noted that, "Pershing readiness levels are (now) the highest ever," and complimented the soldiers on their performance in their "technically complex and professionally demanding" mission in service to the nation and the NATO Alliance.

"Soldiers of the 55th Maint. Bn., you look magnificent," he said, later adding: "As your commander, I am proud . . . ."
Littlefield ended his address, "Good Luck. God bless you. Keep charging."

The battalion has adopted the motto "Complete Support," which represents the unique mission of the unit, that of providing maintenance, and supply and services support to the brigade. Battalion literature points out that these services include: automotive, aviation, chemical, communications, engineering, missile, quartermaster, and transportation support

In fact, the wide range and scope of support responsibilities is unique for a battalion-level unit, according to Sp4 Stephen Winfrey, battalion journalist.

"Our mission is very original," he said, "and that mission makes us a unique battalion."

Winfrey noted that the support offered by the Materiel Management Center of the new unit would normally be handled by a division-level operation.
---
(Source: STARS & STRIPES, Feb 11, 1982)
The 56th FA Brigade is forming a new support battalion (55th Maintenance Battalion) that will provide direct and general support for the Pershing missile system and the vehicles and aircraft assigned to the brigade.

The new battalion consists of:
| | | | |
| --- | --- | --- | --- |
| | Headquarters, Headquarters Company | | HHC, 55th Maint Bn |
| | three Forward Support companies | | A, B & C Co, 55th Maint Bn |
| | a Maintenance & Supply Company | | D Co, 55th Maint Bn |
| | an Aviation Company | | E Co, 55th Maint Bn |
---
(Source: Heilbronn Community Circle, July 4, 1983)
The 22nd Maintenance Co, Heilbronn, has provided direct support support to the 3rd Bn, 84th FA for the past four years. As of June 20 1983, the 55th Maint Bn in Neckarsulm will provide repairs such as engine and transmission probelms for the 3/84th. The 22nd averaged about 25 jobs per month.

The 22nd Maint Co provides repair support for 53 companies. Their next assignment will be in Augsburg, where the company will provide service for three Field Artillery battalions (of the 17th FA Brigade).

---
193rd Aviation Company
1985
(Source: Glen Craigie, 193rd Avn Co)
I was in the 193rd Aviation Company from approx Nov 1985 until Apr 1987. I have a bit of info that may help you to piece together something about it. As I recall, I left the "Repo Depot" and went straight to HHC 55th Maint Bn in Neu Ulm. I got there on a Friday and didn't go up to Goeppingen, where E Co, 55th Maint Bn was stationed until Monday. E Co (or "Easy Taxi Company" as they liked to call themselves) had recently moved from the Schwaebish Gemund area. They conducted flight operations out of the Mutlangen Missile Storage Area. The problem was, and the reason for the move was, that the MSA was constantly being besieged by the anti-nuke protesters. They couldn't get to work or even leave work on somedays. The move to Goeppingen took care of this issue since the protesters did not focus on the units that occupied Cooke Barracks, the 1st ID (Fwd). We shared hangar space with the 1st ID's Avn Detachment. I am pretty certain that, when the 56th FA Bde was reorganized into the 56th FA Cmd, E Co, 55th Maint Bn became the 193rd Avn Co. The Company's 13 UH-1H helicopters provided command & control / transport for the Commanding General, air assault capability for the brigade's organic infantry battalion, and also supported the brigades three Pershing Missile artillery battalions as needed.
What became of the unit after that I don't know, however I noted that there is currently a 193rd Avn Co, which is an Army Reserve unit, that has done duty in Iraq. I do have a local made 193rd Avn Co patch that is sewed onto my flight bag, but that is in storage back in the USA right now so I can't photo it and forward to you.

---
Newspaper Articles
(Source: ARMY in EUROPE Magazine, January 1972)

The Pershing Missile Mission - More Than Luck

By Sp5 John B. Ward

Specialist Ward is assigned to the Headquarters, 56th Artillery brigade Information Office.
For all I knew, the things might have been filled with sawdust," said a grinning GI as he looked over his shoulder at the mammoth missile on a trailer. "Until I saw two of the things blast off over the desert."

The soldier, a member of the 56th Artillery Brigade, had just returned from a firing session at a desolate Utah proving ground. And his remark referred specifically to the brigade's five-ton Pershing missiles. Two-stage surface-to-surface giants that represent the Army's most powerful weaponry.

"Maintenance," commented a battery commander with one of the three brigade missile battalions, "is what we concentrate on. The more you do your homework, the more you cut the element of luck. Good or bad."

Somewhere between the technological glamor of live firings and the daily routine of equipment arntenance, lies the essence of the 56th Brigade's NATO support role. Billed as a "field army support weapon system," the nearly 6,000-man European-based Pershing brigade never has less than three missile batteries "on status." Which makes they are prepared to fire in an instant, 24 hours a day, every day of the year. Its NATO mission -- to deter aggression with the constant-readiness capability of delivering a massive knock-out blow to predetermined targets -- is nicknamed QRA (Quick Reaction Alert).

The brigade's formidable threat is posed by three of its subordinate units: the 3rd Battalion, 84th Artillery in Neckarsulm; Neu Ulm's 1st Battalion, 81st Artillery; and the 4th Battalion, 41st Artillery in Schwaebisch Gmuend. A fourth, the 2nd Battalion, 4th Infantry, provides security at the firing batteries' remote missile sites and storage areas. Headquartered in Kornwestheim, the 2nd of the 4th is unusual -- an infantry unit supporting an artillery unit, a reversal of the traditional Army roles.

QRA readiness does not come easily. The 56th must undergo repeated alerts, practice exercises, evaluations and combat readiness tests. Inspection measures run the gamut from daily visits by the brigade's own "Perfect Team," a self-designed evaluation and instruction outfit, to an annual scrutiny by top-flight NATO evaluators. And QRA is not the end of it. In addition to its alert requirements, the brigade most be able to shift its fire power over a wide a area.
A vast array of equipment, like huge, truck-towed mobile launch pads and expandable control center vans, gets a thorough workout on all manner of terrain. Annual training stints over extended periods at the 7th Army's rugged Grafenwoehr Training Center, monthly road marches to distant field sites and deployment to the States for firings, keep the 56th 's missile system constantly on the move. And continual use demands constant attention. With the wealth of sophisticated electronic equipment that is required to make the system function, preventive maintenance is the order to the day. Everything from truck-mounted guidance computers to the simplest of generators receives a going-over not usually required in less strategic units. The crucial necessity of maintenance is accepted as a matter of course, even at the lowest levels.

Deterrence is not the only mission of the 56th Brigade. Because of its high priority deployment in Europe, the Pershing system has proven to to be a great attraction for top-echelon observers, both military and civilian, foreign and domestic. From NATO generals to American senators, the brigade hosts VIP visitors with the same expertise with which it targets its missiles.

The complexity and unique nature of the 56th Brigade's mission and the awesome responsibilities of the Pershing system put everyone, from commander to technicians, on the spot. The weight of every decision is intensified, the performance of single operations critical -- the margin for error within the system is necessarily small. Even minor discrepancies, when magnified over the 400 miles of a missile's flight, can become major mistakes.

The pressure for accuracy is intense. And rightly so. NATO's credibility, and a large share of the free world's defense, is at stake.

---
Related Links:
Schwäbisch Gmünd Online - special page dedicated to the 56th Field Artillery at Bismarck and Hardt Kasernes and the Mutlangen Storage Area.
Pershing Missile System - Mark Ives' page on the Pershing in Germany
Pershing Yahoo Group -