If you do NOT see the Table of Contents frame to the left of this page, then
Click here to open 'USArmyGermany' frameset
European Command
Looking for more information from military/civilian personnel assigned to or associated with the U.S. Army in Germany from 1945 to 1989. If you have any stories or thoughts on the subject, please contact me

.
---
---
History
Frankfurt am Main (1947-1948)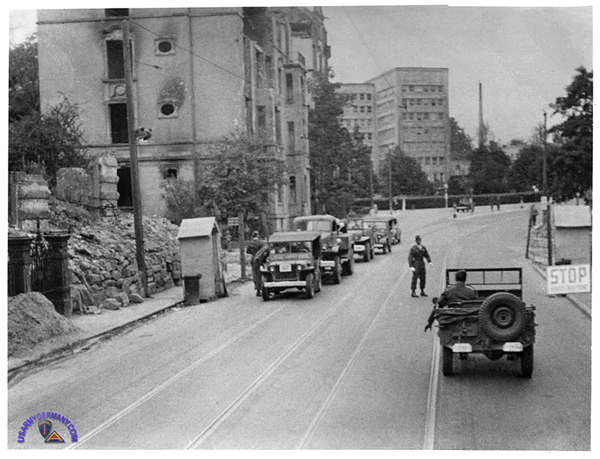 Gate 1, Headquarters Compound, 1940s
---
1947
(Source: Stars & Stripes, European edition, September 1947)
1,749 Troops in Frankfurt parade for Gen. Bradley

STARS & STRIPES
follow link to view photos and read the article from the Stars & Stripes archives
---
Heidelberg (1948-1952)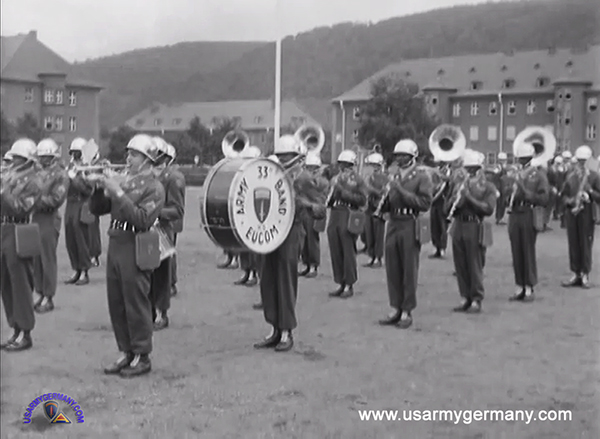 33rd Army Band during a review held at Campbell Barracks in 1950 (Signal Corps)
1950
The image of the 33rd Army Band (above) is a screen capture taken from the Signal Corps moving pictures (111-ADC-8323) available on the National Archives wesite.

To view the entire video, click here.

---
Small Arms Competition
1. 1948


2. 1949
EUCOM Engineer Div

3. 1950




---
Organizational Charts, EUCOM

---
Field & Command Post Exercises
Exercise Harvest
(Source: European Command Joint Field Training Exercise, HARVEST, 1949)
---
Exercise Rainbow
(Source: Final Report, Exercise Rainbow, 1950)

---
Related Links