If you do NOT see the Table of Contents frame to the left of this page, then
Click here to open 'USArmyGermany' frameset
2nd Signal Brigade
5th Signal Command
Looking for more information from military/civilian personnel assigned to or associated with the U.S. Army in Germany from 1945 to 1989. If you have any stories or thoughts on the subject, please contact me

.
---
---
Brigade Introduction
1982
(Source: Welcome to the 2d Signal Brigade. 2nd Sig Bde Pamphlet 608-7, 22 July 1982.)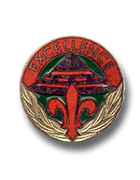 2nd Signal Group DUI

1. HISTORY OF 2D SIGNAL BRIGADE. The 2d Signal Brigade was originally constituted in France as the 3348th Signal Service Group. It saw service in Furope from 1944 to 1946. The Group was reactivated in May of 1946 at Fort Monmouth, and was redesignated the 2d Signal Service Group shortly thereafter. In 1955, the Group was deactivated at Camp Gordon, Georgia. In 1961 the Group was activated for the third time at Fort Bragg, North Carolina, where it served until being alerted for movement to the Republic of Vietnam in the spring of 1965. From 1965 until 1971, the Group provided Army area signal support for US combat forces in Vietnam, participated in fourteen campaigns and was twice awarded the Meritorious Unit Commendation. On 23 October 1971, the 2d Signal Group was deactivated at Fort Lewis, Washington. It was again activated in Europe on 1 June 1974 to assume responsibility for communications in the northern half of Germany, Holland, Belgium, and England. 2d Signal Group was redesignated as 2d Signal Brigade on 1 October 1979.
2. MISSION OF 2D SIGNAL BRIGADE. 2d Signal Brigade has the following mission:
| | | |
| --- | --- | --- |
| | a. | To operate and maintain as a part of the Defense Communications System: |
| | | |
| --- | --- | --- |
| | (1) | 1 AUTODIN Switching Center |
| | (2) | 1 AUTOVON Switching Center |
| | (3) | Satellite Communications Terminals |
| | (4) | 23 Wideband Stations |
| | (5) | 4 Major Technical Control Facilities |
| | (6) | 1 National Command Authority Station |
| | (7) | 1 Long Haul High Frequency DCS Radio Facility |
| | | |
| | | |
| --- | --- | --- |
| | b. | To maintain past, camp and station communications within Northern Europe, including the following: |
| | | |
| --- | --- | --- |
| | (1) | 32 Telecommunications centers |
| | (2) | 69 Dial Telephone Exchanges |
| | (3) | 15 Narrow Band Subscriber Terminals |
| | (4) | 2 Second Switches |
| | (5) | 18 Dial Service Assistance Switchboards |
| | | |
| | | |
| --- | --- | --- |
| | c. | To operate and maintain a Special Command and Control Communications System for the US European Command (EUCOM)(ECCCS/Cemetery): |
| | | |
| --- | --- | --- |
| | (1) | 29 ECCCS and Cemetery Net stations |
| | (2) | 1 Cemetery Net Station |
| | (3) | 3 NODAL Point Stations and 3 remote switches |
| | (4) | 52 Mobile Stations |
| | (5) | 1 Communication Relay Control Station |
| | | |
3. 2D SIGNAL BRIGADE ORGANIZATION. To accomplish its mission, the 5th Signal Command, our higher headquarters located in Worms, Germany; has divided the European area north of the Alps into two areas of operation. North of the boundary line is the 2d Signal Brigade; south of the line is the 160th Signal Brigade. Support for both these brigades is provided by the 21st Support Crnmnand. Our organization is as follows:
2D SIGNAL BRIGADE
MANNHEIM, FRG
39th Signal Battalion
Bremerhaven, FRG
73d Signal Battalion
Pirmasens, FRG
102d Signal Battalion
Frankfurt, FRG
128th Signal Company
Schinnen, Holland
267th Signal Company
Pirmasens, FRG
228th Signal Company
Frankfurt, FRG
518th Signal Company
Linderhofe, FRG
270th Signal Company
Pirmasens, FRG
232d Signal Company
Worms, FRG
532d Signal Company
Giessen, FRG
298th Signal Company
Kaiserslautern, FRG
261st Signal Company
Hanau, FRG
581st Signal Company
Bremerhaven, FRG
327th Signal Company
Zweibrücken, FRG
The 39th Signal Battalion commands all units north of Giessen, including those units in Belgium, the Netherlands, and the United Kingdom plus Satellite Station AN/FSC-78 at Harrogate, England. In the 2d Signal Brigade's southern sector, the 102d Signal Battalion commands all units east of Worms and the 73rd Signal Battalion commands all units west of Worms plus Satellite Stations AN/MSC-46 and AN/FSC-78 at Landstuhl.
4. OPERATIONS. The backbone of the Defense Communications System (DCS) in Europe is called the European Wideband Communications System (EWCS). The 2d Signal Brigade has the responsibility for the central and northern Germany and Benelux portions of the system; both American and German equipment is used. Within this system we operate wideband stations, technical control facilities and minor patch and test facilities that control approximatelv 335 trunks and 2500 circuits of standard and special service communications. Our stations are permanently installed fixed plants.

To coordinate, control and supervise the transmission media and equipment of the EWCS, the 2d Signal Brigade has four major technical control facilities located at Pirmasens, Donnersberg. Frankfurt, and Worms.

In support of our DCS mission, we operate 1 of the 16 overseas automatic message switching centers in the DCS Automatic Digital Network (AUTODIN) located at Pirmasens, FRG. This network is similar to networks designed to deliver record communications or telegrams. However, AUTODIN, the Department of Defense record communications network, has been designed to meet special security, speed and reliability requirements. Security is provided by encoding all messages which leave an automatic message switching center. Speed is attained by computer processing each message in accordance with its precedence. Reliability is achieved by locating switching centers strategically throughout the world, by providing necessary back-up equipment, and by connecting the switching centers with many diversely routed, highspeed circuits. Our switch at Pirmasens can handle an input of up to 200 separate subscribers, and processes an average of 65 to 70,000 messages per day.

In the system with the automatic message switching center, we operate 32 telecommunications centers throughout our area of operation. These telecommunications centers provide record communications service for all units and activities in their immediate vicinity.

The 2d Signal Brigade operates three satellite terminals: an AN/FSC-78 at Harrogate, England; an AN/MSC-46 (which is scheduled to be replaced by the GSC-39 in the near future); and an AN/FSC-78 at Landstuhl. All terminals provide the most advanced technological and reliable access for selected subscribers into the worldwide Defense Communications System.

At Pirmasens, we have a long haul, high frequency radio facility operated by the 73d Signal Battalion. This facility has a dual role: on one hand it operates a radio trunk to Incirlik, Turkey; on the other hand it serves as the only Army entry point into the European Defense Communications System for high frequency, contingency operations. An average of 15 high frequency, contingency missions are activated through this station annually.

An Automatic Voice Network (AUTOVON) switching center is operated at Donnersberg. This switch is a part of the AUTOVON system, the principal long haul telephone network of the DCS. The purpose of the AUTOVON network is to provide a worldwide, automatic voice communications system to fulfill the nonsecure voice requirements of the Department of Defense. The AUTOVON System began in 1964 with 9 switches; it now has 16 operational switching centers overseas. Our Donnersberg switch has 377 connected subscribers.

Both narrow band subscriber terminals and secure voice cordless switchboards are parts of the Defense Communications System Automatic Secure Voice Communications (AUTOSEVOCOM) network. This network has approximately 1400 subscribers throughout the world. It is made up of manual and automatic switches and can provide from 3 to 250 subscribers with secure voice service.

In support of the AUTOSEVOCOM network, the 2d Signal Brigade operates 15 narrow band subscriber terminals and two secure voice cordless switchboards. The former is basically an AUTOVON circuit with secure voice service, and the latter is a manual switchboard that can provide such service for up to 15 local subscribers.

The 2d Signal Brigade provides command and control communications support to the US European Command (USEUCOM) and the 59th Ordnance Brigade at 33 locations. This support is provided through systems commonly referred to as the Europe Command Control Console System (ECCCS) and the Cemetery Net. Both systems are utilized to pass emergency action messages from HQ USEUCOM to the various 59th Ordnance Brigade detachments in our area of operations. The Cemetery Net is an HF network utilizing the AN/FRC-93 and KWT-6 Radio sets at fixed locations. To supplement the fixed locations and support the Ordnance and Artillery detachments when they are deployed to the field, the 2d Signal Brigade operates and maintains 52 mobile contingency units, utilizing the AN/MRC-117 (37), AN/TRC-133A (4), and AN/GRC-122A (11) radio sets.

(1) Cemetery Net radio equipment
AN/FRC-93 -- a high frequency (HF) commercial single-sideband radio set adapted for military use (AN/FRC-93).
KWT-6 -- KWT-6
AN/MRC-117 -- AN/MRC-117
AN/TRC-133A -- this radio set, composed of five single-sideband (SSB) radios, was the prime means of Pershing communications (WIKIPEDIA entry).
AN/GRC-122A -- a shelter-housed transportable radio teletypewriter set that uses the AN/GRC-106 as its major basic component. The AN/GRC-122 is authorized for air defense artillery battalions primarily to provide teletypewriter communication with higher headquarters.

---
(Source: ECHO, Winter 2009 edition -

)
If you have more information on the history or organization of the 2nd Sig Bde, please contact me

.

---
2ND SIGNAL BRIGADE UNITS - 1970s-80s
| | | | | |
| --- | --- | --- | --- | --- |
| 2nd Sig Bde | 39th Sig Bn | 73rd Sig Bn | 102nd Sig Bn | |

---
Related Links: