If you do NOT see the Table of Contents frame to the left of this page, then
Click here to open 'USArmyGermany' frameset
205th Transportation Battalion (AVIM)
3rd Support Command
Looking for more information from military/civilian personnel assigned to or associated with the U.S. Army in Germany from 1945 to 1989. If you have any stories or thoughts on the subject, please contact me

.
---
| | | |
| --- | --- | --- |
| | Patch worn from 19.. to 19.. Patch worn from 19.. to 19.. | |
---

205th Transportation Battalion (AVIM)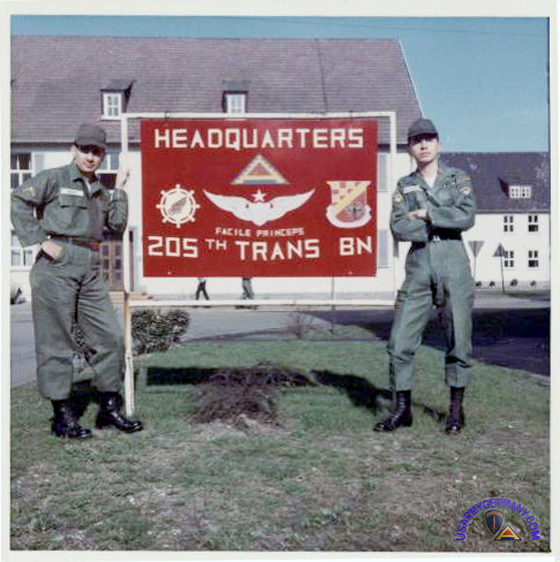 Bn sign in front of headquarters building, 1966 (Jorge Eduardo Rodriguez - on right)
BN CREST WORN DURING DIFFERENT PERIODS
| | | | | |
| --- | --- | --- | --- | --- |
| 205th Trans Bn (AAM) | 205th Trans Bn | 205th Trans Bn (AVIM) | | |
If you have more information on the history or organization of the 205th Trans Bn, please contact me

.

---
(Source: Email from Jesse Barnes, 205th Trans Bn, early 1960s)
I joined the Army in August 1958 with the hopes of going to Ft. Walters and becoming a flying Warrant Officer. I tested and was qualified to apply for OCS, after completing basic, and I was approved to attend a 52 week radar repair course in N.J. but I was so sure I would get into flight school that I chose to attend a basic eight week aircraft mechanic school at Ft. Rucker. When I finished that school I was qualified to wipe the bubble on a helicopter and pick up rocks from the airfield. If you finished that school, the top third of the class was supposed to be assigned to the H-34, U-1A crew chief class or a depot level maintenance school, but there were so many retreads (we had two CBI privates from WWII in my class) and reenlisting sergeants so they give them the advanced schools and us youngsters (I was 19) were shipped to Ft. Dix for assignment in Europe.
I was assigned to the
42nd TAAM Company
at Illesheim. In January 1959, after a long trip on the
SS Buckner
and an all night train trip, we arrived in Nürnberg. Then we were trucked to Illesheim. When I walked through the first sergeant's door I handed him my orders and asked where I applied for the warrant officers program. He said you can't apply for that program from Europe. I guess a lot of G.I.'s applied for schools in CONUS just to get back to the States at that time. Anyway, I was crushed.
After a few weeks the 29th was transferred from one BN to the
205th Trans Bn
and I had to throw away my new BN brass and buy new 205th Bn brass. All three pieces still look new after all these years as do my dog tags. There were too many mechanics for the amount of birds sent to the 42nd for maintenance. I used to volunteer for shoveling furnace coal or other details. I guess one of the E-5s discovered I could type and he asked me to help with some paper work. They were weeks behind in ordering modification parts kits for the Otters so I knocked out the paper work real quick and the next thing I knew, I received a PFC stripe. I needed it. Private E-2 pay was 85.80 a month. PFC was worth 96.00 a month.
I am sorry but don't remember any names from that unit. All newly arriving enlisted personnel were restricted to base and were not allowed to own civilian clothing for thirty days. You could not own or bring a vehicle from CONUS unless you had written permission and you were above the rank of E-5 in those days. Anyway, the
2nd
and
3rd Otter Company
was assigned that base. I believe they were sent to France and later DeGaulle kicked us out of France and I don't remember where they were assigned after that. I know we worked on their birds after I was transferred to the 29th TAAM Co at the Stuttguart airport.
There was also an instrument flight school located at Illesheim. We had a flying club there and I used to fly our J-3 Cub around the base but the Otters and Beavers used to chase me out of the pattern because they couldn't fly slow enough. We worked on U-1A Otters, L-20 Beavers, the H-34 and H-13s from the various aviation companies in the area. I did witness an L-20 doing a maximum performance take off one day and the engine failed when the bird was fifty or so feet up. The plane stalled and fell flat on the airstrip and both landing gears went through the cabin area but missed the pilots. Both lived but as I remember they suffered spinal injuries.
I was told that Illesheim was a secret fighter base during WWII. From the air, you could still make out the grass runways & strips that were grass and used during WWII. Reportedly a U.S. Infantry scouting platoon found the base after the close of WWII. The hangers and most of the buildings were still camouflaged when I was there. When I flew the Cub a few miles away from the base, the field became very difficult to see because it blended into a small stream and the town. I understand that many pilots had problems finding the field so they erected a big steel control tower and painted it bright checker board colors to help the pilots locate the field. There were big high tension power lines off one end of the field. There was no Omni in those days, just IFR (I follow Railroads) and the old ADF system in the Beavers.
After a few months two of us newbie's were transferred to the
29th TAAM Co
at the Stuttgart Airport. I believe the CO's name was Captain Tedesco or something like that. He was known by the enlisted rabble as "one cloud Tedesco" because he reportedly refused to fly if there was more than one cloud in the sky. He was later replaced by Captain Johns after I was there a few months. He later followed me up to the 205th as a staff officer. The base Sergeant Major was a real old soldier who wore WWI combat stripes on his sleeve. I understand no one screwed with him, including officers. Sergeant Viviane was the maintenance sergeant while I was there. We worked on L-19s, U-1As, L-20s, L-23s and H-34s.
The TAAM companies had long mobile workshops that were pulled by big tractor rigs. The sides of the workshops would flop down and they could do just about anything to repair an aircraft. We also had QEC engine changes in steel cans for the birds. One day a Czech C-47 that came in with one engine on fire. It was unusual to see an airplane with the red star in a red circle landing in West Germany at that time. The fire was put out and either we or a visiting Air Force unit changed the engine and it was out of there real quick. The other side of the field was the German civilian airport. Once a week a Carville jet transport came in to pick up passengers. That was a big deal for the Germans. They really turned out to witness that real loud but fast jet land and take off.
About this time the Berlin Wall project took off and things started heating up between the Russians and us. I guess the brass at 7th Army Aviation Gp forgot they didn't have anyway to contact their units if the Russian Divisions broke through. Everyone was used to depending on the German Telephone lines which were of course, not secure. So they had each unit look through the 201 files for candidates for RTTY school. I was snapped up because I had been a radio amateur in high school and my tested code score was maxed out. So I was shipped to Ludwigsburg for code school. I used to set in the back and read a pocket book and take code at the same time. The instructor jumped me about it and I convinced him that my skills were way beyond his class requirements and requested he send me back to Hq for other assignments until they could get me a slot at the ANGRY 26 school at Bad Tölz. So I became a typewriter operator for a month or so. I guess some special inspection was scheduled for our HQ so the Operations Sergeant asked me to start repainting the inside of the building. I was about half way through the project when the weekend came. They told me to paint through the weekend so it would be ready on Monday. The rest of the guys thought I was being punished for quitting the code school. I finished Monday morning early and the inspection went through without a hitch, I guess, because a couple of days later they handed me SP4 papers. Later I tested for and received Pro Pay for my RTTY MOS. I was making $124 then and I thought I was walking in tall cotton.
I still have my Bn brass and the Bn mug with an H-34 on top. I no longer have the rotor blades though. I also have the Hq. & Hq. 205th Bn photograph taken on the Flak (Kaserne, Ludwigsburg) parade ground in the spring of 1961. The C.O of the 205th was Major Malcolm Mitchell. Major Mitchell was a short man and he had a cute daughter that most of the E.M. would like to have dated but he made it clear the she was not to mix with any of the enlisted rabble. The XO was Major "Pete" Peterson. He was a nice man. I remember he had a VW van and one day he received a ticket in the mail from the German State Police. It had a radar picture taken of him. Your could see him through the windshield with his "Peterson" name tag on his fatigues.
A few trivial facts: my uncle, Debbie Barnes, was a CWO 3 and he was an aircraft maintenance officer with an infantry company at Würzburg at the same time. (He is still alive and lives in Lower Lake California) I believe he knew just about everyone in Army Aviation from WWII through the mid-60s when he retired. I also had another uncle there, Vance Hamm, and he was a medic in Kaiserslautern. (We just called it K-town.)
I went back to Ludwigsburg in the late 1980s. My old room was the recruiting office for the unit that was there at the time. They did not know where the 205th had gone or any of it's history. There are several other Flak Kaserne sites on the net with a few pictures but I have never met or heard of anyone that was with the 205th during my time. Maybe they are all just dead by now. I understand that sometimes God's best blessing is to not grant your wish. If I had gone to flight school, I could be buried under a rice paddy. As it is, I completed a thirty three year successful career in law enforcement in California.
| | | | |
| --- | --- | --- | --- |
| | | | |
| 1. Headquarters sign | 2. MAJ Mitchell, Bn CO | 3. The CO's new car | |
| 4. M&S Assistance Team | 5. Group photo | | |
---
(Source: Email from Jorge Eduardo Rodriguez, HQ 205th Trans Bn, 1965-66)
I was assigned to S4, HQ 205th Trans Bn, Coleman Airfield by the end of 1965 after serving 18 months with the 18th Ord. Co., Gerszewsky Kaserne, Karlsruhe.

Our CO at the time was LTC Steve, later replaced by LTC Ed Sergeant. Other officers were: Maj. France (XO), Maj. Youngpeter (S3), Maj. Dunn (S4) and CPT Holloway

During my assigment, my duties were mainly to mantain a close watch to the logistics of our three maintenance companies.

If I recall correctly, we had three companies: the 245th at Finthen Airfield, the 661st located just outside Munich and the other one, I don't quite remember. Think it was the 48th.

Every day we received reports from our three companies via telephone concerning all requisitions for regular and deadline parts. Our job was to try to expedite such requesitions and inform to our Battalion CO.

The 661st. gave support to a number of aircraft being operated by a helicopter pilot school located at the same site (Oberschleissheim).

I travelled many times between Mannheim and Finthen in a small model aircraft driven by Maj. Dunn (my immediate boss).

Late in 1965 USAREUR decided to re-distribute some MOS to where those were most needed or critical. That was the case of MOS 763 (Technical Supply Parts Specialist)
That is how many of us were affected all over Germany. Since I was a graduate from the US Army Europe School at Murnau, Germany, I received orders to transfer from the 18th Ordnance Co., Karlsruhe to the 205th HQ Co. Coleman Airfield, Mannheim.

HQ 205th had two main platoons, one was the HQ platoon for staff personnel and the other the Depot platoon headed by 2LT Hennesy. Our duties were mainly to receive, stock and fill in requisitions for aircraft parts and ship them were needed. Our battalion was a first echelon point for aircraft parts.

On about April 1966, Capt.Dunn was promoted to Major and requested that I was transferred to the HQ platoon and assigned to the S4 section (staff) with responsibilities of monitoring the flow of parts. Then I was promoted to SP5. Other duties were to assist the tech supply personnel in our units, that is the 245th, 661st and the 48th. When Lt.Col Steve left the battalion. Lt.Col.Sergeant took over and things changed a little bit. For example, Col. Steve was too formal, always wearing class A uniform, never smoked and had very refined manners. On the other hand, Col.Sergeant will always be remembered for being a plain guy, preferred a flight suit rather than class A uniforms and usually chewing a thick cigar.

Other newcomers in the unit were 1LT Flask, 2LT Noss. Will never forget Major France, our XO, wandering around with both hands in his pockets and his unbuttoned jacket.

Now, looking back to those days, I feel very proud to once served and was part of such a fine unit. most names have faded from my mind but I still remember faces and places.

Rotated in October 1966 for Vietnam duty.

Great memories! Now that I am approaching my 70th birthday, your web page took me back to those great moments in my life.
---
1966
(Source: Email from Rick Leger)
I was assigned to the 48th Trans Co (Acft) from fall 1966 to May 1968. The company was a GS support company and part of the 205th Transportation BN that was based in Manheim FRG.
I was an avionics / radar tech the company was assigned to Goeppingen 45 km south of Stuttgart on the airfield on the post run by the 3rd Armored Division. We shared the post with the 144 signal Btn and the 504 admin company and an MP unit.
We serviced GS support for OH -13, CH-34, CH-37, UH1B, OV-10, U1A fixed wing, cessna twins.
---
(Source: John Mateyko, 205th Trans Bn (Acft Maint)(GS), 1966-68)
I saw your write up on the Internet and would like to share some info you may not have.

I arrived in Germany about 14 Dec 1966 and departed 10 June 1968. Initially I was assigned to the 7th Army Support Brigade at Mannheim. After four weeks in Augsburg transitioning into the CH-34 and OH-13, I was assigned as S-2 in the 205th Trans Bn (Acft Maint)(GS) at Coleman Army Airfield.

About March of 1967 I was TDY to the 7th Med Detachment at Darmstadt and about September I was assigned as XO of the 245th Trans Co (Acft Maint)(GS) at Finthen AAF which is immediately west of Mainz.

All in all it was a very good tour and I was the Army project officer for the retrograde movement of ALL European Command CH-34s.

During my tour, the 205th was a unique battalion. We had three General Support Aircraft Maintenance Companies - 48th at Goeppingen outside Stuttgart; the 245th at Finthen and the 661st which was just west of Munich.Also had the Signal Company at Coleman AAF, the Post Office Platoon at Coleman as well as the Parachute Rigging Detachment at Coleman AAF. Officers call had men from Signal, Transportation, AG and Quartermaster Corps.
Our commander was Lt.Col. Ed Sergeant who was a great man to work for, loved his cigars and would tell me ahead of time if it was going to be a 'one cigar or two cigar meeting'.
RETROGRADE MOVEMENT OF CH-34's
This is my quick and dirty recollection of how we got the CH-34s out of Europe.

Hueys heavily damaged in combat (RVN basket cases) were flown to Corpus Christi NAS for re-manufacture. In early 1967, the total weekly production of Corpus Christi and the Bell Plant at Ft. Worth was keeping up with combat total losses.

This allowed the US Army to implement its program to replace the United States Forces (including Coast Guard) in Europe CH-34D models with re-manufactured or new Hueys, I think UH-1H models. The program was initiated in late summer of 1967.

I was XO of the 245th Transportation Company at Finthen. The 245th was General Support, heavy aircraft maintenance. By luck of the draw (probably because of my exceedingly good looks, military bearing and because I was a bachelor) I was named 7th Army Action Officer for the retrograde movement of the CH-34s.

The plan was to route about 485 CH-34s through one of the three 4th Echelon Maintenance Companies. We had THE LIST of Choctaws in Europe. Referring to the master list (which had TBO times), we would tell the using unit which helicopter (by tail number) to deliver to which maintenance company; the 661st at Schleisheim, the 48th at Goeppingen or the 245th at Finthen. The using unit's pilot would fly the helicopter in with its crew chief, pilot returning to his unit. The crew chief was instructed to drop the engine and transmission using ground equipment available at the 4th echelon companies. At times the crew chief stayed TDY for a week or so and other times he returned to his unit in a couple of days. It was good duty for them, TDY with quarters on the economy.

Our technical inspectors would look over the aircraft and its records to determine if there were 25 hours of flight time left before any major repairs were required. If that criteria was met, the owning unit was notified and one of their pilots w/crew chief flew the aircraft to Bremerhaven. I think a lot of them came back by Beaver with the fixed wing pilots landing on the golf course near the docks. Others returned by rail and I feel certain brought POVs out of the port.

If the birds required an extensive amount of man hours, part of the program was to ground them and cannibalize the airframe.

The aircraft were unloaded in Baltimore and I think National Guard pilots were used to ferry the helicopters to Davis-Monthan AFB.

This program placed a huge man power requirement on the maintenance units. The using units did not want to give up their good helicopters as they were required to maintain combat readiness with less helicopters as the bulk of the Hueys were not scheduled to arrive until the Summer of 1968. A few CH-34s were flown from the using units directly to Bremerhaven, but that was the exception. The test pilots of the maintenance units were getting a lot of flying time as almost every H-34 that came in had its blades pulled so we could get them inside a hanger.

An off shoot of this was the CH-37 (Mojave) helicopters were also in the program. With their R-2800 engines they were a white elephant. I think there were 12 in Germany and if my memory is right, six of them were scrapped because of the huge number of man hours required to bring them up to ferry standards. I know a TI on one of them showed 3,000 man hours required on the sheet metal alone. We parked that one on the grass right outside my window and started stripping it. The unit IP offered to give me 25 hours of instruction so I would be qualified in it -- I passed on that.

The using units were very reluctant to give up their unauthorized stock of spares, but a gentle nudge was usually enough. I remember one trip to Fulda to bring back some clamshell doors before that unit's annual IG. If you are giving up your H-34s, may as well give up the extra clamshell doors. And anything else that is unique to the bird.

One procedure was initiated which I think spread Army-wide. When the using unit delivered the bird to the 4th echelon maintenance unit, the radios were not inspected. Naturally, the losing unit did not send top notch avionics if they could help it. We found UHF sets that did not work. But, this was not part of the initial TI and the test pilot found this glitch when he tried to transmit for take-off clearance for his test flight. We instituted a program where all avionics were removed, inspected and repaired as necessary (IRAN) then placed in floater stock in our avionics rooms. As the helicopter was readied for a test flight, the UHF and FM radios were installed. When the glitches were fixed and the aircraft was in the final stages of prep for flight to Bremerhaven, one Nav radio was installed and tested. That change in procedure matched what the airlines were doing and helped morale in the three heavy maintenance units. It was disheartening for men to work many hours/months on a helicopter, feel good about repairing it, feel the excitement of a test flight and then be disappointed because the pilot could not talk to the tower.

The work schedule was tremendous, flight hours were high as we were flying twice weekly round-robin flights Finthen-Goeppingen-Schleisheim-Goeppingen-Finthen with stops at Coleman for liaison with battalion headquarters and the fifth echlon maintenance depot.


I don't know when the last CH-34 left Germany. I rotated in June of 1968 and had not seen any replacement Hueys

---
1978
(Source: Email from Patrick Sniffin, 205th AVIM Bn, 1977-79)
I was assigned to the Engine Shop from Jan 77 to Aug 79.

I was a Spec 4 at the time but myself and two others were made Acting Sgts following an emergency transfer of our shop chief SSG Bob Gallegos.

After the 205th I was assigned to the 528th Trans Bn, Ft. Hood where I made E5 and ETS'd in July of 1980.

I Attached is a photo I took that was mark Winter 1978. I think it may have been Jan or Feb 1978.
---
(Source: Letter from Steve Kruckow, B Co, 205th AVIM Bn, 1977-80)
I was stationed at Fliegerhorst Kaserne (Hanau AAF) as an OH-58 helicopter repairman from December 1977 to June 1980. When I got there, the 205th hangar was being renovated. We were in the hangar next door for about three months.

Somebody told us the 205th was created out of two other units -- the 173rd Avn Co and the 30th Trans Co. Don't know if that's true or not.

I have enjoyed your website. And I do remember the name Patrick Sniffin who was in the Engine Shop with the 205th. And Norm Green's pictures who went back in Oct 2008. He got to do something I would like to do. Funny, I never thought I'd say that.

From pictures taken from the air, it looks like Fliegerhorst has not changed a bit from what I remember. But from the ground it's a different story. Kind of sad in a way.

But, anyway, thanks for the memories. I will keep on cheking out your website from time to time. It sure has answered a lot of questions about what's going on with the old place over there.

Former Spec/4 Steve Kruckow



B Co, 205th AVIM Bn
Fliegerhorst Ksn, Hanau






1. Aerial view


2. Outside of 205th barracks


3. Hangars on right, flight line on left




4. Hanau AAF

5. Flight line, Hanau AAF

6. Inside the hangar

7. UH-1

8. CHINOOK helicopter

9. Kruckow next to an OH-58 KIOWA

10. AH-1 COBRA at Fliegerhorst




---
1981
(Source: Tad Sickler, B Company, 205th Trans Bn, 1981-83)
I was with B Co 205th Trans Bn, 1981-1983. I was a 68B turbine eng mechanic.

I was just reading a similar mechanic's history of Fliegerhorst Kaserne, and wanted to add a couple of my own recollections from my time there.

The kaserne itself was an engineering marvel. If you ever drove around post you could not help but see all those 20' ×30' elevated "ponds" of water. During WWll when the allies would reach the border, within 20 minutes those "ponds" would empty out over the airfield to make it appear to be a lake from overhead. In addition those same ponds would activate floors underneath the hangars effectively lifting stored aircraft from below hydraulically. Though it was second party hearsay, the previous story from the 245th guy makes more sense now. I heard that as previous troups had found an underground access of our hangar they did indeed find a booby trapped door. A soldier was injured, however they found an additional 100 meter rifle and machine gun range, and even more incredibly, two ME109 Messerschmitts, though in extremely poor condition due to 40 years in very damp or underwater conditions.

One thing that always reminded us of the dangers of our job were the bent overhead beams at the peak and front inside of the hangar. Previously OV-1 MOHAWKs were serviced inside. One unfortunate serviceman had inadvertently discharged the Martin Baker ejection seat, and his memory would serve long after as a reminder.

On a much lighter note, this part of my history has a great deal of fun too. Jerry Plank of the Rosebud Reservation in South Dakota, was a Very knowledgeable mechanic. We were all trained the same but somehow he excelled. Pete "Schmuck" Mcdonald was the Engine shop hell raiser. At the company picnic he "borrowed" my car and spun a bunch of donuts out in the ballfield where we were gathered. I lost my driving privilege on post for two weeks as a result, but man that was fun to watch the CO's face all up until he came over and asked if that was my car. Tommy Soto drummer extraordinaire. He could absolutely nail the Inagodadavida drum solo by just fingersnapping, pretty cool to watch. I'm sorry to say I can't remember Sumo's real name, but maybe someone can fill in the dots. We had a blast at Sachsenhausen. Sfc Paul Root our platoon Sgt awesome guy, Vietnam vet.

As so often still happens to so many, a few too many drinks and demons rear their ugly head. I was still in college as the war ended, but my random sequence number was 003. By the grace of God!!!

Sgt Larry Milan, man, was he ticked when I got a higher score than him at the E-5 boards. Sgt Bob St Cyn was a "go to" guy in the hydraulics shop. He and I got into it at another Co party. Afterward became pretty tight.

Then the big day. I got called to the carpet. No idea what I had done wrong (tried to stay strack). He told me 6 months and I was gone if I didn't lose weight. Oh, how I loved that weitzen beer. I knew he knew I wanted to go to Garmisch for ski patrol. I asked if I could try it, he told me I had too much weight to lose for that. I told him to just give me a shot. 54 days later I crossed the finish line at the Fulda Marathon, 64 pounds lighter. Then off to Garmisch for over a year TDY. Adventure training instructor, skiing, mountaineering, kayaking, survival trainer, first aid instructor trainer. Yahoo good times. Training of 600 USAREUR troops and airmen. Truely the best times of my life. Huge attaboy to the alltime greatest adventurer instructor trainer in Army History SFC Charles Stockstill

I'm a little biased but ANYBODY that has ever crossed his path will come away a better person, and for sure in better shape. (Now the director of the National Mule Deer Federation).
---
1984
(Source: Andy Revie, 205th AVIM Bn, 1984-86)

Pocket Patch




I was the DCM (Deputy Commander for Maintenance same-same as Bn MATO in a ground maintenance Bn.) and DCO (Deputy Commander for Operations aka Bn XO) from 1984-1986.

Being an Army Aviation unit we of course had to have an unauthorized patch to irritate all the grunts on Fliegerhorst. Can't really tell you much about the patch's history other than it came into my possession sometime during my tour with the 205th. At any rate it predated my time in the battalion. I remember seeing old unit histories, pictures, etc. of the Bn (and it predecessors) at Fliegerhorst. I seem to remember that before (as in long before, i.e. following WWII and up through the 1950's and 60's) the battalion was flagged as the 205th Transportation Battalion (AVIM), the unit had served as a Signal Corps Depot as well as performing its aviation maintenance function. That would most likely explain the crossed Signal Corps flag insignae. The ship's wheel (in conjunction with the Master Army Aviator wings) is probably in reference to the Transportation Corps (which prior to the formation of the Aviation Branch had functional responsibility for all the Army's aviation maintenance). As the term Aviation Intermediate Maintenance (AVIM) wasn't used until the 60's - 70's time frame, I would surmise the "AVIM QUALITAS" motto dates the patch to about that time frame.

The second image is a decal we stuck on anything that wasn't moving on the kaserne. We weren't an AH-64 unit, but in 1986 the Apache was new and sexy, so the unit artist layered his rendering of one over the battalion crest.

The image on the left is a WWII photograph I found at the library on day. I don't know if you ever flew around Fliegerhorst much but, from the air, the kaserne's triangular shape is very distinctive; it's the only kaserne in Germany shaped like a triangle. I immediately knew the photograph was made over Fliegerhorst.

I like history so I began a search through the Smithsonian Air and Space Museum, USAF History Office, American Battle Monuments Commission etc. (you get the idea) to research the photograph and came up with the following information. The aircraft in the photograph was hit by flak over Fliegerhorst on December 12, 1944 during it's bomb run into the Hanau rail marshalling yards. The aircraft is an 8th Air Force / 389th Bombardment Group / 564th Bomb Squadron B-24J / Aircraft Number 42-50662 / nose art name "Patsy".
Crew members (all KIA) were:


1LT Myron H. Kagan (Pilot) - repatriated to US after the war.


2LT Raymond E. Johnson (Co-pilot) - repatriated to US after the war.


2LT Bayard V. Ginn (Navigator) - repatriated to US after the war.


2LT Lester G. Baker, Jr. (Bombardier) - buried in Ardennes American Cemetery, Belgium.


T/SGT Joseph T. Schiavone (Radio Operator) - repatriated to US after the war.


T/SGT Abraham A. Gallop (Top Turret Gunner) - body not recovered.


S/SGT Marvin W. Skinner (Nose Turret Gunner) - buried in Lorainne American Cemetery, France.


S/SGT Joseph (NMI) Hartley, Jr. (Right Waist Gunner) - repatriated to US after the war.


S/SGT Frank (NMI) Yacona (Left Waist Gunner) - buried in Ardennes American Cemetery, Belgium.


S/SGT Richard H. Foshey (Tail Turret Gunner) - buried in Luxembourg American Cemetery, Luxembourg.

An interesting bit of history that you may be able to see in the photograph are all the bomb craters around the airfield. Prior to Patton's 3rd Army crossing the Rhine River at Mannheim, the 8th Air Force did saturation bombing of all airfields within close proximity to the crossing site. The intent wasn't to knock down the buildings (that's why they were still standing when we occupied them) but rather to crater the runways (grass in the photograph) so airplanes couldn't take off or land during the river crossing. To this day an accurate compass-swing can't be done at Fliegerhorst because of all the metal in the ground.
---
(Source: Email from Scott Blue)
I was assigned to the 205th Trans Bn at Fliegerhorst Kaserne in 1987.

In 1988 they deactivated the 205th Trans Bn and we became 8th Bn, 158th Avn Regt. I still have the 205th crest somewhere. I often think about that place as I made many friends while over there.

When I arrived at Fliegerhorst the 205th was a Transportation Bn with a fairly decent size motor pool and were billetted right on the Kaserne. It was maybe 6 months after that when they changed the designation to 205th AVIM and started to run a maint. section in a hanger on the airfield across post. I am not really sure how the aviation maint part of the Bn worked but I do remember that they started getting more pilots in as well as aircraft mechanics and within probably a year were up and running on a regular basis.

There were detachments with the 8th Inf Div and the 11th ACR but an not sure about the 503rd. I myself was an 11B who was assigned in the maint part of the Bn and crossed trained as a 52D.

I do remember that our 3rd eschelon maint. was over by Wolfgang Kaserne. I do also remember when we re-organized from 205th to 8-158 AVN. There was a change of command ceremony, but not a lot else changed, our hanger on the airfield and our motor pool stayed in the same place as well as our billets.

---
8th Battalion (AVIM), 158th Aviation Regiment
1988

---
29th Transportation Company (Acft)(DS)
(Source: Email from Hal Knapp, 29th TC Co (AAM), 1956-58)
I was a helicopter inspector at the 29th TAAM at Echterdingen between 1956 and 1958. (I believe the unit started out as the 59th TAAM.)

Some facts off the top of my head: you had to wear your uniform the first 30 days you were there. When I first arrived I was issued a framed ribbon for my uniform which signified "occupation forces." The label was not appropriate and naturally frowned upon by the Germans so it's use was discontinued.

They had air shows on the civilian side of the field two advertising blimps were moored there -- Trumpf chocolat and Underberg (which actually blew up in a high wind while on the mooring pole. in Oct.

I ran a car show and slalom race on the airfield with the blessings of my company commander, Capt. Edward F. Stipech, who was convinced it was good for German/American relations. He was right -- we had 1000 civillians on the military side of the field. We had every european manufacturer represented and a total of 135 cars. I have an album with pictures of much of these events.

I travelled all over Germany on VOCO orders in my own POV. I grounded a General's H-13 Bell in Darmstadt and got a promotion from a grateful General. I, too, came very close to marrying a German girl from Heidelberg and am still in touch with her family now 50 years later. All for now

---
42nd Transportation Company (Acft)(DS)
Storck Barracks, Illesheim - 41st Transportation Bn
1955
(Source: Email from Ken Aungst, Illesheim, 1955-59)
I was in Illesheim 55-59 with the 42nd TAAM and I have some pictures from back then. I have been here about 40years total and am still working on post.
| | | | |
| --- | --- | --- | --- |
| | | | |
| 1. Bldg 6510 | 2. H-34's inside hangar | 3. L-20 | |
| 4. L-19 | 5. H-34 | 6. H-34's in Maint Bldg | |
| 7. Sp4 Ken Aungst | 8. 26th Hel Co helos during G-A Day festivities | 9. H-19 of 47th Med Det (AA) in the air | |
---
(Source: Email from Robert G. Thompson, 42nd TC Co (AAM), 1956-58)
I was an Aviation Mechanic, US ARMY, 1955-1958. Trained 6 mos. on every type of rotary-wing aircraft the Army owned at Fort Eustis, VA. Sent to Germany 1956, August.

Based at Illeshiem Germany 1956-58. I joined the unit shortly after they were transferred from Stuttgart (Nellingen). We did 2nd and 3rd echelon maintenance at Illeshiem. We covered rotary (H-13) and fixed-wing A/C (L-19) (One L-20) of the 3rd Armored, the medical H-13s, H-19s on the field and and two H-34 companies also on the field. We also processed additional new H-34s fresh from US. (34 of them at one time) complete with cosmoline coating sprayed on for the carrier trip to Bremerhaven. We cleaned and forwarded them on.

Later, when the U-1A Otter was sent to Europe we lost the H-34s to other airfields and gained two companies of the Army's total of three. One company remained in US. Companies were known as 1st, 2nd, and 3rd Transportation Company. We also provided service to any fly-in aircraft needing service, recovery of crashed aircraft, field service, field inspections, modifications, engine changes, repairs up to those needing large fixture which went to Depot in Brussels. Civilian contract with the National airline there.

I was an Sp-2 (E-5) Graduate of 7th Army NCO Academy in Munich. My duties were many. I was in charge of the machine shop, an inspector, qualified on both fixed and rotary wing, in charge of recovery team (you wreck-em, we get-em) Barracks den mother :-) . Our type of maint company was totally mobile...all shops were in boxes on the back of 2 /1/2 ton trucks. We were field maint and ready to flee the field on very short notice with all equipment. We had a beautifull hangar with overhead cranes. Heat would have been a nice touch. It was there, just not used. Sometimes we opened the doors to let the winter sun shine in and provide heat.:-)

Our vehicles ran from Jeeps, 3/4, 2 1/2, to 5 ton wrecker and 5 ton tractor with a 40 foot trailer...That was a real trip to drive through those village gates and twisted roads. That part of my life is what I consider to be the high point. It also was continued to the point I recently retired from TWA as a crew chief. At this point I have over 50 years in aviation and still going on for myself as Licensed A-P with IA . Pilot with single, multi. commercial, inst.

Capt Carney was the commanding Officer at first with Master Sgt Stump as FIRST SGT. Our Battalion HQ was at Fliegerhorst Kaserne at Mannhiem. Also there was another company similar to ours serving near Munchen...half of our class at Fort Eustis was sent there.
ADDITION:
I finally found my old military records. I have my chain of command for the 42nd and above.

First, we were 7th Army and wore that stair stepped patch. We were under NATO control and rules. I graduated 7th Army NCO Academy in Munich, Germany, 1957. I received the usual letters from command and used those headings for this reference.



Headquarters, 8th Transportation Group, APO 154 US Army, Colonel John R. Dale commanding;


Headquarters, 41st Transportation Battalion, APO 28 US Army, Major Herbert M. Luckfield commanding;


42nd Transportation Company, APO 177 US Army, Capt. James Grimes commanding.

Capt Grimes was Capt Carney's replacement. He shows on the 42nd Christmas roster. This is copied from the official letters from my file and should give a solid reference. I cannot find any reference as to mission statement. Maybe one will turn up.
Robert G. Thompson
---
1957
(Source: Email from Don Redeen, 42nd TC Co (Army Aircraft Maintenance), 1957-58.)
I served in the 42nd TAAM Co, 41st TC Bn at Illesheim, Germany, from June 1957 thru Oct 1958. There seems to be little history available. I know the 41st Bn Hq. was in Hanau.

I can remember that we supported the 2nd Av. Co.; 3rd Av. Co.; and the 47th Medical Detachment Helicopter Ambulance units.
Don.



Cover of Christmas Menu 1957:


42nd Transportation Company
Charles V. Carney
Capt. TC, Commanding
Illesheim Army Airfield
Illesheim, Germany
---
Fliegerhorst Kaserne, Hanau - 85th Maintenance Bn
1969
(Source: Email from Gerald Acord)
In Jan 1969 I was stationed as an airframe repairman with the 42nd Transportation Co (Acft DS), 85th Maintenance BN, at Fliegerhorst near Hanau Germany. I served 29 months with the 85th Maint. Bn. I was sent to Germany because I had three brothers serving in Vietnam at the same time.

The 42nd's Company Commander was Major Ziegler. He was replaced with Major Eared then Major Patton.

I had a primary MOS of Airframe Repairman with a secondary MOS of Propeller Rotor Blade Repairmen.

Aircraft worked on were: H-37, H-34, OH-13, H-60 (?), UH-I, O-1, L-19, U-6, U-8. Also worked on some OV-1s that belonged to the 122 Aviation Company due to their shortage of repairmen at Fliegerhorst.

In January 1971 the 42nd was recalled back to Fort Riley Kansas. The 42nd's soldiers were mostly acquired by the sister company, the 30th Transportation Co (Acft DS), another 85th Maint Bn subordinate unit.

I was a member of the 30th Trans but moved to the 30th's Fulda Detachment colocated with the 11th Armor Cav. in Fulda.

There were six Spec.-5s', one Spec.-6, one Staff Sgt, one Master Sgt., and two Captains in the Fulda Det. The Det was billeted at Downs Barracks in Armored Calvary barracks, with no UCMJ of Administrative over the Det. by the Armored Calvary. UCMJ and Administrative control was maintained at Company HQ in Hanau. The 30th's detachment was commanded by Capt. Moore& Capt. Hall.

We performed direct support (DS) maintenance to the aircraft (30) stationed in Fulda. Aircraft maintenance was provided at the Fulda Army Airfield. The 11th Cav. provided the Organizational Maintenance.

ETS from Fulda 28 May 71.

---
245th Transportation Company (Acft)(GS)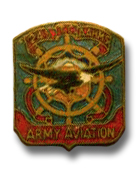 245th TC AAHMS DI
1955
| | | | |
| --- | --- | --- | --- |
| | | | |
| 1. 245th TC hangar | 2. Member of the 245th | 3. Standing guard | |
| 4. Recovered H-13 | 5. Recovered H-13 | 6. Recovered H-13 | |
| 7. 245th hangar | 8. Unknown shop of the 245th | 9. 245th Trans Co shop | |
| 10. 245th Trans Co shop | 11. Bldg #25 | | |
---
(Source: Email from Michael Kapler)
I have three old group photos of the men of the 245th, I am not sure what year they are from. I was born in 1961, but my family had already lived over in Germany where my Dad (Albert Kapler) was serving.
One photo shows the men in front of the a hanger which reads 245th TC - AAHM. The other two there is a flag stating the 245th.
If anybody can help determine the timeframe these group photos were taken, please contact the webmaster.
| | | | |
| --- | --- | --- | --- |
| | Photos submitted by Michael Kapler, son of Albert Kapler | | |
| 1. Group photo, 1960 | 2. Group photo, 1960 | 3. Group photo, 1958/1959 | |
COMMENTS

(Source: Email from Oran Robnett)
You requested that if anyone could provide a date for these photos (your USAREUR Units & Kasernes web pages) provided by Michael Kapler.

These pictures in the order as posted are:
Photo #1 -- The shop platoon summer 1960;
Photo #2 -- The entire company photo summer 1960 taken at Coleman Bks;
Photo #3 -- A photo of the company fall 1958 or early 1959 judging by the winter uniforms, taken prior to my arrival in March 1959 with the 245th.

The CO in the 1958-59 photo is Capt Norman Hodges, the CO in the 1960 photo is Capt Allen F. Almquist, Jr.

I do recognize some of the officers in 1958-59 photo, Capt Hodges, Lt Grace and Lt Otis and some NCO's, the one on the far left is SSgt Braswell and the SFC on the far right is SFC Mathis. When the photo was taken in 1960 I was on guard duty and therefore not in the photo. Lt. Grace is on the left of Capt Almquist, SSGT Braswell is second from the left end in the 1960 photo and SFC Mathis is 7th in from the left.

I was in the 245th TC AAHMS from March 1959 through May 1961. I was first stationed at Coleman Bks. Sandhofen/Mannheim until the 245th along with the 41st Battalion Headquarters moved to Finthen near Mainz in late 1960. I rotated back to the States in May 1961 and have lost all contact with any members of my old unit. There is no mention of what became of the 245th TC or the 41st Bn. I was a crew chief on the company L-20, 51-16481 and when I left Germany I was an SP5 E-5, P1. pro pay on Otters U1A. I would like any information that you might have and I could give some (limited after 40 years) information on the 41st Bn and the 245th TC. Who the CO's were while I was in the unit also some of the other co officers and personnel.
---
1960
(Source: STARS & STRIPES, March 2, 1960)
The 245th Trans Co, Sandhofen, is equipped with ten mobile repair vans that it uses to take its mission to the aviation units. The vans are sent to an airfield whenever an aircraft cannot be flown to the facilities operated by the 245th at Mannheim for repair or there are several aircraft at an airfield that need maintenance checkups.

The vans carry the instruments and equipment necessary to check and repair aircaft ranging from the small L-19 reconnaissance plane to the heavy lift H37 helicopter. The vans are specially designed to handle all repairs except major overhauls.

When the vans are used together as a support unit, they are parked side-by-side and the sides are dropped down and connected into a series of individual shops.
---
Finthen Army Airfield, Finthen - 41st Transportation Bn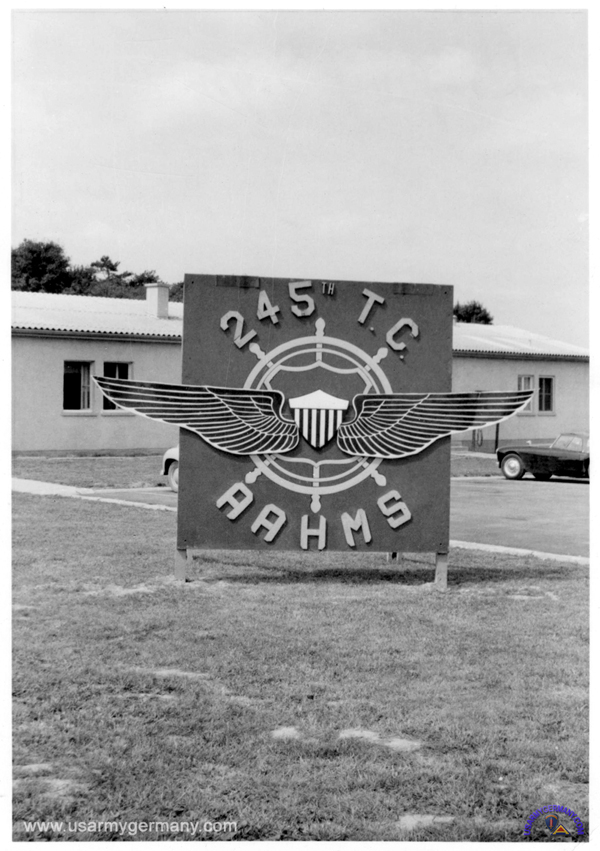 245th Trans Co (AAHMS) sign at Finthen Army Airfield (John Whelan)
(Source: Email from John Whelan, 245th Trans Co, 1960-1963)
I was station at Finthen airfield from Feb. 1960 - Sept. 1963. I was with the 245th Transportation Co.

I am sending you some old pictures I have that you night be interest in.

(Additional photos submitted by John Whelan have been posted on the Finthen Army Airfield Page, Army Airfields & Heliports sub-menu.)
---
(Source: STARS & STRIPES, March 27, 1961)
The 41st Trans Bn and the 245th Trans Co moved to Finthen Army Airfield in January 1961. Finthen now provides heavy maintenance and supply support for all fixed-wing and rotary aircraft in 7th Army.

The 7th Army Transportation Depot, one of the 245th Trans Co's missions, is also housed at Finthen. It furnishes aircraft and surface supply support for all 7th Army units.

Finthen airfield was originally used by the German Luftwaffe in WWII and then by the French occupation forces (as an air cadet school) until a few years ago. Between then and the beginning of this year the airfield was not in use.

The CO of the 41st Trans Bn and of Finthen AAF is Maj John F. Denhart.
---
(Source: STARS & STRIPES, May 26, 1964)
Three flight-test inspectors (a CWO and two captains) are assigned to the 245th Trans Co (Army Arcft Hvy M&S) at Finthen AAF. They are responsible for testing all V Corps aircraft (fixed-wing and rotary) after they have gone through fourth echelon maintenance at the 245th.

There are also four technical inspectors - two for helicopter and two for fixed-wing aircraft. They keep tabs on the work progress of each aircraft that enters the maintenance hangar until the repair work is completed.

There are six officers and 172 EM's assigned to the 245th. The company repairs O1A's, OV1 Mohawks, U6A's and CH-34 Choctaws. The company is comprised of Paint; Sheet Metal; Propeller and Rotor; Power Train; Fixed and Rotary Wing; Electrical; Instrument; Welding and Signal Shops.
---
(Source: Email from Ralph Livingston, 245th AVIM Co, 1974-75)
I spotted this site some time ago, and was kind of surprised and pleased when I came back to read Wayne Criger's account of his stint in the 30th Transport. I was also a 35L20 working at the 245th Trans Co (Acft)(GS) during part of the period Wayne, Steven Moore and Ross Thompson were there (1974-75). I remember all of these guys, especially how Ross was bucking for duty as a ski instructor down at Bad Tolz. The AVIM unit patch he designed had the crossed flags of the Signal Corps and the ships wheel of Transportation on it, among other details. It wasn't accepted as an official patch by the time I ETS'ed in November of 75 – but I believe I still have my patch put away somewhere.

Wayne's account sparks a lot of memories - maybe I can add a few details. I recollect the stories about the underground hangers. The main detail I remember is how supposedly, a shop sergeant heard a "bumping" noise under the floor of one of the hangers south of the control tower, and pulled one of the big square concrete plugs in the floor, using the iron ring attached to it. The story was that the level underground had flooded – and a small WWII aircraft was floating up under the floor. The "Tunnel to Frankfurt" was supposedly so wide you could drive a deuce through it. Don't know whether those stories were true – but I personally climbed down into the manhole Wayne described. There was a horizontal tunnel below that you could walk through if you hunched down a little. At the end, maybe 15-20 feet distance, was a steel door. We didn't have the nerve to try and open it – partly because of the stories of WWII booby traps – and maybe because we believed we might get into trouble. I have a photo of myself standing in front of a deuce parked behind the AV shop, very close to the tunnel entrance.

The photos I have of Fliegerhorst are mostly thanks to my roommate (another 35L20) – Doug MacFarland. Doug was a kickass rock guitarist and amateur photographer from San Antonio. Fliegerhorst had a Sherman tank on display in a little grassy area. There were tracked vehicles in the motor pool, a few M151's, a lot of deuces and 5-ton trucks, a few M715's, and 2 Gama Goats (don't know why the Gama Goats made such an impression on me – but they must have, since I own one now).

I remember some of the re-painting activity Wayne describes – but I seem to recall that we re-painted and re-numbered at least some of our vehicles every few months. The drill was that the MERDC pattern would be chalked onto the vehicle using the pattern for the vehicle from TC 5-200 as a guide. We would then be given a can of paint and a brush, and "paint by number". There seemed to be no logic to the color scheme used in the activity or pattern to the ID numbers we were told to put on the trucks – and I thought the "brass" must be crazy.

The CO when I arrived there was Capt. Harold (?) Bean. He was replaced by Capt. David Archibald. I don't recall which was in command when we moved over to the 245th – but I think it was Capt. Bean. Our flight line as I recollect had mostly Hueys, a couple of Cobras and Mohawks, and some OH-58's. Two other guys in the 30th at the time that come to mind were Paul Swope and Keith Shimazu. Paul I believe was a crew chief on one of the helicopters - he got me onto several flights and introduced me to target shooting. I had the opportunity to qualify with NATO weapons with the German Army, and received a bronze

Schützenschnur

medal. I don't remember what Keith's job was – but he was a good shooter.

The favorite drinking spot in Erlensee was an Italian Gasthaus. They had pretty good Italian and some German food – and they would let you sign the back of a coaster for your charges until payday.
| | | | |
| --- | --- | --- | --- |
| | | | |
| 1. Hanau Tower, 1974-75 | 2. Ralph in front of M-54 | 3. Inside AVIM Shop | |
| 4. Inside AVIM Shop | 5. Inside AVIM Shop | 6. Inside AVIM Shop | |
| 7. Inside AVIM Shop | 8. Outside of AVIM Shop | | |

---
661st Transportation Company (Acft)(GS)
1962
---
1966
(Source: Email from Randy Gibbs)
I just recently stumbled across your site amd found it most interesting as it brings back fond memories. I arrived in Germany in July 1966 fresh out of clerk school (Ft Knox, KY). I arrived in Frankfurt and was soon sent to the 205th Trans Bn at Mannheim. I think I stayed there a week and was then sent to the 661st Trans Co (GS) located at Schleissheim Army Airfield near Munich. Upon arrival I was assigned as the production control clerk in the aircraft hangar. I recall SFC Clarence Ogletree as being my supervisor. The company commander was Capt Bryce Whitson. The maintenance officer was warrant officer Jimmy Arnold. Mr. Arnold may have been commissioned later as I remember typing his paper work. It was a pleasure serving under these fine men and I often wonder what may have transpired later in their lives. I recall we were assigned one helicopter a CH34 (tail number 564298) I don't know why that number sticks in my mind but it does. We also had one fixed wing. There was another helicopter unit on the airfield it may have been the 152nd I'm not sure. I know they were involved with the CH37. I think I saw one fly out of there in my two years there.

During my stay there my MOS was changed to a helicopter repairmen (OH13). I recall our unit was very busy as 7th Army had a flight school there and they were flying a pattern around the airfield day and night. In July 1968 as part of the Reforger plan (this is where all equipmet was preserved and stored in Mannheim) the 661st Trans Co was reassigned to the New Cumberland Army Depot located near Harrisburg, Pennsylvania. Our mission at this location was to completely rebuild the CH47's that were returning from Vietnam.

I remained in the Army until Jan 1969. I have no idea what became of the 661st Trans Co. I hope others may respond and enlighten us.
Upon returning to civilian life I entered law enforcement (KY State Police) and enjoyed a 30 plus year career.

---
Related Links: