If you do NOT see the Table of Contents frame to the left of this page, then
Click here to open 'USArmyGermany' frameset
41st Trans (Aircraft Maint) Bn
8th Transportation Group
Looking for more information from military/civilian personnel assigned to or associated with the U.S. Army in Germany from 1945 to 1989. If you have any stories or thoughts on the subject, please contact me

.
---
---
41st Transportation Battalion (Aircraft Maintenance)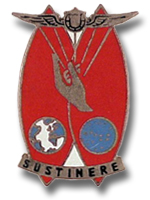 41st Trans Bn (AAM) crest
1955
(Source: STARS & STRIPES, May 1, 1955)
The USAREUR Transportation Army Aircraft Supply Center at Mannheim-Sandhofen (Coleman Barracks) is operated by the 41st Trans Bn.

The 41st has a dual mission:


(1) to provide heavy maintenance for Army aircraft


(2) to serve as a base depot to issue of Army aircraft to USAREUR units

On a daily basis, helicopters and fixed-wing aircraft, shipped in crates from the US, are reassembled in the shops and hangars of the center, tested and flown to medical, artillery and other units throughout USAREUR.

From airfields all over Europe, other helicopters and airplanes arrive at the center for overhaul and repair. Helicopters that require higher-level maintenance than can be offered by the subordinate transportation units of the 41st at Neubruecke, Baumholder (Hoppstaetten) or Stuttgart, are sent to Coleman Barracks for heavy (fourth-echelon) maintenance.

Two of the subordinate units play an important rolw at the center in Sandhofen:
45th Trans Co
Performs repair and assembly of four types of light planes and one type of helicopter. Consists of a fixed-wing and a rotary-wing division.

560th Trans Co
Requisitions aviation supplies and issues them to maintenance units.

---
1956
(Source: STARS & STRIPES, April 11, 1956)
The 41st Transportation Battalion (Army Aircraft Maint) is located at Coleman Barracks, Mannheim. It provides support and maintenance for Army aircraft in the 7th Army area. CO of the battalion is Lt Col Sam W. Leddy.

The 41st Trans Bn is comprised of the following subordinate units (April 1956):
| | | |
| --- | --- | --- |
| UNIT DESIGNATION | DUTY STATION | COMMENTS |
| HHD, 41st Trans Bn (AAM) | Coleman Bks, Sandhofen | |
| 245th Trans Co (Army Acft Hvy M&S) | Fliegerhorst Ksn, Hanau | provides fourth-echelon maintenance for all aircraft assigned to the 7th Army |
| 30th Trans Co (AAM) | Fliegerhorst Ksn, Hanau | supports Army aircraft in the V Corps area |
| 42nd Trans Co (AAM) | Storck Bks, Illesheim | provides second and third-echelon maintenance in the Illesheim area |
| 48th Trans Co (AAM) | Schleissheim AAF, Oberschleissheim | |
| 591th Trans Co (AAM) | Stuttgart AAF, Echterdingen | supports Army aircraft in the VII Corps area and assigned to 7th Army Hqs |
| | | |
245th Trans Co commanding officer is Capt Frederic G. Gill. The shops at Fliegerhorst Ksn perform every variety of (4th-echelon) work from rebuilding and welding to salvaging.

One of the shops is the Magnaflux Section:
As a step in the inspection of aircraft, parts of an airplane or helicopter motor are examined to determine if there are cracks or other defects in the welded sections; the process consists of dipping the parts in a Maganflux solution if the part is ferrous (non-ferrous parts are dipped in a Zyglo soultion); they are then taken into a darkroom where purple rays are used to detect any flaws in the parts.

Helicopters undergo a mandatory inspection every 300 and 600 hours. All parts are inspected. If a part that needs to be replaced is not available, they can be manufactured in the unit's Machine Shop.

In the Sheet Metal Shop wings of airplanes are repaired.

Parts are listed in three categories: useable, repairable, and junk.
---
1958
(Source: Annual Historical Report, 1 Jul 1957-30 Jun 1958, Seventh Army, 1958)
| | | |
| --- | --- | --- |
| UNIT DESIGNATION | DUTY STATION | COMMENTS |
| HHD, 41st Trans Bn (AAM) | Mannheim-Sandhofen | |
| 30th Trans Co (AAM) | Fliegerhorst Kaserne, Hanau | |
| 153rd Trans Co (Depot) | Mannheim-Sandhofen | |
| 245th Trans Co (Army Acft Hvy M-S) | Mannheim-Sandhofen | |
| 247th Trans Co (AAM) | Fliegerhorst Kaserne, Hanau | |
| | | |
---
(Source: STARS & STRIPES, Feb 7, 1958)
41st Bn 'Quick Change' Speeds Plane Repair

"Quick-change artists" are giving a boost to 7th Army aviation.

A new maintenance concept initiated in the 41st Trans (Aircraft Maintenance) Bn has aircraft spending less time on the ground for repairs.

Soldier in photo is identified as belonging to the 130th Trans Co - this is probably a typo - should read "30th Trans Co"

The 41st Bn keeps them flying by maintaining a quick-change assembly kit of major components for aircraft arriving for major periodic inspections.

When the aircraft arrives at one of the battalion's maintenance companies (Webmaster: 30th Trans Co (AAM) in Hanau and 247th Trams Co (AAM), probably in Mannheim), component parts are removed quickly and the new or reconstituted assembly is set in place. Under the previous system the aircraft was taken apart, inspected piece by piece, with new parts being requisitioned when needed.

There were two delays. Weeks were spent in the disassembly and reassembly of major components and considerable time was lost waiting for ordered parts.

Stockpiling and preassembly of component parts has defeated both headaches.

The 245th Trans Co plays a vital role in this new operation. It delivers the new or reconstituted kit to the maintenance companies and receives all components removed from the overhauled aircraft.
If you have more information on the history or organization of the 41st Trans Bn, please contact me

.
---
(Source: Email from J. Smith)
I went to Germany on Feb.1, 1958.

Initially I was assigned to 7th Army Support Command Headquarters at Funari Barracks, Kafertal Germany.

On May 1, 1958 I was transferred to the Headquarters Detachment, 41st Trans. Bn. at Coleman Barracks, Sandhofen Germany.

At that time we had two companies at Coleman. In addition to the Headquarters Detachment, there was the 245th Trans. Co. and the 153rd Trans. Co.

The 245th was the heavy maintenance company and the 153rd was a supply company.

Later they were both combined into the 245th.

Also, at that time, the 28th Army Postal Unit was assigned to the 41st for rations, quarters and administration. Later a signal unit was attached to the 41st.

During that time and until August 1959, the 41st was part of 7th Army. I know we had additional companies at Illesheim and Hanau. It seems to me we had a third company away from Coleman but the location escapes me. Our shoulder patch during this time was the 7th Army patch. The 41st may have been a part of USAREUR before or after this time but not during this period.
---
1961
(Source: Email from Allen Clarke)
I was initially assigned to 245th Trans Co at Finthen Army Airfield (FAAF) in March 1961.

On the first day on the job as a Supply Specialist, I was approached by a soldier from the 41st Trans Bn (also at FAAF) and was asked whether I could type. I advised him I was a good typist. He asked me if I would like to be a Personnel Specialist. I responded sure why not. I spent the rest of my 30 month tour working in the personnel office in 41st Trans Bn.

According to the history I found on FAAF, I was among the first US troops officially assigned to FAAF. When I arrived in 1961 the 41st and the 245th had just moved from Mannheim (Coleman Barracks) to FAAF. Not sure who moved first.

One other interesting story was what happened in the 48th Transportation Company at Coleman Barracks in Mannheim. I think sometime in 1961 or 62 an SP5 Aircraft Mechanic stole a one engine fixed wing aircraft and took off and crashed into some trees about a mile from the end of the runway, killing himself. I did the morning report in 41st Trans Battalion personnel office saying "from duty to dead." Kind of a strange entry.

The phone system was so bad we had to use the phonetic alphabet to get the information from our outlying companies to compile the morning reports for Hanau and Mannheim. The 245th (FAAF) and the 30th (Hanau) and the 48th (Mannheim) Transportation Companies were all under the 41st Trans Battalion.

---
30th Transportation Company (Acft)(DS)
Early 1950s (Hoppstädten)
30th TC Company (AAM)
(Source: Email from Otis Bowles, 35th TC Co (Army Aircraft Maintenance), 1951-55.)
I believe the 30th AAM was formed from the 35th TCAAM.

The 35th was at Hoppstädten, near Baumholder and Saarbrücken. It was one of only two AAMs in 1955. The sister company (93rd TCAAM) was at Vaihingen, near Stuttgart. I was with the company (originally designated the 30th Ord Co, Light Aircraft Maintenance) from Feb 1951 at Fort Sill. Moved with the unit to Germany (Illesheim) in 1952, then moved to Hoppstädten when logistics units were moved west of Rhine River. I left the unit in 1955.
Otis Bowles
---
1955
(Source: Email from Melvin Giles, 30th TC Co (AAM), 1955-57)
My tour was served long before Aviation companies came into being and after Ord Co's (LAM) redesignation to Trans Co's (AAM). I was SP3 Melvin Giles, Unit Supply Specialist, with 30th Trans Co (AAM) from 1 Dec 1955 until 22 May 1957. One could never forget serving at Hoppstadten, which we sarcastically called, "Happy Valley".

Having only two pool tables in our Day Room our main off duty pastime was drinking beer at the local bierstubes with the citizens who always treated us very well

I served at Hoppstadten from 1 Dec 1955 until early September of 1956 when 30th TAAM personnel were joyfully moved to Fliegerhorst AAF at Fliegerhorst Kaserne. On a gorgeous September day I drove the supply truck to Hanau a few days after the company moved. Riding shotgun and relief driving was SFC Marx, the Mess Sgt who always managed to feed our troops well, especially at Thankgiving and Christmas.

I rotated in May of 1957.

I remember Hank Deskewies, Chuck "Sheepshit" Woolsey, (a name given him by Sp2 Jerry Vaughn), big George Schmidt and a hundred others.

The officers I remember were: Capt. Jesse D. Bates my first CO, Capt. James Thurmond, Capt. Howard B. Blanchard my Supply Officer, Lt. Alfred B. Jarden, Capt. James H. Morris – my second CO, who could throw a mean forward pass, Lt. Bray, Lt. McMillan, Lt. Trent, CWO Holcombe, and WOJG Ray who except for one were all flying officers.

I remember NCO's 1/Sgt Foster E. Leonhardt, My first supply Sgt Malcolm Bevins, SFC Robt.Taylor, my last Supply Sgt SFC Swanagon, SFC Comey, SFC Delacruz, and Sgt Allen. Also my pals Manzi, Kayden, Coen, Wehinger, Turley, Harvey, Millsaps, Fullhart, and Green and a hundred others.

In one of your photos on the website, two (30th TAAM ?) guys are supposedly working on an L19. I believe that they were SP3 James Mast and SP3 John Harder whom I knew well.

Our T/A authorized us 133 men and at least 35 trucks.

Not to take anything away from the townsfolk of Hoppstadten, it turned out to be very uplifting to be stationed near Hanau. M ilitary life took on a much brighter outlook for a big-city boy like me during the eight months I was stationed there.

I sincerely would appreciate a response from your office and certainly any replies from other former 30th TAAM personnel 55-57.

ADDITIONAL INFORMATION
Some additional information you might be interested in.

Item 1:
I've been studying the picture of Hanau AAF. It's been nearly sixty years since I rotated in 1957 but I remember that our barracks building faced across the street from the beloved Snack Bar and was across a side street from the post chapel.

I could walk out of our supply room door at the south end of our barracks building, step over the curb and be in front of the chapel's back entrance. We weren't far from the hangars and I do believe the claim that 30th TAAM used Hangar 1 is incorrect.

Our post theater may have been housed in building 1 or 5. Our motor pool with space for 35 vehicles plus 4 semi-trailers on consignment from the Army's Transportation HQ was probably housed in building 2 or 4. I believe that the chapel and our barracks are between the (2) and (3) arrow shafts in this picture. I loved this installation and Hanau where we moved to from Hoppstadten Army Airfield in early September 1956.

Item 2:
To all of you youngsters who served in the 60's and 70's, the area around Hoppstadten Army Airfield was sarcastically named "Happy Valley" by our guys from 30th TAAM sometime between 1954 and 1955, not by one of your majors. The airfield could be a lonesome place, outside of Hoppstadten and downhill from Weiersbach. It was long before the Autobahn came through and our airfield was located among several hills.

The folks in Hoppstadten were great people to have a beer or many beers with. Having only 2 pool tables in our only Day Room for recreation and no quonset hut for drinking, we did our drinking in one of at least 6 bierstubes in town. In 1956 we got orders to move everything up to Fliegerhorst Kaserne in Hanau. What a great town, the Post Barand the Jolly Bar were great places as was Charlie's Star Bar. I also had a few pleasant evenings at the Kinzig Café right on the river. Now I'm sorry to have learned that the DOD has shut down almost everything in Hanau.



---
Post 1955 (Fliegerhorst Ksn, Hanau)
(Source: Email from Chuck Woolsey, 30th TAAM Co, 1955-1958)
I was with the 30th (TAAM) Co. as a fixed wing mechanic, from the fall of 1955 to the spring of 1957. I really enjoyed this kind of work especially, where we were located at Hoppstatten or Happy Valley, being a unit all by ourselves.

Some of the guys in the Fixed Wing Section were FW George Schmidt (he was a tech inspector and crew chief of the company's L-20, from Nebraska; He passed away about 5 years ago); FW Carl Fowler (TX); Sheet Metal Jerry Vaughn (deceased, OK); FW Art Sites (Chicago); FW Ted Harmon (from Kansas); FW Andy Sapp (from PA); FW Herman Stika (from North Dakota); FW Jim Mast; FW Hank Deskewies (I believe from NY)
and myself (from Wyoming).

The company moved to Hanau in late fall of 1956; I know it was a cold trip. I have a few pictures of some of the happenings around Hoppstätden.
| | | | |
| --- | --- | --- | --- |
| | | | |
| 1. End of runway (KB) | 2. Winter 1955 (KB) | 3. RCAF P-80 (KB) | |
| 4. DC-3 (KB) | 5. C-123 Provider (KB) | | |
| | | | |
| --- | --- | --- | --- |
| | | | |
| 1. L-20 (KB) | 2. Chuck Woolsey and Jim Mast (KB) | 3. George Schmidt (KB) | |
| | | |
| --- | --- | --- |
| 4. George Schmidt, Crew Chief of the L-20 and Technical Inspector | | |
---
1956
(Source: Email from Hank Deskewies, 30th TC Co (Army Aircraft Maintenance), 1956-58.)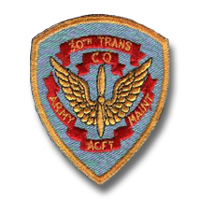 30th TAAM Company pocket patch

I was stationed in Germany from 1956-58, with an aviation unit called the 30th Army Aircraft Maintenance Co. Originally operated from an airfield near Saarbrücken, then later the 7th Army moved us to a larger facility in Hanau. Very small unit, about 125 in TO &E consisting of fixed wing, rotary, electronics techs.
Army Airfield at Würzburg, around 1958

Our role in the 30th at the time, was to service rotary and fixed wing aircraft for field units, the 3rd Infantry Division being one of many. At that period of time, only minor repairs were allowed in the field, major repairs and maintenance were done at the 30th. My role was L-19, L-20 specialist, being assigned to many aircraft brought in from the field for periodic maintenance and required airframe and powerplant modifications.

Later, I took a team on the road spending time (weeks at a time) at the Wurzburg airstrip on top of the hill, staying in the barracks at the bottom near the river. There was a large WW II flak tower not very far from the runway.

In the summer of 1958, one of the L-20s with a commanding general aboard failed on takeoff in Belsen, almost crashing. I received the call, and one of your L-19 pilots flew over to Hanau to pick me up, then up to Belsen. I made the necessary repairs to the fuel system; checked it out, and it was airborne (with the General) in hardly no time at all.

Came back to Hanau with another 3rd Inf Div pilot and L-19 with radio out and barely running. I can tell you, that Hanau is not just down the road from Belsen!!
Attached is a photo of one of the 3rd Avn Co H-34 choppers hovering at the airstrip in Wurzburg; the flak tower is in the background. Would you happen to know the name of the barracks and the airfield in Wurzburg?
Hank Deskewies

(Webmaster Note: I believe the "flak" tower seen in the photo is actually a part of the ruins of the Schenken castle, near Emery Barracks. The Wuerzburg-Schenkenturm Flugplatz is still active and a very nice aerial, probably taken around 2000, can be seen at the following web page (Flugsport-Club Würzburg website). According to the club's history, it appears that the US Army constructed the airfield adjacent to the Schenken castle in 1954 as a replacement for the airfield at Grabenfeld (Leighton Barracks) that was abandoned at the same time. Around 1961, the US Army constructed a tactical site (next to the airfield) for an Army air defense unit (probably a HAWK site for the 6th Missile Battalion, 52nd Artillery based in Wuerzburg). It appears that the airfield was turned over to the city of Wuerzburg sometime in the mid 1960s. Who can provide more details or corrections?

(Webmaster Note: An aerial photo of the airfield identified as the one used by the 10th Infantry Division Artillery (10th Infantry Division Yearbook 1957) clearly shows the Würzburg-Schenkenturm Flugplatz; see the following aerial image and compare it with the Flugsport-Club aerial.)
| | | | |
| --- | --- | --- | --- |
| | Photos submitted by Hank Deskewies | | |
| 1. 30th TAAM crest | 2. Entrance to 30th TAAM barracks (KB) | 3. VII Corps Hqs Bldg, 1956-58 (KB) | |
| 4. 30th TAAM on the move (KB) | 5. Aircraft hangar on Würzburg army airfield (KB) | 6. L-20 at 30th TAAM for maintenance (KB) | |
| 7. Entrance to Campbell Barracks, HQ USAREUR, 1956-58 (KB) | | | |
---
(Source: Email from David Thompson, 1956-59)
I served with the unit from Oct 1956 to Sept. 1959 in Lagendiebach at Fliegerhorst Kaserne. Our CO was Capt. James Morris and the First Sergeant was Foster Leonhart, both exceptional soldiers. My assignment was as a fixed wing mechanic but I was moved to the Maintenance Office because the Ex. was in need of a clerk who was detail oriented. Quarterly maintenance reports were a nuisance to him so I got the job.

I noticed on the photos of the barracks entrance the wooden prop. This was recovered by the Ex and restored by our shops. I don't recall the officer's name but he was an exceptional pilot. The mail clerk at this time was Fred Turner whom I hooked up with at Fort Rucker and served the same tour as me.

Another interesting bit of info is the fact that the 30th had the best mess on the kaserne. the mess sergeant was a master at ordering rations and always had an ample supply of Class A rations on hand. Fourth of July picnics were always great with steak on the grill and all the fixin's. When we were in the field we had the best main meal you could imagine and officers from surrounding units would fly in and enjoy supper in our mess tent. Since our unit was small and the fact that we did have our own mess hall and that our mess sergeant and a great reputation, officers in transit or on TDY would always eat in our mess hall. I don't recall the mess sergeant's name but two of the cooks were roommates of mine and they were Fred Sampley and Robert Moorer both from Montgomery Ala. These experiences in the 30th mess hall made the 29 month tour a bit easier.
30th Transportation Company, Army Aircraft Maintenance Company
TO&E
Company Commander (Pilot)
Company First Sergeant (1)
Company Clerk (1)
Armor (1)

Personnel Officer
TI & E NCO (1)
Mail Clerk (1)
Mess Steward (1)
Cooks (3)
Ration Driver (1)

Executive Officer and Shop Officer (Test Pilot)
Service and Recovery Platoon (9)

Helicopter Shop Officer (Test Pilot)
Helicopter Section (33)
Tech Inspectors (5)

Fixed Wing Shop Officer (Test Pilot)
Fixed Wing Section (18)
Tech Inspectors (3)

Aircraft Maintenance Control Officer
Shop Foreman and First Sergeant (1)
Company Carpenter (1)
Shop Office Personnel (2)
Radio Repair (4)

Tech Supply Officer
Tech Supply Personnel (11)

Motor Officer
Motor Pool Personnel (9)
---
1957
(Source: Email from Matt James)
Undated group photo of the 30th Trans Co.

Who can provide details or identify any of the personnel on the photo?
RESPONSE TO INQUIRY:

(Source: From David Thompson)
I served with 30th Trans Co AAM 1957-1959. This photo was probably taken in the spring of 1958 on the tarmac on Fliegerhorst army airfield. I have a few ID's but very limited.

2nd row seated: the black officer is Capt James Morris.

1st row standing, left to right: #9 Fred Turner, mail clerk.

2nd row standing, left to right: #8 Nicholls, fixed wing mechanic; #9 David Thompson, fixed wing mechanic (later, shop office clerk); #16 J.T. Ward, fixed wing mechanic.

Top row, left to right: #1 Wyatt & #8 Wyatt ? (Don) brothers, Tech inspectors; #3 Fred Sampley, fixed wing mechanic; #12 Charles Tyra, fixed wing mechanic; and #16 Robert Moorer, fixed wing mechanic. (Sampley and Moorer later became cooks)

The three men in the front row, left to right: Sergeants Lugo, Crawford and Rameirez. I e-mailed Fred Turner for some help with the ID's. Maybe more later.



The date of 1958 is almost certain because some of the men are wearing Ike Jacket uniforms and I believe this was a transition period for Class A uniforms.
ADD'L RESPONSE TO INQUIRY:

(Source: From Wayne Massey)
I was at Fliegerhorst (Kaserne, Hanau) from Feb 1959-Sept 1960. I was in the 30th TAAM. I saw a photo sent in by Matt James. I recoginize several of the men:

On top row: # 6 from the right is Merlin Jones. He was mail clerk after Fred Turner. And I was mail clerk after Jones. Of course I'm not there when the picture was took.

On third row right to left: # 3 is who I think is Canal who was in supply.

On fourth row right to left: # 8 looks like Raymond Heftner from Texas -- worked in office.

On first row standing left to right: # 8 looks like Broussard from Lousania; # 2 was a cook -- no name

On third row from top left to right: # 3 could be John Wallace.

I do remember some of the names when I was there: Charlie M. White who I roomed with. He played the guitar and was from Old Town (Winston-Salem) N.C. (I want to contact Him); Lt. Tom Hatton (pilot); First Sgt. Mullings; Charlie Haun (clerk); Harvey Tibbets (knew him from school at Ft. Eustis); Sgt. John Henry Brigmond, Mechem, Eslinger, Capt. Bounds (test pilot). Warrent Officer Woody (Shop), Sgt Voyles( Fixed wing), Amburgy(cook), George Ray (Mississippi), Harold F Metts (mail clerk after me), Jorgerson, (rotary ?). Vito Valenzano (West New York New Jersey), Billy Mabry (Tyler Texas), Carter, Sgt. Hardy (fixed wing), Eddie P. Tyre (tech inspector) from Miami, Zoller the Pool Shark, Zerby, and others I recall from time to time.

45 years ago you kinda forget. Hopefully I am right about some of them.
---
1963
(Source: Email from Eugene R. Walsh, 1963-1964)
I was the C.O. of the 30th TAAM from 7 Jan1963 to 7 Jun 1964. I have photos and rosters I would like to insert in the 30 TAAM memorabilia.
| | | | |
| --- | --- | --- | --- |
| | | | |
| 1. L-20 Beaver (KB) | 2. Visitors (KB) | | |
---
1966
(Source: STARS & STRIPES, Feb 4, 1966)
One of the capabilities of the 30th Trans Co is to dispatch on short notice a mobile repair shop that can operated independently at field sites in support of seven different types of aircraft. Three of the company's four platoons have these mobile rapair shops. The fourth platoon operates fixed shops at the home station.

The 30th Trans Co is responsible for all 3rd echelon maintenance on 97 aircraft - both fixed-wing as well as rotary. Maintenance includes disassembling the planes and performing maintenance on wings and engine changes, installation of new modifications, testing metal parts for cracks, balancing, and other tasks. If parts cannot be repaired, the unit repalces them.
---
1969
(Source: Email from Phil Wood, 30th Trans Co, 1969-70)
I was assigned to the 30th Trans Co. at Fliegerhorst between April 1969 and August 1970. They called it the "Red Barons" while I was there. I was assigned to the unit after my return from Nam in March of 69. I was a 67N 20 when assigned to the 30th. and worked on some UH-1's while in the unit but mostly on OH-13's.

I need to know the name of the C.O. of the 30th while I was assigned to the unit, I do remember he was a Major but am unable to remember his name.

About the last half of my tour in the unit I was assigned to the 2nd Platoon (Green Hornets) which was assigned as a D.S. Detachment to the Air Cav. Troop of the 14th Cav. Regt. at Fulda. We worked on a small airfield on the hill across the road from the Tank Kaserne, adjacent to a small village called Hosenfeld.

Prior to assignment to the 2d Plt. I was in the 3rd Plt. while at Fliegerhorst.
Phil Wood
---
(Source: Email from Clayton Kruse)
I was the Morning Report clerk at the 30th Trans between late 1969 and August 1970.

The CO when I arrived was Maj Pratt, and we were called the Red Barons.
---
1972
(Source: Email from Kevan E. Williams, 30th Trans Co (Acft)(DS), 1972-74)
I served with the
30th TAAM
(Dirty 30) from February 1972 thru July 1974. At the time we were an approximately 350 company made up of five (5) platoons:
| | |
| --- | --- |
| | HQ (which included Motor Pool, Mess, Company Offices, Company Supply, Training, Armorer, NBC) |
| | Maintenance (physical 2nd & 3rd echelon repair of both rotor & fixed wing aircraft) |
| | Shop (HIE-Hydraulic, Instrument, Electrical, Rotor, Engine Repair/Rebuild, Machine, Battery, Quality Control) |
| | DSSA -- Direct Support Supply Activity (50,000-100,000 line aircraft supply warehouse, Direct Exchange Point, Major Items accountablity office, electronic inventory system (this computer system actually took up two 35 foot van trailers, plus it's own seperate power generation of two 15 kw diesel gen sets) |
| | Avionics (was actually a TDY element of the 245th Trans Co) |
I forget the exact number of personnel in each platoon, but all were fairly equal in strength.
When I first arrived in country and assigned to the 30th, Major Doucette was the CO, followed by Major Peterson. Just about the end of my tour another Major -- but can't remember his name. Don't remember the names of the three different 1st Sgts we had.

I was a 76V20 Equipment Storage Specialist, and since I was a supply MOS was assigned to the DSSA Pltn, my Pltn Ldr was 1st Lt Singleton, a really intelligent and over-educated ROTC type, who understood the supply system very well, but was not a combat leader, Fortunately we had some great Plt Sgt's who were.

Started off in DSSA for the first couple of months as in shipping and recieving, was then made the Major Items Clerk, which was officially any component, major or minor, subsystem, system, or assembly which was crtical to the mission of the US ARMY. I had this five ring binder that was about 4 inches thick that listed everything in the army inventory that fit that description, as far as aircraft were concerned the went from the always popular mechanical 8-day clock to complete aircraft.

We had a small section of our warehouse that was semi-secure for these smaller items, we also as part of this program had several float aircraft which was 3 UH-1D,E,H models, 2 OH-58-A, 2 AH-1-G Cobra's, 1 U-21 Beech KingAire, which was on temporary/permanent loan to the V Corps Flight Section (flew VIPS all over Europe). The semi-secure warehouse area just meant that we had a chainlink fence bolted to some of the racks/shelves with a door/gate over the areas. Many of the guys in the platoon knew how to get around this fence by climbing over it. Just meant I had to keep a realy tight inventory of all the stuff which was fairly easy since the computer had record of all of the reciepts and issues of the supplies, just that once a month or so I had to compare the physical count with what the computer said. This was not a really difficult job at the time. So much so that I was actually able to spend time up at the engine shop learning gas turbine engine repair that I was almost ready for a secondary MOS in that. Big reason for this was that it gave me lots of opportunity to go flying (my first love in the army).

Some of the other Pltn Ldrs we had were CW2 Elliot (a pilot) very little clue about supply but a good helicopter jockey, a little crazy at times. For a very brief time CW4 Murphy, who had been in the Army forever it seemed; he actually started as a Warrant Officer 1 back during WWII when he flew courier aircraft, was slowly transitioned thru different aircraft. He was in & out of the Army for short periods of time but still had around 30 years service under his belt. He was an Instructor Pilot on multiple fixed & rotor wing aircraft, was a really good stick, even being in his late fifties at the time could fly circles around a lot of the other pilots. He was a great guy to work for. The general rule was "Don't mess with Mr. Murphy's guys, even generals salute him." Also a couple of Captains, all pilots.

Can remember that one day on the railhead outside of our warehouse -- a train showed up with an M-60 tank on a rail car. The German train crew dutifully locked the car down at the loading ramp left it sit there. Well this tank sat there for almost two months without anyone touching it. The kaserne commander finally got tired of looking at it, had someone go over to it and pull out the shipping documents, and it was delivered to us at our AK1481 address, but had no end user agency noted. Long story short, through a computer malfunction we became the proud owners of a piece of armour. Needless to say once that was discovered it didn't take long for the Bundesbahn to show back up to take the whole thing away again. Never heard too much more about how that happened but knowing some of our computer guys at the time "Because we could" might be an answer.
I also remember that we had the best chow on the entire kaserne. We had a SFC Williams who was the mess sgt.; a Staff Sgt Williams who was a baker by civilian training and also in the military; and Buck Sgt Williams who had been a short order cook in New Orleans before he was drafted and left in the kitchen also. These three were all African-American, as well as a few others; we did have a couple of token caucasians in there as well. All of our KP's were either Turkish or Pakastani, it varied from year to year but mostly Turkish. They lived in one of the other kasernes in the Hanau area and the duty driver had to pick them up every morning around 0530 and then take them home around 1900 each night. We only had GI KP's on very rare occassions when there was a lapse in the contract with the foreign nationals and even that was only for a few days if at all.

I also heard all of the stories about the flooding of the airfield, and the under ground complexes, etc. I can remember we we told to just stay out of them since there had been others go down there and never came back.
Can remember being there for the 1972 summer Olympics when the Isreali athletes were taken hostage, being on alert status for what felt like a week during and after that. Then all of the various facility alerts and force protection upgrade because of the various terrorist factions, wanting the US out of Germany: Baader-Meinhoff, Red Army Faction, and whoever else.

Also during the summer of 1972, while on our annual week of military competencies (firing ranges, map reading, land navigation and all of that fun stuff) at the wonderful Wildflecken training area, we had set up in tents on a gradually sloping terrain for a few days, when across the road from us a 155mm Artillery BN set up. The first day they were there was really them getting their tracks set in the approved fashion (hey, I still don't understand what the various formations they used meant, except that there were different ones for different things). The following day while were were out at some of our training we could hear them firing missions. When we came back into our area they were quiet and doing the same thing we were -- getting chow, showers etc. We went to bed that night and around OH-DARK hundred all of a sudden we were all woken up by these guys with a fire mission of what seemed like a hundred rounds. The following day much the same, except while we were eating there was a sudden flurry of activity around the guns and they seemed to be getting ready for another mission and did begin to fire but towards the rear of their formation they had dug a really big pit and were throwing unspent partial bags of ammo powder bags, when all of a sudden there was huge flash fire just as some of the guys were throwing some bags in. Several of them were burnt pretty badly. Well we had two of our UH-1H's there as courier ships for us & the battalion since everyone went at the same time. We used our two aircraft in addition to the local Dust-Off ship from the AAF there to fly these guys out to the hospital.
During the winter of 1973 or spring of 1974, I forget which, we moved out of our billets and went into temporary quarters. Each platoon was quartered in a different excess area of various buildings on the other kasernes, we were temporary tenants in other companies areas, but had company formation on the flight line. All this while our billets were rehabilitated/refurbished. This might account for Waybe Criger's memory of living in the same building as the avionics shop, because I remember them doing that since they were able to open up another area of the building for them. I think it had some type of facilities shop for the kaserne that was able to be relocated.
I do remember the company patch since at one time someone had painted it as well as the V Corps, 85th Maint. Bn crest on the rear wall of our hangar, and then with like a rolled out ribbon touching the various elements had a banner that said "Army Aviation Above the Best, No Brag, Just Fact." I think there may have been an 82nd & 101st patch mixed in there some where because I remember we had a visitor one day who had a star or two on who got really upset about this until the Corps Commander (also a pilot) reminded him that this was a very true statement and in no way meant we were better than anyone else. I can remember that while we tried not to chuckle at this it was hugely funny. If I remember that back wall was repainted during the hangar repaint that happened during the spring of 74.
Would also direct anyone who's interested to
www.classmates.com
. You should be able to log onto the site or search the site for Hanau, as I know there is an area for that under the military area. I know much of the above are personal recollections but maybe it will fill in some of the history of the 30th TAAM, or spark someother's memory of the unit. Sorry I don't have any photos to share but all the ones I had have been misplaced over the years. But it sure has been good to look back at the history.
I would love to hear about what happened to the 30th.

To expand on Wayne's user unit list from when I was there:

350th AVN
became 173 Assault Helicopter then became 334th Attack Helicopter flying UH-1D,E,H, AH-1G Cobras, OH 58A

122 AVN (Recon)
became 73 AVN (Intelligence) flying first the OV-1B then later the OV-1D

V COSCOM
(V Corps Support Command)
Flight Section
flying a couple of executive package UH-1D,E,H, a U-8 QueenAire, and a U-21 KingAire

2/75 FA Flight Detachment
flying OH-58A
As well the other unit he mentions.
Found this website to be such a great vehicle for many of my memories of being in Germany and the military, that I would hope that others do the same. It seems that many unit histories have been lost over the years because we all leave and never get back together to compile them.
---
1974
(Source: Email from Wayne Criger, 30th Trans Co (Acft Maint), 1974- )
Hello, I was originally assigned to the 30th Trans Co (Aircraft Maint), 85th Maint Battalion, Fliegerhorst in early Apr 1974. We were attached to the 245th Trans Co (General Support Avionics). (Belonged to 1st Support Brigade attached to the 85th Maint. Battalion @ Pioneer Kaserne).

We consisted of myself (Wayne H. Criger) and Steven L. Moore, both 35L Avionics Comm. Repairman. The 245th wore the 1st Support BGrigade patch, the 30th (dirty 30) wore the V Corps patch.
In 1975 both units were reassigned from the 85th to create (as we were told) the first AVIM Battalion, Transportation Battalion (AVIM) (PROV). Ross Thompson (ski bum from Maine) could draw and got the task of the patch. I don't recall the process of choosing the design, it did cover all aspects though, Transportation, Aviation & Signal Corps. The 245th received 2 platoons from the 30th in the reorg. As a result we relocated the barracks to one just across from the PX.
We supported 163 V Corps Aircraft. Including the 11th ACR in Fulda. Other Aviation units on Fliegershorst:

334th Attack Helicopter Co.

an Assault Helicopter Co.

a Mohawk Co.
The Mohawk was a fixed wing recon aircraft with cameras. They took a lot of pictures over Cypress when the Greeks and Turks were fighting there.
Other Units located at Fliegerhorst at the time:

2/75th FA.
They had tracked howitzers (105 I think) and tracked Honest John Missiles.

There was also a small ADA unit with (Vulcan?) Missiles.
We did our drinking in Erlensee. Crazy Sexies was the House of choice in Frankfurt.
The 245th may have roots in the 45th Maint. Co from the WWII time frame. There was one guy who had come to Fliegerhorst with the 245th from the Mainz area, not sure of that date but was early 1970's. We lived and worked in the same building. There were approx. 25 of us. 15 in the barracks. We were across from the hanger with the Flight Simulator. Not sure if north or south anymore. The Simulator was put in in late 1974 by Singer.
There were stories that there were underground hangers. Part of the story was that the airfield could be flooded to look like a lake. The other was a tunnel that went to the Frankfurt Airport that was used to transport ammo during WWII. We did find a manhole (we were putting in a lawn in the back) with a ladder, all I know is that it did not stink so we were fairly sure it was not to the sewer. 1st Sgt had us cover it back the way we found it. There was an 100lb WWII bomb found (3 ft under the cobblestone) in front of the 30th's Barracks.
There were nukes in the bunkers. I don't know where the guy's came from that guarded them. They didn't let us Barney Fifes close . There were approx 6 attacks while I was there. Supposedly the Baader-Meinhoff Terrorist Group. It was never in the papers here or there. Once they brought down 3 tanks from Gelnhausen. We were locked in the barracks for that night.
There was also a MARS unit in a fenced area. Not sure what was going on in there. 2 of us were sent over there to fix a cable. While being escorted we saw a room with what looked like a Dentist's chair. It had straps for the arms and legs. Our escort told us we would regret mentioning that chair to anyone. Let your imagination run with that one.
There was a Rad (all Germans were Rad's, short for comrade) that had 2 very interesting pictures of himself. One was of him during WWII in his SS uniform. He was a Captain. JFK had lunch at Fliegerhorst on the "Iche bin eine Berliner" trip. This guy was working as a KP. The other picture is of this former SS Captain sitting on the Presidents right having lunch. The important part of this being that JFK did visit Fliegerhorst!
We also had the base locked down in Oct 74 (30 days as I recall) after a white NCO killed a black Spec 4 in a fight. It happened on the access road in front of the civilian apartments. They bumped shoulders when passing each other. The only reason I know the details is that one of our guys was present. Was a difficult, the CQ was on duty 24hrs and armed until things calmed down.
Last but not least of the stories. I don't know if this applied to all units in Germany. We painted all equipment Desert Camouflage in APR 1974. Our expected area of deployment was the Middle East. Israel kept the upper hand against the Arabian forces, so we never went.

---
48th Transportation Company (Acft)(GS)
41st Transportation Battalion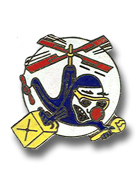 48th Trans Co (AAHMS) unofficial crest (?)
1963
(Source: Email from Joe Walker)
I was assigned to the 48th Transportation Company, 7th Army from August, 1963 to September, 1964. I was a crew chief and was located at Coleman Barracks, in Sandhofen, Mannheim, Germany.

I see that the 48th is still serving in Germany. As I was preparing to ship back to the States, our company was preparing to move to a new location, which I thought was going to be Nurnburg.

I tremendously enjoyed my work at Coleman Barracks and with the 48th Trans. We did everything except 5th level of maintenance which included repair of aircraft instruments and other high tech items.

We had a CWO4 Coles who was, to my knowledge, a Brigadier General, with either the Marines or Air Force Reserve. He flew jets in the Korean War and mainly tested the Mohawks that came in for repair. The Commanding Officer for the 48th during that period was Captain Knight.

Only remember a few of the officers and enlisted but I have some photos if I can put my hand on them.

The barracks we were assigned are still there according to Goggle Earth and many of the other buildings. Of course, there are many new ones.

I checked Wikipedia and noted that they stated that there were rumors carried by servicemen that were assigned over the years that Coleman was covered by underground tunnels used by the Nazis and they were flooded and booby trapped to prevent intrusion by the U. S. Army. This was not a rumor and I personally have been down in a few of these tunnels and have seen a major tunnel that ran underneath a house in nearby Lampertheim that according to the elderly lady that lived there was used for trucks to carry supplies to the workshops located underground at the German Fighter base, designated Y-79 by the U. S. Army when they took it over. As far as it being mined, I don't have any knowledge, other than what was said.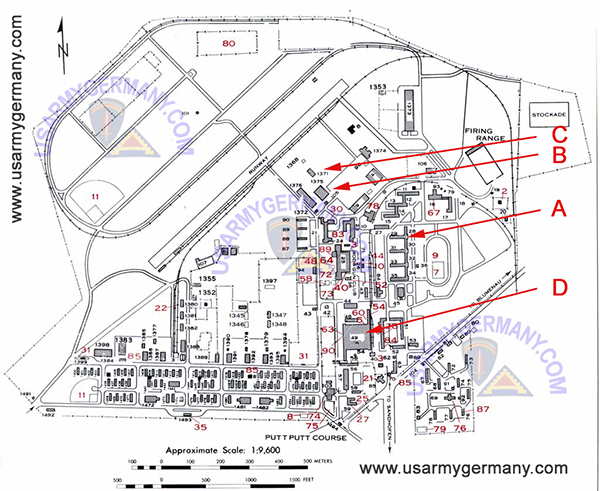 Coleman Barracks, Mannheim-Sandhofen (Webmaster's collection)
ADDITIONAL INFORMATION
We were located in one hanger, with a row of mobile machine shops housed in truck trailers at the rear of the hanger, in the event that Europe was attacked by the Soviets. We were to head for Italy to set up shop there.

We repaired fixed and rotary aircraft and returned them to their units.

At the time I was assigned to the 48th, I was on orders to go to Vietnam but because I had training in Weight & Balancing of fixed and rotary aircraft, my orders were changed to go to Germany. I deployed from Davidson Army Airfield, Fort Belvoir, Va. by ship, The General Rose, to Bremerhaven, and then by train to Mannheim.

The primary reason I was assigned to Germany was that there were over 3,000 aircraft that were redlined for inspection and there were literally no one trained to do it.

I purchased a new 1964 VW auto while there and used it to transport the equipment used to do the inspections as the equipment was very sensitive. All the Army vehicles were too rough on the the Wt. and Balance gear. We were in the first hanger.

After entering the main gate of Coleman, (sorry I can't remember the name of the street), the street that ran straight after entering the gate as if you were you were going in the direction of the stockade was the one our billet was located. I found a map on the internet dated 1962 and the number of the building is 29 (marked as "A").

We shared the building with another aircraft maintenance company but I don't remember the company. We were in the last building on the right. We were located on the second and third floor on the building and occupied half of the building, the half toward the street. Our hanger is number 1375 (marked as "B") and the company that we shared the billet with was located in hanger 1371 (marked as "C"). The 1974 map includes many new buildings but many remain the same.

When we were reassigned to move to Nurnburg (not sure if that was the correct location) we moved away from the airfield to what appears to be Building 49 (marked as "D") on the 1974 map. We was there for only a month at that time and I left in the latter part of September, 1964, and again by ship out of Bremerhaven.
---
1966
(Source: ROLLING REVIEW, September 3, 1966)
The 48th Trans Company also supported the aircraft of the 4th Inf Div with 4th-echelon maintenance.
---
205th Transportation Battalion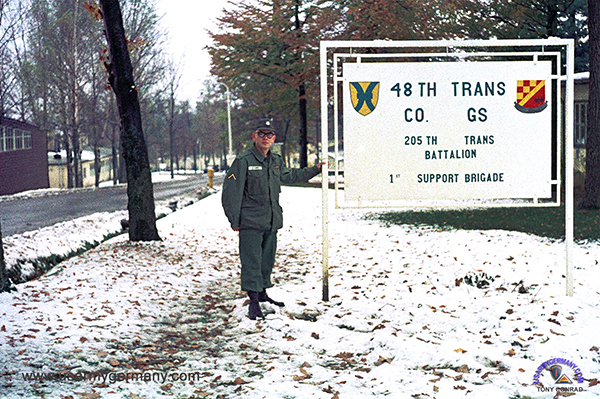 Company sign in front of 48th Trans headquarters building, Cooke Bks (Tony Conrad)
1966
(Source: Tony Conrad photos, Cooke Barracks Goeppingen Facebook Page)
Tony was assigned to the 48th Transportation Company at Cooke Barracks from 1966 to 1968.



48th Trans Co (GS)
Cooke Bks, Göppingen






1. CH-37 in front of hangar


2. Airfield tower & maintenance hangar


3. 48th Trans Headquarters Bldg




4. Inside the hangar

5. Barracks building and Post chapel

---
1970
(Source: STARS & STRIPES, Dec 15, 1970)
The 48th Transportation Company (Acft Maint) is located at Cooke Barracks, Goeppingen and is a subordinate unit of the 87th Maint Bn.

Currently, the company is involved with a mission of disassembling six CH-37 MOJAVE helicopters that were previously flown by the 4th Aviation Co (there were 12 CH-37's assigned to the aviation company) in Schwäbisch Hall. The 48th is responsible for salvaging approximately 65 aviation-standard pieces of equipment from each CH-37. These items can be used by other Army aviation units, as well as by the Air Force and the Army National Guard. It takes a team of six men two weeks to dismantled each aircraft.

As each MOJAVE is dismantled, the remaining shell is airlifted via CH-54 to a property disposal yard in Nellingen where it will be sold as scrap.

This is the first time that US Army helicopters have ended their life cycle and are being salvaged wholesale in Europe. The decision to do this was done to save the shipping costs back to the States.

The CH-37 was originally purchased by the US Army in 1956 ($1 million per aircraft). The CH-37 was the Army's first heavy-lift helicopter, now replaced by the CH-54 FLYING CRANE and the CH-47 CHINOOK. (The Army National Guard will have the last units flying the CH-37.)

---
591st Transportation Company (Army Acft Mnt)
1955
(Source: Email from Andy Graybeal, 591st TAAM Co)
I stumbled on your website while looking for Echterdingen, Germany images. I was stationed at the 591st T(AAM) Company at Echterdingen from 1955-56, having been transferred from the 1st Div. in Bamberg. The 591st was a 7th Army outfit and we had L-19s, H-13s and H-34s and possibly an L-20, if I remember correctly.

I was assigned to the motor pool, but owing to my artistic talent, I spent a good deal of time on the roof of the mess hall, painting murals on the 10' wide chimney! I have some black and white photos taken around the base, including a visit from the Duke of Edinbrough and the Underberg blimp which got caught out during a heavy snow, which caused it to settle to the ground and puncture its gas bag with a rudder.

It was here that I met my wife to be. She was the post librarian and the only good looking girl for miles.

It was on a trip to visit relatives near Stuttgart in the mid 1990s that we stopped by the base, but they wouldn't let us in to visit. Looking at it on Google satellite imagery, I don't recognize any of it. They must have torn down all the barracks and other buildings and built new facilities. There are a couple of military planes on the ground, but no way of telling if they are German or American.

This base was located on the west side of the airfield, the shots of the hangars were looking west and the picture of the Underberg blimp looked toward the east. The big hangar to the left of the blimp housed it while it was being readied for flying. Presently, the airline terminal buildings would probably been to the left of that big hangar. The pictures were all taken in early 1956.

We had so many TDY personnel drifting in and out of the base-crews of airplanes being serviced-that we never had to eat C-rations. The mess sergeant stored boxes of these in the most distant hangar. As an enlisted man with a car, I enjoyed much more freedom than most, however the town of Bernhausen was just out of the south gate and provided R and R most were interested in.

All in all, it was pretty good duty. One officer, a Captain Fox, was always an intrusion on our peace and quiet! I wonder what ever happened to him.

SKETCHES (left): Two sketches used in painting a mural located on the large (8' X 10') chimney over the EM Mess building. I never photographed the finished project.
| | | | |
| --- | --- | --- | --- |
| | | | |
| 1. One of the six hangars (KB) | 2. Hangar #6 at Echterdingen (KB) | 3. Sheep grazing on the infield (KB) | |
| 4. H-13 and two F-86's (KB) | 5. The Duke of Edinburgh (KB) | 6. Underberg blimb in background (KB) | |
---
1956
(Source: STARS & STRIPES, May 11, 1956)
591st TAAM Co AOR, 1956

The 591st Trans Army Air Maint Co (TAAM Co) is located at Echterdingen Airfield (near Stuttgart). CO is Capt Afton Dare. With a strength of 120 men, the company is responsible for providing field maintenance and logistical support to nearly 200 Army rotary and fixed-wing aircraft that are assigned to units within its area of responsibility (AOR) -- an area that stretches from Karlsruhe in the west, to Bayreuth in the northeast and Bad Tölz in the south.

Among the aircraft supported are twin-engined L-23's, L-20 cargo planes, L-19 utility planes and H-13 helicopters.

A four-man contact team is sent out with a truck load of repair parts to visit air sections throughout the year. They can perform most necessary repairs. For more extensive work, the aircraft will be transferred to Echterdingen for work in the unit's maintenance shops.
In addition to the above, the company is tasked with support and maintenance of any Army aircraft that has been forced to land anywhere within the company's AOR due to mechanical failure.

And, if an aircraft crashes, they send out a three-man recovery team to inspect the wreckage and determine the cause of the accident. The team's findings are forwarded to USAREUR for analysis.

---
Related Links: