If you do NOT see the Table of Contents frame to the left of this page, then
Click here to open 'USArmyGermany' frameset
Army Engineer Depots (Com Z)
Communications Zone
Looking for more information from military/civilian personnel assigned to or associated with the U.S. Army in Germany from 1945 to 1989. If you have any stories or thoughts on the subject, please contact me

.
---
---
Chinon Engineer Depot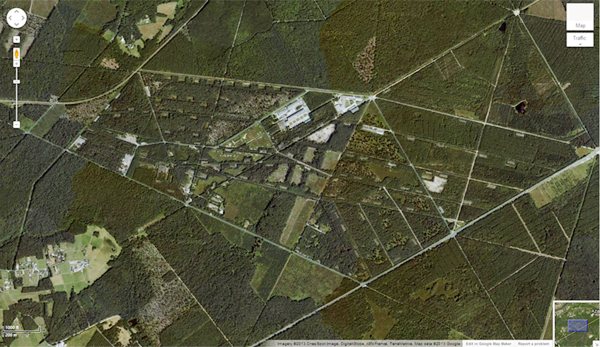 Top: Recent satellite view (GOOGLE); Below: Chinon Engineer Depot, 1959 (IGN website)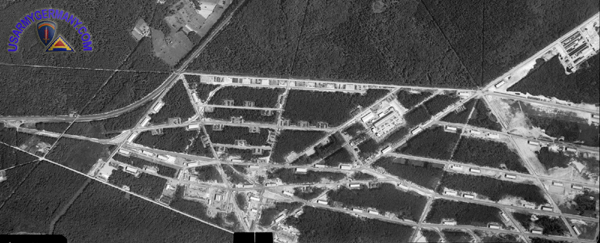 1952
(Source: STARS & STRIPES, Aug 3, 1952)
The Chinon Engineer Depot held its first military review recently, The following units participated (giving us an idea of which units were stationed at the depot at that time):


(HQ/HQ Det) 523rd Engineer Service Bn


52nd Engineer Parts Supply Co


581st Engineer Field Maintenance Co


80th Engineer Company


986th Engineer Pipeline Co


355th Engineer Company


7925th Labor Service Det (Polish)

The STATION LIST for 13 June 1952 identifies the 80th as a Depot company. The List also states that the 355th, also a Depot company, is located at Kaiserslautern, but on TDY at Chinon.
---
1953
(Source: STARS & STRIPES, March 28 & December 29, 1953)
The Chinon Engineer Depot () was established in December 1951. It began as a sub-depot of the Rhine Engineer Depot in Kaiserslautern, but has been elevated to a Class I installation and is now assigned to Poitiers Disrtict.

Today, the depot is still in a construction phase. When completed, the depot will fill more than 2,600 acres of warehouses, sheds and hardstands with everything from nails to cranes. The installation has over 10 miles of rail tracks and 18 miles of asphalt roads.
Facilities at the depot are still primitive. Hutments, tents, coal stoves and mud still characterize the living conditions for the 1,200 troops stationed at the depot. However, some of the amenities are coming along. Headquarters troops have just moved into brand new concrete buildings with oil heat. A new EM service club has opened at the depot.

Movies are still in a 250-seat tent theater, but a PX, commissary and library have recently been completed. Before, soldiers and dependents had to make a 180-mile round-trip to Orleans to do their shopping in a commissary or PX.
---
1957
(Source: STARS & STRIPES, March 6, 1957)
Com Z Pipeline Training School

The Pipeline Training School at Chinon, the only school of its kind in USAREUR, is completing its second year of operation. The 543rd Engineer (Pipeline) Company at Chinon serves as the school's permanent cadre.

The school runs a month-long course that teaches the ins and outs of oil pipelines to construction engineers from Army engineer battalions throughout France and Germany. With the most recent class to go through the training cycle, several representatives of other NATO armies also attended the course. The 30-day course is comprised of an accelerated curriculum and a minimum of class time with a maximum of practical work. The 543rd runs four cycles through the school each year. (Plans call for each company that has graduated from the Pipeline Training School to return to the school for a refresher course.)

Among the subjects covered are tank construction; hydraulics; safety measures with combustible fuels; pipeline and pump station construction; and the operation of special engineer equipment used in pipeline construction. The three weeks of lectures, training films and practical work are followed by a five-day field problem during which the company in training will build, operate and then dismantle an entire pipeline system.

Unlike most other USAREUR training centers, the pipeline school teaches and entire engineer company in each class. (The most recent unit to be put through the course was Company B, 97th Engr Bn from Toul.) The 543rd provides no logistical or administrative support to the incoming class (company). Each incoming class moves into a vacant company area at the depot where it continues to function as an integral unit, with its own officers, mess and supply personnel.

If you have more information on the history or organization of the Chinon Engineer Depot or Chinon Army Hospital, please contact me

.

---
Toul Engineer Depot
1951 - 1966
The Birth and Growth of the Toul Storage Site

The US Army Engineer Depot Toul () was activated on 26 September 1951 under the Command of Lt Colonel H. Dejarnette, III, then Commanding Officer of 552nd Engineer Service Battalion. There was little evidence that the area was once an airfield used during World War I and II.

The third platoon of the 83rd Engineer Depot Company and the first platoon of the 420th Engineer Field Maintenance Company were given the task of clearing the area of mud and debris.
Facilities at the time of activation consisted of only 15 buildings. Storage facilities were inadequate and trained personnel mere insufficient to handle the supplies as they arrived in November 1951. A tent city had been established by the 83rd Engineer Depot Company and 420th Engineer Field Maintenance Company upon their arrival and construction started on covered working space, storage pads, and roads. Lack of trained personnel hampered early construction efforts.

In the latter part of 1951, contracts were let to European construction firms for the construction of warehouses, rail spurs, permanent roads, storage areas and administrative buildings to make the US Army General Depot, Toul, a thriving military establishment.
The growing pains were many, the hours long and the first phase of construction of troop housing and rail spurs was not completed until late May 1952. More and more units arrived for integration into the mission of the Depot, and in December 1952, the US Army Engineer Depot, Toul, was changed from a Class II installation to a Class I installation.

Initial plans for the US Army Engineer Depot, Toul contemplated a relatively inactive type depot, since the supplies to be stored were to be primarily reserve stocks.

In 1955, plans were changed as the depot was to become the primary engineer issue depot for all of France and Germany. However, plans were again revised in 1956, providing for the depot to have a distribution mission for France only.

On 19 June 1959, the Toul Depot was redesignated as a General Depot with an Ordnance as well as an Engineer Supply Mission. On 1 May 1960, the depot was consolidated with the US Army General Depot, Nancy under COMZ GO #71.

On 1 November 1961, Toul Post was deactivated and Post responsibilities transferred to Nancy General Depot.
---
(Source: THE MILITARY ENGINEER, Nov-Dec 1955)
American Engineer Depot in France

When Caesar's Legions were in France, they established an occupation post, called Tullum, and on that same site is now located the Toul Engineer Depot of the United States Army -- storing, classifying, and distributing engineer equipment for the Advance Section and furnishing support for other commands in Europe.

Four years ago the site was a huge barren field of mud and rubble. After lying idle since the devastation of World War II, the area was turned over to the United States Army under terms of an agreement with the French signed in November 1950. The task of transforming this ancient Roman "post" into a modern military establishment was largely a battle against mud and obstacles. A network of truck roads and railroads to transport the equipment and supplies was a first requirement. While they were being constructed modern prefabricated troop billets were built to replace the hastily-erected tents and hutments originally used (Figure 1). Old buildings were reconstructed wherever possible. New ones were built and a coat of paint gave an air of permanence and beauty to the installation.

Warehouses, offices, and buildings for troop support activities were started to place the depot in operational condition.

Although the project is not yet completed, four years of continuous effort have resulted in an active depot with men and machines loading, unloading, classifying and processing thousands of tons of material annually (Figure 3). Modern maintenance shops and neatly parked equipment give evidence of the orderliness and efficiency that has been achieved.

In the development of military efficiency, the welfare of the troops has not been overlooked. New buildings house various clubs, a crafts shop, and dispensary. A new chapel, theater, and post exchange under construction were scheduled for opening this fall.

Morale of the troops is high -- an outstanding example of it being the baseball team, the Toul-Nancy Dodgers, that finished first in the Eastern Com Z League this year. Toul Engineer Depot also produced the five best netmen in the 1955 ADSEC Tenis Tournament, and the track team captured second place in the ADSEC meet. The Toul-Nancy football team also offers heavy competition to any challenger.
If you have more information on the history or organization of the Toul Engineer Depot, please contact me

.

---
St. Ay Engineer Map Depot
1951
(Source: Email from Cahrles Hagan)
I was attached to the 656th Engr Topo Bn from Dec 1951 to May 1952. The Company Commander was Lieutenant Charles Johnson from New York.

The CO of the 23rd Map Depot Detachment was Lt John R. Phalen from Vermont. All of the officers were recalled reservists. Many of the senior NCO's held reserve commissions and in 1952 were elevated to their previous rank.

The 23rd was sent to St Ay France and the 24th Engr Map Depot was sent to Kaiserslautern. Another office was opened in Bordeaux, France as part of COMZ.
---
1960
(Source: Email from Jim Conwell)
I was the CO of the St Ay Map Depot from Jan 1960 to Mar 1963. We were a squad in size (12), a platoon in name, and between a company and a battalion in administration (morning report, property books, UCMJ authority, etc.)

Being the only officer, I signed my own leave requests and appointed myself to numerous duties such as supply officer, pay officer, etc.

I had one of the best assignments in the Army being CO of both an isolated activity and independent unit. A s a 2nd Lt, I reported to three Colonels (EIC, Orleans Area Command, and 34th General Hospital). During that assignment I was promote to 1st Lt and just made Captain before leaving the Army.

Thanks for the ETC History web page.

The organization was a Map Depot Platoon at reduced strength supplemented by French Local Wage Rate (LWR) employees. Operationally we were under the Engineer Intelligence Center (EIC) which was based in Schwetzingen, Germany, but physically an isolated unit in the Orleans Area Command (OAS)

The military management side was like a Company/Battalion. I was the commanding officer (CO) although initially only one year on active duty and a 2nd Lt, the "Old Man" at age 23.

As CO I appointed myself to all the additional duties that are required (Maintenance Officer, Supply Officer, Pay Officer, etc. - there were about ten) and then approved it. I did the same for my leave applications, checking first with Schwetzingen. However, because we were an independent unit, I could not be assigned to local organizational duties such as Duty Officer, Reports of Survey, Court Martials, etc.

The platoon sergeant had basically the responsibility of a first sergeant in that we had a clerk that typed the Morning Report, Unit Orders, and correspondence. The sergeant also was acting CO in my absence. We also had a supply sergeant who kept Supply Books. In the map warehouse was a sergeant in charge of about seven warehousemen and the LWRs. So the total military was twelve.

The enlisted men wore the battalion crest of the 656th Engineering Battalion (Topographic) although we were not part of battalion. I think it was because the 656 was the only unit under EIC that had a crest.

During my time there we always wore the United States Army Europe (USAREUR) patch. Most other Army units in OAC wore the Fleur-de-Lis patch of the Communications Zone (ComZ). ComZ (most Army units in France) was commanded by a two-star General from Orleans. When ComZ was renamed USAREUR (Rear) these units in France changed to the USAREUR patch.

One of the LWRs was the map inventory clerk. He also served as an interpreter. There was a carpenter and about six warehousemen. So total civilian was eight.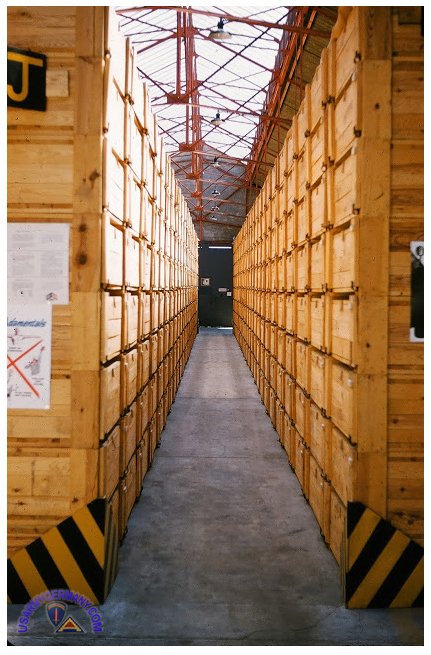 Row of map boxes inside the warehouse, 1960
The mission that the twenty military/civilian workers was to store and keep an up to date inventory of approximately 2.5 million maps, primarily of Europe in different quantities and scales. These maps came from the civilian mapping agencies in Europe with military grids added. So the coverage and quantity would change as war plans changed. We also replaced old editions with newer ones. Also in classified storage was information like artillery registration and some Air Force related documents. Generally we could supply maps to new units arriving from the States in the event of a build-up.
The maps were in packages of 25-200 and stored in stacked wooden boxes, say about 8 high. Each box was around 12" high and 36"wide with the front hinged. These boxes and the pallets kept the carpenter busy.
In the event of an emergency evacuation, we had enough thermite grenades ordered to destroy each stack. Otherwise just the edges would burn due to the dense packing.
Other than responding to an occasional request for a city map of Orleans for a new arrival in the OAC, we did not distribute many maps. The Engineer Intelligence Center name on the sign out front may have discouraged other casual visitors.
The old maps had to be sliced into approximately four inch strips. This was not for security reasons, but to keep them for being used as wrapping paper such as for fish which offended some countries! The sliced maps were sold for scrap.
Motor vehicle equipment included a 5-ton truck, a ¾-ton truck, a jeep, and a small Renault bus. The latter was to transport the GIs to meals, sick call, and general training at the 34th General Hospital about 5 mi. east on RN152. There was also a run after work for movies, libraries, classes, etc. at either the Hospital or the Caserne in Orleans. For these activities we had a driver assigned as needed each day.
In the warehouse we had two forklifts and several pallet jacks and mobile stairs.
The warehouse was a large single building about 100 ft. wide by 200 ft. long (see aerial photo from 1968 above). In it were the maps, unit offices, and carpentry shop. Adjacent was a Quonset hut with a sanitary block attached at back end. The unmarried enlisted men stayed there. Married soldiers and I lived in scattered civilian rental housing. Overall Depot area inside fence was two acres.
As an independent unit we had annual inspections by both the Inspector General and the Counter Intelligence Corps staff. We did not have any formal inspections from EIC. My contact with EIC was on an as needed basis. I visited Schwetzingen once or at most twice a year.
Recreational opportunities on location were limited due to small size of the Company Fund. We were ale to buy a few things like a TV for the Day Room. Programs however were in French and only a few channels. In late afternoon we did try to get out behind the warehouse and play volleyball or hit a softball. I often played in due to our small numbers of GIs to begin with, having someone monitoring the phone, and often someone on a vehicle run. My involvement in a volleyball game resulted in a cracked wrist bone just prior to the end of my tour in Dec 1962. I therefore opted to stay in the Army in Orleans until it healed. That took until Mar 1963. In the meantime I was promoted to Captain and continued to be CO. So I wound up being the CO for almost 39 months which might be a record in general, but certainly for the 23rd.
Because we were so small we needed to be attached locally to a bigger unit for support such as vehicle maintenance, general training, records, and the rare court martial. I had company punishment (Article 15) authority.
When I arrived in 1960 we were attached to the Orleans Area Command (OAC). But that attachment was not satisfactory. Therefore we were reattached to the 34th General Hospital which like us was operationally directly under Heidelberg or in our case indirectly via Schwetzingen. However, because we were located in the OAC area of responsibility for military installations, I continued to have the additional duty as one of the OAC Activity Commanders. So I attended the regular meetings of the Commanders with the OAC Commanding Officer and staff.
Biggest issue that came up at an OAC meeting was what to do for additional security at US Bases when elements of the French Army revolted in Algeria in 1961. The concern was that sympathisers might attempt to break in to get arms and explosives. However we wanted to avoid the accidental shooting of a French civilian.
At the depot we would have a soldier assigned as a Charge of Quarters to be on duty after normal work hours and on weekends. They were unarmed. Locking the front gate and making a periodic walk around was it. So OAC decided that the security personnel should be armed, but unloaded. Clip was in pocket. Nothing happened!
The Cuban Missile Crisis in 1962 did not affect our unit.

When the monthly alert came down from Germany, all the units dispatched a vehicle to contact those living in civilian housing which was scattered all over. So military vehicles would be passing one another in opposite directions. I lived in a historic mill on opposite side of Loire River near Olivet. So by the time the driver got there it was usually time to go to work. Big factor was that it took two years to get a civilian phone. Just long enough to be close to rotating back to States.
Our unit's phone was a civilian number, St Ay 36, because of our isolated location. The phone was activated by a spring lever which got you a French operator. You had to give her in French the number of the Military Phone Exchange. Then you told a LWR employee at the exchange who spoke English what military number you wanted.
During the Berlin Wall Crisis in 1961, all units were brought up to full strength. We did not have space or work for the new arrivals, so we kept them for a night or two and shipped them to Schwetzingen. My two year tour due to end in Dec was extended one more year because of the crisis. This happened to all military personnel in Europe.
A doctor from the 34th General Hospital rented a house behind the Depot. He came by occasionally to use our phone to call the hospital because as mentioned above he did not have one at home.
So in general we all had higher levels of responsibility (I and the platoon Sergeant full time and the GIs when CQ) than our rank would normally require. I had some topnotch NCOs who deserve some of the credit for my being awarded the Army Commendation Medal for my period as CO. That award came as a complete surprise as I was notified just after leaving active duty.
The LWRs were very good workers. Sometimes, when a GI crossed the line, I wished that we had more LWRs and fewer GIs.
Instead of coffee breaks the LWRs had wine! In the winter they heated the wine. Never was this a problem.
The location of the Depot in 1960 was on the eastern edge of St. Ay right on the southern side of RN152. It was said that it was used by the Germans in WWII to store gas masks. The single large warehouse building was still there when I visited in 1981. It was being used to assemble trucks. However around 2005 when I drove thru the town, the boundary had moved further west and the best I could determine there is now a supermarket on the site. There is a roundabout at the supermarket (use the GOOGLE link above to view a recent satellite image of the area).
Also I'm converting several slides to disc which show both the outside and inside of the depot taken in 1960.

Looking at the aerial photo above, the four grey rectangles in the upper left is the single roof of the depot which was triangular in cross-section at top with vertical walls with windows for natural light just below. To the upper right of the depot is the Quonset hut with the sanitary block just behind. Structure behind and adjacent to third grey rectangle from right was I believe a drainage manhole. The LWRs use to take off the lid and harvest snails! T he area immediately behind the depot was partially paved. The area further behind was just weeds which we had graded for when we hit softballs. The left break in the perimeter line along RN152 looks about right for the main gate. Don't recall if there was a second gate to right. If so we did not use it. Structure in upper right corner might have been power related.
| | | | |
| --- | --- | --- | --- |
| | | | |
| 1. Front of warehouse | 2. Front of warehouse | 3. Troop billets | |
| 4. Depot office | 5. Forklift | 6. Back area of warehouse | |

---
Related Links:
| | | | |
| --- | --- | --- | --- |
| | | Chinon APO 256 - Larry Randall's website features US Army hospital, Chinon and Chinon Army Depot. | |
| | | | |
| | | | |