If you do NOT see the Table of Contents frame to the left of this page, then
Click here to open 'USArmyGermany' frameset
212th Field Artillery Group
V Corps Artillery
Looking for more information from military/civilian personnel assigned to or associated with the U.S. Army in Germany from 1945 to 1989. If you have any stories or thoughts on the subject, please contact me

.
---
---
SUBORDINATE UNITS
| | | | | | | |
| --- | --- | --- | --- | --- | --- | --- |
| SUBORD UNIT | STATION | CTRY | | SUBORD UNIT | STATION | CTRY |
| 3rd Bn, 18th Arty | Darmstadt | GE | | 4th Gun Bn, 57th Arty | | GE |
| | Hanau | GE | | | Hanau | GE |
| 3rd Msl Bn, 21st Arty | Darmstadt | GE | | | | GE |
| | Hanau | GE | | | Büdingen | GE |
| | Darmstadt | GE | | 3rd Bn, 83rd Arty | | GE |
| | Hanau | GE | | 2nd Bn, 92nd Arty | | GE |
| | | | | | | |
Group History
1958 - 1968
(Brief notes taken while doing research at the USAREUR Military History Office in the early 1980s.)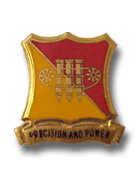 212th Field Artillery Group DUI
On 20 April 1946, after performing occupation duty in the US Zone of Germany, the 212th Artillery Group was inactivated in Germany.
The group was reconstituted on 17 September 1958 and allotted to the Regular Army. The same order activated the group on 15 October 1958 in Hanau, Germany; the 212th FA Group was then further assigned to Seventh Army, and attached to V Corps. (
Webmaster
assumes that the Group took over the personnel and equipment of the concurrently inactivated
30th Field Artillery Group
, whose mission it probably also assumed.)
ORGANIZATION
(1 July 1966):
| | | |
| --- | --- | --- |
| UNIT DESIGNATION | LOCATION | COMMENTS |
| HHB, 212th Arty Gp | Hanau [1] | |
| 4th Bn (155mm)(SP), 18th Arty | Francois Ksn, Hanau | |
| 1st Bn (HJ)(SP), 32nd Arty | Hanau [1] | |
| 2nd Bn (8")(SP), 75th Arty | Hanau [1] | |
| 2nd Bn (8")(SP), 83rd Arty | Büdingen [1] | |
| B Btry, 1st Bn, 26th Arty (Tgt Acq) | Hanau [1] | |
[1] STATION LIST, 15 Dec 1965
In the fall of 1967, the group was designated to redeploy to CONUS under project REFORGER.

On 9 April 1968, the group and its four subordinate field artillery battalions (2/18, 4/18, 2/34, and 2/37) departed Germany for its new home at Fort Lewis, Washington.

2nd Bn, 18th FA was equipped with the M110 eight-inch howitzers, the other three battalions had M109 (155mm) howitzers.

All the units had left their equipment in storage in Germany as part of the REFORGER concept and had been issued brand-new equipment when they arrived at Fort Lewis.
Some of the units that were at one time or another attached to the 212th FA Gp in Germany:
3rd How Bn, 18th Arty (8in)(SP) -- returned to US in 1964
4th How Bn, 18th Arty (155mm)(SP)
3rd MSL Bn, 21st Arty (Honest John)
1st MSL Bn, 32nd Arty (Honest John)
2nd Gun Bn, 38th Arty
1st MSL Bn, 39th Arty (Corporal)
4th Gun Bn, 57th Arty
2nd How Bn, 75th Arty (8in)(SP)
3rd Gun Bn, 82nd Arty
2nd How Bn, 83rd Arty (8in)(SP)
2nd How Bn, 92nd Arty (8in)(SP)
---
(Source: STARS & STRIPES, Feb 24, 1968)
An advance party of 14 men of HHB, 212th Arty Group has been transferred to Fort Lewis, Wash., to help arrange for the group's redeployment of Group headquarters to this CONUS post. The main group will leave Germany in April of this year.

The transfer of the 212th to the US is part of the redeployment of selected USAREUR units to the States under the REFORGER plan. In addition to HHB, two other units of the Group will be redeployed -- 2nd Bn, 18th Arty (Rothwesten Kaserne, Kassel) and 4th Bn, 18th Arty (Francois Kaserne, Hanau).
If you have more information on the history or organization of the 212th FA Group/Brigade (or any of the subordinate units), please contact me

.
---
(Source: Author's collection)



212th Arty Gp
Fliegerhorst Ksn, Hanau






1. HQ 212th Arty Gp (KB)

2. Fliegerhorst AAF (KB)

3. M109 of 4th Bn, 18th Arty (KB)



4. Unidentified motor pool (KB)

5. Unidentified motor pool (KB)

6. 2nd Bn, 5th Arty (KB)

7. "L" Company provides an armored sleigh for Santa (KB)
---
(Source: STARS & STRIPES, November 26, 1963)
Throughout USAREUR, servicemembers mourned the passing of President John F. Kennedy in November 1963.

Here, the 212th Field Artilery Group at Fliegerhorst Kaserne fires a 21-gun salute using 105mm self propelled M-52's.
---
(Source: Email from Charles COMMA Causey, First Vice President, 30th Field Artillery Regiment Association)
The 212th did take over the equipment and personnel of the 30th Field Artillery Group.

If you are ever in contact with any of the Honest John personnel who may have served in the 550th or 2/30th FA Honest John, please have them contact me or the web master at www.hardchargers.com. The same goes for all other FA personnel who served with any of the 30th units.
Charles COMMA Causey
---
(Source: Email from Gaither Kitchell)
I served in the B/1/26th Arty (Tgt Acq) and 4/18th Field Arty during the period of 1965-1968. These units were under the 212th FA Gp.

In 1968, I was the primary project officer for the 4/18th when they were shipped to Ft Lewis, WA with the 212th FA Gp (as part of the REFORGER concept). REFORGER I was the term used for our move from GE to Ft. Lewis.

Later, I spent another tour in GE and was provided the opportunity to participate in several other "Reforger" exercises. I served as the Flash Plt Cmdr (B/1/26) and became the SVC Btry Cmdr/S-4 for the 4/18th.

PHOTO: Oct 1, 1968 Cpt Kitchell's promotion held in the office of Colonel John V McLain, Cmdr 212th FA Gp, Fliegerhorst Kaserne, Hanau, Germany

---
4th How Bn, 18th FA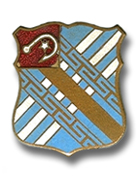 4th HOW Bn, 18th FA (SP)
1963
(Source: Email from Charles Barrand)
I served at Francois Kaserne, Hanau from Nov 1963 to 1966. Have the following information as it pertains to my time there (see installation map above):

Item 20 is "B" Battery
Item 21 is "A" Battery the Battery that I was in 1963 to 1966
Item 22 is "C" Battery

I remember 3 Batteries not four.

I do not remember an Item 23 Battery.

I was in the 4th Battalion, 18th Artillery, 7th Army at the time. I was a sergeant E-5 Fire direction chief for Battery "A" 155 SP. My 1st Sgt was Sgt Brown, who was promoted to Sgt Major at battalion level in early 1966.

I remember Lamboy Strasse with a little German sausage shop right across from the from gate Item 17. It cost 50 pfennigs (~12.5 cents then) for a grilled sausage and a piece of dark German bread. German mustard on the side.

I do not remember the side strasses of Galelsberger and Chemnitzer, nor do I remember the gates Items 34 and 19.

Item 12 was the Beer Hall on the second floor as I remember it. Don't remember Item 26, 27, 31, 29, etc.
---
1965
(Source: Email from Paul Buresh)
I served at the Francois Kaserne in Hanau from March 1965 to early February 1966. I worked in battalian HQ in the Message Center (in Security under S2, across the hallway).

Lt Col Lloyd A Corkan was Commanding Officer and Major Taylor was XO. I have a few photos of Francois Kaserne, as well as some of front gates of Yorkhof Kaserne, Hessen Homburg Kaserne and Flieglehorst Kaserns. All are from 1965.


I was drafted in Feb of 1964, just 3 months after JFK was killed in Dallas. Inducted in Omaha, took tests both physically and mentally. Past both OK, went to Ft Leonard Wood, Missouri that night and arrived in the morning. In our loose formation in front of the barracks, my name and that of 6 or 7 others out of 250 was called. We qualified for Officer Candidate School (OCS) and, if we wanted to check it out, we could go to the office and find out more about OCS.

I never went. It meant 1 or 2 years more to transfer to the school. I was already signed up for a 2-year gig.

After Basic, went to Fort Sill, Oklahoma as a wireman, but became a radio operator.

Left Ft Sill and rotated to Germany in March 1965. Traveled by ship from NY to Germany via the North (rough) Atlantic.

When the Sgt Major (at 4th Bn, 18th FA) was ready to assign me as a radio operator, I went over to the communications van and tried listening to 30 to 35 Words per minute. It was just too fast. I went back to the Sgt Major's office and he assigned me to security message center which was part of S2, Intelligence...

One of our duties, besides delivering sensitive papers and documents, was to break cryptic messages. These messages would come by radio teletype as groups of letters and spaces. I can tell you now since all of our "stuff" has been declassified these many years. I believe it came from Second World War vintage.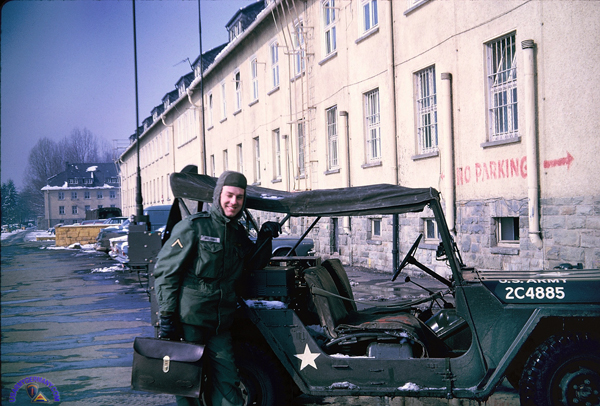 PFC Glen Williams on a message center run to Fliegerhorst Kaserne, Spring 1965
There were four in our message center. We had 2 combination paddlocks: on our front door and, once in our office, we had 2 safes that we changed combinations to once a month. I had in my room 2 more combination padlocks: one for a foot locker and the other for a wall locker. So we all had to memorize 6 combinations. Sometimes I would go thru more than one set of numbers to get into something.
In the city of Hanau, just 20 years after Hitler's war, some scars were showing on this old bombed out church. They left it that way to remember what they had gone thru.

I rotated out as a PFC because there was only one Spec 4 allowed and the boy that got it had 3 months in grade on me. He finally rotated back home 9 months after I left.

It was a great experience, but 2 years was enough. They were not taking anyone out of the European command to go to Viet Nam. By the way my Ft Sill unit was 1st Missile Bn, 18th Artillery. My Hanau Germany unit was 4th Howitzer Bn, 18 Artillery, Francois Kaserne. My unit crest was the same in both places.

(Webmaster note: Additional photos submitted by Paul are on the Hanau Page (Kaserne section).)



4th Bn, 18th FA
Francois Ksn, Hanau






1. At Graf

2. Sgt. Maj. Stainbrook with some of the troops

3. Unit picnic



4. Guard mount

5. Guard mount





---
1st Msl Bn, 32nd FA (HJ)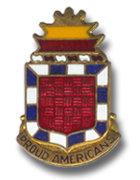 1st MSL Bn, 32nd FA (HJ) DI
(Source: Email from aul E. Schaum)
I have to look for a crest for the 3rd Bn, 80th Arty (Sergeant Missile) that was at Ernst Ludwig Kaserne, Darmstadt which once was home of the "Atomic Cannon." I had rooms on the top floor of HQ Btry and when it rained you could see rectangular puddles -- They had an underground medical unit there at one time, but also stored rounds for the 280 mm Canon as I learned later. (Fliegerhorst, Hanau, also had an underground air unit, but they were so well booby trapped that they finally just flooded the area / filled in.) BTW, a civilian train went trough the restricted storage area from time to time -- that is back to the 1/32 -- and they would open the fence gates at either end and we had to secure both sides of the track. The people were told not to get off the train and that it was better to keep the windows closed rather than risk getting shot. We did have nuke war heads for the Honest John -- Shhh!

Back to the 3/80th in the 1960's. I wish I could remember the unit designation of the TAB Btry. that was assigned, but they had the first building on the left of the gate as you came in. They had a bad reputation of not having members survive VN if they went. A Hawk Btry. was also moved into the Kaserne and the unit mascot was a St. Bernard that liked to come up behind guys during PT and if they moved, he growled. Strange dog. But, he wound up coming over and keeping our guards company while on duty which they appeciated having such a big dog as company.

As you know, a Hawk outfit has a lot of radar, then there were a lot of signal equipment around the place too. One day runners came and told everyone to shut down the horizontal and vertical radars and all radio transmitters. At the far end of the Kaserne was what once was a stable converted into use by the motor maint. people. They were breaking through a wall in the attic and found a room full of WWII type explosives and det caps, etc. At any point in time engouh RF energy could have set the whole thing off.

Estimations were that the Kaserne and the surrounding area would never have been the same. The 3/80th was the best Sergeant unit in Germany at the time! They did their yearly firing from the North Atlantic Missile Range on Benbecula, Outer Hebrides. The population ran flies, sheep, and then people. I still hate mutton because that's all they seemed to have. I ate a lot of candy out of the NAFI.

The Brit C.O. had a lot of authority. One day he brought a village girl into the mess (they were susidizing people to stay there once TV got there and they realized there was more than peat and bog). The fishing, either in the small lakes (Benbecula was maybe 6 miles by 6 -- you can look up the islands online). There were no trees and when you got away from the village and off on your own or with a buddy, you suddenly realized that you could not only hear your breathing, but your heart beat as well. We fired the missile before the days of protective equipment, e.g. hearing protection. Here you were in a place where you could hear your heart beat, but when the missile went off (the non secure psi was 40K psi) you could see the lips of the guy next to you moving, but it sounded as if you were in a silent movie. It was not loud as in an 8" gun going off, it was so loud you felt as though you didn't hear a thing. That was were I learnd the meaning of "the sound was deafening."
I wish I had save things at times. Then there were places you were and things you did that you wish you could just forget.



1st Msl Bn, 32nd FA
Fliegerhorst Ksn






1. (KB)










---
2nd Gun Bn, 38th FA (280mm)
See more on the 216th FA Bn/2nd Gun Bn, 38th FA on the 36th FA Group Page
(Source: Email from David Gilbert, Btry B, 2nd Gun Bn, 38th FA , 1960-63)
I served with the 2nd Gun Bn, 38th FA from Aug 1960 to Aug 1963. I was in the 2nd Gun Section, "B" Battery. Chief of the section was SFC Homer Pennington. Also, SSG Wilson ran the 1st Gun Sec.

The Battalion was under the command of LTC Murphy at Ernst Ludwig Kaserne. Also on Ludwig was the 3rd of the 18th FA (8") and the 1st of the 21st FA (Honest John).

On the web page was a guy by the name of Boyd who I remember.

We did go to Graf for live fire and rolled a gun over in the off post firing position. I was also in Fulda when the wall went up in Berlin and we went on a high alert and had to stay on the guns. Also while at Graf, the 4th of the 18th FA (8") fired a round into Tent City and killed 17 men. The 18th was stationed in Hanau.

The club on post was called the Red Scarf Club Monday -- nights were nickel beer night, the waitress was Elsie.

The PX/Snackbar was located over the Mess Hall. A girl by the name of Big Magritte used to work there and she hung out at the Out Post down town Darmstadt and also at the Fisherstub, and Philips Bar.

I do have an album of pictures from that time. I do remember a lot of the guys I was stationed with. I also put 20 years in the Army and went back to Germany on two more trips. I did go back to Ludwig -- the place had changed in 70, I went over to Little Moscow, the community outside the Caserne; the Budapest and they still served the best Schnitzels in Germany. It still had the same owners and they did remember me. I had a great time and we talked about the 38th.

It's been a long time since I thought of the 38th. Maybe I jogged your memory. The 212th (FA Group) is no longer, it is now called V Corps Arty, consisting of 41st FA Gp and 42nd FA Gp. Most of the units are the same -- the 2/5th is 175mm; the 1/32nd is Lance Missle System. The 2nd/5th and the 3/18th and a TAB Btry are now stationed in Babenhausen.



2nd Gun Bn, 38th FA
Ernst Ludwig Ksn






1. (KB)


2. (KB)


3. (KB)




4. (KB)


5. (KB)

6. (KB)

7. (KB)





---
(Source: Email from Frank Boyd)
I served for two years with the 2nd Gun Bn. 38th Field Artillery. That was in 1962 & ' 63. All I can remember was that I was in "B" Battery, 1st Gun Section, Ammo.

We went to Grafenwoehr & Vilseck twice a year, March and Sept. We also did border patrol at Fulda. That was up on a hill looking down on the East Germans in their tanks going by. Had good memories and was proud to be a member of the "Atomic Cannon". I also have a picture of the gun firing near Vilseck.

I know they were breaking up the Battalion when I left in June 1963. Talk was going around that the 175mm was coming in.


PHOTO: Frank Boyd sits on one of the 280mm guns of 2nd Bn, 38th FA at Ernst Ludwig Kaserne Darmstadt, Germany, 1962-63
| | | | |
| --- | --- | --- | --- |
| | | | |
| 1. 280mm gun fires a round in Area 38, Vilseck (KB) | | | |

---
1st MSL Bn, 39th FA (CPL)
(Source: Email from John Sullivan)
Just a little info for you I could not find on this site. I was with the 1st of the 39th FA stationed in Fliegerhorst Kaserne, Hanau. The Corporal missle was our weapon. This was also the kaserne where Pres. Kennedy stopped at before going on to Frankfurt and Berlin. If you have any info about this outfit and where, or when it moved to after March 1963, I would appreciate it.

The only thing I can add is that the Corporal missiles we had were fired in the Hebrides Islands off of Scotland. When I left Fliegerhorst in March of 1964, I did not know of any deactivation in the works although I was not in a position to know of such things. There was not even a rumor going around.

My most memorable experience was working in the operations for Pres. Kennedy (SPECIAL VISIT) in June 1963. We worked in the (Fliegerhorst Airfield) tower, and I was the only enlisted man in the whole group. Most of the time people would have not known that, because a lot of times we worked on the phones etc. with our shirts off.

The night before Pres. Kennedy arrived we stayed in the tower and slept on cots brought in. When Kennedy arrived I had the pleasure of sitting directly behind him about 15 ft as he stood on the podium addressing the troops. All of us who worked in operations for his visit were given white tickets which enable us to sit there. I can't remember exactly how many of us work in the operations room in the tower, but it was about eight or nine. There were of course others who worked on this operations from all over Germany, but ours was the nucleus point. Col. Mulcahy was in charge of operations (not sure of spelling for his name).

Security was very tight, and I remember one day a major in charge of transportation for this operation, but not from our post, could not get through the front gate without the UP's calling us first.

A few troops that were stationed at Fliegerhorst were given three day passes, and made to leave the post the day before Kennedy arrived (security?) even though German civilians were allowed on the day he arrived. Secret service people were there days before he arrived. When he arrived the secret service watched very closely the people with cameras, and I saw them remove camera tripods that people had set up.

I knew Kennedy's schedule, and after he gave the speech to the troops he was going to a luncheon on post. I hurried over there and was first at the door standing next to the sidewalk. Pres. Kennedy walked from the podium over to the luncheon building and started shaking hands with the crowd about 30 ft from the door. Wouldn't you know it, he stopped his handshaking two people from me and walked in the door.

Col. Bullard was director of port operations in Bremerhaven, and was directly in charge of shipping the new 175s to us for Kennedy's display even though the troops for these new arty. guns were not to arrive in Germany from Ft. Sill for another three months or so.

All in all a great experience.

---
2nd Bn, 75th FA (8 in How)(SP)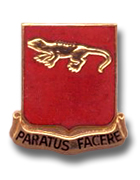 2nd Bn, 75th Arty DI
For more on the early days of 2nd HOW Bn, 75th Arty -- see the 30th FA Group Page.
---
(Source: Email from Lee Davis, 2nd How Bn, 75th FA and HHB, 212th FA Gp, 1959-61)
I was stationed at Fliegerhorst from Aug. 1959 to Feb. 1961.....75th Field Artillery.



I joined the Army on March 9, 1959...took basic at Ft. Leonard Wood, & Ft. Riley, then on to Ft. Chaffee for 105 training and truck driver. I was sent to Germany on a very slow boat (might have been the Geiger...but that might have been the return trip) and we were put on a train at Bremerhaven and went to Hanau. then on to the back of duece-and -a halfs to Fliegerhorst.

Upon arriving we were sitting in front of headquarters, 2nd How. Btn, 75th Arty and a PFC came out and asked which one of us was from St. Charles (Ill.) I replied I was and he shook my hand, introduced himself as being from Aurora, and asked what my MOS was. When I told him he said I was going to be doing "the cannoner's hop" for the rest of my time in Germany. Not knowing what that meant, I asked him to explain and he drew the sobering picture of taking the 8 inch towed guns to the field every two weeks or so, living in tents, etc.,etc. He then asked if I had typing in high school and I said yes....I was just 18. So he said they had an opening in personnel coming up and he would put in a word to Mr. Price, the W.O. if I would like him to...Of course I said sure, and I became Officer's Record's Clerk.

That lasted about 3 months when Col Byrd (no kidding) sent word around the post he would like to start a band, so I voluntered for that, and on Jan 1, 1960 was put on TDY to the gym to be a part of the 212th Artillery Group Band. We had a very good small band (about 20 to 25) and started playing for Fasching parades as a good will gesture.

It was really great duty and we got to go to a lot of small burgs and drink with the comrades after the parade.....but in October a new Colonel came in and broke the band up. We were all sent back to our home units, and they were laying for us. I had guard duty about every 5 days in addition to my day job (court martial clerk back in Personnel) and I made a short timer's calendar and crossed each day off with anticipation.

It finally ended in early February 1961 when I rotated back ...but I have a lot of fond memories and even went back to visit in Dec., 2001.



2nd How Bn, 75th Arty
Fliegerhorst Ksn





| | | | |
| --- | --- | --- | --- |
| 1. 2nd HOW Bn, 75th Arty sign | 2. Svc Btry, 2nd HOW Bn, 75th Arty sign | | |
| 3. 2-75th billets | | | |
| 4. Red Square, Fliegerhorst | | | |
| | | | |
| --- | --- | --- | --- |
| 3. 8in Towed Howitzer (KB) | 4. 8in Towed Howitzer (KB) | 5. Lee Davis (KB) | |
| 6. 212th Arty Band (KB) | 7. Band in Hanau (KB) | | |
---
(Source: Email from James "SAM" Huff, 2nd Bn, 75th Arty, 1962-64)
Sam Huff at Graf, 1962

I have no idea how long your website has been around but this old soldier just found it and I am amazed at all the information that you've accumulated. So much of this info has taken me back in time and brought back so many memories and I thank you very much.

I was stationed at Fliegerhorst Kaserne from early 1962 to mid 1964 with B-Btry, 2nd Battalion, 75th Artillery as a Fire Direction Specialist. In mid 1964 the Army transferred me to Darmstadt to be with the 3rd Battalion 18th Artillery and within a month or so the whole battalion transferred to Fort Lewis, WA. My enlistment was up in 10/1964 and I elected to return to my home in Sarasota, Florida. As it turned out it was a good decision on my part, the unit went to Nam in 1965.
| | | | |
| --- | --- | --- | --- |
| 1. Grafenwoehr-Vilseck, 1962 (KB) | 2. Grafenwoehr-Vilseck, 1962 (KB) | 3. Grafenwoehr-Vilseck, 1962 (KB) | |
| 4. "B" Battery 8" Towed at Fulda (KB) | | | |

---
Related Links:
212th Field Artillery Brigade - official website of the active brigade