If you do NOT see the Table of Contents frame to the left of this page, then
Click here to open 'USArmyGermany' frameset
Regional Support Elements
V Corps, VII Corps and 21st Support Commands
Looking for more information from military/civilian personnel assigned to or associated with the U.S. Army in Germany from 1945 to 1989. If you have any stories or thoughts on the subject, please email me (webmaster

).
---
---
Use of Civilians to maintain military equipment in USAREUR
1985
(Source: "The Role of Civilians in Maintaining Military Equipment, Vol. II," by Joseph R. Wilk, Eugene A. Narragon & Brian E. Mansir, Dec 1985)
The Army makes extensive use of civilian mechanics to maintain weapon systems and equipment in the European Theater. It uses several categories of civilians (DAC, foreign national, CSU, contractor, and host nation personnel) to provide a wide range of maintenance services (technical advice, direct maintenance, and maintenance of WRM 1) and POMCUS 2) equipment).

DIRECT SUPPORT
In Europe civilians are employed to perform direct equipment maintenance tasks. The sources of this type of support are foreign nationals, Civilian Support Units and Host National support. (Few DACs are employed to perform direct maintenance.)

Foreign nationals are local national or third country national civilians hired directly by the Army as individuals who collectively comprise the bulk of the work force of a support organization or are employed to augment a military support unit.

Civilian Support Units are quasi-military units organized similiarly to U.S. military support units. CSU personnel are hired collectively from local or third country populations.

Host Nation support includes that support provided by governmental or quasi-governmental agencies of foreign governments.

FOREIGN NATIONAL
The use of foreign nationals in Army maintenance is concentrated at Installation Materiel Maintenance Activities (IMMAs).

The 59 IMMAs in Europe are located primarily in the Federal Republic of Germany and are known under a variety of names, including motor maintenance activity, equipment support activity, consolidated maintenance center, logistical support activity, general equipment support activity, general equipment repair point, and theater maintenance center.

They are staffed by foreign nationals, and they employ from 3 to nearly 400 personnel.

The IMMAs primarily provide direct support (DS) and general support (GS) maintenance for equipment in several commodity areas, including automotive, construction, combat vehicles, communications-electronics, audio-visual and training, general equipment, commodity groups, and weapons/armament.

Although an IMMA may be assigned maintenance missions in a few, or even all, commodity areas, only those that have significant missions in five particular commodity areas are of interest. These five commodity areas are automotive, construction, combat vehicles, communications-electronics, and weapons/armament.

The 18 IMMAs that support those commodity areas are called consolidated maintenance centers, equipment support activities or theater maintenance centers.

CONSOLIDATED MAINTENANCE CENTERS
Table 2-4 shows the locations and staffing of the consolidated maintenance centers (CMCs).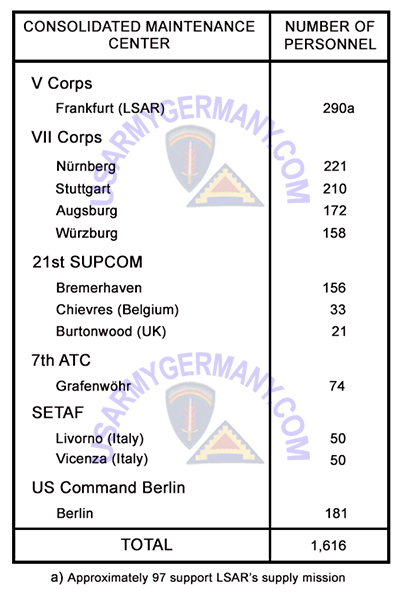 Table 2-4: Foreign Nationals assigned to CMCs (1984)
The Logistic Support Activity Roedelheim (LSAR), FRG, is included in this table because its role and organizational placement are similar to those of a CMC.

The CMCs in the corps have been assigned DS/GS maintenance missions for automotive, construction, and communications-electronics equipment. None has been assigned weapons/armament missions except LSAR, which supports small arms; nor has any corps CMC been assigned a mission to support combat vehicles.

The CMCs in the 21st Support Command (SUPCOM) also have DS/GS mission assignments for automotive, construction, and communications-electronics equipment, with CMC Bremerhaven assigned the additional mission of combat vehicles (except tanks).

In the 7th Army Training Command (ATC), CMC Grafenwöhr has been assigned missions only for automotive and construction equipment, whereas both CMCs in the Southern European Task Force (SETAF) have mission assignments in all commodity areas except combat vehicles. CMC Berlin has a DS/GS mission for all commodities.

Table 2-4 shows that the Army employs 1,616 foreign nationals in its CMCs, with LSAR and the VII Corps CMCs comprising nearly two-thirds of that total. The LSAR is the only activity listed in the table with a large supply mission; approximately two-thirds of its personnel support the maintenance mission, while the balance supports supply.

The CMCs are predominantly civilian organizations. Only LSAR and CMC Vicenza, Italy, with 15 and 30 military personnel, respectively, are assigned more than 5 military personnel. Furthermore, the CMCs employ very few DACs -- a total of 13 for all 12 organizations.

Some of the CMCs deserve extra attention because they support the US Army, Europe (USAREUR) Theater Army Repair Program. These CMCs and the extent of their contributions to the Fiscal Year 1985 TARP are shown in Table 2-5.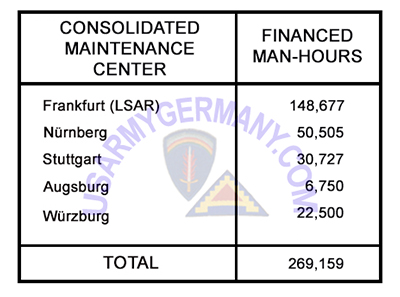 Table 2-5: CMC Support of FY85 TARP
The LSAR is the largest CMC contributor to TARP 3). Its theater repair assignments include overhauling commercial automotive engines (35 to 40 different models), tactical engines (M880 and M151 series), and material handling equipment (MHE). The MHE overhauls include the 6,000 and 10,000 pound rough terrain forklifts.

In addition to theater-wide GS assignments, LSAR also performs several V Corps GS functions and in its DS role, which is approximately 30 percent of its maintenance workload, it supports a wide variety of equipment.

Another illustration of the nature of the work performed by CMCs is the mission of CMC Nürnberg. That CMC supports TARP by overhauling automatic transmissions from M880 trucks and nontactical vehicles, as well as transmissions from M915 heavy equipment transporters. CMC Nürnberg also has a TARP end item mission for the M35A2 2½-ton truck. Its corps-level missions include tank gun fire simulators and some training devices.

(Webmaster Note: This report continues with a description of the roles of the equipment support activities and the theater maintenance centers in USAREUR as well as other types of maintenance and support activities, such as the Civilian Support Units, that involve civilian work force contributions. Those sections will be posted on other pages of this website at a later time.)
| | | |
| --- | --- | --- |
| 1) WRM | | War Reserve Materiel |
| 2) POMCUS | | Pre-positioning of Materiel Configured to Unit Sets |
| 3) TARP | | Theater Army Repair Program |

---
VII Corps Regional Support Element
1976
(Source: USAREUR Station List, 1 June 1976)
RSE ACTIVITIES
| | | | | |
| --- | --- | --- | --- | --- |
| | RSE ACTIVITIES | STATION | UNIT ID CODE | |
| | USA RSE VII Corps | Kelley Bks, Moehringen | W32QAA | |
| | USA RSE VII Corps | Augsburg | W32Q01 (a detachment of the Moehringen RSE? ) | |
| | DFA-M Augsburg | Augsburg | W32Q02 - who has information on this activity? | |
| | DFA-M Nuernberg | Nuernberg | W32Q03 - who has information on this activity? | |
| | CMC Augsburg | Wallace Barracks, Bad Cannstatt | W32U01 | |
| | CMC Nuernberg | WODK, Fuerth | W32304 | |
| | CMC Stuttgart | Valdez Ksn, Stuttgart | | |
| | CMC Wuerzburg | Leighton Bks, Wuerzburg | W33N01 | |
| | Laundry & Dry Cean Plant | Reese Bks, Augsburg | W32U06 | |
| | Laundry & Dry Cean Plant | WODK, Fuerth | W32304 | |
| | Laundry & Dry Cean Plant | Patch Bks, Vaihingen | W33L05 | |
| | Laundry & Dry Cean Plant | Leighton Bks, Wuerzburg | W33N02 | |
| | | | | |
| | (incomplete) | | | |
---
1991
(Source: The CHAMPION, May 8 1991)
---
CMC Augsburg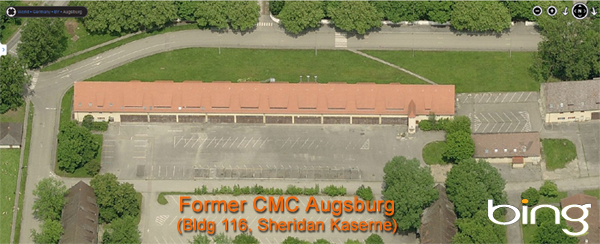 Bldg 116, former location of CMC Augsburg (Bing)
1983
(Source: AUGSBURG SCENE, February 17, 1983)
| | | |
| --- | --- | --- |
| | | Article provides information on the Consolidated Maintenance Center at Augsburg in early 1983. CMCA was located in Bldg 116,Sheridan Kaserne. |
---
1984
(Source: AUGSBURG SCENE, Sept. 13, 1984)
| | | |
| --- | --- | --- |
| | | Article provides information on the Consolidated Maintenance Center at Augsburg in 1984. |
---
(Source: AUGSBURG SCENE, December 5, 1985)
The Augsburg CMC falls under the VII Corps DIO (directorate of industrial operations).

The CMC provides maintenance support for non-tactical vehicles and also supports 14 local tactical units who do not have their own maintenance capabilities. They also support maintenance for government-owned funiture, both wood and upholstery, commercial-type communication and electronic equipment. In addition, they have a safe cracking section, a carpet laying team, a rug cleaning section, an electrical section, a textile section and a mattress renovation section.
---
1986
(Source: AUGSBURG SCENE, February 27, 1986)
CMC employee celebrates 40th anniversary

Mr. Hans Reifgerste, a supervisor at the Communication and Electronic Branch of the Consolidated Maintenance Center, will celebrate his 40th anniversary of working for the U. S. Military next month.

In his section Mr. Reifgerste supervises 13 local nationals who service about 8,000 electronic items which are signed out on hand receipt here in Augsburg, in Berchtesgaden, Bad Tölz, Bad Aibling, Garmisch, Ulm, Munich and Memmingen.

"He is technically very proficient in the electronic field," said CMC Chief Capt. Ronald Kerns about his section leader, "Mr. Reifgerste is a dedicated worker and it will be difficult to replace a man of his caliber after he retires."
Mr. Reifgerste served in his present duty station since 1972. He came to Augsburg from his previous employment at a depot in Dachau.

He originally comes from Brandenburg, but lost his home during the war. After being released from an American prisoner of war camp in Bavaria he decided to settle in Munich where he still lives today.

The 61-year-old man is an avid sports enthusiast. "I have coached youth soccer teams for the past 25 years," he said.

Aside from soccer Mr. Reifgerste enjoys ice skating, curling and working in his large garden.

Mr. Reifgerste is married and has a daughter and a son and, since recently, a grandchild.
---
1987
(Source: STARS & STRIPES, April 9, 1987)
CMC Augsburg is one of four CMC's in VII Corps. The center has a staff of approx. 200 civilians. OIC is Capt Ron Kerns.

The Augsburg center handles about 2,500 work orders a month from 350 customers. The center's area of responsibility covers about 21,000 square miles in southern Bavaria.

On a typical day, workers at CMC are straightening frames of wrecked vehicles; making new pillows; re-upholstering sofas; or trouble-shooting television sets.

In addition to the inhouse staff, the center has a mobile repair team with seven repair and inspection vehicles that can travel to other communities and remote sites. They average more than 100,000 miles annually in their travel to remote customers.

If the center cannot fix an item they will contract it out to a German repair company. The center contracts out about $1 million of maintenance and repair work in this manner every year.

The forerunner of CMC Augsburg was established at Camp Dachau (later redesignated Eastman Barracks) outside of Munich. The operation was known as the Equipment Maintenance Center and had a staff almost double of today's work force. In 1971 the activity move to its present facilities in Augsburg.

After the move to Augsburg, the facility underwent a modernization program (known as the Quick Return Investment Program) that introduced industrial equipment (about 20 separate pieces) to automate and simplify the manual work performed in many of its shops. The introduction of the QRIP equipment saves the US government about $300,000 each year.

CMC Augsburg has excelled in recent years in USAREUR and Army Maintenance Excellence competitions:



Best in VII Corps for the past three years



Best in USAREUR past two years



Runner-up at Dept of the Army in 1985



Best in Dept of the Army in 1986

Currently, the CMC is in competition for best maintenance unit in DoD.
---
1988
(Source: AUGSBURG SCENE, January 28, 1988)
| | | |
| --- | --- | --- |
| | | Article provides information on the organization and mission of the Consolidated Maintenance Center at Augsburg in late 1987. |

---
CMC Nuernberg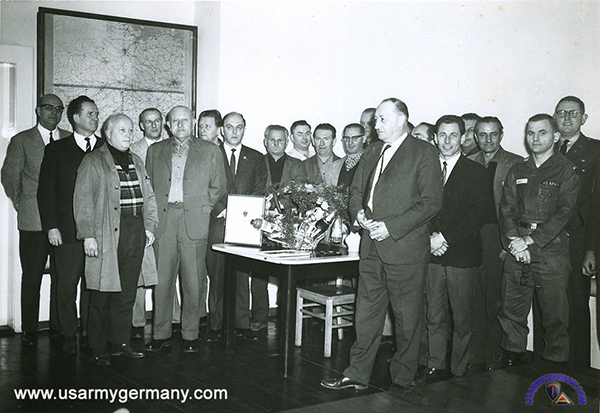 A retirement ceremony for a member of CMC Nuernberg during a Works Council meeting
(Source: Email from Ed Burns)
It has been quite some time since I first contacted you with information on the 5th Battalion/73rd Field Artillery (Sergeant) and the Nurnberg Equipment Maintenance Center for the periods 10/1968 – 10/1967.

Three years ago I was able to go back to Germany on a vacation and revisited my old 'haunts' – most of which no longer exist. While in Nurnberg I was able to reunite with my old German National Director of Maintenance, Herr Alfred Arbter. He was able to fill me in on many things that happened after I departed and up to his retirement in 1992.

William O. Darby Kaserne was turned over to the City of Fuerth and is now largely a park, the buildings and old barracks turned into apartment complexes and one of the original Equipment Maintenance Center buildings now houses a Music School.

Somewhere along the line, in the mid-1980's the Equipment Maintenance Center was placed under VII Corps as the Consolidated Maintenance Center Nurnberg. I'm attaching a photo Herr Arbter gave me. As you can see, it was still predominantly a civilian organization with a small military presence. Initially, the members of the Equipment Maintenance Group wore the USAREUR patch, but after it was reorganized in 1967 we wound up changing to the COMZEUR patch. I'm also attaching a photo of one of our Works Council Meetings where we were honoring an employee on his retirement.

As with William O. Darby, Ferris Barracks in Erlangen was also turned over to the City of Erlangen and has become more of an industrial complex. The military housing still stands and now houses local nationals. There was very little I could recognize inside the old kaserne – even the airfield had been cleared away.

I keep checking back to your website to see what new information has been posted and once again I have to commend you for putting together this phenomenal piece of history!
---
1976
(Source: STARS & STRIPES, November 15, 1976 - article by Dan Synovec)
The consolidated maintenance center here is known as the "best repair facility in Europe," officials at W.O. Darby Casern report.

The center repairs everything from household furniture to movie projectors. And it is the only maintenance facility in Europe that repairs automatic transmissions, handling some Army 5,312 vehicles, said Dave Griffin, chief of base support operations.

In fiscal year 1976, the center saved the government $327,132 by repairing 484 automatic transmissions instead of installing new ones, he said. In fiscal year 1975, it saved Uncle Sam $299,599 by repairing transmissions, he said.

Griffin said the transmissions come from buses, trucks and cars the Army uses in Germany, Italy, Greece, Turkey and England.

To give an idea of how the center saves tax dollars, Griffin said that a new transmission for a 1968 Ford sedan used by the Army costs $457. It costs the center $207 to repair an unserviceable transmission for the same vehicle. A new transmission for a 1970 40-passenger bus would cost $3,090 to replace. However, the facility can repair it for $363.

The center got its repair mission in 1968 when there were only 127 Army vehicles in Europe with automatic transmissions. Today, 5,312 Army vehicles in Europe have automatic transmissions.

The facility has 10 Germans working in its transmission repair facility. Three Nurnberg American High School students work with them under the school's work study program.

"All work is done on an individual basis. It isn't a production line setup," said Alfred Arbter, transmission repair facility manager. "Each transmission is taken apart and only the part required to be replaced is repaired. All of our men are trained to work on any transmission of the 29 different vehicles the Army has in Europe."

Getting spare parts is no real problem, he said. Parts arrive at the facility through normal Army supply channels arid the facility has little backlog. If necessary, the center can buy parts on the economy, but they seldom have to do this, officials said.

"We work on a direct exchange basis. When a customer comes in with an unserviceable transmission, we can give him a serviceable one for it right then. We keep about 290 serviceable transmissions on hand," Arbter said.

The facility gets many parts from vehicles being removed from the Army's inventory. All useable parts are removed from those vehicles before they are sent to the property disposal yard, authorities said.

The officials said they are adding more people to the work force because the work load gets bigger every year.

"We haven't had a transmission sent back for failure," Arbter said.

"Each transmission is worked on by one mechanic. Each of them takes time to do a good job and that is why we haven't had any transmissions returned in the history of our program."

---
CMC Stuttgart
1981
(Source: STARS & STRIPES, Jan 30, 1981)
CMC Stuttgart is located at Valdez Kaserne in Ludwigsburg. (Could it be that CMCS was spread out over two kasernes - Valdez and Wallace Barracks in Bad Cannstatt?)

The maintenance activity at Valdez was established in 1948 as the Quartermaster Repair Facility, and redesignated as CMC Stuttgart in the late 1950s. It is tasked with the job of repairing, refinishing and restoring all office, troop and family housing furniture within an estimated 11,000 square-mile area. This includes reupholstering some 1,500 couches and 5,000 easy chairs, sewing thousands of new drapes, recovering about 3,500 matresses and refinishing approximately 12,000 pieces of wooden furnitire yearly.

To accomplish their goals, the CMC personnel use about 60,000 yards of drapery and upholstery material, 250 gallons of wood furniture glue, 1,450 gallons of lacquer, 1½ tons of staples, and 250 gallons of colored paint.

The CMC is also responisble for cleaning and mending carpets for all family quarters and offices and for the repair of most office equipment. These include multilith and adding machines, typewriters, and even hand power tools.

About 80 civilian workers are employed at the CMC. The workers come from 17 different countries, and speak some 35 different lanuages and dialects.
---
1987
(Source: STUTTGART CITIZEN, March 23, 1987)
| | | |
| --- | --- | --- |
| | | Article provides information on the organization and mission of the Consolidated Maintenance Center at Stuttgart in 1987. |
---
1991
(Source: STARS & STRIPES, May 17, 1991)
CMC Stuttgart currently has 153 civilian workers.

There is some talk that that number might be reduced by 67 employees by September 1992 - including all of those staffing the center's carpentry, upholstery, metalwork and paint shps - due to the Drawdown.
---
1993
(Source: STARS & STRIPES, March 1, 1993)
CMC Stuttgart and the Stuttgart community motor pool, both previously located at Wallace Barracks, Bad Cannstatt, have recently been moved to Panzer Kaserne, Böblingen.

Wallace Barracks is scheduled to be released as part of the Drawdown to German authorities by April 13.

---
CMC Würzburg
1986
(Source: PILLARS & POSTS, March 18 1986)
| | | |
| --- | --- | --- |
| | | Article provides information on the organization and mission of the Consolidated Maintenance Center at Würzburg in 1986. |

---
Seventh Army Training Command
CMC Grafenwoehr
1983
(Source: TRAINING TIMES, March 1983)
| | | |
| --- | --- | --- |
| | | Article provides information on the organization and mission of the Consolidated Maintenance Center at Grafenwoehr in 1983. |

---
Related Links: