If you do NOT see the Table of Contents frame to the left of this page, then
Click here to open 'USArmyGermany' frameset
39th Signal Battalion
2nd Signal Brigade
Looking for more information from military/civilian personnel assigned to or associated with the U.S. Army in Germany from 1945 to 1989. If you have any stories or thoughts on the subject, please contact me

.
---
---
Battalion History (1950s)
1952 - 1957
(Source: Letter from Jim Gillespy, 595th Sig Spt Co, 1952-1953)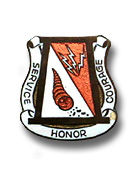 39th Signal Support Bn DUI
I served as a telephone installer/repairman and truck driver in Wire Platoon, 595th Sig Support Co during training at Camp Gordon 1951-52. I was shipped with the unit to Germany in 1952. Just before we went to Germany, they moved out of the company all men who had two years or less to serve.

Also, it seems to me that the 40th Signal Battalion was an all-black outfit when it went to Germany. If my memory is correct, the 40th trained at Camp Gordon and went to Germany about a year before we did. Since the Army in Germany was (already) integrated, there were a lot of transfers between the incoming all-white units and the 40th. One of my best friends was among the transfers and we picked up a lot of the 40th guys in return. I have no idea where the 40th was stationed but we often ran into them in the field.

The 39th Signal Battalion and 595th Signal Company were located at Panzerkaserne. I remained there until August 1953.
Jim Gillespy
Organization of the 39th Signal Support Battalion, November 1952

Lt Col Thomas K. Trigg, Commanding
| | | |
| --- | --- | --- |
| UNIT DESIGNATION | COMMANDING OFFICER | COMMENTS |
| Hq & Hq Co | 1st Lt Richard W. Parker | |
| 176th Sig Repair Co | Capt Mac C. Eversole | |
| 545th Sig Depot Co | Capt Nathaniel W. Bowe | |
| 551st Sig Depot Co | Capt Joseph J. Gannon | |
| 595th Sig Support Co | 1st Lt George R. Lager | |
| 596th Sig Support Co | 1st Lt Mathew D. Lampell | |
| | | |
| | | | |
| --- | --- | --- | --- |
| 1. Plaza in front of HQ 39th Sig Bn (KB) | 2. 595th Sig Co sign (KB) | 3. 39th Sig Bn Mess Hall (KB) | |
| 4. Loading Switchboard Team #2 onto truck (KB) | 5. Large parade ground behind the battalion barracks (KB) | 6. Another view of parade ground under snow (KB) | |
---
1954
(Source: STARS & STRIPES, March 26, 1954)
The 39th Signal Support Battalion, commanded by Lt Col B. W. Henderson, is responsible for providing depot and repair services for all 7th Army units as well as supplying field communications between echelons of command headquarters and logistical units in support of Seventh Army. (Webmaster note: The battalion does not operate the command communications system of 7th Army - that is done by the 97th Sig Bn.)

ORGANIZATION (March 1954):
| | | |
| --- | --- | --- |
| UNIT DESIGNATION | DUTY STATION | COMMENTS |
| HHD, 39th Sig Bn (Spt) | Panzer Ksn, Böblingen | |
| 176th Sig Repair Co | Panzer Ksn, Böblingen | |
| 545th Sig Depot Co | Panzer Ksn, Böblingen | |
| 595th Sig Spt Co | Panzer Ksn, Böblingen | |
| 596th Sig Spt Co | Panzer Ksn, Böblingen | |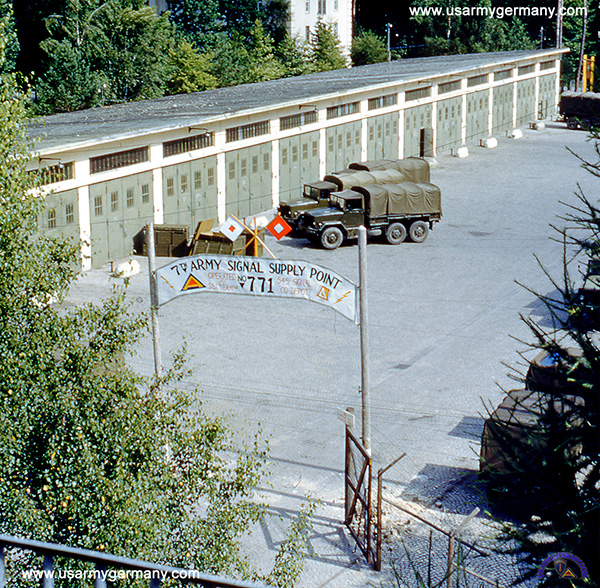 Signal Supply Point at Panzer Kaserne, Böblingen, 545th Sig Co (Webmaster's collection)
176th Sig Repair Co - commanded by Capt Paul J. Halle

The company operates eighteen radio repair teams. These teams perform maintenance and repair on radio equipment for all non-divisional units.

Each team is completely mobile and self-sustaining, equipped with a workshop van and a 2½-ton truck for parts and equipment. The teams are situated throughout the 7th Army area - attached to the units that they support.

Two of the teams serve with transportation army aircraft maintenance units where they work on aircraft signal equipment. (Webmaster note: probably referring to the 35th TAAM Co at Hoppstätten and the 93rd TAAM Co at Echterdingen.)

Five additional teams are attached to the 34th AAA Brigade and field artillery groups.

Another team is attached to a tank unit (Webmaster note: probably referring to the 19th Armor Gp in Frankfurt.)

(In addition to the mobile teams) the 176th also stocks critical items of signal equipment. These items can be flown in an emergency to a unit by one of the two L-19 aircraft that are part of the battalion's air section.

545th Sig Depot Co - the unit provides signal suppy support for all units in 7th Army, including corps and divisional units. Radios, teletypewriters, cryptograph machines and generators are just a few of the items of signal equipment stored at the depot.

The company maintains two signal supply points: one at Panzer Kaserne,

Böblingen

- supplying the southern half of the company's AOR; the other at

Hanau

- supplying the northern half of the company's AOR.

The Repair Section of the 545th plays an important role in the company's supply program.

Another section provides stock control services by accounting for all items on more than 17,000 stock record cards.

Sig Support Companies - 595th and 596th.

The two signal support companies assigned to the 39th establish and maintain communications between various logistical units that support 7th Army in the field and HQ 7th Army.

Each company was capable of setting up two complete communications sub-centers to interconnect the 7th Army and logistical units headquarters. (The STRIPES article states that typically two sub-centers were set up when 7th Army was in the field.)
---
1956
ORGANIZATION (June 1956):
| | | |
| --- | --- | --- |
| UNIT DESIGNATION | DUTY STATION | COMMENTS |
| HHD, 39th Sig Bn (Spt) | Panzer Ksn, Böblingen | |
| 176th Sig Co (Repair) | Panzer Ksn, Böblingen | |
| 545th Sig Co (Depot) | Hanau | |
| 595th Sig Co (Spt) | Panzer Ksn, Böblingen | |
| 596th Sig Co (Spt) | Panzer Ksn, Böblingen | |
---
(Source: Email from Richard B. Leather, HQ 39th Sig Spt Bn, 1955-56)
A 1955 draftee after one year in law school, I was Hq Company Clerk from about April 1 1955 to September 1 1956.
Our C.O. was Lt Col Bardwell -- a rather refined officer by the standards of the day. I never heard him employ a loud voice or profanity. Of course Gen McAuliffe had set a particularly high standard at Bastogne!
The post [Panzer Kaserne, Böblingen] had an uncommon number of relatively recent West Point graduates when I got there, many of them still understandably up tight over deaths of classmates in Korea. I had early run-ins, at a brief 6 week interval, with two lieutenants who took a swing at me (yes, minor assault) for alleged insubordination, and whose career-protecting apologies (one delivered most abjectly in front of Bardwell) cited that factor. Both had thought I was only 17 and needed a lesson in keeping my mouth shut, though that of course served as no excuse.
Several other officers were highly stressed by the prospect of release from the Army in that downsizing era. A Lt. Ramsey comes to mind in that category. He was an exceptionally intelligent individual, made intensely nervous at the prospect of such release.
Master Sgt Wamsley was head of the motor pool. His record was outstanding, from WWII onwards. He was informed that he could be considered for that post at West Point, but that his aptitude test scores were too low. He would instead be transferred to Fort Benning GA. As a black non-com who knew all too well the social setting of GA in that era, he came to me to discuss retesting. He and I worked together for several weeks on math especially, but also English and test elements. He retook the tests at Patch Barracks and got scores high enough for the West Point assignment. It was the first time I got a hug lifting me off the floor from a black man.
The steam plant was frequently down in the quite cold winter of 1955-56. We used bayonets to bang on the radiators from Bau Drei - Dritter Stock while shouting "haben keine steam" from that location into what passed for a phone. Sometimes it worked. When it didn't, that was one damned cold billet.
I was sent to Garmisch Partenkirchen to tax school for two weeks that winter. The quarters were quite refined! On my return I helped prepare tax returns for officers with dependents in Germany.
In those draft days a lot in the 39th beside myself were recent college graduates -- some notable examples:

-- A Corporal Stuart Margulies was attached to the post as a member of a 7th Army soccer team. He had played on the Columbia University varsity. He later co-wrote a book on chess with Bobby Fischer, America's greatest chess player of the 20th century ("
Bobby Fischer Teaches Chess
").

-- A Cpl Jackman (U. of Michigan?) was poised to enter paperback publishing on his return to the US. I never could find out how his plans worked out. But he was damned smart.

-- Another corporal, a graduate of the University of Ohio, frequently burst into tirades of contempt for its fraternity thugs who dominated football weekends. He himself was about 6'3" and weighed 225 pounds.
Two other career non-coms should be recalled:

-- A Chief Warrant Officer who was in charge of personnel. He was by most measures the finest skeet and trap shooter in 7th Army. He installed a range in one of the tank traps, and blasted clay pigeons with regularity. He liked to tell a genuine "war story" (but I remain skeptical) in which he and some buddies liberated a German pay wagon in February 1945, claiming that he bought his collection of Belgian Browning shotguns at bargain prices in 1946 and 1947 with his share of the proceeds. The shotguns were superb, I can affirm.

-- The mess chief in 1956 was a very talented SFC, whose Section 8 discharge was openly resented by almost everyone on the post who knew him. He was a long serving and decorated non-com of no threat to anyone.
In the spring of 1956 every able body in the Hq detachment was mustered to sweep the road to Böblingen, in anticipation of an inspection tour of the post by some general officer careening through southern Germany. He never did show up.
The back path to Sindelfingen and its welcoming bars was well trod in those days. Mercedes Benz was showing real signs of life. I met a beautiful dental technician in a bar there in late summer 1956, about six weeks before heading to Bremerhaven for transit back to the US. We got together about 10 times at the bar and had a serious interest in one another, it seemed. Finally she told me that in view of my limited income, my need to return to law school, and her disinclination to support a student, I should shove off. I liked her practical attitude almost as much as I like her. I wonder how her career and personal life turned out.
Field duty is now a total blur of rain, tents and wire. But that era's peacetime army in Europe had a sensible view of itself and its mission (largely focused of course on the Russians). Eisenhower's heart attack in 1955 made everyone in our unit nervous, and so did the situation in Berlin. I considered myself most fortunate to be assigned to the 39th Sig Spt Bn then, and have been of the same view ever since. Today as a 75 year old, I think the draft should never have been eliminated, if only because service in a 7th Army unit would have benefitted anyone fortunate enough to land there.
---
(Source: STARS & STRIPES, Dec 18, 1956)
An article in the above issue of the S&S reported that the Army had announced that the 39th Signal Bn and three of its subordinate units (176th Sig Co, 595th Sig Co & 596th Sig Co) were scheduled for rotation back to the US in the October 1957 time frame as part of Operation GYROSCOPE. The units will be replaced in Germany by similar units arrving from the States.

Webmaster note (source: STATION LIST Aug 1957):
The 39th Sig Spt Bn was replaced by the 379th Sig Spt Bn, Fort Gordon, Ga.
Apparently, the 176th Sig Repair Co was never rotated or replaced by another stateside unit and would be attached to the 379th Sig Spt Bn once it arrived in theater.
The 595th Sig Spt Co (Böblingen) traded places with the 585th Sig Spt Co at Fort Monmouth, NJ.
The 596th Sig Spt Co (Vaihingen) was replaced by the 229th Sig Spt Co out of Fort Gordon, GA. However, it appears that the 596th set up shop at Fort Benning, GA and not at Fort Gordon.


---
Battalion History (1973 - present)
1973 - present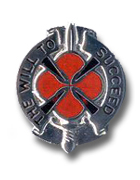 39th Signal Bn DUI
On 15 March 1973, the 39th Signal Battalion stood down in Vietnam and became the last Regular Army battalion to leave South Vietnam. The battalion colors were cased at Tan Son Nhut Airport and escorted to Darmstadt, West Germany where HHD, 447th Signal Battalion was redesignated HHD, 39th Signal Battalion. The battalion assumed the mission, personnel and equipment of the 447th and was assigned to STRATCOM-Europe's Signal Group 22.
Headquarters 39th Signal Bn moved to Bremerhaven sometime in 1974 (?). This was due to a reorganization of the 5th Signal Command. Responsibility for all Army communications in central and northern Germany, as well as the Netherlands and England was assigned to the 39th Sig Bn necessitating its move to a new site within its area of operations.

Headquarters was located at the Bremerhaven Staging Area on Carl Schurz Kaserne. CO of the Bn at the time was Lt Col Hollis L. Roberts.
---
(Source: Email from Don Elmore)
I was just looking at my DA Form 20 and I see that the changing of the colors took place on 28 March 1973. That is when the Signal Battalion 447 was deactivated and the 39th Signal Battalion was activated. This took place in Darmstadt.
I also see that when I was assigned to Giessen on 17 June 1968, I was assigned to Co D, Sig Bn 447. On 15 February 1968, the unit changed and became Co B, Signal Battalion 360 in Giessen.
In June 1964, I was assigned to Co C, 68th Sig Bn in Giessen.
In June 1968, I was assigned to Co D, Sig Bn 447 in Giessen.
In February 1969, it became Co B, Sig Bn 360 in Giessen.
In February 1974, I was assigned to the 532nd Sig Co, 39th Sig Bn in Giessen. The Giessen Company became the 532nd Sig Co in March 1973.
---
1976
(Source: Email from Jeff Lapp)
I was poking around the Internet looking the insignia for the battalion and discovered your site. I was assigned to the 532nd Signal Company from 1976 to 1978. Reading your site did indeed bring back many memories.
I was assigned to an "isolated" signal site in Cologne. The site was deactivated in the spring of 1978. I believe that I was "officially" the last american assigned to Cologne.
---
(Source: Email from Steve Kohn)
I've spent some time at your excellent website on the ECCCS Page in recent days as I write my memoir.

I was stationed at Soest (near Dortmund), in the 39th Sig Bn, from 1976 to 1979.

I'm hoping you've got a photo of something I saw at one site and then made for ours: wooden covers to hide the frequency dial of the HF radios.

They were shaped in such a way that they just hung there without assistance or modification to the radio. I'm referring to them in my bio, and would like to include a photo, as I'm trying to do throughout.

The frequency covers were about 3" square, as I recall, with a cutout to let them rest on the frequency dial. The frequencies were classified, so some sites, like ours, made covers in case someone was visiting without a clearance.

Please keep me in mind in case someone pops up with a photo.

Webmaster Note: If anyone has a photo or more details on these wooden covers please contact me.
---
1982
ORGANIZATION (1982):
UNIT DESIGNATION

DUTY STATION
COMMENTS
HHD, 39th Sig Bn
Carl Schurz Ksn, Bremerhaven
128th Sig Co
Schinnen, Holland
518th Sig Co
Linderhofe
532nd Sig Co

Pendleton Bks,

Giessen
581st Sig Co
Carl Schurz Ksn, Bremerhaven
---
1987
(Source: Email from Roy J. Grona, 39th Sig Bn, 1987-88)
I arrived at the 39th Signal BN in June of 1987. My original orders were to report to Bremerhaven but were amended to report to Chievres, Belgium about two months before I left. When I got to Chievres, the Battalion HQ was located in the attic of one of the older buildings while new space was being renovated.

The Battalion Commander was LTC Gary Clukey, the XO was MAJ David Lopez and the CSM was Donald Allbright. CSM Allbright was single and an avid long distance runner. I spent many days on the road with the CSM visiting the various sites. My office was located in the Battalion Commanders Building. We had the Commander, the XO, the CSM, a secretary and the Retention NCO (Myself).

When I got there the Bn was very low in reenlistment and I told LTC Clukey that if he wanted to change his Company Commanders minds, then put me in an office next to his. That would show them that the program was important. Well, after a year, we were Number 1 in 5th Signal Command. That command team was the finest group I had ever served with. I never again had such leaders that really took care of their soldiers and that includes mostly combat unit assignments in my career. They were great examples of the Signal Corps and I would have followed those men to hell if they had asked.

The assignment was great. I traveled every quarter to each Company and to many of the sites including Rotterdam, Schinnen, Geilenkirchen, Bremerhaven and so many numerous signal towers that I cannot even remember. I always had a great time visiting these places and will always remember them and the people.
I believe that LTC Clukey and CSM Allbright PCS'd in July-Aug of 1988 and a LTC Lynch came in as Bn Cdr . My wife, who worked as a civilian in the S-1 section thoroughly enjoyed her time there.

In July of 1988, I was transferred to USAE, SHAPE, as the Retention Operations NCO when I was selected for E-8. We lived in a little town called Jurbise and our house was on Rue D'Ath, the primary road between SHAPE and Chievres. My wife continued to work for the Battalion until we PCS'd in May of 1990.
As soon as I left, I got to the states and then was shipped to Saudi for Desert Storm.
---
1990
(Source: 39th Signal Battalion webpage, 1990s)
On March 28, 1973, a formal ceremony was held at the Officers' Open Mess in Darmstadt, Germany where the 447th Signal Battalion was inactivated and was re-designated as Headquarters and Headquarters Detachment (HHD),

39th Signal Battalion

. Distinguished guests included BG Richard W. Swenson CG, USACC - Europe, and Colonel Clarence E. McKnight, Jr., Commander of Signal Group 22.

The battalion consisted of: the 128th Signal Company, Pruem, Germany; 298th Signal Company, Donnersloerg, Germany; 518th Signal Company, Linderhofe, Germany; 532nd Signal Company, Giessen, Germany; and the 581st Signal Company, Bremerhaven, Germany.

The new mission of the 39th was to operate and maintain portions of the EUCOM Command and Control System and the Defense Communications System in Germany and the Benelux countries.

On July 1, 1974, the 5th Signal Command reorganized under an area concept. The battalion would assume control of assets located in central and northern Germany, the Benelux countries, and the United Kingdom.

A part of the reorganization involved the move of the battalion to Bremerhaven, Germany; the 128th Signal Company to Schinnen, Netherlands; and the transfer of the 298th Signal Company to the 73rd Signal Battalion. A further reorganization occurred in 1983 when the 128th Signal Company moved to Chievres, Belgium. Additionally, the mission and assets located in the United Kingdom were passed from the control of the 581st Signal Company to a newly formed detachment status.

The 39th Signal Battalion provides strategic signal support, Information Management Area (IMA), and reach-back support throughout the battalion's area of responsibility (AOR); which includes Belgium, Netherlands, Luxembourg, United Kingdom, and Northern Germany.

The 39th Signal Battalion presently resides in Chievres, Belgium.
If you have more information on the history or organization of the 39th Signal Battalion, please contact me

.

---
128th Signal Company
Paragraph below is taken from information pertaining to History of 5th Signal Command, May 1976 as stated under 5th Signal Command information.

128th Signal Company, 39th Sig Bn was formally "A" Co, 447th Sig Bn.

The 39th Signal Battalion assumed a new mission at Chievres AFB, Belgium. The battalion moved a radio NCS to Chievres to compliment the HF/SSB facility there. The 532d Signal Company site at Buechel was turned over to the Air Force as part of the North/South of the Alps Realignment between USAREUR and USAFE. Also as part of this program, the 128th Signal Company transferred three sites to the Air Force. The sites were the Noervenich radio station in Germany, the Volkel radio station in the Netherlands and Kleine Brogel radio station in Belgium.

The 581st Signal Company activated a Phase II site at Lahn/Soegel. The 72d Signal Battalion provided support for NATO exercises "Schwerer Lastwagen." The battalion provide a logistical radio teletype net to a German regiment and interfaced the German Long Haul Voice communications system thru a US tactical automated switching system (TASS).
---
(Source: Email from Joseph Ruiz, 128th Sig Co, 1976-78)
The 128th Signal Company's tributary located in 't Harde, NL at Graff Reinoldweg 8, supported the 23rd Field Artillery Detachment Special Ammunition Storage Custodial Unit of W33 warheads for Tonnet's Kazerne battalion of M110 8in. self-propelled Howitzers.

The site had two buildings and a microwave dish tower; one building housed the communication equipment, office and restroom, and a M16/1A behind glass; the second building housed 2 huge 30KW back up generators, underground were 2 diesel fuel tanks with a total capacity of 1,600gals. There were 2 vehicles onsite; a Chevy pickup for transportation, an International hard shell 4 door 4X4 truck with trailer hitch, and 2 generators on a canvas covered trailer used for field exercises. Also, the site had nicely manicured lawns, rose beds, brick driveways outside and inside the perimeter.

The microwave communication troposcatter system was frequency diverse, polarized selective vertical and horizontal ITT AN/FRC-113 consisting of 2 transmitters, 2 receivers, 2 1KA power amplifiers each using a 2Ghz Klystron tube, and a GE TCS-600 (600 channel) multiplexer. Broadcast and reception was via waveguide up a 152ft. tower and out 2 15ft. parabolic dishes. The Tributary Logic Console and teletype were located offsite at the FA Det admin 500ft. away. The Line of Site terminal was 180mi. southwest of Bremerhaven, GER.

The high frequency communication transceiver console consisted of 3 Collins KWM2A AN/FRC-93 LSB/USB/CW 100W radios and 1 land line crank phone to the administration building. The station call sign was Cemetery 30 under the Cemetery 4 Network Control Site.

The field exercise vehicle's bed was equipped with an AN/MRC-117 and an AN/FRC-93 transceiver console mounted in the rear seating area.

The sites manpower at rank upon my arrival in April 1976 was:


SFC Marukka, NCOIC aka Site Commander, DEROS 1976


SP5 Fleming Outerbridge, ETS 1976


SP5 Tipping, ETS 1976


*PFC Tony Smith aka Smity


Pvt. Joseph Ruiz, ETS 1978
Manpower arrivals at rank after April 1976 were:


SP5 Lastimado, PCS to Germany 1977


*Pvt. Barry Neal


SP4 Donald Stedge, ETS 1977


SP4 Stephen Purvis aka Frenchie, PCS to Germany


SP5 Don Kortas, 2nd Site Commander, ETS 1976


SP5 Millard "Ken" Ellis, 3rd Site Commander, DEROS 1977


*SSG Lewis "Lew" Neddo, 4th Site Commander


*SP4 Roosevelt Edwards


*Pvt. Roy Cavanaugh
( * ) Unknown ETS, DEROS or PCS
Additional information:
The 128th's Signal Company Headquarters was located in Schinnen, NL 150mi. south of 't Harde, and in1977 the company was relocated to Brunssum, NL 5mi. to the east.
A partial list of the company's staff was:


CPT Kowolowski


SGT Van (unable to recall First and Last Full Name)


Civilian Admin. Assist. Corrie (unable to recall Last Name)

Signal Commanders (Chain of Command):


COL Ammerman, 39th Signal Battalion, Bremerhaven, Germany


BG Racke, 5th Signal Command, Worms, Germany

---
(Sourc: Email from Sue Tully, 128th Sig Co)
I was assigned to the 128th Signal Company in May 1979 and left in September 1980 to take command of the 270th Signal Company in Pirmasens (also 2nd Signal Brigade, but 73rd Signal Bn). The headquarters of the 128th at the time I was stationed there was in Schinnen, Netherlands. We had the relay site in Brueggen and the relay site in Hoek van Holland which were the parts of the backbone to Martlesham Heath (I am not sure about that). We also had nuclear custodian communications responsibility in Teveren, Germany; Steenwijk, NL; Het Harde, NL; a communications center in Rotterdam; and another relay in Chievres, BE as well as communications support for an AUTOVON at the military attaché in Brussels, NATO HQ.

The 2nd Signal Brigade patch was designed and created in 1980 (or thereabouts) by the S-3 of 2nd Signal Brigade, LTC Dobrzilecki (sp?). Prior to that, all members of the 2nd Sig Bde wore the "electric basketball," the Army Communications Command patch. The 7th Army patch was not worn at all during the time I was assigned there. The ACC patch was worn probably around 1963 and the 7th Army patch may have been worn prior to that.

By the way, the headquarters for 128th is now in Cheivres, Belgium. That was quite a small facility when I was with the company with a radio relay and a com center. They supported SHAPE HQ in Mons.

Was at Hoek van Holland in May of this year, visiting Dutch friends I knew when stationed in Schinnen. It's a sad sight now that the antennas are there, slowly deteriorating.
The 270th Signal Company, the world's largest overseas automatic digital network (AUTODIN) switching center, was in Pirmasens, Germany; it was assigned to the 73rd Signal Battalion, one of the Battalions under the command of 2nd Signal Brigade, which was a brigade under the 5th Signal Command. The switch used mag tapes until around 1980 or 1981 when it was converted to disc drives (they were about the size of a small washer with discs the size of vinyl LP records....). The switch had 200 lines/circuits. Our fastest output at the time was 1200 baud; the slowest was 75 baud. One of the newer com centers that we serviced from Zweibrucken had 2400 baud coming in. There was a lot of backlog. We had around 180 troops, almost all of whom had to have Top Secret SI clearances to work in the facility. We also had a small group of MP's who guarded the entrance to the switch. It was a highly visible job and had its drawbacks .... I miss the troops but not the job or the battalion.
---
(Source: Email from Tom Archard, DCS Chievres then DCS SHAPE, 1983-1989)
I enjoyed reading through your site, and it brought back some fond memories! I have some additional information about the Chievres radio relay site. This site was actually not a radio relay site, but a Defense Communication System (DCS) station and technical control facility. We transported telephone circuits from the Chievres Dial Central Office (DCO) to Hillingdon, UK tech control. From Hillingdon, there were connections to the UK, Germany and elsewhere. There were several microwave radio relay sites between Chievres and Hillingdon, the closest to Chievres being Flobecq, which was about 15 miles away. This was an Air Force site, and these folks maintained the microwave radio equipment at Chievres. The 128th maintained the other communications equipment at Chievres.
When I arrived on site in August 1983, our equipment consisted of an AN/UCC-4 FDM multiplexer and an AN/FRC-148 microwave radio set. By 1985, this equipment was replaced by the new Digital Radio and Multiplexer Acquisition (DRAMA) program equipment: AN/FCC-100 low speed time division multiplexer (LSTDM), AN/FCC-98 multiplexer, AN/FCC-99 2nd level multiplexer, and an AN/FRC-170 microwave radio set. Hard to believe, but I've heard that this stuff is still in operation! Chievres was now a part of the new Digital European Backbone (DEB) system.
Chievres also added a T-1 cable link sytem to DCS Station, SHAPE. The system consisted of about 5 underground repeater sites between the two facilities. Chievres also began transporting circuits from the Jam Resistant Secure Communications (JRSC) SATCOM site on Chievres Air Base. The JRSC ws also part of the 128th and was installed around 1984.
Tom Archard
DCS Station, Chievres, 1983-1986
DCS Station, SHAPE, 1986-1989

---
176th Signal Repair Company
(Source: Email from Jack M. Schwartz, 176th Sig Rep Co, 1951-53)
I arrived in Germany in September 1951, and was sent to the repo-depo (7720 EUCOM Repl. depot) at Sonthofen as a "pipeline" replacement. I was there assigned to the 176th Signal Repair Co, Boeblingen, Germany in the MOS 3648, Field Radio Repairman. In December of 1951, I went to the "EUCOM SIGNAL SCHOOL" at Ansbach, Germany for a 15 week course in radio repair, with about 12 others from the 176th. We finished school on March 30, 1952.

The 176th Signal Repair Co. was at that time under Headquarters 7th Army, and to the best of my knowledge not affiliated with any other units other than those we shared space with. That is, our barracks were at the Panzer Kaserne, and we were quartered on the second floor of our building. On the first (ground) floor, were the 545th Signal Depot Co barracks. The 176th and the 545th shared a kitchen and mess hall in the building. Our building was one of 4, facing OUT from a quadrangle, and I do remember that the 5th L&L (Loudspeaker & Leaflet Co.) was there, and also the 75 AGL (Air Ground Liaison). The Building along side of us housed what we were told was a combat engineer unit, but don't hold me to it, as I am not sure.

The 176th Signal Repair Co. was just that; a repair company. We were a high echelon repair facility, and we were sent on detached service all over the American zone of Germany. We were always assigned on detached service to Ordinance Maint. units. Each repair team had a Team Chief (Staff Sgt. or higher), an Asst Team Chief, and averaged about 5 or 6 men. Each team had 2 vehicles; a duece and a half with a 1½-ton trailer, and a SAR (Shop and Repair van) which was a 2½-frame with a large workshop (van) complete with workbenches, electric outlets and racks for test equipment and tools etc. with storage space beneath the workbenches. The SAR pulled a 5000 watt generator as we supplied our own electricity if needed in the field. Besides the necessary test equipment, we carried supply cases which contained standard electronic replacement parts such as vacuum tubes, switches, resistors, capacitors etc., etc. We carried a number of 5-gallon cans of gas in the trailer. We also carried a full case of of carbine ammo, and two thermal grenades. The grenades were for us to burn out the vehicle engine blocks if we ever had to abandon the vehicles under hostile conditions. When we reached a duty station we would turn over this ordnance until we left.

At each duty station we were given a room which we would set up as a workshop. Units in the area which we served would fill out work order forms and bring their equipment to us for repair. We would notify them when the equipment was ready and they would pick it up. The equipment and repair supplies which we had were valued at about $70,000 (we were told) and that was a lot a money in the early 1950s. We kept an inventory of everything we used (with work order #s) and would reorder on a regular basis. We repaired all radio, telephone, electro-mechanical and electronic equipment. The one thing that we did not repair was Radar Equipment; as there was special people for that.

I believe that we had about 20 plus repair teams in the field. I myself served on a 6 man team (Signal Team #15) for about 3 weeks with the 357th Ord. MM Co. at Nellingen, Germany in April 1952 // 6 months on a 8 man team (Signal Team #5) with the 556th Ord. MM Co. at Zirndorf, Germany (Pinder Barracks) from May, 1952 to Dec. 1952 // and on a 5 man team (Signal Team #10) with the 48th Ord.MM Co. at Baumholder, Germany from Dec. 1952 to April 1953.

When I joined the 176th in Sept. 1951, the commanding officer was Capt. ( ?Glenn J.? ) Christopher and later Capt. Mac C Eversole, but I don't know when the changeover took place.

The first indication that I know of that we were part of the 301st Signal Service Group was on my orders to Zirndorf in May of 1952. The first I knew of the 39th Signal Support Group was in Dec. 1952 when I got orders for Baumholder. My orders to ship out in April '53 were also from the 39th, and included men from the 176th, the 545th Signal Depot Co., the 595th Sig. Support Co., and the 596th Sig Support Co.

---
518th Signal Company
(Source: Email from Jerry Hathaway)
I just want to know if the radio site (part of 39th Signal Bn) is still in Paderborn, Germany. I was stationed with the 518th Sig Co from 1972 to the 1975. I was a microwave radio repairman. Paderborn and Buren were the same radio station at the time I was stationed in Germany. As you may know we were attached to the 22nd Artillery Detachment, which was attached to a British Regiment.

I have misplaced my photos of Linderhofe and of Sennelager (the actual radio site) and I was wonder if you had any so I could share them with my family? It is amazing to just playing around and typing in 518th Signal Company and I found your incredible history page on display.

We use to sit in the mess hall in Linderhofe and look out across the valley below. It was so beautiful.
---
(Source: Email from George Remhof, 518th Sig Co, 1973-76)
I was with the 518th Sig Co and stationed at Linderhofe from 1973 until I left the service at the end of June 1976. It was nice to see Jerry Hathaway and Bob Armour left messages. I knew both as well as Bob's dad - Big Bob (he was a big guy). I was a 32F2T and one of the few Crypto guys they ever had. I worked in the MRC-85 vans until they were packed up and shipped out in 1975. The last year I was there I clerked for the XO and handled three-times weekly mail and ration runs to Muenster and back (yeah, we only got mail Mondays, Wednesdays, and Fridays).

If I do some digging, I am sure I can come up with some photos of the site. I will scan them and send them to you. I just looked it up on Google Earth and noticed that the big, square tower they had is gone (similar to the one at Stein). I wonder when that went?

It would be nice to reconnect with old friends. On a somewhat related note, my old NCOIC, James Cook, has been trying to contact me via Classmates.com. I listed there but didn't take the bait to pay to become a gold member so I can't read his messages. If one "Googles" my name, I am easy to find.

Thanks for hosting and maintaining those USAREUR pages. You are collecting a wealth of neat information.
---
(Source: Email from Ed Armour, American dependent, 1974-76)
It was fun to find a site detailing the 2nd Sig Gp after all these years. My father (Edward B Armour) was a civilian stationed at Linderhofe from Sep 1974 to December 1976 and helped the 518th Signal Company with tech support for the NODAL and the CRE equipment stationed there along with the tropo radio gear.

I was there, too, as a 14 -16 year old and attended a British Military Brat school in Rinteln nearby. Spent many an hour in the day room there and made friends with most of the GI's during this period. Also spent a lot of time with my Dad at the NODAL. There was a huge four legged tower there with microwave dishes and all the rest.

I made many a late night trip with my Dad to many sites in the 2nd Sig Gp (including Schinnen's 128th Sig Co). When the gear went down and the GI's couldn't fix it they called my dad who was a GS-11 with USEUCOM. I am still in touch with several of the officers and enlisted folks that served there and will always remember the US Bicentennial in 1976 we celebrated with a barbecue on base.

I had the distinction (sic) of being the first "summer aide" dependent hired there to mow lawns, paint radiators, whatever. As I was the ONLY dependent above two years old (Linderhofe was considered a hardship posting and family was not common). I also traveled to many of the surrounding GI bases (the nearest was Bueren as I recall and also many trips to the PX in Giessen to stock our one room PX at the 518th.

My Dad was later attached to the 73rd Sig Bn in Pirmasens where I graduated from an AF High School at the Zweibruecken Air Base. (Our commencement speaker was the general commanding the 21st Support Command).

I would be interested to hear if more info and or stories are available as I would love to hear from the other GI's I made friends with in those days.
Ed Armour
---
1989
(Source: ECHO Jan 1989, 5th Signal Command newspaper)
Bocksberg 'family' undaunted by remoteness.

Six-man crew develops relationship with German hosts

By J.A. Harnois-Hogfoss

Sgt. Gary Colley checks some of the equipment


The Bocksberg Signal Site shrouded by fog


Less than six miles from the East German border on a mountain called Bocksberg which stands 726 meters high is a remote site.

The Bocksberg Radio Site, 518th Signal Company, 39th Signal Battalion stresses the meaning of remote. How do the soldiers deal with being so far away and what is it really like?

"On a day to day basis we perform operation and maintenance on our equipment to support the Digital European Backbone," said SSgt. Charles Ratts, 518th, strategic microwave radio technician and former site chief at Bocksberg.

Even though we're isolated, we're like a family here. We have no visitors and we're very far from any U.S. facilities. In the winter, when the weather is especially bad, it makes it much worse to travel, so when we go, we stock up," said Ratts.

The peaceful, quiet surrounding of the outdoors can be nice, but when it snows, it snows hard. "Yes, we've had soldiers stranded below. We just hop on a snowmobile and get them up here. It's no problem," said Ratts with a smile.

He added that the six man crew relies on the German economy and villages at the bottom of the mountain. "We have a pretty good relationship with the towns around us. There are shops, markets and discos that we visit."

"I find a lot of caring from downtown. My neighbors are really nice and cooperative," said Sgt. Gary Colley, 518th, strategic microwave radio technician and Bocksberg site chief.

We are somewhat dependent on each other. If someone from the site is going somewhere, they'll get what ever we need or take someone else from the site with them," added Ratts.

They try to make it to their company, the 518th, in Linderhofe, as much as possible. "With the company being approximately two hours away, on a nice day, we can only make one or two trips per week to take care of all of our things. It makes things difficult at times but we make the best of it," said Ratts.

The soldiers get together with the other country's units located on the mountain, for entertainment as well as skiing and visiting the towns.

"Right outside is a gasthaus with a ski slope. Some of the soldiers have taken to that. There is also the towns nearby, so it really isn't that bad," said Ratts.

We have a good relation with the Germans and the British and French who work on the hill. We have little partnership events with these units," said Colley.

Bocksberg's proximity to the border is treated quite calmly. "Even though we are only six miles away from the border and can see an East German site inside the border from the gasthaus sightseeing tower right outside the fence, it is no real threat.

"I spent time in Berlin and that is more to think about than our situation because they are surrounded by East Germany," commented Ratts.

They both admit that it takes a special type of soldier to work at this lonely site. "With only six of us here it is only natural that we are close, so we can survive," concluded Colley.

---
532nd Signal Company
1964-65
(Source: Email from Curtis Berge)
Got drafted in May of 1964 when so many were burning their draft cards and skipping to Canada. Did hard basic at Ft Leonard Wood Mo and was subsequently sent to the 2nd Armd Div 142nd Signal Company at Ft Hood, Tx. Did not have any AIT or signal school training yet so I did rotten ass details and KP and guard duty for about a month or six weeks finally I was sent to the NCO Academy at Ft Hood to the CW operators course (I was a mere E2).

Prior to being drafted I was a railroad telegrapher and also worked teletypes on the railway to be exact..Hired out on the old Great Northern Railway at the age of 16. I aced the radio school at Ft Hood. Very soon afterwards after a brutal 16 hours on KP stopped by the orderly room to see if I had any mail. All I heard was 'Hey, man, you are going overeas'. . Cool.

To make a long story short... Did the troop ship thing... I was somewhat naive fresh off the troop ship (USNS UPSHUR) then a troop train from Bremerhaven to Metz. Got rescued by Cpl Dobbs at the Metz depot ... wound up in Toul, France, as a member of the 532nd Signal Service Company. Did about 10 days in Toul then was put on a train to Mannheim and Sgt Clark . Then was sent to Miesau where I was mostly on convoy duty running that ANGRY 26 (AN/GRC-26). Got shipped to Pirmasens later but the website mentions only three at USAADM that is wrong... at least during my tenure there... for awhile at least. Myself and Andy were on our own.

Then a Comm center was installed and my two person detachment became a horde of 10 or so. Got sent to Pirmasens in Dec (around xmas) 1965 and finished my tour there For some silly reason we had to go to company HQ at Toul every so often in our radio rigs (duece and a half with the Angry 26 Radio) ... kinda sorta van mounted on the back ... cabled secure on the bed of that deuce and one half with big antennas tied down and a large trailer with a large generator behind.
---
1977
(Source: ACCent, Aug 17 1977)
'Vacation retreat' is all things to men of the 532d Signal Company

by Spec 4 Joyce Vinson

Imagine a wooded area in the mountains, 2,500-feet above sea level and surrounded by more than 100 lakes. Sounds like a vacation retreat, right? For men of the 5th Signal Command, though, it is a home, job site and recreational area rolled into one.

The men are members of the 532nd Signal Company assigned to the Bocksberg radio station southwest of Goslar, Germany. The five people who live here year-round are responsible for the maintenance and operation of the relay equipment at this isolated site in the Harz mountains.

Operational since 1951, the site plays an important role in communications in Europe. The facility is the only American station in direct contact with Berlin providing digital and tropospheric relay between Berlin Brigade and the rest of Germany. In addition, the station provides a tropospheric link (Defense Communications System) to a 261st Signal Company site at Breitsol. Bocksberg is also responsible for the operation and maintenance of one microwave site. Equipment at the site has received constant updating and a single tower built in 1954 now stands in place of two towers formerly used to transmit and receive.

The men at Bocksberg admit that life at the isolated site has its ups and downs. As a prime tourist area, the cost of living near Bocksberg is quite expensive so all men live right on the site, cooking their own meals in the billet kitchen.
Duty at the station is scheduled so the soldiers work in 12-hour shifts with four days on and two days off. Working on a tight schedule and living as closely as they do, it's not surprising to experience the close-knit feeling among the site members. "You have to have an outlet at a site like this," explained Specialist 4 David Super. "There's a family-like atmosphere, otherwise it wouldn't work."

In their off-duty time the outdoors offer a range of entertainment running from simple sightseeing to hiking and skiing. "It's a great place to be if you like skiing and other resort activities," assures Specialist 5 Douglas Gardner. "Your pocket sure feels it, though." Despite expenses the men take advantage of their surroundings and most will admit they've been on a pair of skis at one time or another or have had their share of hiking.
The area receives a substantial amount of precipitation and the station has had at times been hit by 6 to 8 feet of snow, providing excellent skiing conditions.

Bocksberg is remote from any other US installation and trips that are routine to site members may sound like major tasks to those not familiar with life at an isolated site. The soldiers' parent unit, the 532nd Signal Company, is located in Lahn, about 165 miles to the south. Despite this distance, members from Bocksberg site travel to Lahn an average of once a week to pick up mail, supplies and do their shopping at the commissary. When the need arises to go more often, the soldiers take turns for the trips to avoid conflicts with station needs and company requirements.

Being away from the normal military installation and its usual facilities, the men do not have the opportunity to spend their money as they usually would. A walk through the billets would surely prove this as many rooms sport elaborate stereo systems or expensive camera outfits. "You have to have an interest," admitted Super. "And you've usually got enough time to develop a hobby." As isolated as it is, Bocksberg receives AFN-radio broadcasts. AFN-TV does not reach them, but the station is on the free film circuit and may receive up to seven films a week.

Taken as a whole, life at Bocksberg radio station is an interesting twist to military life, to say the least. Everyone is not cut out to live in an isolated area, the soldiers themselves admit. But those who can make the necessary adjustments usually find their assignments at Bocksberg a memorable and valuable experience.
---
(Source: Email from Terry Allan, 39th Sig Bn, 1979-81)
Recently I stumbled across the 'US Army in Germany' web site and found that the site brought back many memories from my time stationed in Germany. I was stationed there from early in 1979 until late in 1981 as an Army Tech Controller (32D). My first unit posting was with HHD Company, 39th Signal Battalion in Bremerhaven (Carl Schurz Kaserne). I worked in the Battalion Control Center (BCC), which was responsible for monitoring the status of all of the battalion's communication stations scattered throughout northern Germany. I lived in the same barracks as the folks in the 581st Signal Company. The 581st was responsible for the Bremerhaven Radio Relay/Tech Control Facility - which supported the northern Germany backbone radio shoot. They also had a telecommunication center located on the Kaserne. The rest of the 581st were scattered across the general area around Bremerhaven at Germany Army Kasernes to support the 59th Ordinance Battalion.

In 1980, I transferred to the 532nd Signal Company, headquartered in Giessen, Germany. I was actually stationed at the Stein-Neukirch radio relay station (DCS Station Stein). This was located in Germany's Westerwald area. We were on the back bone radio shot that went from Rhein-Main to Feldberg (USAF station) to Stein to Bruggen, Belgium to Hoek van Holland to Martlesham Heath, England.

In addition to the radio back bone, we also supported the 59th Ordinance units scattered around our immediate vicinity. I have recently heard this called the Cemetery Net. We supported the encrypted hot lines that went out to these small Army units stationed on Germany Army Kasernes. Basically, we took six circuits off of the backbone and into our CRE switch. The CRE then switched the circuits out to the eight Kasernes that we supported. It was never discussed, but we all assumed that these Ordinance units had nuclear weapons - hence these hot lines. In addition to the 532nd and 581st, the battalion also had the 518th Signal Company headquartered at Linderhofe, Germany and the 128th Signal Company headquartered in Belgium. The Linderhofe station had the same equipment and duties that Bremerhaven and Stein had. I don't believe the 128th Signal Company's stations in Holland and Belgium had the CRE and hot lines.

There were about 10 Americans stationed (at the Stein site). The married guys lived a few miles away in a Germany Army housing area. The rest of us were single, and lived at the station. The main building had a kitchen and day room at the end furthest away from the tower. Then there were six barracks rooms, a couple of offices, and then the main radio room/tech control facility.

The CRE switch was located in a large semi trailer parked beside the building (you can see it in the pictures). The quonset hut that you can see on the left hand side of each picture was divided between a rec room and a garage. Those of us who lived at the station received separate rations pay, and cooked our own meals in the kitchen.

I thought it was great to be able to set my alarm clock for just a few minutes before the start of my shift, throw my uniform on, and walk 30 feet down the hallway to work. Except for the Station Chief, assistant Station Chief, and the clerk, we all worked a 3 day on/3 day 12 hour off shift. We would work the day shift, get three days off, then work three night shifts - so we continuously rotated our shifts. As a young man, I loved this kind of shift - but now it would probably kill me. For entertainment, we had a TV and a VCR (the first I had ever seen). There were various cases full of video tapes (movies and TV shows) that circulated between the Army units in the area.

Our company headquarters were in Giessen, and usually one of the off duty guys would drive the site's van down there for mail, which also gave them a chance to hit the PX. The only really interesting times were when there was some reported terrorist activity in the area - I believe it was the Baader-Meinhof group that was very active then. We would be put on alert, issued our M-16s along with live ammo. Thinking back, we were pretty much sitting ducks at night. Our entrance gate was secured by a chain and padlock, and people would drive up and press a buzzer that sounded in the radio room. At night, when you walked out to the gate to open it, you were facing right into the vehicle's headlights, so it was difficult to see who it was.
ADDIONAL INFORMATION
I was able to show which locations were supported by my station - Stein. Not only did we maintain the radio shots to them, my company (532nd Signal Co) had 3-4 microwave technicians or radio operators at each of these locations:
Lipper Höhe
Kilianstädten
Alten Buseck
Herborn-Seelbach
Treysa
Hinsbeck
Menden
Werl
Büren

I also showed the backbone radio system that served Stein. To the south, we shot to USAF Feldberg. Going west, we shot to Brüggen. From Bruggen (US Army) it went to Hoek Van Holland (US Army) , then over the English Channel to Martlesham Heath (US Navy).
| | | | |
| --- | --- | --- | --- |
| | | | |
| 1. MW tower, DCS Station Bremerhaven (KB) | 2. View of Carl Schurz Ksn from MW tower (KB) | | |
| 3. DCS Station Stein (KB) | 4. Close-up of site (KB) | 5. Snowed in, the Blizzard of 1980 (KB) | |
| 6. Stein TCF (KB) | 7. Former Stein Radio Tower, 2006 (KB) | | |
| 8. DCS Station Chievres (KB) | | | |
---
1981
(Source: Email from Vincent Coviello)
I served in the 532nd Signal Company from 1981 to 1984 as the Supply Officer/PBO and then as Operations Officer.

When I arrived, the 532d was one of the smaller companies in the 39th Signal Battalion. We had seven 50-5 (AR 50-5: Nuclear Surety Program) remote sites which were MW and HF sites supporting 59th Ordinance BDE detachments:


Alten Buseck (supporting 30th USAFAD)


Killianstädten (supporting 501st USAAD)


Bellersdorf (Herborn-Seelbach) (supporting 557th USAAG/96th Ord Co)


Schwalmstadt (Treysa) (supporting 7th USAFAD)


Montabaur (supporting 83rd USAFAD)


Lipperhöhe (supporting 52nd USAAD)


Düren Drove (supporting 43rd USAAD)
as well as the DCS Nodal Station at Stein.

They were called remote sites because of their distance from the serving Military Community (MILCOM). We also maintained the TCC, a DCS Microwave Station and Dial Central Office for the Giessen MILCOM. The AR 50-5 sites were tributary sites off of the nodal station. Originally when I arrived in Germany these were separate MW links from the nodal site (either line-of-site (LOS) or troposcatter) and then later changed to leased lines from the Bundespost in 1984.

My favorite aspect of the job was the work with our nodal site at Stein and the AR 50-5 mission. AR 50-5 sites were US-only communications sites in support of US Field Artillery and Air Defense Artillery detachments that were custodial units for special weapons. These sites had both fixed and mobile missions to support release messages.

The fixed sites were configured with an HF radio room using Collins FRC-93 radios monitoring the Cemetery Net and two sub-nets and then there was a separate room for the microwave radios. Outside there was a generator room with three 30 KW back-up generators should commercial power go down. The building was usually sited beneath the microwave tower which had two antennas mounted on them to provide a dual-diversity link back to the nodal site. There was also an HF antenna field situated somewhere on the site.

The mobile missions, a radio van with 10KW generator system, were staffed by tactical radio operators (31V/05B MOS) who also manned the fixed site along with microwave operators and repairers (26R/V MOS). The sites in the company were equipped with one of two different type vans. The first was a TRC-133 van (corrected) which was an S-280 shelter on a 2 1/2 ton truck. This shelter had five mounted FRC-93 radios which provided communications for the three HF nets and two spare systems. The second was a MRC-117 (corrected), which was a USAF communications assemblage that the army had procured. I never found out why the two different mobile assemblages for the same tactical mission. The mobile units would provide Cemetery Net communications to NATO field artillery and air defense artillery units in a tactical environment providing the same US-only communications link for the release of special weapons to the US custodial detachments. During war environment the radio operators became OPCON to the artillery detachment and no longer belonged to our signal company.

Stein was essentially a link on the DCS backbone that carried five super-groups (one super-group was 256 channels if I remember correctly) of communications links and then broke out circuits for the microwave shots out to the tributary sites collocated with the 59th ORD BDE detachments and then passed through the DCS backbone links from RAF Brüggen to Feldberg to provide the major US military communications links for Europe. Stein was on the top of a very small ski slope in the Westerwald and in the winter site PT would be cross country skiing. There was also an excellent Gasthaus just down the hill from Stein called, if I remember correctly, Ruth's. The site also had three of the best NCO's I ever worked with in my career; SFC Ronnie Horne (PLT SGT), SFC Thomas T. Taylor (Site Chief) and SP6 Mark Sanantocito (Lead Tech).

The DCS MW Station in Giessen accepted a microwave link from Felderg that provided the voice and Commcenter (TCC) links for the military community.

In 1983, the Company was nearly doubled in size through a re-alignment of missions' battalion wide. The company picked up 3 additional 50-5 sites from the other Signal companies:


Geilenkirchen (supporting 85th USAFAD)


Hamminkeln (Wesel) (supporting 1st USAFAD)


Hinsbeck (Grefrath) (supporting 507th USAAD)

Also, in 1983 the company was ordered to set up signal support for the newly established military community at Rheinberg for the 21st Support Command. A DSTE van was set up as TCC and a commercial DCO established providing full up support for the community.

I worked for four excellent Company Commanders in my tenure: CPT Chuck Kaniecki, CPT Jody Fink, CPT Grady Chancey and CPT Patty Bianco. Our battalion headquarters was up in Bremerhaven which was about a 4 hour drive when we attended our quarterly officer's calls. During the majority of my tenure in the 39th our commander was LTC Joseph Gaddis and our CSM was Leo P. Greenhouse and they made a dynamic command group; always on the road constantly visiting sites spread across four countries.

I can agree with Sue Tully about the 2nd SIG BDE patch, I remember the change over from the USACC "electric basketball" to the "twin lightening bolts happening in very early 1982 but I heard it had been the works for several years before I arrived.

ADDITIONAL INFORMATION
Gangbuster 1 and Gangbuster 2 were the two sub-nets of the Cemetery net. They were the two nets that were constantly communicated over while the Cemetery
net was always in monitor mode until crisis or war.

There were 3 FRC-93 in every HF site one for each net.
---
(Source: ECHO, July 1984)
The Geilenkirchen Radio Site is operated by a detachment of the 532nd Sig Co.

---
545th Signal Depot Company
(Source: Email from Robert Frost)
When I arrived at the 545th Signal Co (Depot) in 1956 the unit was located outside of Hanau, Germany near Frankfurt. The base was known as the Fliegerhorst Ksn. A few months later we relocated near Mannheim at Sullivan Barracks. It was still there when I left in '59.

During my time the unit was always removed from the main BN HQ. There were two sections: Signal Maintenance and Supply. I worked in Maintenance on radars, but the bulk of signal work was on field radios. They also repaired cameras, mine detectors, teletypes, telephones, and even Signal Repair Vans.

---
581st Signal Company
(Source: Port Reporter, June 27, 1986)
581st expands communications

by Wayland Jessup

Perhaps the fastet growing unit in Norddeutschland Military Community is the 581st Signal Company, which is part of the 39th Signal Battalion.

With the addition of such groups as the Data Processing Installation and the Bremerhaven Library the strength of the 581st has grown to 177 persons, civilian and military, in the last year.

Capt. Richard L. Coxwell, company commander, estimates that by October the company's strength will grow to between 250 and 280 persons.

The reason for this astonishing growth is because anything that has to do with information is being incorporated into the unit. Responsibility for all computers and word processors are included in the new 581st mission, he said.

The 581st, which came into being January 13, 1941 as the 3rd Sig. Repair Co., is the "Ma Bell of Northern Europe," Coxwell said.

He said they provide all of the telephone service and repair throughout NDL, including seven remote sites and Holland. "All in all the 581st is responsible for about 25 000 square miles."

The seven remotes sites serviced by the 581st are Lahn-Soegel, Kellinghusen, Barnstorf, Delmenhorst, Meyn/Flensburg, Het Harde (Netherlands) and Steenwijk (Netherlands).

Besides telephone service, the 581st is also responsible for telecommunication message traffic, "which is one worldwide system that links everybody together," Coxwell said.

This is done by using a communications relay control station (CRCS), which is serviced by the 581st. AFN also use the CRCS to broadcast to NDL, Coxwell said.

"The 581st also provides voice communication support to DoD elements located within the NDL area of responsibility," Coxwell said. "We provide worldwide AUTOVON access and dial service and local lease communication to DoD elements within the NDL area"

Currently, the 581st is installing a new Dial Central Office (DCO), which translates what is dialed on a telephone and sends it to the proper receiving telephone, said Sgt, (P) Donald C. Chapman telephone installer.

The DCO is equipped with a magnetic tape that records every telephone call that goes through the system, Chapman said. "If anyone makes an unauthorized telephone call, they will be caught," he emphasized. In July the European Telephone System will come to NDL and the 581st will be responsible for installing and servicing it, Chapman said.

He said the new system is much more efficient and quiet than the present system. "The ETS consists of seven numbers. All they have to do is dial 343 and the last four numbers. If they remember that the first number after the exchange for Carl Schurz is 8, for the hospital is 7 and for Garlstedt is 6 they should have no problems."

Despite the growth of the 581st and its added responsibilities, the level of responsibility to the individual soldier does not suffer in the unit.

"The people make the difference," said Sp4 Marilyn Alailima, administrative specialist."They're here if you've got a
problem. They do what they can to help you out."

"I like it here," she said. "People do their jobs in a professional manner. I feel a sense of pride."

Growth can sometimes bring an end to continuity, but its this professionalism and pride that has kept the 581st a cohesive unit.
ADDIONAL INFORMATION


Bremerhaven maintained MW radio shots to the following sites:
Flensburg
Kellinghusen
Delmenhorst
Soegel
Barnstorf
Steenweijk, the Netherlands
t' Harde, the Netherlands


---
596th Signal Company
Attached to 39th Signal Battalion (1952 - 1957)
(Source: Information found on the now inactive 596th Signal Company website)
On activation in Camp Gordon, Georgia, in the 3rd Army area, on 6 August 1951n the 596th Signal Company (Support) consisted of 5 platoons:



Headquarters



Wire



Radio



VHF/CXR



Carrier

The 596th was attached to the 39th Signal Battalion which was activated at the same time and place.

In September 1952 the 39th Sig. Bn. including the 596th Sig. Co. (Spt) were sent to Germany in the 7th Army area where they were attached to the 301st Signal Group.

They were stationed at Panzer Kaserne, Böblingen which is not far from Stuttgart.

Some time in the late 1950s the 596th was returned to the states and assigned to Fort Benning, Georgia. It was attached to the US Army Infantry Center Troop Command (USAICTC) for administrative purposes but fell under 3rd Army
---
Attached to 97th Signal Battalion (1961 - 1963)
1961
(Source: Email from John Osbeck, webmaster of the now inactive "596th Signal Company" website)
The 596th Sig Co (Spt) was stationed in K-town except for the Radio Platoon. We were attached to Co D of the 97th Sig. Bn. at Panzer Kaserne near Boeblingen (near Stuttgart).

We had a AN/GRC-26D radio-teletype in a shelter mounted on a 2 1/2 ton truck that was used as the net control station. I and others were assigned to jeeps with trailers and radios. The jeep radios made up HOTEL net. During alerts each jeep was assigned to an area in the field, usually in the back woods. Each area was assigned a color. Mine was RED. I don't remember how many colors there were for sure but I know we had red, white, blue and green.

We had a plywood sign attached to the front bumper 9 1/2 inches square. They were painted red with white lettering and outline. They had the name of the net and the color and the names of the 2 man crew. In my case "HOTEL RED" "OSBECK - BUCK" (at that time my teammates name was Buckingham). I still have mine.

The radios were AN/GRC-19 as the primary and AN/GRC-9 as a backup. We communicated in voice.

I understood that we were to provide communications in support of transportation outfits engaged in the evacuation of civilian dependants in the event of hostile action. (Webmaster note: this was known as the "Noncombatant Evacuation Order.")

There were any number of alerts that we had to respond to. During USAREUR or 7th Army alerts we would see the trucks coming thru our areas. Other alerts were for the Hotel net only & there were a lot of them. They could be called by the platoon sergeant on up. Usually in the middle of the night. We had to respond like fire fighters & everybody got out of our way.

The 596th was sent to Germany in response to the Berlin Crises.
---
(Source: Information found on the now inactive 596th Signal Company website)
596th Signal Company (Support) - had the mission of providing communications for 7th Army Rear.

In October of 1961 the 596th again went to 7th Army in Germany where it was assigned to the 97th Signal Battalion headquartered in Kaiserslautern. (Webmaster note: The 596th Signal Co. was stationed at Pulaski Barracks, Vogelweh.)

Part of Radio Platoon was attached to D Company in Panzer Kaserne near Boeblingen. This section was known as Hotel Net.

In September 1963 the unit was detached and, leaving it's equipment behind, returned to CONUS aboard the MSTS ship Simon B. Buckner from Bremerhaven, Germany.

From Virginia it was flown to Fort Chaffee, Arkansas where it was attached to the 509th Signal Battalion. There it drew all new vehicles and other equipment.

Recollections from former members of the 596th:
(1) On arrival in Bremerhaven many of us boarded a train for the trip to Kaiserslautern where the 596th Signal Company (Support) was domiciled. Here I and a few others were put in the back of a 3/4 ton truck for a long ride to Panzer Kaserne where I joined up with the part of Radio Platoon that was attached to D Company, 97th Signal Battalion. On the ride down we had a little excitement when we noticed nuts and bolts coming out from under our truck & bouncing along the road behind us. Turns out the drive shaft just came apart & we had to call for another truck to finish the trip.

This part of Radio Platoon (located at Panzer Kaserne) was known as Hotel Net. We had one AN/GRC 26D mounted on a 2 1/2 ton truck that acted as the net control and 5 jeeps each containing an AN/GRC-19 as our primary (HF) radio and a nAN/GRC-9 as a backup.

The jeeps pulled trailers containing "C" rations, spare parts, a hand operated generator, antennas and some change of clothes among other things. This is where and when I learned to drive.

Bolted to our front bumper of each vehicle was a piece of 12" X 12" plywood painted red with the word HOTEL and the color of the site assigned to that vehicle. I still have mine. I was HOTEL RED. These signs told the MPs and German police to leave us alone while we were on the road.

When the alert horn went off we moved like firefighters.

One guy ran to the motor pool to get the jeep while the other stopped at the orderly room to pick up the weapons (M14 rifle) and SOI. We would meet outside the front door of the barracks building, jump in the jeep at a roll and on our way. In 15 or so minutes we would be checking in with net control from our assigned site. We felt great when we occasionally checked in before the net control got on the air.

Almost anybody could call an alert at any time from USAREUR (rare) to 7th ARMY (monthly) down to the platoon sergeant.

We had a platoon sergeant who was a bit predictable. We knew we would get woken up from a sound sleep whenever he got mad at anybody and that was often. If it was not one of us then it was his girl friend or one of his superiors (usually our 1st Sgt.). The Cuban missile crises in October 1962 caused a few extra alerts for us.

On the whole it was not bad duty except for the fact that most of us had a hard time going anywhere to see the sights as we always seemed to be short handed and had to have all the sites covered.

On many an occasion I had to handle it alone. It was scary out there alone in the middle of those thick woods & no lights but from the radio dials. Lots of strange noises for a city boy like me. I guess that is why they did not give us any bullets.

My site, Hotel Red, was a small clearing next to a dirt road that went through the forest to I don't know where. Nothing ever happened there unless it was a USAREUR alert then there would be hundreds of trucks using that road. In the year I was there I think I saw activity on that road 3 or 4 times. Once I saw a Brig. General standing there watching the trucks go by.

(2) The 596th Signal Company usually set up communications for the Seventh Army (Rear) headquarters at the Baumholder Training Area. We had teams there full-time to provide a multi-channel radio terminal/carrier link. When we went to the field most of the company moved from Kaiserslautern to Baumholder and set up a complete communications complex. For that complex we always had several multi-channel radio teams on a hill inside the training area. That hill had had all the trees cut from it but the stumps had been left in place. I was happy that my team never had to operate on that bare hill as the stumps were in the way and there were no trees to provide shelter from the wind. That hill stayed cold all the time.

When we did go to Baumholder and my team was committed, we would go to Hill 571 which was a few miles outside the training area boundary. That hill was much better for us. It was away from the company and so we had few visitors to bother us normally. The hill was heavily wooded, providing cover from at least some of the elements and making a much more pleasant site. There was a dirt/gravel road which went to the top from the highway, with a drainage ditch on the right (as we went up) and farm fields on the left. Past the fields the woods started and they continued almost to the top. On the top there was a big enough cleared area to allow multiple antennas to be installed.

We only operated our multi-channel radios (AN/TRC-24s) on the hill. The multiplex/carrier equipment was at Baumholder. The carriers and radios were connected by "Spiral-Four" cables, almost five miles of them. The cables usually stayed in place full time. There was a cable terminal on the hill where they all ended. When we set up, one of the cable teams would come up and connect us to those cables with hundred foot lengths of Spiral-4 cable. The cables between the two points were installed and maintained by a "Labor Service" cable company. Sometimes they were backed up or assisted by military cable teams. The cables ran up the hill on "A-frames" to keep them off the ground. The A-frames were made up of two long 2 X 4 boards bolted together near one end. That allowed them to have the other ends spread apart as legs. On the top ends of the A-frames were J-hooks to allow the cables to be suspended. The A-frames were stood upright and guyed down to stakes with telephone field wire (WD-1). At the hill top there was a large wooden H-frame permanently fixed in the ground. The cables terminated at the H-frame, tied off and labeled so we and the cable teams could hook up the ones needed.
---
1962
(Source: Peter Cox, Facebook)
I served with the 596th Signal Company in K-town from early 1962 to Sep 1963. My MOS then was 293.10 - Radio Relay and Carrier Operator.

The 596th had been sent to Germany on the Berlin Buildup around 1961. It was attached to the 97th Signal Battalion with the mission to support 7th Army (Rear) and stationed at Pulaski Barracks in Vogelweh/Kaiserslautern.

The company arrived in Germany organized under MTOE 11-117 with I believe 4 platoons, an HF Radio Platoon, a Comm Center Platoon, a Radio Relay/Carrier Platoon and a Cable/Wire Platoon, as well as HQ Platoon.

The HF Radio Platoon and the Comm Center Platoons were detached and assigned to Co's D and C respectively of the 97th Sig Bn at Panzer Kaserne in Boeblingen.

The 596th returned to Ft Chaffee in Sep/Oct 1963 and I was transferred to the 440th Sig Bn, then at Kleber Kaserne in K-Town. I stayed there until Apr 1966 when I returned to the States. (Incidentally, when I returned to CONUS, I was again assigned to the 596th, by then at Ft Huachuca, and deployed to Vietnam with the unit in 1968.)

A former member (John Osbeck) of the 596th had set up a web site for the Co and had collected quite a bit of information on it. By the time I was ready to assume control of it, I had lost contact with him and it had expired.

I returned to Germany and the 440th, then in Darmstadt, in 1973, where I stayed until 1977.

I am currently president of the 440th Sig Bn Alumni and a member of the 440th Signal battalion Facebook group. We conduct a reunion each year in the fall, this year (2019) in Las Vegas 24-26 September.

---
Related Links:
596th Signal Company Veterans - the website is hosted by John Osbeck and is the unofficial web site for veterans of the 596th Signal Company, the 596th Signal Company (Support) and the 596th Joint Assault Signal Company; includes a nice aerial of Panzer Kaserne, prob 1970s. Make sure to read Robert Stephens' personal recollections of his time with the 596th in Germany - Pages 2 and 3. Very interesting.
American military transmitters in Hoek van Holland - a very nice page on Petr Kazil's web site "Deserted Places"