If you do NOT see the Table of Contents frame to the left of this page, then
Click here to open 'USArmyGermany' frameset
557th US Army Artillery Group
59th Ordnance Brigade
Looking for more information from military/civilian personnel assigned to or associated with the U.S. Army in Germany from 1945 to 1989. If you have any stories or thoughts on the subject, please contact me

.
---
| | | | | | | |
| --- | --- | --- | --- | --- | --- | --- |
| CUSTODIAL DET | SUPPORTED UNIT | CTRY | | CUSTODIAL DET | SUPPORTED UNIT | CTRY |
| HHD, 557th | III GE Corps, 2nd ATAF | | | | 5th Pz Div Arty | GE |
| | III GE Corps, 2nd ATAF | | | | III GE Corps | GE |
| | 12th Pz Div Arty | GE | | | 2nd ATAF (Pershing) | GE |
| | 2nd Pz Gren Div Arty | GE | | | | |
---
History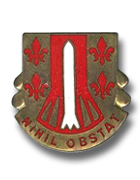 557th US Army Artillery Group DI
(Source: A Look Back ... at the 59th Ordnance Brigade. Final issue of the 59th COURIER, the command newspaper, published in 1992.)
557th US Army Artillery Group
The 557th U.S. Army Artillery Group was constituted in the U.S. Army in February 1943 as the 557th Field Artillery Battalion. The battalion was activated in May 1943 at Camp Gruber, Okla.

Following training, the battalion travelled to Europe where it received credit for participation in four campaigns.

Headquarters and Headquarters Battery, 557th Field Artillery Battalion was redesignated as Headquarters and Headquarters Battery, 436th Field Artillery Group in June 1947, and activated in Chicago, Ill. The group was inactivated in Chicago in December 1948.

Redesignated as Headquarters and Headquarters Battery, 557th Field Artillery Missile Battalion in July 1952, the unit was allocated to the regular Army.

In February 1955, the battalion was redesignated as the 557th Field Artillery Missile Battalion (Corporal), and it was activated at Fort Bliss, Texas in April.

The battalion was inactivated in Germany in June 1958 and the battalion, less the headquarters, was disbanded.

The Headquarters was redesignated in June 1963 as Headquarters and Headquarters Detachment, 557th U.S. Army Field Artillery Group. The group was activated at Fort Sill, Okla. in December 1965.

In December 1965, the 557th U.S. Army Artillery Group received reassignment orders to the Special Ammunition Support Command in Germany. The 557th proceeded to Herbornseelbach, where it remained until it inactivated in June 1992.

3rd U.S. Army Field Artillery Detachment
The 3rd U.S. Army Field Artillery Detachment was activated in September 1962 at Fort Sill, Okla. as the 3rd U.S. Army Missile Detachment. The detachment was assigned to the 4th U.S. Army and attached to the 1st Field Artillery Missile Brigade, Field Artillery Missile Training Command.

With subsequent mission assignment to provide special ammunition support to selected non-U.S.-NATO units, the 3rd USAFAD departed the United States and arrived in Germany in February 1963.

In June 1970, the detachment was reassigned to the 557th U.S. Army Artillery Group. The 3rd was located in Phillipsburg and inactivated on Feb. 15, 1992.

7th U.S. Army Field Artillery Detachment
The 7th U.S. Army Field Artillery Detachment was activated in December 1961 at Fort Sill, Okla. as the 7th U.S. Army Missile Detachment. The detachment was assigned to the 1st Field Artillery Brigade, Field Artillery Missile Training Command. The unit satisfactorily completed training in March 1962 and subsequently arrived in Germany in May of that year.

The 7th USAFAD was assigned to the 512th U.S. Army Artillery Group until June 1966 when it was reassigned to the 557th U.S. Army Artillery Group and located in Treysa. The unit inactivated in June 1992.

30th U.S. Army Field Artillery Detachment
The 30th U.S. Army Field Artillery Detachment was activated in March 1951 at Fort Sill, Okla. as the 30th Field Artillery Counter-mortar Radar Detachment. The detachment served in Korea, receiving credit for one campaign and was awarded the Republic of Korea Presidential Unit Citation. The unit was inactivated in Korea in October 1951.

In September 1959, the 30th was redesignated and activated as the 30th U.S. Army Missile Detachment. The detachment arrived in Germany in March 1960 and was assigned to the 557th U.S. Army Artillery Group in June 1966 and sent to Giessen. It inactivated in June 1992.

83rd U.S. Army Field Artillery Detachment
The 83rd U.S. Army Field Artillery Detachment was activated in December 1966 at Fort Sill, Okla. as the 83rd U. S. Army Missile Detachment. The detachment was assigned to the 3rd Battalion, 38th Artillery for command and support and further to the 9th Field Artillery Missile Group of the III Corps.

The 83rd arrived in Germany in August 1970 and was assigned to the 557th U.S. Army Artillery Group. The 83rd was located in Montabaur and inactivated in June 1992.

85th U.S. Army Field Artillery Detachment
The 85th U.S. Army Field Artillery Detachment was constituted in the U.S. Army in November 1966 at Fort Sill, Okla. as the 85th U.S. Army Missile Detachment. The detachment was assigned to the 2nd Battalion, 79th Artillery. In November 1968, the unit was reassigned to the 2nd Battalion, 44th Artillery.

In August 1969, the 85th moved to Europe and was assigned to the 5th U.S. Army Artillery Group in November of that year.

In October 1979, the detachment was reassigned to the 557th U.S. Army Artillery Group. The 85th was one of only two Pershing 1A warhead detachments in the world. The 85th U.S. Army Field Artillery Detachment was inactivated in April 1991 in Geilenkirchen, Germany.

96th Ordnance Company
The history of the 96th Ordnance Company dates back to the activation of the 8th Mobile Repair Shop in August 1914 at Camp Hancock, Ga. The unit was reorganized as an inactive Army unit in the 1930s and in 1939 it was disbanded and renamed the 96th Ordnance Company. The company was activated in World War II and saw service in the Asian-Pacific Theater, earning a Meritorious Unit Citation.

Deactivated in Hawaii in 1948, the company was reactivated in 1952 at White Sands Proving Ground, N.M. where it remained until its deactivation in 1957. (1)

On Jan. 6,1959. the 96th Ord. Co. was activated as a Special Ammunition, General Support unit at Sandia Base, N.M.

In January 1961, the 96th moved to Red River Army Depot, Texas where it remained until July 1966. At that time, the company moved to Germany and was assigned to the 548th U.S. Army Artillery Group with further assignment to the 557th U.S. Army Artillery Group. The 96th was collocated with the group headquarters in Herbornseelbach. The 96th inactivated June 1992.

(1) This official history is not quite accurate. The 96th Ordnance Comany was deployed to Germany in this timeframe and served at Mainz-Gonsenheim as a Guided Missile Direct Support company, supporting a CORPORAL missile unit. Click here for more...
---
SPECIAL AMMUNITION STORAGE SITES - 557th ARTILLERY GROUP
| | | | | |
| --- | --- | --- | --- | --- |
| SAS LOCATION | US CUSTODIAL UNIT | SUPPORTED NATO UNIT | SAT (Google) | |
| Alten-Buseck (Giessen) | 30th USAFAD | 5th Arty Regt (GE) | | |
| Bellersdorf (Herborn-Seelbach) | 96th Ord Co | III Corps (GE) | | |
| Montabaur | 83rd USAFAD | 350th Rkt Arty Bn (GE) | | |
| Phillipsburg | 3rd USAFAD | 12th Arty Regt (GE) | | |
| Roehrshein (Treysa) | 7th USAFAD | 2nd Arty Regt (GE) | | |
| Teveren (Geilenkirchen) | 85th USAFAD | FKG 2 (GE) | | |

---
Headquarters/Headquarters Det, 557th USAAG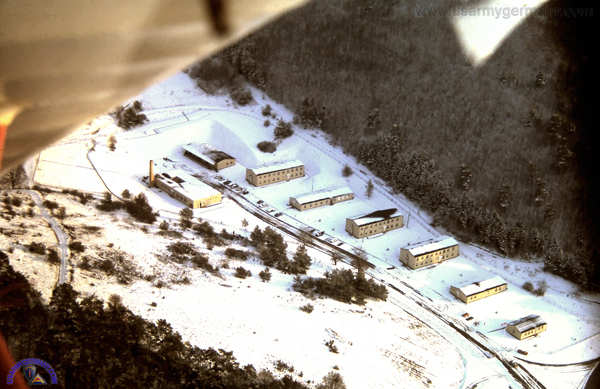 Aartal Kaserne, 557th US Army Artillery Group, 1968 (Michael Bauer)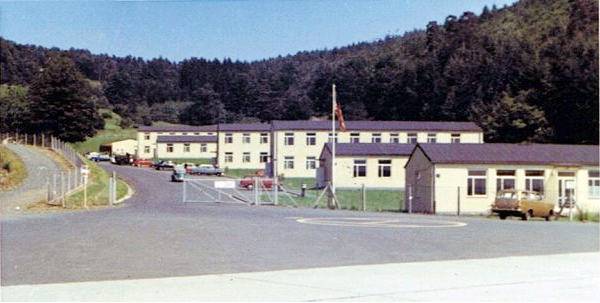 Aartal Kaserne, 557th US Army Artillery Group, 1967 (557th USAAG FB)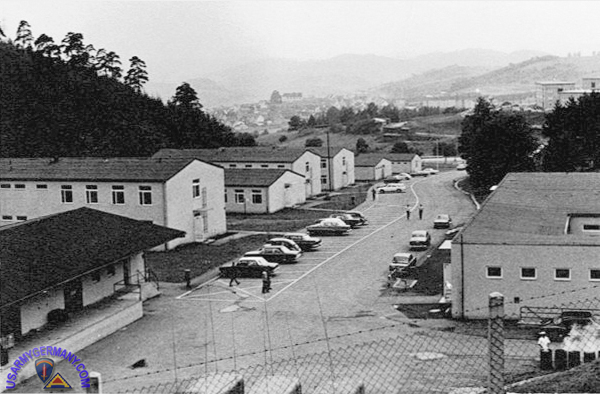 Aartal Kaserne, 557th US Army Artillery Group, 1970s

---
96th Ordnance Company

---
3rd US Army Artillery Detachment
Supported Command:
Artillerieregiment 12, Panzerdivision 12
(link)
The 3rd US Army Missile Detachment supported the 122nd Rocket Arty Bn and the 121st FA Bn.
1969
(Source: Email from Ed Arroyo, 1969-72)
I was stationed in Germany with the 3rd USA Army Missile Detachment in Philippsburg between the years of 1969 to 1972. It was great duty and I got to meet a lot of great people both from the German military side as well as the citizens who lived in the small town down the road from the Kaserne.

I do remember that the group was very small when I got there. I believe that there were a total of 33 missile and howitzer folks there. About an equal half were married and living off post or living in the one building unit just passed the entrance to the kaserne. We were part of SASCOM and so were stationed there as part of the host nation NATO agreement. Unlike other missile groups that were stationed on U.S. Army bases in Germany.

Our Captain at the time was I believe Captain Shumate. My Honest John (team) sergeant for my group had the last name of Carter. Our mission at the time was to be the support group for the German missile battery that was there. They were cross-trained on the mating of the rocket motor to the warhead and then my group would do all of the arming and final firing of the missile. We were trained on the warhead as though it were a nuclear device.

Our times were primarily spent performing these routines at least once a week with both the Germans and with our own unit. There were also two 8-inch howitzer equivalent groups that trained Germans, too. One of the Sergeants in charge of that group had the last name of Kelly. I wish I could remember more names.

Along with both missile and artillery groups there was a radio group stationed there and we had a large radio tower. I believe they were called STRATCOM.

All in all it was great duty there. For several of us, we were able to manipulate the rules a little and acquire things that our Army counterparts couldn't. I was able to purchase an automobile and drive before reaching the proper rank. Others were able to move out and live in apartments.

As I recall, the town was a very friendly town. What I learned was if you tried to learn their culture, they would always make you feel comfortable. I remember going to meet everyone on Friday nights at various dance halls. Everybody would invite us over to have a drink and relax and enjoy their music. I have sat down many times since then to think about the many great moments I had while stationed there. I wish I could find those that were stationed there during my stay, but those folks have all gone their separate ways.
---
1981
(Source: Email from Phil Palmer, 3rd USAFAD, 1981-1983)
I came straight to Germany from AIT and was assigned to the 3rd USAFAD in Phillipsburg from the 557th in Herborn-Seelbach. I arrived at the 3rd USAFAD in December of 1981 and left for Ft. Knox in July of 1983.

My MOS was 76Y and I was the unit armorer and supply clerk for the duration of my stay. I also filled in on guard duty at the munilager (SW depot -- southeast of Phillipsburg (

)). My job was to keep the arms room up, make trips to the 557th twice a week for supplies, pick up new personnel and pick up any paperwork that had to go back to the 3rd. I also made many trips to Heidelberg, Karlsruhe, Mannheim and other locales for supplies or weapons.

I was also the CQ runner every other night almost my whole time there. My main job as the runner was to wax the floors at night to a very bright shine. The reason for that being so important was that the 3rd was called the "showplace of the 59th". Everything had to be clean as a whistle because when the higher-ups wanted to give a tour of a special weapons unit to a general or senator, the 3rd was where they took them.

I read some of your site and saw a reference to BG Harry Walker. I received a nice letter from him when I left the 3rd.

I also have a few pics from the 3rd and philippsburg if you are interested. I will try to post the pics that I have and send you the links hopefully within the next week or so.

I also have my Bundeswehr Ausweis for Salm Kaserne (Bundeswehr Kaserne at Phillipsburg) and a dress 59th Ordnance patch. Don't know if you know this but the 59th didn't have it's own insignia/patch until mid 1982 or so. Before then we wore the USAREUR patch. The one that was blue with the flaming sword.

---
7th US Army Artillery Detachment
Supported Command:
Artillerieregiment 2, Panzergrenadierdivision 2
(link)
The 7th US Army Missile Detachment supported the 22nd Rocket Arty Bn and the 21st FA Bn.
1962
(Source: Email from Edwin Murwin, 7th Msl Det, 1962-64)
I was assigned to the 7th Artillery Missile detachment from August 1962 until Febuary 1964. I served with Jerry Lovitt and he was one of the best comrades you could ever serve with. The duty for the first year was almost unbearable but after a change in command it became much more pleasant. With Guard duty every 4 days and weekend duty once a month. The rest of the time we were training.

We had no PX. We had a mess hall with a mess sergeant (E6), a first cook (Sp5) and an E4 cook. We also had a movie every night. Sunday afternoon was free to all personel and also dependents.

I was assigned the projector which was issued in Giessen and when clearing, I had forgot about clearing the projector. So, I suppose it is still there. We were custodians for special weapons for the German army and we depended on them to supply us for everything concerning transportation. We usually walked to Treysa when we were on pass. Some of the off post personel had cars and some bicycles.

Roershain was a small town also near by, but few if any americans ever went there since we all had our special hangouts in Treysa, i.e. Gasthaus May and Hotel Borj.

I was In Honest John and we also had an 8 inch section.

If we had an emergency we were sent to the German dispensary for meds unless our apc tablets would take care of us. For regular dental or other sickness we went to the American dispensary in Giessen.

Once a month if we were lucky we could go to Giessen on the ration and mail truck. In the dead of winter this ride could be a little chilly. But there we could visit a real American PX otherwise we had to use the German canteen with limited and high cost merchandise.

However the only action I saw was Jerry Lovitt get in a fight.
---
(Source: Email from Jerry Lovitt, 7th Msl Det, 1963-65)
I served in the 7th (MSL) Det, 512th Artillery Group at Treysa Germany from May 1963 thru Dec 1965. It was the best possible duty a U.S. Army soldier could have.

We had the Honest John and 8-inch warheads and supported the III Corps German Army. They were inactivated in 1992 and I wondered if you had any info on them
---
1981
(Source: Email from Dave Hart, 7th USAFAD, 1981-84)
I was stationed at the 7th Arty Det in Treysa from 1981-1984. I was the only power generator mechanic for the unit. My duties were maintaining the 1.5kw gen sets and the AN/GRC-165 radio sets. When not performing these duties, I was either pulling guard duty at the ammo site, or pulling EMAS/SANRAS duty [CQ] at the detachment.

We were totally supported by the Germans -- transportation, billeting [both on post/off post]. All of our food, mail, pay and logistical support came from Giessen.

The ammo site that we pulled [custodial agent] guard duty at was located outside a small town called Roershain (

). We worked alongside the german soldiers from the 4/22 Rocket Artillery battallion (4te Kp/RakArtBtl 22). Our site housed both 155mm and 8in atomic munitions. Our mission, once hostilities began, was to assemble the round.and then hand over control to the German Artillery unit assigned for firing of the round. These were the most memorable times of the 10 years that I spent in the Army.

I am happy to help in any way pertaining to the 59th Ord Bde site. I hope this helps. The det was made up mostly of 13B (MOS) personnell. There were two teams [Alpha and Bravo]. I believe Alpha was 8in and Bravo was 155. Each team leader had an E6 in charge. The Mess section consisted of an E6 mess sgt and an E4 cook. We had German nationals [3 women] who helped prepare food and did 'KP'. There was an E6 supply sgt and an E4 supply clerk [also performed duty as unit armorer]. The 2 Lieutenants were in charge of the weapons teams [8in and 155]. One of the Lt's was XO and responsible for OPSEC/COMSEC and the other was Mess Officer/Supply Officer and Pay Officer. There was also an E6 who was responsible for classified material/PAL, and was in charge of the unit lounge.

The detachment commander was an O3 (CPT). In the orderly room there was an E8/1SG and a clerk [E4]. These personell handled all matters dealing with pay, promotions and orders [PCS -- permanent change of station/ETS -- estimated termination of service]. We had a day room/class room, laundry room, a one room PX and a lounge.

Other personnel billeted were signal personnel who worked at the microwave site at the top of the hill [one E4 and two E5's] There were also two TAC/SAT operators [one E4 and oneE5] These personnel worked shifts in the security room along with the CQ .The personnel assigned to this unit were all PRP 9Personnel Reliability Program] and those who pulled CQ were EMAS/SANRAS qualified.

When pulling guard shifts at Roershain, there were 3 guards in the SSCC [american]. In the control tower were all Germans, in each corner tower was 1 German and the controlled area was patrolled by 2 Germans. The exclusion area [bunker area] consisted of 2 bunkers, one maint. and assy. bldg and a fire pond. In winter months the gate CA was responsible for keeping one corner open in the pond in case of a fire. These times during the Cold War really drove the point of nuclear war home. It really opened your eyes when the siren sounded and you were running down range alongside a German machine gun crew, not knowing if it was for real or not.

I hope this helps you out with your page. This was all seen through the eyes of a then "18" year old Light Wheel Vehicle/Power Gen. mech.
---
1985
(Source: 30 Jahre Artillerieregiment 2; 25 Jahre 7th US Army FA Detachment, ArtRgt 2, Treysa, 1986)
The 22nd Rocket Arty Bn and the 21st FA Bn were supported by the 7th US Army Missile Detachment.

The 7th U.S. Army Field Artillery Detachment was activated in December 1961 at Fort Sill, Okla. as the 7th U. S. Army Missile Detachment. The original cadre consisted of 2 officers and 28 enlisted men. After several months of intensive training, preparations for a deployment to Germany began in March 1962.

The 7th arrived in Treysa, Germany on May 9 1962. Since then, the detachment has been stationed at Harthberg Kaserne.

Today (1986), the unit - under the command of Capt Donald Mundy - is comprised of four officers and 38 enlisted men. The Det is under the control of the 557th USAAG in Herbornseelbach (CO is Lt Col Richard L. Garlitz).

Previous Det Commanders:

| | | | |
| --- | --- | --- | --- |
| | 18 Dec 1961 - 1 Oct 1963 | Capt Bruce Greager | |
| | 1 Oct 1963 - 3 Aug 1964 | 1LT Joseph B. Miller | |
| | 3 Aug 1964 - 13 Jan 1966 | Capt Robert E. Ligon, Jr. | |
| | 13 Jan 1966 - ?? | Capt Thomas M. Smith, Jr. | |
| | ?? - 6 Jan 1968 | Capt Robert D. Zabik | |
| | 6 Jan 1968 - 10 Apr 1968 | 1LT John A. Black | |
| | 10 Apr 1968 - 26 Oct 1968 | 2LT Daniel J. Padovado | |
| | 26 Oct 1968 - 23 Oct 1969 | 1LT Donald E. Allen | |
| | 23 Oct 1969 - 1 Nov 1969 | 2LT Thomas J. Jake | |
| | 1 Nov 1969 - 16 Nov 1970 | 1LT David S. Greer, Jr. | |
| | 16 Nov 1970 - 5 Jun 1972 | Capt Steve Haller III | |
| | 5 Jun 1972 - 17 Nov 1972 | Capt George E. Millman | |
| | 17 Nov 1972 - 1 Feb 1973 | 1LT Robert W. McMillen | |
| | 1 Feb 1973 - 1 Aug 1973 | Capt David Lezak | |
| | 1 Aug 1973 - 4 Dec 1974 | Capt Keith F. Reback | |
| | 4 Dec 1974 - 7 Sept 1976 | Capt Robert L. Glanville | |
| | 7 Sept 1976 - 19 Jun 1978 | Capt John E. Peters | |
| | 19 Jun 1978 - 18 Dec 1979 | Capt Cam. W.D. Hoffman | |
| | 18 Dec 1979 - 3 Dec 1982 | Capt Joseph C. Pinezza | |
| | 3 Dec 1982 - 20 Jul 1984 | Capt Kenneth D. Beatty | |
| | 20 Jul 1984 - 29 Apr 1986 | Capt Daniel F. Seemann | |
| | 29 Apr 1986 - | Capt Donald H. Mundy | |

---
30th US Army Artillery Detachment
Supported Command:
Artillerieregiment 5, Panzergrenadierdivision 5
(link)
The 30th US Army Missile Detachment supported the 52nd Rocket Arty Bn.
(Source: Email from Roy Burnum)
I was a member of the 30th (Missile detachment) when it was formed at Ft. Sill, Oklahoma in 1959.

We deployed (to Germany) in early 1960 and were located at Rivers Barracks, just outside of Giessen. We stayed at Rivers Barracks for maybe a month before we went to Sharnhorst Lager (a German base) just down the road.

We were there with the warheads that we could not let the Germans have due to a Nato Treaty. We could let them have our Honest John Rockets and other warheads, but not the Nuclear warheads.

We stayed in the German barracks and had portable class rooms where we had classes on the warhead.

We were driven 3 times a day to Rivers Barracks to eat and also when we needed to go into Giessen to the main PX.

We finally got a bunker site towards Frankfurt the last few months that I was there. Guard duty came around pretty often when we only had two teams of 10 each.

Due to an Article 15 that was given to my Assistant Chief of Sections on the boat going over, when we got to Rivers Barracks my Chief of Sections made me his assistant. I was only a PFC at the time and I did make SP 4 before I came home.

I was a draftee and spent about 13 months in Germany of about 23 months service. I would like to know if you have any history on this. I really enjoyed the German Soldiers that we worked with and the country was beautiful.

Thank you for this site.

---
83rd US Army Artillery Detachment
Supported Command:
Artilleriekommando 3
(link)
The 83rd US Army Missile Detachment supported the 350th Rocket Arty Bn and the 310th FA Bn.
1968
(Source: Email from Michael F. Boyce, 83rd MSL Det, 1968-1970)
I was drafted in April 1968 and went to Fort Bragg and then Fort Polk for Infantry AIT. After AIT I believed that I was going to Vietnam but was sent to Germany. Spent a couple of weeks in 21st Replacement Bn in Frankfurt being interviewed etc before being sent to Herborn, 557th FA Group, for further assignment of the 83d Missile Det in Montabaur. I left at the end of 1970 returned to civilian life and came back in the Army in Nov 72. Was reassigned to Fort Sill 3/38th FA (I was one of the last persons assigned to 3/38 as we deactivated it, I was then assigned to 9th FA Group unitl I was reassigned to Germany for 2d tour) because I had been reclassified to a 15B Sergeant Missile Crewman at Montabaur. I actually got in personnel and went back to Germay to Bad Kreuznach and was assigned to the Regional Personnel Center RPC-BK, these were 5th Corps units that supported Corps units. We supported 8th ID units and some 32 ADDCOM units. Returned to US in early 77 (Seneca Army Depot, NY State) went back to FRG as PSNCO for 2/28FA in Ansbach. I was at the 210th when it became a Brigade in 1980. Finished my career at Readiness Group - Seneca and spent last 5 years with the Selective Service System in Washington, DC. Retired in Dec 1990 and still work for the VA here in Washington.

Michael Boyce
MEMORIES OF THE 83RD MSL DET

Remember I am going back a long time but here goes:

I arrived at the 83rd Missile Detachment in September 1968 after completing Basic Training at Fort Bragg and Infantry AIT at Fort Polk, Louisiana. My MOS was 11B and my rank was PFC at the time. When I arrived in Germany I was sent to the 21st Replacement Battalion in Frankfurt (downtown not the new one that came later in Rhein-Main AB) where I spent about two weeks on KP while being interviewed for various assignments. At the time the 21st seemed to be having problems assigning so many troops. Eventually, some of us were told that we would be going to the Artillery. Of course we were surprised because we were Infantryman and wanted to be in Vietnam because we would only have to do the 1 year tour and then be released from active duty. In Germany we would have to remain on active duty until just before our ETS.

One morning about 25 of us were put on a train and told that we were going to Herborn. I still remember that train ride especially looking at the women with unshaved legs. We arrived at the 557th Artillery Group and were given rooms and processed by their personnel folks and sent for in-processing to Giessen. Giessen was our finance and personnel office. I also got my government furniture from Giessen as I was married and brought my wife to Montabaur. The Standort provided housing units for the married folks regardless of rank. We probably had 12 sets of quarters in Montabaur.

I remember being given a choice of remaining in Herborn or being sent out to the detachments. One of the old timers at Herborn advised us to go to the detachments because that was much better duty. So I elected to move out. About 12 of us were sent to the 83 rd Missile Detachment in Montabaur at Westerwald Kaserne. When we arrived they were very happy to have us. They did not have a commanding officer and all but two of the 15B, Sergeant Missile Crewman had rotated back to CONUS. We were told that we would be reclassified to 15B and must get top secret security clearances as well as receive screening under the DoD Personnel Reliability Program (PRP). (I would remain in that program and be a part of administering it for many years after that) As part of the processing we were sent to Wiesbaden Medical Center for physical and psychological screening. I still remember talking to the "shrink" about whether or not I had any problems with using nuclear weapons against Warsaw Pact entities.

The detachment was organized as follows:


| | | | |
| --- | --- | --- | --- |
| | Detachment HQ | | |
| | Detachment Commander | Field Artillery, Captain | |
| | Detachment Sergeant | 15B40 SFC (E7) | SFC Dale J. Ellsworth (I was to serve with 1SG Ellsworth in the 3/38 th FA Bn. at Fort Sill several years after leaving the 83d Msl Detachment) |
| | Detachment Clerk | 71B Sp4 | |
| | Mess Sergeant | | SFC Orsini |
| | 1st Cook | Sp6 | |
| | Cook | Sp4 | |
| | S2 Sergeant | | Detachment contained more than 10,000 classified documents. |
| | Supply Sergeant | | |
| | | |
| --- | --- | --- |
| | Communications Unit – (not assigned to 83rd MSL Det) | These folks were assigned to a Communications Detachment in Giessen. There were about 5 members including the chief who was a Sp6. They monitored 3 Collins Single-Side-Band radios that were used to receive test and actual (never got any actual messages, thank God) release messages. |
| | | | |
| --- | --- | --- | --- |
| | Team One | (Convoy Operations) | (My Team) |
| | Team Chief | | Lt Sadek |
| | | 15B SSG (E6) | Sergeant Wayne Gwynne |
| | Asst Chief SGT | 15B SGT | (Me) - made E4 shortly after arrival; was made acting Sergeant and received blood stripe after one of few old timers that was in unit when we arrived was reduced in rank. |
| | 3- 4 team members | | |
| | |
| --- | --- |
| | Team Mission – supported A Battery, German 350th Rocket Artillery Bn. On technical inspections we were responsible for the load carrying vehicles. These included 3 1956 Mercedes 5-ton trucks and a wrecker. We would always do a transload on TPI (Technical Proficiency Inspections)(moving the warhead from one vehicle to another). The hardest task was to work with our German soldiers to make sure these vehicles did not have any oil or fuel leaks had proper tie downs etc. Germans thought these rules were stupid but the TPIs were extremely important for all of us. We worked very well with the German soldiers their battery commander was a good friend of ours and they always acceded to our requests. In fact they locked these vehicles up and only our team and they could perform maintenance on these vehicles and they needed our permission to take them out. We did go out and train with them on several occasions. We even were able to get the same drivers as they required training because we always maintained the two man rule when we handled warheads. We had to maintain a perimeter around any load carrying vehicles (i.e. one man on each corner of the vehicle). We also had to be able to perform all of the duties of the other teams if required. Even the wrecker had to have two persons on board once it was attached to the warhead for transloading onto another vehicle. TPI inspectors were always looking for slip ups. |
| | | | |
| --- | --- | --- | --- |
| | Team Two | (PAL) | |
| | Team Chief | | a Lt. |
| | | 15B SSG (E6) | SSG Billy D. Prather |
| | Asst Chief | 15B SGT | |
| | 3- 4 team members | | |
| | |
| --- | --- |
| | Team Mission – This was the PAL team. They were responsible for performing permissive action link procedures during the TPI and maintained all of the detachments PAL equipment. |
| | | | |
| --- | --- | --- | --- |
| | Team Three | (Maintenance) | |
| | Team Chief | | a Lt. |
| | | 15B SSG (E6) | SSG Leamon (Sweet Daddy) King (I would later serve with SFC King at the 3/38 th at Fort Sill) |
| | Asst Chief | 15B SGT | |
| | 3- 4 team members | | |
| | |
| --- | --- |
| | Team Mission – Performed all of the required maintenance on the warhead containers including removing rust, painting, and ensuring that all of the bolts and safeguards were maintained in good working order. |
| | | | |
| --- | --- | --- | --- |
| | Team Four | | |
| | Team Chief | | a Lt. |
| | | 15B SSG (E6) | Sergeant Robby Herrington |
| | Asst Chief | 15B SGT | |
| | 3- 4 team members | | |
| | |
| --- | --- |
| | Team Mission – Team was responsible for destroying warheads should there be a danger that they fall into the wrong hands. We used to practice this procedure periodically. We did this covertly. |
The following procedure was performed by each team on the TPI:

Each team was responsible for mating the warhead to the missile. Of course we maintained the warheads and the Germans controlled the missile and launchers. Each team performed MAIT operations on TPIs besides their primary functions of convoy ops, maintenance, PAL, and destruction.

We did get a commander and a couple of other officers to fill out our authorization within a few months of my arrival in the unit. I believe that we had on Lt. Terry (can't remember last name) on board when I arrived.

All things considered this was a very good assignment. The TPIs were conducted through the fall and winter months. I remember that they started with:
| | | |
| --- | --- | --- |
| | 557th Group Inspection | |
| | 548th Group Inspection | |
| | Another Group – can't remember | |
| | USAREUR Inspection | the "big" one (I remember being hugged by a German 3-star who was the German III Corps commander after we passed the first USAREUR inspection.) |
| | | |
Also had the Atomic Energy Commission inspection, I remember that the inspectors were all O6 rank from Army, Navy, and Air Force.

During my assignment we never failed a TPI or other inspection. If a unit failed a TPI they were required to be retested within 30 days. They would begin a comprehensive 30 training cycle, usually the unit commander was relieved, and a report was immediately sent to the Congress. Not something that you would take lightly.

Normal duty days consisted of studying. We were always studying our classified manuals because everyone in the unit was required to be able to lead if required. On many inspections team members were required to make decisions without input from the Team Leader or Sergeants. Each member was required to be capable of leading the team and providing required support to the host nation.

Of course we always had three persons on custodial agent duty at our storage facility. The facility housed the basic load of warheads for the 350th Rocket Artillery Bn. The Germans had a guard house outside of the gate and they provided security in the cleared zone and at the perimeter in between the outer and inner fences. They had guard houses at the corners of the sight. The cleared zone outside of the fences was patrolled by German guards with dogs.

Inside the inner fence were our guardhouse, a generator building, a maintenance building, and two bunkers. There were 3 soldiers on duty at all time, a senior custodial agent (E4) and two members. Two soldiers were awake at all times while the other slept. Duty was for 24 hours at a time. We were called custodial agents and were drilled with the specific actions that we could take for certain situations. One of the guards always carried the keys to the bunkers on a chain around his neck. The major duty was to protect the weapons from outsiders and to maintain the ability to destroy them if apparent takeover by host nation appeared eminent.

This was difficult because we were always outnumbered and being watched by the German soldiers. Guard duty was usually very boring however at times penetration tests were conducted by the Germans or Americans to see if we were on our toes. Once or twice we had SMLM..Soviet Military Liaison Mission vehicles come down the road to our site even though this road was off limits to them. I remember one time when I arrived at the site to find an American Colonel spread-eagled in the road. He was looking for directions and someone sent him down the wrong road. We received visitors at our building on Westerwald Kaserne on many occasions because we were the only Americans in that part of Germany. We got along fine with the Germans in Montabaur although the Poliziei did get frustrated with us playing bumper tag with our POV's while racing around the narrow streets of the town. We all learned to speak quite a bit of German because we worked with them and were sort of isolated. We went downtown a lot, shopped, enjoyed the restraunts, and guest houses. The local German kids our age still believed the states were full of cowboys and gangsters. We did little to change their opinion. Overall we did not have any problems with the local people. We were the first Americans to be stationed in Montabaur since the 1st Infantry Division was there in WWI.
Duty consisted of CQ for NCOs and OD for officers. There was always an officer and NCO on duty. I was a senior custodial agent and pulled guard duty at the storage facility for quite a few months until I was promoted to E5. NCOs and officers pulled CQ and Officer of the Day respectively. These Detachments were the only time that I pulled CQ armed with a 45 auto. There was always an officer on duty because of the two man rule. We would receive various test messages through the Emergency Action Message System (EMAS), delivered via the single sideband radios operated by the communication section at anytime day or night.

When we went out on major exercises (and in wartime) each one of our teams supported one of the 350th Rocket Artillery Battalion's firing Batteries. Of course we were dependent upon the Germans for transportation and support because we had no vehicles. We did have our own FM radios (housed in a footlocker that we used to communicate with the detachment headquarters when we were deployed with our German batteries. The 83rd Msl Det participated in a year long test of these radios that were made by Collins. I believe that the test results were mixed. I do remember being in Frankfurt for the demonstration of the radios to the SACEUR at the time General Lyman Lemnitzer…pulled back the canvas on our UNIMOG, German truck to catch us kicking our radio in the footlocker to get it going. That was a memorable moment. We also marched in General Lemnitzer's change of command. I remember the less than warm reception we received from the Germans who were throwing trash and other items at us while we were marching.

We also had a requirement to go to the field once every quarter. We usually satisfied this requirement by going out in the field behind the detachment and having an all night picnic. We really did not have the right kind of field gear to spend many nights in the field.

The Germans provided us with drivers and vehicles so we could go to Wiesbaden and get the mail everyday. We got to know these guys very well and they event hung around the Detachment after duty hours. They ate with us…and we ate very well. We had a club upstairs in our building, complete with beer and wine, fussball, and pool tables. Each night we had American movies in our mess hall. I was in charge of movies and the small PX. This was a part time job that required me to go to Mainz and get stock for my PX and deal with the AAFES movie folks in Bad Nauheim. Sometimes we would ride to Wiesbaden on the mail truck to go to Wiesbaden or Mainz to the clothing sales store or commissary. One of our favorite places was the PX audio sales facility in Mainz Kastel. Everyone had a 200 watt stereo system.

In those days you always had a pass and we could never have more than 10% of our folks on pass at any one time. Passes were controlled by the Detachment Sergeant. Those of us with families that lived off post had passes that allowed us to go from work to home but we were required to call in whenever we went to Wiesbaden to go to PX, commissary, or hospital. We traveled to Herborn 557 th for various duties such as promotion boards meetings etc. We also went to Giessen for personnel and finance matters.

During the summer we spent a lot of the duty days studying maintaining equipment, playing volleyball and other activities. I enjoyed going to Koblenz and driving up and down the Rhine going to castles. We were also close to Koln and Worms. During the fall and winter we were very busy getting ready for the TPIs. We also participated in Reforger and other exercises with our German batteries. We went to the German NCO club and associated with our German counterparts. I remember being in meetings with the 350 th Bn commander on several occasions and we received briefings from them on various subjects periodically. We worked together very well even though the German troops were mostly draftees and not highly motivated. We used to go to the rifle range and fire their weapons (we enjoyed the Uzi) and drive their motorcycles. So we had a lot of interaction with the regular troops. We depended on them for much of our support. They were our mission to a large extent.

Sometimes a convoy of special weapons would overnight at our storage facility and we would let the drivers and other folks stay in the gym on the Kaserne. We were also tasked as convoy commanders or surety officers when special weapons were being transported around the country. This was an extra duty that we provided because we were trained in proper procedures for transporting and securing special weapons. We were fully versed in the NASICP procedures. I think that stood for Nuclear Accident Significant Incident Control Procedures. I went on a couple of convoys as surety officer because there was a shortage of officers in Europe at the time.

I also did some work for the mess sergeant, mostly typing. Typing a skill that served me well during my 23 year career. In conclusion this was the best job any soldier could have. I remember thinking they are actually paying me to do this. I enjoyed the responsibility and trust that was placed in us and we took great pride in honing our skills so that we did our jobs the best that they could be done. There was no room for mistakes in much of what we did.
---
FOLLOW UP QUESTIONS:
1. Can you remember where the SW depot (basic load for the 350th Msl Bn) was located?
That was at our site and I can't remember the name of the little town. It was very close to Montabaur, need to look at a map. [Webmaster: the SAS site was near Horressen (

), a few klicks southwest of Montabaur.)

2. Can you remember how many firing batteries the 350th had?
I believe that they had 3 firing batteries.

3. I noticed that the four teams of the 83rd were organized along functional lines - convoy ops, PAL, maintenance and warhead security/destruction. But if there were two or three firing batteries, wouldn't there have been two or three corresponding Convoy Ops teams, one for each battery?
We were organized according to the tasks that we performed on the TPIs, except each team performed mating operations on every inspection. Each of our teams supported a specific battery. I believe that our team was responsible for moving all of the weapons to a location near our firing site. The batteries would have come to us to receive weapons once release was authorized. Each one of us was capable of performing all of the duties.

4. Total strength of the Det?
Detachment strength was about 30 not counting the signal element. I visited the unit in the 70s and the signal element had been replaced with the troposphere setup. There was a large antenna in back of the building and a phone on the Det sergeant's desk. We moved with the 350th to our firing site during a Reforger exercise. That was the only time the whole Battalion was deployed.
---
1972
(Source: Email from John Moser, Det Commander, 83rd FA Det, 1972-73)
I was a young captain commanding the 83d FA Det., 557th USAAG from about mid-1972 to late 1973. It was one of the detachments collocated with and supporting the III German Corps. After completing my tour with the 83d, I was reassigned to SASCOM Hq, as Asst. S-3, Plans and Operations. My job there was to plan for deployment and employment of classified weapons for all of the six non-U.S. Corps supported by SASCOM, deployed from the north sea to the Alps mountains. These were one Corps each from Great Britain, Belgium, Holland, and three West German corps. The two U.S. Corps were in the center, between two of the German Corps.
It was a snap compared to the demands of that small isolated "custodial" unit. My memories of those days in Montabaur are vivid in some respects, and fading in others. I remember that it took about two hours to drive to my next higher U.S. headquarters (557th FA Gp), and just about as long to get a phone call through to them through the German Bundespost system. That was our only telephone service, and it came through our local German military host organization (350th Rocket Artillery Bn.) switchboard.

Of course, for emergencies, we had a USAREUR-wide "command net", provided by a separate U.S. communications unit collocated with us. It had a crew of about six or so enlisted, as referenced by other contributors. The command net provided instant communications with USAREUR, but was used only for test messages and actual release messages, none of which thankfully we ever received. Otherwise, administrative communications with any higher U.S. organization was dreadfully slow.

Our organic operational communications consisted of High Frequency (HF) Single Side Band (SSB) radios. They also had continuous wave (CW) Morse code capability, but none of us were trained for that. They were the model AN/GRC-165 and weighed about 60 pounds each. They were never intended to be used "mobile", but we did. They were our only means of communicating with deployed teams of the detachment and with higher headquarters. They were a constant problem primarily because they were vacuum tube operated (not solid state), and required "tuning" to each frequency before transmitting. If not done correctly, it was easy to burn out the power tubes and disable the radio's ability to transmit. They were quite similar to HF radios used by HAM (Amateur Radio) operators of the time. We had about 5-6 of these, one of which was always available in the duty officer's area when in the detachment was in garrison. The others went out when we deployed a team(s) with the firing batteries of the 350th Rocket Arty Bn (German), who where our hosts and partners.

We had great times with them and they were very professional. We spent a lot of time practicing missile assembly with our hosts and also working with them on security. We maintained "custody", and they provided security... in multiple levels.

I do recall that we were under constant pressure because of very short times to react to any incoming USAREUR "test" messages, and ANY breach of security, no matter how small, could be career ending. In my time at Montabaur, there were eleven changes of command among the several missile detachments and the one ordnance company of the 557th FA Grp. Mine and two others were at the end of successful tours. The other commanders were either relieved (fired), generally for failure to pass tortuous and often unannounced inspections (both technical and security), or Reduction-in-Force (RIF) downsizing of the army after Vietnam. I recall it was about half and half.

SASCOM had a reputation, for those in the know, as a place NOT to be assigned if you were a young junior field artillery officer arriving in Europe. Of course, few of us had connections to know in advance just how professionally hazardous a tour in SASCOM could be. Less than half survived their command tours in the 557th Group, and I heard it was about the same in the others. I was lucky (and worked/sweated a LOT!). While failing a SASCOM inspection wasn't of much concern to SASCOM commanders (because they made them intentionally over-kill), failing the annual USAREUR inspection could and frequently did cost a detachment commander his job. There was also the greatly feared "Defense Nuclear Agency" (DNA) inspection. They only occurred about every 2-3 years per detachment, and if you were lucky there wouldn't be one on your watch. I had a DNA and two USAREUR (and innumerable SASCOM) inspections during my tenure, and passed them all - pure LUCK! You could fail an inspection for a minor cut on a truck tire that happened to be "down" and not visible when the vehicle was stopped during the convoy phase of an inspection, until the inspectors asked for the vehicles to be rolled forward exposing the cut. This, even though the trucks were provided by, maintained and driven by our German hosts!

Aside from the unceasing and incredible pressure EVERY DAY of your command, there were some enjoyable moments socializing with our German military hosts and the local community. We also only had about 40 Americans, along with about 500 German military, in the town of Montabaur, pop. about 15,000. located 20 miles east of Koblinz on the Rhine. We were far removed from any other U.S. units and our few numbers had a much smaller impact on the local community than most large American military installations. We were very favorably thought of by local residents.

It was also THE ONLY TIME in my 26 year career that I had absolute hire-and-fire authority. Everyone in the detachment was subject to the Personal Reliability Program (PRP), including our three cooks! There were a lot of technical factors that could disqualify someone, but it still only took the commander's subjective judgment that a soldier wasn't suitable and he departed on the next truck, to be reassigned back into a regular USAREUR unit. I only resorted to it twice, and then only after consulting with the other two officers and a few senior NCO's. One was at the request of local German authorities regarding a married soldier's indiscretion with local ladies, and the other for blatant alcoholism. Not a bad percentage, given the general quality of the American army in Europe of the early 1970's.

Other than my tour commanding a 155mm howitzer battery in the First Infantry Div. during the TET offensive in Vietnam, this was the most demanding and high-pressure job I ever had. One old and highly respected deputy SASCOM commander that I admired greatly did admit one night at the club in Pirmasens (after one beer too many), that "SASCOM has a habit of eating its own" (meaning destroying the careers of too many junior commanders), and that as a group they would fair much worse in future assignments and promotions than the general group of young artillery officers. I regret to say that he seems to have been right.

The full story of how much they and the NCOs and enlisted men contributed and how little they were appreciated will probably never be known. I offer the following small example, not for self aggrandizement (much too late for that!), but to illustrate. The story of how I "bet my bars" one night to provide security for a USAREUR "special weapons" transport helicopter that made an emergency landing 20 miles from our site and to which I sent security at the expense of our own is also not widely known, except for a few very senior officers at SASCOM and the generals at USAREUR. We learned of the emergency landing through intermittent and unreliable telephone communications (hours apart) with 557th Gp operations. All I knew was that it was a "load carrier"; it was down; we were the closest U.S. unit; USAREUR was "screaming" at SASCOM for help; and it appeared it was us or nobody because bad weather prevented flying. Remember, this was in the German III Corps area, completely outside the U.S. Corps or USAREUR's support areas. However, I never received any guidance about what action, if any, I should take and wasn't able to actually speak or communicate with higher authority until the next day. With the cooperation of our local German host unit, who provided the actual guards, I reduced security at my storage site, without authority, to provide resources to guard the downed helicopter. It had two "custodial agents" on board but no guards. I sent guards from our host German unit and some additional U.S. custodial agents who secured the helicopter until mid-afternoon next day when the weather cleared and the cavalry arrived from USAREUR. It wasn't just SASCOM or USAREUR rules I violated by reducing security at my storage site. It was also DA and DOD rules! It was a potentially career ending decision. It turned out well, and everyone up the chain subsequently "blessed" the operation, but I sweated blood that night. The German III Corps Commanding General, whose troops I'd "diverted" from their assigned duties, received personal recognition from the USAREUR Commanding General. I was "rewarded" at the end of my command tour with an assignment to SASCOM HQ, rather than a staff job at 557th HQ, ostensibly for success with inspections and a good annual Inspector General report. But I'll always think this incident had an impact and contributed to my being among the lucky few to survive commanding a SASCOM custodial unit.

SASCOM's contribution to winning the Cold War, relative to its size and numbers (a couple thousand at most), is disproportionally far greater than the better known U.S. corps, in which I also served on other European assignments. SASCOM (59th Ordnance Gp), though its subordinate organizations, controlled far more power than did the U.S. corps. Unfortunately, the junior officers, NCOs and enlisted men who made it work in those small isolated custodial units will probably never receive appropriate recognition. They certainly never received adequate professional recognition.

---
85th US Army Artillery Detachment
Supported Command:
Flugkörpergeschwader 2
(link)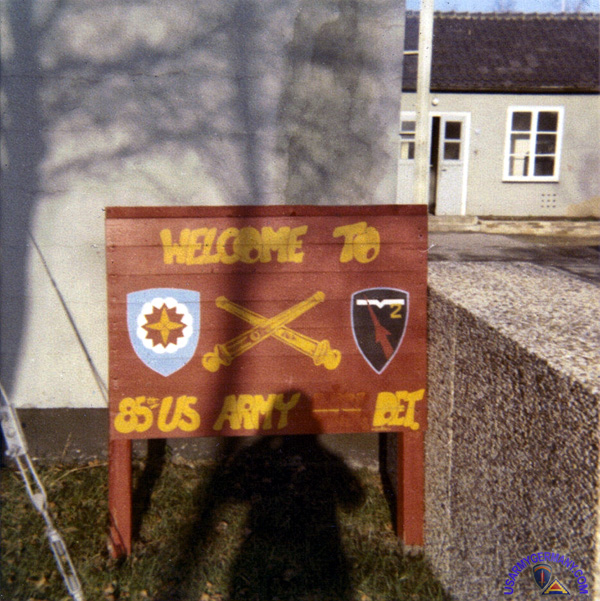 85th Arty Det sign in front of Headquarters Building, Teveren AB
1971
(Source: Email from Dean Rectenwald)
After my 4-month incorrect assignment to the 1st USA Arty Det, in late July 1971 I arrived at the 85th US Army Artillery Detachment on FIiegerhorst Teveren (i.e., Teveren Air Base), further south but much closer to the Dutch border. The air base was physically located near the small town of Teveren, and Geilenkirchen was the nearby city. There was also an RAF unit stationed at the air base..

This was a substantial sized US detachment, commanded by a major, supporting a German Air Force (Deutsche Luftwaffe) unit (see the 2nd Missile Wing insignia on the sign - Photo 3) which had Pershing Missile System equipment. The unit's purpose was to maintain custody of and provide security for the warhead sections for the missiles. The lower ranking, field artillery trained enlisted personnel who received their Secret clearances thus became Custodial Agents.

The unit occupied five single-story buildings (with the typical "H" floor plan seen in Germany), one for headquarters and assigned Signal unit, and one each for A Team, B Team, C Team and D Team. The dining facility was a separate rectangular building, also containing the detachment's small branch PX. Encrypted messages addressed to the unit were received on a teletype machine in the orderly room.

Except for the Signal team's radio trucks, the detachment had no American military vehicles. All military transportation for the unit was provided by German Air Force personnel and vehicles.
Officers and senior NCOs brought US cars over with them, such as Cadillacs, Oldsmobiles, Dodges, Mercury's, Chevy's. Lower-ranking, lower-paid enlisted personnel bought used European cars for personal transportation. An Opel Admiral was a rarity; more common were Opel Kadets, Fiat 850's, and the VW Beetle.

The Special Ammunition Storage (SAS) site (where warhead sections in containers were stored in bunkers) and the Quick Reaction Alert (QRA) site were located on the air base. To bypass the need to call for the German duty driver, personnel going to duty at the QRA each morning could walk from the detachment area after breakfast; for the longer distance to the SAS, driving POVs was allowed, usually in carpool fashion. The duty driver was used for delivering noon and evening hot meals to both sites.
The theater on the air base showed movies in German (e.g., "The Bridge at Remagen" with German dialogue), except on Sundays when British films were shown (often comedies, such as the "Carry On" movies). Admission was in Deutsche Marks (DM).
Outside the air base, near the housing area, was a British NAAFI store, with pricing likewise in DM; GIs were welcome to walk in and shop there.
Support services (medical, large PX, commissary, Army theater) were at AFCENT headquarters at Brunssum and Shinnen in Holland. Every unit member and dependent was issued border crossing paperwork for that purpose.

I was at the 85th until September 1973, when, as a Sgt E5, I rotated for Stateside duty.
(Click here to read about Dean's assignment to the 1st Arty Det)



85th Arty Det - 1971
Teveren AB






1. One of the Det Bldgs


2. Other end of same building as #1


3. Fort Sill Strasse

---
(Source: Email from Michael L. Holmes)
I was one of 150 US Army troops on a German Air Force base in NW Germany pulling warhead detachment duties to include mating of warheads, security at the warhead bunker site and security at the launch pad site.

In 1972. Germany could own the missile systems but not the warheads because of the WWII treaty. That is why the 85th Arty Det. was there.

We went through extensive warhead detachment training for 6 months, above and beyond the regular Pershing training, at Ft. Sill in 1971. The 56th Arty. Group was not the only Pershing unit in Germany. Do you have any other information about the 85th Arty. Detachment or similar warhead detachments in Germany at that time? I'm not sure if the 85th was the only warhead detachment or not at that time.

I am proud to have been a part of the Pershing defense system in Germany.

---
III (GE) Corps - Warhead Custodial Detachments & Supported Formations

III GE Corps
---
ORGANIZATION (1959 - 1970):


III GE Corps (Koblenz)


2nd Panzergrenadierdivision (Marburg)


5th Panzerdivision (Koblenz)


7th Panzergrenadierdivision (Unna)


ORGANIZATION (1970 - 1979):


III GE Corps (Koblenz)


2nd Jägerdivision (Marburg)


5th Panzerdivision (Koblenz)


12th Panzerdivision ()


ORGANIZATION (1980 - 1992):


III GE Corps (Koblenz)


2nd Panzergrenadierdivision (Marburg)


5th Panzerdivision (Diez)


12th Panzerdivision (Veitshöchheim)


2nd
PzGrenDiv



5th PzDiv




12th PzDiv









Related Links:
---
Artilleriekommando 3
Warhead Custodial Support:
83rd US Army Missile Detachment
(link)
(Source: Dein Standort Montabaur, Mönch Verlag, 1980))
In 1980, the 3rd Artillery Command of III (GE) Corps consisted of the following units:
| | |
| --- | --- |
| UNITS | HOME STATION |
| Feldartilleriebataillon 310 | |
| Raketenartilleriebataillon 350 | Montabaur |
| ABC-Abwehrbataillon 320 | |
| Nachschubbataillon 320 | |
The Raketenartilleriebataillon 350 was established on April 1, 1961 at Eschweiler/Rhld. Training of key personnel of the unit on the SERGEANT missile system was conducted in 1962/63 at Fort Sill, Okla. Once the cadre returned to Germany, the battalion was relocated to Mayen, Germany, were the unit's strength was filled and final preparations were made before the unit became operational.

On September 9 1966, the battalion was again relocated, this time to Montabaur.

At the end of 1974, a cadre of the battalion was sent to Fort Sill for transition training to the LANCE missile system.

Transition of the battalion to the LANCE system was completed by the end of 1977.
---
Related Links:
Die Geschichte der Bundeswehr im Münsterland. Herr Dreifke has written (in German) several interesting historical manuals on artillery and other German Army units in the area around Duelmen. Includes nuclear capable units (corps artillery, Art Regt 7, as well as the Transport Battalion 320) that were supported by the 59th Ord Bde.

---
Artillerieregiment 2
(Panzergrenadierdivision
2
)
Warhead Custodial Support:
7th US Army Missile Detachment
(link)
Unit History, 2nd PzGrenDiv



Unit History, Art Rgt 2
---
Related Links:

---
Artillerieregiment 12
(Panzerdivision
12
)
Warhead Custodial Support:
3rd US Army Missile Detachment
(link)
(Source: Deine Garnison Tauberbischofsheim, Mönch Verlag, 1978)
In 1978, the 12th Artillery Regiment of the 12th Panzerdivision consisted of two battalions and two separate batteries with an overall strength of more than 1700 soldiers. The following units were assigned:
| | | |
| --- | --- | --- |
| UNITS | HOME STATION | |
| Stabsbatterie Art Rgt 12 | Tauberbischofsheim | headquarters battery |
| Beobachtungsbatterie 12 | Tauberbischofsheim | target acquisition battery |
| Feldartilleriebataillon 121 | Tauberbischofsheim | field artillery battalion |
| Raketenartilleriebataillon 122 | Philippsburg | rocket artillery battalion |
The 12th Artillery Regiment was formed on May 2, 1964 at Esslingen. The regimental Headquarters and Headquarters Battery relocated to the Kurmainz Kaserne in Tauberbischofsheim later that same year. The 12th Target Acquisition Battery was formed on April 1, 1970 when the Radar Battery and the Sound Locator Battery of the 12th Arty Regt were merged.

4th Btry was established on November 1 1963 as the first element of the 121st Field Artillery Battalion. In February 1964, the Battery was equipped with four M-110 howitzers and towards the end of 1964 was declared operational. On April 1 1969, the remainder of the 121st FA Bn (Hq & Svc Btry, 2nd and 3rd Btry) was formed at Speyer. In the spring of 1970, the 121st was relocated to Tauberbischofsheim. In 1978, the battalion was comprised a headquarters and service battery, two batteries of M-107 175mm guns and one battery of M-110 203mm howitzers (with six M-110's). (Approximately 600 soldiers)

The formation of the 92nd Rocket Artillery Battalion began on November 16, 1961 in Großengstingen and was completed on November 14, 1963 when the 4th Battery was organized. In May 1963 the battalion was moved to Pfilippsburg where the 5th Battery of the battalion was laready stationed.

On May 1 1964, the 92nd was redesignated as the 122nd Rocket Artillery Battalion and placed under the administrative and operational control of the 12th Arty Regt. In 1978, the battalion was equipped with 9 Honest John rocket launchers.

In 1971 the 122nd was reorganized into a Hqs & Svc (Stabs- und Versogungs) Btry, one security (Begleit) battery, one Honest John battery (4 launchers) and two LARS batteries 9 (with eight 110 SF launchers each). Personnel strength of the battalion is about 700 soldiers.
| | |
| --- | --- |
| 1. M-110 of 121st FA Bn (119 KB) | 2. The 12th Arty Regt (105 KB) |

---
Related Links: