If you do NOT see the Table of Contents frame to the left of this page, then
Click here to open 'USArmyGermany' frameset
87th Maintenance Battalion
2nd Support Command
Looking for more information from military/civilian personnel assigned to or associated with the U.S. Army in Germany from 1945 to 1989. If you have any stories or thoughts on the subject, please contact me

.
---
---
38th Ordnance Battalion
(Source: autor's collection)
Thanksgiving Menu, 1953

The 357th Ordnance Company was an Ohio National Guard unit federalized and deployed to Germany as part of the build up during the Korean War. The unit provided heavy maintenance support to the units supported by the 38th Ord Bn out of Nellingen near Stuttgart.

On 6 Jan 1955, the unit was released from active federal service and the colors were returned to the Ohio NG. The unit was replaced by a Regular Army unit, the 124th Ord Co (HM), which was activated on 6 Jan 1955 and took over the personnel and equipment of the 357th. No change of station.

ROSTER (Nov 1953):
Page 1, 2
---
(Source: STARS & STRIPES, Jan 28, 1954)
(Webmaster Note: see more on Ordnance maintenance units in the 1950s on the Overview Page, Ordnance section.)

The 38th Ord Bn provides ordnance heavy maintenance support to 7th Army units. The Battalion is located at Nellingen Barracks near Stuttgart. CO is Lt Col James F. Harris.

The Battalion includes the following units:


HHD, 38th Ord Bn


460th Ord Recovery Co


357th Ord Hv Maint (HM) Co


504th Ord Hv Automotive Maint (HAM) Co


903rd Ord Hv Automotive Maint (HAM) Co

Hq Det (Nellingen Bks) -- serves as the command, administrative and technical echelon for all attached units of the battalion. Hq Det provides the enlisted specialists to help run the battalion headquarters and to supervise the administration of the attached units.

460th Recovery Co (Coleman Bks, Sandhofen) -- utilizes its heavy equipment (M-25 trailer-tractors) to recover track vehicles and other ordnance equipment from forward echelon sites and transports them to one of the battalion's heavy maintenance companies for repair and maintenance.

357th Hv Maint Co (Nellingen Bks) -- is a semi-mobile company that performs 3rd and 4th echelon repairs and maintenance on all types of ordnance equipment, including small arms, heavy artillery, fire control equipment and heavy track vehicles. The company consists of a tank platoon; an armaments platoon and supply and service sections organized into a third platoon. The Armament Pltn includes artillery, small arms and instrument sections.

504th & 903rd Hv Automotive Maint Companies (both at Nellingen Bks) -- these units perform heavy maintenance on wheeled vehicles; they are identical in composition: company headquarters; an automotive platoon; and a service and supply platoon. Converted hangars at Nellingen house the various shops that include paint, carpenter, tire, welding, blacksmith, engine rebuild, canvas and leather repair, and technical supply.

Once the vehicles and equipment that have been brought to the battalion have been repaired, they are shipped to the 19th Ord Bn at Böblingen (7th Army Ord Depot). There they will remain in storage until a request for replacement from a using agency ships them to a forward unit -- thus completing the maintenance and repair cycle.

Items that cannot be repaired at the 38th Ord Bn are evacuated to USAREUR Ordnance Depot repair shops.
---
ORGANIZATION (30 June 1954):
| | | |
| --- | --- | --- |
| UNIT DESIGNATION | DUTY STATION | COMMENTS |
| HHD, 38th Ord Bn | Nellingen | |
| 357th Ord Co (Hv Maint) | Nellingen [1] | |
| 504th Ord Co (HAM) | Nellingen [1] | |
| 460th Ord Co (Recovery) | Mannheim | |
| 903rd Ord Co (HAM) | Nellingen [1] | |
| 735th Med Det | Nellingen [1] | |
[1] USAREUR Station List, 31 Dec 1955

---
87th Ordnance Battalion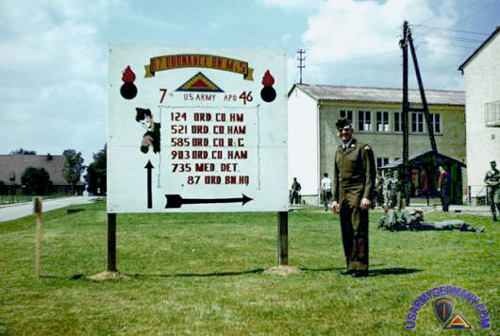 87th Ord Bn (M&S) sign at Nellingen Kaserne, 1957 (Marc Paulsen)
1954 - 1965
(Source: 38th Ordnance Battalion (M&S) History)
On 17 December 1954, the 38th Ord Bn (M&S) was inactivated and redesignated and reactivated as the 87th Ordnance Battalion (Maintenance & Supply).
(Source: 87th Ordnance Battalion (M&S) History, 1956)
At the time the Battalion was activated (17 Dec 1954), the 87th was attached to the 51st Ordnance Group. (Webmaster Note: based on some notes that I have, it appears that HHD, 87th Ord Bn was originally located at Nellingen Kaserne and later moved to Patch Barracks, Vaihingen)

In January 1956, the 87th Ord Bn was relieved from attachment to the 51st, and attached to the 47th Ord Gp.

ORGANIZATION (30 June 1956):
| | | |
| --- | --- | --- |
| UNIT DESIGNATION | DUTY STATION | COMMENTS |
| HHD, 87th Ord Bn | Nellingen [1] | |
| 124th Ord Co (Hv Maint) | Nellingen | |
| 521st Ord Co (HAM) | Nellingen | replaced by the 504th Ord Co, 10 Apr 1956 |
| 585th Ord Co (R&C) | Nellingen | |
| 903rd Ord Co (HAM) | Nellingen | |
| 735th Med Det | Nellingen | |
[1] - STATION LIST, 17 April 1957 shows these units stationed at Vaihingen (Webmaster Note: I believe that the unit was actually stationed at Nellingen Kaserne. However, Nellingen Ksn was considered part of Vaihingen sub-post and that is why, in this instance, Vaihingen was indicated as the home station instead of Nellingen.)
(Source: Notes taken while doing research at USAREUR Military History Office, early 1980s - information from official documents dated 1974)
On 17 August 1965, HHD, 87th Ord Bn was redesignated as HHD, 87th Maintenance Battalion as part of the COSTAR II concept.

During the initial phase of the redesignation/reorganization in 1965, the Battalion was organized as follows:
| | | |
| --- | --- | --- |
| UNIT DESIGNATION | DUTY STATION | COMMENTS |
| HHD, 87th Ord Bn | Nellingen [1] | redes HHD, 87th Maint Bn |
| 124th Ord Co (GS) | Nellingen [1] | redes 124th Maint Co (Hvy Equip) |
| 504th Ord Co (GAS) | Nellingen | reorg as Co B, 51st Maint Bn (DS) [2] |
| 569th Ord Co (DAS) | Nellingen | inactivated |
| 572nd Ord Co (GS) | Heibronn [1] | redes 572nd Maint Co (Hvy Equip) |
| 903rd Ord Co (GS) | Nellingen [1] | redes 903rd Maint Co (Hvy Equip) |
| 8902nd LSU (DAS) | Nellingen | |
[1] - STATION LIST, 15 Dec 1965
At some point during this period, the following units were placed under OPCON (operational control) of the 87th Maint Bn:
| | | |
| --- | --- | --- |
| UNIT DESIGNATION | DUTY STATION | COMMENTS |
| Co A & B, 504th Sig Bn | | HHD, 504th Sig Bn had been inactivated as part of COSTAR II |
| 29th Trans Co | Echterdingen [1] | |
| 261st Engr Bn (or Co?) | | |
[1] - STATION LIST, 15 Dec 1965
---
(Source: STARS & STRIPES, Feb 20, 1958)
47th Ord School Trains Instrument Repairmen

NELLINGEN, Germany (Special) -- The ordnance fire-control instrument repair school established by the 47th Ord Gp has trained 57 students in maintaining M48 tank fire-control instruments within their units since the school's organization last December.

The school, operated within the 87th Ord Bn, offers two-week courses instructed by MSgt Charles R. Warren. It trains instrument repairmen from ordnance and armored units throughout USAREUR.

If you have more information on the history or organization of the 87th Ord Bn or the 87th Maint Bn, please contact me

.

---
87th Maintenance Battalion
1965 - present
(Source: Email from Ronald Claypool, 538th CC&S and 350th Ord Det (B&TS), 1966 to 1968)
I was checking web sites into obtaining info on Nellingen Barracks, Germany. I came across info on the 87th Maintenance Battalion. Some of the info is incorrect or I misinterpet the info.

I was with the 538th CC&S for one year, Jan 66 to Jan 67, at Nellingen Barracks. I am sending an BMP attachment along to show you what I mean. I was in Germany Jan 1966 to Aug 1968.

My last unit was the 350th Ord Det. B&TS connected to the 7th Army ATC Vilseck, Germany. While at Nelligen Barracks I met a German girl who I had lost contact with after leaving the Army. After 37 years we have re-established a friendship. This why Nellingen Barracks is of interest to me. May 13th this year I went back to Germany and saw a complete change in the Stuttgart Area. The town of Nellingen and Nellingen Barracks are no longer there. Old memories may vanish physically, but I have pictures. I thank you for any info and I hope the BMP I'm sending is useful.
Ron Claypool, Veteran of the US 7th Army, Germany.
CHAIN OF COMMAND 538th Collection Classification and Salvage


Company Commander in Chief- President Lyndon B. Johnson


Secretary of State- Honorable Robert S. McNamara


Secretary of the Army- Honorable Stanley R. Resor


Chairman of the Joint Chiefs of Staff- General Earl G. Wheeler


Chief of Staff of the Army- General Harold K. Johnson


Supreme Allied Commander Europe- General Lyman L. Lemnitzer


Commanding General USAREUR- General Andrew P. O'meara


Commanding General 7th Army- Lt. General James H. Polk


Commanding General VII Corps- Lt. General Frank T. Mildren


Commanding General SUPCOM- Major General David P. Parker


3rd Support Brigade Commander- Colonel Frank A. Gleason Jr.


87th Maintenance Battalion Commander- Lt. Colonel Edward B. Turner


Commanding Officer 538th CC&S Company- Cpt. Henry H. Fitzpatrick
Ron Claypool
ORGANIZATION (1966/67) [1]:
| | | |
| --- | --- | --- |
| UNIT DESIGNATION | DUTY STATION [2] | COMMENTS |
| HHD, 87th Maint Bn | Nellingen | |
| 42nd Maint Co (Hvy Equip) | Merrell Bks, Nürnberg | |
| 78th Maint Co (Lt Equip) | Panzer Ksn, Böblingen | |
| 124th Maint Co (Hvy Equip) | Nellingen | |
| 538th Svc Co (Col Cls-Salv) | Nellingen | |
| 572nd Maint Co (Hvy Equip) | Wharton Bks, Heilbronn | |
| 903rd Maint Co (Hvy Equip) | Nellingen | |
[1] list of subordinate units based on photo of battalion sign shown above
[2] STATION LIST, 30 June 1967
---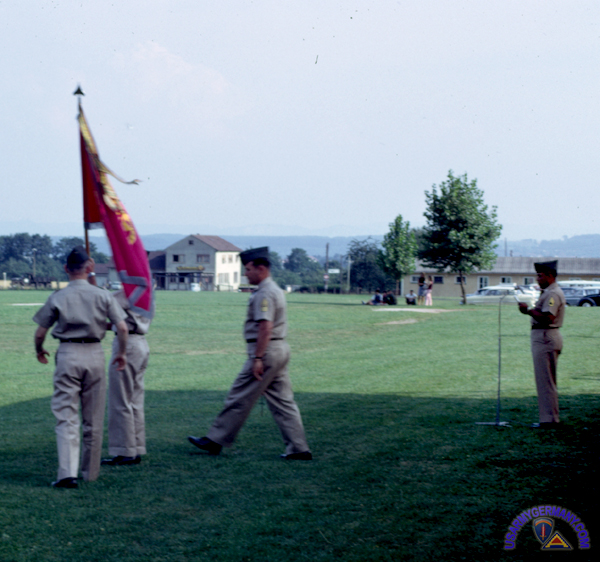 Change of Command at the 87th Maintenance Battalion, c. 1967.
Outgoing CO is LTC Turner; Incoming CO is LT Bassler (Michael Russo)
1966
(Source: Email from Michael Russo)
I enjoyed your 87th Maintenance Battalion page. I was stationed first with the 78th LEM Company in Boblingen, and then at the battalion headquarters at Nellingen Barracks in 1966 - 1968.
At HHD I was the S4, working first for Lt. Col. Turner and then Lt. Col. Bassler. I left in July of 1968.
Although I have tons of pictures of Germany, I didn't take pictures when I went to work. As I recall, we were not allowed to photograph military installations. I have attached a few shots that I did take during some kind of battalion ceremony. I think it was the change of command when Bassler took over. Although he appears in one shot, I don't see any pictures of Col. Turner.
I hope the pictures are of some help to you. Again, thanks for the website.

---
1968
(Source: Email from John P. Stein)
In July 1968:
LTC Robert E. Bassler, Jr. was the Bn. CO.
MAJ Edward J. Jankiewicz was the XO.
1LT Wayne Finger was the Adjutant/S1.
The Sergeant Major was James Johnson.
When I departed in Sept. 1969:
LTC Nelson L. Whitmire had replaced COL Bassler.
MAJ Edward DeSantis had replaced MAJ Jankiewicz.
1SG Jesse Jiles (from the 903d or 124th) replaced SGM Johnson
who had moved up to be the CSM at 3rd SUPCOM.
I was the clerk for the Command Group. (CO, XO, SGM).
---
1974
ORGANIZATION (1974):
| | | |
| --- | --- | --- |
| UNIT DESIGNATION | DUTY STATION | COMMENTS |
| HHD, 87th Maint Bn | Nellingen [1] | |
| 78th Maint Co (Lt Equip)(GS) | | |
| 124th Maint Co (Hvy Equip)(GS) | Nellingen [1] | |
| 538th Svc Co | | |
| 903rd Maint Co (Hvy Equip)(GS) | Nellingen [1] | |
[1] - STATION LIST, 15 March 1973
---
1978
(Source: Email from Karl Vogeley)
I was looking at your very comprehensive website and went to the link on the 87th Maintenance Battalion. I was assigned to the 87th from 1978 to 1981. I was part of the 66th Maintenance Company at Harvey Barracks in Kitzingen. The 66th was a multi role GS maintenance support company with several unique missions. We provided heavy equipment recovery via the M88 tank recovery vehicles and tank transport on HETs; 5 ton wreckers also provided recovery support. The company had a component rebuild line which handled 2 1/2 ton truck transmissions, M151 differentials, and other drivetrain components. Rebuildable cores were gleaned via the collection and cannibalization platoon which accepted, inspected, and either shipped out or dismantled wheeled vehicles and equipment from all over VII Corps. We also were a warehouse for automotive components up to M60 tank engines.

Our war time mission was to recover battle damaged equipment, assess its repairability, and either fix it or move it on to high level maintenance.

I joined the company as a 2Lt in 1978 and left as a 1Lt in 1981. I stayed in the Army on active duty and the reserves until 1997.

Harvey Barrack was an interesting place for a young officer interested in history. One day when I was at the company some engineers working on the airfield uncovered the remains of a WW2 German aircraft with loaded armaments. Apparently at the end of the war the U.S. Army cleared the airfield of enemy aircraft with a bulldozer, covering up the planes with dirt and leaving them. There were also airfield defense fighting points dating from WW2 at the edges of the airfield perimeter. I've often wondered what the fate of the 66th was and when it was deactivated.

---
45th Ordnance Company
1983
(Source: JOBBER, Dec 5 1983)

---
240th Supply & Service Company
71st Maintenance Battalion
1987
(Source: JOBBER, April 13, 1987)
| | | |
| --- | --- | --- |
| | | Article provides details on the organization and mission of the 240th S&S Company including some information on the Class III Supply Point at Feucht (near Nuernberg). (Author of article places Class III facility at Fuerth, but webmaster is pretty sure he meant Feucht. Can anybody confirm this?) |
---
87th Maintenance Battalion
1988
(Source: JOBBER, January 19, 1988)
| | | |
| --- | --- | --- |
| | | Article provides some information on a fuel spill incident at the Class III Supply Point at Feucht (near Nuernberg) operated by the 240th S&S Company. |

---
521st Ordnance Company
19.. - 19..

---
538th Ordnance Company (CC&S)
19.. - 19..
(Source: Email from Doyle Bell)
I was assigned to first to 124th HEM, later to 538th CC&S in 1968 (left in Sept 1968 for the 128th Trans as part of REFORGER and rotated back to Conus.)

The 538th - "collection, classification and salvage" - was a junkyard on the hill. If it was scrap, we took it apart and salvaged what we could.

There was a rotary wing company at Nellingen as well (CH-37s) and we saw one-month deployments of Pershing batteries about every 3 months or so. They used the 124th hangar (it was an old WWII Luftwaffe airfield) to fit up the warheads on the missiles.

Left almost 40 years ago (time flies and I'm getting "old"). The Reforger operation took mostly short timers "home" - in my case to Ft Bragg.

As I remember it, HQ/HQ CO was just to the right of Red 25 and the 538th was right of Red 23. The 124th was in the 23/25 line with a few barracks in each area.

I remember the Athletic Field particularly well because it's where we had the DAMNED parade every THU or FRI? I think was THU. The only thing good about it was that being a bugle player it kept me ED so I didn't do KP.


I seem to remember the main 124th maint area (and where they came in to assemble their warheads on the Pershings) was that building (OLD AIRCRAFT HANGAR) in the lower left hand corner with the junkyard to the left of Red 32 extending up toward the ammo bunker area (didn't even know the ammo dump was there).

The misslie jocks camped either north of H or south of it and don't remember which - I think north but don't remember exactly - they took over maybe 4 acres or so. They would roll in and stretch the concertina wire and set up the missiles and then go active for however long they were there then pack up and leave. Pretty much self supplied unit - I think it was a single battery at a time and they were always on "field status" - nobody in or out (and yes, for sure they WERE loaded - I saw them fit the warheads.)

Anyway - I was out of there in Sept 1968 so I'm serious about memory jog. Seem to remember the Deutsche Kantine (mess hall) was to the left of Red 2, but it's been so long.

Oh, I was talking to German a couple of days ago in Thailand (on vacation here right now for another week) and he said that the entire kaserne was closed (no idea of what they did with it though).

ADDITIONAL INFORMATION
(Source: "chasmit")
I was in the 538th of the 87th at Nellingen for about 30 months, from 1966 to 1968. Hangar 4.
Beside the 903rd & the 124th, we had a railhead over at Echterdingen.
We stored equipment on the 168th Lot.
The 93rd Float Bridge Company were our next door neighbors. They were in another battalion.
The 87th Battalion Commander was Bassler when I was there.

---
557th Maintenance Company
85th Maintenance Battalion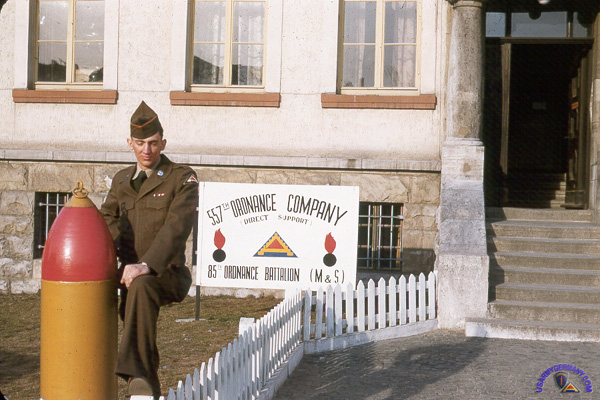 Company sign in front of Company Commander's office, Jaeger Kaserne
1953
(Source: Email from Dean Hobbensiefken, 557th Ord Co, 1953-56)
I find the site quite interesting. I served 29 months in Aschaffenburg Dec 1953 to June 1956 at the Jaeger Kaserne.

The 557 Ord. Co. was located at the Jaeger Kaserne on Wurzburger Strasse in Aschaffenburg, Germany. The 18th Inf. Regiment of the 1st Div. Was located across the street. Our shop area was about a quarter mile away and the company marched to and from the barracks. Jaeger Kaserne was a former German Army Barracks with large parade field in the center. We had a movie theater, Chapel and PX on post. Our large shop area and the various buildings were also former German Army Vehicle Shops and were very nice. The baracks building was a three story with basement armory stone building that was a first class large building. Each room held about a dozen men plus or minus depending upon how many bunks were doubled.

We serviced a number of outfits in the surrounding area. Hanau, Babenhausen etc. Some of the vehicle's we worked on were Jeeps, Dodge Power Wagons, 6X6's, M4 & M5 tractors, M42, M43 & M44 Self Propelled Guns and heavy trucks. The company had two heavy armoured tank transporter low boy trucks. My friends Sgt. Billy Kendrick drove one and Cpl Riester drove the other. I rode with Kendrick one day on a pickup, that was interesting. What a truck that was, huge.

I was in charge of the C& I Section (Carburetor & Ingnition) for some time and when I made E5 after attending the NCO Academy at Munich I was transferred to the track section working on various track vehicles. At times I was sent out on TDY to Hanau, Babenhausen or Wertheim to work on vehicles.

During my tour, we had several leadership changes, Capt. White and Capt. Nonte were Company Commanders and First Lt. Shannefeld was Co. Exec. Capt. Nonte was a good officer, however not very popular among the troups. He wore a polished helmet liner, sun glass', red blousing scarf and a 45 pearl handled revolver. We also under him had frequent "full field inspections" in our rooms and on Saturday's on the field.

When I first served in the 557 we were considered "Occupation Forces" and during the "Cold War" years as any men who served in Germany at the time will remember, we had "Alerts" at random unexpected times in order to be prepared to move out in short order should the Russian Army decide they wanted West Germany. The border where the Russian Army at times showed up displaying their Army during maneuvers was not far away. Once we were notified of an alert, and it could be any time of the day or night, we had to load up all of our equipment and weapons and line up all of our vehicles on the street ready to pull out in a matter of a couple hours. Some of these were just practice and we would just put it all back, and other times we would move out to some location in the woods to bivouac for several days living in our tents.

The winters in the years I served in the 557 at Aschaffenburg were very cold and a lot of snow. I remember guard duty the winter of 53-54 walking around the shop area at 2AM in a foot of snow. I could write a book on my experiences during my tour as can most all of those who served over there. I can still hear the sound of two hundred boots hitting the pavement.



557th Ord Co
Aschaffenburg






1. Aschaffenburg from hill (255 KB)


2. TDY at Babenhausen (204 KB)


3. In the field (337 KB)


4. M44 SP Howitzer (116 KB)

5. M5 tractor (132 KB)

6. M4 tractor (158 KB)

7. 557th ready to move out on alert (88 KB)

8. 557th ready to move out on alert (88 KB)

9. 7th Army NCO Academy, Munich (170 KB)

10. Heavy truck of the 143rd Engr Bn (257 KB)

---
87th Maintenance Battalion
(Source: JOBBER, Aug 3, 1987)
557th Maintenance - Supporting the Corps with two missions

by Robert Mitchem

The 557th Maintenance Company, 87th Maintenance Battalion, based in Aschaffenburg, has two distinct and equally important missions.

The unit's peace time mission is to supply several VII Corps field artillery units and an engineer brigade with Direct Support maintenance. This is accomplished primarily through Maintenance Support Teams that are augmented by the company base.

However, the emphasis of the unit's wartime mission deviates drastically from its peace time concerns. If the U.S. should become involved in hostile actions against a foreign power, the 557th would be tasked -- heavily -- to augment an ordnance unit and help it supply allied units with ammunition.

Recently the 557th was involved in an almost `true to life scenario' of how it would operate during hostilities when the majority of the base company went to the field on a scheduled FTX.

During the field training exercise, the unit compacted as much training and support activity into their time in the field as they could. Not only did they use the time to practice for their upcoming ARTEP, they also got together with the 501st Ordnance Company, 101st Ordnance Battalion for some upload training. The soldiers also accomplished some of their drivers training, some Common Task Training, and many of the shops took their normal day-to-day work load with them. Just as they would during wartime.

The largest percentage of soldiers who were not in the field (with the base company) were those belonging to the Maintenance Support Team (MSTs).

There are five MSTs in the unit. What the Company commander, Capt. John P. Deraimo, calls "the backbone of the company." Approximately 15 soldiers make up each of the teams an they hold a variety of military occupational specialties. Yet the bulk of the work these soldiers are employed to do is automotive and track maintenance, generator and some electrical work.

One of the teams the 557th Combat Engineer Support Team (CETS), supports the 9th Engineer Battalion, 7th Engineer Brigade (Combat). According to CW2 Daniel T. Petruncio, the team chief, his people work on the unit's construction equipment, power generation equipment plus the engineers' and their own wheeled and tracked vehicles. "During exercises, we draw bodies from the main
company to do maintenance on their small arms and some other equipment," he said. "The soldiers get trained to work on everything because when we send them out as 3-man contact teams (for an engineer company on a minor exercise) they need to know how to work on a variety of equipment independently."

"Everybody on this team has a different MOS but everybody works on everything," said SP4 David M. Crowley, a generator mechanic. "Most of what we do is 63 whiskey (wheeled vehicle) work because that's mostly the type of work that comes in. But I like it. I love it," he added. "Doing 63 whiskey work is a lot more challenging and there's much more to do."

"My people are billeted with the engineers, our weapons are in their armory and we do our own physical training, said Petruncio. "We get evaluated by and with the engineers and go by their standards. We don't deploy with our company for field training exercises or ARTEPs, but we do get our NBC training, CTT and NCODP with the company."

Petruncio said the MST system works real well," as long as the leadership understands our limitations, and maintains a good working relationship. There is also a policy letter with established guidelines," he said.

Most of the MSTs work the same way except for Sgt. Kirt Bartons' Lance Missile Support Team which supports the 1st Battalion, 80th Field Artillery, 72nd Field Artillery Brigade (Webmaster note: a LANCE missile unit in Aschaffenburg.).

Bartons' 10-man crew hasn't (been) authorized an officer so he, (while his NCOIC is on leave) fills the shoes of NCOIC, platoon sergeant, shop foreman and repairman. "We work on our vehicles and theirs," he said. "When we go to the field with the artillery we branch out as two man support teams for on-site work. We don't bother with battery exercises because their field site is ony a few miles away."

What makes this maintenance support team different than the others is, "We are billeted with our own company and do PT with them," said Barton. "So our only business with the artillery unit is maintaining their vehicles and deploying with them when they all go."

But at this point in time it was the base company's turn in the field, and at least one soldier had developed the attitude she needed to help her cope.

"My mom told me that if I quit school I'fd end up digging ditches," said PFC Ann Hughes as she haphazardly shoveled dirt from her foxhole and rambled on about digging, soldiering, philosophy and life on the farm. Hughes is a motor transport operator in the Transportation Section of the unit Tech Supply. "Thinking about it now I get the feeling my life as a soldier was predestined," she said
while adjusting her helmet and chin strap for the umpteenth time. "But I'm just heady with excitement about being here, and I'm glad we only do this once in a while."

---
572nd Ordnance Company
19.. - 19..
(Source: Email from Jim Varg, 572nd Ord Co (Hvy Equip))
I was stationed in Wharton Barracks in the mid 1960s. Did you ever hear of Project Knight Eyes? We used to equip tanks throughout Germany with infrared fire control. I've tried surfing for info but come up short. I heard Wharton Kaserne is no more also.

I was with the 572nd for about a year and a half. I believe I got there around the beginning of 1965. I was with the company about 3 or 4 months when I went TDY with a group of about 20 people. We would travel to different kasernes that had M60 tanks and install infrared fire control. We were called the Project Knight Eyes team. You could tell the tanks that we modified, they looked like they had a big TV set on top of the 105 gun barrel.

I always wanted to go back to visit, but now am retired and can't justify the expense to go.

---
585th Ordnance Company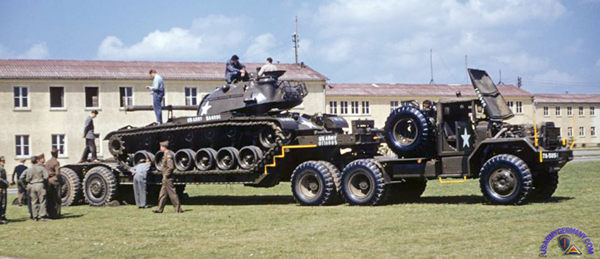 585th Ord Co tank transporter with M48 tank at Nellingen Kaserne
Armed Forces Day open house, 1957 (Marc Paulsen)
1958
(Source: STARS & STRIPES, Feb 20, 1958)
585th Ord Is Tops in the Long Haul

NELLINGEN, Germany (Special) -- The 585th Ord Co handles a minimum of 25 tons of equipment daily with a radius of operations extending as far west as Nancy, France, according to officials here.

The 585th Co's primary mission is to take over damaged vehicles, inspect them, and either turn them over to heavy maintenance units for repair or scrap them, removing the useful parts.

According to the unit's CO, Capt Robert D. Funke, the unit's jobs have included hauling a 68-ton scissors bridge 50 miles to Mannheim, recovering three 280-mm guns and salvaging a crashed jet aircraft.

Until April 1956, it was pointed out, the 585th was the only recovery and classification unit in Europe and was instrumental in training the 96th Trans Co in hauling tanks. (Webmaster: the other Recovery-Classification Ordnance unit in 1958 is the 533rd Ord Co of the 81st Ord Bn.)

The 585th has detachments accompanying men in the held on maneuvers, and stations a permanent section of one officer and 21 EM in Nurnberg to aid the 4th Armd Div and the 71st Ord Bn in recovery operations.

Other activities of the many-sided company include small-arms and instrument inspections, the 87th Ord Bn's paint and carpentry shop, and the battalion equipment inspection section. The 585th also, assists the West German Army.


| | |
| --- | --- |
| | Members of the 585th Ord Co load a damaged M48 tank on a transport for movement to the unit's repair shop at Nellingen. |

---
903rd Maintenance Company
1962
(Sourfe: Email from Henry Theierl, 903rd Ord Co)
I was stationed with the 903 ORD (GAS) General Auto Support from 1962 - 1964 at Nelligen Kaserne. The address then was APO 46 NY NY.

The Battalion (87th Ord Bn) consisted of the 124th, the 504th, and the 903rd. The 903rd was located at the front gate of the post, on the left, Bldg 3602. The post was turned over to the German Goverment in 1992.
---
1982
(Source: JOBBER, Feb 26 1982)
| | | |
| --- | --- | --- |
| | | Article describes the training received by some members of the 903rd Maint Co at the Seventhy Army Combined Arms Training Center (CATC) at Vilseck. The training is in preparation of the transition of 3rd Infantry Division (Mech) armored units from the M-60A3 to the new M-1 Abrams tank. |
---
(Source: JOBBER, May 24 1982)

---
Newspaper articles
(Source: Bamberg Times, June 15, 1984)
504th Maint. keeps things running smoothly

by 1st Lt. Ronald Light, 82nd Engineer Bn

The sign above their shop office door states that they are "Professional Maintainers," and that is an apt description of both what they do and who they are. The 504th Maintenance Company Engineer Support Team maintains equipment, and they are professionals.

The Support Team concept was first conceived in January, 1983 with the 82nd Engineer Battalion being the first Bamberg based unit to enjoy the advantages of accessible, close-in D.S.U. support. Since then, the Support Team concept has broadened to include other units here.

This was the first such team designed to live, eat, and train with the unit they support.

The Support Team has its roots at Muna Kaserne, where the 504th Maint. Co. has it's Headquarters.

13 trained soldiers
The team is presently manned by 13 trained soldiers in military skills that range from 63B to 76C. Their job is to keep "Blue Babe" equipment mission capable, provide technical assistance as needed, and identify trends to enable us to continually improve our readiness posture.

Under the direction of CW03 Grant Webley, and SFC Pennell Alston, the Support Team has helped bring 82nd's deadline rate down from 50-60 vehicles a year ago, to between 20-30 vehicles at the present time.

How does the Team provide this support? For one thing, the Support Team is never locked into a typical 8-hour day. If a component or major assembly is received through the supply system that is deadlining one of the 82nd's vehicles, the Support Team ignores the clock and works until the equipment is repaired. When the part or major assembly is unavailable within a reasonable amount of time through normal supply channels, the Support Team will drive to one of Europe's cannibalization points to procure the item there.

If the Support Team did all of these things in garrison, their record of support would be impressive enough. However, just as Engineers ultimately do everything they train to do in garrison in the field, so does the Support Team. It is in the field environment, where mud and rain and freezing temperatures can turn even a simple task into a hand-numbing ordeal, that the Engineer Support Team excells.

Perform duties anywhere
Other support teams enjoy the comfort of concrete hard stands, heated bays, solvent cleaning bins, and wash facilities when the units they support go to the field. Not so for the 504th Engineer Team.

On a given field problem, the Team will replace engines, transmissions, transfers, seals, and trouble shoot equipment failures -- and they accomplish all of this in the same cold, mud, and rain, and under the same conditions that 12B's build a triple standard concertina fence, or construct a medium girder bridge.

If the weather were not enough, the "Professional Maintainers" also work with the same degree of skill in MOPP IV, or at night. In fact, during a recent field problem the team replaced an entire 5-ton dump transmission late at night while not violating noise or light discipline.

Can you imagine changing a transmission on your POV at night and in the mud?

The 504th Maintenance Company Engineer Support Team has proven time and time again - both in the warm comforts of their shop office and bays near Blue Babe's motor pools, and in the rugged, harsh conditions that are usually a part of every Blue Babe field problem, that they are, indeed, Professional Maintainers.

Professionalism, dedication, and ability - the 504th Engineer Support Team keeps 82nd running. No doubt, as their proud motto proclaims - that they can "Make it happen."

---
Related Links: