If you do NOT see the Table of Contents frame to the left of this page, then
Click here to open 'USArmyGermany' frameset
NATO Central Region Communications
AFCENT - AIRCENT - LANDCENT - CENTAG/4ATAF - NORTHAG/2ATAF
Looking for more information from military/civilian personnel assigned to or associated with the U.S. Army in Germany from 1945 to 1989. If you have any stories or thoughts on the subject, please contact me

.
---
---
NATO / SHAPE Communications Systems
(Source: STARS & STRIPES, April 22, 1956; SIGNAL, December 1959; Nuclear Command and Control in NATO, Shaun R. Gregory, 1996)
As a defensive alliance that relied on a retaliatory strategy, NATO realized early that it required a widespread network of reliable communications facilities that would permit almost instantaneous communications between the various echelons of command.

Initially, SHAPE HQ's command and control communications capabilities were based on the widespread post-telephone-telegraph (PTT) systems of the NATO countries. These facilities were expanded as part of the early "slices" of the NATO-funded Infrastructure Program -- over 25,000 miles of land-lines, radio links and submarine cable were added.

But the land line and radio communications available by the mid-1950s were still problematic as far as unleashing an immediate response (first strike) to any threat -- it could still take hours to complete a call from HQ SHAPE to distant subordinate commands.

Also, the speed of modern firepower delivery systems -- jet aircraft and missiles -- increased the requirement for more modern communications to supplement the early warning network.
A plan prepared by SHAPE in the mid-1950s for an all-military communications system that took advantage of new technological developments (forward scatter technique) was approved in mid-1956. The new system would reduce to a matter of seconds the communications from SHAPE to the commanders in the field responsible for tactical nuclear units as well as to the air defense command and control organizations.

The new communications system will stretch from Norway to Turkey and is comprised of two networks:



an ionospheric forward scatter system (Project DOUBLE JUMP -- follow link)



a troposheric scatter system (Project ACE HIGH -- follow link)

The ionospheric system is good for up to 1,300 miles and will carry a single "hot line" from Norway to Turkey for command decisions at the highest level.

The tropospheric system is good up to 200 miles and will carry many circuits.

The new systems will also provide data transmissions.
---
(Sources: (1) NATO Communications in Transition, by Larry K. Wentz and Gope D. Hingorani, IEEE Transactions on Communications, Sept 1980; (2) Nuclear Command and Control in NATO, by Shaun R. Gregory, MacMillan Press LT, 1996)
NATO COMMAND STRUCTURE (1980s)

The NATO Theater was originally divided into three strategic command (Major NATO Command) areas:


Allied Command Europe


Allied Command Atlantic


Allied Command Channel

ACE, the principal major NATO command, was headed by the Supreme Allied Commander Europe (SACEUR). SHAPE (Supreme Headquarters Allied Powers Europe), the headquarters organization commanded by SACEUR, was initially located at Rocquencourt (Camp Voluceau), France (1952-March 1967) and then moved to Casteau (SHAPE) in Belgium (April 1967-today) after France's withdrawal from NATO's integrated military structure.

ACE's area of responsibility covered the land and sea mass stretching between the northern tip of Norway and the southern edge of the Mediterranean Sea, and west from the European Atlantic Coast to the eastern tip of Turkey.
SHAPE was responsible for four operational regional commands designated as Major Subordinate Commands (MSCs):
AFNORTH
AFCENT
AFSOUTH
UKAIR

AFCENT was established in 1953 at Fontainebleau, France and served as the Allied Forces Headquarters for forces assigned to the Central Region of Europe. AFCENT moved to Brunssum (Hendrik Mine), the Netherlands in March 1967.

AFCENT comprised five Principal Subordinate Commands (PSCs):
NORTHAG
CENTAG
AAFCE
2ATAF
4ATAF

The AFCENT command region which extended from the Elbe River in northern Germany to the borders of Austria and Switzerland in the south, was divided into a northern region (NORTHAG/2ATAF) and a southern region (CENTAG/4ATAF). AAFCE, originally located at Fontainebleau, France and later moved to Ramstein, Germany provided command and control for the two tactical air forces in AFCENT (2ATAF & 4ATAF).
NATO COMMAND & CONTROL SYSTEMS - Early Years prior to NICS

The command and control system responsible for linking the various commands within NATO in the early years (1950s and early 1960s) was of limited complexity. These were the years in which NATO defense strategy was based on the "trip-wire" concept (MC 14/2). The communication systems were meant to meet the operational command and control requirements in support of the strategy of massive nuclear retaliation. They essentially consisted of a series of point-to-point links that ensured that nuclear release messages could be transmitted by the decisioning authorities to the operational commanders.

The various NATO communications systems implemented during this period evolved as special purpose, dedicated and predominantly manual networks that were characterized by a diverse assortment of equipment configured to support the unique missions of individual commands. The transmission links were a mix of leased PTT facilities and NATO-owned facilities.

The "NATO Communications in Transition" article provides a very helpful overview of these early communications systems:



TELEGRAPH NETWORKS
| | |
| --- | --- |
| NATO-Wide Communications System (NWCS) | A combined manual/automatic message relay; communications between NATO Headquarters in Brussels, all national governments and the MNCs. |
| ACE Common-User Relay Network | A combined manual/automatic relay network; provides military elements within NATO with secure teletype connectivity |
| ACE Operational Telegraph Network (AOTN) | A dedicated, manual relay, teletype network; used to process vital operational record traffic |
In addition to the above, there were various other dedicated control and reporting systems that enabled NATO Headquarters, national governments, MNCs, and subordinate commands to transmit and receive information (readiness status; air warning; operational instructions)
VOICE NETWORKS
| | |
| --- | --- |
| Non-secure voice network | . |
| Secure voice network | . |
TRANSMISSION BACKBONE
| | |
| --- | --- |
| ACE HIGH Troposcatter System | ACE HIGH comprises a total of 49 over-the-horizon links and a similar number of Microwave LOS tail links and interconnections; voice and telegraph traffic; constitutes primary backone transmission network for ACE. |
| NATO SATCOM | In the first phase, leased communications link on the Initial Defense Communications Satellite Program (US); primarily for test and evaluation to determine value of using satellites to support NATO operations. |
| Miscellaneous LOS radio relay and cable facilities | AFCENT, CENTAG, NORTHAG, 2ATAF, and 4ATAF radio relay networks that provide dedicated links to subordinate units and associated flanking headquarters. |
In addition to the above, there was extensive use of of leased PTT facilities.
NATO COMMAND & CONTROL SYSTEMS - NICS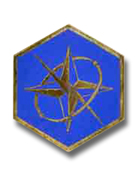 NATO Integrated Communications System DI

With the change in strategy to the "flexible response" concept (MC14/3) in the late 1960s, with its increased number of options to respond to Soviet aggression, more complex and integrated communications systems were required to provide support in crisis situations and to apply measured retaliatory responses across the total spectrum of potential threats.
1979
(Source: Email from Vincent Singer, HQ, USAE, AFCENT, 1979-1982)
I was reviewing your website tonight. I was assigned to a station in the CIP-67 system at Hornisgrinde.

Your maps (above) are a bit off - or should I say, the Soviet's intel wasn't as good as they thought it was.

In the Rhein Valley, Site 41 (Hornisgrinde) was never connected to Feldberg (Site 43). It was connected to Site 44 (Messtetten), Site 36 (Bad Bergzabern), and a hastily added Site 42 (CFB Baden Soellingen).

The system went active in 1982, but I left in September, and did not get to see it come fully on-line. We were on a French Kaserne atop the Hornisgrinde, co-located with a station of the CRICS (Central Region Integrated Communications System), a forerunner to the CIP-67 system.

I believe that the CIP-67 system was deactivated soon after the dissolution of the Warsaw Pact, as part of the "Peace Dividend". If you look at photos on the Internet of Hornisgrinde today, the French Kaserne has been returned to German control, and has become a park. All of the dishes have been removed from the 45-meter freestanding tower, and the bunker has been surrounded by a rather tight chain-link fence. The other buildings (wood construction, used for the CRICS station) have been demolished and removed.

I will soon send a more complete description of what I remember of the CIP-67 and CRICS relay systems, and what I remember of stations AHGQ, ABBQ, AMEQ, AHGV, and (I think) ASLV/ASLQ.
---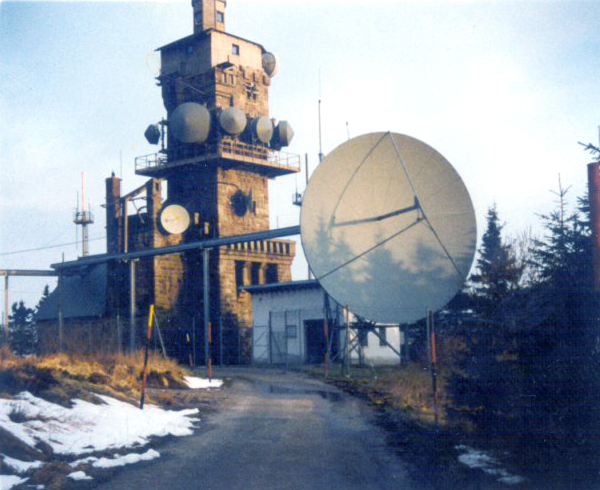 The old Hornisgrinde observation tower repurposed by the French during the Cold War
(French blog by cocoy8906, a French soldier formerly assigned to B.A. 901)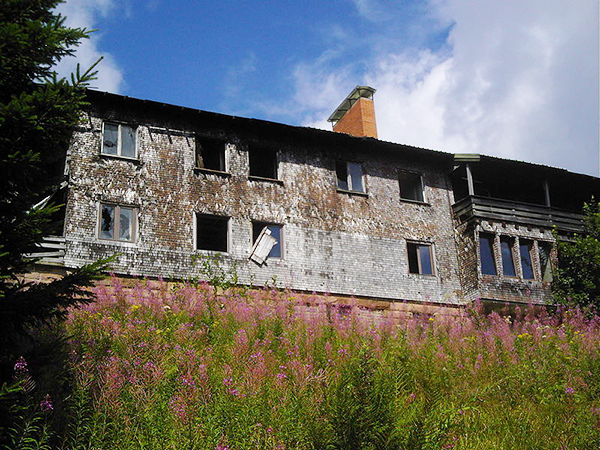 One of the former French buildings at the Hornisgrinde signal site ("Jutta243", Wikipedia)
(Source: Wikipedia, accessed April 27, 2018))
HORNISGRINDE

The Hornisgrinde, 1,164 m (3,820 ft), is the highest mountain in the Northern Black Forest of Germany. The Hornisgrinde lies in northern Ortenaukreis district.

In 1938 the entire southern range of the summit level was declared as the military restricted area. First being in use since 1942 by the German Forces as an air defense position, the French took over the location in 1945. These operated on the Hornisgrinde an observing station on behalf of the French foreign secret service DGSE. Later the location was used parallel also by the Bundeswehr and NATO. After the plant went out of operation in 1994, it lay fallow several years. The restricted area was released in 1997. In 1999 the neighbor municipalities took over the federal area. Some of the buildings and masts are preserved, however they're purging more and more.

---
DOUBLE JUMP - Ionospheric Forward Scatter Network
(Source: SIGNAL, December 1959)
Information will be added soon

---
ACE HIGH - Troposcatter Radio Relay Network
(Source: SIGNAL, November 1960)
ACE HIGH is a NATO communications infrastructure program extending throughout all of Western Europe to provide the military circuits which SHAPE would require in time of war.

The requirement was to establish a system which would provide reliable, secure and virtually instantaneous communications for Allied Command Europe (ACE). SACEUR (Supreme Allied Commander Europe) was designated coordinator of Air Defense for NATO Europe and directed to develop an appropriate system for coordinating air defense efforts and capabilities. Special importance was attached to the rapid dissemination of information to command and operational elements, and the quick implementation of military plans.

This system was to provide SACEUR a military communications system connecting his headquarters with the national and regional headquarters in Allied Command Europe. In order to guard againts attack, it was deemed vital that the network be immediately available to SACEUR at all times, particularly during a period of increased air activity, tension or alerts.

This resulted in the initiation of Project ACE High.
---
(Source: SIGNAL, Jan 1964)
The last station in the ACE High communications network, extending 83,000 route miles from the northern tip of Arctic Norway to the eastern edge of Turkey, has been accepted by Supreme Headquarters Allied Powers, Europe on behalf of the North Atlantic Treaty Organization. It was accepted from International Standard Engineering, Inc. (ISEI), an affiliate of International Telephone and Telegraph Corporation and the network designer.

Ace High, the largest communications system ever planned, engineered, installed and placed in operation under a single internationally funded project, was designed to provide reliable, secure and instantaneous communications tying together the allied commanders in Europe. The network consists of 82 stations divided almost equally between tropospheric forward scatter and line-of-sight stations. The stations are located in nine of the 15 NATO powers -- Norway, Denmark, West Germany, Great Britain, Netherlands, France, Italy, Greece and Turkey.

The master control center for the network is at Paris North -- about 40 miles north of the French capital. Paris and Norway are linked by two routes -- one extending from Paris through France, Germany, and Denmark into Norway and the other from Paris to London and northward through the United Kingdom and the Shetland Islands into Norway. The main station is at SHAPE, just a few miles from Paris.

The Ace High system provides the Supreme Allied Commander (SACEUR) with more than 250 telephone circuits and 180 telegraph circuits. Circuit capacity of the main backbone route is limited to 36 channels although engineering design took into account the probable need to expand. Any one of the speech channels can be multiplexed to provide 12 or 18 telegraph channels.

SACEUR's command will continue to use large numbers of circuits provided by the telephone systems of the European NATO nations to augment the Ace High network.

Ace High has been gradually brought into service as the stations and links have been completed. An original section financed by the United States and operating in Norway for several years (Webmaster Note: Project HOT LINE, the section from Oslo north to Bodo, Norway, was completed in March 1958) was incorporated into the network. The first internationally funded station was accepted by SHAPE from ISEI almost two years ago.

As the stations were accepted, SHAPE assumed responsibility for operations and maintenance of the network. ISEI, by providing engineers and technicians, is supporting SHAPE in the task of maintenance and training of personnel.
---
(Source: MILITARY GEOGRAPHY FOR PROFESSIONALS AND THE PUBLIC)
CHAPTER 12.

France. The French Government on March 7, 1966, declared its intent to regain "full sovereignty [over] French Territory -- in other words, no longer to accept the presence of foreign units, installations, or bases in France falling in any respect under the control of authorities other than French authorities" and told NATO to comply or leave not later than April 1, 1967. NATO's leaders elected eviction, whereupon the exodus code-named FRELOC (Fast Relocation) uprooted or resulted in the abandonment of many military installations accumulated at great expense over the previous 18 years.

Command and control arrangements were comparatively simple when SHAPE and Headquarters, U.S. European Command (EUCOM) were based in Parisian suburbs 15 minutes apart and lay within easy reach of AFCENT at Fontainbleau as well as Headquarters, U.S. Army Communications Zone (COMMZ), in Orléans. Not so after SHAPE displaced to Casteau, Belgium, and EUCOM took up residence in Stuttgart, 265 airline miles/425 kilometers away. It took months and cost millions for U.S. and NATO command posts at every level to transplant a vast array of computers, data processors, and information retrieval gear connected by space communication satellites, tropospheric scatter stations, microwave networks, radio relays, and countless miles of cable. FRELOC, when complete, concentrated terminals, reduced routing alternatives, and thereby increased vulnerabilities among communication systems that depended heavily on redundancy to survive in wartime. Access to air defense communications in France and to French segments of ACE HIGH, Allied Command Europe's secure voice network that stretched from Norway to Turkey, was no longer guaranteed, because the French Government professed "no automaticity" policies.
---
(Source: Helmut Kämmerer)
With the withdrawal of France from NATO in 1966, the ACE HIGH Relocation Project installed new sites along an alternate route that stretched from Cold Blow Lane through Belgium to Bann, Germany. The system was continued with a link to Feldberg/Schwarzwald to northern Italy.

For further details check out the following web pages:
ACE HIGH

NATO ACE-HIGH Richtfunkstation AFEZ Feldberg

ACE HIGH Feldberg to Dosso dei Galli

Troposcatter Station Dosso dei Galli (a manuscript in PDF format - BIG! (15 MB) )
by Gerrit Padberg and Roger Camperi. The manuscript is written in German. (I will write an english summary in the near term! But some patience, please!)



ATTENTION READERS!!

I must remind all readers that the manuscripts provided by the above authors or any other contributors on this web site (www.usarmygermany.com) are protected by copyright which prohibits the reproduction, reuse or resale of all or part of these documents.
---
(Source: Jane's Military Communications, 1991-92)
ACE HIGH Transmission System

ACE HIGH is a troposperic scatter/micorwave (LOS) link system that dates back to 1956 when SHAPE developed a plan to create a communications system that would comprise the minimum essential circuits needed for early warning and alert and those needed for the implemen tationof the "tripwire" retaliation strike plan.

The network consists of 49 tropospheric scatter links and 40 line-of-sight microwave links that extended from northern Norway through central Europe to eastern Turkey.

The system has 570 voice, 260 telegraph and 60 data circuits.

The system is scheduled to be phased out in the coming years.
---
(Source: Willibert Wilkens)
| | | | |
| --- | --- | --- | --- |
| | | | |
| 1. Aurich AEMZ (212 KB) | 2. Uedem AUEZ (219 KB) | 3. Hehn AHEZ (187 KB) | |
| 4. Lammersdorf ALAZ (201 KB) | 5. Euskirchen AEUX (188 KB) | 6. Bann ABHZ (189 KB) | |
| 7. Feldberg (Schwarzwald) AFEZ (194 KB) | | | |

---
AFCENT Terrestrial Transmission Systems
AFCENT Radio Relay
(Source: C&E Newsletter, Vol 34, Canada - National Defense)
AFCENT HQ was formed on 20 August 1953 at Fontainebleau, France. AFCENT HQ was established to exercise command and control over Land Forces Central Europe (LANDCENT), Air Forces Central Europe (AIRCENT), and Naval Forces Central Europe (NAVCENT) under one Commander-in-Chief (CINCENT).

During the development of the new AFCENT HQ, peace and war establishments were revised, new emergency defence plans were written and detailed plans prepared for the integration of German Land and Air Forces. AFCENT's responsibility was for day-to-day operations, frequency allocation in Central Europe, and planning for exercises, war operations and the introduction of new equipment.

On the 10 March 1966, The French government announced their intention of withdrawing from NATO. On 29 March that same year, France declared that French Forces assignments to NATO were to terminate on 1 July 1966 and Allied facilities were to be out of France by 1 April 1967. Planning went ahead for the move of the fully integrated AFCENT Headquarters to Brunssum, Limbourg Province, The Netherlands (Hendrik Camp) during the period of January to March 1967. The official opening was on 1 June 1967.

Although LANDCENT, AIRCENT, and NAVCENT had their own autonomous Signal Divisions, a Joint Communication Agency (JCA) was formed in 1962. AIRCENT also formed its own Central Repair Depot (CRD) which was independent of the JCA. When AFCENT was transferred to Brunssum in 1967, and LANDCENT, AIRCENT, and NAVCENT were amalgamated into a single Headquarters at Hendrik Camp, the JCA and CRD moved into an ex-coal mine building (EMMA mine complex) at Hoensbroek, near Brunssum.

The JCA was then reorganized as the Regional Signal Support Group (RSSG) which brought under command CRD as the Central Region Communications Logistics Depot (CLD). In 1971, RSSG became responsible for the first NATO satellite communications system, ACE HIGH, with the implementation of the first station at Euskirchen, Germany.

With the development of the NATO Integrated Communications System (NICS), SHAPE undertook the first manpower survey of RSSG, recommending a considerable reduction of personnel. The NICS was then put under control of several Regional Operating Centres (ROCs). The ROCCENT (AFCENT ROC) control agency was activated at Hendrik Camp with three Local Control Organizations (LCO) located at Maastricht, in The Netherlands, and Baumholder and Senden in Germany.

Finally, in 1979, the RSSG became the Central Region Signal Group (CRSG) as it is known today. In 1982, a microwave system, known as Communications Improvement Program 67 (CIP 67) was activated, providing the bulk of the NATO-owned transmission systems for communications throughout the Central Region. Two years later, in 1984, the Initial Voice Switched Network (IVSN) telephone switches in Brunssum and Telegraph Automatic Routing Equipment (TARE) in Maastricht became operational.
---
(Source: DtStBtl AFCENT, Einsatz von Fernmeldesoldaten der Bundeswehr in Frankreich ab 1959, Helmut Kämmerer, unpub.)
The first radio relay link between HQ AIRCENT (at Fontainebleauu, France) and SHAPE (Paris) was probably established in 1952. Radio Stations for this network:


AIRCENT Bunker, Camp de Glieres


Hauteurs de la Solle (on a hill north of Fontainebleau)


Melun (at a French military installations)


Marly le Roi (at Rocquencourt)


---
AFCENT STATION #7 (St. Erme)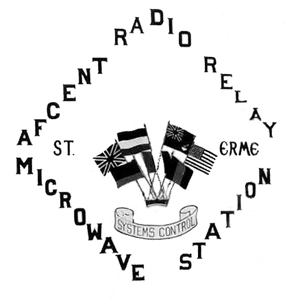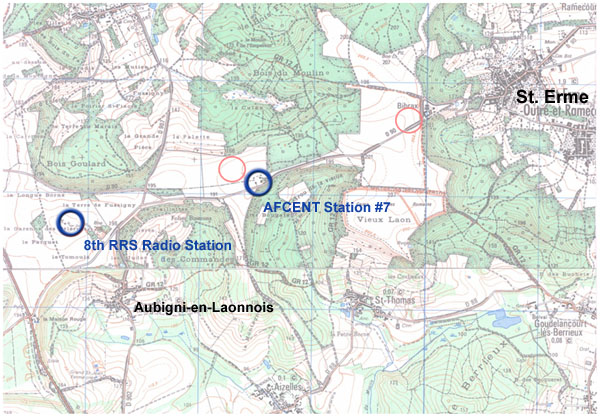 AFCENT Station #7
St. Erme, France






1. Station 7, St Erme, 1950s (KB)


2. RRS test site at St Erme (KB)

3. VIP tour (KB)




4. Briefing (KB)

5. Tour (KB)

6. Tour (KB)


7. Tech fac (KB)

8. Tech fac (KB)

9 . Tech fac (KB)


10. Tech fac (KB)

11. What type of equipment? (KB)

12. What type of equipment ? (KB)

13. Lt Col Lippencott, Signal Corps (KB)

14. AFCENT Radio Relay 1964 (KB)

15. Station 7 personnel (KB)
---
AFCENT STATION #11 (Wahlhausen/Luxembourg)
(Source: Email from Manfred Knake, German Air Force)
I was a German Air Force AFCENT-Microwave operator with Joint Communications Agency on Station 11 in Wahlhausen/Luxemburg und Station 13 in Haraumont/France from 1965 to 1968.

The following photos show AFCENT Station 11, part of JCA-B-Sector under Captain Baker, in the 1965-1967 time frame.
AFCENT Station #11
Wahlhausen, Luxemb.






1. Station 11, Wahlhausen, 1960s (109 KB)


2. Sign in front of station (KB)

3. Equipment (KB)




4. Site personnel (KB)

5. More site personnel (KB)

6. Commo equipment at Wahlhausen (KB)

7. Wolfgang Schade (KB)

8. Manfred Knake with the site movie projector (KB)

9. T/Sgt Stevenson, Site Chief (KB)

10. HG Reinulf Bohra painting the site sign (KB)

11. Site duty vehicle (KB)



---
LANDCENT Radio Relay
(Source: Helmut Kämmerer, "Ehemaliger" (veteran) who served with AFCENT in the mid 1960s)
---
LANDCENT MICROWAVE SYSTEM

LZ 500 - Terminal A (Soisson) to Terminal B (La Madeleine)
| | | | | |
| --- | --- | --- | --- | --- |
| STA # | SITE | LOCATION | OPERATING UNIT | COMMENTS |
| TA | Terminal A | Vauxaillon, France | _ | _ |
| 1 | Relay 1 | Dampleux, France | _ | _ |
| 2 | Relay 2 | La Haute Maison, France | _ | _ |
| 3 | Relay 3 | Croix d'Augas, France | _ | _ |
| TB | Terminal B | La Madeleine, France | _ | _ |
LZ 501 - Terminal A (Soisson) to Terminal B (CENTAG)
| | | | | |
| --- | --- | --- | --- | --- |
| STA # | SITE | LOCATION | OPERATING UNIT | COMMENTS |
| TA | Terminal A | Vauxaillon, France | _ | _ |
| 1 | Relay 1 | Marlemont, France | _ | _ |
| 2 | Relay 2 | Stonne, France | _ | _ |
| 3 | Relay 3 | Haraumont, France | _ | _ |
| 4 | Relay 4 | Perl-Eft, Germany | _ | _ |
| 5 | Relay 5 | Weiskirchen, Germany | _ | _ |
| 6 | Relay 6 | Bann, Germany | _ | _ |
| 7 | Relay 7 | Münchweiler, Germany | _ | 208th Signal Company, CENTAG Signal Battalion operated a commcenter at Ruppertsweiler. |
| TB | Terminal B | Seckenheim, Germany | _ | |
LZ 502 - Terminal A (Soisson) to Terminal B (NORTHAG)
| | | | | |
| --- | --- | --- | --- | --- |
| STA # | SITE | LOCATION | OPERATING UNIT | COMMENTS |
| TA | Terminal A | Vauxaillon, France | _ | _ |
| 1 | Relay 1 | Marlemont, France | _ | _ |
| 2 | Relay 2 | Hiraumont-Rocroi, France | _ | _ |
| 3 | Relay 3 | Grandmenil, Belgium | _ | _ |
| 4 | Relay 4 | Relais de Botrange, Belgium | _ | _ |
| TB | Terminal B | Mönchengladbach, Germany | _ | _ |

---
AIRCENT Radio Relay
(Source: DtStBtl AFCENT, Einsatz von Fernmeldesoldaten der Bundeswehr in Frankreich ab 1959, Helmut Kämmerer, unpub.)
The first radio relay link between HQ AIRCENT (at Fontainebleau, France) and SHAPE (Paris) was probably established in 1952. Initial radio stations for this network:



| | | |
| --- | --- | --- |
| | A-1 | AIRCENT Bunker, Camp de Glieres |
| | A-2 | Hauteurs de la Solle (on a hill north of Fontainebleau) |
| | A-3 | Melun (at a French military installations) |
| | A-4 | Marly le Roi (at Rocquencourt) |


In the Fall of 1954, the system was extended with relays added to connect HQ 2ATAF (in northern Germany) and HQ 4ATAF (in central Germany) to SHAPE and AIRCENT. At this time (Webmaster note: newer information coming in indicates that the 5th RRS was already in Europe in late 1952) the 5th RRS arrived in France from Georgia to help in the planning and construction of new relay sites in France, Belgium and Germany. SACEUR himself, Gen Gruenther, had requested that this unit be sent to France. This Air Force unit was heavily involved with the site surveys and tests of many (or all?) of the planned sites. Some of the personnel of the 5th RRS were involved with this mission until at least the Fall of 1958.



| | | | |
| --- | --- | --- | --- |
| | A-5 | Eméville, France | later Station 9 |
| | A-? | Jossigny, France | later Station 8 |
| | A-? | Brassoir, France | |
| | D-1 | Margival, France (AFCENT WHQ Bunker) | later Station 10 |
| | D-2 | Aubigny-en-Laonnois, France | later Station 7 (St Erme) |
| | D-3? | La Féréé, France | was soon abandoned and replaced by D-4 Liart |
| | D-4 | Liart, France | later Station 18 (Marlemont) |
| | | Vieux Moulins/Fumay, France | later Station 19 |
| | | Poix-Terron/La Bascule, France | later Station 12 |
| | | Vilosnes/Haraumont, France | later Station 13 |
| | B-3 | Molvange/Angevillers, France | later Station 14 (newly const.) |
| | | Baraque de Fraiture, Belgium | later Station 20 |
| | | Roclenge-sur-Geer, Belgium | later Station 21, until about 1967 |
| | | Aix-la-Chapelle, Bel./Aachen, Germany | later Station 22, Lammersdorf |
| | | Lüttelforst, Germany | later Station 23, HQ Rheindahlen |
| | | Saarburg, Germany | later Station 25, Perl-Eft |
| | | Trier, Germany | later Station 26, Trier-Euren |
| | | Saarburg, Germany | later Station 15, Weiskirchen |
| | | | later Station 16, Bann |
| | | | later Station 17, Münchweiler |
There appear to have been stations at Plailly/Ermenonville, France and Montlhery, France - but little is known about them. Also, it is not clear yet, if the above list is complete. (Please contact me

if you have additional details or corrections that you can provide.)

These relay sites were initially probably "mobile" - until the middle of 1958, the LANDCENT system was still designated as "LANDCENT Mobile Microwave." Personnel assigned to some of the sites were still housed in tents. With the completion of more permanent billets by 1959 the sites became fixed sites.

to be continued
---
(Source: Email from Ron Gooding, former RAF member serving with AIRCENT in France)
I worked in Systems Control in AIRCENT Fontainebleau in 1956 -1958 as a RAF Shift NCO responsible for NATO communications network availability.

I recall that the AIRCENT microwave system was a disaster with very poor availability, noise hits and high telegraphic distortion -- due to microwave signal fading etc. The microwave network was supposed to function as the primary AAFCE network but in fact French PTT landlines were in use 50 - 60% of the time. There was talk of introduction of a new tropo forward scatter system with a much better MTBF prediction - I don't know how that worked out in the end.

The whole set-up was ludicrous -- had there been an outbreak of hostilities the Soviets (we now know) were aware of all the coordinates of microwave repeaters/ terminals, French PTT was compromised by Gaulists/ communists.

In the event of outage of microwave and landline, the final fall-back HF radio RTTY equipment was to be employed but that would not work with encryption equipment (ECTRM?) employed at that time (one circuit noise "hit" and the encryption terminals at each end went "out-of-sync").

Still it was nice working there at Camp Guynemer in the beautiful Fontainebleau foret during the Cold War days - second or third on the Soviet ICBM nuke "hit-list"!.

ADDITIONAL INFORMATION
Systems Control was located in the communication centre (inside the AIRCENT commo bunker) and all TTY circuits were routed through a relay panel, patch panel installed in Systems Control -- on one side was the microwave terminal room; on the other was the communications centre which consisted of approximately 75 teletype terminals in four or five rows.

The primary microwave terminal was located near the System Control room (40') in the communications bunker. (Not sure if it was Collins Radio or not.) They did bring in the manufacturer from the States to try and iron out some of the bugs.. but it seemed to me that signal fade margins, path/ equipment diversity, maintenance tech. training were not up to snuff and circuits were down for extended periods for days on end. The M/W network linked HQ AIRCENT with terminals at HQ TWOATAF (Mönchen-Gladbach, Germany) and HQ FOURATAF (Trier, Germany).

The primary role of systems control was to maintain teletype circuits between communications room terminals and distant terminals in continuous operation.

The maintenance shop for Olivetti Teleprinters was located adjacent to systems control -- any failure of teleprinter equipment was sent as a fault report to the maintenance shop. Similarly, any detected outage on M/W circuits was passed to the local terminal/maintenance room; landline failure reports were passed to the French PTT. (Sometimes, with persistent landline problems, we contacted the remote terminal PTT in Belgium, Holland, Germany UK, Italy or Norway and worked with them directly.)

An additional role of systems control was to "patch-in" stand-by circuits in the event of primary (M/W) failure. We were also responsible for operation of back-up HF telegraph circuits to Norway, Naples and Stanbridge in the UK. Working with the local transmitter/receiver sites situated in the Fontainebleau forest.

Standby generator power supplies were controlled by system control as well.

All circuits were monitored on 24/7 basis and any outage exceeding 10 - 15 minutes was subject to detailed inquiry / post-mortem. It was a dark window-less stressful hole in the ground in which to work for two and a half years. I spent my 21st birthday down there! Still the place is fondly remembered by lot's of folks.
---
(Source: FLIGHT, 7 May 1954)
AIRCENT Microwave Relay

A microwave relay communications network to provide reliable communications for the AIRCENT command has just been completed. The total cost for constructing the relay system amounted to £3 million.

A number of microwave relay stations (line-of-sight) link the Fontainebleau HQ of AIRCENT to SHAPE (near Paris) and other NATO headquarters, thus making the command independent (to some extent) of commercial phone lines.

From each AIRCENT terminal point there are 24 channels, each of which can carry a conversation. Any one of these channels can be broken down into 16 two-way teletype circuits. These different types of message can be carried at the same time.

The new system falls under the Radio Communications Branch at AIRCENT.
---
(Source: STARS & STRIPES, March 3, 1959)
AIRCENT Communications Group

The nerve center of the communications network that serves the Allied forces in wartime is situated in a low, camouflaged concrete building near HQ AIRCENT in Fontainebleau, France.

The unit that operates the communications center is know as the AIRCENT Communications Group. The unit, under the command of Group Capt W. Gordon (RAF), comprises about 600 military personnel from seven nations (US, UK, Canada, France, Belgium, the Netherlands and Germany). The Group is responsible for providing communications support to HQ AIRCENT, as well as operating a telegraph system for three additional NATO commands at Fontainebleau: AFCENT, LANDCENT and NAVCENT.

As part of the communications support to AIRCENT, the unit operates a radio relay system that connects the AIRCENT headquarters with those of its subordinate commands, 2nd Allied Tactical Air Force (ATAF) in Moenchen-Gladbach and 4th ATAF at Ramstein AB.

Most of the men stationed at the remote relay sites are USAFE personnel. That is because the original manpower required for operating the relay system came from an Air Force radio relay squadron (5th RRS). At this time, British and German airmen are also being assigned to the relay sites.

The AIRCENT Comm Gp headquarters is divided into two main divisions: the Operations Division and the Technical Services Division. There are also several smaller branches that provide support activity.

(For more information and maps on AIRCENT Communications, see Helmut Kämmerer's contribution above).

---
AIRCENT MICROWAVE SYSTEM

??? - AIRCENT Terminal (Camp AIRCENT) to SHAPE Terminal (Marly le Roi)
| | | | | |
| --- | --- | --- | --- | --- |
| STA # | SITE | LOCATION | OPERATING UNIT | COMMENTS |
| A-1 | Station A-1 | Camp AIRCENT, Fontainebleau, France | _ | _ |
| A-2 | Station A-2 | Hauteurs de la Solle, France | _ | _ |
| A-3 | Station A-3 | Melun-Camp Militaire, France | _ | _ |
| A-4 | Station A-4 | Marly le Roi, France | _ | _ |
??? - AIRCENT Terminal (Camp AIRCENT) to NORTHAGT/TWOATAF Terminal
| | | | | |
| --- | --- | --- | --- | --- |
| STA # | SITE | LOCATION | OPERATING UNIT | COMMENTS |
| 1 | Station 1 | Camp AIRCENT, Fontainebleau, France | _ | _ |
| 2 | Station 2 | Hauteurs de la Solle, France | _ | _ |
| 3 | Station 3 | Melun-Camp Militaire, France | _ | _ |
| 4 | Station 4 | Jossigny, France | _ | _ |
| 5 | Station 5 | Eméville, France | _ | _ |
| 6 | Station 6 | Margival, France | _ | SHAPE war headquarters_ |
| 7 | Station 7 | St. Erme, France | _ | _ |
| ? | Station | Liart, France | _ | _ |
| ? | Station | Vieux-Moulins, France | _ | _ |
| ? | Station | Baraque de Fraiture, Belgium | _ | _ |
| ? | Station | Roclenge-s-Geer, Belgium | _ | _ |
| ? | Station | Lammersdorf, Germany | _ | _ |
| ? | Station | Lüttelforst, Germany | _ | _ |
| ? | Station | Mönchengladbach, Germany | _ | |
??? - Station 7 (St. Erme, France) to CENTAG Terminal
| | | | | |
| --- | --- | --- | --- | --- |
| STA # | SITE | LOCATION | OPERATING UNIT | COMMENTS |
| 7 | Station 7 | St. Erme, France | _ | _ |
| 8 | Station | Poix-Terron, France | _ | _ |
| ? | Station | Vilosnes-Haraumont, France | _ | _ |
| ? | Station | Molvange-Angevillers, France | _ | _ |
| ? | Station | Weiskirchen, Germany | _ | _ |
| ? | Station | Bann/Landstuhl, Germany | _ | _ |
| ? | Station | Münchweiler, Germany | _ | _ |
??? - Station ? (Molvange-Angevillers, France) to FOURATAF Terminal
| | | | | |
| --- | --- | --- | --- | --- |
| STA # | SITE | LOCATION | OPERATING UNIT | COMMENTS |
| ? | Station | Molvange-Angevillers, France | _ | _ |
| ? | Station | Perl-Eft, Germany | _ | _ |
| ? | Station | Trier-Euren, Germany | _ | _ |

---
5th Radio Relay Squadron (AIRCENT)
(Source: Email from Ivan McAllister, 5th RRS)
My info - Advance party for 5th Radio Relay Squadron to install and operate NATO comm system.
System A from Fontainbleau, France to HQ SHAPE at Versailles, then Extended to Soissons.
System B was from Soissons to Trier, Germany.
System C was from Soissons to Brussels, Belgium.

This was an AF system and I left there in November 1953. Don't have any site maps but could pick the old brain and look at old orders if I can get a good map of those areas.

ADDITIONAL INFORMATION
The 5th Radio Relay Sq was formed to support a NATO communications system in France, Germany and Belgium. In August 1952 14 enlisted and one officer were sent from Scott AFB to RCA Factory School in Glouchester, NJ. I was included. NATO had purchased RCA Microwave and Lenkurt Carrier Equipment for the project.

We arrived in Fontainebleau, France in Nov 1952. There were personnel already there (pulled from 1st RRS, I believe) and they had a system from Fontainebleau (HQ AAFCE) to Versailles (NATO Hdqtrs). The 5th Radio Relay Squadron (Micowave) was being put together at Robins AFB, GA and we were assigned to them in Nov 1952. The Squadron arrived in Dec 1952.

We installed the 'A' system through to Soissons, France; then the 'B' system to 4th ATAF in Trier, Germany. As NATO moved to Brussels, Belgium a 'C' system was installed from Soissons to Brussels.

I left in Nov 1953 and discharched Dec 1953 (stayed out 4 years; came back). Sometime after 1955 the 5th was renamed to 1141st Special Activities Sq which ended up in Ramstein, Germany I don't have any info after that date.

Hopefully this answers some of the questions about the 5thRRS
---
(Source: STARS & STRIPES, May 1, 1953)
AAFCE at Fontainebleau, France operates an interlooping 400,000 square-mile radar shield and a multi-station microwave radio hookup to provide early warning against aeiral aggressors.

The USAF's 5th Radio Relay Squadron operates a radio relay network in support of this system. The radio relay network will (once completed) consist of at least 17 radio stations across France and into Germany and Belgium. The network will provide 23 voice channels and one telegraph channel (with 15 teletype ciruits).

The typical radio relay station is operated by a mobile crew of the 5th RRS and is operated out of a truck. The station can be dismantled rapidly and moved to another location to meet changing tactical situations in time of crisis.

The 5th RRS is supported by the 2nd Comm Const Sqdn which is responsible for installing antenna towers, telephone poles and underground cables.

NATO funded the establishment of this vast communications network with $9 million with the purpose of creating an alternative to the civilian PTT's used today.
---
(Source: Email from Rick Barbera, 5th RRS)
AMAZING! I was looking for information about my old outfit and found your site! I was in the USAF, AIRCENT/AFCENT, 5th Microwave Radio Relay Squadron from February 1955 until November 1957. Home base was Camp Guynemer, Fontainebleau, France. As far as I can remember, the 5th reported to AIRCENT, and had no ties to the 12th Air Force.

The 5th changed designations in 1955 or 1956 to the 1141st SPACTRON, DET 2. Why, I don't know. I hated the new name.

Your list is more complete than I remember, even after being there! I do remember a few more sites though. I was stationed at four of these sites. I also have some B&W pictures of some of the sites, and people, plus some of the hotels/homes we lived in off-base ... they are probably of interest only to me, but I was always taught to share.

MY information is from memory and pictures that I had identified (correctly, I hope) at the time.

There were other stations that I recall ... I was stationed at:

A-3 (1) , in Plailly, France. We lived in the 'Hotel des Artistes', Mortefontaine, France.
Hotel at Faissault, France. Dec 1955-Feb 1956

D-3, in Poix-Terron, France. We lived in Faissault. I don't remember the name of the hotel, but it was the 'pits'. When it was abandoned, the crew and I went the new site in La Bascule. I remember it as B-5 and not D-4, but after 50 years ... whatever. The story we got at the time of D-3's abandonment was that after a few years the trees on the mountain over which the site transmitted were causing numerous line-of-sight transmission difficulties. Hence the 'move'. Sounds OK to me! I was the B-5 'Site Chief' from April 1956 until my rotation/separation in November of 1957.

B-5, in La Bascule, and we lived in Le Chesne, France at the 'Hotel de la Cloche D'Or'. B-5 had 4 dishes, which meant that we were transmitting to two different links, the 'D' link to France and Belgium, and the 'C' link to France and Germany.

D-5, in Hautes-Butts, and we rented a house in Haybes, France.
I wanted to write this note to you before I forgot everything I remembered. I am going back to the website for more reading. If it is your site, "Ya Done Good!" I "Googled" everything from Camp Guynemer to AIRCENT/AFCENT.
I also remember some guys that were a few miles away from us that were in the 1st RR Squadron. We got together a lot. They were AF also, as I recall ... not Army. I don't remember what their 'Home Base' was. They had their own barracks, and chow hall, and didn't live in hotels or houses as we did.

ADDITIONAL INFORMATION
(1) After I wrote to you, I rummaged through my military scrapbook and found out that what I told you about Site A-3, might have been, in reality, A-5. The pictures in my book are marked A-5. I've been wrong before! The site designation may be able to be identified by the distance from Fontainebleau. It was/is my recollection that the sites had a transmission capability of only 20 to 30 miles (line-of-sight). I don't have a map that I can study to verify distances, and I'm not that familiar with the Google Earth website to check it out as yet. That's next. When I was there, there were four links attached to our group (Detachment 2), 'A', 'B', 'C',and 'D' link. Major Rankin was our overall officer in Fontainebleau. He handled the on-base training, and link supply as I recall. Captain Smith was our 'B' link Officer.
In my scrapbook, there are snapshots of some of the sites. There are some orders that I ran across assigning me to PlaiIly (A-5). The orders do NOT mention the site designation, just the site location. I also ran across some documents that covered fuel supply and usage ... Those were very interesting too. They showed that I was the Site Chief of D-3 and B-5. Evidently the movement of D-3 from Poix-Terron to La Bascule turned out to be renamed to B-5. With the movement, came the addition of another set of dishes to transmit to two different links. All of this happened between April of 1956 to June of 1956. These old documents are VERY interesting. I also have 104 slides that I took while in France ... some of the sites, and some of the 'fun' we had.
The site designations have been bugging me for years, and have become more confusing as I grow older. Hopefully your site will help me 'set-the-record' straight in my own mind, if nothing else!

Site Radio Equipment:
Don't remember the name, but I can describe them from my dim memory, which will probably not help. They were standard 19" wide electronic equipment bays.

The layout was similar to the following:
Bottom bay was the power supply. The next 3 bays up were used to process teletype, facsimile, and voice communications. The top bay housed the transmitting 'Lighthouse Tubes' and associated circuitry. I do remember getting 'bit' on the finger when I got too close to one of those tube. I drew an arc that went through the tip of my finger. My finger smelled of burnt skin and hurt for two days!

Well, I've looked over, and studied Helmut's (Kämmerer; another contributor to this website) excellent and very concise maps, and graphics on your site and a few others that he has sent me. He tells of the 5th RRS as late as 1964-65! I've got to tell you that I am just as confused as ever, if not more so. First off, his work is about the outfit from the mid sixties ... I was only there until November of 1957. His information is VERY similar, and is in some cases exactly the same, but it still is different ... and here is my theory, or reason for the difference.
When I Joined the 5th RRS in Fontainebleau in February of 1955, the sites were already established. I think the 5th had both mobile AND stationary stations. Maybe it was too much to handle, or maybe they needed/wanted them to be separated or 'detached' ... SO ... it is my opinion, that in May of 1955, they separated/detached the mobile from the stationary. They called the mobile unit 'Detachment 2 , 1141st Special Activities Squadron' OR (SPACTRON) .... maybe because IT WAS a mobile network, and NOT stationary ... whatever! Anyway, that may be how we got our name, and why no one, so far, has any knowledge of the existence of Detachment 2, 1141st. SPACTRON. The 5th RR continued on with their stationary network up until the French threw us out of France. In addition, Helmut shows a multitude of stationary sites, and as far as I can recall, we had about 25 mobile sites in all. Approximate amount of sites as I recall, numbered in sequence:
'A' Link had about 5-1 thru 5
'B' Link had about 5-1 thru 5 I was Site Chief of B-5, and we transmitted to and from the 'B', 'C' AND 'D' mobile Links.
'C' Link had about 5-1 thru 5 or 6 , and went into Germany Trier, Aachen
'D' Link had about 5-1 thru 5
Honestly, I can't think of any other reason for the large disparity in information between Helmut's graphics and the information that I remember from that time period. Of course my memory isn't perfect, but the things I do remember do not jive with Helmut's information. I know all his stations were stationary, because they all had towers measuring 50 to 100 meters tall! His sites all had buildings on the site ... barracks, and mess halls, etc. etc.
| | | | |
| --- | --- | --- | --- |
| | | | |
| 1. A-3 crew (143 KB) | 2. D-5 (271 KB) | 3. Van and tower, A-3 or A-5 (85 KB) | |
| 4. Setting up B-5 (107 KB) | 5. Equipment van (94 KB) | 6. Renault site van and supply van (108 KB) | |
| 7. Everything is up and running (93 KB) | 8. Original tower configuration (113 KB) | 9. Equipment van (69 KB) | |
| 10. D-5 tower and van (201 KB) | 11. B-5 tower (152 KB) | | |
---
(Source: STARS & STRIPES, April 8, 1955)
1141st USAF Special Activities Sq

In April 1955, four Air Force squadrons based at Fontainebleau, France and providing support to HQ Allied Air Forces Central Europe AAFCE) were merged to form Det 2, 1141st SAS. The merger was part of an Air Force move to organize its NATO support units under a unified command.

The four units were:


2nd Comm Sq


6th Comm Sq


5th RRS


7470th Support Sq

Previously, these four units had been autonomous and had reported to different higher headquarters.

Det 2 came under the command of Maj Gen Dudley D. Hale, senior USAF representative at AAFCE.


---
Joint Communication Agency
(Source: Helmut Kämmerer)
(Source: STARS & STRIPES, April 19, 1963)
A new communications organization was created recently with the merger of the communications operations at HQ AIRCENT, HQ LANDCENT and the Office of the Naval Deputy Central Europe (NAVDEPCENT).

Commanded by Group Capt G. F. (Goplan?), RAF, the new NATO Central Region unit has been named the JOINT COMMUNICATIONS AGENCY (JCA). Consolidation of communications systems operating personnel, training and maintenance and supply depots has been completed and a 50 percent increase in operating efficiency is expected without an increase in manpower.

The unusual aspect of this organization is its composition of communications specialists of seven different nations: Belgium, Canada, France, Germany, the Netherlands, United Kingdom, and the United States as well as their affiliation with the three different service branches.

The main reason for the merger is to eliminate some of the problems faced by the Central Region communications staff in operating complex modern equipment supporting their respective headquarters at several locations under a variety of repetitive and overlapping requirements.

Also, it is a step towards satisfying requests from higher commands to cut manpower without hampering the overall operation of the communications networks. Now, each of the headquarters will deal with JCA when requesting communications services and JCA will have a pool of men and equipment with which to satisfy those requirements.

Preliminary planning and coordination of the complex project was mainly in the hands of Col Frederick L. (Moore?), US Air Force, AIRCENT's assistant chief of staff communications-electronics, and US Army Col J. E. (Kaisey?), chief signal officer and assistant chief of staff communications at LANDCENT.

The commander and deputy commander of JCA will be from different services and the command will alternate between the two. Overseeing all JCA operations will be a joint committee composed of representatives from each of the Central Region headquarters.

AIRCENT, LANDCENT and NAVDEPCENT are subordinate commands of NATO's Allied orces Central Europe (AFCENT) commanded by French Army General P. E. (Jacquat?)

---
Signal Support Group 4ATAF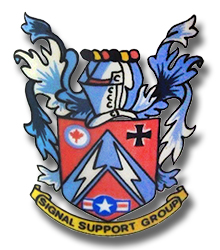 4ATAF Signal Support Group Emblem (found on coffee mug)
Can anyne provide details on this signal support organization?

---
The 1980s
NATO Integrated Communications System
(Source: Russian map adapted by Helmut Kämmerer)

Additional details will be provided as they become available.

NICS (NATO Integrated Communications System)

TARE ( NICS Telegraph Automatic Relay Equipment) - links NATO HQs with NATO capitals and strategic NATO commands.

ACE HIGH -

CIP 67 (Communications Improvement Program 67) -

STA REF #

FACILITY

STA TYPE
(1)

STA
TYPE
(2)


COMMENTS

1

AURICH

F

FEU

ACE HIGH

2

BROCKZETEL

T

T

.

3

VAREL

T

T

.

4

OLDENBURG

T

T

.

5

DÖTLINGEN

T

T

.

6

BARNSTORF

T

FB

.

7

LÜBBECKE

T

T

.

8

BIELEFELD

T

T

subject to GE MoD investigation

9

BECKUM

T

T

GAF site

10

NOTTULN

T

FBN

new site planned for NICS node

11

GROSS REKEN

T

FB

.

12

UEDEM

F

FBN

ACE HIGH; planned NICS node

13

SOEST-BÜECKE

T

T

.

14

NORDHELLE

T

T

subject to GE MoD investigation

15

DRABENDER HÖHE

T

F

.

16

HEHN

F

F

ACE HIGH

17

HERKENBOSCH

F

FEU

ACE HIGH

18

ZUITENDAAL

F

FEB

.

19

KLEINE BROGEL

F

FB

.

20

VESSEM

F

FEB

.

21

ERP

F

FEB

.

22

ARNHEM

F

FEB

planned NICS node

23

LANTIN

F

FEU

.

24

MAASTRICHT

F

FEU

ACE HIGH

25

BRUNSSUM

F

FEU

.

26

LAMMERSDORF

F

F

ACE HIGH

27

BATTICE

F

FB

.

28

BARAQUE DE FRAITURE

F

FEB

ACE HIGH

29

SPA MALCHAMP

F

FB

.

30

PRÜM

F

FEB

.

31

ERBESKOPF

F

FEBN

planned NICS node

32

POTZBERG

F

FB

.

33

KINDSBACH

F

FE

.

34

BANN

F

FEU

ACE HIGH

35

PIRMASENS

F

FB.

.

36

BAD BERZABERN

F

FB

.

37

LANGERKOPF

F

FBN

planned NICS node

38

LEISTADT

F

FB

.

39

MANNHEIM

T

F

.

40

NEUREUT

F

F

.

41

HORNISGRINDE

F

FNB

planned NICS node

42

SÖLLINGEN

T

TE

.

43

PLETTENBERG

F

FEU

use of site to be discussed with GE MoD

44

MESSSTETTEN

F

F

.

45

KALTENBRONN

F

FEB

.

46

FELDBERG

F

FEU

ACE HIGH

47

HIMMELBERG

T

T

.

48

IRRENDORF (sic)

T

T

.

49

SCHAMMACH

T

T

.

50

ULM

T

FBN

.

51

WIESENSTEIG

T

FB

.

52

BÖBLINGEN

T

FB

.

53

STOCKSBERG

T

T

.

54

OBERABTSTEINACH

T

FBN

.

55

GEIERSBERG

T

T

.

56

HEXENBERG

T

T

.

57

HOHENWEG

T

T

.

58

DIEZ

T

FBN

.

59

RETTERSEN

T

T

.

60

DANNENFELS

F

F

.

62

ELLERSPRING

F

F

.

63

KESTERNICH

F

FBN

.

64

MARKELO

T

F

.

65

VREDEN

T

FB

.

66

WETTRINGEN

T

FB

.

67

IBBENBÜREN

T

FB

.

68

VÖRDEN

T

FB

.

(1).

..

.

.

STN to LINDERHOFE, 103 miles (AN/GRC-66)

69

X

.

.

.

70

MÜNSTER (WESTF.)

.

.

WSE to FELDBERG, 66 miles (FM-120)

71

BAUMHOLDER

.

.

A
(1) Site numbers 69-71 were added later to the list; there is no location identified for STA REF # 69.
EXPLANATION OF STATION TYPE CODES:
| | | |
| --- | --- | --- |
| . | (X) | Permanently manned station |
| . | F | Fixed station |
| . | T | Transportable station |
| . | N | Future NICS node |
| . | B | Station in the Hardened Backbone |
| . | U | Existing facilities to be used as construction of new operations building is not feasible |
| . | E | Existing facilities can house CIP 67 equipment but no protection is available |
---
(Source: Email from Steve Weatherly)
Some recollections regarding record communications in GE and Europe in the late 70s and early 80s that may be of interest.

2 and 4 ATAF
I worked data communications while at the Defense Comm Agency in Washington DC. My primary involvement was AUTODIN and we worked closely with DCA-Eur and 5th Signal Command. I spent lots of time with the ASC at Pirmasens, 2 and 4 ATAF, and the CENTAG static war Hqtrs at Ruppertsweiler GE. Unfortunately most of this work was classified and specific details are omitted. This work was among the pioneering efforts to provide decision makers with immediate and direct access to common user record communications networks, such as AUTODIN, without reliance on a communications center.

In the late 70s, early 80s, NATO, DCA, DCA-EUR, 5th Signal, and the Navy Communications Command in Wash DC implemented new record comm (data message) distribution throughout NATO for Command and Control. This capability was not associated with, or in addition to the existing communications centers at these NATO facilities. Besides designing, acquiring and installing AUTODIN interface devices (AID), DCA trained and logistically supported the enhanced capabilities through Initial Operational Capability (IOC) plus 2 years. Special engineering and fabrication help was provided by Hq USAF, Rome Air Development Center (RADC), the 485 Engineering Installation Group (EIG), Griffiss AFB contracting, and sheet metal shops, and BG Jiggets (USAF) to interface the Siemens T300 high speed teletypes that were used at 2 and 4ATAF. We had fun (?) with the Siemens Tech Manuals since they were written in German. The AF actually shipped a T300 unit to Griffiss AFB for our use during this effort - unfortunately it was during the middle of winter and -30 degrees F or lower. We persevered. At other NATO facilities, the T300 was not used for this record comm enhancement.



AUTODIN interface device for 2 and 4 ATAF Siemens T300 TTY


There were security issues concerning AUTODIN destination station routing indicators (RIs) and this new record comm enhancement at allied facilities. There were also operational issues concerning the limited dissemination of RI changes, and restricting message addressees. Accordingly, the AUTODIN interface devices for the record commm enhancement included hardware encoded RIs that were not accessible to allied or US personnel. When RI changes were needed, they were made as hardware modifications that were installed on-site by DCA. This method worked very well, especially since there were very few RI changes that involved NATO facilities. This included 2 and 4 ATAF. Hardware encoded RIs also limited transmissions from the new record comm equipment to just very specific destination addressees, not just anywhere.

The completed record comm enhancement worked very well, but had problems associated with the US and allied staff at these NATO Hqtrs. The record comm enhancement was partially automated, used AUTODIN vice the NATO Teletype (TTY) net, and was faster than the teletype systems that site personnel were familiar with. At first we had unexplained outages during exercises, or unusual problems with the 400v power systems. These problems were resolved as operator familiarity improved. Key issues with allies and the crypto were also resolved as their familiarity with the record comm enhancement and its operation matured.

The testing of the record comm enhancements to Rupertsweiller GE (CENTAG) was unusual and is illustrative of the many site implementation issues identified and overcome. The identified circuit to AUTODIN at Pirmasens GE was not operational when testing was to begin. US Army technicians at Pirmasens identified an old WWII cable that was used as an alternative. The crypto keying materials were also unavailable, but a maintenace card from Pirmasens did the trick. Site personnel at Ruppertsweiler were surprised at our ingenuity using these alternatives.

The record comm enhancement was a secure system. However, there was a persistent issue concerning compromising eminations (security) that involved site configuration control of low and high level teletype transmission equipment (TDs). Some of this TTY gear had been previously modified at an earlier time and for other reasons to use lower current. If unmodified TTY gear was used, then there was a security problem and the NATO team from Mons BE could detect it. Close coordination between DCA and this NATO team was required to ensure all staff were aware of the security issue, its cause, and how to correct the problem.

TRCT
While at DCA, I also worked closely with the Air Force and the 485 EIG at Griffiss AFB on their program known as the Transportable Record Communication Terminal (TRCT). This program provided for enhanced and backup record communications at AF bases. Using an S280 shelter, the 485th installed a Teletype Model 40 terminal, crypto, and an AUTODIN interface device. Easily transportable, the TRCT helped to make USAFE base level communications more survivable and enduring. Many TRCTs were sent to Europe to serve on Air Bases, alternate sites, and at Tactical Operations Centers as operating units, or as spares in hardened storage. The 485th was justly proud of their effort that was done without contractors, using just their facilities and staff. The TRCT introduced word processing capabilities using the Teletype Model 40 computer terminal that were new to many base level communicators.

NICS TARE
One of my last implementation tasks at DCA involved interfacing AUTODIN with the NATO Integrated Comm System (NICS) Teletype Automatic Relay Equipment (TARE). Besides the acronym, the issues involved a new NATO communications protocol that was more like today's packet switching systems than the message switching used by AUTODIN. Using techniques we developed to speed AUTODIN over satellite links, we successfully developed and implemented the NICS TARE AUTODIN interface device. This automated what was initially expected to be a manual transfer operation between the record comm systems of the US and NATO. Imagine the delays that this would have caused! The NICS TARE AUTODIN interface device was compatable with the AUTODIN Switching Centers around the world, including those in Europe: Pirmasens GE, Croughton UK, and Coltano IT. The initial use of the NICS TARE AUTODIN interface device was between the NICS TARE switch at Debert, Nova Scotia, Canada, the Ft Detrick MD ASC, and CINCLANT at Norfolk VA.


---
| | | | |
| --- | --- | --- | --- |
| | | NATO: the first five years 1949-1954 - online in the NATO Archives. | |
| | | NATO ACE-HIGH Richtfunkstation AFEZ Feldberg - German reunion group for veterans who served at the ACE HIGH communications site on top of the Feldberg/Schwarzwald. Some great Feldberg photos! | |
| | | ACE HIGH - Andy Emmerson's page on the tropospheric scatter/microwave link system that SHAPE developed as an exclusive communications system comprising the minimum essential circuits of early warning and alert and implementation of the 'tripwire' retaliation strike plan. | |
| | | Das ACE High System - in German only; Gerrit Padberg has created a website that covers the ACE HIGH communications system in the AFNORTH, AFCENT as well as AFSOUTH regions of Europe. (Gerrit, together with Roger Camperi, provided us with the excellent manuscript on a related topic: Troposcatter Station Dosso dei Galli (BIG! (15 MB) -- requires ACROBAT Reader to view) | |
| | | Monte Del Giogo ACE HIGH Station - in Italian only; has some great photos and several articles on ACE HIGH with focus on northern Italy stations | |
| | | | |
| | | | |