If you do NOT see the Table of Contents frame to the left of this page, then
Click here to open 'USArmyGermany' frameset
107th Transportation Brigade
7th Army
Looking for more information from military/civilian personnel assigned to or associated with the U.S. Army in Germany from 1945 to 1989. If you have any stories or thoughts on the subject, please contact me

.
---
---
History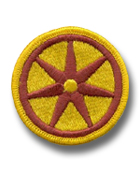 107th Transportation Bde Patch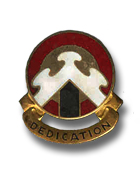 107th Transportation Bde DI
(Source: Email from James Allen, Hq Co, 7th Trans Gp)
A ceremony took place on the parade field at Flak Kaserne, Ludwigsburg, in June 1965 as part of the merger of HHC, 7th Trans Gp with HHD, 10th Trans Gp to form HHC, 107th Transportation Brigade (part of the
COSTAR II
reorganizations). (
Click here
to read James' email.)
---
(Source: STARS & STRIPES, May 20, 1966)
The 107th Transportation Brigade in Ludwigsburg is responsible for command and control, air transport, motor transport, terminal transfer and transportation movements management in the 7th Army area.

To perform its mission, the brigade has units positioned in a general line along the autobahn from Worms to Augsburg.
---
(Source: 7th Army Station List, 1 July 1966)
ORGANIZATION (1966):
If you have more information on the history or organization of the 107th Trans Gp/Bde, please contact me

.

---
Related Links: