If you do NOT see the Table of Contents frame to the left of this page, then
Click here to open 'USArmyGermany' frameset
10th Transportation Group
7th Army
Looking for more information from military/civilian personnel assigned to or associated with the U.S. Army in Germany from 1945 to 1989. If you have any stories or thoughts on the subject, please contact me

.
---
---
Group History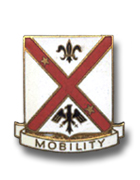 10th Transportation Gp DUI
1956
(Source: STARS & STRIPES, May 1, 1956)
10th Transportation Group is located at Ludwigsburg. CO is Col Clare Passink.

The 10th Trans Gp - "wheels of 7th Army" - provides staff planning and control of transportation units within 7th Army. 10th Group vehicles - varying from jeeps to huge 12-ton tractors hauling 45-ton trailers - are on the road day and night.
ORGANIZATION - 1956
| | | |
| --- | --- | --- |
| UNIT DESIGNATION | LOCATION | COMMENTS |
| HHC, 10th Trans Gp (Highway Trans) | Ludwigsburg [1] | |
| 4th Trans Bn [2] | Ludwigsburg [1] | |
| 29th Trans Bn | Boeblingen [1] | |
| 41st Trans Bn (Acft Maint) [3] | Sandhofen [1] | |
| | | |
[1] STATION LIST, 31 March 1956
[2] S&S article (I believe) mistakenly identifies the battalion as the 24th Trans Bn. I believe it should be the 4th Trans Bn. The 24th, also located at Ludwigsburg at the time, was part of the 37th Trans Comd. In March 1956, the 27th Trans Bn was actually the 10th Group unit located in Ludwigsburg; it would be replaced (GYROSCOPE) by the 4th Trans in April. Clear as mud, right?
[3] Articles does not mention which Army aircraft maintenance battalion is assigned to the 10th, but I assume it is the 41st. Article does state that the AAM battalion was assigned to the 10th on July 1 1955.
Each transportation battalion within the group has five truck companies.

Commitments are passed on directly by 7th Army and can include hauling of gasoline or any material or equipment that needs to be shipped by the 7th Army Quartermaster Section. The majority of supplies transported are gasoline and rations. If an order arrives to transport QM supplies from one depot to another, the 10th Trans Gp would assign it to the S3 section of one of the battalions which would then pass it on to one of its subordinate units.

If tanks need to be moved, the group uses one of its heavy lift transport companies.

SOME HISTORY
10th Trans Gp was activated in Munich (1952) as the 10th Transportation Highway Transport Group.

It later moved to Wilkin Barracks, Kornwestheim where it was redesignated as 10th Trans Gp (Highway Transport).

In the Spring of 1954, the 328th Helicopter Company, Nellingen, was attached to the 10th Group for a brief period.
---
1964
(Source: STARS & STRIPES, July 29, 1964)
10th Transportation Group, at Neureut Kaserne, Karlsruhe, is made up of five transportation truck battalions:
ORGANIZATION - 1964
| | | |
| --- | --- | --- |
| UNIT DESIGNATION | LOCATION | COMMENTS |
| HHD, 10th Trans Trk Gp | Neureut Ksn, Karlsruhe [1] | |
| 4th Trans Trk Bn | Flak Ksn, Ludwigsburg [1] | |
| 29th Trans Trk Bn | Panzer Ksn, Boeblingen [1] | |
| 38th Trans Trk Bn | Taukkunen Bks, Worms [1] | |
| 125th Trans Trk Bn | Neureut Ksn, Karlsruhe [1] | |
| 181st Trans Trk Bn | Turley Bks, Mannheim [1] | |
| | | |
[1] STATION LIST, 30 June 1964
---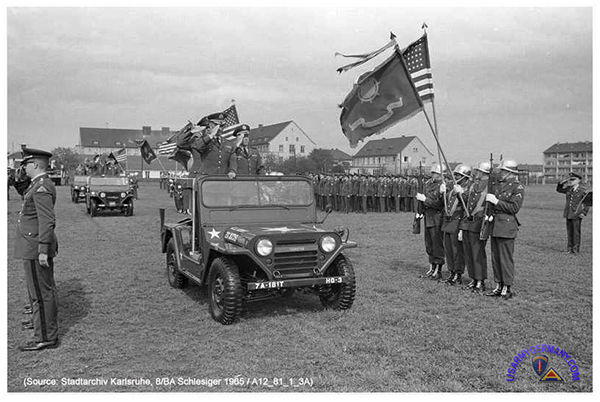 Inactivation ceremony for 10th Trans Gp was held at Gerszewski Barracks, May 1965

Gp headquarters was inactivated as part of the COSTAR II reorganization of 7th Army.
If you have more information on the history or organization of the 10th Trans Gp, please contact me

.

---
125th Trans Bn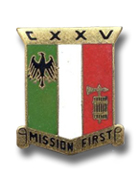 125th Trans Bn DUI
(Source: 125th Forward Support Bn History, 1st Armd Div, presentation, accessed Feb 21, 2012)
The 125th Trans Truck Battalion was activated on 28 January 1955 in Germany.

The battalion was reorganized and redesignated on 20 February 1959 as 125th Transportation Battalion (Truck).

The unit was inactivated 20 June 1959 in Germany.

Reactivated on 24 March 1962 in Germany.

And again inactivated on 25 June 1965 in Germany.
---
1955
(Source: STARS & STRIPES, Jan 24, 1955)
The 411th Trans Truck Bn is to be deactivated on Jan 28 at Gablingen. The unit is being returned to reserve status and its colors will be returned to Lubbock, Texas. The battalion had been activated in 1950 and deployed to Europe in 1951.

The battalion will be replaced by the 125th Trans Truck Bn, a Regular Army unit, which will be reactivated at Gablingen on the same day.
---
1957
(Source: STARS & STRIPES, June 15, 1957)
The first two transportation companies organized to support a pentomic division in Europe have been activated on June 1 and assigned to the 125th Trans Truck Bn.

The two units are:


396th Transportation Company in Augsburg


551st Transportation Company in Munich

Both companies were organized to provide transportation support to units of the 11th Abn Div which has been reorganized under the pentomic structure in Operation ROTAD.
---
(Source: STARS & STRIPES, Aug 8, 1957)
The 125th Trans Bn, 11th Abn Div, has the following subordinate companies:


396th Transportation Company in Augsburg


518th Transportation Company in Augsburg


533rd Transportation Company in Augsburg


551st Transportation Company in Munich


596th Transportation Company in Munich
---
1958
According to a STARS & STRIPES report on safe driving records (final quarter of 1957) within the 125th Trans Bn, the battalion consisted of six companies (which probably includes HHD) in late 1957. Among those units was the 533rd Trans Co.

Another subordinate unit of the 125th was identified in an Oct 1958 article as the 518th Trans Co. In October 1958, the 518th was attached to Support Force Watson, a provisional organization that processed returning troops of the 24th Abn Bde that had been deployed for three months to Lebanon.
---
1964
(Source: STARS & STRIPES, Sep 30, 1964)
Mud or Stream, Goers Show They Really Go

By Bob Hoyer, S&S Munich Bureau

LOOK at the monster go, a soldier said as he pointed toward a heavy thick-tired cargo rig.

Up hill and down hill, across water and through mud the rig rolled on.

The monster the soldier was referring to is the Goer, a new transport vehicle under test by the Army.

It was named to describe a vehicle family which uses large rubber tires to obtain low ground pressures and increase mobility over difficult terrain.

The Goer is an all-weather, all-terrain, amphibious, air-transportable vehicle.
This is the Goer as a 20-ton wrecker.

Since World War II the mobility of the foot soldier has been increased and communications between combat units have been improved, but ground mobility for supply and transportation services has not kept pace.

The Goer was ordered as a solution to this problem.

Companies producing the Goer have used the principles of design of high-speed earth-moving equipment.

Now the Army wants a full test of the Goer.
A 7th Army unit -- the 533rd Trans Co - has been designated as the test agency.

A test camp has been established on hilly terrain outside of Augsburg, Germany, with full support being rendered by the 24th Inf Div.

The series of Goer tests will be completed by Dec. 15 and a full report will be submitted to the Department of the Army by Dec. 20.

CAPT Paul F. Dinsmore, CO of the 533rd, said he had never seen a Goer before he was given the test assignment.

His job was to train drivers and maintenance men to keep the Goer on the go.

"You can teach a man the basics of driving a Goer in 50 seconds;" he said. "It's that simple."

"Touch wood, but we haven't had a serious accident yet," he said.

Goer manufacturers claim the vehicle is capable of climbing 10-degree slopes and has lateral articulation of 20 degrees (this latter quality enables the Goer to twist along over choppy terrain).

Dinsmore and his men have been testing Goers on bleak bumpy terrain, have se; aside a steep hill climb through a woods and have built a mud hole and a small lake.

The soldiers are testing two families of Goers -- an 8-ton rig and a 16-ton rig. Each family is composed of a tractor and three types of bodies -- a cargo carrier, a tanker and a wrecker.

Goers have been designed to travel for extended periods at speeds of up to 31 m.p.h.

The present vehicles are the third generation of Goers which date back to 1957.

If the Army decides to adopt the Goer as a standard transport vehicle, a new word will have been added to the military vocabulary.

---
Related Links: