If you do NOT see the Table of Contents frame to the left of this page, then
Click here to open 'USArmyGermany' frameset
102nd Signal Battalion
2nd Signal Brigade
Looking for more information from military/civilian personnel assigned to or associated with the U.S. Army in Germany from 1945 to 1989. If you have any stories or thoughts on the subject, please contact me

.
---
315th Sig Bn (Cons) (19..-1955)

102nd Sig Bn History (1955-1995)


228th Sig Co

232nd Sig Co

261st Sig Co

Site List (1959)
Site Pages
Angevillers, FR
Bambergerhof
Bocksberg
Breitsol
Donnersberg
Frankfurt
Hohenpeissenberg
Hohenstadt
Königstuhl
Melibokus
Schweitenkirchen
Soulieres
Stuttgart
Tilloy, FR



USAREUR Patch, 1955-1964 STRATCOM Patch, 1964 - 1982 2nd Sig Bde Patch , 1982-present

Christmas Menu 1957

USAREUR Multichannel Radio-Telephone Network


(1958)


(1963)

Silk Purse

Presentation to 102nd Sig Bn

(April 2008)


(very large MS PowerPoint file - 5 MB)

Radio Relay 101

Newspaper articles

Related Links



---
(Source: STARS & STRIPES, Dec 15 2006, submitted by Roger Stegall, DAC, 5th SIGCOM)
According to the S&S article, the Pentagon has announced that several small US military facilities in Germany will be closed and returned to the German government during fiscal year 2007. Among these facilities are a number of digital transmission sites that - at one time a long time ago - were operated by the 315th Signal Battalion and its successor, the 102nd Signal Battalion.

The sites targeted for closure: Melibokus, Königstuhl, Hohenstadt, Reinwarzhofen.

These and several other signal sites that will close were part of the Digital European Backbone tower-based system that is being replaced by a fiber optic network.
315th Signal Battalion History
| | | |
| --- | --- | --- |
| | First mention of the USAREUR Radio-Telephone Network | |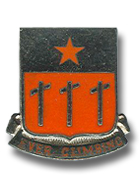 315th Signal Bn (Construction) DUI
1951 - 1953 (315th Sig Const Bn)
(Source: Email from Terrence FitzPatrick)
I was with the 315th Signal Construction Bn from shortly after it was activated at Fort Jackson, SC (1951) to when it was deactivated at Worms Germany (1953).

I took my basic training with the 315th (Company D) and when D Company was broken up I went to Company B as a squad leader. I served with B Company as squad leader, section chief and platoon sgt until I was transferred to Bn Headquarters to serve as S2/S3 sgt until the Bn was deactivated. Back then I was called "Sgt. Fitz".

I was then transferred to the 40th Signal Bn until I finished my enlistment (RA) and was sent back stateside for discharge in early 1954.

I don't recall the name of the Kaserne in Worms (Webmaster note: Foch Kaserne, later redesignated as Taukkunen Barracks). We were in an old German Army Kaserne along with the 12th Armored Infantry Bn (4th Armored Div) and the 67th AAA Gun Bn.

The 12th had their own mess hall and we messed with the 67th.

Our C Company was in Kaiserslautern and A Co, B Co, and HQ Co were in Worms.

I still keep in touch with a couple of the guys I served with that are still alive. I'll send them a copy of your map and see how their memories are.
---
1953 - 1955 (315th Sig Bn (MW & RR))
(Source: STARS & STRIPES, Nov 10, 1953)
The 315th Signal Construction Bn, formerly a 7th Army unit, has been reorganized and redesignated as the 315th Signal Bn (Micro-Wave & Radio Relay) and assigned to headquarters of the 4th Signal Group.

A brief ceremony marking the change-over was recently held at Smiley Barracks, Karlsruhe. The new CO, Lt Col Lloyd Colvin, and the former CO, Lt Col Halvor T. Daracaott, attended.
---
(Source: History, 315th Signal Battalion (Micro-Wave & Radio Relay), 1954)
The 315th Signal Battalion (Micro-Wave & Radio Relay) came into being 20 October 1953 for the purpose of merging several smaller radio relay units into a single battalion for the maintenance and operation of the largest single micro-wave & radio relay system in the Army. Prior to the creation of the unit, micro-wave radio facilities available for use to USAREUR had been operated by two radio relay companies, one separate radio relay platoon, and one radio relay detachment (1). These units were under the supervision of the 4th Signal Group.

On 13 October 1953 a letter was published by USAREUR ordering the transfer of the 315th Signal Construction Battalion less personnel and equipment from Worms, Germany to Karlsruhe, Germany and redesignated it the 315th Signal Battalion (Micro-Wave & Radio Relay). Personnel and equipment were made available by the inactivation of the two radio relay companies, the separate radio relay platoon, and the discontinuance of the radio relay detachment. With the complement of twenty-five officers, one warrant officer, and four hundred seventy-three enlisted men, the newly designated battalion undertook its assigned mission of administering to, operating, and maintaining the terminal and relay sites of the micro-wave & radio relay system which had become, in effect, the USAREUR MULTI-CHANNEL RADIO TELEHONE NETWORK.

YEAR IN REVIEW (Commander's Summary)
The increase in operational commitments throughout the year 1954 posed operational and administrative problems to challenge the ability and perseverance of all concerned.

The year began with the commitment of elements of the battalion to provide toll circuits for the Berlin Conference. Elements of the Battalion, under the operational control of 4th Signal Group, participated in four (4) maneuvers during the year. Seven (7) mobile terminals, two (2) mobile relays, and thirty-three (33) fixed stations of the battalion were utilized to proivde one hundred three (103) toll circuits via radio relay facilities, nineteen (19) telephone trunks, and two (2) telegraph systems during these maneuvers. The outage factor was slightly over 0.5% of total operational time.

The experience gained in maneuvers, and data gathered from a series of test shots, provided experience which was used in expanding and improving the radio telephone network.

The ever-increasing need for maintenance of the facilities resulted in the organization of (a) maintenance section at Karlsruhe, Germany.

The expansion of the system to include a micro-wave link from Germany to Maison Fort, France began in the spring of 1954 and by close of the year this link included five (5) terminals and six (6) relay stations. All towers were completed, and all antennas and coaxial cables were installed on towers. The permanent buildings were completed at seven (7) of the sites and contract awarded for the completion of the remaining four (4) sites. The estimated date of completion of building construction is 15 March 1955.

The equipment at six stations is still installed in temporary structures. Sixteen (16) systems are complete with eleven (11) of these on the air. The first system on the French link was committed to traffic during July 1954.

The year closed with the network having six hundred seventy-four (674) channels, six hundred fifty-two (652) voice and twenty-six (26) TT channels occupied and plans progressing for an additional three hundred nineteen (319) circuits. The plan allows for one hundred fifty-one (151) spare channels and sixty-three (63) reserve channels.

(1) Webmaster Note: per STATION LIST 15 Dec 1952, these were possibly the signal units that had operated USAREUR micro-wave radio facilities prior to the formation of the 315th Sig Bn (MW & RR) in 1953:


503rd Signal Company (Radio Operation), Karlsruhe


550th Signal Company (Radio Relay), Karlsruhe


22nd Signal Detachment (Radio), Kaefertal


506th Signal Platoon (Long Lines), Karlsruhe

COMMENTS
(Source: Email from George D. Moore, Jr.)
First of all let me thank your for your efforts in establishing and maintaining the USAREUR website.

I have a couple of comments regarding the 315th and 102nd Signal battalions pages.

Your webmaster note at the bottom of the YEAR IN REVIEW, 315th Sig. Bn. Commander's Summary for 1954 is missing the 7793 Micro-Wave and Radio Relay Platoon (Smiley Barracks, Karlsruhe) as one of the units that formed the 315th Sig. Bn. It was a self staining unit with the exception of a personnel function which was provided by the 550 Radio Company.

I was one of approximately five other enlisted men along with one officer who established the maintenance section at Smiley Barracks, Karlsruhe. The Maintenance/Signal Supply Section was under "A" Company.

I was stationed at Smiley during the years 1952-1955.
---
1951
(Source: Email from Andy Bart, 550th Sig Co, 1951-52)
Originally I was with the 552 AAA Gun Bn (90MM) in Knielingen, Germany just outside of Karlsruhe.

I was transferred to the

550th Signal Radio Relay Company

in 1951. This outfit was located in Karlsruhe.

The company was supposed to have radio/telephone links from Berlin to Paris and was part of EUCOM.



I was in charge of a relay station which consisted of myself and 6 men. Shortly after setting up the station I received a Letter of Instructions dated 12 January 1952 outlining my duties.

In a Letter of Instructions dated 14 February 1952 I received, outlining my duties had the heading of

7793 Signal Radio Relay Platoon

. Shortly after this my tour of duty was over and I was shipped back to the States.

My last name at the time was Barszczewski. I changed my name to Bart several years later after I was married and started a family.
---
(Source: Email from Allen Hall, 7793 Signal Radio Relay Pltn, early 1950s)
I was a member of the 7793 Sig Radio Relay Pltn in the early 1950s. Since it was over a half century ago, my memories are kind of dim although I do remember the name and address of a girl friend there at the time. <g>

As I recall, the mission was to establish a microwave radio relay series of stations between Headquarters EUCOM in Heidelberg and NATO Headquarters in Paris. I was there for probably something less than a year and never saw any radio equipment or had any training in the subject. We just seemed to do nothing except maintain ourselves and the facility. I think read someplace much later that the equipment we were trained on was already outdated. When we graduated from Ft. Monmouth the rates were frozen and we all ended up permanent PFC's except for some who flunked out of school and showed up as Sgt's at the separation center.

I recall Smiley Barracks, of course, and there was a Smiley member of our unit along with a Koski, McClanahan, Hurley, none others I remember right now. As you probably know, we had to be in uniform at all times and off the streets by midnight. I remember being in a bar around midnight when the proprieter suddenly herded us up onto the roof just before the MP's showed up. He must have had a lookout. After the MP's left we were called downstairs and continued our beer.

Due to a dalliance on leave in Place Pigalle in Paris I had my pass pulled for 90 days. I used to sneak out the same hole in the fence at Smiley in the motor pool that the German cab drivers said the German troops sneaked out of at Forstner Kaserne when they were there..and they went to the same women downtown . I guess soldiers are the same everywhere.

I can't recall the name of the 1st Lt. commandant when I was there. I remember the train station still had a big hole in the roof from the bombings.
---
1954
(Source: Email from Sam F. Baribeau, 315th Sig Bn, 1954-56)
I arrived in January 1954 and eventually assigned to the 315th Signal Battalion in Karlsruhe, Germany. After a number of months, I was assigned to Lt. Sidon's power and construction crew. We were soon relocated to Seckenheim (near Heidelberg) Germany.

Although I'm sure a number of the guys we worked with are no longer with us, I am including a batch of pictures with as many individuals I could find. I would be very pleased if you could put these on your web site and what a thrill to hear from any of my old friends.
| | | | |
| --- | --- | --- | --- |
| | | | |
| 1. The radio relay tower at Bocksberg, 1956 (KB) | 2. Installing dipoles (KB) | 3. Andy and Shaw, Smiley Bks, 1954 (KB) | |
| 4. Maj Felty, 1954 (KB) | 5. 1st Sgt Weller, 1954 (KB) | 6. Cpl Wolfe, 1954 (KB) | |
| 7. Lt Sidon, 1955 (KB) | 8. Vernou, France relay station (KB) | 9. AN/TRC-8 transmitters (KB) | |
| 10. 102nd Sig Bn trucks on the Champs-Elysses in Paris (KB) | 11. Pvt Baribeau, 1954 (KB) | 12. Pvt Ballerud, 1954 (KB) | |
| 13. Baribeau's crew in Seckenheim, 1956 (KB) | 14. Pvt Weidner, 1956 (KB) | 15. SFC Dumcke and Baribeau (KB) | |
| 16. Pvt Papay and "Eric" (KB) | | | |
---
(Email from Joe Stockert, 315th Sig Bn, 1954-55)
I was an ROTC 2nd Lt. in the 315th from Nov. 1954 to Oct. 1955. I spent most of that time at Kleber Kaserne in K-Town or at the station on the hill nearby. Capt. Gaither was the company commander and the only person I still remember by name.

We had both Siemens and GE pulse position modulation microwave equipment in most stations. Donnersberg was the main hub in the area with links to most of the Army bases in the region. One route went to Orleans, France with stations in Verdun, Fontainebleau and others.

I spent a 6 week TDY assignment in Soulieres near Epernay. There were no quarters there, only a temporary building full of microwave gear. The people assigned to this station lived in a hotel in Epernay. A permanent building was under construction but was not completed during my short stay. During my stay a visit was scheduled by Gen. Guest to some of these stations and I was directed to pick the General up at an old airstrip in the area (he was flying down from Heidelberg in a light plane) and take him to one of the stations (Les Essarts, I think) where the company commander had a sedan. We only had 3/4 ton trucks so I went to Verdun to pick up a jeep, which I parked at the hotel overnight. In the morning I drove to the airstrip and met the general, and he promptly noticed that the gas gauge was at empty, but I told him they were not reliable and that I had filled the tank the previous day. I dropped him off at the station and a half mile down the road I ran out of gas (Whew, a close call!). I had a 5-gallon can full so I was soon on my way. The folks in Epernay never bothered our trucks but apparently they decided a jeep was fair game.

I also recall that when vacuum tubes were replaced in our equipment, we discarded them even though the problem still existed. Of course the supply people were not happy so these tubes were returned to be tested. The men adopted a policy of discarding them in a wooden crate (breaking them) so a directive came down that they were not to be broken. One of the men at the station then built a small chassis with a number of tube sockets. Every tube in the station would fit one of these sockets. The chassis was wired to apply 115 volts to the filament, promptly burning it out. Probably drove the tube mfgr. crazy.

I returned to the US and was separated in Nov. 55 and spent the next 31 years at Bell Telephone Labs. But I still fondly remember my year wandering around Europe with the US Army.
---
(Email from "Walt" Gelnovatch, 102nd Signal Battalion at Hohenstadt radio site, 1957-59)
As most members of the 102nd Signal Bn are aware of, the 315th Signal Battalion was our predecessor in Europe and created the USAREUR Multichannel Radio Telephone Network. Conspicuously absent on this excellent website is any information pertaining to it's history or origin.

I recently, and completely randomly, connected with a veteran of the 315th and he graciously provided some great information. The specifics follow. The source of my information is a gentleman from Greenville, SC named Holmes Nelson who was a veteran of the 315th and sent me the following statement, taken verbatim.

My memory of the 315th is that it was a reserve unit located in Atlanta, Ga. It was activated in early 1951 and sent to Fort Jackson in Columbia, South Carolina. I was transferred to the 315th in June 1951, primarily because I had prior telephone experience, having worked for Southern Bell Telephone Company since 1947. We went to Primasens, Germany in November 1951. We spent six weeks there doing nothing. In January, 1952, we moved to Worms, Germany. Our purpose there was to build a line from Worms to Kaiserslautern. We constructed a two-arm wire line. We dug the holes, set the poles and hung the cross arms. It was built as a standard long distance line of that era, 104 copper wire except for power and railroad; for those we used #165 copper. We also used transpositions and phantoms to enhance the transmission.

From the above and other inputs that I'll mention later I've concluded the following history timeline for the 315th Signal Bn:

It was a signal construction battalion from the time of activation till at least the time of the departure of Holmes Wilson, which was probably about Jan 1953.. At that point it does not appear that they yet had the USAREUR Multichannel Radio Telephone mission.

From Lt. Col William Felty's unpublished book, he documents that he arrived in Germany approximately in Jan 1955 at which point the radio telephone system was already in place and the 315th had the multichannel mission. At this point the 315th was a TDA defined Battalion changing over during the above unknown period from a TO&E organization. (TO&E stands for table of organization and equipment. TO&E units in the Army are organized in accordance with a published DA document and a Signal Bn in Korea looks, smells and feels the same as one in Germany. TDA stands for Table of distribution and allowance and under this structural instrument a unit is customized for it's specific mission as was the 315th and the 102nd. For instance the Signal Corps Labs at Fort Monmouth were TDA defined organizations.)

William Felty was the last CO of the 315th and the first CO of the 102nd in March 1955. Therefore it can be concluded that the radio telephone network was created in the intervening timeframe specifically between JAN 1953 and JAN 1955.

It would be interesting to find out who did the construction and the electronics (probably Lorenz under contract). The CONOPS by the Signal Corps planners must have been developed even earlier. Typical operational procedure for the Signal Corps, and the Army in general is to have the Corps of Engineers build the facilities via industrial contracts. This was true during my tenure at the Signal Corps Labs but I'm not sure that this was the procedure outside the US.

In any case this is the extent of the information regarding the 315th Signal Bn. that is known currently and it would really be great if we could get some more data.
---
(Source: Email from Bob Voss, 315th Sig Bn, 1954-March 55; 102nd Sig Bn and 4th Sig Gp, March 1955-58)
A former member of the 315th alerted me to your web site which I found very interesting. I joined the 315th in April 1954 at Smiley Barracks as a Pvt (E2) fresh from Ft Gordon, Ga. Was (then) part of the 102nd for a short time, and left USAREUR in October 1958 as a MSgt (E7), Installation and Maintenance Section, 4th Signal Group for assignment at Microwave Branch, USA Signal School, Ft Monmouth, NJ. Left the Army on July 1961 for a 30-year stint with RCA/GE as a Program Manager for Army Automated Test Equipment (ATE) at Burlington, MA. prior to retirement in 1991.

Memory dims with time, but I seem to remember that, when activated, the 315th was based on several units designated as "...... Platoon, Microwave Radio Relay". Most of the sites were in operation at the time of my arrival in Germany, equipped with Lorenz VHF (Southern Germany-Berlin Link) Siemens and Halske 2400Mhz Microwave gear and the "French link" based on GE stuff originally designed for pipeline monitoring, running 24 channels of voice and/or teletype.

CO at that time was LTC Lloyd Colvin who later was the OIC for the USAREUR Radio Telephone System, until relieved by Col George F Moynihan Jr, after Col Rose left.

My major efforts during my time with 4th Sig Group were equipment installation, antenna work, and panic maintenance throughout the network, reporting to 1st Lt (later Major) Alexander P Sidon and later 1st Lt Max Hoyer both of whom I met again at Ft Monmouth (Hoyer) and Japan (Sidon, who was on R&R from Saigon in 1963).

As I said, memories dim with time, but I may be able to dig up some pictures of 315th activity in the field providing comm support for Hq 7th Army CPX, using mobile Microwave Terminals and repeaters using Siemens and Halske van-mounted equipment which we also "smuggled" into France and installed at the Thionville (Angevillers) site (at that time, the folks operating the site were billeted with a Signal Company stationed at the local French Army garrison).

I would love to know what happened to Maj Sidon and a SFC George Dumke since we all lost track in all these years. You may know that Lloyd and Iris Colvin became legends in Amateur Radio and the subject of a book published by American Radio Relay League (ARRL), title:"Yasme".
Bob Voss

ADDITIONAL INFORMATION
The web site segment contributed by Phil Konitshek (I & M Section) caught my eye. He joined our fearless band in Nov 1958, about one month after the end of my service as NCOIC and my return to CONUS.

Phil must have worked with most of the people assigned to the I&M Section at the time of my departure. The origin of the section goes back to 1954 (315th) when we started mobile activity in support of the 7th Army Command Post Exercises (CPX's), did actual validation of new, add-on links, and antenna/coax/equipment installations and modifications throughout the system. At some point our little team was transferred to the 4th Signal Group (Hq Det) and augmented with other MOS skills. I think this transfer to Group was from the 102nd, after the 315th was deactivated.

We were billeted at Patton Barracks, with work activity located at the Neuostheim Tape Relay facilities and the 7774 SCU Motor Pool. We had a stand-alone building which accomodated offce supplies, tools and shop space. Vehicles included V17 line trucks, V18 Diggers, 2½-, ¾- and ¼-ton trucks and VW "Caravans."

As Phil states, we installed antennas, pressurized-dehydrated copper coax (cables), RF equipment, carrier equipment, mainframes, and towers in France and Germany, ranging from the Cherbourg Cablehead to Angevillers in France, and just about everyplace connected to Koenigstuhl and Donnersberg in Germany. We stopped however, at Bocksberg in the Harz Mountains ( Berlin link) which was originally (with WWII VHF stuff) designed/activated by Col Loren Gaither whom I met years later via ham radio.

A lot of tower and wire antenna work was in support of ACAN transmit/receive locations operated by the 7774 SCU personnel.

It was the "assignment of a lifetime" to be part of the beginning, the growth in scope and proficiency, as well as personal preparation for my subseqenut career with RCA. Most of all the feeling of accomplishment and the association with the people who made it happen. Al Sidon, Max Hoyer, George Dumke, Willy Camp, Bill Papay, Charles Holcomb and so many others – God speed to all of you wherever you are.
Bod Voss
| | | | |
| --- | --- | --- | --- |
| | | | |
| 1. The "Motley Crew" (KB) | 2. Fixed Alternate CP for 7th Army (KB) | | |
| 3. 315th Sig Bn barracks at Karlsruhe, Aug 1954 (KB) | 4. Typical LOS MW tower used by the 315th (KB) | 5. Test shot, Aug 1954 (KB) | |
| 6. Mobile terminal during maneuvers (KB) | 7. Communications van (KB) | 8. Antenna crew (KB) | |
| 9. Mobile installation of Siemens and Halske equipment (KB) | 10. Siemens and Halske MW equipment (KB) | 11. Ops Bldg, Angevillers (KB) | |
---
(Source: Email from Phil Seltzer, 315th Sig Bn, 1954-55)
I was an enlisted man in the 315th from Aug 1954 till May 1955. I was in Karlsruhe briefly, then went to the Koenigstuhl Microwave station in Heidelberg and shipped out to Donnersberg. This was a station situated in the mountains above Kirchheimbolanden.

I was a Lorenz repairman. We also had Siemens and General Electric Equipment. We served as one of the link stations - 30 miles apart that supported the telephone system. I left in May 1955 and the 315th still existed at that time.

Donnersberg had about 12 personnel living under separate rations. One was Air Force Sgt but I cannot remember his function. We hired two cooks from the village below. There was no officer residing at the station. We had three microwave repairman for each Lorenz, Siemens and GE equipment. I was responsible for the Lorenz equipment.

We would be on duty for three full days and then have considerable time off. I cannot remember the technical aspects of the equipment other than the physical appearance of the equipment. We seldom had a break in communications and the repair activities were not difficult.
---
(Source: Email from Irving (Nick) Nicoll, Det 1, Co A, 315th Sig Bn, 1954-57)
During the years 1954 to 1957, I was assigned to Det 1, Co A, of the 315th Sig Bn, commanded by Capt L. J. Richards and stationed in Frankfurt, Germany. The 315th later was formed as the 102nd Sig Bn and was part of the 4th Sig Grp under Brig Gen Guest. Headquarters was in Heidelberg.

During my tour, I served as Company Signal Supply Sgt and, in this capacity, made many trips to the microwave radio relay stations served by what was now Co A, 102nd Sig Bn, commanded by a new officer, Capt B. S. Rosen. From Co Hqs in Frankfurt, I traveled to our most distant stations of Bocksberg and Hohes Lohr and had many interesting adventures driving during the winter to those mountain top locations.

Bocksberg was on the East-West line and produced some chilling moments when the Russians and East Germans decided to hold some maneuvers. We had other relay stations in our command, some of which I remember in Würzburg, Wiesbaden, Breitsol, and a few others whose names escape me right now.

The 315th, when I arrived in June of 1954, had its Battalion Headquarters Karlsruhe and the first assignment given to all new personnel, at least those with a Microwave Radio Repair MOS, was to attend a 6 to 8 week school to learn the Lorenz and Siemens microwave equipment. We had some GE, but most of the equipment was of German origin and took a little getting used to.

Germany at that time, was broken down, not only into American, Russian, French, and British Zones, but was also broken down into Area Commands and Karlsruhe was the Command Headquarters of the Western Area Command (WAC).

The 315th was made up of several Companies and additional attachments within each Company. After schooling, I was assigned to Detachment 1, Company A, located in Frankfurt. Company Headquarters remained in Karlsruhe. The 315th, which was formally designated, the 315th Signal Construction Battalion, not only maintained communications for most of the American and Allied forces from the "Cable head" at Cherbourg, France, throughout West Germany into West Berlin, but also handled much of the communications utilized by the State Department as part of HICOG, High Commission of Germany. Our responsibility for these communications was limited to servicing the equipment and problems encountered between the German - French border and the HICOG Command Center in Bonn.

During this time, as I previously mentioned, the 315th was part of the 4th Signal Group, under the command of Brig Gen Guest, and headquartered in Heidelberg. On my arrival at Frankfurt, even though I had gone through almost 7 months on schooling at Ft Monmouth, and an additional 8 weeks in Karlsruhe, the Detachment Commander, Capt L. J. Richards, decided that, as I could type, I should stay in Detachment Headquarters as a temporary Company Clerk. I was scheduled to go as a microwave radio repair specialist, which would have been on a per diem basis, to our radio station in Bocksberg. By the way, this temporary assignment became a permanent one and ultimately lead to a Signal Supply Specialist and, ultimately, a Signal Supply Sergeant.

In mid 1955, I think, the 315th was disbanded and became part of the 102nd Signal Battalion, still headquartered in Karlsruhe, and the Detachment designations were eliminated. Detachment 1, for example, became Company A, 102nd Sig Bn. Frankfurt was the Headquarters of what was then, the Northern Area Command (NAC), Heidelberg was Headquarters of, strangely enough, Headquarters Area Command (HAC).

The 102nd was spread out during these years and had many of its support elements, Supply, Motor Pool, etc. located in Mannheim. If I am not mistaken, Battalion Headquarters was also later moved, on a temporary basis, to Mannheim. Shortly after the redesignation of the 315th as part of the 102nd, Company A had a new Commanding officer, Capt B. S. Rosen. Just as an aside, the US Navy was in charge of patrolling the Rhine River and we would often travel to Wiesbaden to purchase items from the Ship's Store as these items were cheaper than in our own PX's. We were charged $1.00/carton for cigarettes, but could buy the same from the Navy for $.75. Trouble was, these were rationed, so we were limited in just how many cartons we could buy. Unfortunately, the Navy moved out early in 1955.

I hope I am not boring you with these early details, but I can later fill you in on many more interesting details involving trips made to Bocksberg and Hohes Lohr, which were our last radio relay stations before the East Zone. Although, I didn't get stationed in Bocksberg, I visited there many times on various Supply and personnel runs and managed to spend several evenings in the town of Bocksberg in the company of Russian GI's. In many respects, they were just like us, but we had to be careful at all times as to what we said and to whom we said it.

Some of the memorable stories involve the happenings to Company Overhead personnel, of which I was one, when an "Alert" was sounded. If you would like details on how each of these relay stations was staffed and operated, I would be glad to fill you in. This could include both Summer and Winter visits as there were great differences between the two seasons.

By the way, I visited Germany in 1980 when my son was stationed, as an MP, just outside of Frankfurt, and he managed to get me into the area still occupied by the 102nd. It brought back a ton of memories when I entered the Day Room and saw all the pictures on the wall of previous Company Commanders, and there, way down near the end, were the pictures of Capts, Richards and Rosen. Brought tears to my eyes.
Nick

---
102nd Signal Battalion History
(Source: US Army Center of Military History)
Lineage: 102nd Signal Battalion

Activated 18 March 1955 in Germany

Inactivated 13 November 1967 in Germany

Headquarters and Headquarters Detachment, 102d Signal Battalion, activated 1 July 1974 in Germany
---
1955 - 1995
(Source: 102nd Signal Battalion web site, www.102sigbn.army.mil - now a dead link)
102nd Signal Battalion DI

Description: A Silver metal and enamel device 1 5/32 inches (2.94 cm) in height overall consisting of a shield blazoned: Argent, two bars wavy Azure, overall a quill palewise Tenné fimbriated on the second of the first. Attached below the shield a Silver scroll inscribed "HONOR HERITAGE HISTORY" in Blue letters..

Symbolism: The colors white and orange are for the Signal Corps. The microwave functions are symbolized by the two slightly wavy bars, which also represent the Tiber and Po Rivers, thus alluding to the Rome-Arno and Po Valley Campaigns. The pen is a play on the Celtic word "pen" for the mountain top, from which the name Appenine is believed to have been derived. It also symbolizes communications.
Constituted on 11 December 1944 in the Army of the United States as the 102nd Signal Heavy Construction Battalion, with initial activation, and the redesignation on 1 March 1945 as the 102nd Signal Light Construction Battalion with duty in Italy.

The Battalion participated in combat in World War II, with combat credits for the North Appenine and Po Valley Campaigns. The Battalion returned to the United States and was deactivated on 2 October 1945 at Camp Miles Standish, Mass.

On 1 February 1955, while still inactive, the Battalion was redesignated as the 102nd Microwave and Radio Relay Battalion and transferred from the Army of the United States to the Regular Army. Shortly thereafter, on 18 March 1955, the unit was activated at Smiley Barracks, Karlsruhe, as the 102nd Microwave and Radio Relay Battalion. The Battalion was assigned the mission of installation, maintenance and operation of the USAREUR Multi-Channel Radio Telephone Network, until deactivation in November 1967.

The Battalion was reactivated on 1 July 1974 in Frankfurt, Germany, as the 102nd Signal Battalion, with the mission of providing Telephone, Microwave, and Non-Tactical Telecommunications for eight major commands and their subordinate elements, encompassing an area of over eight thousand square miles.

In 1995, as a result of a major drawdown of US Forces in Europe, the 102nd Signal Battalion moved from the Abrams Complex in Frankfurt to Rose Barracks in Bad Kreuznach. Its mission is to provide installation signal support yo include automation, telecommunications, printing and publications and records management to the warfighters and organizations of the communities within the 53rd and 104th Area Support Groups. The Battalion's area of responsibility covers over 30,000 square kilometers and the German states of Rheinland Pfalz and Hessen.

For more information on the 102nd Signal Battalion see the History of the 5th Signal Command, 1958 - 1977 and the Annual Historical Report, 1 July 1956-30 June 1957, 4th Signal Group, APO 403.
If you have more information on the history or organization of the 102nd Signal Battalion, please contact me

.
---
1956
(Source: Email from Don Elmore)
I have written about my career in Germany during which I had four tours in Germany. I was in the 102nd Signal Battalion twice.

Click here to read Don's military memoirs (PDF format).
---
1961
(Source: Email from Tom Johnson)
Co. D, 102nd Sig Bn (1961-1962).

I was posted to Co. D out of the Microwave School at Ft. Monmouth NJ in early 1961.

Upon arrival I was assigned to the station at Supreme Headquarters Allied Powers Europe (SHAPE), Paris France. There was some BS ribbing about 'SHAPE' meant a really spit-and-polish unit (not quite accurate). SHAPE (now located in Belgium) had been Eisenhower's headquarters after WWII.

Our station was both a terminal as well as a repeater between LCY (the Company Headquarters and station) and COL (Camp Deloges the system terminus) and also a Paris suburb.

As a part of US Army Europe our 6-man contingent was not under the command of the SHAPE Support Group (an international unit of British. French, German, and miscellanious other nations soldiers).

We were billeted at Camp Voluceau in Rocquencourt, a village about a mile down the road. General Eisenhower mentions in his memiors being housed in Rocquencourt as well, while in command at SHAPE.

My memories have faded over the 50+ years so I can't credit any of the guys I served with, but we were a fortunate group as this was certainly a terrific duty post. We had Class A passes with bus service to downtown Paris every hour (last bus back at midnight). We put in 12-hour shifts with a 2-on/2-off, 2-on/3-off rotation. For a 20 to 21 year old kid who could ask for more.

I was promoted to SP-5 by the end of my tour (and offered SP-6 to re-up).
| | | | |
| --- | --- | --- | --- |
| 1. 10th anniversary | 2. Communications equipment | 3. Football game | |
---
1968
(Source: Email from Larry Lang)
I was with the 102nd until it became the 68th, I believe, in Aug of 1968. I was first assigned to the Co headquarters in Munich, after about two weeks there I was sent to the station at McGraw (Munich Microwave). Life was good at the station. The shifts did get boring but all in all it was good duty. After about a year at this station, I was sent up to Stuttgart (Nelligen Barracks) for the start up of a direct support maint facility. Stuttgart was not as nice as Munich, but we made the best of it anyway.

I have a few pictures stuffed in some old shoe boxes in the attic and lots of good memories.
---
(Source: Email from Michael Johnson,

Co B

, 102nd Sig Bn, 1968)
It's really great that there are folks like yourself that keep people like me from just kind of slipping through the cracks. I was stationed at Neureut Kaserne for a year and a half starting early in 1968. I came to Neureut as a Personnel Specialist (E-4) and began training as company clerk for
Company B
. I loved my duty and the location. All the officers, NCO's and enlisted I supported were all great to work with and I had many friends.

My First Sgt was Sgt Bullock and Captain Cashour was commanding when I first got there. Later, I had First Sgt Flake and, well, the captain I can't remember. There was also 1st Lt Addington.

After about 6 months there I was promoted and became the company clerk and the old clerk transferred. I believe he volunteered for Vietnam. It was great being company clerk because I didn't have and extra duties so after work and on weekends I traveled everywhere I could afford to go; different places in Germany, Switzerland, France, etc... I really loved it there.

My plans were to actually end my service there and work at the PX. However, my dad and my sister died and that changed all my plans.

I can't remember what the battalion commander's name was.... I wish I could remember. Also, all my pictures of the barracks and stuff were all lost. When I came home on emergency leave the army wouldn't let me go back cause I was getting short. I had left all my stuff there at the 102nd expecting to return. However, I didn't get to go back and when I asked for my stuff.... well, it kind of disappeared. My bicycle, personal rifle (I was a member of the gun club), cloths, pictures, things I had collected.... everything... well, someone got lots of nice stuff.

My duties at the 102nd were great. First I had the Morning Report. That was like a record of everything that happened with the company for the last 24 hours. Next, was the mail, mis typing, filing, answering the phones, sometimes shortwave radio, switchboard, etc. We only went out in the field a few times with tents, etc. Mostly that was a team effort with the Brits and local German Army folks. Our job was communications, so I supported my guys in the field who setup the communications anyway they needed as far a paperwork goes. Sorry, I don't have very good details but I'm happy to talk about this anytime.

I sure wish there was a reunion or something. My friends in the 102nd all went to Vietnam when I as on emergency leave... I don't know if they are still alive or not...

Our buildings were right across the street from Battalion HQ. As you come in the front gate, directly in front on the right I believe was a cafe, small restaurant. Then, going left I think was the theater, some other buildings, then, on down on the right was HQ. On the left of that were our buildings. I think we occupied the 3 buildings just there. On down and to the left were tanks. The T ank Battalion came and went... on and off, they were not permanent there as I remember.

I have no knowledge of how the organization came about. T here were many detachments. I don't remember much about them except that we were always kept busy. I wish now I had kept better technical knowledge of everything... you just don't think about it at the time. I'd like to go back and do it again right now... )
---
(Source: Email from John Stice, HHC, 102nd Sig Bn, 1970)
I was stationed at
HHC, 102nd Sig Bn
at Neureut Kaserne, Karlsruhe, Germany from January 1970 through June 1970. The unit operated a battalion motor pool, TROPO equipment repair facility and set up Tropo equipment near Landstuhl during field problems. The unit deactivated in June, 1970.

I was restationed to
USATTC
(Transportable Communications Command), 102nd Signal Battalion also at Neureut Kaserne.

One of your writers addressed a relay site at Neuostheim. If this unit was next to a grass airport, then it became
COMMEL
(Communications and Electronics)
Support Company
which serviced all of Europe with third echelon eleactronics repair and an AK (4613) for electronics equipment. The only other unit like it was in Viet Nam. Our mess hall was at Patton Barracks, just up the street from the company.

This unit moved to Sullivan Barracks on the north end of Mannheim and became
AMSF
(Area Maintenance and Supply Facility). This unit is probably still in operation with the same name)


ADDITIONAL INFORMATION

AMSF formed around Easter, 1971 at Sullivan Barracks, Mannheim North. It retained the third echelon electronics repair shop and the AK (supply for electronics equipment and parts) of COMMEL Support Company and still supported all of Europe. I worked in the unit supply room as supply specialist and armorer.

I reviewed the status of AMSF a few years ago on the Internet and it appears that the unit is still in existence. I wasn't in Karlsruhe very long, and I worked in the unit supply room in the two companies I was assigned to, so my knowledge of the units is limited. We're also looking back 37 years!
---
1980
(Source: USAREUR Telephone Directory (Troop Units), Spring 1980)
ORGANIZATION (1980):
| | | |
| --- | --- | --- |
| UNIT DESIGNATION | DUTY STATION | COMMENTS |
| HHD, 102nd Sig Bn | Abrams Complex, Frankfurt | |
| 228th Sig Co | Kennedy Ksn, Frankfurt | |
| 232nd Sig Co | Taukkunen Bks, Worms | |
| 261st Sig Co | Hutier Ksn, Hanau | |
---
(Source: Article written by Charlie and Roger Stegall that appeared in the Winter 2007 issue of 5th SIGCOM's ECHO magazine)

---
Silk Purse
(Sources: Photos from Donald R. Elmore; "Silk Purse" information from Nuclear Command and Control in NATO, by Shaun R. Gregory, 1996; and United States Military Forces and Installations in Europe, by Simon Duke, 1989)
The Air Force established the Silk Purse Control Group (SPCG) in 1962 at Chateauroux Air Base in France. SILK PURSE was the code name for the airborne command post aircraft that were stationed at the air base. The SPCG was activated to form and operate the EUCOM Airborne Comand Post facility at Chateauroux. Similar to its counterparts in other theaters, SILK PURSE gave USEUCOM a survivable headquarters for the CINCEUR and the capability to direct US nuclear forces in Europe from the air even during a nuclear conflict.

The 7120th Airborne Command & Control Squadron operated the four specially-modified C-118A's allocated for this mission.

As a result of Operation FRELOC, the 7120th and its aircraft moved to RAF Mildenhall in November 1965. On 1 July 1966, the squadron came under the command of the 513th Troop Carrier Wing, also located at Mildenhall.

Soon after arriving in England, the 7120th was re-equipped with four EC-135H's.

In January 1970, as part of a reorganization of command post assets and units, the 7120th was redesignated as the 10th Airborne Command & Control Squadron.

SILK PURSE carried a host of communications systems which included downlinks to European Ground Entry Points enabling the aircraft to access US theater communications systems.
C CO, 102nd SIG BN - KOENIGSTUHL
The "Silk Purse" van was assigned to Koenigstuhl under the command of Co C, 102nd Sig Bn. It was inside the compound. It was not ever moved and remained in place. This was the only (Silk Purse) van assigned to the US Army in Europe. So, it was unique to Co C and Koenigstuhl.

On 1 July 1966 all Silk Purse personnel were transferred to Co C, 102nd Signal Battalion and 1Lt Potts became the OIC of Silk Purse and the Königstuhl Site.

As you stood on the steps of the Billets, looking to the right of the Operations building, it was a little right and past the Operations building.

Annual Historical Summary, HQ USAREUR & Seventh Army, 1 Jan to 31 Dec 1966
(Chapter 11 - COMMUNICATIONS)

FRELOC and HEADCON Communications (Changes affected by the FRELOC move of SHAPE and USEUCOM)
a. In Belgium.
The separation of SHAPE and USEUCOM headquarters (Webmaster note: SHAPE moved to Belgium, USEUCOM moved to Vaihingen, Germany) made it necessary to provide USCINCEUR with communications support in Belgium. The provision of emergency communications at Casteau involved the procurement and installation of cryptologic and teletype equipment, ground stations for USCINCEUR' s airborne command post (Silk Purse) and his command and control radio net, broadband system access to the Defense Communications System (DCS), and leased circuits. USEUCOM estimated the total cost of the Phase I communications facility at Casteau -- scheduled to be operational by 15 March 1967 -- at $731,000, of which $531,000 would be one-time expenditures.

USCINCEUR tasked CINCUSAREUR to install the KG-13/HY-2 terminal and the KY-3 narrow-band terminal extensions at the new SHAPE location.

b. At Stuttgart.
(1) Overall Requirements. The communications facilities planned for USEUCOM headquarters at Stuttgart included the relocation or installation of an automatic-dial telephone exchange -- with related equipment and services -- expanded from a 1,000- to a 1,200-line capacity; a permanently installed communications center; two AUTOVON access lines bypassing France; the Emergency Action Transmission System (EMATS) -- cryptologic gear; voice and secure voice equipment; a ground station for USCINCEUR's command and control radio net and Silk Purse; temporary European Tropospheric-scatter System, Army (ET-A) circuitry; a 120-channel microwave system with interfaces to the broadband system; and the addition of two new consoles. These facilities were to be operational by 1 March 1967.
| | | | |
| --- | --- | --- | --- |
| | | | |
| 1. Aerial view of Silk Purse van (KB) | 2. Close up (KB) | 3. (KB) | |
| 4. (KB) | 5. (KB) | 6. (KB) | |

---
Project 102

MISSION OF PROJECT 102:
To increase interest among the many former members of the 102d Signal Battalion, friends of members of the group, and members of Military Groups that either worked with the 102d or were attached to the 102d
Walt Gelnovatch and Don Roupe are asking for support to pursue making the 102nd Signal Battalion group (The One-Oh-Deuce (102nd Sig Bn) Group) bigger and better than ever, and something former personnel would be proud to join following the completion of Project 102.

But first, they need active intervention from the present group. They need to gather basic information (names and other individual related information) from the recipients of this request. Please keep in mind that all participation is voluntary.

They ask that you search all of your military memorabilia, orders (Orders are a good source of names), papers, pictures, present contacts, previous contacts, etc. and hopefully get that information to Walt or Don.

Walt is prepared to generate an Excel Spreadsheet of this information so the SEARCH CAN BEGIN. Major information needed to start would be: NAME, ADDRESS, PHONE NUMBER(S), living or deceased etc. If they have that basic information, phone calls can produce the remainder of information requested. Of course, additional information from the provider will be accepted too. Walt will prepare a preliminary spreadsheet for the membership's approval if everybody agrees to go on with this initiative. Additionally, he can provide other archival functions if necessary as they are identified.

This information will eventually be posted to the Deuce website for your review and any possible action you want to take.

Both Walt and Don will continue to perform ad-hoc searches of former personnel, and it is hoped that you will do the same. But the BIG search will start when they have some data from the present members. Don will make as many phone calls as he can, hoping to get a hit and to ask that person if they want to contribute. Additionally he can prepare a form letter in case a potential contact cannot be reached by telephone.

Of course, they know ahead of time that there will be prospective members who 1) will want to participate, 2) will not want to participate, 3) get angry about answering the phone and 4) do not want to be members or contacted. They will respect the wishes of all.

And they also suspect there are many individuals who do not know how to get in touch with them, or maybe do not have a PC or are not PC literate. They surmise that some of these unidentified individuals would like to participate, if they only had a method and knew whom to contact.

Some websites that they have used in the past for searches are:
www.military.comwww.switchboard.com
http:///www.classmates.com
http://www.ancestry.com/search/db.aspx?dbid=3693
http://www.theultimates.com/white
http://www.zabasearch.com
http://ssdi.rootsweb.com

In conclusion, they hope you will be able to participate in any way you can and help raise the level of recognition of the 102nd Sig Bn group of former military personnel. Walt (vggelnovatch@optonline.net) and Don (cngtmandon@comcast.net) are really excited about this project and look forward to working with you.

---
228th Signal Company
1976
(Source: Email from Connie Litrenta)
I was assigned to the 228th Signal Company, 102nd Sig Bn from late 1976 until the beginning of 1979. I had a great time back then. I was young and fresh out of high school so it was a whole new experience.

The 228th ran (as far as I can remember) two fixed site telecommunications centers, one in frankfurt (Abrahms Building) and one in Oberursel (Camp King) which was maybe 10 klicks from Frankfurt. The Abrahms Building was not located on a kaserne. It was just in the downtown Frankfurt area. I'm really fuzzy on the exact location of the 228th orderly room (Webmaster note: Kennedy Kaserne) although it was located somewhere near the Abrahms building and was VERY small as I recall. I can't remember a whole lot more other than we were part of the 5th Signal Command based in Worms, Germany and wore the USACC patch (orange and white globe)

I found the below on a web site you may find interesting:
The 228th Signal Detachment provided Communications and Communications Security to the Headquarters 4th Transportation Brigade. It also provided communications support to an Air Force detachment located on Feldberg, Det 1945/12. (Feldberg was located approximately 5 miles from the post, on Feldberg Mountain; it was a radio relay, facility.) (DOD Records) "Feldberg" as it was known was located on Mt. Kolbenberg. There was a civilian Television Tower on a adjacent mountain. The higher mountain was called "Grosser Feldberg" because it was located on a Bigger/Grosser mountain and was higher in altitude.
---
1980
(Source: USAREUR Telephone Directory (Troop Units), Spring 1980)
A review of the above-mentioned directory shows the following facilities that were operated by the 228th Signal Company in 1980:




Frankfurt Communications Center (Abrams Building)



Oberursel Communications Center (Camp King)




Frankfurt DCS Communications Facility (M/W site on Abrams Complex)




Frankfurt Dial Central Office (DCO)



Butzbach DCO



Drake DCO (Drake Kaserne)



Eschborn DCO



Friedberg DCO



Gibbs DCO (Gibbs Kaserne)



Hoechst DCO



Kirchgoens DCO



Oberursel DCO



Roedelheim DCO



If you served with one of these detachments/activities or have any details about them, please contact the webmaster.
---
1987
(Source: Email from James Bowen)
I served as an wire-systems installer 36C10 (later changed to 31L10) in the Frankfurt area including: 97th General Hospital, Gibbs Kaserne, Drake / Edwards Kaserne, Atterbury Kaserne, and the Abrams Complex. The 228th Signal Company during this era was housed at Kennedy Kaserne off of Escherhiemer Landstrasse, just oblique of the Abrams Complex and a block away from the Frankfurt PX area.

Pulling guard duty at Kennedy Kaserne was a 24 hour rotating shift with a 24 hour off period when completed. It was uneventful and tedious.

Company runs would usually take place in Gruneburg Park (located behind the Abrams Complex). Sometimes the long runs would head for downtown Frankfurt.

Excellent public transportation and all four seasons could be exprerienced in one day in Frankfurt.

The 228 ignal Company had good leadership during this time (not to say it ever had bad leadership whether in the past or the future, but just reflecting the performance during my time of service with the unit.)

I wish I could remember all the names however, they sadly escape me. My C.O. was Capt. Laura MOE, an excellent officer who had my complete respect. (She probably is a General by now.) Another name that tickles my mind is a SSG. VAN I can't remember her full last name. SFC D. Copeland, SGT Ashby and a German Technician I chose as a mentor, Herr Zuefliesch.

I started working out of CLARK ETS (European Telephone System) at the 97th General Hospital and ended my tour there at the Frankfurt DCO (Dial Central Office) at that time I believe we had 1600 trunks and using a SIEMENS switch.

---
232nd Signal Company
1980
(Source: USAREUR Telephone Directory (Troop Units), Spring 1980)
A review of the above-mentioned directory shows the following facilities that were operated by the 232nd Signal Company in 1980:




Worms Communications Center



Darmstadt Communications Center



Mainz Communications Center



Sandhofen Communications Center




Worms DCS Radio Site



Darmstadt DCS Radio Site




Worms Dial Central Office (DCO)



Darmstadt DCO (Darmstadt Det, 232nd)



Darmstadt Airstrip DCO (Darmstadt Det, 232nd)



Babenhausen DCO (Darmstadt Det, 232nd)



Muenster DCO (Darmstadt Det, 232nd)



Oberramstadt DCO (Darmstadt Det, 232nd)



Mainz DCO (Mainz Det, 232nd)



Dexheim DCO (Mainz Det, 232nd)



Finthen DCO (Mainz Det, 232nd)



Coleman Telephone Exchange (Mannheim Det, 232nd)



Wiesbaden DCO (Wiesbaden Det, 232nd)



Mainz-Kastel DCO (Wiesbaden Det, 232nd)



If you served with one of these detachments/activities or have any details about them, please contact the webmaster.
---
1981
(Source: Email from Ken Rivers)
I enjoyed reading about the 5th Signal Command history you have put together, thank you.

So you know, I was station in the 5th Signal Command under the 232nd Signal Company, Worms, Germany in 1981 and was later transferred to Mainz & Wiesbaden, Germany where I serviced older stepper DCO equipment and manual switchboards. I also served locations in Finten and Dexheim, Germany.

My patch was the STRATCOM patch.
---
1982
(
Source: ABOUT TOWN, Aug 11 1982
)
Dial Central Office,

Bldg 4001, Cambrai-Fritsch Kaserne, Darmstadt.

---
261st Signal Company
Breitsol MW Station
Click here to see the Breitsol Radio Station Page
---
1980
(Source: USAREUR Telephone Directory (Troop Units), Spring 1980)
A review of the above-mentioned directory shows the following facilities that were operated by the 261st Signal Company in 1980:




Hanau Communications Center



Aschaffenburg Communications Center



Fulda Communications Center



Kitzingen Communications Center



Schweinfurt Communications Center



Wildflecken Communications Center



Wuerzburg Communications Center




Breitsol DCS Radio Site



Wuerzburg DCS Radio Site




Hanau Dial Central Office (DCO)



Aschaffenburg DCO



Bad Hersfeld DCO



Bad Kissingen DCO



Fliegerhorst DCO (Fliegerhorst Kaserne)



Fulda DCO



Gelnhausen DCO



Kitzingen DCO (Harvey Bks)



Schweinfurt DCO



Wertheim DCO



Wuerzburg-Leighton DCO (Leighton Bks)



Wuerzburg-Emery DCO (Emery Bks)



Wuerzburg-Hospital DCO (Army Hospital)



Wuerzburg-River DCO (River Bldg)



If you served with one of these detachments/activities or have any details about them, please contact the webmaster.
---
1983
(Source: Mike McAlister, 261st Sig Co - Wuerzburg MW Station, 1983-84; Breitsol Radio Station, 1984-86)
Enjoyed your site - I was stationed at the Microwave site in Wuerzburg from '83 - '84 and then moved to Breitsol from 1984 - 1986. I was there when the newspaper article came out about the site. The older pictures are really interesting - I wished I had taken photos but it was kind of a big deal to do that then. It was quite a remarkable place with helicopters of VIPs coming in on a regular basis for a sightseeing lunch etc. I can put something together to describe what it was like to be there if you are still updating the site. About the time I rotated out in 1986, the sites were going civilian contractor with talk about making them remotely controlled because of the introduction of digital multiplexers and radios. I don't suppose Breitsol was manned long after that; I can see on the sat photos that the distant end at wuerzburg appears to be an unmanned site now.
Wuerzburg Detachment (Leighton Barracks)
My first duty station in Germany was Wuerzburg detachment, after the obligatory stay in Worms for processing. I arrived at Leighton barracks in September 1983. Leighton was the local 3rd Infantry HQ I believe, so it was nearly all 3rd Infantry posted there. Rocky, the bulldog was the mascot and they had a statue of him there on Leighton.

Our signal company HQ (261st Signal Company) was actually in Hanau just outside of Frankfurt and it was an open joke that our ammo and other support supplies were in Hanau around 1 hr away or so. The site was run by a site chief usually a SFC and a site 1SG. As a 26V (Strategic Microwave System Repairer) I was trained to work on the multiplexers and transceivers (radios) housed there.

Wuerzburg had a single microwave Line of Sight (LOS) shot from Breitsol that served a communication center next door. The "comm." center processed secure data traffic for the 3rd Infantry Division assigned to Leighton Barracks. The microwave side of the house provided the mux and radio support for the comm. center, local phone network and AFN for the surrounding community. The DCO (dial central office) was upstairs and they interfaced to the post phone networks.

We generally worked 12 hour shifts, 4 on 3 off, as it was a 24 hour operation. We would do some circuit testing and maintenance, but it was often very quiet. If a circuit was reported to go down we'd help troubleshoot it through our site and then pass the issue to the next distant end. If the site actually went down or a high priority circuit, we had about 10 mins to have it fixed and be it up and running or the powers that be might potentially start rerouting traffic.

Most of the site technicians like myself were SP4s. During this time, the points needed for promotion beyond SP4 were really high as they apparently didn't need folks to move to that specialty. It was typical that 26Vs would be PFCs before we left our tech school as the training was so long. I was in tech school at Fort Gordon for a year and a few months. Not bad for a 4 year hitch, the training was quite good. At that time 4 years was considered a long enlistment. 3 years was typical and they allowed 2 years for some MOS's.

The site building was quite old. I remember the walls in the room where our equipment was were largely held together by the many layers of paint applied over the years. In the spots where the paint flaked off, it seemed to be basically pressed sand. That wall of the building was actually against the burm from the antenna yard. When it rained a lot we'd get a little puddle coming under the wall and under our equipment – a little excitement for whoever was on duty.

We weren't a garden site like Breitsol, so we rarely got any VIP attention or inspections. If we did we'd have ample notice from the nearest site the team inspected along with their literary; after all we were a comm. site! Since we were surrounded by 3rd Infantry security wasn't an issue but we did have occasional terrorist threats in that era and it was typical to have the cars inspected going onto Leighton etc and close ID checks on occasion. We'd get quite a bit of helicopter traffic that we figured was related to Giebelstadt, where they were stationed nearby. Leighton wasn't that large a Kaserne but still had a fairly decent PX, cafeteria, bank etc.

Besides the 26Vs, we also had a German technician on site, Wolfgang, that was part of the German civilian corps or something like that. I think each site had someone like that assigned that was sort of a liaison. On occasional we would have to contact the German Phone system authorities and it was handy to have someone familiar with their system. Our distant end (Breitsol) also had someone with the same group. Wolfgang was a great friend to everyone at the site and very sharp technically as well.

In the same building in a small room between us and the comm.. center were the HF comm. guys that were tactical signal corps of some sort. They had a tiny room as their equipment was much smaller but I suspect were just happy not to be out in the field all the time. Most folks seem to rotate much more than we did – typically site personnel at the Leighton (Wuerzburg) Microwave site would stay for 2 or 3 years at the same site until they rotated back to the States or maybe Korea.

Just adjacent to the site was the Leighton bowling alley and pizza place. The pizza wasn't so great but we weren't very picky. Leighton was fairly small with limited services so most of us would go into Wuerzburg or adjacent towns for food and drink. Wuerzburg is really a great town and the people were generally nice if your German was good enough. It's a University town with lots of history as is common with many German towns. The Main River runs through the center of town and there is a majestic "schloss" on the hill overlooking the town.

I lived in an adjacent small town, Randersacker, that was very renowned for their wine grown in what is know as the Franken region. People came from all over the attend winefests there and it was a magnificent place to be. Occasionally, I'd see F-4s roar over the countryside behind my apartment which was really something to witness. Organized parties for special occasions on site were usually in the antenna yard, where our single tower with two parabolic dishes stood.

After about a year or so after my arrival, they had began building a new site building in the antenna yard section that was quite nice. The word was that the site was going civilian contractor and/or digital so it could be remotely monitored. At that time, there were quotas on how many GIs could be in Europe and the thinking was to have more infantry and armour vs. signal corps guys to keep the Russian's at bay. I got reassigned to our "distant end", Breitsol, a "remote" site about 40 miles or so north in Spessart, a nice, alpine region. We figured 26Vs might be phased out due to the site reassignments so our best guess at the time is they'd make us 26L (tactical microwave) or we'd go SatCom which I think was 26Y.

Breitsol Detachment (Breitsol Radio Station)
Breitsol was called a remote site since it was not attached to full kaserne like Leighton. It was a relay station in that none of the microwave shots were terminated there at Breitsol, the microwave signals were just passed to the next hop (distant end). Breitsol was located a little ways off the Frankfurt autobahn about half the distance between Wuerzburg and Frankfurt.

The site was made in the clearing of what was like a forest, wooded area. The area was somewhat popular with hikers that would sometimes come upon the site unexpectantly and look around in amazement. When I was there we had 3 towers, 2 of which had huge parabolics for our tropospheric scatter shot to Nurnburg. Tropo-scatter, unlike line of sight (LOS), bounces off the troposphere so the signal can travel much further. It was trickier for the radios which were old tube based systems to deal with the atmospheric effects of tropo-scatter. They required a lot of attention and adjustment, unlike some of the newer technology systems that rarely needed repair or adjustment.

We had systems on site that probably spanned 40 years or more in terms of technology. We also had some older tube based Siemens equipment that none of us had been trained on and the manuals were in German (as I remember) but fortunately they were fairly solid systems and didn't often need attention. Our other shots were Line of Sight to Wuerzburg and to Frankfurt and places in between.

Breitsol was a fairly important site as it was part of the Digital European Backbone (DEB) and therefore was considered a NATO site as well.

An armor support group out of Aschaffenburg provided our security support on occasion, but that was usually only if we had received a threat or alert of some sort. At these times, I'd pull into work and there would be a Bradley sitting in the small site parking lot. The Armour guys really liked the duty there, as we had a fairly good kitchen, the surroundings were beautiful and there was no field duty to speak of. Security was a common concern when I was at the site due to an uptick in the terrorist threats etc. The local Polizei would keep an eye on the site for us as well. One time when our new XO decided to surprise visit the site, we were a little late getting to the gate as we had to gear up with flak jackets etc and the Polizei were giving him a bit of a hard time and the UZIs frightened him a bit.

We had some other inconveniences as well. VIPs would regularly helicopter in for lunch or for a quick inspection since the site was in such a beautiful area and I suppose we were on the way to somewhere anyway. We all became tuned to the sound of the helicopters when quite far out to give us time to get everything straightened up, just in case.

Shortly after I arrived we had quite a bit of snowfall and the site chief issued me cross country skis. I replied that I didn't ski and he responded, "You do now!" Since there was so much snow on the ground, PT consisted of skiing through the areas around the site. I did learn to ski somewhat after much trial and error. Also due to the snow our issue vehicle was a 4WD Mercedes jeep, but we all drove our POVs into work every day. During the warmer times, volleyball was a common form of PT in the mornings. It was a little rough after a 12 hr. night shift to participate in a volleyball game but they were a bit of fun.

There were barracks on site for the single troops and married folks like myself lived in the "economy" as it was called.

Not long after I arrived on site I was warned about the wild boars. I guess on occasion, site personnel would be out jogging in the area around the site and a wild boar would bolt from the tree and run after them. Apparently this was most likely to occur if there were baby boars about. They told me if you see a baby boar, just start running as fast as you can. I never ran into one but was always on the lookout.

We had a German technician that took care of our diesel generators and battery bank behind the site. He had been at the site for quite some time but didn't speak too much English. There was another German Technician on site for awhile that was part of the German civilian corps but left soon after I arrived.

We would occasionally have the site rocked by A-10s that would come screaming by. We always felt they go too close to our towers and wondered if they might not clip one someday but it probably sounded like a closer call than it was.

Breitsol was truly a unique place to be at that time and certainly was my favorite duty station during my enlistment. As with many things I wish I had spent more time to enjoy and appreciate the surroundings!
---
1985
(Source: ECHO, Nov 1985)
Breitsol Radio Station was operated by the 261st Sig Co, 102nd Sig Bn, until Oct 1985 when it was transferred to the 535th Sig Co, 69th Sig Bn, as part of the IMA realignment.

---
Site List - 1959/60
(Source: from a Telephone List provided by Howard Safstrom who served as a Personnel Records Clerk in Battalion Hqtrs at Feudenheim from March 1959 to July 1960)
102nd Microwave and Radio Relay Battalion
Radio Relay and Terminal Sites in Germany

Status: 1959/60

(The ARS - Angevillers - radio site is in France. A map of the locations of 102nd Bn's other sites operated in France during this period will be provided in the near future.)
Station

APO

ABBR

Comments
Bn Hq - Feudenheim

166

FDM

Hq Det - Feudenheim

166

FDM

Company A - Frankfurt

757

FKT

Bocksberg

Breitsol

Darmstadt

Frankfurt

Hohes Lohr
Melibocus
Schwanberg
Wiesbaden
Wuerzburg

171

800

175

757

169

175

800

633

800

BBG

BTL

DST

FKT

HLR

MBS

SBG

WSN

WBG

Bocksberg Relay Station

Breitsol Relay Station

Darmstadt Terminal Station

Frankfurt Terminal Station

Hohes Lohr Relay Station
Melibocus Relay Station
Schwanberg Relay Station
Wiesbaden Terminal Station
Wuerzburg Terminal Station

Company B - Munich

407

MNH

Augsburg

Hohenpeissenberg
Hohenstadt
Munich
Nuernberg
Reinwarzhofen
Schweitenkirchen
Stuttgart
Vaihingen

178

172

111

407

696

696

407

154

46

ABG

HPG

HST

MNH

NBG

RHN

SKN

SGT

VHN

Augsburg Terminal Station

Hohenpeissenberg Relay Station

Hohenstadt Relay Station

Munich Terminal Station

Nuernberg Terminal Station
Reinwarzhofen Relay Station
Schweitenkirchen Relay Station
Stuttgart Terminal Station
Vaihingen Terminal Station

Company C - Kaiserslautern

227

KLN

Bambergerhof

Bad Kreuznach

Baumholder

Donnersberg

Kaiserslautern

Lohnsfeld

Pirmasens

Weiskirchen
Zweibruecken

180

252

34

227

227

227

189

34

872

BHF

BKH

BHR

DOG

KLN

LSD

PMS

WKN

ZBN

Bambergerhof Relay Station

Bad Kreuznach Terminal Station

Baumholder Terminal Station

Donnersberg Relay Station

Kaiserslautern Terminal Station
Lohnsfeld Relay Station
Pirmasens Terminal Station
Weiskirchen Relay Station
Zweibruecken Terminal Station

Company D - Vernou, Fr.

11

VNU

Angevillers, France

Bois de Beaumont, France

Clermont, France

EUCOM (Camp de Loges), Fr.

Fromont, France

Le Chenoy, France

Les Essart, France

Les Plessis, France

Maison Fort, France

Orleans, France

Saran, France

SHAPE (Paris)(Marl le Roi)

Soulieres, France

St. Lye , France

Tilloy, France

Verdun, France

216

58

122

128

11

11

11

11

58

58

58

55

11

58

122

122

ARS

BMT

CMT

CDL

FMT

LCY

LES

LPS

MFT

OLS

SRN

SHAPE

SLS

SLE

TLY

VEN

Angevillers Relay Station

Bois de Beaumont Relay Station

Clermont Relay Station

Station

Fromont Relay Station
Station
Les Essart Relay Station
Les Plessis Relay Station
Maison Fort Terminal Station

Orleans Terminal Station

Station
SHAPE Terminal Station
Station
Station
Tilloy Relay Station
Verdun Relay Station

Company E - Heidelberg

403

KSL

Karlsruhe

Koenigstuhl
Seckenheim
---
(Source: Email from Arnold Cohen, 102nd Sig Bn, 1959-61)
I was stationed at BMT, Bois de Beaumont (Company D) in France from 1959-1961. In 1995 I visited the old site and it is now a school. The tower and diesel generator are both gone. The cook that we hired for the guys at the station is now in her 80's and I still communicate with her. Capt Anhalt was the commanding officer when I arrived and Capt. Whitmire was in charge when I departed. Our station won several 'Site of the Month' awards while I was there.

Somewhere I have a complete map of all the sites of the 102nd. I did go to Mannheim, Germany when I was Company D Soldier of the Month. Won the Battalion competiton and was awarded a Zippo lighter with the battalion crest. The 4th Group was cancelled. Bois de Beaumont won 'Site of the Month' awards several times.

To be a bit more accurate the Company Commander of D Company at Vernou, France was Capt. Walter Anhalt. He was succeeded by Capt. Roy Whitmire and when I departed for CONUS it was Capt. Harry R. Boring. From what I was told, Capt. Boring had been a marine and received a battlefield commission. Major Francis C. Cloutier was the battalion commander.

When I first came to Bois de Beaumont the site had a 'mean' German Sheperd dog and on one occasion the dog bit Major Clotier and he ordered the dog be destroyed. Bois de Beaumont was located in the midst of the Foret d'Orleans and we had to haul in drinking water to fill a cistern.

I remember climbing the 164 ft. tower to take photos of the surrounding area and then panicked when I looked down. No one was around but I managed to slowly walk down by not looking down. I even wrote a short composition of my travels among the local town and meeting the people. It was a great experience being in the 102nd Signal Battalion and it definitely helped me mature as I was only 20 years old.
---
(Source: Email from Gil Kort, Co D, 102nd Sig Bn, 1960-61)
Thank you for all the information you have posted on the web. I was stationed in Vernou, (Le Chenoy, LCY) France from 1960 -1961) as part of Co. D, 102nd Signal Battalion. During that time I first served as assistant company clerk, and T. I.E. Leader, and later became the Maintenance Chief of LCY.

I attended training on Siemens Equipment in Feudenheim, Germany just outside of Mannheim. Along with Lt.. Pasquel I was in charge of the conversion from G. E. Radio Equipment to Siemens Radio Equipment in 1960-1961. I also went TDY to Soulieres, near Verdun, for three months.

During my last three months of duty I acted as company driver; driving visiting dignitaries and generals on tours of Paris in our black, 1957 Chevy, sedan. I have some pictures of LCY, and a few orders. I had stayed in touch with our then First Sgt. Jesse E. Cofer (now deceased). I am presently in touch with our then company commander, Capt. Boring, who sent me your link, and SPC 4, Alan Mohill living in Temecula, CA.
---
(Source: Email from Gerald Ruderman, son of M/Sgt Sidney Ruderman, Co C and Co D, 102nd Sig Bn, 1961-1964)
I am an Army brat whose father, M/Sgt Sidney Ruderman, was in the SigC. He took the microwave course at Ft. Monmouth in 1957-58 and stayed on as an instructor. For a time teaching that and also teaching something to the officers. (I went through SOBC at Ft. Gordon in 1972-73.) In April 1961 he was assigned as head of the maintenance section of Co C, 102nd SigBn in K-town. In August 1962 he was transferred to Verdun as chief of the station there. That was Company D then.

About a year later Co D was split and Co E formed. I think Co E HQ was in Verdun. I remember when the split was announced my father saying he had been happy his CO had been far away. He hoped the new Co E HQ would not be next to his station.

The site on the hill, over looking my high school also had AF equipment. The Army personal didn't touch this. The site in Maginot Caserne in the city was also unmanned though run by my fathers little unit. My memory of the station IDs was that VCY was Verdun City and VDN was the site on the hill. I see your maps are different. Funny about memories.

In April 1964 he returned to Ft. Monmouth where he taught until he retired from the Army in Sep/Oct 65. He worked as a civilian at the school from about 1966 to 1976.

---
USAREUR Radio-Telephone Network - 1958 & 1963
(Source: Letter sent by Arnold Cohen, 102nd Sig Bn -- Bois de Beaumont, France, 1959-1961)
USAREUR Radio-Telephone Network click here to supersize (331 KB) Use the Telephone List provided by Howard Safstrom to match up the three-letter station ID's with the actual signal site locations

102nd Signal Battalion
USAREUR Radio-Telephone Network

Status: 1958

I was stationed at BMT, Bois de Beaumont in France from 1959-1961. In 1995 I visited the old site and it is now a school. The tower and diesel generator are both gone. The cook that we hired for the guys at the station is now in her 80's and I still communicate with her. Capt Anhalt was the commanding officer when I arrived and Capt. Whitmire was in charge when I departed. Our station won several 'Site of the Month' awards while I was there.
Arnie Cohen
---
(Source: Email sent by Ted Steckel who worked at system control (Königstuhl), 1963-64)
USAREUR Radio-Telephone Network click here to supersize (369 KB) Use the Telephone List provided by Howard Safstrom to match up the three-letter station ID's with the actual signal site locations

102nd Signal Battalion
USAREUR Radio-Telephone Network

Status: 1963

Hundreds if not thousands have worked with this everyday and have not seen this piece of paper for fourty yrs.. the info is all accurate....we never found any mistakes on it... you ll see that it was made in 1963. The two table of contents really spells out the system when they are studied.

Tthe air force shared this system but also had their own system and system maps. It ran from northern Germany to Morocco thru Spain...then again from Germany down to Italy over the Alps.

I was stationed there at KSL (Königstuhl) which was a hill overlooking Heidelberg. At that location there was a control center that controlled these microwave sites.....it was called (SCL) system control. I worked there for one yr...1963 to 64. After my 3 yr. hitch was up I stayed over there in Europe for another 14 yrs. working as a civilian tek rep to different military forces there in Europe and Iran. I helped put in a number of other systems.
Ted Steckel

---
Strategic Radio Relay and Microwave - Q & A's
(Source: Comments and answers to basic questions by "Walt" Gelnovatch about the concepts of USAREUR strategic (theater-level) radio relay and microwave)
1. Was the radio relay mission performed by the 315th (and then the 102nd) called "strategic" or was there a different way to describe it at that time (e.g. theater-level, or similar)?
The mission defined by operating the USAREUR Multichannel Radio Telephone System was strategic. In the context of today's meaning of theater level, it was theater level. It was performed by a boutique military unit in that the unit was specially configured to do the mission. In Army parlance that was called a TD&A unit in that it was populated by specialists and special equipment (to perform the mission) usually commercial. TD&A stands for
T
able of Distribution and Allowance.
Once that special mission is over the unit is dissolved.
A normal Army unit is defined as a TO&E unit (Table of Organization and Equipment). The latter usually guarantees that a rifle company in
Korea
is the same as a rifle company in say
IRAQ
.
2. In WWII and the early years after the war, radio relay was performed using VHF systems. This changed in the early 1950s with the introduction of micro-wave (correct?). Where there significant performance differences between the two? LOS wouldn't have changed so what were the advantages of using MW for radio relay?
This is a technical question and I will try to answer it. The generation of short wavelength waves (30 cm and shorter) has always been difficult. There is a book out called "The invention that won the War" specifically relating to Radar but the same arguments apply to communications. If you get a chance to read it I strongly recommend it. After the war technology rapidly evolved to generate the shorter wavelengths

(microwaves

is loosely defined as 1 Ghz and higher). By the early 1950s most US Bell Telephone long haul systems were microwave.

The AN/FRC-1 was one of the first US Army microwave systems toward the end of WW2. The invention that allowed this was the Magnetron later followed by the Klystron. The short wave of microwaves allows the energy to be focused into a narrow beam so very little is lost. VHF beams are very wide and hence much of the energy is lost. Microwaves don't bend over the earth's curvature so they essentially must be LOS and about 15 to 20 miles apart. VHF propagation bends slightly

(4/5 earth) and relays can be placed 30 to 40 miles apart. The
Bocksberg to
Berlin
link
was 115 miles and required VHF, extended power and more directive antennas.
3. It is interesting that the 315th (and later, the 102nd) actually had the name 'Micro-Wave' in their designation: 315th Sig Bn (MW & RR) - this wasn't the case with the earlier VHF units. Is there any significance to that?
I haven't been able to break that down into anything significant. The original 315th was a construction outfit, like the mission they had in the Po Valley and
North Appenine
campaign in
Italy
in

WW2. They put up poles and strung wire. If you read the posting that you placed on the 315th recently some staffer moved the 315th from
Worms
, minus equipment and personnel to
Frankfurt
and titled the unit as a microwave and radio relay unit.
4. What would the major equipment components be at a relay site versus the components at a terminal site? Was there relay equipment plus terminal equipment at a terminal site?
Relays received a microwave signal; amplified it (sometimes cleaned up the noise) and then re-transmitted it to the next relay

(like Hohenstadt).

There was no ability to demodulate the signal to listen to the 24, 48 or up to 960 channels of telephone conversations on the signal at a relay. The equipment was RF

(radio

frequency) in nature.

At a terminal site there was all the RF equipment that was installed at a relay site with the addition of carrier equipment which essentially stripped the microwave signal to obtain all the above referenced telephone conversations.
5. A recent posting on the 102nd Sig Bn Page of my site states that (at least at Vernou), G.E. equipment was swapped out for Siemens equipment in 1960 or 1961. So, does that mean that different types (manufacturers) of radio relay equip was located at the various sites? If so, was there any functional reason for that or just availability?
This is my best guess at an answer. The GE equipment was called the AN/FRC-23/26 and was standard Army microwave equipment at the time. It evolved from GE's commercial business supporting pipeline communications. It was used extensively by the system planners in
France
in the 1953 to 1955

timeframe. In
Germany
I suspect that the reason for the German equipment was that it was paid for by WW2 reparation and driven politically. Further, in the South of Germany, because of the long distances

(also

Bocksberg-Berlin link), VHF from the Lorenz company was used building on their WW2 experience and background. Siemens microwave was used in the rest of
Germany
.
Co.
B of the 102d was essentially all VHF.
6. Was cable/wire used to connect subscribing units to a terminal site?
Yes, after the microwaves were demodulated and then demultiplexed into their individual telephone lines local signal outfits routed the lines to their intended subscribers. This led to some bizarre situations in that in times of communications problems the various signal units would blame one another. On a relay that didn't happen since the relay worked and you received all the channels or you didn't. A relay was incapable of

, for

instance, blocking one telephone channel.
7. Is it accurate to say that a terminal site was always located within the confines of a larger Army installation (obviously with some type of headquarters unit or command)?
Yes, terminals were located at Army

hubs,

the one I am most familiar with is
Stuttgart
which served the 7th Army (Vaihingen) and
Stuttgart
community and
Munich
which served Southern Area Command and the 11th Airborne Division.
8. Is it accurate to say that a relay site was always located in a remote location (typically on top of a mountain or hill) far from any major installations?

Yes, in the radio frequency (RF) business, height is next to God-liness)
J
The

higher the better. Relay sites were picked by

that criteria

. In the propagation business there is a

criteria

called First Fresnel clearance. It essentially says that besides height

, the

radiation from an antenna should not intersect the earth (causing reflections) so aside from height, and being in the direct path of where you are going there shouldn't be any lower peaks to bounce your radiation from. This previous criteria essentially relegated relays to remote locations. Some were really hardship cases, but I don't think in
Germany
.
Viet Nam
for sure.
Hohenstadt was vacation spa. I knocked off one quarter of the courses I needed for engineering school by correspondence.
9. Who was allowed to use the USAREUR Radio-Telephone Network - signal centers of major commands and subordinate headquarters? How about administrative and logistical traffic - ComZ, Area Commands, Military Police, etc.?
The USAREUR Multichannel Radio Telephone Network serviced all the
'C
lass

A'

telephones in
France
and
Germany
with links via Air Force means into
Spain
for the US Army. Priorities were set by the USAREUR level planners and limited by the technology available. For instance we had 48 channels of telephony flowing through Hohenstadt. I suspect that it was distributed at a high level and impacted down to division level. Most of the lines in
Stuttgart
went to 7th Army HQ. Keep in mind that the system was a peacetime operation, in case of war we were instructed to destroy the station and head for West of the
Rhine
staging areas.
ADDITIONAL QUESTIONS:
10. What Happened to the USAREUR Multichannel Radio Telephone Network?
By the early 1960's it became clear the with communications requirements increasing and new modulations (digital) arriving daily that the old network ( designed to requirements of the early 1950's) was seriously becoming obsolete. The old system was optimized for voice circuits (300 to 3000 Khz and much narrower TTY circuits.)

New bandwidth requirements alone mandated a new system. Additionally technical advancements such as microwave tropospheric scatter propagation modes allowed longer distances between sites reducing the number of repeaters required between terminals. These facts essentially were a death sentence for the old system.

The system was shut down in the Fall of 1967 and the 102d Signal Bn was deactivated to the reserve. It was later reconstituted in the 1970's but never again played a major role in the RF relay community.
11. What technology replaced the VHF and LOS Microwave?
As mentioned previously, two technical barriers prevented microwave systems in the past from becoming the technical choice of approach earlier. The first was the lack of ability to generate short microwave wavelength power. The second was the lack of ability to amplify (for the receiver) low level signals sufficiently in the microwave range (above 1Ghz).

The first drawback was solved by the invention and development of the klystron which then supported the ability to generated kilowatts (Kw) of microwave power at a low economic cost. The second development was the parametric amplifier in the same time frame to amplify weak signals. I performed research on the parametric amplifier at the Army Signal Corps Labs at the beginning of my career.

A third research issue that played a critical role was the identification of the effect of the troposphere on electromagnetic (EM) propagation. Specifically, EM waves from the ground were scattered from inhomogenities in the refractive index of the troposphere. Microwaves were scattered from dust and meteor trails ever present in the troposphere as well as other phenomenon that varied the dielectric constant. The scattering was very weak and necessitated high transmit powers and sensitive receiving techniques. The impact of this was that microwave propagation, with all of it's benefits, now could be utilized to propagate beyond the horizon by bouncing from the troposphere.

The Signal Corps Labs at Fort Monmouth were quick to exploit these breakthroughs and the so called tropo-scatter radios were developed for the Army. One of the first was the

AN/GRC-66

and later the

AN/MRC-114

. In their operational format these radios could perform the following missions.


a) Line of site mode using low power one watt transmission and non parametric amplifier reception similar to the LOS gear they replaced.


b) Tropo scatter mode using 1 to 10 KW klystrons for transmission and parametric amplifiers for reception.


c) Diffraction mode where a physical edge such as a mountain top is used to diffract a wave down into a valley.

All EM waves exhibit a physics orientated characteristic that when a EM wave encounters an abrupt edge, the edge acts as an origin or re-emitter of the wave incident upon it. Later Army systems used this mode to shoot from Germany to Italy. Power and receive levels were the same as for a tropo mode. The impact of the above equipment was the fact that distances could significantly be increased between transmitter and receiver negating the need for relays. Relays were manpower intensive and a security risk because they could not be defended adequately. I

In 1967 the tropo systems replaced the LOS microwave and VHF systems. In the Southern Area Command where Co. B, 102d Signal Bn. operated a VHF system, the 68th Signal Bn. essentially took over the long line mission using tropo scatter equipment. I am currently unaware of the units that ran the rest of the ET-A network in Germany but I suspect it was regionalized with no one unit (as the 102d Sig. Bn. performed) assigned to the entire network.



HPG

remained active with a LOS shot to MHN and ABG and a tropo scatter link to Stuttgart and Nuremberg. This of course eliminated HST, SKN and RHN as relays.

HST became part of the ET-A with a link to Donnersberg. This system was designated as the

ET-A

(European Tropo scatter-Army). This system expanded over the next 4 decades and encompassed AUTOVON and AUTODIN. However no technology stands still and microwave RF links are no exception. As of Sept 2006 a new fiber optics network has been opened by the Army Germany for the US Army. All communication will now flow via glass fibers as opposed to RF propagation.

In Nov. of 2006 a number of closings of RF communication sites was announced and my old site of Hohenstadt was one. Nothing ever stands still in this technological world.
12. Could you explain a little about the Lorenz antenna?
Lorenz AG is a respected German electronics supplier dating back to the 1930's. In 1934 they fielded a so called blind landing system. Jimmy Doolittle did it in 1929. During WW2 they were a supplier of military hardware to the German defense community. After the war they participated in rebuilding the telephone infrastructure in West Germany for the Deutsche Post government service provider.

Most of their expertise was in the VHF frequency range for long haul radio telephone systems using their trade mark pipe like antennas (more on that later). Equivalent development in the US by Bell Labs already used microwaves.
A typical 102nd Sig Bn Radio Tower
(Source: Dale Calnon)

Following the Berlin Blockade the US Army in 1950 decided that a strategic telephone network was required to support the buildup of troops, operating in parallel to the normal tactical networks. This was to be essentially a peace time system that was expendable when hostilities began. The 315th Signal Bn and later the 102d Signal Bn were given the mission to install, operate and maintain the new network to be called the USAREUR Multichannel Radio Telephone Network.

At that point the Army turned to local German suppliers since most of the equipment would be paid by wartime reparations. These suppliers were Lorenz AG and Siemens-Halske. Lorenz AG bid a VHF system for the Southern part of West Germany (Southern Command) essentially using their commercial VHF product line. Possibly because of the distances involved and the terrain. Their antenna approach was through the use of simple half-wavelength radiators, backed by reflector elements in back and not using director elements in front except in Bocksberg.

Two of these configurations were place in parallel into what is called a collinear array.
dNormally the antenna elements were made with rods, as would be a TV or an amateur radio antenna. However the designers chose (by design) to fabricate the dipole with a fairly large diameter rod or pipe approximately the diameter of a number 10 coffee can. This then gave that distinctive look to the Army towers in Germany. Specifically the larger size of the driven element lowered the impedance of the dipole (over a simple rod) giving the designers flexibility and trade offs in matching the antenna to the transmitter and receiver on a systems basis.

In 1962 Lorenz finally introduced a commercial 4 GHz microwave radio relay product line but by then the Signal Corps Labs at Fort Monmouth had developed tropo scatter as a technology and the LOS equipment began to disappear.



13. Could you explain a little about the Siemens-Halske dish antenna?



Over the last 8 decades the so called dish antenna has become synonymous with microwaves (defined as wavelengths less than 30 cm). In the 1950's Siemens-Halske, a renown multi-faceted German electronics supplier, bid on and won contracts from the Army and Air Force, to provide radio telephone infrastructure throughout Europe. Most of this equipment was the spin off of a commercial product line adapted to military demands. The equipment was never type classified nor required to meet MIL- SPEC. and essentially used in peace time systems under commercial guidelines. Such was the USAREUR Multichannel Radio Telephone Network administered by the 102d Signal Bn.

These microwave networks used dish looking antennas. Much of the technology leading to this type of an antenna had been performed by Bell Labs and RCA Princeton Labs in the 1930's and later under Signal Corps Labs at Fort Monmouth contracts at MIT Radiation Labs and at Harvard University. WW2 first saw the wide spread use of this approach. The explanation of the dish antenna begins with the consideration of an analytical geometric entity called a parabola. One of the mathematical properties of a parabola is that there is a point inside the figure where any rays emanating from that point and then reflected from the surface of the parabola always radiate straight out along the axis of the parabola.( consider a simple flashlight). Hence if an antenna is located at that point all radiation from it reflects out. In practice only a slice of the parabola is utilized, but the greater the size of the slice the higher will be the collected energy and hence the gain. The visual picture is a dish looking object with a mechanical device in front holding the radiator or source of energy. This radiator could be a tiny dipole or a waveguide. The dish does not have to be fabricated of a solid conductive material but could be made of a wire mesh. The only constraint is that the wire mesh must have a spacing less than one half of the wavelength of the incident radiation. Size plays an important role in that at low frequencies and long wavelengths the dish becomes very large, costly and unwieldy. Therefore their is usually associated with microwaves. Reasonable sizes such as the Siemens-Halske 3 meter dish had gains of about 30 db (1000 times), very difficult to obtain with collinear arrays with reflectors and directors such as used at VHF frequencies by Lorenz AG.

As an interesting example of this phenomenon, at Hohenstadt Radio Station we had a spare 3 meter Siemens-Halske parabolic reflector sitting on a metal frame belonging to the Air Force. It happened to be pointing down into a valley which had a long down hill Autobahn stretch. Heavy trucks constantly were required to perform transmission shifts to meet grade demands. If one would walk up to the spare dish and place his ear in or around the focal point of that particular units geometry , then the trucks could be heard two miles away. Obviously the boundary and dynamic conditions for audio wavelengths were distinctly different from RF waves but it worked and demonstrated this effect.

14. How were the large number of voice and TTY channels facilitated onto a microwave radio system for communication purposes?

Two separate procedures are required to accomplish this. The first is to combine all the channels (voice and TTY) into one signal (called

multiplexing

) and the second is to place this combined signal onto a microwave radio frequency carrier (called

modulation

) for transmission to the far terminal. In today's terminology both of these procedures are commonly and collectively referred to as a "waveform". This term was never used in the 1950's era.

In the early 1950's the two most common multiplex and modulation techniques utilized were the so called frequency division and time division multiplex methods and the AM and FM modulation systems. The U.S. Army had gone to the use of FM before WW2 as a result of Col. Armstrong at the Fort Monmouth Signal Corps Lab inventing the technique. By the WW2 all Army systems were FM modulated. The microwave systems available to the Army in the 1950's in Germany were either military (

AN/TRC-6

and

8

) or commercial systems (

GE

,

Philco

, Lorenz and

Siemens-Halske

).

The prevalent multiplexing method was time division (TDM) where a train of pulses was created in the time domain with each pulse modulated in either position, width or amplitude in correspondence to the incoming voice or TTY channel. This train of modulated pulses then in turn FM modulated a microwave carrier signal which was transmitted. The common number of channels utilized was usually 24.

The competing approach, frequency division multiplexing (FDM) had voice or TTY signals modulate audio carriers (sub-group conversion). These carriers would then modulate higher frequency carriers ( group conversion) and finally these second set of carriers would modulate even higher frequency carriers (super group conversion) until one composite carrier signal was generated. This final signal then FM modulated a microwave carrier which was radiated. Commercially the FDM systems usually resulted in more channel capacity with one system I remember having 960 channels (not U.S.Army). The 102d Signal Bn. utilized 3 primary pieces of equipment to populate the USAREUR Multichannel Radio Telephone Network. The first was Lorenz VHF which was a 24 channel FDM/FM system, the second was AN/FRC-23/26 which was a 24 channel TDM/PPM (pulse position system) and Siemens-Halske 24 channel TDM/PPM system. It is useful to note that Siemens-Halske being a well respected German supplier of commercial communications equipment also offered FDM equipment for sale.

The equipment that performed the combining function was called the

multiplexer

(bays), usually housed in the German equivalent of 19 inch commercial equipment racks and represented the transition from telephone wires (2 wire) to radio (4 wire). This transition was problematic in that various parameters had to be constantly monitored and adjusted since signal levels on a wire system and the radio system varied greatly. For instance the simple 20 cycle ring tone so ubiquitous on telephone wire systems could not be transmitted by radio since voice channels only carried 300 to 3000 cycles/second of spectrum. Therefore the ringtone had to be converted to somewhere in the previous spectrum and provisions made so that a voice signal could not activate the ringer. In the Lorenz system the 20 cycle/ Second ring tone would be converted to 2350 cycles/second for radio transmission. I remember being able to whistle a 2350 tone (for a couple of seconds) into the telephone mouthpiece and activating the far terminal ringer.
---
Radio Equipment - Lorenz / Siemens-Halske / GE
| | | | |
| --- | --- | --- | --- |
| | | | |
| 1. (KB) | 2. (KB) | 3. (KB) | |
| | | | |
| | | | |
| 1. AN/FRC-23 & 26 manual, 1956 (KB) | 2. AN/FRC-23, 1958 (KB) | 3. AN/FRC-26, 1958 (KB) | |
| | | | |
| | | | |
| | | | |
| | | | |
| | | | |
| | | | |
More questions will follow in the future . . .

---
Christmas Menu 1957
| | | | |
| --- | --- | --- | --- |
| Christmas Menu 1957 - cover | Christmas Menu 1957 - page 2 (KB) | Christmas Menu 1957 - page 3 (KB) | |
| Christmas Menu 1957 - page 4 (KB) | Christmas Menu 1957 - page 5 (KB) | Christmas Menu 1957 - page 6 (KB) | |
| Christmas Menu 1957 - page 7 (KB) | | | |

---
Newspaper articles

(Source: Frankfurt Chronicle (Frankfurt MILCOM newspaper), June 5, 1986)
Communications - Local signal technicians win prestigious award

By Tim Dugan
Frankfurt Chronicle staff
The twin communication towers on the Abrams Complex might catch your eye, but probably few passersby know the complex mission of the 102nd Signal Battalion.

The communication unit recently won the Defense Communication Agency Facility Control Office Award for 1985. Sgt. Peter Vielhaber, assistant NCOIC for technical control, was instrumental in obtaining the award, according to Capt. Richard Paradiso, Headquarters and Headquarters Company commander. Vielhaber will receive an impact Army Commendation Medal for his efforts.

WHEN THE TECHNICIANS start discussing microwave dishes, beams, feeds, patches, relays and communication requirements that continue 24-hours-a-day, 365-days-a-year, it's easy to become lost in the maze.

The 102nd, which falls under the 2nd Signal Brigade, 5th Signal Command, has many missions, some of which are classified.

Aspects in the communication field range from telephone service to microwave shots of AFN radio to Berlin. The company of 250 has about 170 soldiers and the rest civilians. Soldiers pull long duty shifts, as well as guard duty and other requirements, said Paradiso.

"Basic mission area includes automation, communication, visual information, printing and publications, and record management and libraries," he said.

The most familiar unit function is probably the operation of the European Telephone Service - ETS.

"We're the local information system command assistance, supporting the 320 dialing area. For this area we support telephone, messenger service and information processing," said Paradiso. "We are currently undergoing a massive reorganization. We pick up an additional mission Oct. 1, 1986."
The recent communication award was given for the 102nd's outstanding upgrading of efficiency in Army communication requirements, according to Vielhaber.

"We stayed on top of all the problems and resolved any discrepancies that came up. We resolved any kind of adverse conditions which would affect our communication," said Vielhaber.

There are 17 facility control offices in Europe, he said. "If these installations have problems working with each other or can't resolve the problem they contact us here. We conducted followups to make sure that stations took actions when they were required to do so.

"The program has been going on for some time, but recently there has been a push to make it work better because of the complexity of communications today," said Vielhaber.

The ETS computer system has added to that complexity.

In the heart of the ETS computer center in the Abrams Building, Tony Noorwela and a handful of other technicians keep the phones for the community on line.

The computer "tells us if there is trouble inside or outside," said Noorwala. "It localizes the area of the problem so we can get into the problem quickly. That's the first step - localize the trouble." Computer printouts detect problems.

"There are smaller switches in Frankfurt but this is the major switch for the Frankfurt area," said Paradiso. "Anybody with the 320 prefix goes through here. Basically, there are two small computers." One system handles the 320 Frankfurt central area and a second one interfaces with other trunk lines.

The ETS system was started in Frankfurt in September 1984, he added.

"There has been a great deal of improvements since the original institution of the system," said Paradiso. "There are still some things we are trying to iron out." The original estimate of how many calls Americans make was underestimated, he said.

"It got very, very overloaded at first," he said. "We handle an average of 8,000 calls a day. And it's been estimated as high as 16,000 calls in a 24-hour period."

One problem is that phone callers tie up operators' time unnecessarily. "That's a complaint we have to the general public. They make calls through the operator which can be handled on their own, dialing directly. They go through the operator and don't need to."

The dialing service assistance section works 24 hours a day. ETS offers many features, he added.

"We still get some people who are unaware of the basic features that it offers," said Paradiso. For instance, one feature offers the option of tracing malicious calls. If a malicious call is received, a person can press the button for a half second, get the dial tone, and dial "1 2." The computer records both numbers.

"We'll get a printout on the computer. We can narrow it down to a geographic area," he said.

Also, phone calls can be monitored. "We sometimes have MI come down and they listen in on calls. That's done by military investigators for security. We do tapes off the switch where the calls are going. Is this an official call? We'll check if a civilian number is called frequently."

ETS phone directories can be obtained through distribution channels.

---
Related Links:
102nd Sig Bn at Kleber in the 1950's - Paul Malley's nice page with several very interesting photos -

Broken Link


Angevillers Radio Relay Site - Ron Glaeseman's great photos of the 102nd Sig Bn radio site in France, 1960s (Webmaster Note: This page is hosted on the classmates.com site under "Military Classmates". To view the page and images you must first register with classmates.com)
| | | | |
| --- | --- | --- | --- |
| | | 102nd Signal Battalion - One-Oh-Deuce - on YAHOO - a user group for the members of the 102nd Signal Bn., mostly stationed in Germany and France during the 1950's and 60's. Also includes former members of the 315th Signal Construction Battalion and the 17th Signal Battalion. | |
| | | | |
| | | | |